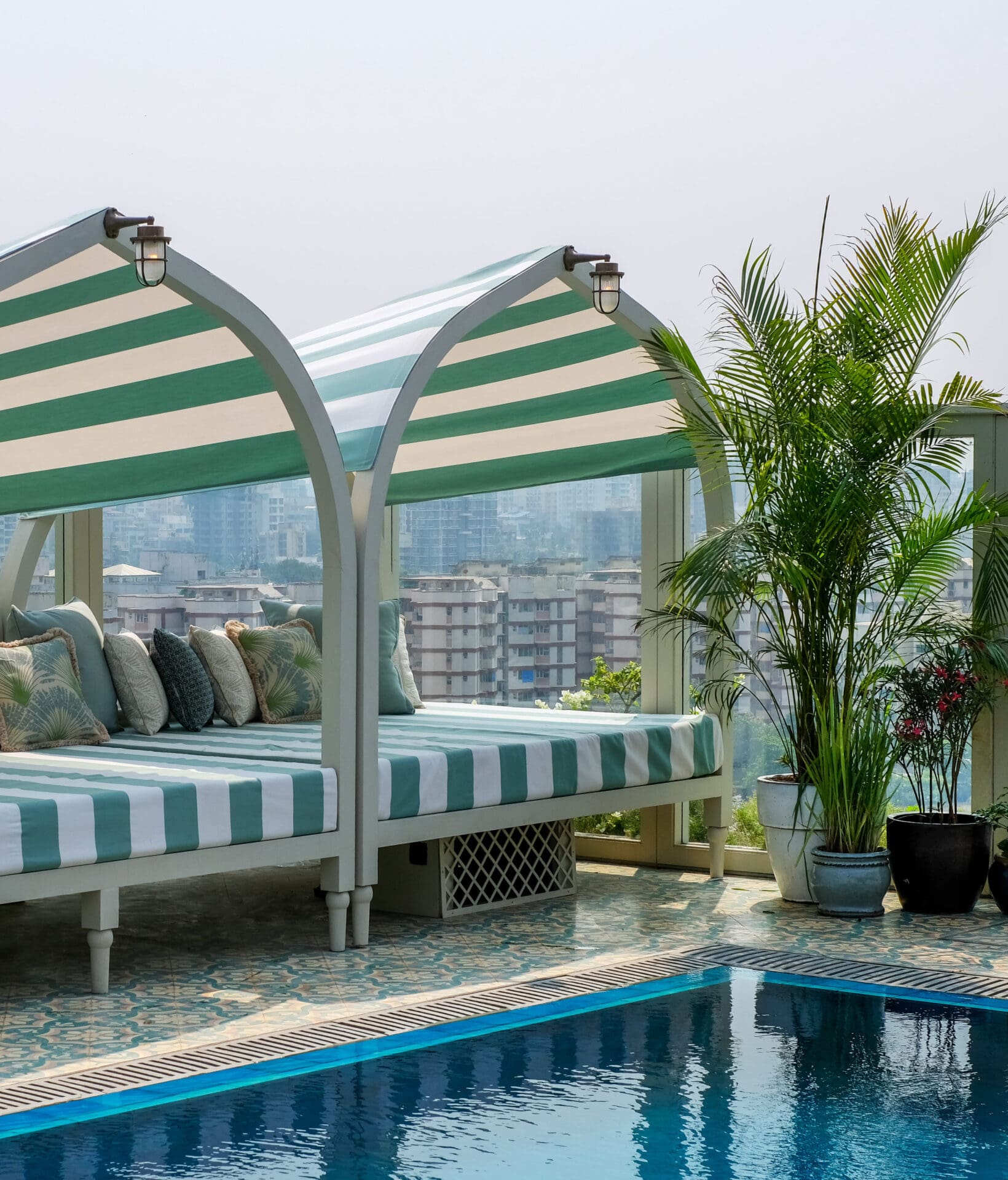 Choosing the best place to stay in Mumbai (or Bombay, as locals still call it) is all about getting an inkling of its character. The city has many monikers to pay homage to its pulsating vibe. Some call it the Maximum City, while others the city that never sleeps. Call it what you may – art, fashion, culture and food all collide to create Mumbai's eclectic spirit. It's the country's financial capital, but also the heart of its glamorous film industry. It's a creative hub, while also being a business bay (for more on that, check out our round-up of the city's finest co-working spaces). Mumbai, after all, is many things to many people. But it's first and foremost an emotion.
Where to stay in Mumbai
The city's key neighbourhoods all have their distinct personalities: Bandra is all about the hipster life, while Kala Ghoda is a culturally stimulating cluster of art galleries and recommended restaurants. It's best advised to stay in the area you wish to explore. What Mumbai lacks in independent boutique numbers, it makes up with its stellar selection of luxury hotels. And for something quieter, there's always the nearby resort town Alibaug, perfect for a weekend getaway. Without further ado, here are the best hotels in Mumbai.
Juhu Beach
Soho House Mumbai
Best for: Meeting local creatives
Location: 16, Juhu Tara Road, Chandrabai Nagar, Juhu, Mumbai 400049
Price: From 10,590 INR / 138 USD per night
The Mumbai outpost of the international members' club is hands down one of the hippest spots in the city. The ten-storey whitewashed building sits right on Juhu Beach, also making it one of the best places to catch the sunset, ideally enjoyed while sipping on a signature picante. Expertly crafted cocktails aside, there's a lot to recommend this city favourite, which is always buzzing with Mumbai's coolest creative kids. Many of the 38 bedrooms come with serene views of the Arabian Sea (as does the gym, so you can soothe your mind while you sweat out last night's street food), and the club floors — including a rooftop with poolside cabanas — double as a co-working space during the day. The entire building is decked out with local artworks, and the pizzas at seaside Italian restaurant Cecconi's rarely disappoint.
sohohouse.com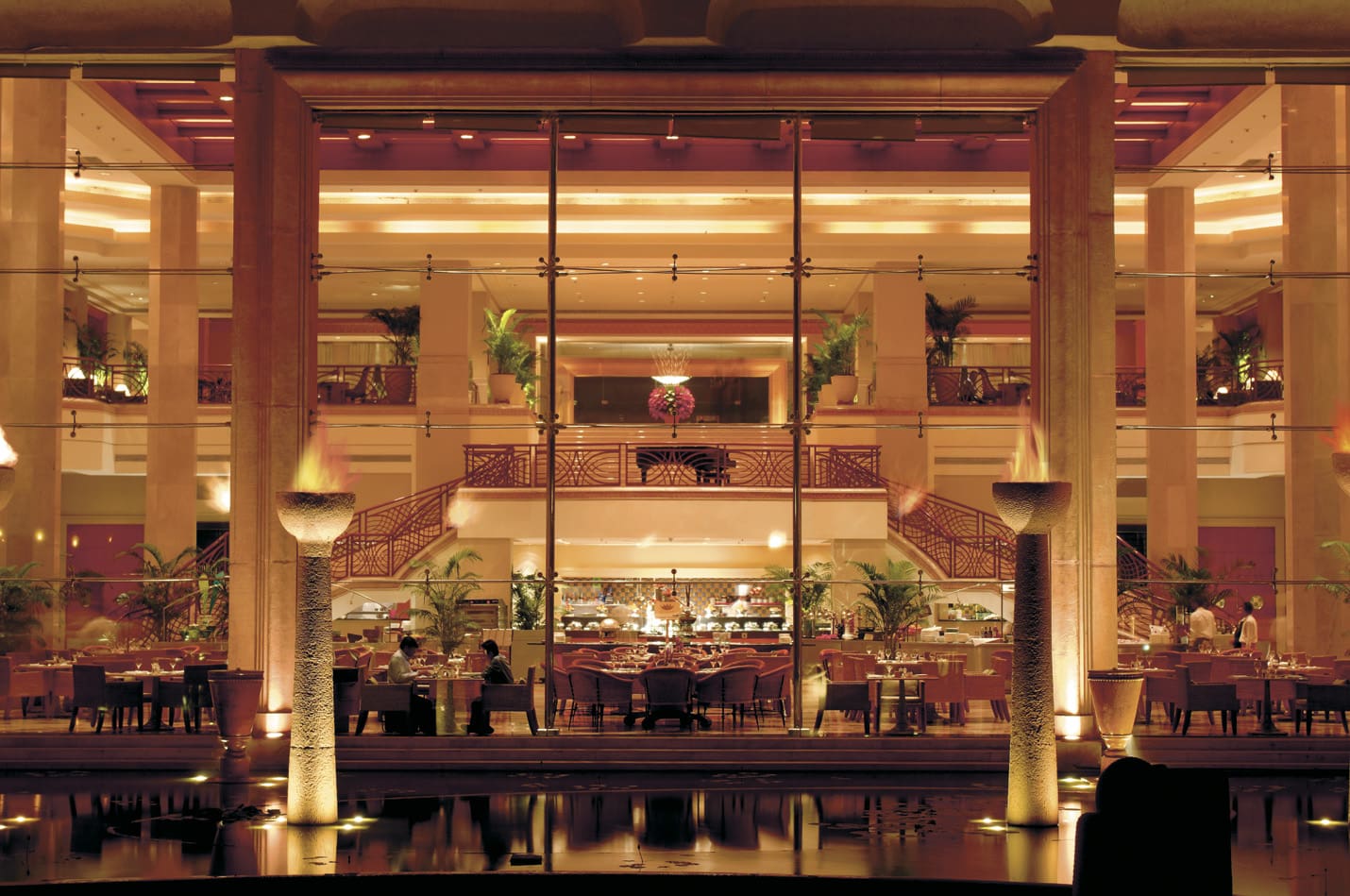 JW Marriott Mumbai Juhu
Best for: Relaxing getaways
Location: Juhu Tara Road, Juhu Tara, Juhu, Mumbai 400049
Price: 14,689 INR / 191 USD per night
Leave the chaos of the city at the wrought iron gates as you make your way up the hotel's cobbled driveway. The JW Marriott Juhu has been a dependable stay for well-heeled travellers for two decades now, with 326 luxurious rooms and 29 suites that make it very hard to leave – not to mention the outdoor infinity and salt-water pools overlooking Juhu Beach are hard to tear yourself away from. But if you must, do it for some R&R at the award-winning Quan Spa, or to dine at one of the many restaurants, like Dashanzi, Bombay Baking Company or Lotus Cafe.
marriott.com
Colaba
Abode Bombay
Best for: A serene boutique stay; staying close to Kala Ghoda's creative scene
Location: First Floor, Lansdowne House, MB Marg, near Regal Cinema, Apollo Bandar, Colaba, Mumbai 400001
Price: 3,500 INR / 45 USD per night
Abode is one of the city's best-kept secrets. Tucked away in a quiet lane in an otherwise busy neighbourhood, the hotel is ideally located to explore the many charms of South Mumbai. Housed in a heritage turn-of-the-century building, the interiors borrow from the city's art deco past, reinterpreted with a casual bohemian twist. Each of the 20 rooms are uniquely fitted with restored vintage furniture and boast their own distinct flavours. There's a cafe on the ground floor where you can enjoy a leisurely brunch, and a treatment room for a reflexology session to recover from the day. You'll need it, too, because the best part about Abode is that it's a hop, skip and jump from Colaba and Kala Ghoda's must-visit restaurants, art galleries and street shopping.
abodeboutiquehotels.com
The Gordon House Hotel
Best for: An affordable hidden gem with homely comforts
Location: Road No. 5 Battery Street, Apollo Bandar, Colaba, Mumbai 400039
Price: 7,750 INR / 101 USD per night
Tucked in the same building as All Stir Fry – one of the city's most-loved noodle bars – and one of Mumbai's must-visit restaurants – Gordon House is a cosy, boutique stay that only a few know about. It's a peaceful haven in the heart of the city, a short walk from the iconic Gateway of India, and the perfect base to explore Mumbai's many sights and sounds. The 28 rooms are replete with modern amenities and spread across three themed floors — Scandinavian, English Country, and Mediterranean — to give them characteristic quirk. Don't be fooled by the unassuming, simple entrance: this boutique hotel is big on homely, comforting charm.
ghhotel.com
Worli
Four Seasons Hotel Mumbai
Best for: Luxury five star hotel; easy access to city hotspots
Location: 1/136, Dr E Moses Road, Worli, Mumbai 400018
Price: 13,570 INR / 177 USD per night
Don't be fooled by the name on the marquee. Mumbai's Four Seasons isn't just another five-star hotel — it seeks to create an intimate ambience in a plush setting, and doesn't miss the mark. The panoramic sea views and convenient midtown location — whether you're in the city for work or play — don't hurt either. The 202 rooms, towering over the city, are a study in quiet sophistication. The Asian restaurant San Qi, spanning over two floors, is a fine-dining favourite, while the chic rooftop bar Aer – considered one of the best bars in Mumbai – on the 34th floor is perfect for a nightcap as you gaze out at Mumbai's twinkling skyline.
fourseasons.com/mumbai
Bandra
Taj Lands End
Best for: Five star hotel in the heart of Bandra
Location: Byramji Jeejeebhoy Road, Bandstand, Bandra (West), Mumbai 400050
Price: 14,750 INR / 192 USD per night
For a touch of luxury in the city's hip neighbourhood of Bandra, all roads lead to this five-star sanctuary, perched at the very end of a sea-facing promenade. Each of the 488 rooms are generously-sized, contemporary and comfortable. Pro tip: ask for one facing the Bandra-Worli Sea Link for unrivalled views of the iconic bridge. The location doesn't get much better than this, whether you're looking to explore the nearby suburbs or South Mumbai. Bandra alone is home to some of the most eclectic cafes and stores in the city — all a quick rickshaw ride from these digs. From Sichuan and Cantonese to North Indian and continental favourites, there is enough to chow your way through at the hotel itself too. And don't be surprised if you spot a Bollywood star (or four) at the coffee shop late at night.
tajhotels.com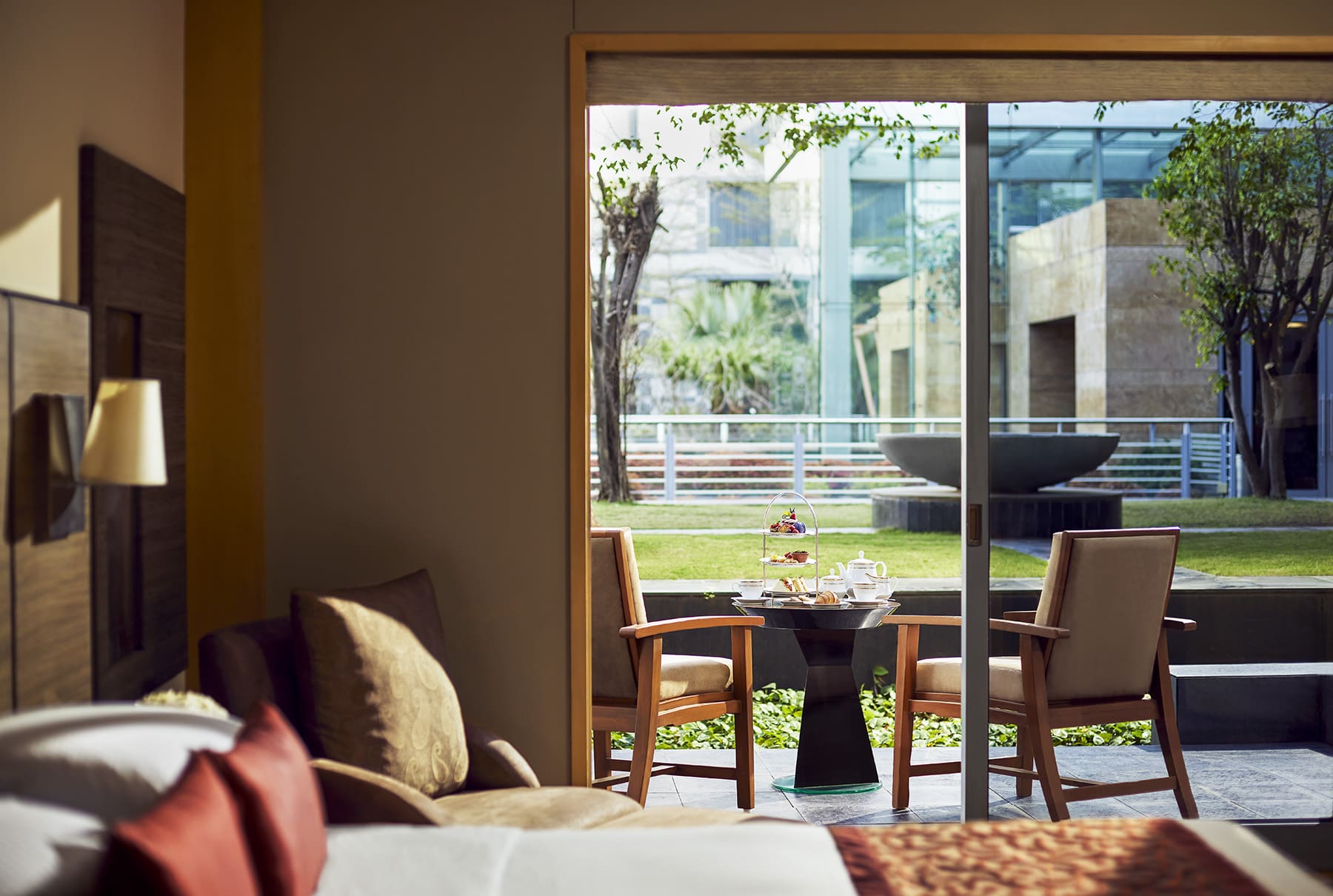 Santacruz
Grand Hyatt Mumbai Hotel and Residences
Best for: Lapping up luxury (and pet-friendly stays)
Location: Bandra Kurla Complex Vicinity, Off Western Express Highway, Santacruz East, Mumbai 400055
Price: 16,520 INR / 215 USD per night
The property takes its mantle as a city resort and oasis quite seriously. Luckily, it has 12 acres of greenery — rare to come by in a concrete jungle like Mumbai — to show for it. With 548 pet-friendly rooms and 110 serviced apartments, stay options are plentiful. Ditto with dining: the specialty restaurants — Celini for Italian, China House for Sichuan, and Soma for North Indian — are some of the best in the city. But the hotel's connectivity is the real clincher: not only is it well-connected to the business district of Bandra Kurla Complex (BKC), its highway-adjacent location makes it possible to skip Mumbai's infamous traffic to access just about any corner with ease.
hyatt.com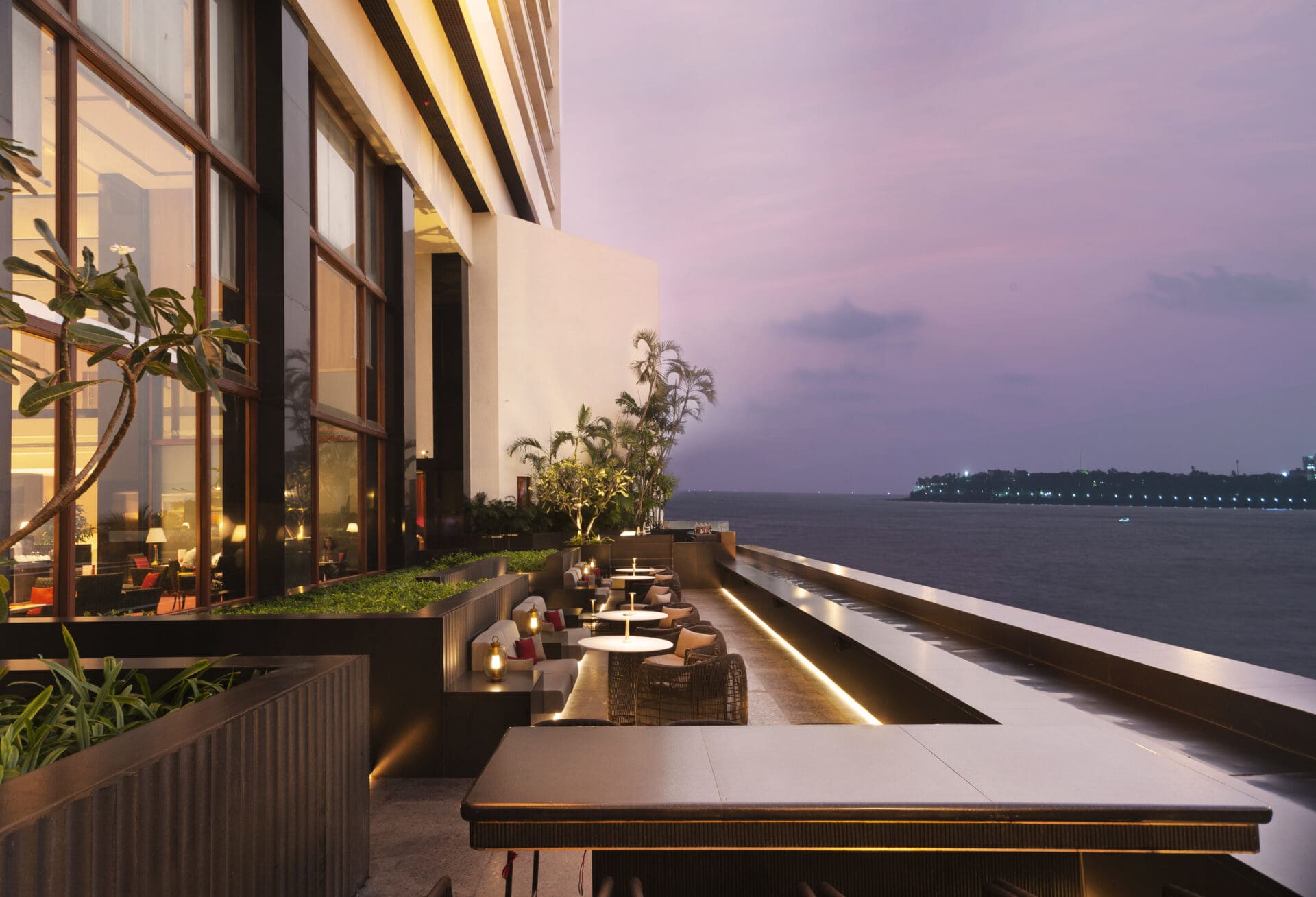 Nariman Point
The Oberoi Mumbai
Best for: Old Bombay charm
Location: Nariman Point, Mumbai 400021
Price: 18,880 INR / 246 USD per night
At the end of the Queen's Necklace (Marine Drive) stands this Mumbai icon — one of the city's most hallowed hotels, which is a home away from home for the country's swish set. It helps that it's the flagship property of India's principal hotel group, renowned for its unparalleled hospitality. The 333 rooms look out to the city skyline, and the comfort of solo female travellers assumes special priority here. While there are many top-notch restaurants to dine at, a sunset drink at the fashionable terrace Eau Bar is an experience we highly recommend. For more options for where to wet your whistle in Mumbai, head to our cocktail bar round-up.
oberoihotels.com
Alibaug
Mango Beach House Alibaug
Best for: Escaping the city bustle
Location: Kihim, Alibaug, Maharashtra
Price: 16,000 INR / 209 USD per night
If you have some time to spare, getting away from Mumbai's cacophony with a weekend in Alibaug is an idyllic choice. The beachside resort town often referred to as the local equivalent to the Hamptons in New York. This particular collection of villas in the sleepy seaside hamlet, each designed as individual homes, is suited to different budgets and needs depending on the size of your crew. The common denominator? An inviting, loungey poolside, verdant gardens, easy beach access, and sumptuous homemade local delicacies.
mangoalibaug.com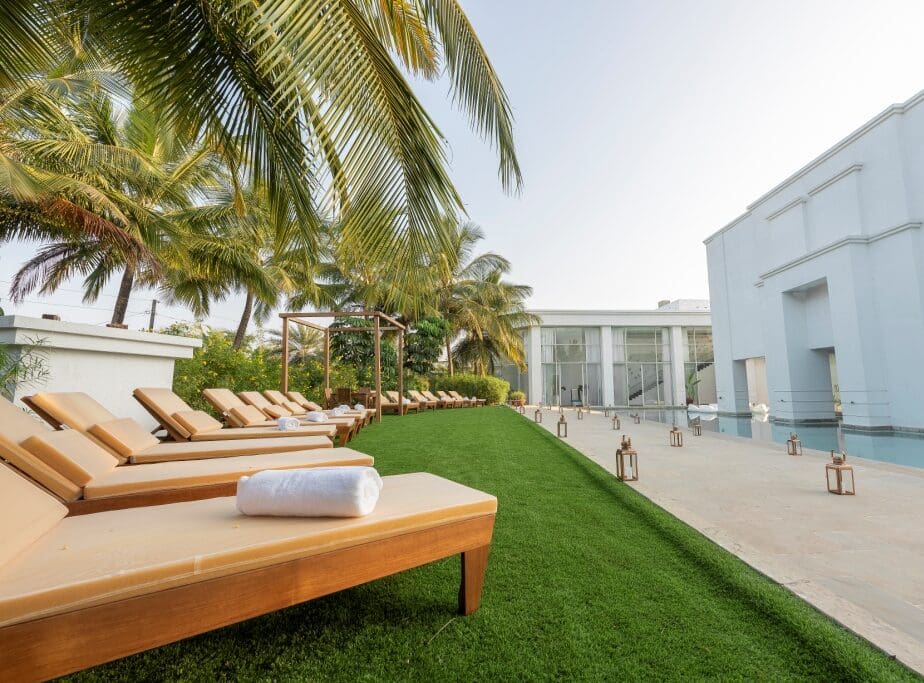 Mansion House Alibaug
Best for: A weekend getaway
Location: Saswane, Near Singhania Helipad, Alibaug 402201
Price: 11,475 INR / 150 USD
Twenty minutes on a speedboat from the Gateway of India jetty will bring you to this little slice of paradise nestled in nature — an airy, whitewashed, 25-room boutique retreat. Sasawane Beach is only a short walk away, but if you want to simply relax, the hotel grounds have plenty of places to chill out – and with a games room, temperature-controlled pool, gym, and spa, there's plenty to do too. The finishing touch is the freedom to enjoy your meals at different picturesque spots across the property, including the terrace, poolside and garden.
themansionhousealibaug.com
For the best nightlife in Mumbai, consult our insider guide to the city's buzzing late-night bars and leading music venues.
If you book via a link on our website, we may earn an affiliate commission.