The best restaurants in Bandra, Mumbai
A former fishing village turned fashionable hotspot, Bandra is one of Mumbai's most popular addresses for eating, drinking, dancing and more. Here are the best restaurants in the neighbourhood
Last updated: January 21, 2023
The northern Mumbai suburb of Bandra is an eclectic and charming mishmash of personalities, home to the city's most revered celebrities, entrepreneurial expats and long-term residents who couldn't imagine moving anywhere else. The neighbourhood's easygoing and unassuming vibe is what makes it a clear favourite, as does its central location. Looking for a bite in Bandra? Whether it's traditional Indian street food, healthy cafes or sushi spots propped up by Bollywood stars, there's a whole raft of restaurants to choose from, alongside many of Mumbai's hotly recommended bars. Asian cuisine is a clear favourite, but the options don't end there – here's your essential list of the best places to eat in Bandra.
Mizu
Best for: A sushi night
Location: Ground Floor, Ganga Jamuna Building 14th Road Pali, Khar West, Mumbai, Maharashtra 400052
Price: Dishes starting at 290 INR / 3.60 USD
One of Mumbai's trendiest restaurants, Mizu is the place to find celebrities being papped outside on the regular – but this isn't the only reason to visit, as the food is just as famous. This izakaya-style Bandra restaurant by Vedant Malik and chef Lakhan Jethani feeds the city's current love affair with Japanese cuisine. The menu comprises everything from sushi, gyozas and baos to yakitori and hot pots. The team even flies in fish from Japan to make their famous hamachi smoke ponzi, while the hazelnut cacao single-origin chocolate mousse with salted caramel is the sweetest treat to finish.
@mizuizakaya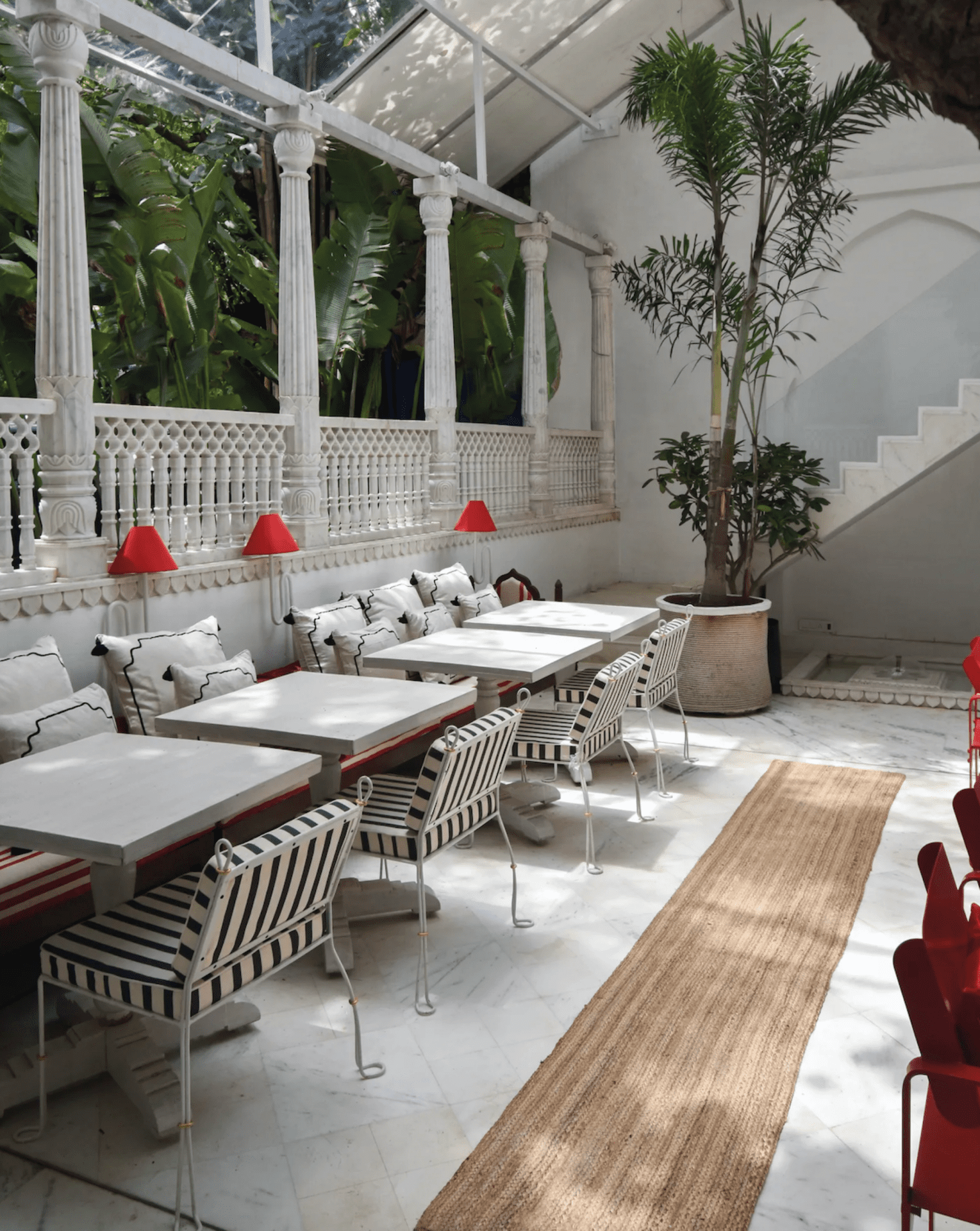 Joshi House
Best for: Dinner in ornate interiors
Location: 602, Ambedkar Road, Pali Naka, Pali Hill, Bandra West, Mumbai, Maharashtra 400050
Price: Dishes from 330 INR / 4.15 USD
When Suren Joshi's restaurant Joshi House replaced Bandra's iconic Pali Village Cafe last year, tastemakers across the city were clamouring for a table, with the waiting list fully booked for weeks. Renowned architect Ashiesh Shah turned the spot into a contemporary Rajasthan-inspired mansion in the heart of bustling Bandra, replete with five dining sections each with its own distinct mood. Instagram-worthy interiors aside, the menu is a mix of North and South Indian cuisine, along with Italian, European and American fare; whether you're craving chaat, kachoris, tacos or risotto, you'll find a little bit of everything to sate your appetite. Variety, clearly, is the spice of life here.
@joshihouse
Blue's Kitchen by Loima
Best for: Mingling with the chef
Location: 16th Road, Khar West, Mumbai, Maharashtra 400052
Price: Plates from 250 INR
This intimate Japanese and Thai restaurant is often considered Bandra's best-kept secret. Go early enough and chef Kanokwan Loima will whip up something special for you herself, be it something off the menu or even a half portion so you can try more dishes. You may be tempted to order one of everything and we wouldn't blame you. But for a shortlist, consider the sushi, katsu curry, special blue fried rice, and crunchy prawn tempura.
@blues.kitchen
Izumi
Best for: Satisfying your ramen cravings
Location: Ground Floor, Sunrise Cooperative Society, Rd Number 24, Khar West, Mumbai, Maharashtra 400050
Price: Plates from 300 INR / 3.15 USD
When Izumi first opened as a small 15-seater eatery back in 2018, the ramen was so coveted that hopeful diners queued outside for hours. It's since moved to a much bigger space in Bandra, where crowds continue to flock to slurp up their specialty noodles. Many self-professed foodies claim Izumi offers the best ramen in Mumbai, and they aren't off the mark. After all, chef Nooresha Kably trained at the International Ramen School in Yokohama, before bringing her flair to Bandra's tables. Ramen aside, the menu is also teeming with meticulously prepared sushi, sashimi, salads, rice bowls, gyoza and small plates.
@izumibandra
Tanjore Tiffin Room
Best for: Tamilian comfort food
Location: 12, Union Park, Khar West, Mumbai, Maharashtra 400052
Price: Starters from 275 INR / 3.5 USD
If it's home-style soul food you're after, this is where you'll find it. This traditional Tamilian bistro serves dishes from the Chettinad region of Tamil Nadu in a homely courtyard setting. The menu is centred around heirloom recipes passed down in the family. The crispy yam cutlets are a favourite, as are the mini gunpowder idlis and the gin-based cocktails.
@thetanjoretiffinroom
Tamak
Best for: A fine dining menu in a casual neighbourhood setting
Location: 6, Ahiya Apartment, Plot No-53, Junction of 16th Road and, Main Ave, Santacruz West, Mumbai, Maharashtra 400054
Price: Dishes from 135 INR / 1.70 USD
At just six tables, this Bandra restaurant may be small, but in this case, size doesn't really matter. For locals, it's the go-to neighbourhood haunt for North Indian food. The casual fine dining restaurant by chef Vikram Arora opened their doors in 2018. Arora, who has worked across India, Singapore and Hong Kong in the past, calls this a "micro restaurant". Start with the chaats, move on to the kebabs (the chicken shammi kebab is a favourite), and then dip into the black dal with some melt-in-your-mouth cheese kulchas.
tamakrestaurant.com
Olive Bar & Kitchen
Best for: A glamorous night out
Location: 14, Nargis Dutt Rd, Union Park, Khar West, Mumbai, Maharashtra 400052
Price: Plates from 500 INR / 6.30 USD
Behind the iconic blue door and whitewashed walls of this Bandra institution lies a charming haven. A real oldie but goodie. The two-decade-old hotspot is as famous for its fare as it is for its nightlife (the Thursday bar nights are as popular today as when they were first introduced). The global Mediterranean fare is made with local, seasonal ingredients, best enjoyed outside in their rustic courtyard. We'd definitely order the pizzas from the all-day menu, with a cheese platter and cocktail for company.
olivebarandkitchen.com
Bastian
Best for: Sunday brunch
Location: Kamal Building, B/1, New, Linking Rd, next to Burger King, Bandra West, Mumbai, Maharashtra 400050
Price: Dishes from 150 INR / 1.90 USD
When Bastian first opened in Bandra in 2016, helmed by celebrity chef Kelvin Cheung, the restaurant quickly gained a reputation for its comfort and unrivalled seafood. So much so that the place was packed with celebrities every single night, and was even more rammed during the decadent Sunday brunches. Ever since, the chef's hat has changed heads, and the newer outpost in Worli has become the partygoer's hub, but the OG Bandra spot still retains its popularity among regulars. There's mac'n'cheese, vegan bagels, kimchi fried rice, chicken teriyaki bowls and so much more to pick from. The dessert menu always hits the sweet spot, especially the signature Bastian cake, which is a permanent fixture at many a birthday celebration in the city.
@bastianmumbai
The Lovefools
Best for: A romantic date
Location: C14, 525, Ranwar, Bandra West, Mumbai, Maharashtra 400050
Price: Four-course meal for 2210 INR / 28 USD
Housed in a heritage bungalow in Bandra, this hidden gem by chef Sarita Sera is as much about the gourmet offerings as it is about the overall experience. Sera first introduced the concept as a special private dining venue, only to then move to this current five-room bungalow in the heart of Ranwar village that is high on vintage appeal. Now, you can book a table for a curated, experimental multicourse meal bursting with global flavours and ingredients. Additionally, the Love Crumbs bakery (housed within the premises itself) is the perfect breakfast date spot.
@thelovefools
Gustoso
Best for: A slice of Italy
Location: Jharna Apartments, 2, 3, 4, Dr Ambedkar Rd, Khar West, Mumbai, Maharashtra 400052
Price: Dishes from 295 INR / 3.70 USD
No plans to travel to Italy? No problem. Gustoso brings 'the soul of Italy' to Mumbai with a versatile menu of woodfired pizzas. A firm favourite is the Indianapoli pizza, made with mozzarella, tomato sauce, sauteéd onions, Kalamata olives, mushrooms, jalapeños and bell peppers, a concoction created by consultant pizza chef Giulio Adriani. Another must-try is their signature Tagliolini Bombay, brought to life in a cheese wheel right at your table. It helps that they have a sophisticated selection of wine to wolf down your meal with, too. If you fancy a break from Asian cuisine, you can't go far wrong with Gustoso.
gustoso.co.in
Explore our insider guide to Mumbai, whether you're looking for a boutique hotel or the latest things to do. Interest piqued? Stay up to date by subscribing to the ROADBOOK newsletter.