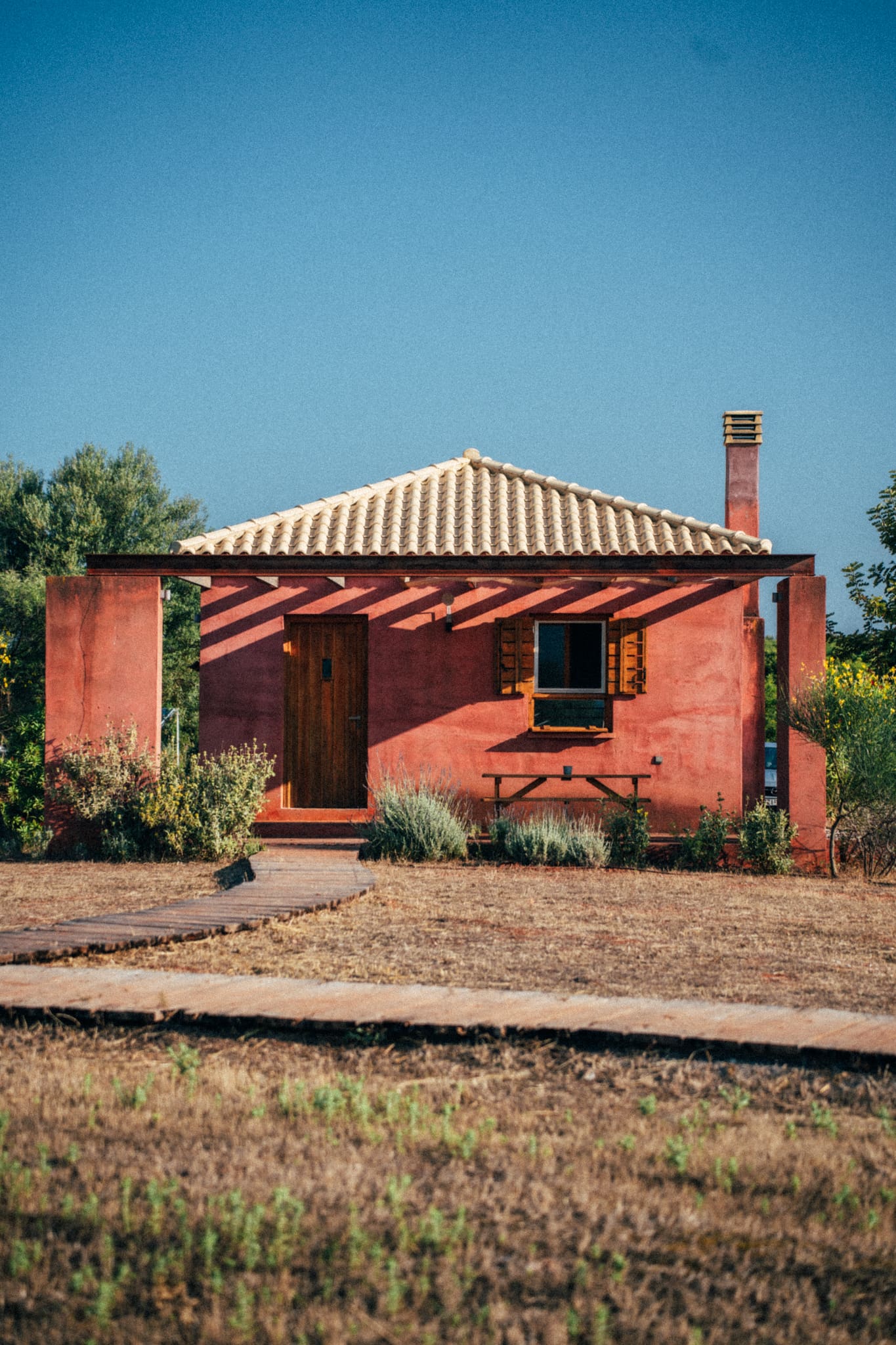 Agritourism: The finest farm stays in Europe
Last updated: August 21, 2023
Travellers are increasingly swapping hotels for serene farm stays, as they seek intimate, rustic idyls immersed in nature, with fuss-free locavore dining and a swathe of wellness activities
Picture the scene: an attentive host drizzles hand-pressed olive oil on a seasonal spread made using ingredients grown in a nearby organic garden. Perhaps meat is sizzling on a nearby open grill, as you take a sip of local wine from a neighbouring vineyard. There is a faint bleat of grazing sheep, as the sun drifts behind a pastoral backdrop of endless sweeping hills, rolling meadows and peaks. You retreat to one of just a handful of rooms, to be awoken by nature the next morning.
Add in daily yoga, cookery classes and artisanal decor and it's no wonder agritourism is booming as a blissfully bucolic, eco-conscious alternative to city dwellings. Forget The Simple Life, farm stays in 2023 are refined, combining upmarket interiors with organic fare and oenophilic offerings. After all, where better to experience authentic farm-to-fork dining than on the farm itself?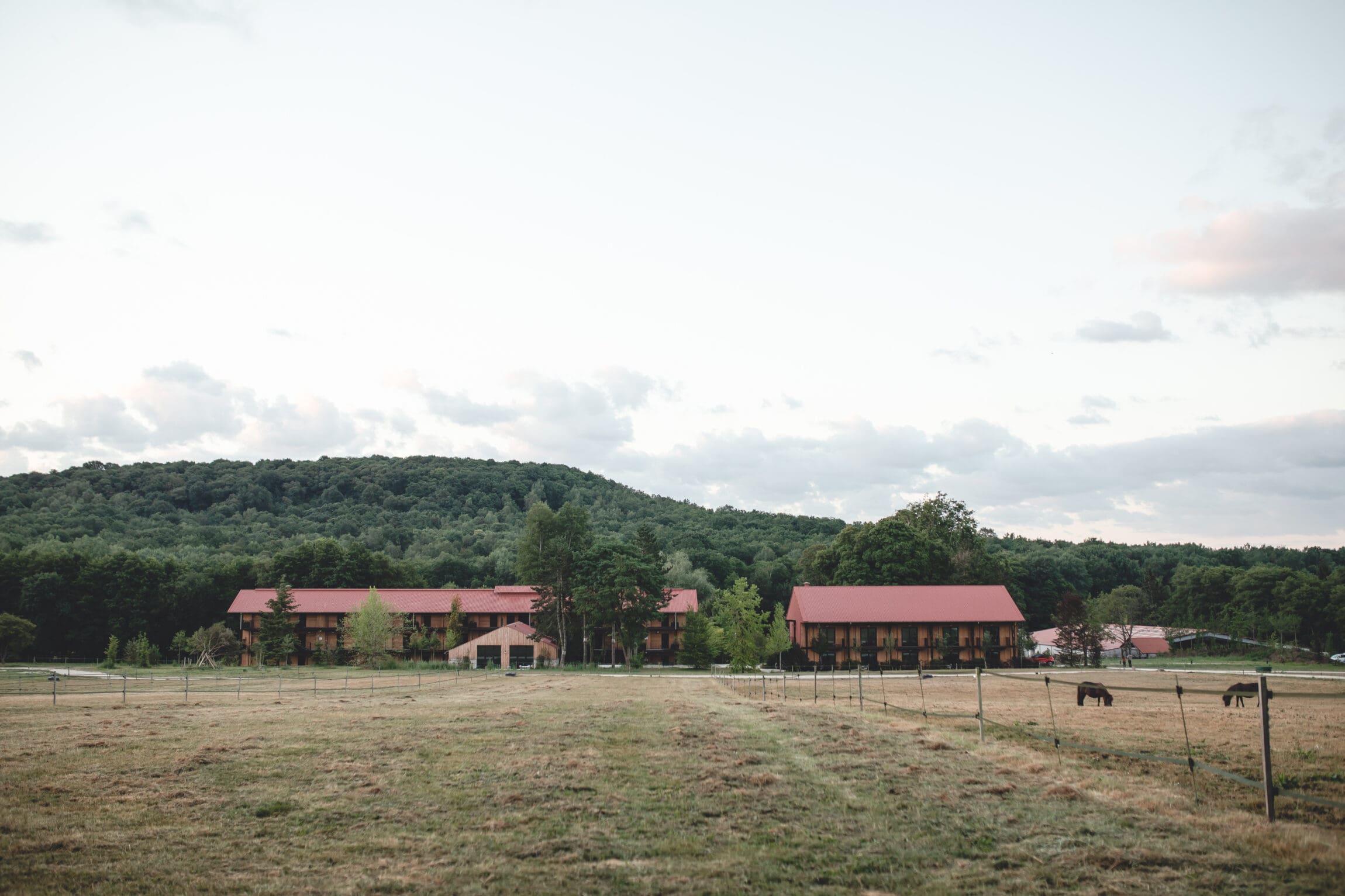 The global agritourism market is expected to grow from 53.23 billion USD in 2022 to 56.97 billion USD in 2023, and is expected to reach 73.22 billion USD by 2027, according to the 2023 Global Agritourism Market Report.
Agritourism helps to reduce rural poverty by allowing farmers and agricultural workers to diversify their business by offering guests overnight hospitality and an abundance of activities spanning olive harvesting, cheesemaking and beekeeping. Agritourism doesn't necessarily need to be a full-blown farm stay; revenue from agricultural endeavours includes a wedding in a converted farm barn, drinking apple cider in an orchard or visiting a farmers' market.
The 'haycation' aligns with a general desire of travellers to go off-grid, get back to nature and embrace the great outdoors, as well as the continued appreciation of hands-on activities such as foraging and fruit picking, which grew in popularity during the Covid-19 pandemic. It doesn't hurt that these locations are also often breathtakingly beautiful, from remote rustic farmhouses to mountainous ranches.
Claus Sendlinger, founder of the Design Hotels network, is oft-quoted: "The farmhouse is the golf course of the 21st century." He is also the co-founder of Slowness, which is currently building a curation of properties that combine regenerative agriculture with boutique hospitality, engaging a global community of designers, farmers, artisans and creatives.
The finest farm stays in Europe
Farm stays in Europe rose to prominence in the seventies, particularly in Spain and Italy, home of the agriturismo movement. A burgeoning farm stay scene is emerging in Greece and Albania, while Slovenia and Portugal also boast a growing network of affordable offerings.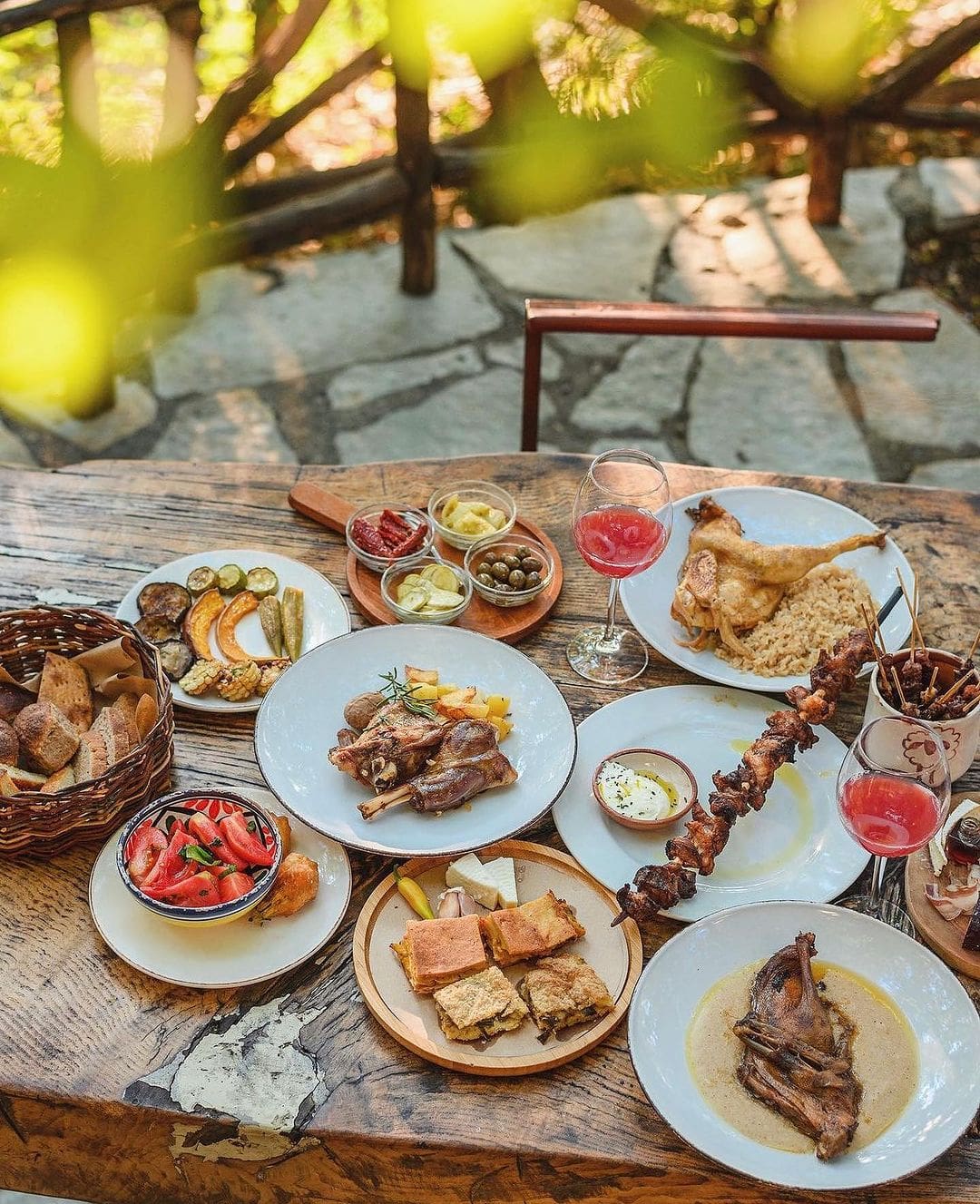 Mrizi I Zanave Agroturizëm, Albania
Best for: Immersive setting, delicious Albanian cuisine
Address: Rruga "Lezhë – Vau i Dejës", Fishtë, Lezhë 4505, Albania
Price: From 51 GBP per night
Warmth and hospitality permeate this family-friendly working farm and hotel set in a remote village in northern Albania. The original farmhouse has been updated with glass-walled rooms with sweeping pastoral views, while geese gather in sun-dappled olive groves and workers in traditional Albanian dress collect fresh produce from the fields. The feted restaurant, which is popular with locals, does not have menus and bases mealtimes on what is available that day. Expect a full table of organic Albanian fare for less than 30 GBP, such as wild fish, tender chicken skewers and picked tomatoes with cheeses made onsite.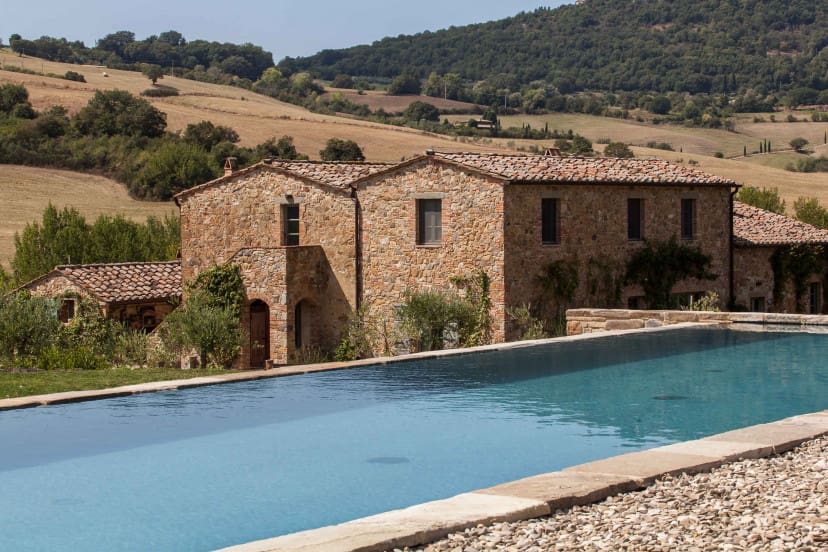 Follonico hotel, Montefollonico, Tuscany
Best for: An authentic agriturismo
Address: Località Casale, 2, 53049 Torrita di Siena SI, Italy
Price: From 301 EUR per night
Tuscany has no shortage of bellissimo farm stays. The family-run Follonico hotel occupies a 200-year-old farmhouse, snuggled near the serene hillside town of Montefollonico. While definitely remote, it is a short drive from the region's Unesco-listed attractions. Perugia airport is just over an hour away, and you can reach Florence by car in an hour and a half. There are just six rooms, alongside a saltwater pool, wrapped in verdant views of olive trees and rolling Tuscan countryside. Geese, chickens and horses meander the grounds and owners Fabio and Suzanne live onsite with their family, instilling a sense of intimacy and community spirit. Suites and rooms are furnished in stone and reclaimed wood and the largest – Blu Notte – has an open fireplace. Fabio is a self-proclaimed oenophile so expect an excellently packed cellar, which reflects the region's enviable offering.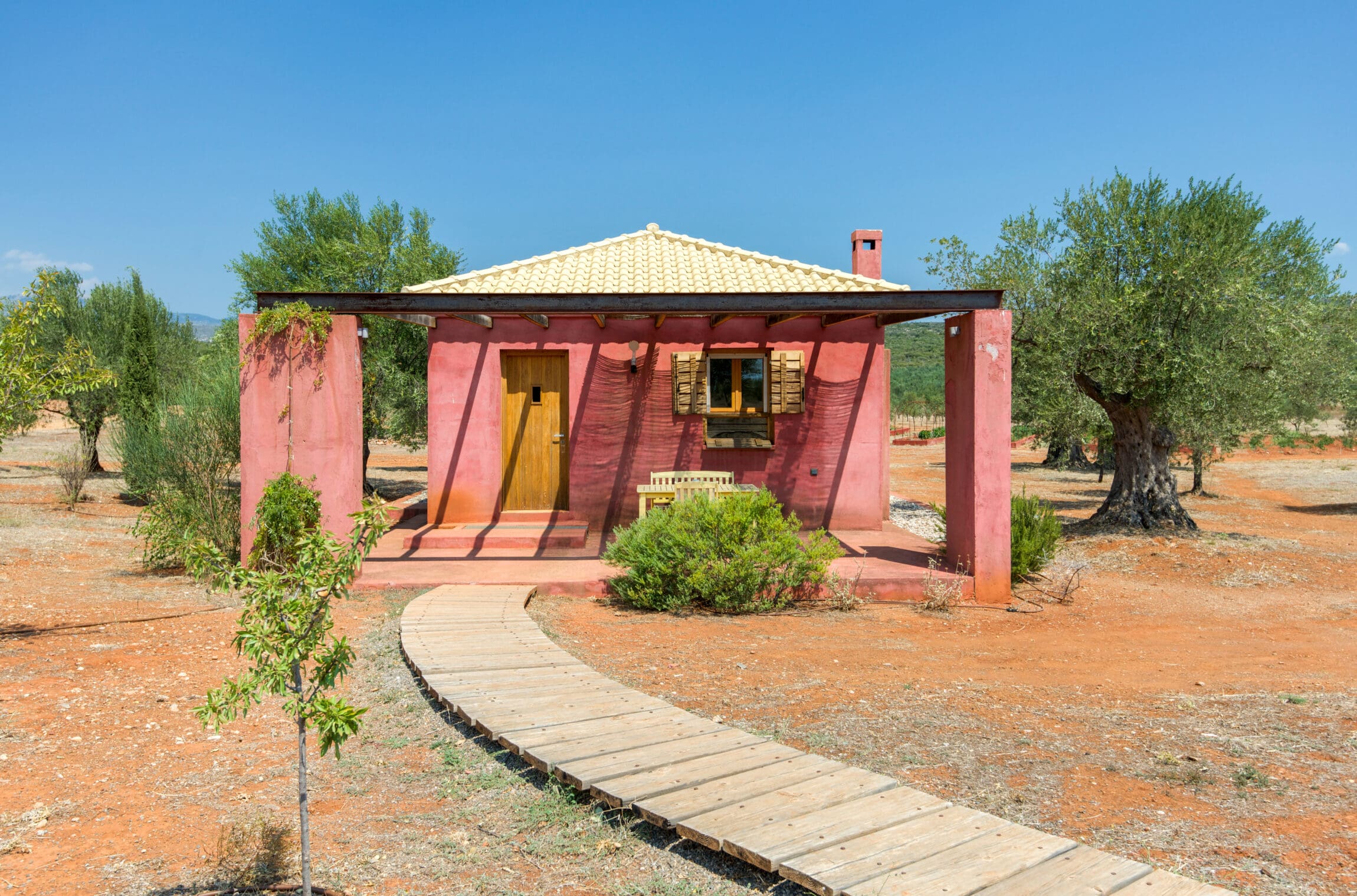 Eumelia Organic Agrotourism Farm, Peloponnese, Greece
Best for: Vegetarian farm-to-table cuisine, natural wine
Address: Gouves, Gouves Laconia 230 55, Greece
Price: 300 GBP per night (minimum two-night stay), including breakfast, dinner, a farm tour and olive oil tasting

Eumelia is a regenerative agritourism and wellness retreat in the Peloponnese peninsula in southern Greece. It is considered the greenest farm and hotel in the country, with a focus on environmentally friendly building materials and technology. Stay in watermelon-hued eco-houses built among lavender fields, olive groves and almond trees. Guests can partake in olive picking and tasting, cookery classes, yoga, hiking and biking, or simply sit back and enjoy the organic olive oil and natural wine, made onsite. The field-to-fork restaurant focuses on fresh vegetarian cuisine using farm-grown organic ingredients.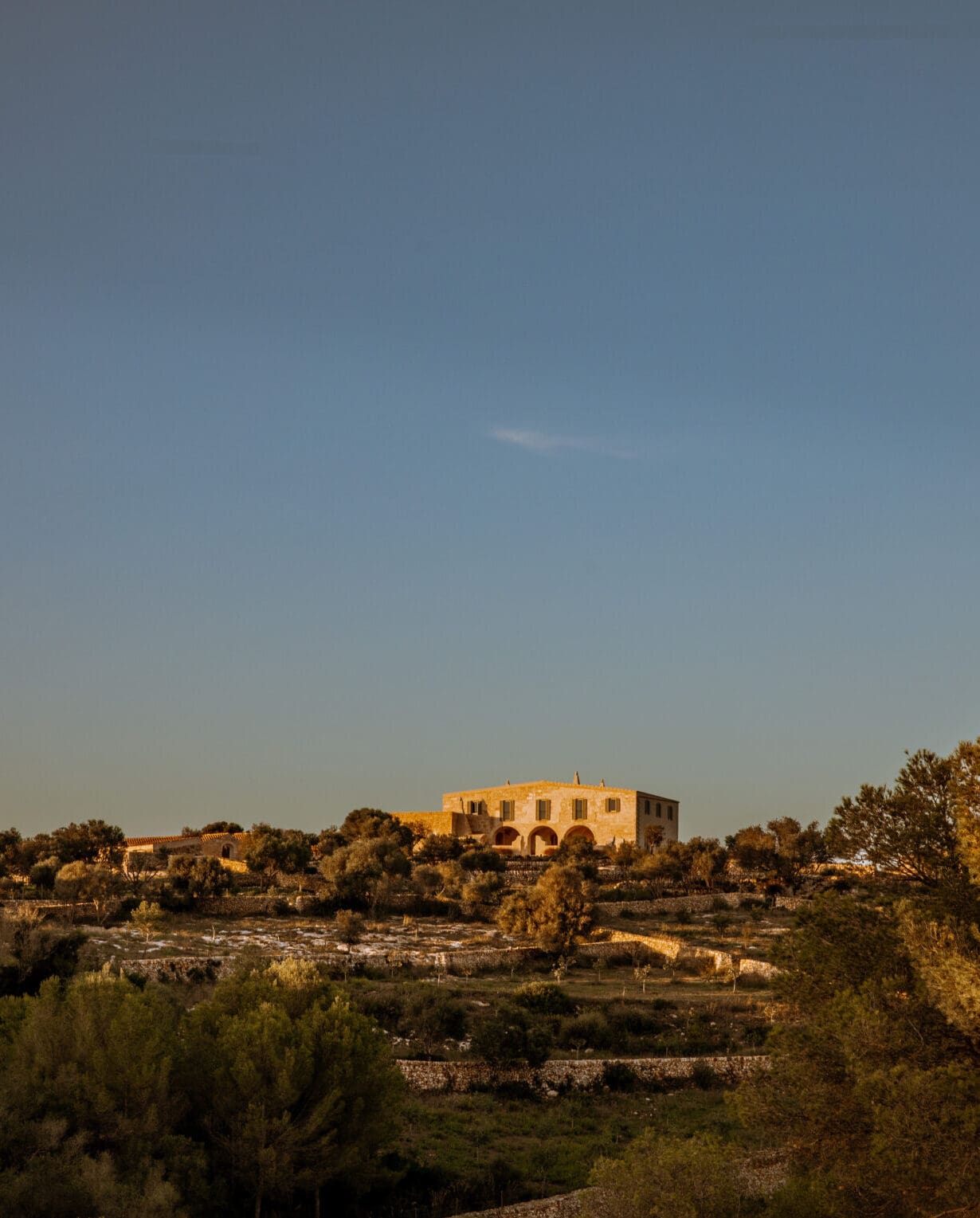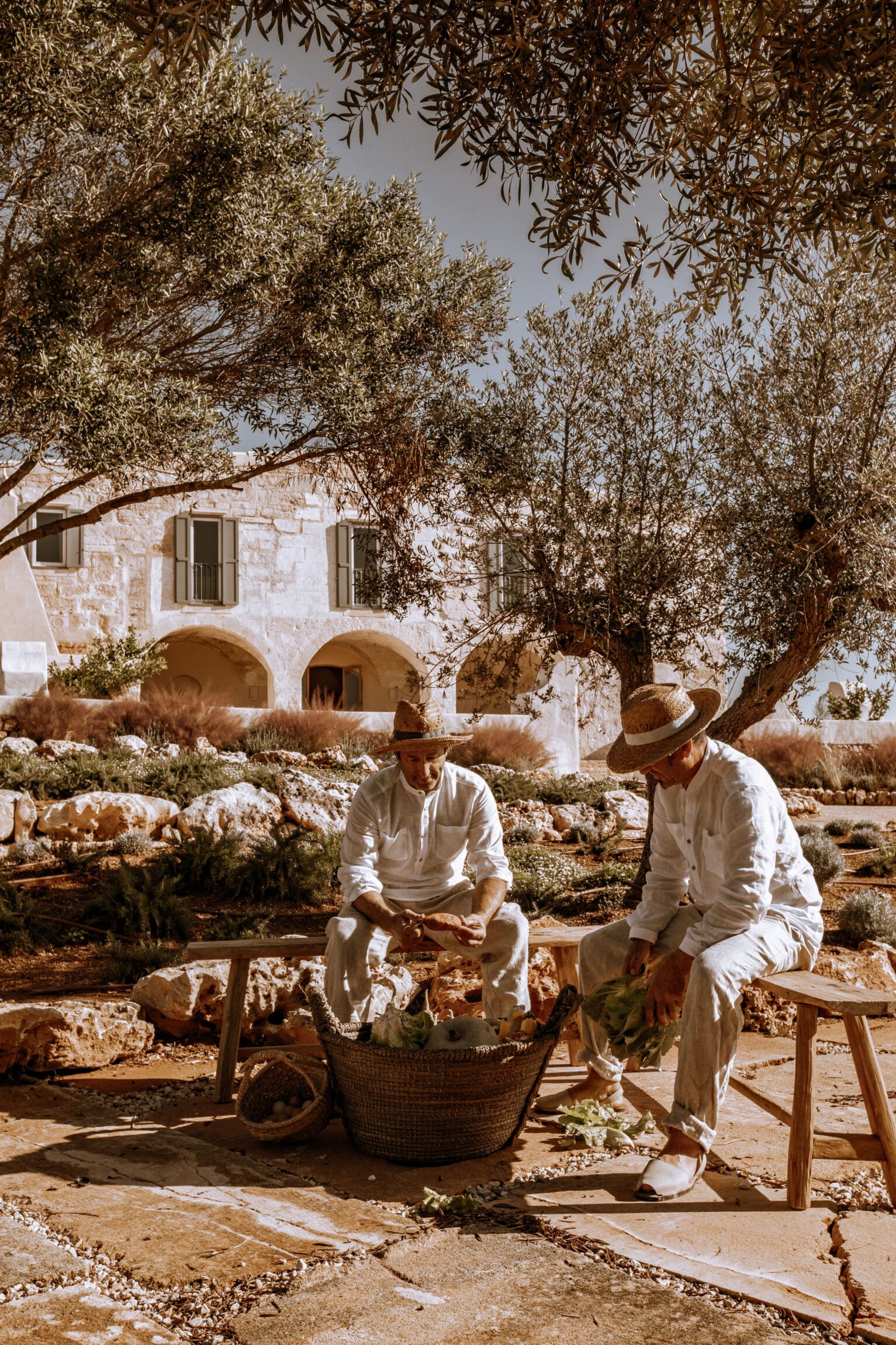 Son Blanc Farmhouse, Menorca
Best for: A serene, eco-retreat, gorgeous interiors
Address: Finca son Blanc Nou Camino de Son Blanc, 07730 Torre Soli Nou, Balearic Islands, Spain
Price: From 230 EUR per night in low season; 330 EUR in high season
Newly opened in 2023, Son Blanc Farmhouse is a hotel and working farmstead, set between the towns of Alaior and Es Migjorn Gran in Menorca. Owners Benedicta Linares Pierce and Benoît Pellegrini spent seven years renovating the derelict 19th-century farmhouse, working with local craftsman and materials to create a peaceful eco hotel, where low environmental impact marries exquisite design. A palette of clay, stone and reclaimed wood is softened by Spanish textiles and artisanal details. There are 14 uniquely designed rooms with vaulted ceilings, private gardens, outdoor hot tubs and cacti-studded views. Son Blanc Farmhouse focuses on agricultural principles and all produce is grown on the 320-acre farm, medical garden and fruit orchard. The seasonally changing menu embraces smoking, pickling and drying, with a particular focus on plant-based dishes.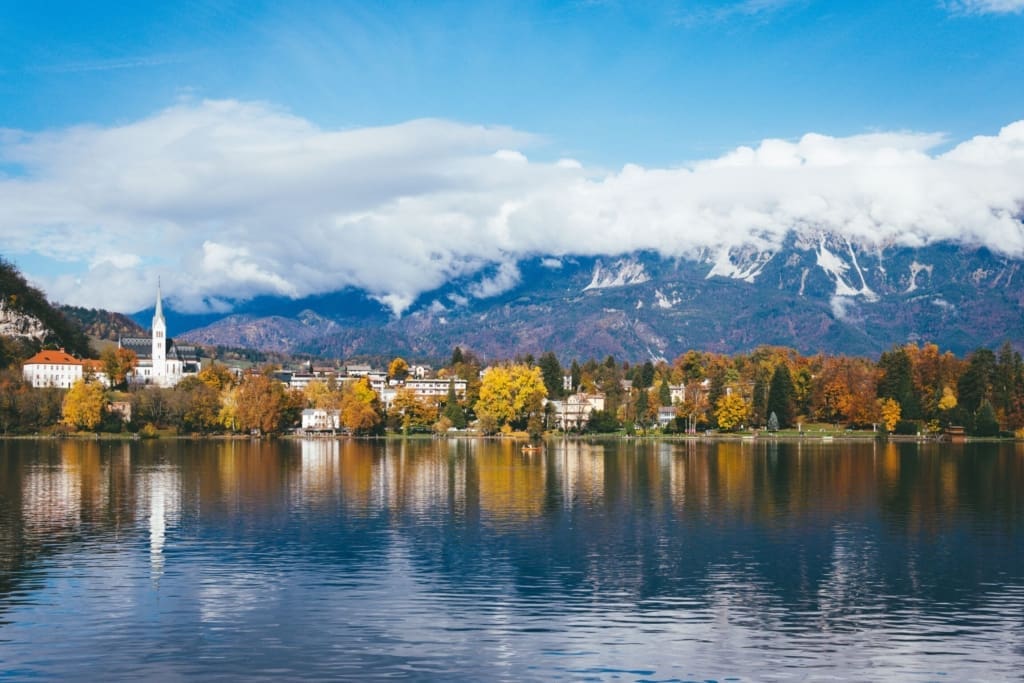 Lešnik Tourist Farm, Slovenj Gradec, Slovenia
Best for: authentic, affordable farm stay
Address: Golavabuka 24, 2383 Šmartno pri Slovenj Gradcu, Slovenia
Price: B&B from 30 EUR, apartment rental from 80 EUR
Slovenia's rugged mountains, bucolic pastures, wild beauty and crystal-clear waters make it a popular choice for a farm stay, and there is an excellent network of affordable tourist farms throughout the country. Lešnik is considered one of the best, located near the town of Slovenj Gradec. The land comprises a mill, chapel, and herb garden, wrapped in protected linden trees. Expect hearty, homemade food with a focus on regional dishes such as dumplings and potica (nut roll) cake. The farm is fully self-sufficient and even mills its own flour and wheat. Guests can try paragliding, as well as sledding and skiing during the colder months.
Farm and guesthouse in Transylvania, Romania
Best for: an insight into Transylvanian life, a farm stay that gives back to the community
Address: Cobor village, Brasov county
Price: 72 – 114 EUR per night
Responsible Travel excels in curating consciously minded holidays, from complete itineraries to authentic guesthouses. This biodiversity farm is accompanied by two guesthouses, tucked away in the undulating hills of South-central Transylvania in the small village of Cobor, with wildflower meadows all around. Interiors balance traditional Hungarian and Saxon spirit with modern comfort, while guests can also enjoy home-cooked meals, hiking, horse-drawn cart rides and bike tours.
Farm stays offer a friendly insight into Transylvanian rural life, as well as supporting the largest rewilding project in Eastern Europe. The project was established by Foundation Conservation Carpathia, a Romanian NGO that aims to create new and non-destructive economy around the Fagaras Mountains, to benefit both biodiversity and the local community. All profits go directly to the Foundation's work to establish a world-leading wilderness reserve in the southern Carpathian Mountains.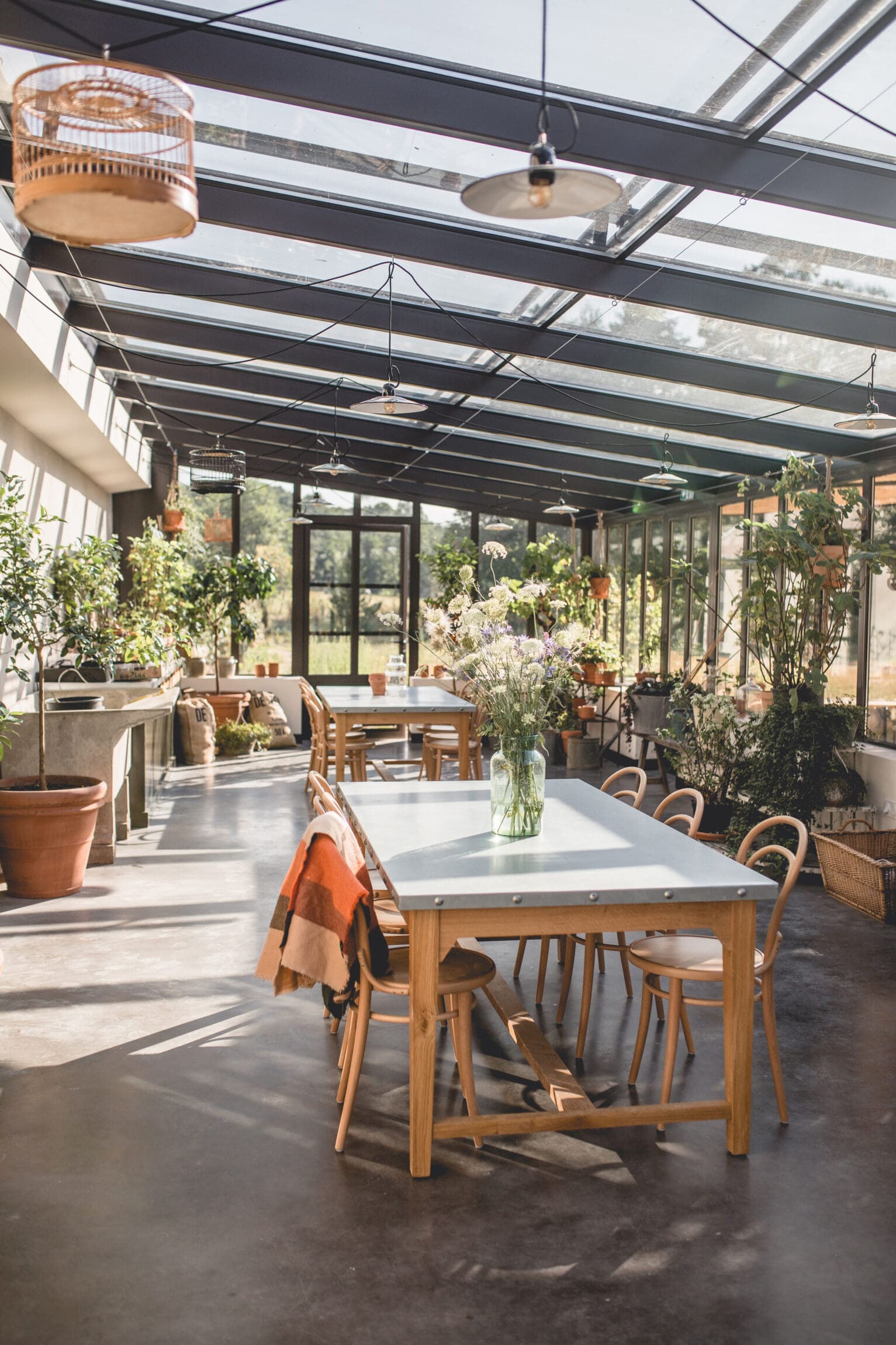 Le Barn, Bonnelles, France
Best for: Equestrian pursuits, hip interiors
Address: Le Moulin de Brétigny, 78830 Bonnelles, France
Price: From 220 EUR per night including breakfast
Le Barn isn't a farm stay in the traditional sense, but this boutique forms part of Haras de la Cense horse farm. Hidden in the Forest of Rambouillet on a rambling 200-hectare estate, Le Barn marries bucolic bliss with contemporary interiors. The hotel occupies two iron and steel agricultural barns, overlooking a shimmering pond and equestrian learning centre. Developed with Studio Saint-Lazare and landscaper Daphne Charles, modern design honours the site's rich history as a 19th-century farm. In La Serre restaurant, guests gather around large wooden tables beneath a soaring glass conservatory roof, and dishes are cooked using ingredients grown in the neighbouring garden. Look out for local wildlife, including free-roaming hares, heron and deer, and explore by foot, horseback or bicycle. Guests can harvest raspberries, artichokes or rhubarb depending on the season, or take a tip in the Nordic bath.
Finca La Donaira, Andalucía, Spain
Best for: A luxury Andalusian rural retreat with a cacooning spa
Address: Camino de las Minas, s/n, 29430 Montecorto, Málaga, Spain
Price: From 670 EUR per night all-inclusive, covering all food and drinks
For those who don't want to get their hands too dirty, Finca La Donaira is a biodynamic farm with a sybaritic side. Nine rooms are set high in the dramatic Serranía de Ronda mountains of Andalucía, southern Spain, where sheep, chickens and goats roam the grounds, alongside rare Spanish cattle breeds such as the pajuna cow. Rugged terrain contrasts against a cocooning spa with treatment rooms and a 21-metre indoor pool, framed by floor-to-ceiling windows. Guests can also dip in outdoor natural pools, canter on horseback or join yoga and pilates classes against verdant views of rolling valleys, olive and almond groves. Meals and drinks are all-inclusive and Donaira strives to educate guests on sustainable cultivation and connecting with the land. Multi-course meals draw on what is gathered that morning, accompanied by local natural wines.
São Lourenço do Barrocal, Portugal
Best for: A luxury farm stay near Lisbon
Address: São Lourenço do Barrocal, 7200-177, Portugal
Price: From 550 EUR per night
Five-star farm stays don't come better than São Lourenço do Barrocal, where a working organic estate, orchard and vineyard are met by a Susane Kauffman spa and a 20-metre swimming pool. Located about an hour and a half away from Lisbon beneath the hilltop town of Monsarez, the original low-slung farmhouse and barns have been transformed into 40 rooms, suites and cottages. The field-to-fork restaurant celebrates regional cuisine, and there are convivial barbecue feasts on Sundays with fire-cooked meats and vegetables.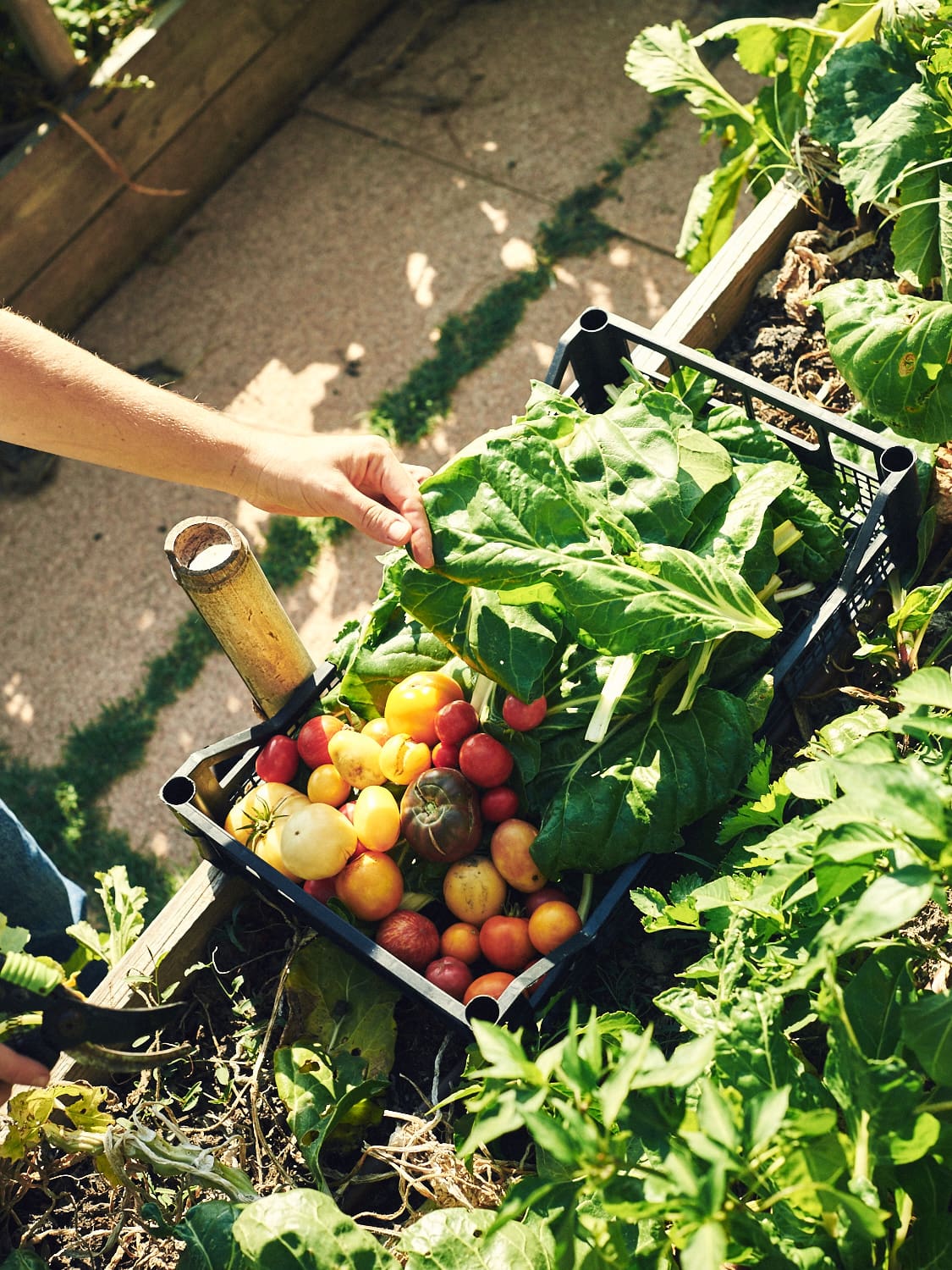 Villa Lena, Tuscany
Best for: a creative agriturismo 
Address: Strada Comunale di Toiano, 25, 56036 Toiano PI, Italy
Price: From 165 EUR per night 
Villa Lena is a Tuscan agriturismo, set amidst 500 hectares of beautiful woodland, vineyards, olive groves and organic vegetable and flower gardens. This multifaceted farm stay houses an art foundation and residency programme, and artists can be found honing their craft on the verdant grounds. Creative workshops include yoga, foraging and autumnal truffle hunting, as well as kids' activities for little hands. Villa Lena is a 45-minute drive from Plisa airport and within accessible distance of Florence, Lucca and San Gimignano. "The hardest challenge of balancing a working organic farm and a boutique hotel is relaying the message of seasonality to clients," says co-owner Lena Evstafieva. "Produce can change according to the season, but also what type of season we may have. Balancing the expectation of guests who would like to enjoy their holiday and to have everything they might want, rightfully so, and the reality of an organic and seasonal farm. There are always compromises to be found, but finding the right one takes time and work."


JOIN US FOR THE JOURNEY
Subscribe to the newsletter
City guides, culture, photography and ideas, with expert analysis on the biggest stories in travel