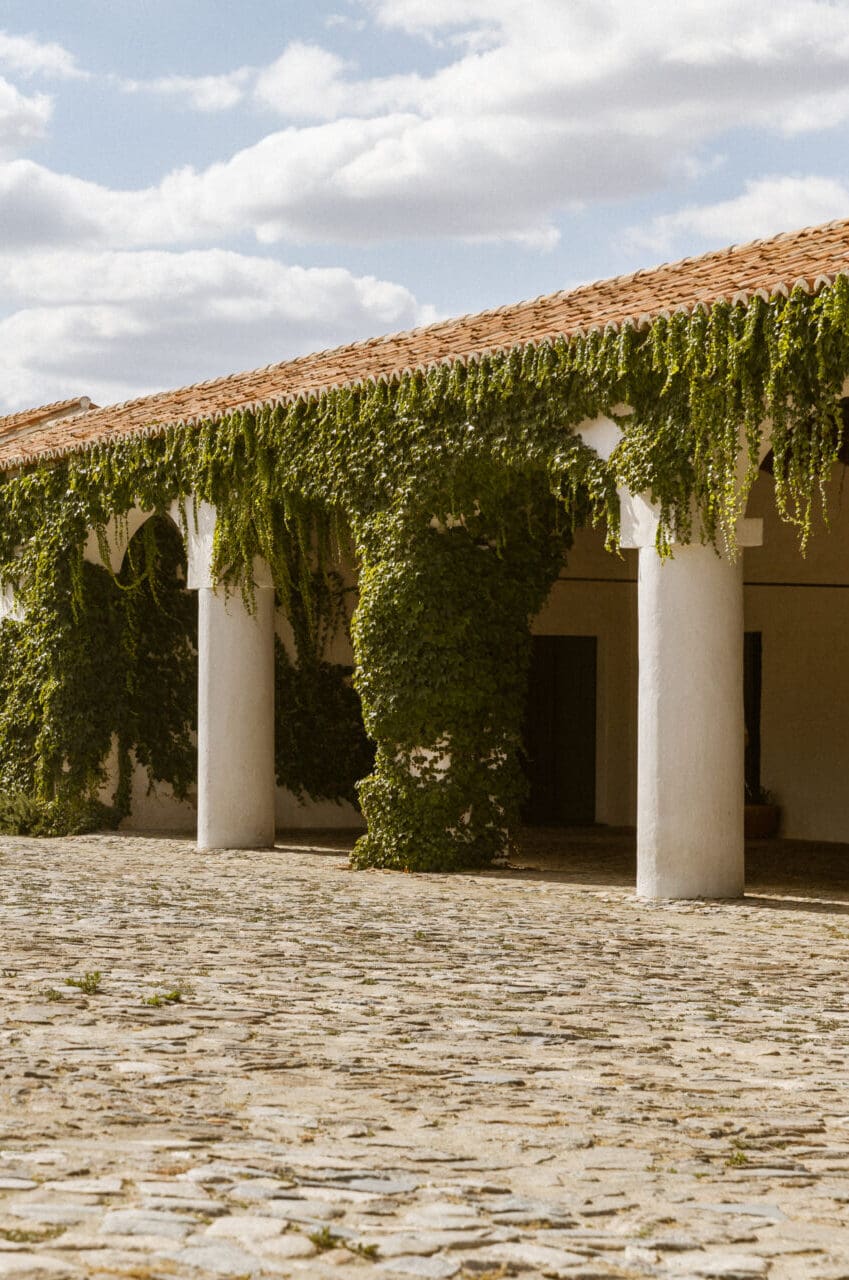 Inside farm-turned-sustainable hotel São Lourenço do Barrocal, Portugal
Last updated: August 15, 2023
We take a deep dive into the sustainable model behind self-sustaining farm-turned-luxury hotel São Lourenço do Barrocal in Portugal's Alentejo region
It's dawn in Alentejo, Portugal, and I'm sat in the doorway of my room at luxury hotel São Lourenço do Barrocal, watching the sky turn from purple to gold as hot air balloon silhouettes drift over Monsaraz, an ancient hilltop village that juts out of the flat, arid landscape.
My room overlooks a vineyard, and I hear the hotel's herd of cows make their way past, the soft clanking of bells around their necks and gentle mooing the only sign of their presence in the muted stillness of early morning.
I rise, dust off my jeans, and bring my empty cup – which seconds ago held a steaming tea made from herbs grown in São Lourenço do Barrocal's kitchen garden – and make my way past the former farm buildings and down the wide cobbled road that takes me to breakfast in the restaurant, where I eat a bowl of fresh, seasonal fruit and tangy yoghurt, followed by Alentejano cheese and cured meat. Simple yet sophisticated in decor, with a terracotta tile floor and chalky white walls adorned with family heirlooms, it's hard to believe this elegant yet intimate room is, in fact, a former dog kennel.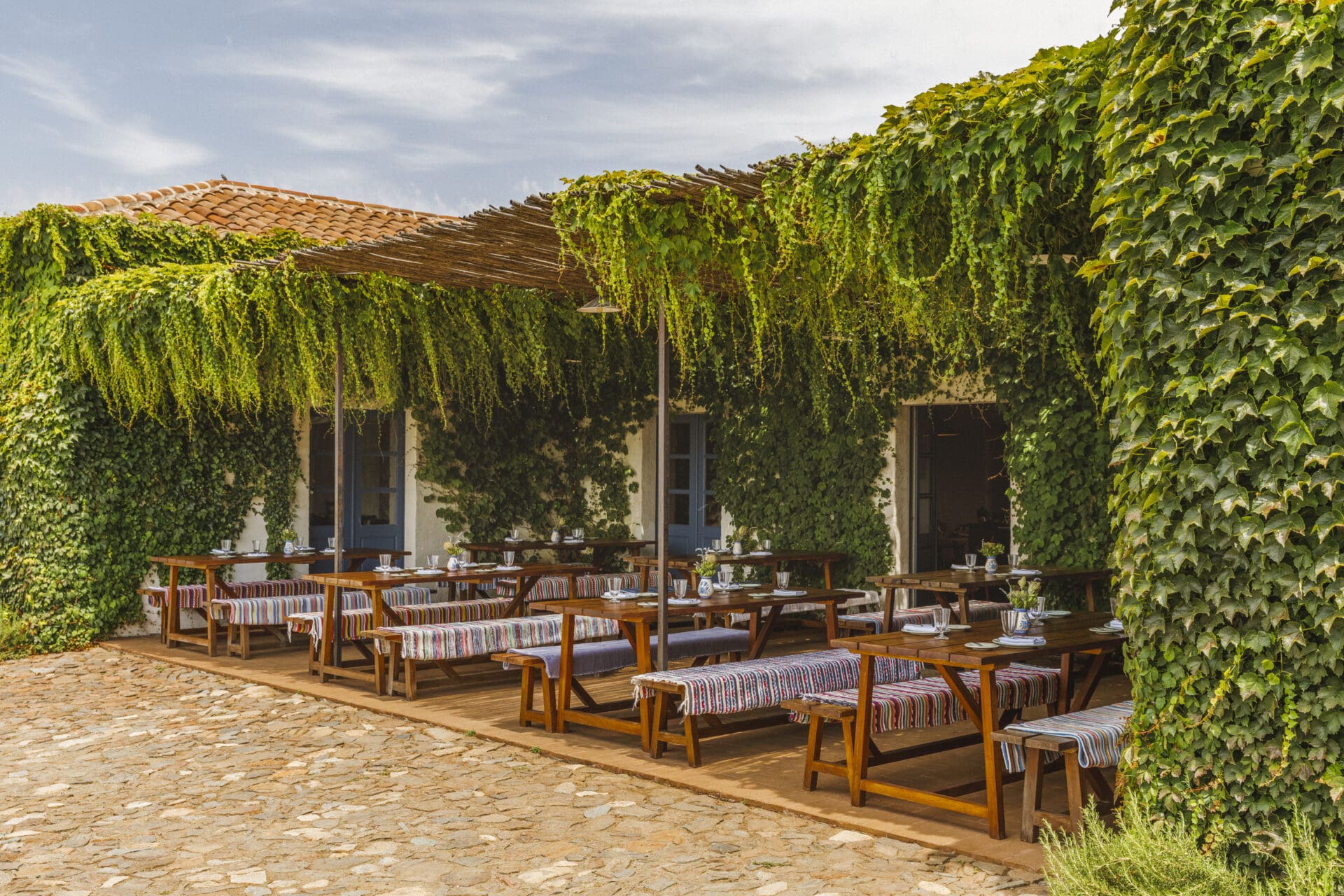 But that's par for the course here: next door, a smaller building – what used to be the chicken coop – houses the very tempting shop, packed with locally made items, from vases to hand-printed linen tablecloths. Altogether, the scene is reminiscent of a farm than a hotel, and that's exactly what it is: São Lourenço do Barrocal – affectionately known as 'Barrocal' – is a working organic estate, vineyard and olive grove, revitalising a former farming community that was abandoned during Portugal's Carnation Revolution in the 1970s.
The whitewashed buildings, crowned with terracotta tiles and adorned with climbing plants, date from 1820, when a local agricultural entrepreneur bought some of the former royal hunting grounds and offered the local people their own parcels of land in return for cultivating one hectare of vines. This resulted in more than one million acres of vines being planted, kickstarting the now deeply entrenched local wine tradition (which is definitely worth exploring).
When the entrepreneur divided up his land, he kept 780 hectares for himself, which became São Lourenço do Barrocal, a self-sustaining village, or monte, supporting around 50 families. The community rarely left the grounds, making their own bricks, olive oil, textiles and more, except to cut loose for one day a year to attend the local fair – a lifestyle that rolled on unchanged for more than 100 years.
But in 1974 came the Carnation Revolution, ending Portugal's 40 years of dictatorship and nationalising properties like the monte, as the landowners – the original entrepreneur's descendants – lost possession of their lands and its inhabitants began to leave. The farm quickly became derelict and was then completely abandoned.
Some ten years and one political shift later, the landowning family were able to regain control, and eighth-generation family member José António Uva, then in his early 20s, decided to bring Barrocal back to life, preserving the estate's heritage for years to come by turning it into a luxury retreat.
Over the next 15 years, the modern-day São Lourenço do Barrocal was born, complete with kitchen garden, vineyards, and 40 rooms, suites and cottages, all with whitewashed walls, natural wood furniture, terracotta tiles and the kind of luxurious, rustic minimalism I'd have in my own home in a heartbeat.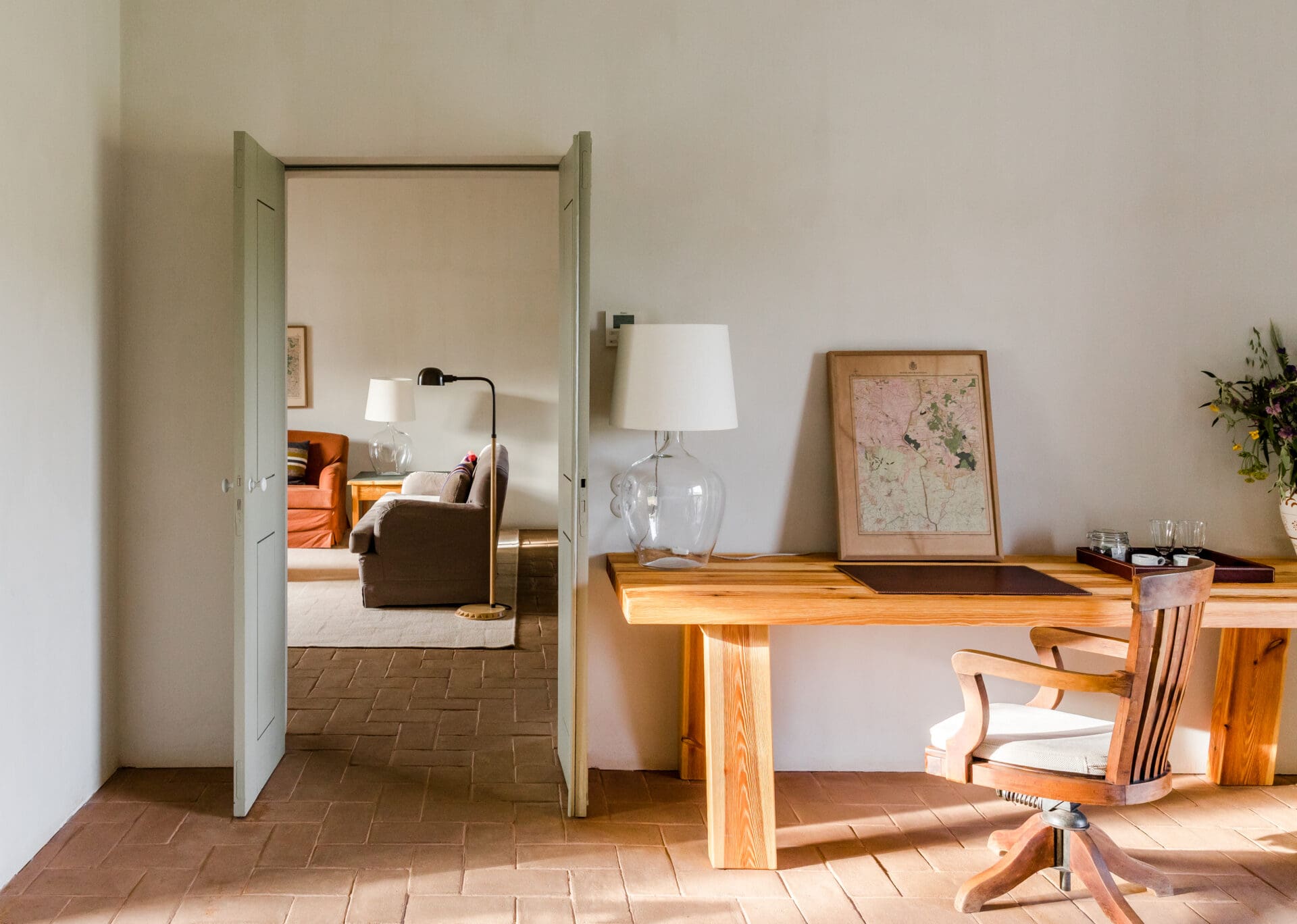 The buildings were sensitively restored with no new structures added, apart from two perfect swimming pools, one partially made out of an old stone water storage tank, and the other structured around one of the giant ancient stones, or barrocals, that lend the estate its name. The spa is in the former hostel for seasonal farm workers; the reception and bar area are in the former olive press; and, from the exterior, everything looks much as it did (albeit freshened up) 50 years ago.  This respect for the Alentejo region's vernacular architecture saw Pritzker-prize-winner architect Eduardo Souto de Moura, who worked with Uva on the restoration, awarded the Golden Lion at the Venice Biennale in 2018.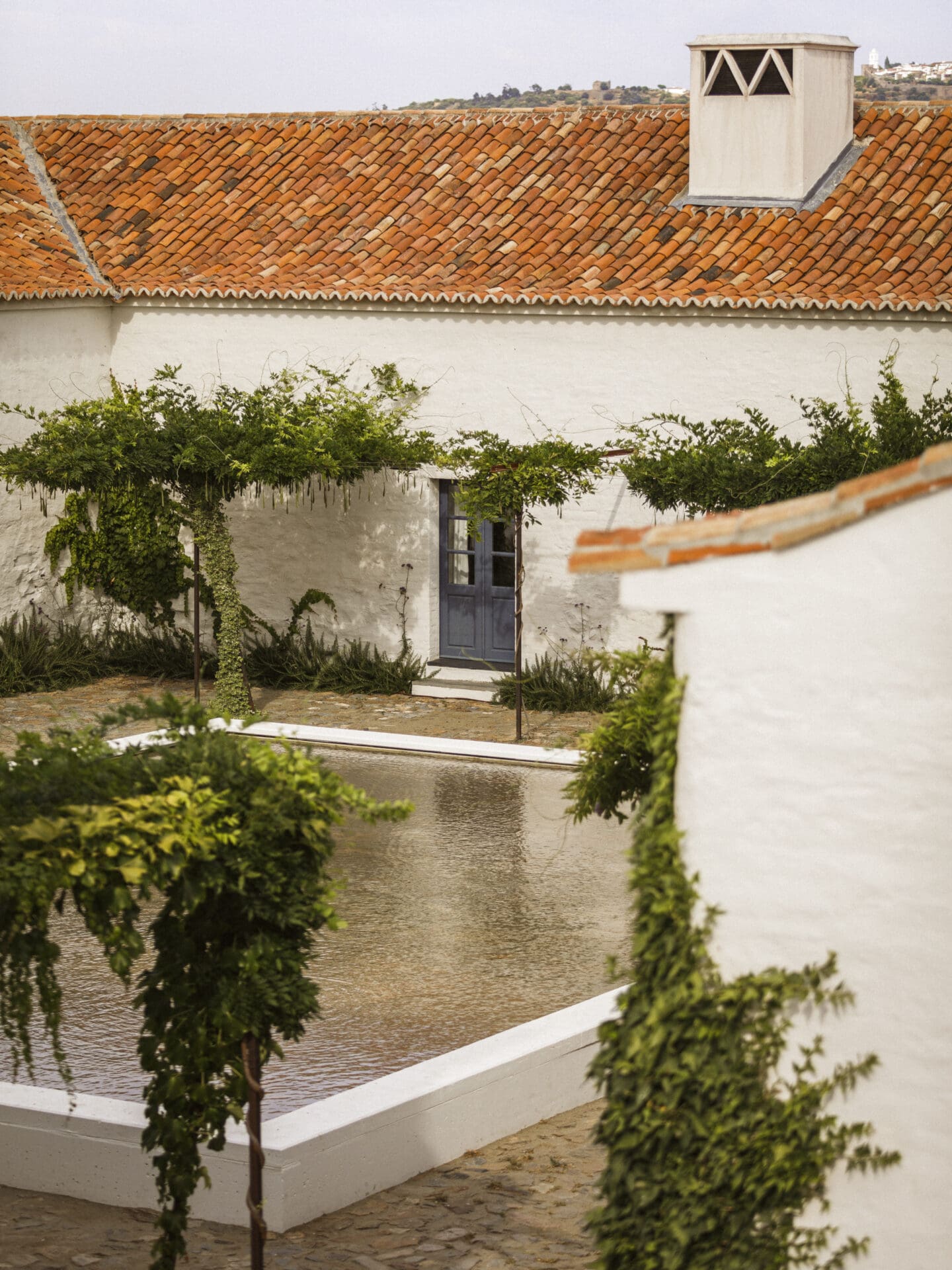 The focus on sustainability extends to the food, found at the main restaurant and the more casual poolside offering. What doesn't come from the farm is sourced as locally as possible from its neighbours, and fish is caught in the nearby lake. The restaurant menus change roughly every three months in line with Alentejano seasons, with dishes during a stay in late October running the gamut from cod tongue stew to meltingly tender pork from pigs raised on a diet of acorns, and the chef visits the kitchen garden daily to find out what's at its best from the dedicated gardeners.
A recent initiative has been the restoration of Barrocal's 100-year-old olive groves, yet another lengthy, expensive process that focuses on the old ways – spearheaded by Chico Zé, the groundskeeper – rather than using machinery. It's proved so interesting that Barrocal now offers guests the chance to visit and join in the olive harvest as well as a wine harvest itinerary, both of which take place in autumn.
It's clear that Barrocal is a labour of love, and not just Uva's but everyone who comes near it. This project has been several decades in the making, and the careful approach shines through in everything, from the knitted blanket on your bed to the olive tree growing outside your room. In many ways, Barrocal is not a hotel, but a taste of what life could be – and I bet you'll like what you see.


JOIN US FOR THE JOURNEY
Subscribe to the newsletter
City guides, culture, photography and ideas, with expert analysis on the biggest stories in travel