Susie Lau shares a personal ode to Hong Kong, recalling the cacophonous sounds, scents and flavours that shape her memories of the city
Whenever I talk about journeying to Hong Kong, the Cantonese verb I always use by default is 返 'fan', meaning 'to go back to', 'to return', 'to go home'. Which is odd, because Hong Kong isn't a place I have ever lived in. It isn't home like London is, where I was born, raised and have lived all my life. Hong Kong is, however, the place where my parents are from. And so I've adopted their language. That one verb is heavy with a yearning to return to my parents' place of birth, where most of our family is. For me, it means to go back to find something that is amiss here.
I haven't been back to Hong Kong since before the pandemic as the city endured the toughest lockdown conditions in the world, in line with China's zero-Covid policy. As it is now virtually free of restrictions, I'm planning an epic 'homecoming' in Spring with my daughter Nico (who went as a toddler but doesn't remember a thing) and my three-month-old son Casper.
There's the obvious hit list of relatives that I'll need to see. New sprogs to see, owing to my extended family of cousins, who have had pandemic babies. Passed away relatives, whose graves I'll need to sweep and lay flowers upon.
But it's the visceral senses of Hong Kong that I've really missed. They're at their most potent in Mong Kok in the Kowloon peninsula. Tourists who traditionally use Hong Kong as a stopover en-route to Australia might never see Hong Kong beyond the sanitised gloss of the skyscrapers in the CBD Central area or the fancy designer malls of Tsim Tsa Tsui.
With a faint whiff of snobbishness, foreign expats ensconced in the financial district on tiny Hong Kong island might never "cross the sea" to the Kowloon side. But Mong Kok is where my formative memories of Hong Kong reside: my aunt lives there, and whilst staying with her, I'd be let loose in the sprawl of street markets, teeny bopper malls and traditional shops and restaurants.
First and foremost it's the unmistakable smell. It's present throughout the city but it's most potent in Mong Kok. A combination of stinky tofu, freshly made bubble egg waffles, roasting chestnuts (we would always go back in the winter because we couldn't hack the ultra-humid summers), mixed with smells of fresh produce from the wet market and dried seafood from the 'hoi mei' stores (there's a lot of preserved food in Cantonese cooking), as well as top notes of incense burning at mini altars in the entrances to shops and restaurants to bring in prosperous trade.
There's the noise. A clacking of mah jong tiles heard on the upper floors of apartments above the stores and the 'click click' sound of a pedestrian crossing that ramps up when people are in full flow getting from A to B. There's the street calls from everyone trying to sell their hustle: 'phone contracts!' 'Free sample of Fancl cleanser from local beauty chan Sasa!' 'Come try our hot pot dish on promotion today!' They'll use full-on flattery to get your business – 'leng Lui' – "pretty girl" which here would be considered catcalling, but in Hong Kong it is a welcome term of affection. In the many market streets of Mong Kok – most famously Ladies' Market if you want underwear, bootleg toys and knock-off bags – you'll hear active haggling over prices that can reach comedy levels. My dad's tactic is dramatically walking away from the vendor until they bend to his will. And if you want a different soundscape from the barking Cantonese bartering, then you have the flower market, the goldfish market and the more local trade of catering equipment shops on Shanghai Street.
Then there's the looks. Maybe because I grew up in Camden in London, I have a special affinity with Mong Kok, where teenagers congregate in rabbit warrens of youth malls like Argyle Centre or the very literally-named Trendy Zone, and in toy and anime-focused centres like In's Point. I used to love gleaning localised trends that may have been imported from Tokyo – one year I remember going around the malls and pondering why everyone my age was wearing tops with attached arm warmers and slouchy over-the-knee socks worn with chunky loafers. Sticking out like a sore thumb in my Camden vintage garms and a less-than-spot-on Cantonese accent, it reminded me that I am in effect an outsider roaming this city where I have distant roots.
And of course, there are the tastes. I always plan my days in Hong Kong around five meal times so I can pack extra eats in. A breakfast at an old-school Hong Kong caff where I can have spam and egg sandwiches alongside a beloved macaroni soup – an overhang of east–meets-west hybrids from the city's days as a former British colony. A mid-morning casual dim sum watching old folks gossip over tea. A quick beef brisket noodle lunch. A full on Cantonese seafood feast where you can handpick fresh fish, lobster and giant prawns out of the tanks. A past-midnight meal at one of the few remaining open-air street restaurants – a 'dai pai dong'. By eating my way through the things that my parents have always laboriously tried to recreate back in the UK, I somehow feel more rooted to the city. Their salivation over these OG dishes and therefore their yearning for HK has bled into my psyche.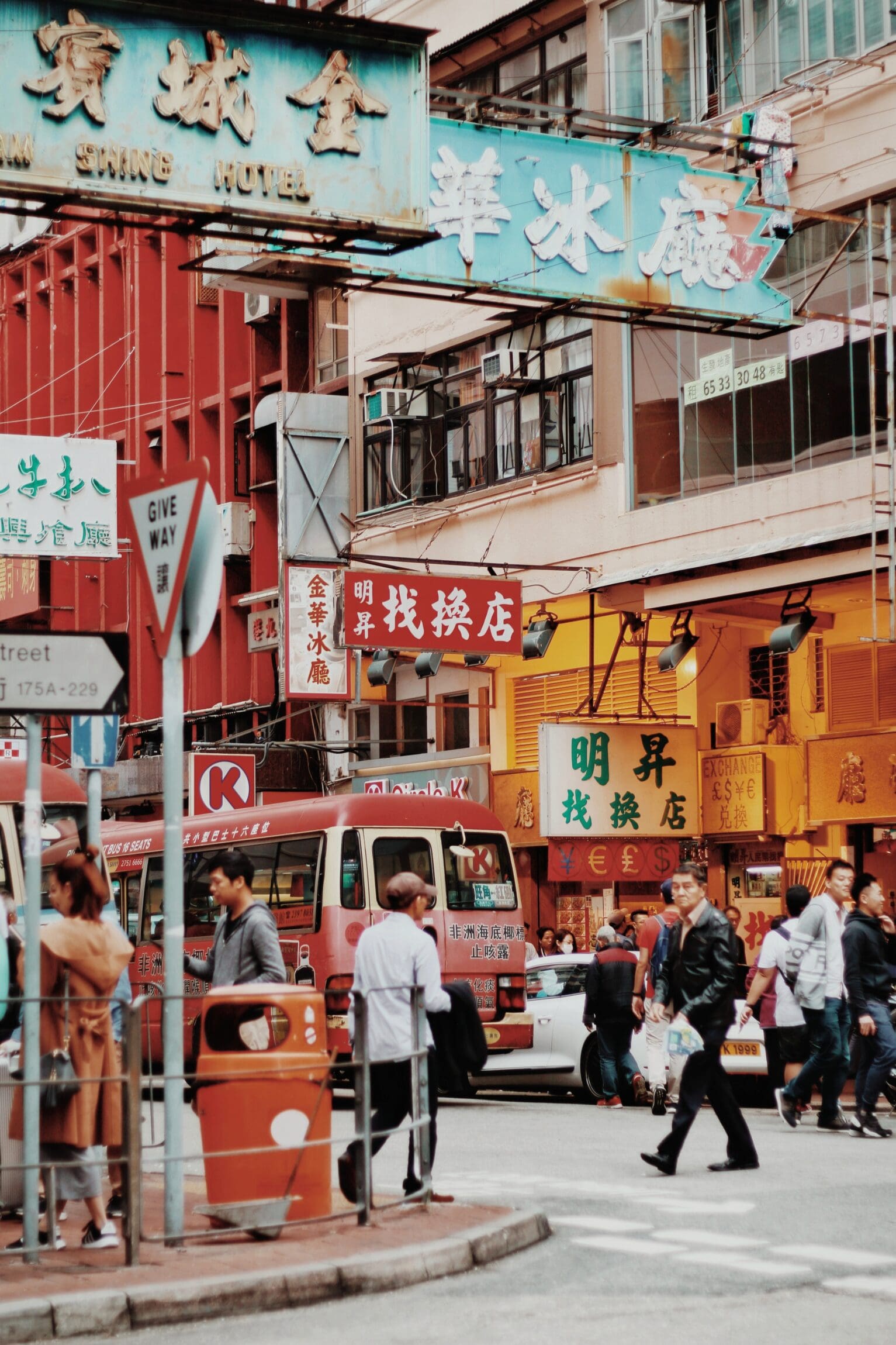 Needless to say, post Covid, I know I'll find Hong Kong a changed city. Businesses have faltered. The feeling that old Hong Kong is fast disappearing is even more exacerbated by the pandemic. Famed food institutions like Mido Cafe, Jumbo seafood restaurant and Lin Heung Tea House are sadly no more. And there's no escaping the fact that after the last of the pro-democracy protests ebbed away, and the national security law as decreed by China was passed, Hong Kong 'feels' different. Friends, who have recently done the homecoming trip to Hong Kong, have all felt varying degrees of oppression in the air, with banned websites and apps and a newly censored media.
Selfishly, I want to hold on to the vestiges of 'old' Hong Kong even though it's inevitable that like any city, things have to evolve. Thankfully the preservation movement to retain Hong Kong idiosyncrasies are strong. Its strength isn't that it's just another financial hub or an extension of mainland China. Work hard, play hard. Tradition and technology jostling with another. Temple next to skyscraper. The Chinese ribbon store next to a designer boutique. Sleek MTR trains and old rickety 'mini buses'. Old and new. Slow versus fast. I cannot wait to savour it all and pass those memories on.


JOIN US FOR THE JOURNEY
Subscribe to the newsletter
City guides, culture, photography and ideas, with expert analysis on the biggest stories in travel