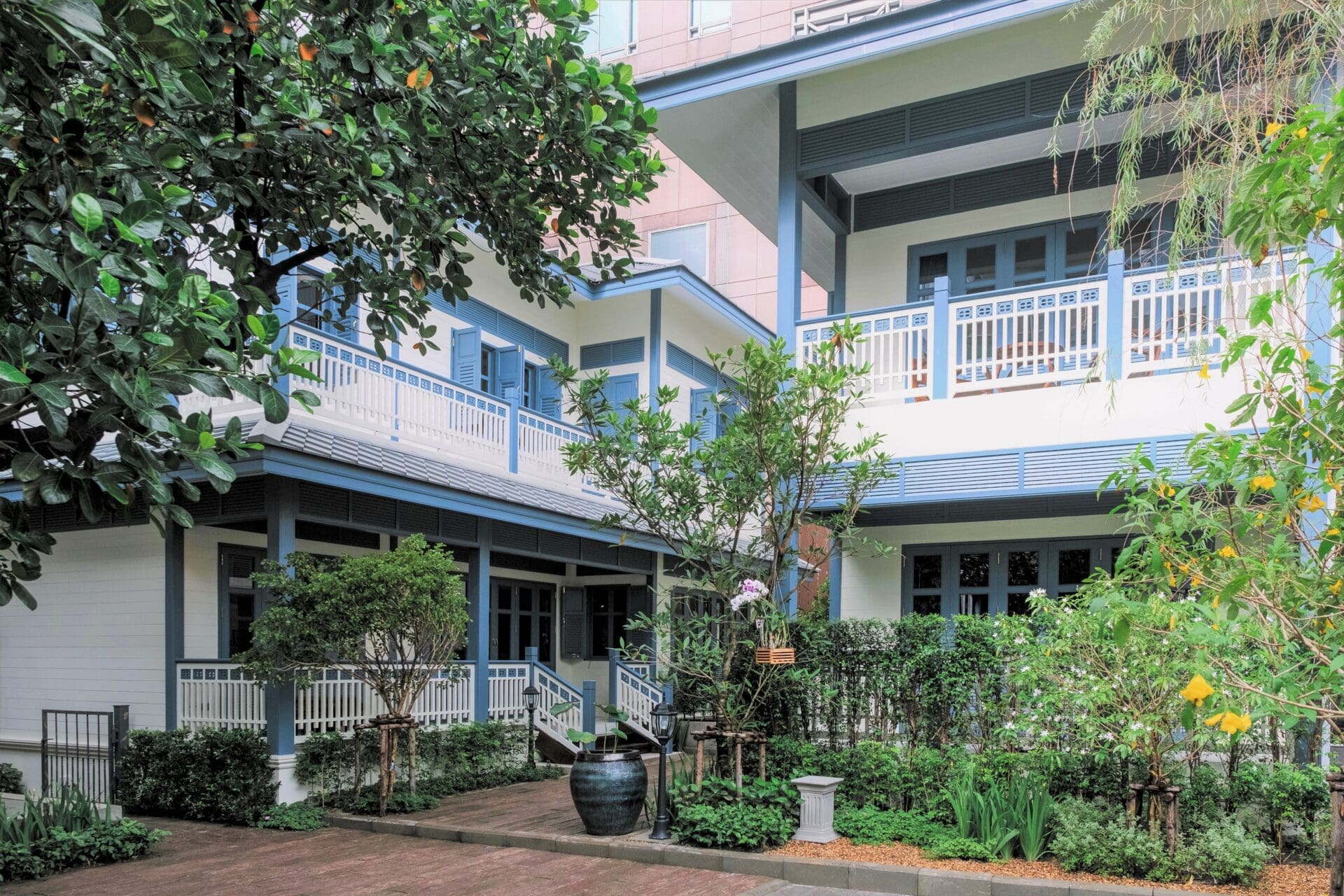 Bangkok has no shortage of hotels, from soaring skyscrapers to riverside rooms. Choosing where to stay in Bangkok will also play a big part in shaping your trip, because your hotel most likely dictates which neighbourhoods you spend the most time in (more on that in our local insider's guide). Many hotels also offer experiences and public spaces to mingle in, alongside access to some of Bangkok's best bars and restaurants that are well worth a visit in their own right.
From eclectic to epic, vintage to vaunted, Bangkok's best boutique hotels occupy utterly gorgeous buildings, like former banks and family homes – and each one will give you a unique experience. You will also find affordable, intimate guesthouses with easy access to the city's nightlife and music scene. Here's our guide to the best boutique hotels in Bangkok, with creative travellers in mind.
Old Town
Bangkok Publishing Residence
Best for: Couples, history buffs
Location: 37/1 Lan Luang Road, Wat Sommanat, Pom Prap Sattru Phai, Bangkok 10100
Price: From 7,200 THB/215 USD with breakfast
Book this boutique hotel-slash-museum if you love to learn while you travel. Perched in Bangkok's historic old quarter, this 1960s shophouse was the former office of Bangkok Weekly magazine, which was also printed on the premises. The building's narrative as a former publishing hub is lovingly shared through various installations at the boutique hotel. With only eight spacious suites outfitted with refined antiques, the retro gem offers an intimate experience akin to staying with a worldly relative or family friend. It's also a great base if you plan to check out Bangkok's numerous historical sites, temples, museums and galleries, and street food – many of which are just minutes away. A breakfast buffet and à la carte offering with eggs and sausage seals the deal.
bpresidence.com
Chakrabongse Villas & Residences
Best for: Couples
Location: 396 Maharaj Rd, Tatien, Bangkok 10200
Price: From THB 6,700 THB/200 USD with breakfast
If waking up in the former private residence of a Thai Prince to views of Wat Arun, the Temple of Dawn, sounds heavenly, you'll flip for this grand boutique hotel in Old Town that's as eclectic as it is refined. Positioned along the banks of the Chao Phraya River, the property was built in 1908 by HRH Prince Chakrabongse (you can read our interview with his great-grandson, Hugo). Inside the rooms, expect stained glass, canopied beds and colourful, classical Thai bedding. Given the  hotel boasts one of the most romantic fine dining restaurants on the river, as well as the option of booking a boat ride on the villas' own Riva speedboat, is it any wonder that this tropical retreat has been the site of countless wedding proposals?
chakrabongsevillas.com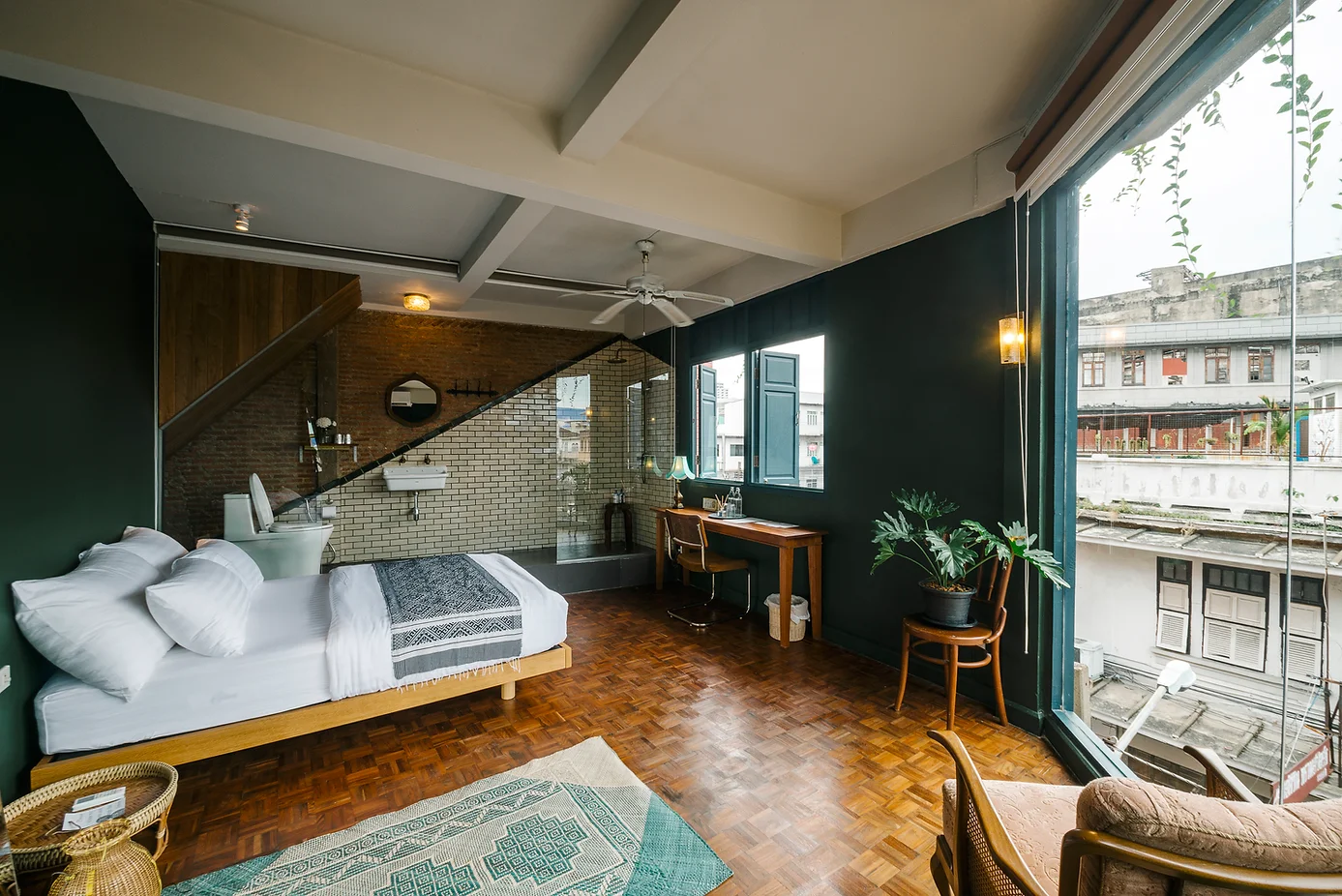 Bao Hao
Best for: an affordable base for exploring the alleys of Bangkok's Old Town
Location: 8 Soi Nana, Mitrichit Road, Pomprap Sattruphai, Bangkok 10100
Price: From 3,300THB/96 USD
Not many people know that above Bao Hao, set above one of Old Town's trendiest bars and restaurants. Occupying the upper floors of the 60-year-old renovated shophouse, Room at Bao Hao comprises two lovely and affordable guest rooms, with a shared living space and kitchen, all with a homey, vintage aesthetic that pays tribute to Bangkok's Chinatown in the 70s. Find high-shine vintage parquet floors, plate glass windows that let you soak in the neighbourhood, exposed brick, antique Thai furnishings, and oversized palms. Fill up downstairs on cocktails like Opium and Drunken Mistress and dishes including pork belly mantou and quail egg drop soup, before drifting upstairs and fall asleep. Alternatively, check out the area's brilliant bars.
Though there are other similar options on rental platforms like Airbnb, Bao Hao has a strong reputation in Bangkok, a large quantity of excellent reviews, and a near-perfect location on trendy Soi Nana.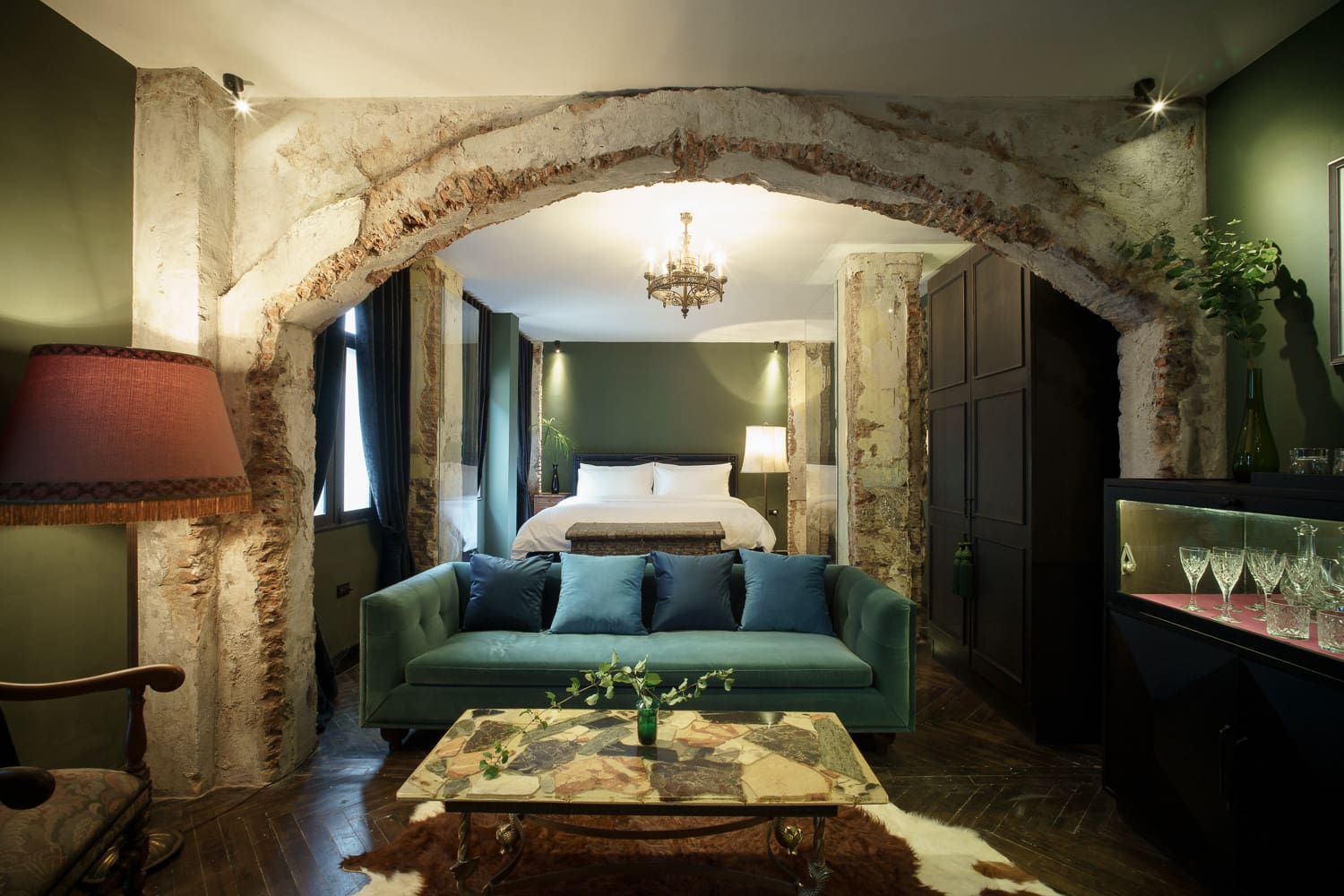 Baan Tuk Din
Best for: Couples, arresting interiors
Location: 161-165 Wat Bowon Niwet, Phra Nakhon, Bangkok, 10200
Price: From 2,000THB/58 USD
This dramatic and moody 18-room boutique hotel on Rattanakosin Island is near Khao San Road and all of Old Town's attractions. Baan Tuk Din Hotel fuses vintage and modern influences while balancing Asian and Western points of view. Dark-leaning decor is set off by sumptuous fabrics and deep jewel tones, while atmospheric details in the guest rooms include vaulted ceilings, red velvet curtains, deep blue walls, sparkling, black spiral staircases, and Victorian silk lampshades.
Many of the owner's personal antiques are scattered throughout this beautiful hotel, and the grounds include a peaceful inner courtyard ringed by lush greenery and flowers. The name translates as 'house of gunpowder,' a nod to the 125-year-old building's former use as a gunpowder distributor. The boutique hotel draws a wide variety of interesting locals to its onsite live jazz bar, Din, and boutique coffee bar, Shalobar Co, which specialises in Turkish and Greek-style coffees designed to sip slowly as life passes by.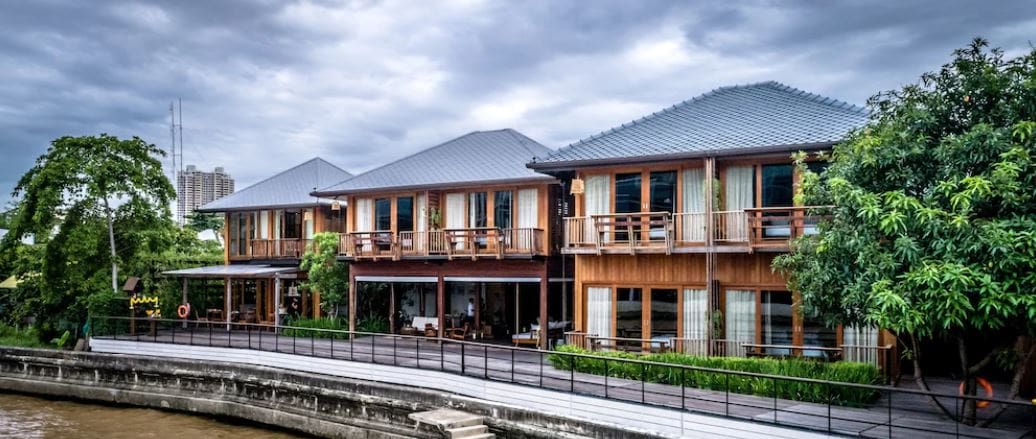 Riverside
Chann Bangkok Noi
Best for: Couples, solo travellers
Location: 30/1 Soi Somdej Pra Pinklao 1, Riverside, Bangkok 10700
Price: From THB 2,199 THB/66 USD with breakfast
A bit off the beaten path, but well worth it for those looking to have a more chill Bangkok experience that involves sitting by the river and watching life go by. The intimate boutique hotel is housed in a series of thoughtfully designed, low-rise wooden buildings connected by catwalks, and is popular with local couples enjoying staycations, as well as travellers from around the world. Outside, you'll find a fairy light-laden garden and terrace on the river with boats cruising by that can take you directly from the hotel to any river-accessible activity, like a spot of luxury shopping at Iconsiam or soaking up one of the city's endless cultural destinations. Arriving at Wat Arun, the Temple of Dawn, by picturesque longtail boat? Now you're talking.
@ChannBangkokNoi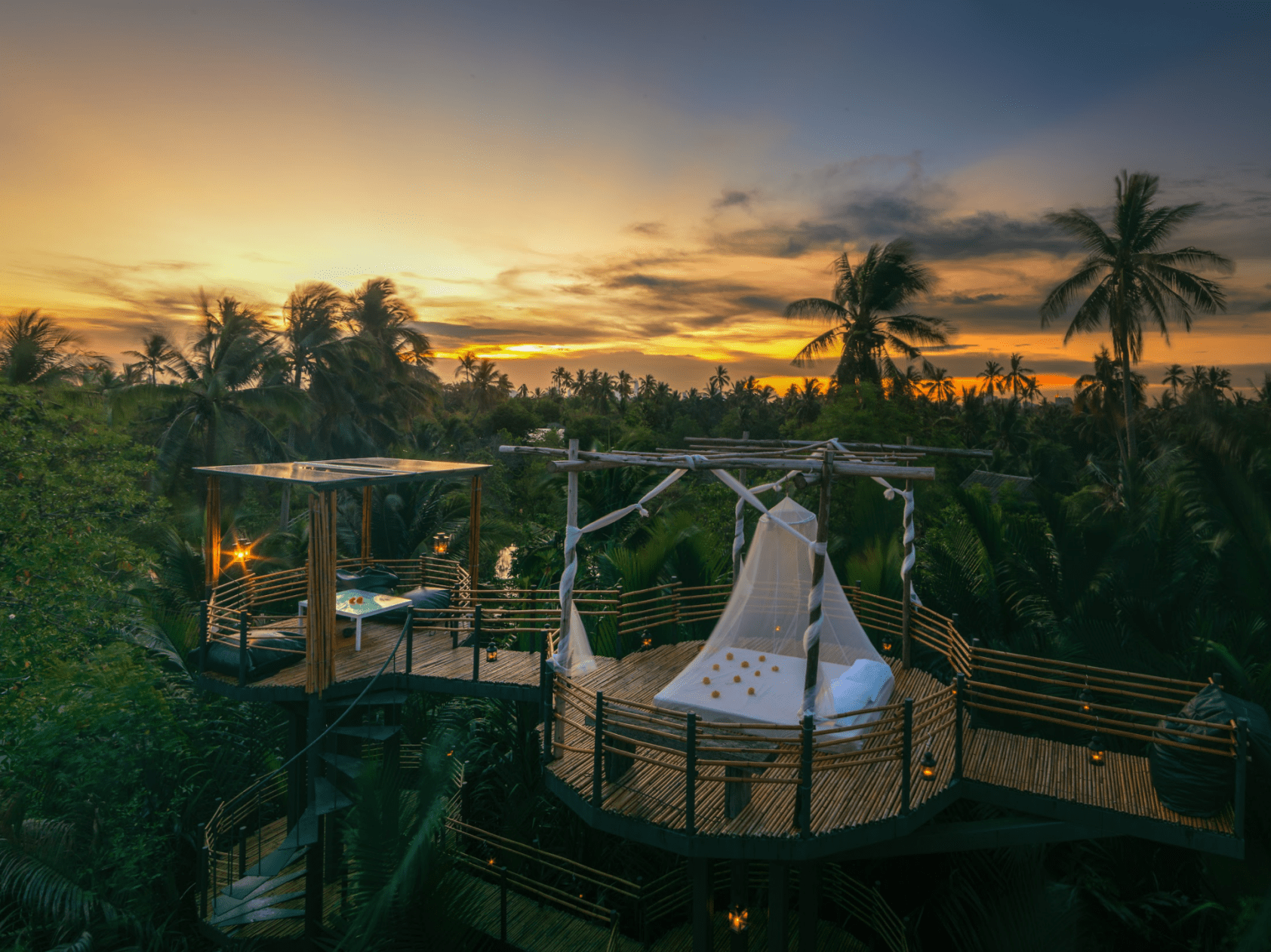 Bangkok Tree House
Best for: Friends, couples
Location: 60 Moo1 Soi Bua Phueng Pattana, Bang Krachao, Bangkok 10130
Price: From 2,300 THB/69 USD with breakfast
Perched on the edge of Bang Krachao, a man-made island in the Chao Phraya River, this one-of-a-kind boutique hotel is a must for lovers of the outdoors searching for where to stay in Bangkok. Several connected wooden platforms make up the hotel structure. There's a destination cafe and restaurant, and you can choose from modern indoor bungalows with all the amenities or opt for sleeping on a serene treetop platform under the stars. The island, which also goes by the nickname of 'green lung' for its fresh air, can be reached by one of many longtail boat taxis lined up on the shore. The island is also home to an excellent morning market on weekends where locals and travellers gorge on local delicacies and pick up handmade crafts.
bangkoktreehouse.com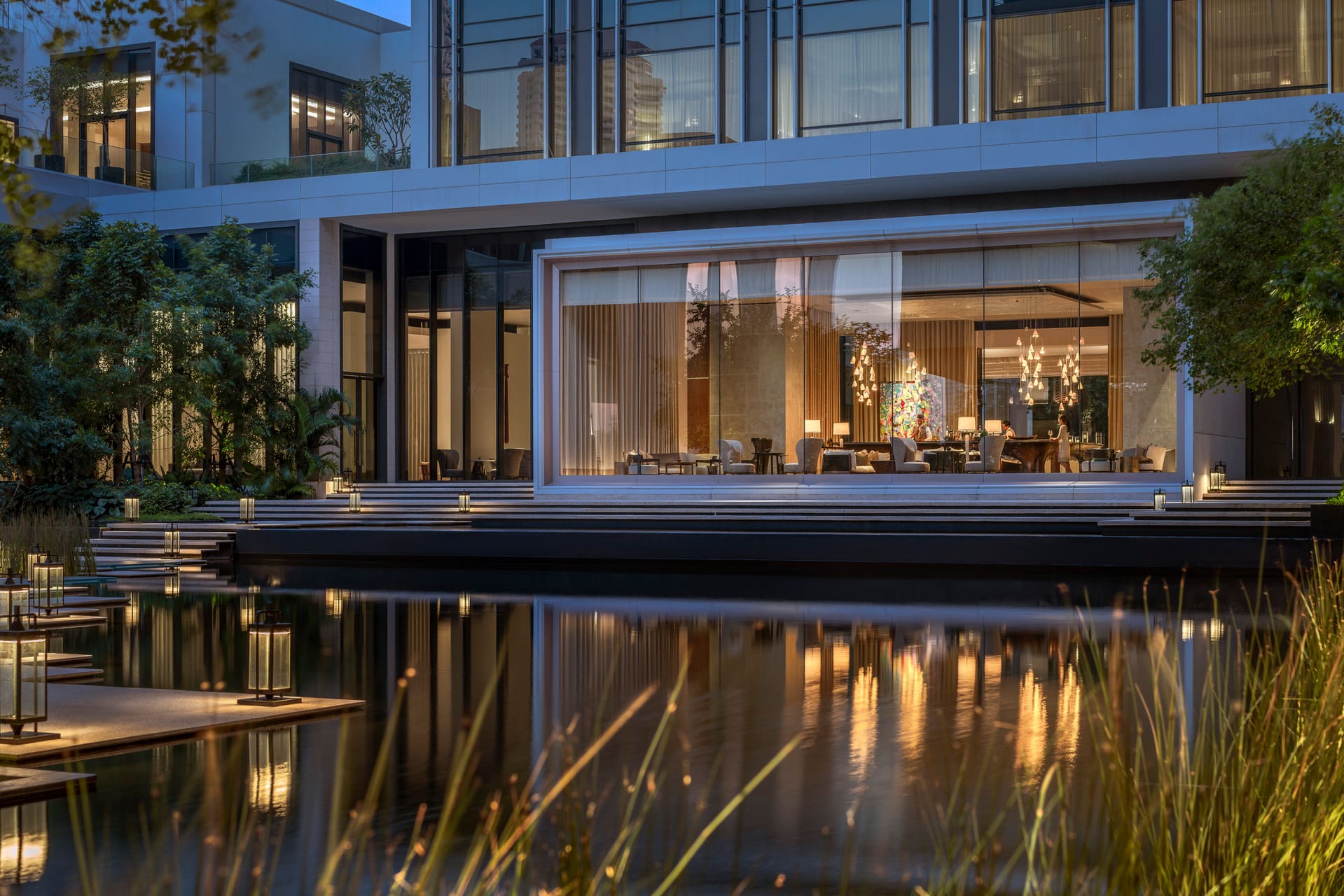 Four Seasons Bangkok Chao Phraya River
Best for: Overt luxury and destination dining
Location: 300/1 Charoen Krung Road, Sathorn, Bangkok 10120
Price: 15890 THB/434 USD
Staying at the Four Seasons is slice of reliable luxury. The beautiful property is a riverside oasis in one of the city's most creative neighbourhoods, offering relief from Bangkok's buzz – not to mention the humidity – with a design that flows seamlessly from elegant, art-filled communal spaces to verdant greenery and calming water features. Its Cantonese restaurant Yu Ting Yuan was awarded a Michelin star in December, while on-site bar BKK Social was named 90th Best Bar in the World less than two months after opening. Sure, you're here to explore Bangkok – but this stellar Four Seasons outpost is a destination in its own right. Bonus: it's conveniently close to the airport.
fourseasons.com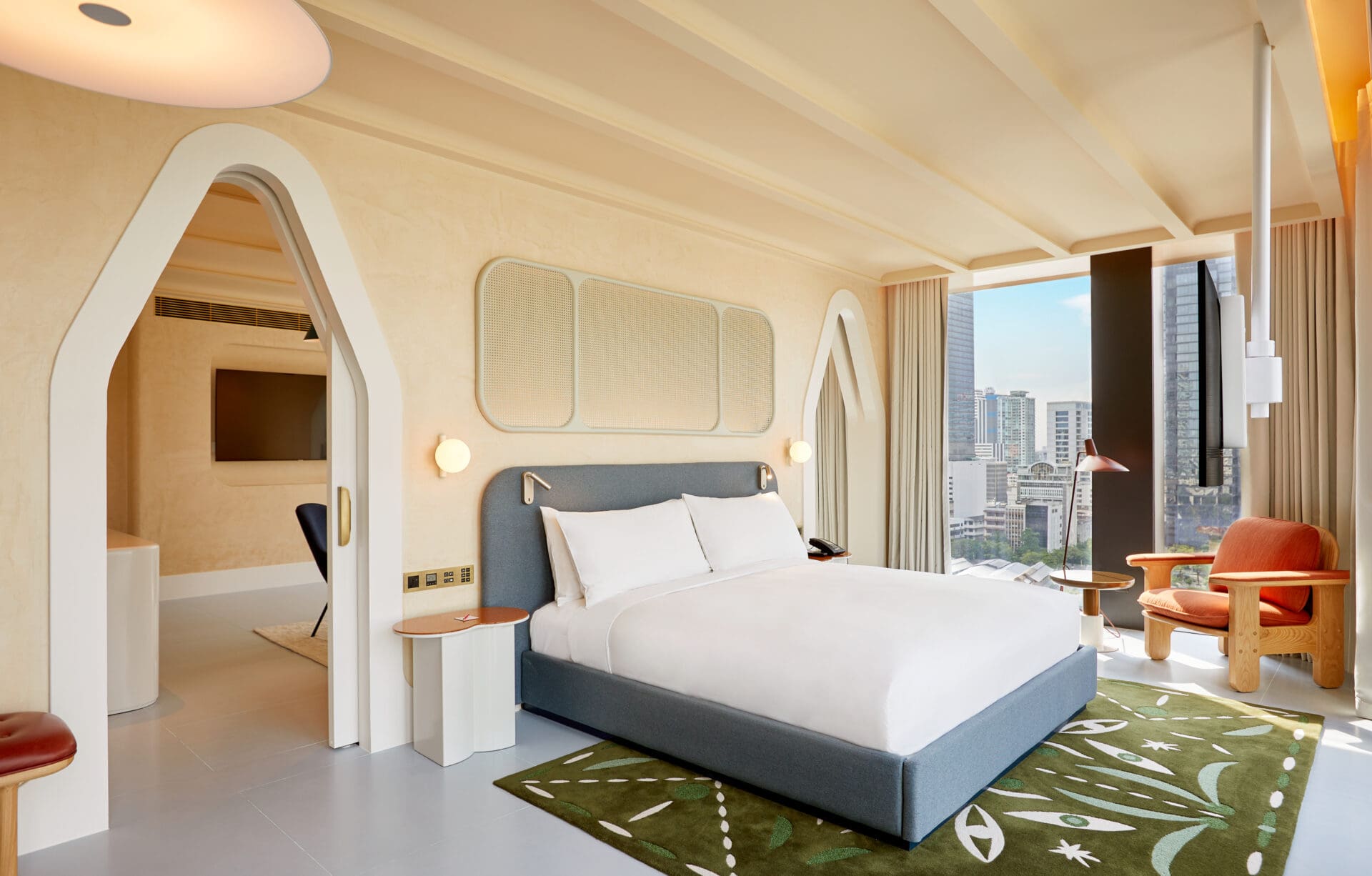 Silom / Sathorn
The Standard
Best for: modern glamour and skyline views
Location: 114 Naradhiwas Rajanagarindra Road, Bang Rak, Bangkok 10500
Price: From 125 USD per night
The Standard Bangkok occupies the King Power Mahanakhon skyscraper, recognised as one of Thailand's tallest buildings. Lauded Spanish artist and designer Jaime Hayon designed the interiors, which reflect The Standard's penchant for Seventies-leaning, seductive decor. Curvaceous velvet furnishings and rounded shapes pop in bright colours against floor-to-ceiling views of the city's skyline. On the F&B front, chef Francisco 'Paco' Ruano has curated a modern Mexican menu for at Ojo, the hotel's unapologetically decadent restaurant, dripping in gold. It also boasts the highest rooftop bar in the city and a terrace pool.
standardhotels.com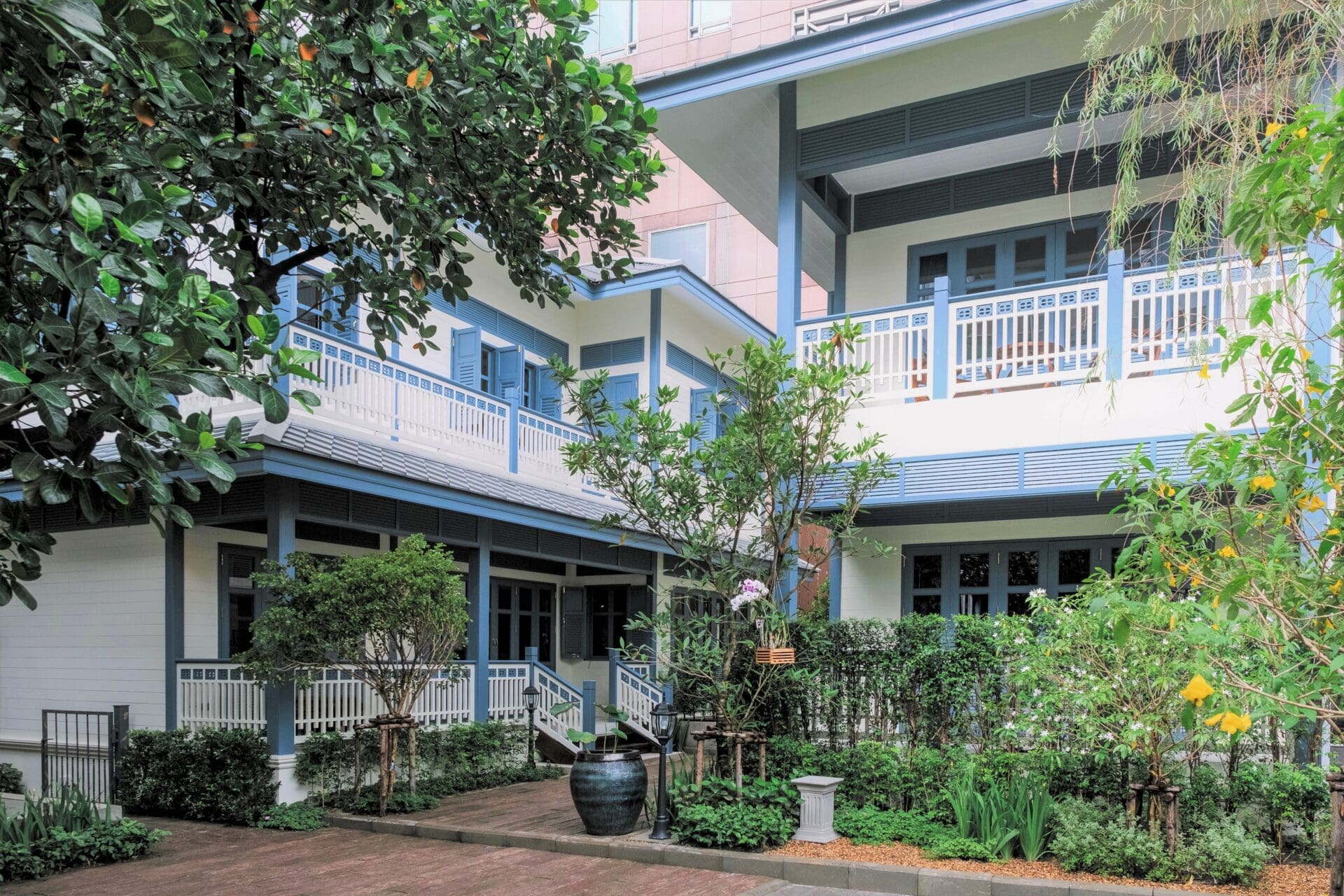 Baan Vajra, Silom
Best for: Couples, friends
Location: 18 Silom Soi 19, Silom, Bangrak, Bangkok 10500
Price: From 1,000 THB/30 USD with breakfast
Baan Vajra's 1930s wooden architecture gets brought bang up to date with noise-insulating windows, slick marble bathrooms, and a light colour palette. The 16 beautiful rooms are accented with antique furniture – but don't let the old-world atmosphere fool you, as you're just a few minutes' walk from Silom's high-fashion and souvenir shopping, nightlife of all kinds, and street food served from carts that stay up as late as the crowds.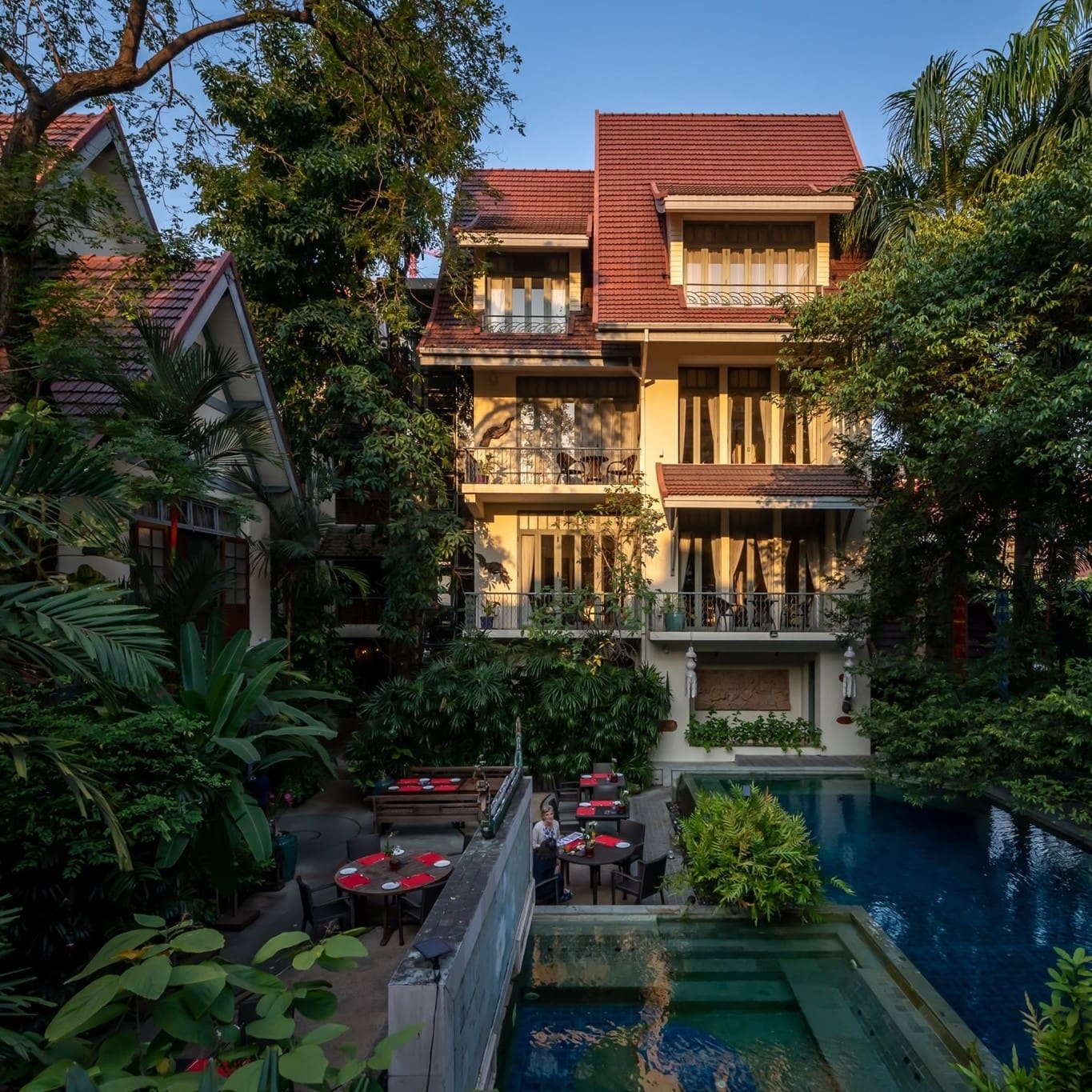 Central Business District
Ariyasom Villa
Best for: Couples, solo travellers
Location: 65 Sukhumvit Soi 1, Khlong Toei Nuea, Watthana, Bangkok 10110
Price: From THB/170 USD with breakfast
When we're away, we're all looking for a home away from home. And especially a home away from home that feels, er, better than home. Enter Ariyasom Villa in Sukhumvit, a 70-year-old former family residence that is still run by the family. The beautiful boutique hotel has 24 rooms, lush green surrounds, and a sparkling pool so perfect it feels like a mirage on sticky afternoons – so it's safe to say it fits the bill. Organic onsite restaurant Na Aroon adds to the hotel's allure, while a meditation hall plays host to yoga and wellness retreats. The calmness feels as if it's miles from Bangkok's centre – but it's actually tucked into a quiet corner of Nana, a central nightlife area (and a great neighbourhood for experience some of Bangkok's live music), and is just a few minutes from the shopping district of Siam. Can we move in permanently?
ariyasom.com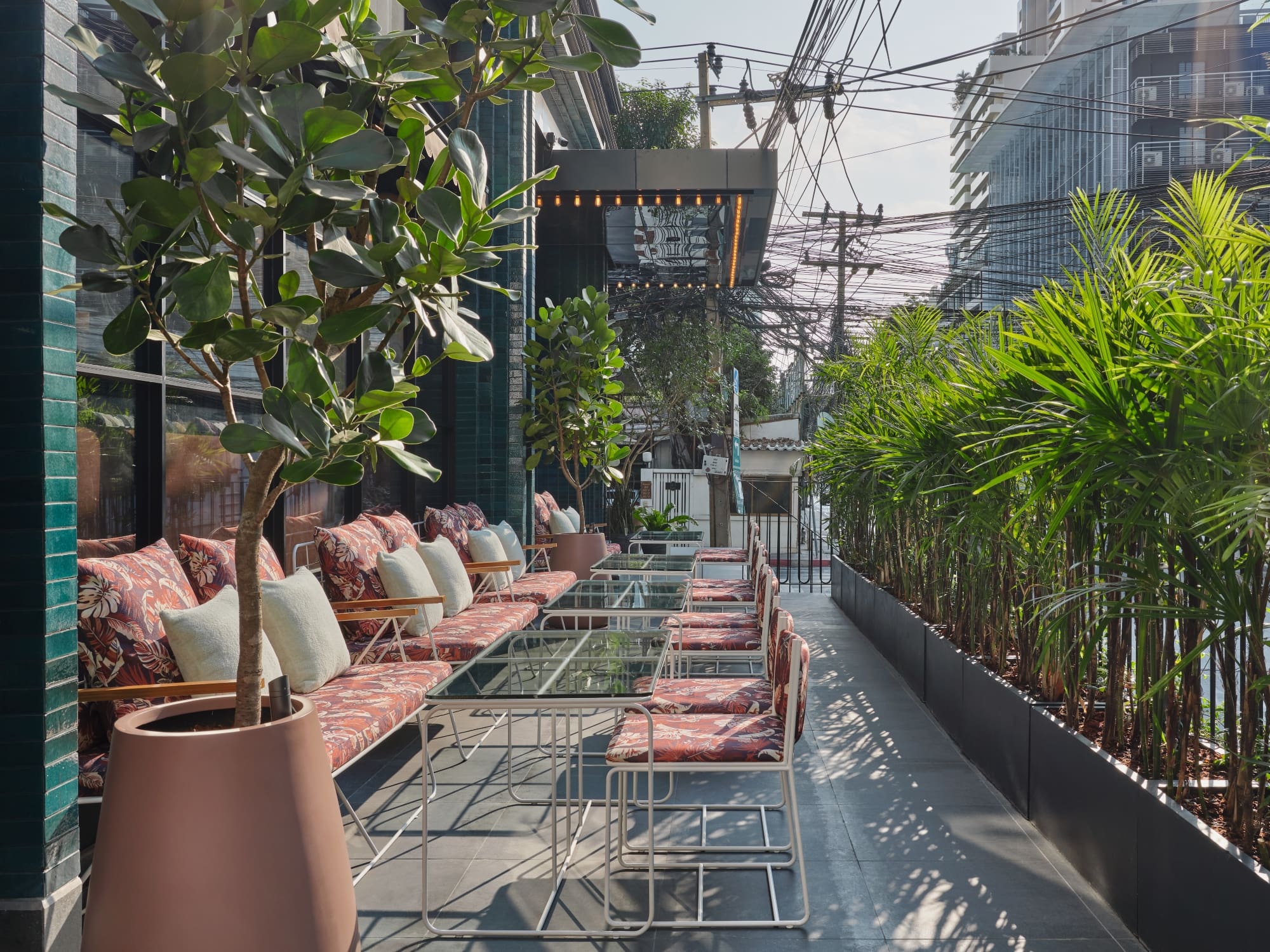 Public House Hotel
Best for: Friends, creatives, and upscale digital nomads
Location: 249 Sukhumvit 31, Khlong Tan Nuea, Watthana, Bangkok 10110
Price: From 2,100THB/ 61 USD
New to the Bangkok boutique hotel scene, Public House opened in 2023 but has already established itself as a neighbourhood hub, with an ideal downtown location. With a creative space and podcast studio onsite, the boutique hotel courts an artsy clientele, bolstered through local art pop-ups, live music events and its co-working area, Forum. Clean and sophisticated mid-century influenced design rules throughout the hotel, while peaceful guest rooms feature a more elegant and pared-down mod aesthetic. Whether recording a podcast, getting some work done, or diving into the rooftop pool overlooking Sukhumvit, Public House is a beautiful and relaxed place to meet, collaborate, and enjoy.
GalileOasis
Best for: Friends, digital nomads, solo travellers
Location: 535 32 Soi Rong Rian King Phet, Thanon Phetchaburi, Ratchathewi, Bangkok 10400
Price: 1,900THB/ 55USD
Hidden down a leafy alley in regenerated Rachathewi, not far from the high-energy of the Siam shopping district, is GalileOasis. This boutique hotel, unveiled in 2022, is a verdant retreat for travellers looking for a quiet and stylish stay, where remote work is a breeze and hip culture is never far away. The lush inner courtyard is particularly popular with laptop-tapping digital nomads.
The boutique hotel is set in a former industrial compound, which also houses an art gallery, record shop, photo booths, and Piccolo Cafe, which is considered one of Bangkok's best coffee shops for co-working. Airy guest rooms feature brushed concrete walls, vintage wooden floors and large windows, with bathrooms lined in metro tiles with stylish oversized double vanities. Interesting details from the building's former life have been preserved, for a terrific balance of old and new.
If you book via a link on our website, we may earn an affiliate commission.