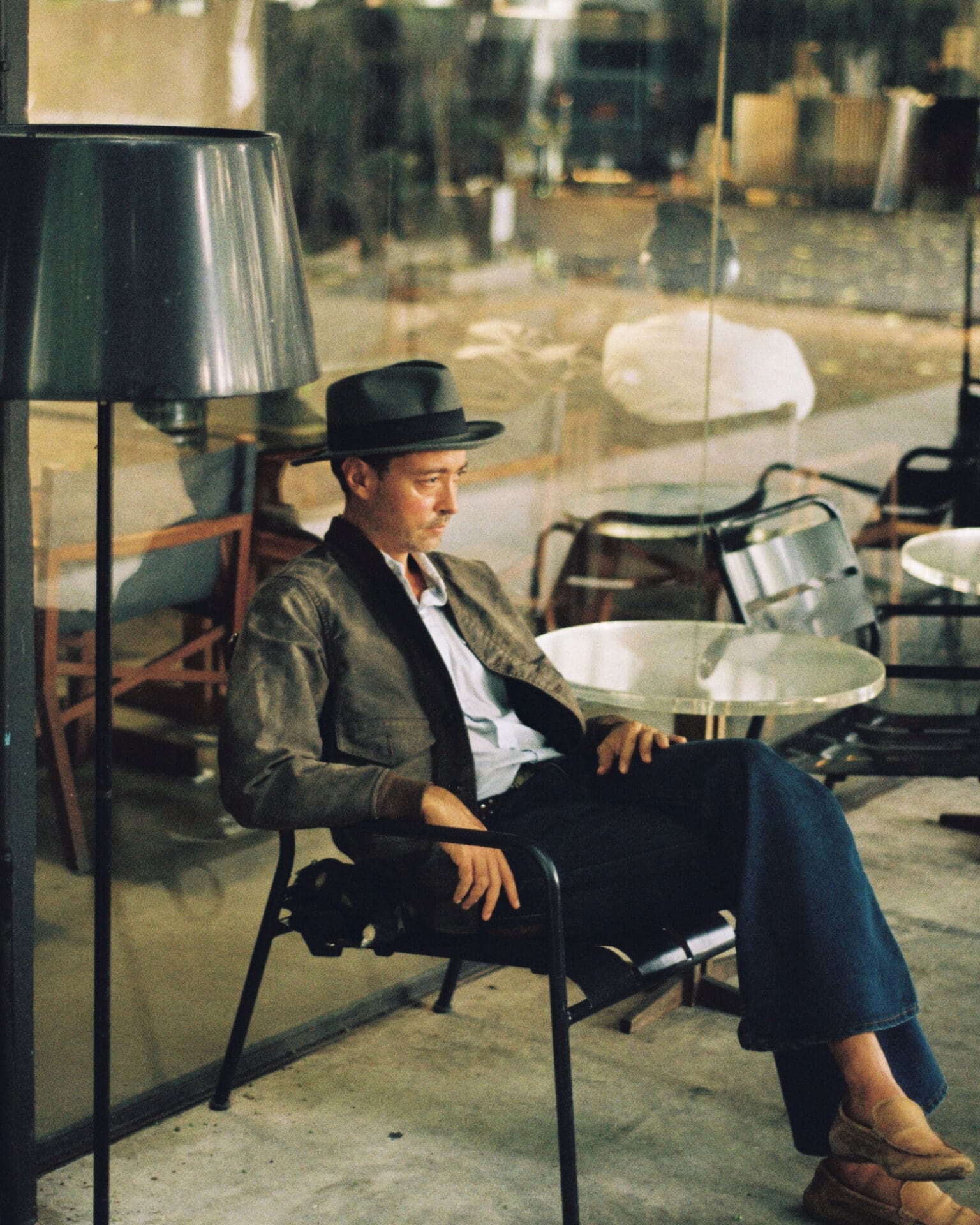 Thailand-based musician Hugo: "What kind of person actually wants to be in power?"
Last updated: August 1, 2023
Hugo Chakrabongse Levy is more than one of Thailand's biggest musical artists: he's also been a soap opera star, a songwriter for Beyoncé – and he's the great-great grandson of King Chulalongkorn of Thailand. He shares his life's journey
Hugo Chakrabongse Levy is a warm, otherworldly, and handsome presence – a man of bell-bottom trousers, ornate shirts, wide-brimmed hats, and hand-rolled orange-flavoured cigarettes. He's also a rock star. Born in the UK, Hugo, as he's known, attended school in London until he was 17. He returned to Bangkok in 1999 and started working in Thai soap operas, before moving to the US in the mid 2000s. While there, he graced stages from New York to Los Angeles, visited Graceland, signed to Island Records and to Jay-Z's Roc Nation label, and even wrote a song for Beyoncé. He now lives in the Thai capital with his wife and children. Oh, and he just happens to be a member of the Thai royal family.
We catch up with the erudite artist to hear where his life's journey has taken him – from his psych-rock band named after Thai ten-wheeled trucks to his hit bluegrass cover of Jay Z's '99 Problems' to bird watching in the Thai countryside.
Hugo's career beginnings
Let's start at the beginning: how did your career first take off?
When I came back to Thailand in 1999, there was a real vogue for young luk khrueng artists – those who were half-Thai, half-foreign. I became a teen model, a TV presenter, a singer, and a lead actor in lakorn, Thai soap operas. I did seven of those. I learned a lot socially, even if I wasn't a fan of the TV work. I was imagining an aesthetic for myself that was completely different to how I was perceived at that time, which was as an aristo pretty boy. Before the internet came in, I thought that if I didn't assert control, I would be stuck with that image forever. I was fine to be typecast as something I liked. I wanted to be perceived as a rebellious teen, which is probably what I was. I'm always against anyone in power and have opposed every single government as a matter of principle. I mean, what kind of person actually wants to be in power?
How did you first become involved in music?

I started a band called Siplor in 2001, which means 'ten-wheeler truck' in Thai. Trucks in Thailand are psychedelic, masculine vehicles, with drawings of Peter Fonda, Serpico and Sylvester Stallone on the mud flaps. I wanted to show how modern Thai culture has been influenced by the US, as a residue of their invasion of Vietnam.
During the 90s, rock bands had a very candy-pop vibe, but I loved the warm, analogue sound of the 60s. As a band, we were listening to The Doors, Janis Joplin and Crosby, Stills, Nash & Young. I sang about Thailand's relationship with the west, and specifically, my relationship with it. Siplor was my vehicle for emancipation. We felt that we played in the tradition of 70s Thai protest band Carabao, because we were political and anti-mainstream. Yet I was known as a soap opera actor. I loved the contradiction in that.
What was the main turning point in your career?
I signed a deal with Island Records. They spent hundreds of thousands of dollars on me before suddenly dropping me, after which I became deeply depressed. I had quit Siplor to take this opportunity, because only the most bloody-minded person would have turned it down. It was a decision of the head and I was left heart-broken. But a producer from the UK called Amanda Ghost played one of my rejected songs to Beyoncé. It was called 'Disappear', and Beyoncé ended up releasing it. In 2010, her husband Jay Z signed me to his Roc Nation label as a writer. I recorded Old Tyme Religion, my first solo album, in 2011. It featured my bluegrass version of Jay Z's track '99 Problems'. I appeared on David Letterman and Jimmy Kimmel, and superficially I was successful. But I didn't have cutthroat ambition and I wasn't dating famous people. I was married and had a child by then. I was 32, I'd had enough and had moved back to Thailand.
Hugo's travel experiences
What does travel mean to you?

I travel a lot professionally. When I'm on tour, the destination and time frames are fixed – for the shows, the soundchecks, and the schmoozing – and then I travel again to get to the next show. I don't think I have the same free-wheeling attitude towards travel as I had when I was a kid. I view it more as a logistical undertaking.
I am married with kids of my own now, and I cart my family around on school holidays. As I got older, I've become more open to my wife and children deciding on the destination. As a young man, I wanted more control; now I go with the flow.
What's the journey that's impacted you most?

Touring in the US. The road in America has a mythic quality. We visited the sites of pilgrimage: Nashville; The Stax Museum of American Soul Music, and Graceland, in Memphis; The Fillmore West in San Francisco; playing the David Letterman show at the Ed Sullivan Theater in New York. I fulfilled all my fantasies of the Americna road trip; I satisfied my teenage needs and can now move into middle age.
Where do you identify with most?

I probably identify most with Bangkok. I wanted to identify with Manhattan when I lived there. I was so proud to be there. All my heroes had a Manhattan phase – Leonard Cohen, Bob Dylan, John Lennon, and so many other great artists. Bangkok is great because it reminds me of my childhood and there is always something to be discovered there. But the city is too big to ever get a full sense of it. It requires that one leaves often to be happy here. I have also come to love the Thai hinterland. There's a lot to be found between towns and developments, and I am attracted to unfinished and abandoned things. But as long as my kids require schooling, I will be in Bangkok.
Which country or location most inspires you?

I am a big fan of natural landscapes. I own a shack in Nakhon Ratchasima in central Thailand, where I write. I am left to my own devices, and I'm miles away from anywhere, surrounded by sugar cane and rural agricultural land. I wrote my last few albums there.
When I was a kid, we went to Rayong on the south-east coast a lot, and I have fond memories of the area. During the pandemic, I started bird watching down there. I study migratory patterns and visit wetlands, mangroves, hills and jungle. There's the sea and plenty of islands nearby too. It's not a bad drive from Bangkok. I can load the kids into the truck and go. The food down there is great and the vibe is not touristy.
Where would you most like to go back to, and why?

I would love to go back to Andalucia, to take better photographs of Moorish architecture, of the Alhambra of Granada. That place really opened my mind to an alternate history of Europe, of Moorish Spain. So, I'd like to go back, listen to Flamenco, eat more peppers, and find more obscure architectural sites.
What does the future of travel look like to you?

We're in a very fluid situation at the moment. Air travel has not been fun for me since the 'war on terror' in the 2000s. I'd like to see electric cars with a longer range – I'd love to have an electric car with a 600km range.
Later this year I'm travelling to Scotland to see family that I've not been able to visit since the beginning of the pandemic, and once I'm there I'll travel by train and will take a ferry to the Isle of Mull.
How has travel influenced the way you create?

I find that I am unable to start a lot of my work at home. It's better to be in a crappy hotel room after a show because it's not home. Perhaps that's down to my attitude towards parenting, because I'm always on standby. My personal life is separate from my artistic life and it's very engrossing; it does not leave room for what's required to write a song.
Travel gives me the opportunity to think, to be quiet and to be alone. Travel is a good sign that I have work coming in, as Bangkok isn't my main market – 80 per cent of my shows are out of town, both in the sticks and in other towns.
Thai festival culture has grown a lot in the last 20 years. Most of my shows recently have been acoustic, outdoor gigs at festivals, partly because of pandemic restrictions. I would prefer to play electric, but there's a plus side to an acoustic show: I have energy left to mooch around and socialise afterwards. After electric shows, I'm simply exhausted.
Is there a journey you've always wanted to go on?

I am not sure if I will ever make it, but I'd love to go to the Amazon rainforest. What would that be like? The distance from Thailand to South America is about as far as you can travel. But if the stars align – if it's possible, and if my family is enthusiastic – it would be wonderful to head up the Amazon on a boat, with a big lens. I love South American music, so a trip there would be fantastic.
I think I would want to go with my family. But childhood doesn't last forever and I don't know if my kids would appreciate such a trip. My wife is a busy professional, so I have to be present. I can justify leaving for professional reasons, but I don't think I could go away for months to undertake recreational travel. That's not the attitude I have taken to parenting.
But I'm always on a musical journey. I've just released a concept album called rua sam ran, ratree amata – 'the pleasure cruise of eternal evening'. It's full of Ennio Morricone-style cinematic chords with lots of brass. The six songs, in Thai, are about different characters in a dystopia where the leisure-seeking class are finding new ways to be entertained in a degraded, dust-covered world. My songs focus on the people who work on the boat, the guests, the men in the engine room. The cruise ship sails into eternity, never to return…
Photography by Ponpisut Pejaroen
Read more: get the inside track on Bangkok's booming music scene, and where to experience the city's sounds. 


JOIN US FOR THE JOURNEY
Subscribe to the newsletter
City guides, culture, photography and ideas, with expert analysis on the biggest stories in travel