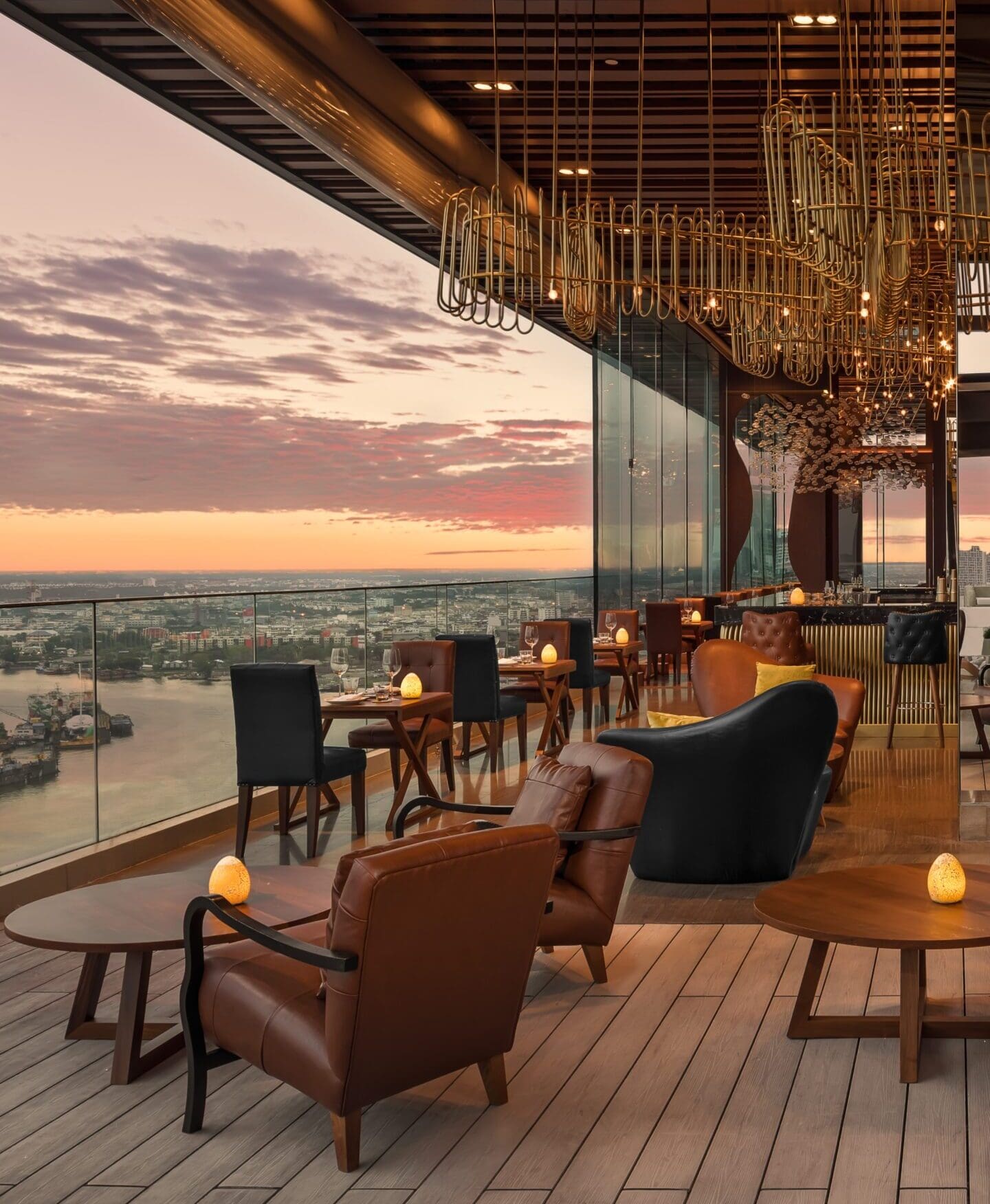 Bangkok is hot and muggy on most days, so when a fresh, cool breeze swings in, you won't be able to resist hitting the great outdoors to dine and imbibe al fresco. And we have an even better idea: why not cherish this moment sky high, on a rooftop bar?
Bangkok has no shortage of great bars, many of which have rooftops with unparalleled sweeping views. Unlike many other cities where rooftop bars are only open seasonally, those in Bangkok welcome visitors all year round – even when it pours, many bars will unfold an awning to keep you dry. Plenty of these can be found atop Bangkok's clutch of smart boutique hotels.
From lofty taprooms and Gatsby-esque speakeasies to split-new hotel openings, here are the best rooftop bars to check out in Bangkok.
Sky Beach at The Standard Bangkok Mahanakhon
Bang Rak
When you should go: for a visual design treat at dizzy heights
Location: 14 Naradhiwas Rajanagarindra Road, Bang Rak, Bangkok 10500, Thailand
Price: Cocktails from 320 THB / 9 USD
The recently opened Standard Bangkok Mahanakhon lays claim to the highest rooftop bar in the city (no small feat), with panoramic views of the Thai capital. Set on the 78th floor of the hotel, a futuristic yellow bar serves creative cocktails, accompanied by casual, American-style bites and live DJs. Rightfully listed as one of our best hotels in Bangkok, The Standard is a visual design feast from top-to-toe, with bold, immersive interiors created in collaboration with Spanish design maestro Jaime Hayon. The rooftop bar is open every day from 10am until midnight and entry is available on a first-come-first-served basis.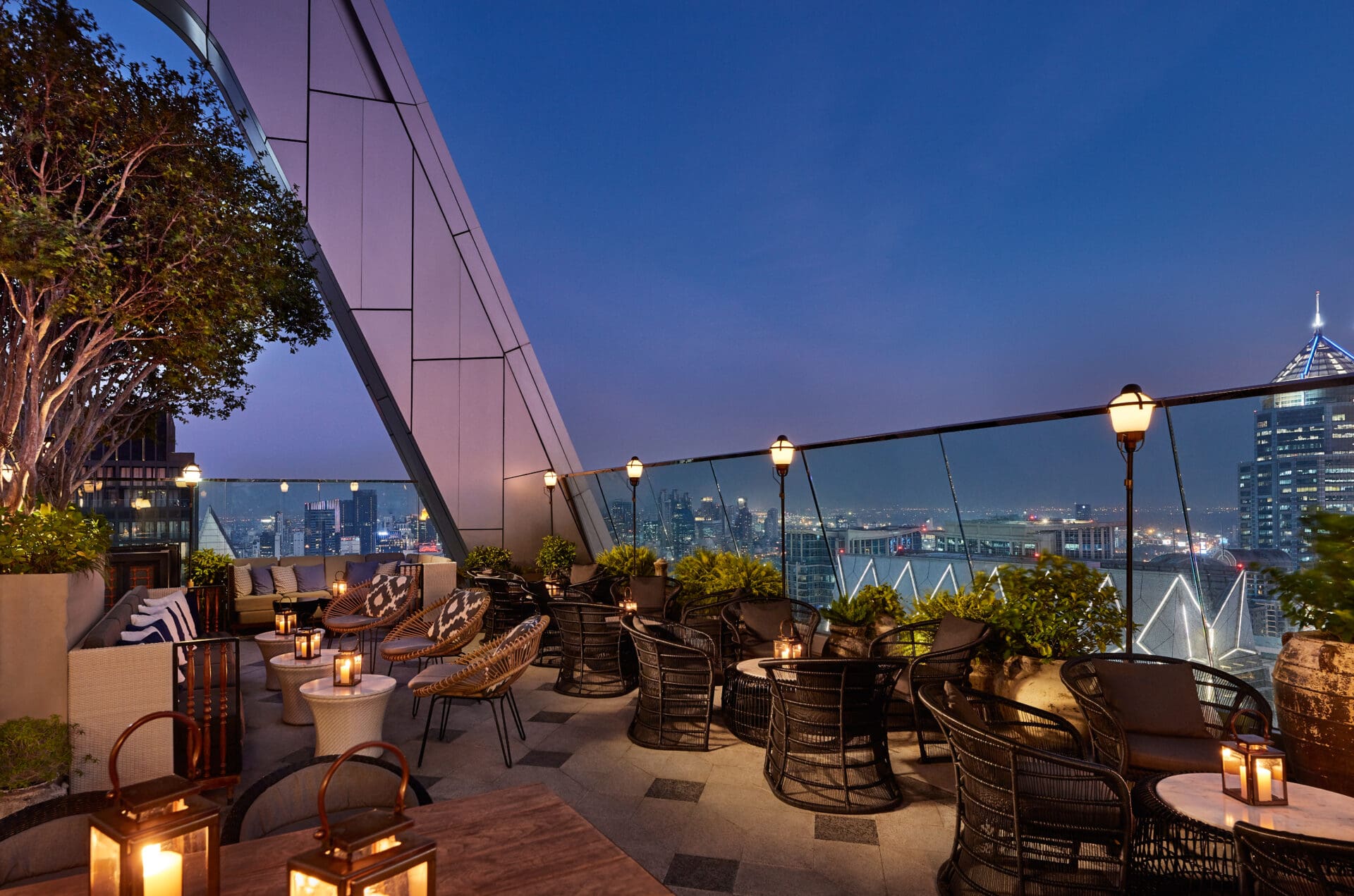 Penthouse Bar + Grill at Park Hyatt Bangkok
Ploen Chit
When you should go: Romantic dates, special occasions
Location: 34th to 36th floors, Park Hyatt Bangkok, Wireless Road, Lumphini, Pathum Wan, Bangkok 10330
Price: Cocktails from 350 THB / 10.50 USD
It's hard not to love Penthouse at the top of Park Hyatt hotel. The multi-level venue offers views over the Ploen Chit, Lumphini, and Asok neighborhoods. Steak and seafood fanatics should head up to the 34th floor, where The Grill's open kitchen serves prime meat cuts, Hokkaido scallops, and Canadian lobsters to die for. For drinking, ascend to the 35th, where three unique venues await you: a cocktail lounge, a whisky speakeasy, and a private room dubbed The Mezzanine. If indoor drinking doesn't attract you, skip all that and go straight to the rooftop terrace, which is outfitted with an open bar and outdoor garden. Find a cosy space to enjoy the fresh breeze, decadent cocktails, and small bites while gazing out at the Bangkok skyline.
hyatt.com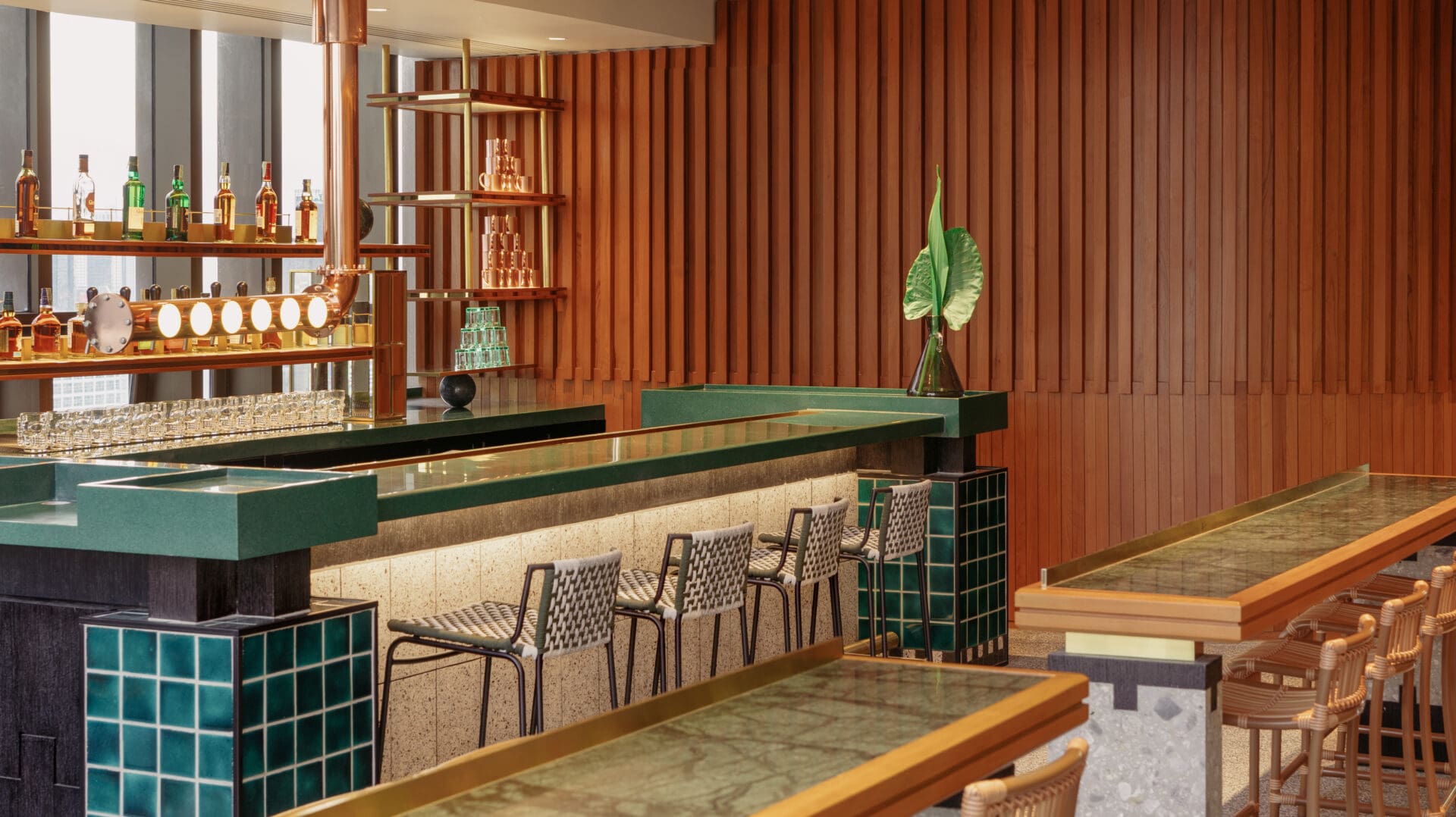 Bar.Yard at Kimpton Maa-Lai Bangkok
Langsuan
When you should go: rooftop drinks with friends
Location: 40th floor, Kimpton Maa-Lai Bangkok, Soi Ton Son, Pathum Wan, Bangkok 10330
Price: Cocktails from 250 THB / 7.50 USD
Imagine a backyard get-together with friends, but with a dazzling view overlooking Lumphini Park and the sprawling skyscrapers behind it, and you've got Bar.Yard. Since its opening in late 2020, this laid-back tropical-themed bar has become one of the most popular spots in Langsuan. Arrive early to grab a table on the terrace and catch the sun sinking behind the city's skyline. There's barbecue and Tex-Mex favourites on the menu, and you'll want to pair them with some of the quaffable tiki cocktails (the bar's strongest drink, Navy Grog, will give you a smack in the face, with its three different kinds of rum mixed in with honey). DJs spinning soul, funk, electronic, and world music complete the fun, casual vibe.
kimptonmaalaibangkok.com
Seen at Avani+ Riverside Bangkok Hotel
Thonburi
When you should go: Special occasions, romantic date nights
Location: 26th and 27th floors, Avani+ Riverside Bangkok Hotel, Charoen Nakhon Road, Thonburi, Bangkok 10600
Price: Cocktails from 390 THB / 12 USD
When the Attitude rooftop bar at the Avani Riverside hotel closed and reopened as Seen, it made an immediate buzz for being the first Asian outpost of Portuguese celebrity chef Olivier da Costa. The expansive two-storey space preserved the original infinity swimming pool and alfresco terrace facing the Chao Phraya River, while the kitchen and bar added modern touches to the menus – think ginger vinaigrette-drizzled octopus carpaccio, and tacos plump with Alaskan crab meat, fish ceviche, guacamole, mango, and wasabi mayo. The signature cocktails pack a powerful punch, with Wrath (bourbon, vermouth, Campari, and absinthe spray) and Greed (coffee-infused rum, Maraschino cherry, coconut water, and chocolate bitters) among the favourites. Jump in the pool and soak up the splendid river scenery, or if you don't want to get wet, find a plush daybed and kick back.
seenrooftopbangkok.com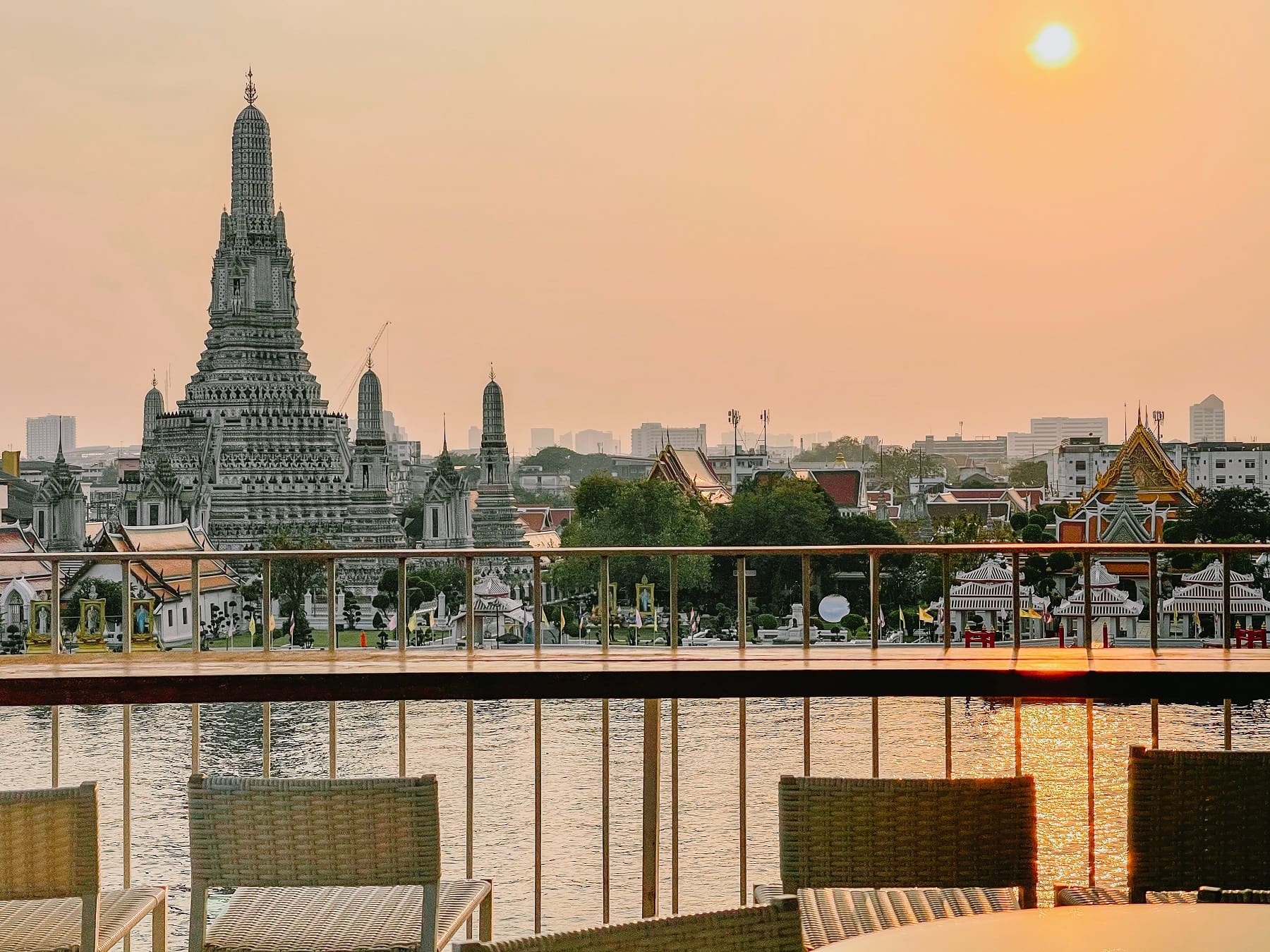 Sala Rattanakosin
Phra Nakhon
When you should go: Casual outing with friends or family
Location: 9, Maha Rat Road, Phra Borom Maha Ratchawang, Phra Nakhon, Bangkok 10200
Price: Craft beers from 295 THB / 9 USD, cocktails from 330 THB / 10 USD
The Temple of Dawn may close to visitors at sundown, but you can still catch its gleaming facade from the terrace above riverside boutique hotel Sala Rattanakosin. It's one of the best views of the temple, brightly illuminated across the Chao Phraya River. The atmosphere of the rooftop bar here is hip, relaxed, and casual – so feel free to arrive as you are (sweaty from Bangkok's humidity is normal). If you like Thai spirits like mekhong or Phraya rum, try the signature cocktails Sala Sunset (mekhong, triple sec, and fresh mango) or Taiyou (Phraya rum, sake, and sweet basil). Local craft beers are also available at a decent price range, given the spectacular view on display. To help pace your drinking, order sharing plates like prawn spring rolls or spicy seafood salad. The bar is often packed with tourists, so make sure you make a reservation. The place is conveniently situated near the Tha Tien pier and MRT Sanam Chai station, so arriving by public transport is easy.
salahospitality.com
ABar at Marriott Marquis Queen's Park
Phrom Phong
When you should go: Date nights
Location: 37th and 38th floors, Bangkok Marriott Marquis Queen's Park, Soi Sukhumvit 22, Khlong Toei, Bangkok 10110
Price: Cocktails from 315 THB / 9 USD
ABar stands out for its impressive gin collection of around 50 varieties. Perched atop the Marriott Marquis hotel in Queen's Park, ABar is divided into two bars of distinct themes, each on their own floor. At the 37th level, you'll travel back in time to the Victorian and Prohibition eras, with dark wooden decor and dim lights. Walk up to the rooftop space if a casual open-air setting is more of your jam, and you'll be greeted by comfy cushioned seats, a gentle evening breeze, and an unbeatable view of Benjasiri Park. Spoil yourself with some tasty gin cocktails – you can't go wrong with signatures like Just Mine (jasmine-infused gin, melon syrup, and chardonnay) and Botanist Fashioned (oak barrel-aged gin, coffee vanilla syrup, and dehydrated orange).
portal.marriott.com
Tichuca
Thonglor
When you should go: Fun night out with friends 
Location: 46th floor, T-One Building, Sukhumvit Road, Khlong Toei, Bangkok 10110
Price: Cocktails from 300 THB / 9 USD
With bamboo railings and vertical greenery, Tichuca is a slice of tropical jungle in the bustling area of Thonglor – one of the best bar and social areas in Bangkok. Revel in the panoramic view of the city with refreshing tiki drinks like Yuzu Colada or Coco Spritzer in your hand. A towering bamboo structure reaches over the bar, where illuminated pieces of bamboo hang down like the tentacles of a jellyfish. Later in the night, the structure shifts in colour in time with the DJ's tunes. No food is served here, so make sure your stomach is full before you arrive.
facebook.com/tichuca.bkk
The Speakeasy at Hotel Muse
Langsuan
When you should go: Fancy dates or special occasions
Location: 24th and 25th floors, Hotel Muse, Langsuan Road, Pathum Wan, Bangkok 10330
Price: Cocktails from 400 THB / 12 USD
Travel back to the Roaring '20s at this sophisticated spot atop Hotel Muse. The Speakeasy is a two-storey rooftop bar and lives up to its name with an elusive location and clandestine Prohibition-era glamour. Ascend to the 24th floor, where the superb view of Langsuan Road and surrounding skyscrapers stretches before you – if you're lucky enough to land a stool on the narrow balcony. Once you finish a drink or two, find the secret door to the upper floor, where an open-air lawn, elegant domed roofs, and panoramic downtown vistas await. Savour the Great Gatsby fun with the original classics like a manhattan or sazerac, or kick it up a notch with signature beverages – just ask the bartenders what's good.
hotelmusebangkok.com
Brewski at Radisson Blu Plaza
Asok
When you should go: Fun night out (with lots of beers)
Location: 30th floor, Radisson Blu Plaza, Sukhumvit Road, Khlong Toei, Bangkok 10110
Price: Beers from 300 THB / 9 USD
If you appreciate a quality pint of craft beer, get a trip to Brewski on your immediate to do list. Located on the rooftop of the Radisson Blu Plaza near the Asoke intersection, Brewski keeps its 12 taps flowing with brews from across the world. Look at the chalkboard for the pint of the day specials or ask the bartender for deals and promotional offers. Also, keep an eye out on social media for free-flow events and tap takeovers. Brewski's menus now extend beyond classic bar bites like burgers and hotdogs, with Asian flavors like curried tapenade, grilled tandoori chicken, and chicken wings soaked in Korean-style sweet & spicy sauce available to accompany your pint.
radissonhotels.com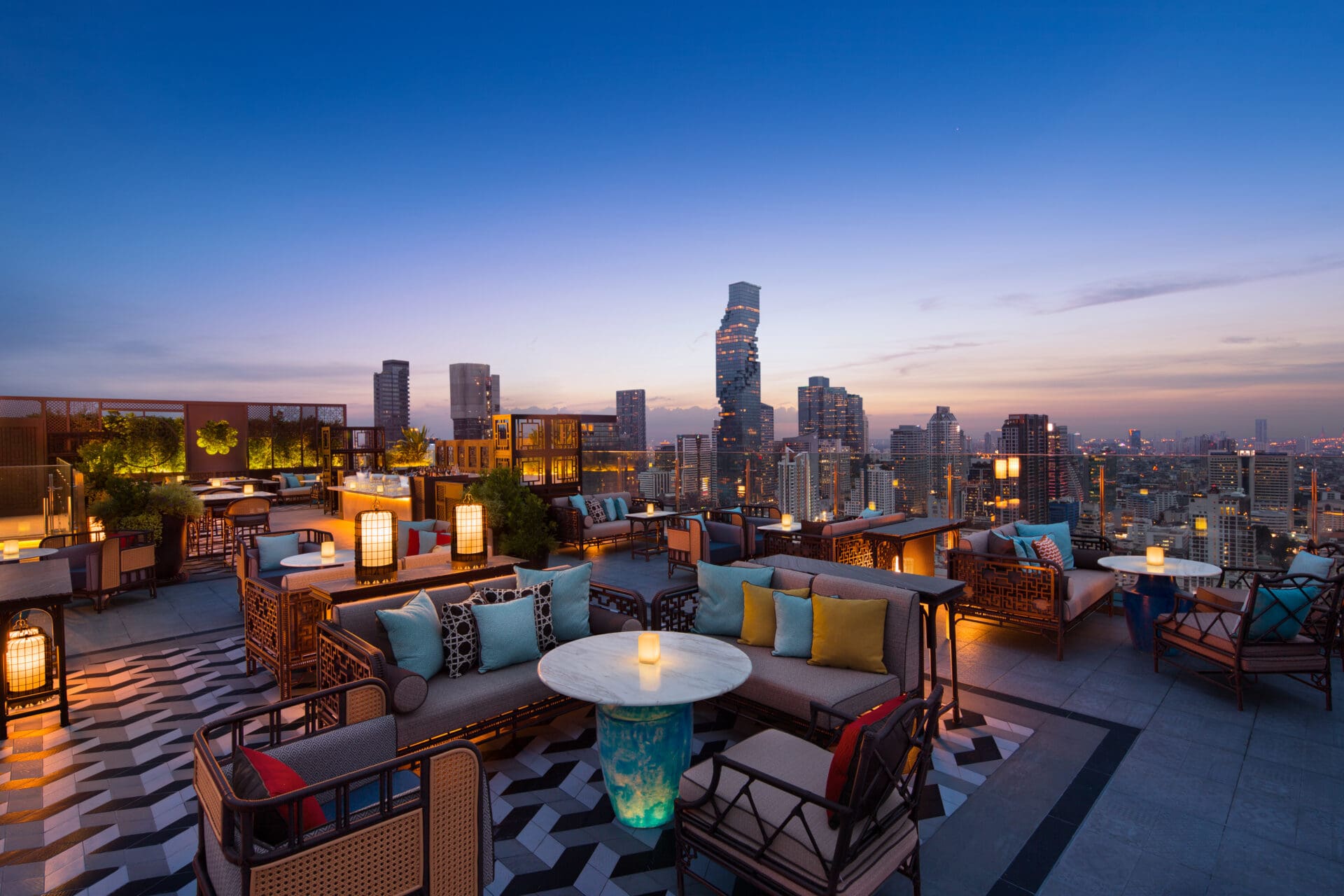 Yao at Marriott Hotel The Surawongse
Si Phraya
When you should go: Fun night out with friends
Location: 32nd and 33rd floors, Bangkok Marriott Hotel The Surawongse, Surawong Road, Bang Rak, Bangkok 10500
Price: Cocktails from 312 THB / 10 USD
Fancy some dim sum with your cocktail? You've got it at Yao. Chinese heritage enlivens this rooftop bar on Surawong Road, with a chic, Shanghai feel, and a remarkable 360-degree view from the King Power MahaNakhon and State Tower buildings to the Chao Phraya River. Classic and fusion dim sum arrives in bamboo steamers from the kitchen, alongside colourful Oriental-inspired tipples from the mixologists at the bar. Start with refreshing drinks like Purple Breeze From The East (vodka, lychee liquor, butterfly pea juice, and egg white) or go straight to a stronger concoction like Dynasty Negroni, which uses five spice-infused gin and is served in a porcelain Chinese teapot.
yaobangkok.com