The best coffee shops in Bangkok
Coffee nerds will find themselves well-catered for in Bangkok, where coffee shops approach roasting and brewing with precision and attention to detail
Last updated: October 27, 2023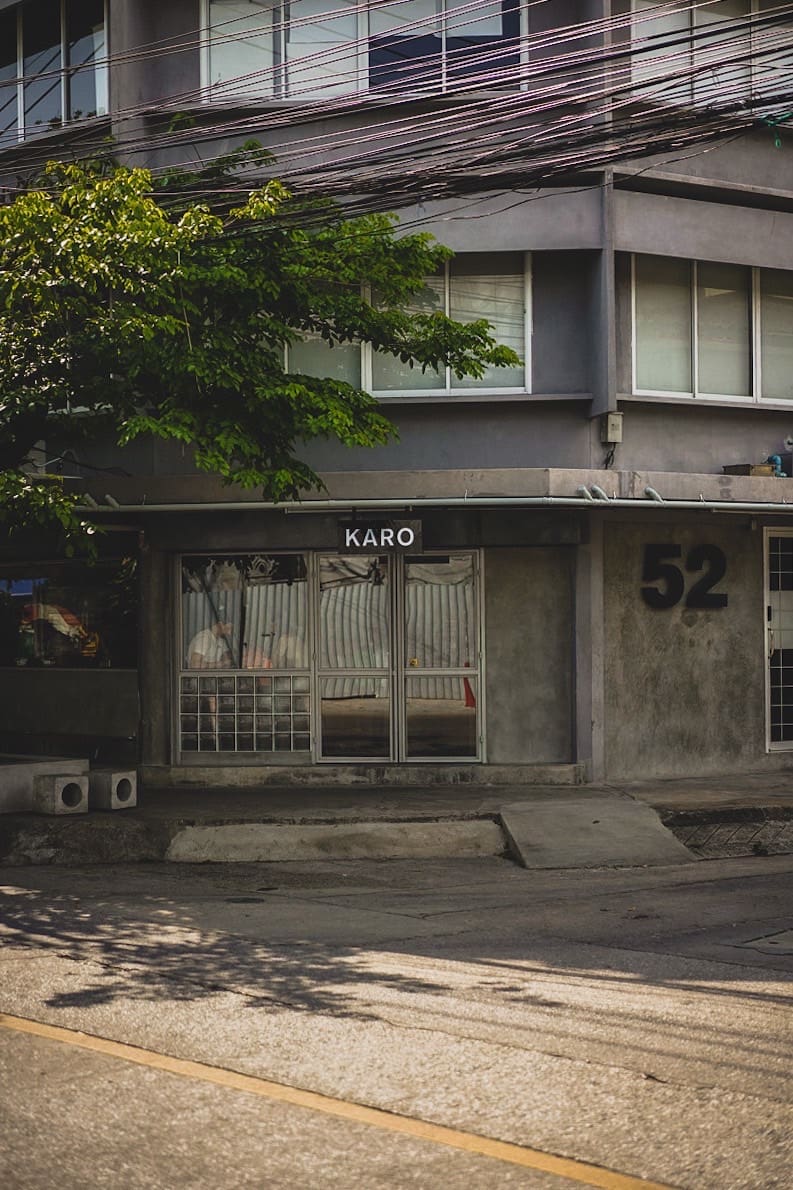 Bangkok's coffee scene has plenty to brag about: this is a city that means business when it comes to getting caffeinated, with a wide array of coffee shops to fuel its characteristic energy. There's a strong Aussie influence, but names from Japan and Singapore are also starting to make themselves known, which means you'll find any kind of blend, roast and style you could possibly dream of, from pour-over to creamy nitro espresso, as well as honeyed iced coffee. Interiors range from cool and industrial to beautiful, serene spaces, many of which are close to the city's best restaurants and art galleries. From all-out coffee schools like Solos Coffee and stylish co-working cafes to social hubs like Karo Coffee Roasters where you might just spot some famous faces, here are the best coffee shops in Bangkok to get your caffeine fix.
Watthana
Karo Coffee Roasters
Best for: Coffee with Bangkok's governor
Address: 52 Soi Pridi Banomyong 26, Phra Khanong Nuea, Watthana
Karo Coffee Roasters is more than a coffee shop: it's a social hub, with one of its main attractions being charismatic Sri Lankan owner Karo Iyash and his roster of celebrity clientele – including the likes of Bangkok governor Chadchart Sittipunt. But the coffee is excellent too: Iyash has curated a selection of beans from different origins around the world, and his nose is so good he roasts for several other Thai coffee shops as well as businesses based overseas. There are two speciality signature house blends: Headless (more acidic) and Fearless (more floral), alongside daily brews that leverage blends from around the world, including Iyash's own microlots. Karo Coffee Roasters is open from 6am daily for early risers.
karocoffee.com
Paga Microroastery
Best for: A scientific approach to brewing coffee
Address: 45, 1 Soi Sukhumvit 31, Khlong Toei Nuea, Watthana
The unique interiors at Paga are minimal to the point of spartan: think elegant white floors, ceilings and walls, plenty of natural light to fill the double-height room, and white metal furniture. In fact, the whole aesthetic is slightly evocative of a beautiful science lab (helped by a hushed, calm atmosphere), which befits Paga's precise yet experimental approach to making coffee, but also sets the scene for the baked goods, which stand out like jewels in their glass case. The cleverly designed space also places the coffee roasting room at Paga's heart, so you can observe the process from every vantage point inside the cafe.
pagacoffee.com
Kaizen Coffee
Best for: Excellent coffee inspired by Melbourne
Address: 888 6-7 Ekkamai Road, Khlong Tan Nuea, Watthana
Bangkok's trendy and oft overlooked Ekkamai neighbourhood is crammed with cool coffee shops. Case in point: Kaizen, which pays homage to Melbourne's coffee culture. Choose between flat whites, nitro cold brews, pour-overs and more. This sleek space also serves American brunch dishes such as eggs benedict cakes and crispy bacon on toasted brioche, and a virtuous but no less delicious miso chicken and shallot salad, doused in a lip-smacking anchovy dressing.
kaizencoffee.com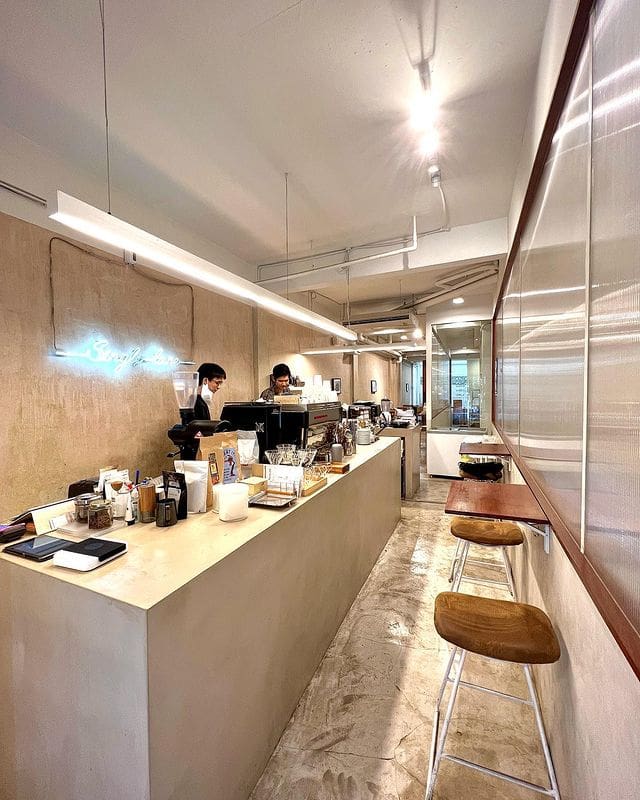 Single Lane
Best for: Australian-inspired coffee and pastries
Address: 26/9 Sukhumvit 69 Alley, Phra Khanong Nuea, Watthana
Australia's coffee influence continues at Single Lane coffee, set up by two baristas who earned their stripes working in the Land Down Under before bringing their learnings back to Bangkok. The drinks list is suitably Oz-inspired: espresso, cold brew and pour-overs seize the day here, while the name 'Single Lane' is a reference to the shop's focus on single-origin coffees. Alongside the usual brews, there are also a selection of funkier drinks like the Summerest, a blend of coffee, peach tea, prune juice and Chinese dates that's bound to put a spring in your step. This coffee shop is also the place to get croissants from the BKK outpost of legendary Australian bakery Conkey's, for an all-round Oz experience.
@singlelane.bkk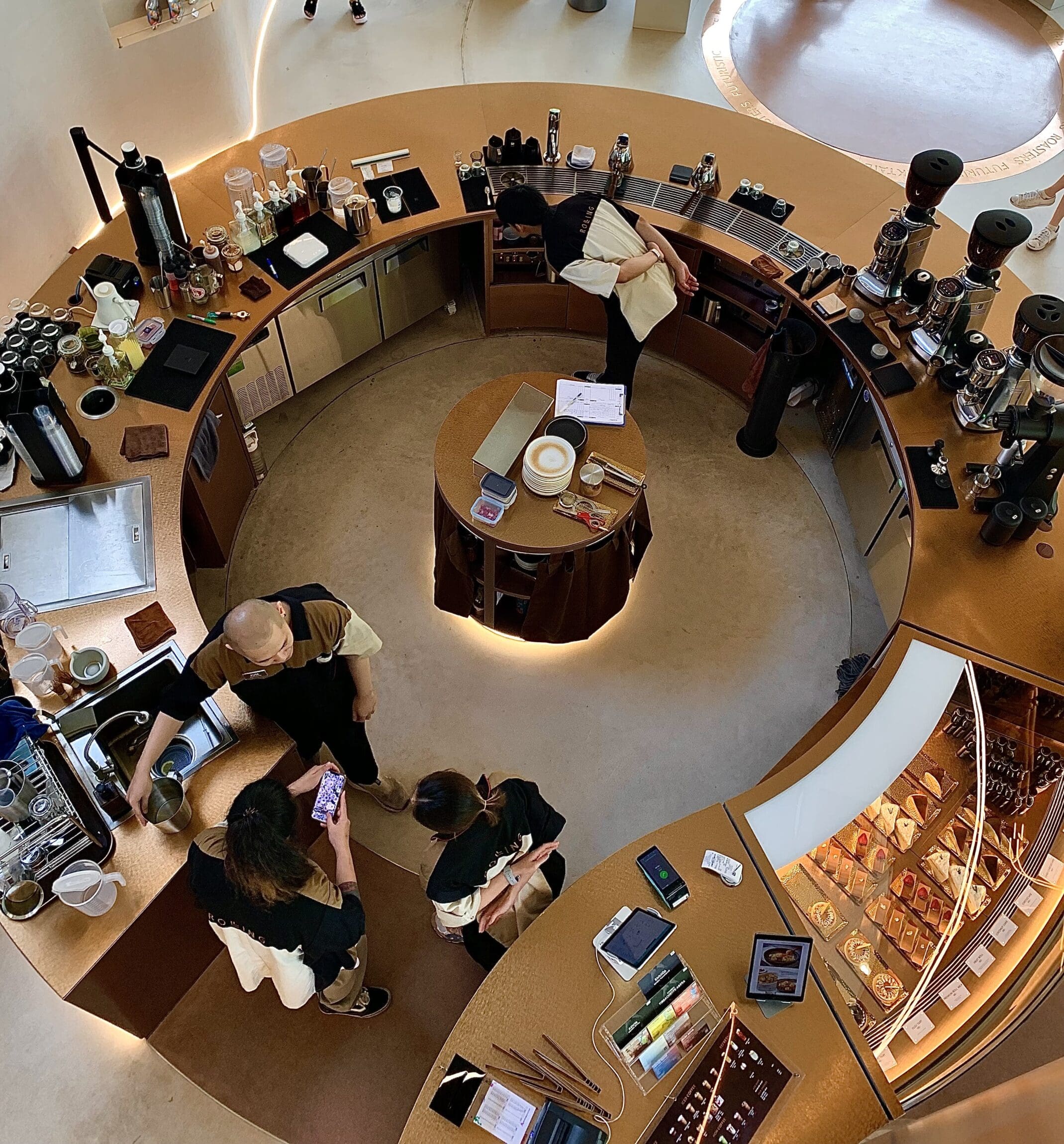 Rolling Roasters Ekamai
Best For: Cutting-edge local coffee roasters
Address: Earth Ekamai, 1 Soi Sukhumvit 63, Khlong Tan Nuea, Watthana, Bangkok, 10110
Local coffee visionaries, Rolling Roasters, are renowned for an epic cafe and roasting warehouse on Bangkok's west bank. In 2023, it rolled out its high-tech modular espresso machines and global ethos into the upmarket Ekkamai neighborhood on the east bank, where a spacious, curvy and copper-toned interior makes a striking statement as its second home. Explore a worldly list of beans, where Ethiopia's Yirgacheffe sits alongside local growers from Thailand's north. Medium and dark roasts are poured through cutting-edge Modbar taps on a strikingly minimalist work bench. Bangkok-style drinks include a daring 'black snow', made with espresso, coconut water and cream cheese. All-day brunch is in tune with other trendy cafes in town, while futuristic cocktails by night are in the pipeline.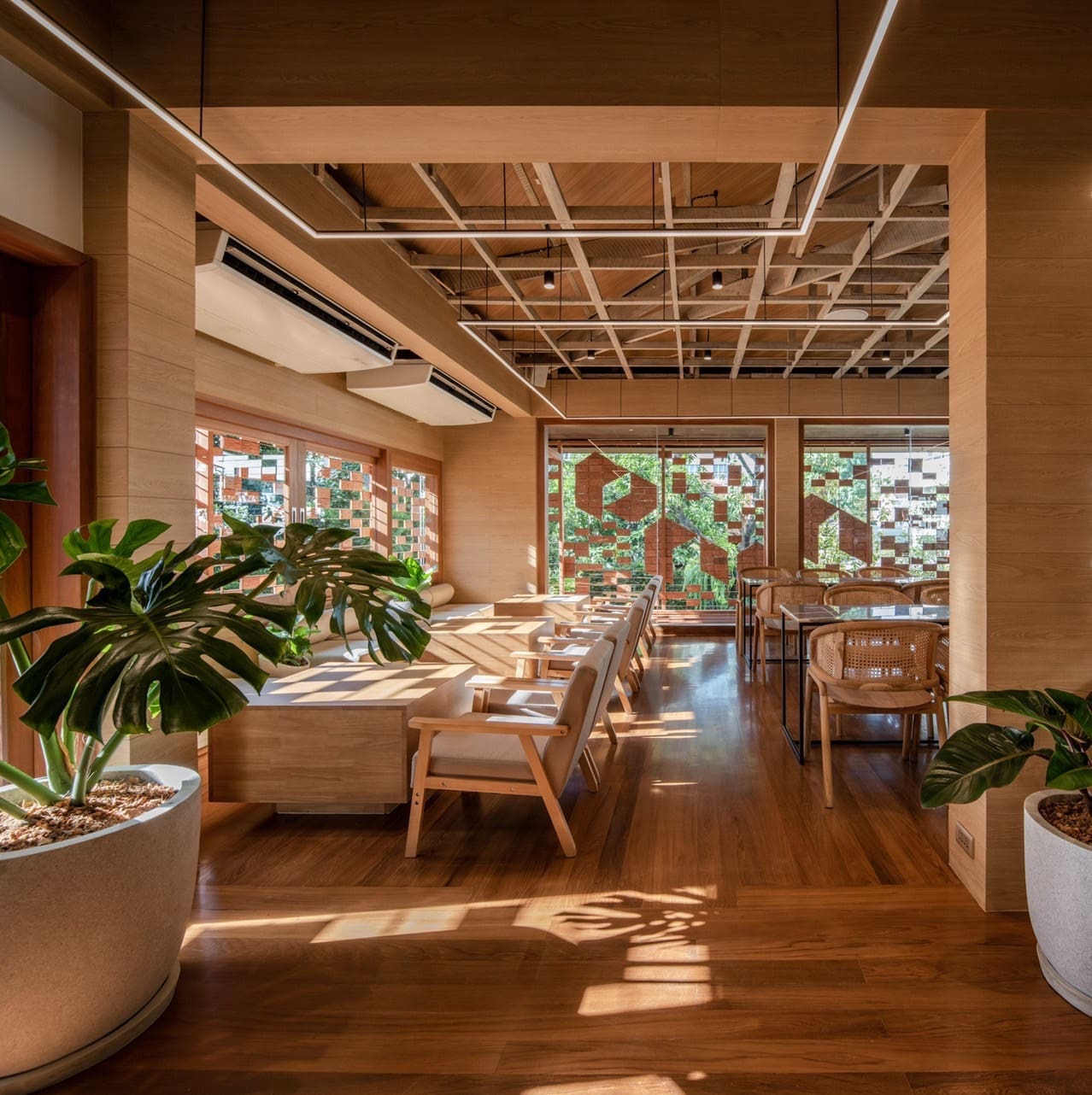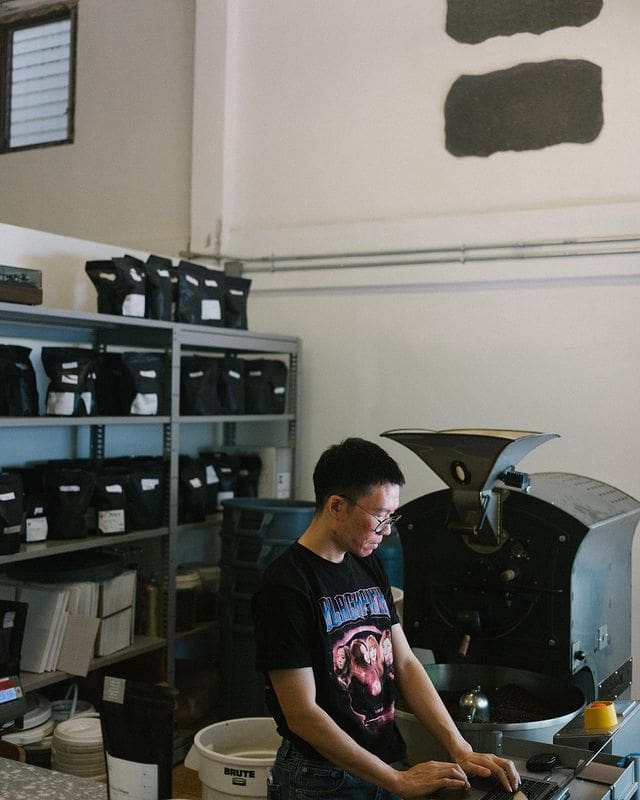 Phra Khanong
Hands and Heart
Best for: Competition-level brewing and some peace and quiet
Address: 33 Sukhumvit 38 Alley, Khwaeng Phra Khanong, Bangkok 10110
Both of Hands and Heart's two owners are fiercely passionate and one is even a competitive brewer, which means coffee aficionados are in safe hands here. The interiors are minimalist, with white walls and light marble table tops, and they look so good that a sign hangs on the wall that declares 'No fashion photography allowed.' This means, of course, that the cafe is free from influencer types, giving you more space to enjoy the house-roasted speciality coffee. One of the cafe's specials is called Clean Hands, a decadent white coffee served in a glass rimmed with a delicate layer of caramel.
@handsandheart_coffeeroasters
Ari
Nana Coffee Roasters
Best For: House-roasted coffee in photogenic surroundings
Address: 24/2 Ari 4 Alley, Samsen Nai, Phaya Thai, Bangkok 10400
Nana offers premium coffee and baked goods against a beautiful backdrop, no matter which location you happen to visit. The jewel in the roasters' crown, however, is the original branch in the hip Ari neighbourhood, where warm woods and lush green foliage are so welcoming you could sit there all day (and we actually recommend that you do – it's an ideal place to co-work in Bangkok). Thankfully the speciality coffee is more than up to the task of fuelling a hard day's work thanks to brews masterminded by award-winning barista Warong Chalanuchpong, including cold brews and colourful iced coffee. A selection of lovingly sourced teas are ideal for when the jitters start to kick in.
nanacoffeeroasters.com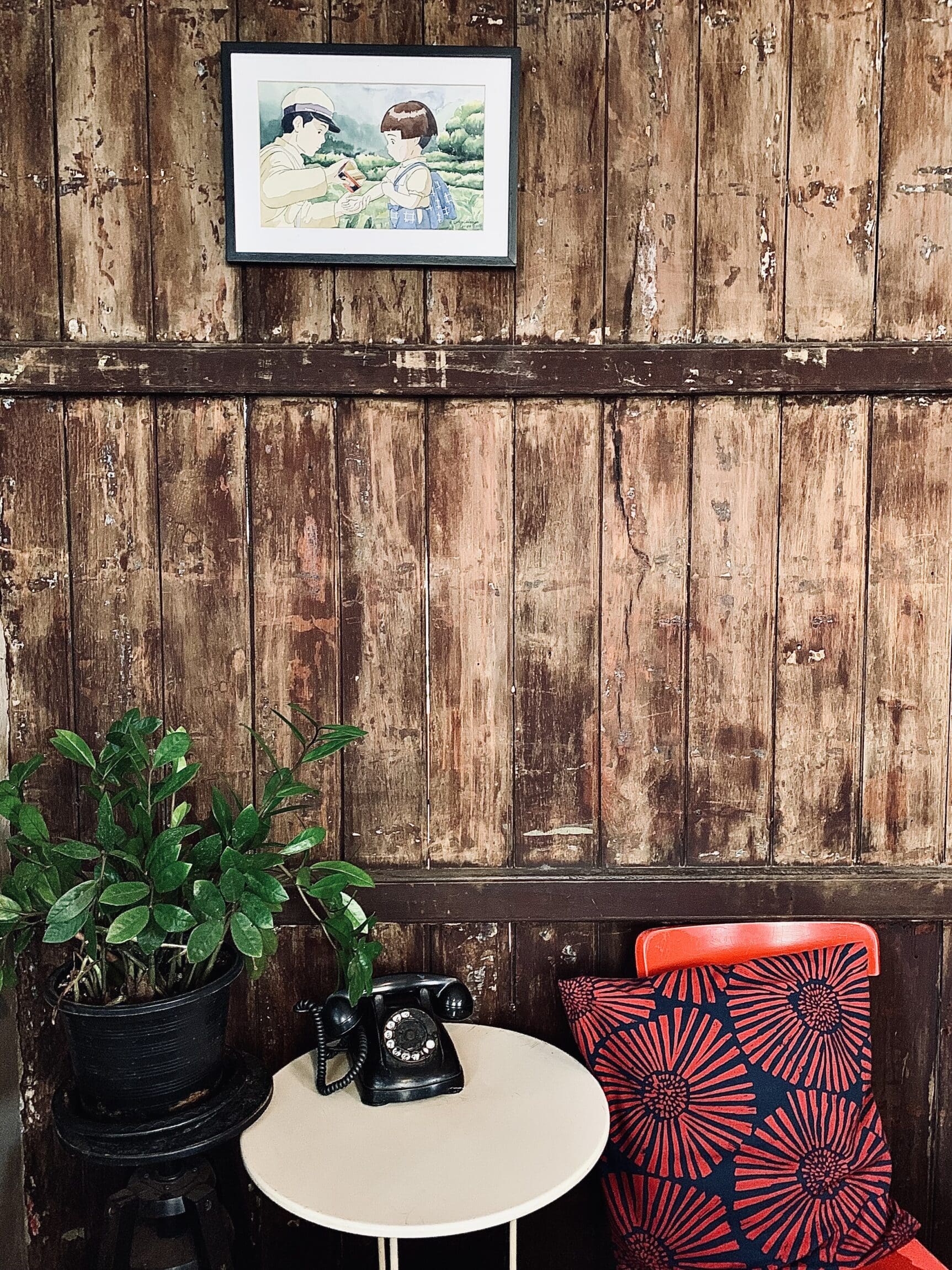 Talad Noi
Mother Roaster
Best For: Bangkok's coolest coffee shop run by Auntie Pim
Address: 1172 San Chao Rong Kueak, Talat Noi, Samphanthawong, Bangkok 10100
It doesn't get hipper than this: a coffee shop set up by an effervescent septuagenarian nicknamed Auntie Pim in one of Bangkok's oldest and most creative neighbourhoods. You could think you're in the wrong place as you enter the oil-stained ground floor of the former spare car parts business, if not for the signage and commissioned art outside. Steep stairs take you to a homely space featuring exposed original wood and thoughtfully curated vintage items. Auntie Pim's son passionately talks through an extensive mix of Thai and imported beans, served with precision and care, and a colleague micro-roasts green beans while engaging with customers at the filter bar. Coffee-based cocktails are popular with Thai drinkers. They have multiple branches, but if there is one cafe you must visit while in town, this is it.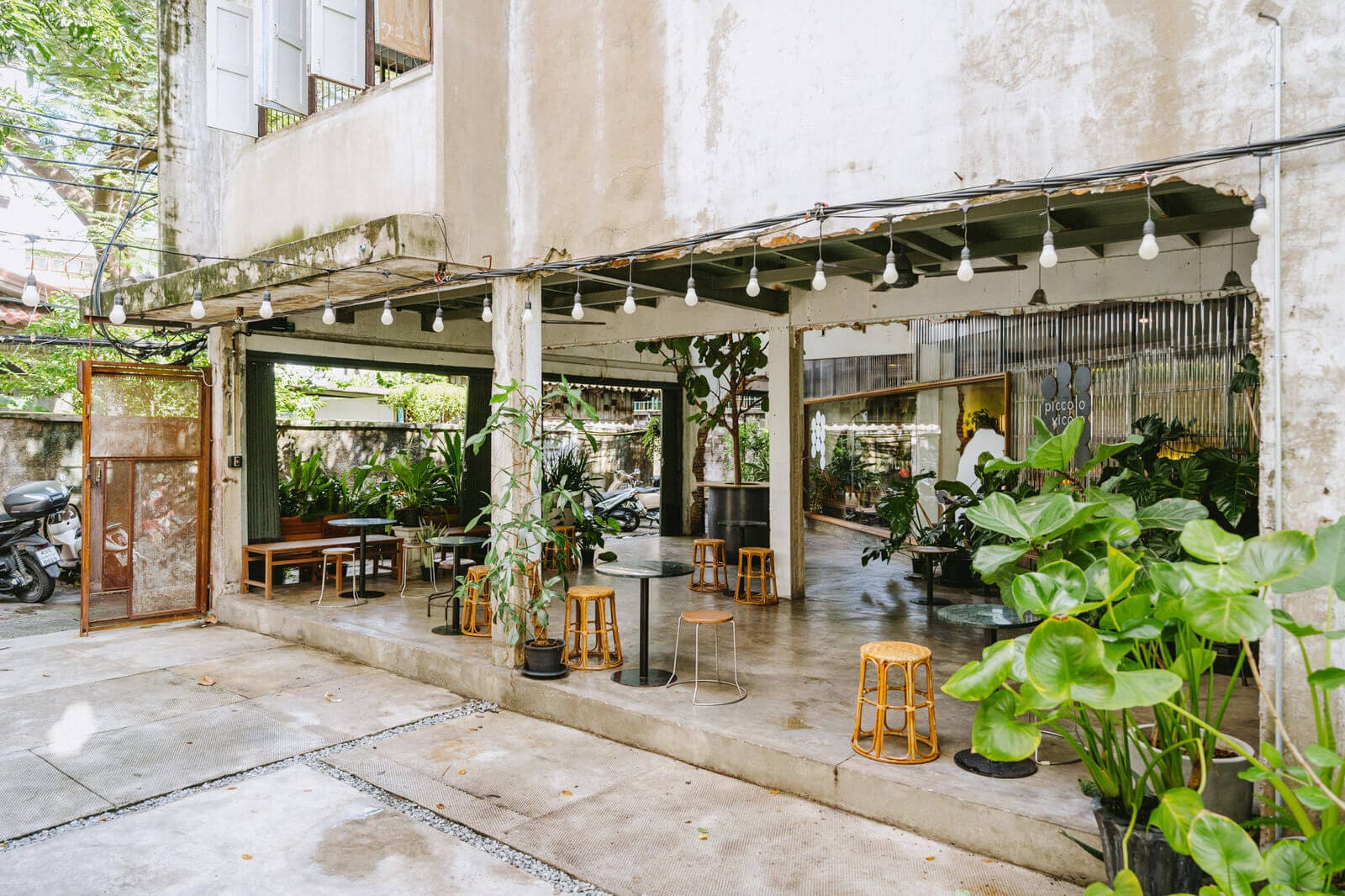 Ratchathewi
Piccolo Vicolo Café
Best For: a laidback coffee shop in a newly developed arts hub in Ratchathewi
Address: 535 31 ตรอก Wat Phraya Yang Alley, Khwaeng Thanon Phetchaburi, Ratchathewi, Bangkok 10400
Piccolo Vicolo is a coffee shop in Galile Oasis, a creative hub and hotel that also houses an art space and theatre, which opened in the regenerated Ratchathewi neighborhood in 2022. It is tucked down Wat Phraya Yang alley, hence the name, which translates from Italian to 'little alley'. The open space is dotted with plants, vintage furniture and glass lanterns for a laidback setting, while signature drinks include vanilla bean latte and sweet iced coffees infused with homemade syrups. This laptop-friendly coffee shop is also a relaxed spot for remote working.
piccolo.vicolo.cafe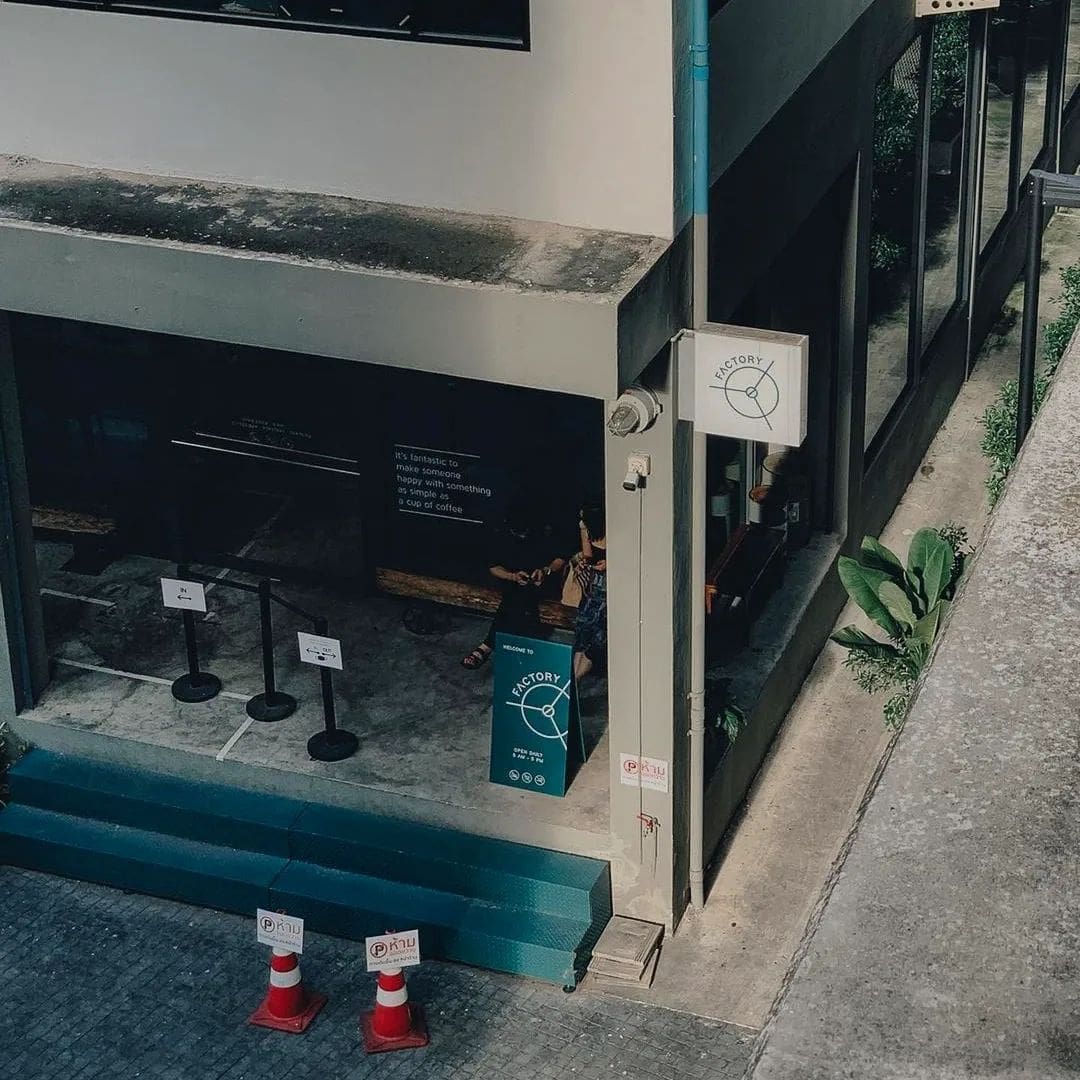 Factory
Best For: barista champion-worthy coffee in an industrial setting
Address: 49 Phayathai Road, Thanon Phayathai, Ratchathewi, Bangkok
Award-winning Baristas Biw Settakarn and Man Athip are behind Factory, a destination coffee shop and ambitious roastery by Phaya Thai station in Ratchathewi. Inventive, fragrant flavours span black honey, yellow cherry and pink bourbon, alongside classic dark and light blends, and matcha. An equally enticing pastry menu includes charcoal Thai tea croissants and freshly baked cakes. Factory also offers training courses for budding baristas wishing to learn the art of espresso, led by its esteemed team of barista world champions. This is not a grab-and-go kind of coffee shop – settle in amongst industrial, dark wood and exposed brick interiors and sip it slowly.
factorybkk.com
Bang Rak
Sarnies
Best For: A very old Chinese shop house, which is also a coffee shop
Address: 101, 103 Charoen Krung 44 Alley, Khwaeng Bang Rak, Bang Rak
Duck with cherry jus; chicken parmigiana; truffle pasta; Austrian and Portuguese wines; and a roster of local and international ciders: Sarnies is far more than a coffee shop – in fact, its menu looks so alluring that you could easily come in for your morning caffeine fix and be sucked in for the rest of the day. The brand made a name for itself in its home city of Singapore before opening up in Bangkok, where it's been greeted with the same level of enthusiasm. The coffee shop/restaurant occupies a former boat repair shop, turning the rustic-feeling interiors into a modern, welcoming space that effectively sets the scene for a brilliant meal, whether you're popping in for a pastry or sitting down to dinner. And if you must know about the coffee, it's roasted in-house weekly, and the coffee is made using a high-tech Sanremo machine – so you know it's going to be good.
sarnies.com
Saphan Sung
Solos Coffee
Best For: A full-on coffee school headed up by a true expert
Address: 114/5 srinagaridra Romklao Road Thap Chang, Saphan Sung, Bangkok 10240
The idea of being a coffee celebrity might sound extra, but instructor, consultant and coffee roaster Nicholas Haw is truly deserving of the status thanks to his unparalleled knowledge of beans and brewing. He's so dedicated to his craft that he refers to his coffee shop and school Solos Coffee as his second home – which should give you some indication of how much time he spends there. The black-and-white space is minimal yet welcoming and sets the stage for Nicholas's techniques.
@solos.coffee