With shrines jostling with shopping centres, Bangkok's contradictory personality can be hard to get to grips with – but that makes it all the more rewarding to discover, says local writer Nicharee Phatitit
Bangkok has a contradictory personality, but there's beauty in the city's chaos. This is a place where the old and the new jostle each other for space; where ultra-luxury experiences brush up against hyperlocal ones; where beautiful wood architecture brushes elbows with gawk-worthy megaprojects, shopping malls and condominiums, creating a rapidly changing landscape that can leave even locals like me baffled.
But whether you're here for old or new, the city's most captivating moments lie in the local venues and the communities of people that frequent them. Like many cities, Bangkok is best experienced neighbourhood by neighbourhood, which gives you a feel for its myriad personalities.
Bangkok is famed for its shopping – yes, it's still the place to get a tailored suit – and Siam is one of the central districts. Arrive at BTS Siam station (the best way to get here) and you'll be greeted by three modern shopping malls, Siam Paragon, Siam Center and Siam Discovery. But the real Siam lies on the other side: Siam Square, also known as Siam ron, which literally translates to 'hot Siam' in Thai, is an open-air complex of sois – alleyways – lined with eclectic shops, restaurants and cafes.
Back in the '90s, this was where the cool kids hung out. People would come to watch movies at the independent picture houses – Siam, Scala, and Lido – go for a date at Milk Plus bar and A&W, or shop for CDs and second-hand clothes at Bonanza. If you were a scout or reporter covering the weekly street-style looks, a trip to Siam was your weekend plan.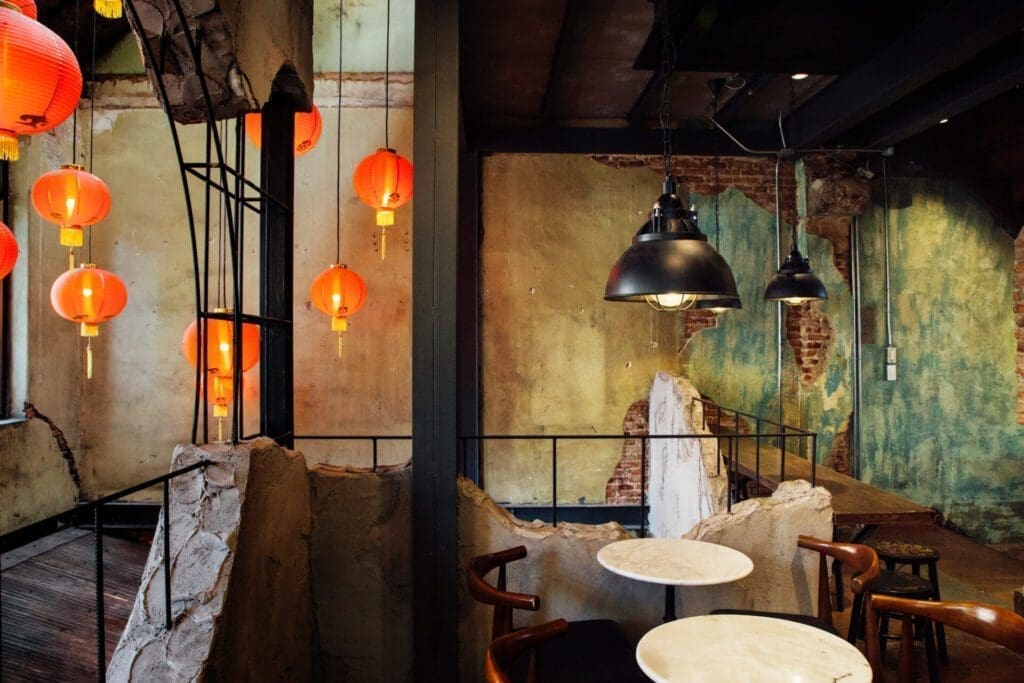 Siam Square has developed into a Korean hub (though the official Korean Town lies in Asok), with pastel-coloured makeup stores, clothes shops and cafes reminiscent of Seoul. That being said, there's still much of the old Siam to be enjoyed here. For a taste of local food, the longstanding Inter Restaurant, around since 1981, is a perpetual favourite thanks to its relatively affordable prices and simple, comforting cooking.
Stationery-philes will get lost at Lamune paper shop, while the newly renovated CU Book Centre is always buzzing with university students and avid readers. Nearby, WWA Cafe offers contemporary brunch-style dishes and pasta – and given its location on the third floor, it remains under the radar.
East of Siam is one of Bangkok's most iconic junctions, Ratchaprasong. Originally intended to be Bangkok's take on Times Square, it's a prime example of the friction between the city's old and new personalities – you'll find glittering golden shrines sitting cheek-by-jowl with CentralWorld, a vast retail centre.
Ratchaprasong is also home to Gaysorn Village – which, confusingly, isn't a village at all, but a luxury department store. Don't let that put you off: it houses a Japanese-style onsen and clean beauty spa by local brand PAÑPURI, which offers a wonderful view of the Bangkok skyline alongside a relaxing onsen experience. For design books and magazine lovers, independent bookseller The Papersmith by Booksmith at Gaysorn Village's skywalk entrance is a quiet escape from the melee, and the place to top up on international reading material.
Further east lies Sukhumvit. It's one of the best places to stay for its humming nightlife, and easy access to the Skytrain – it's worth noting that most people get around the city by car, but making your base near the BTS or Skyline lines can make life easier.
This is also where you'll find Asok, the official Korea Town, and, naturally, plenty of authentic Korean eating. Banjoo Korean BBQ, over on Soi Sukhumvit and away from the Korean Town Plaza is a favourite, while further down the same alley you'll also find Infinite Wellbeing, a beautiful spa with a dreamy, design-forward setting. You'll find some of Bangkok's best bars, like WTF Gallery & Cafe, in trendy Thong Lor – but under current restrictions, it's best to check in advance as some places might still be closed.
For a jack-of-all trades, head to the Woof Pack Building, which brings together restaurants, one of the city's many galleries and newly opened independent cinema Doc Club & Pub, which will serve you a pint of craft beer to go with your indie film. It's a great spot if you need a break from Bangkok's eye-wateringly spicy Thai food – not least because it's home to Guss Damn Good, a gourmet ice cream parlour serving scoops of playfully named flavours, like Bow Tie in the Bar. And if you need further respite from full-on Thai flavours, nearby Saladaeng 1 is also a great food hub, with restaurants like Aesop's Greek Restaurant, Bitterman Restaurant and The Meatchop Butcher & Spirits.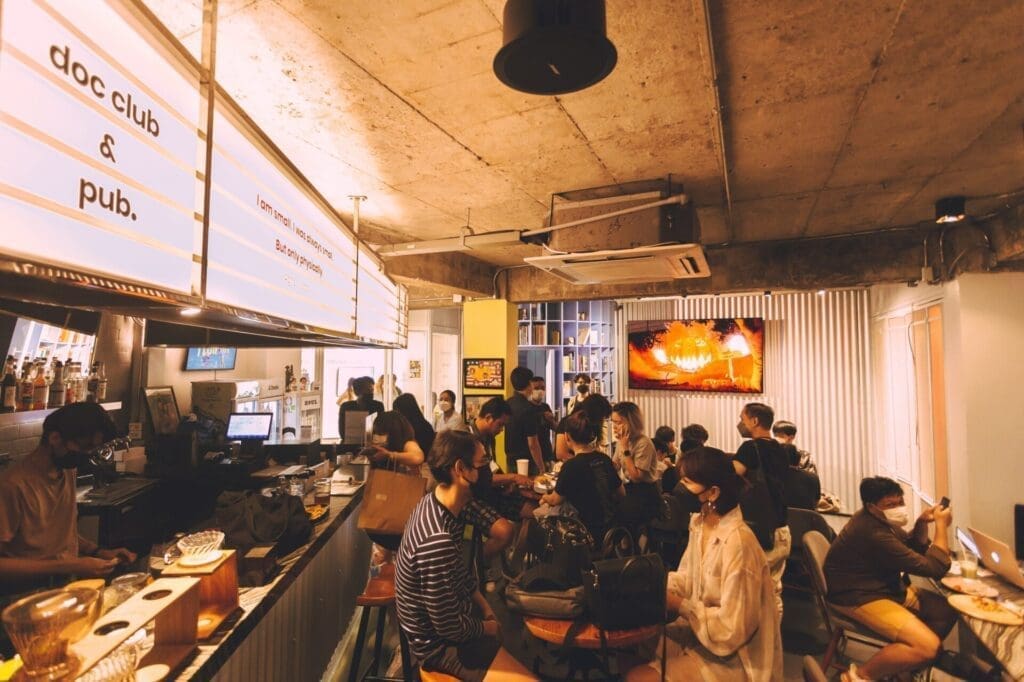 Creatives should make a trip to Bang Rak and the Charoen Krung Road: the first road to be built in Bangkok, it was once the city centre and is now speckled with galleries, cafes and shops by and for people of the art world. To explore, you're best heading to Saphan Taksin BTS station, and then visiting Thailand Creative & Design Centre in the old Central Post Office, before walking over next door to Warehouse 30, an industrial chic community space with a gallery and independent shops. From there, the back alley leads past the beautiful gates of the Portuguese Embassy to River City Bangkok, which is home to another clutch of art stores and galleries.
You can't visit Bangkok without visiting a temple (or five), and the Old Town or Rattanakosin Island, home to royal palaces and ornate temples like Wat Phra Kaew, are the place to go. While there, have lunch at The Jam Factory, a local weekend haunt for books, coffee and art.
Bangkok is constantly changing, and the indie creative community is always finding new things to do, from surf skating to drinking more bubble tea than you thought possible. But whatever it is, the people here always pave their own way.


JOIN US FOR THE JOURNEY
Subscribe to the newsletter
City guides, culture, photography and ideas, with expert analysis on the biggest stories in travel