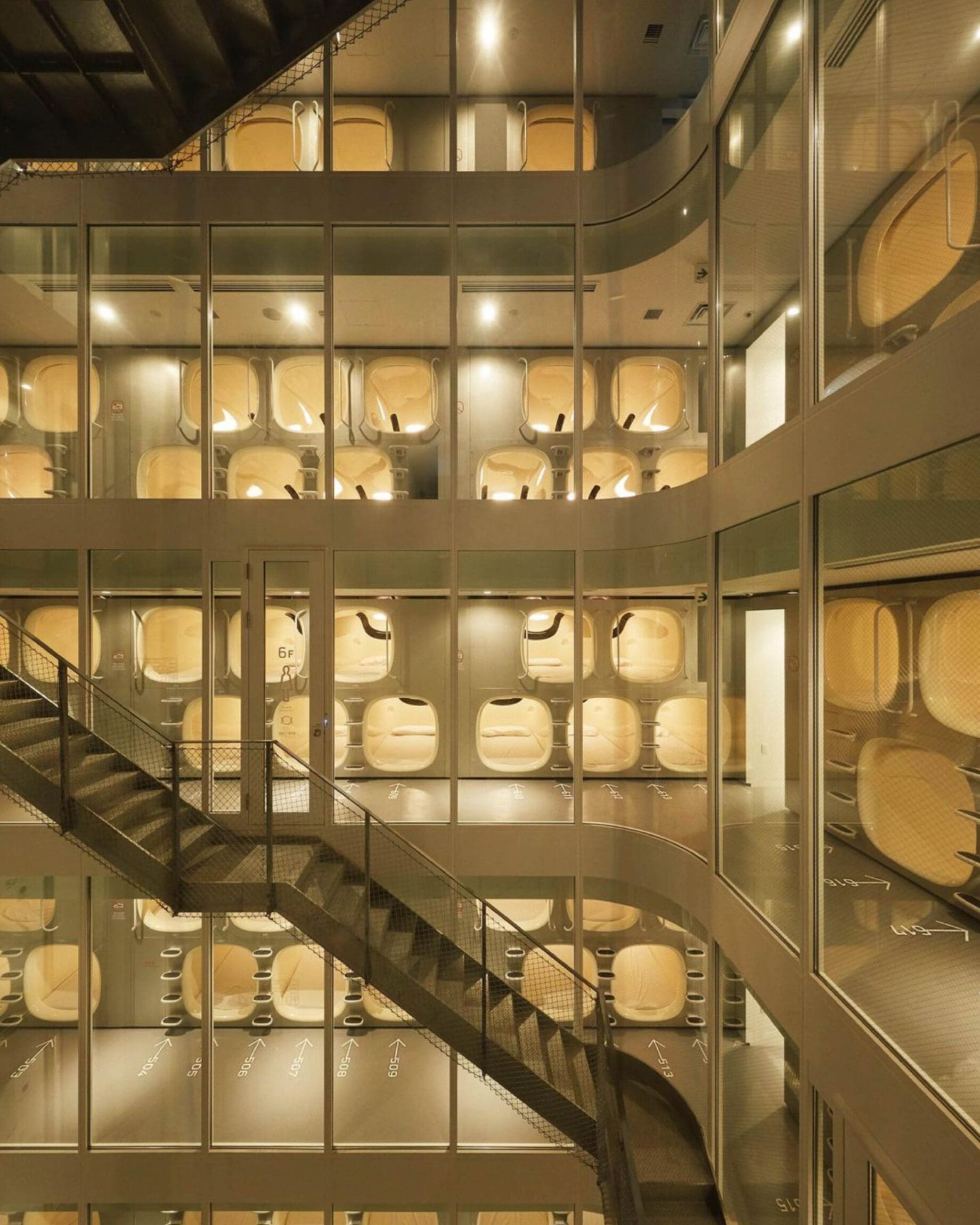 Tokyo's hotel scene is as dizzyingly vast and diverse as the city itself, and mirrors the Japanese metropolis' commitment to immaculate service and efficiency, while making admirable design-savvy use of small space. Spanning international brands and local operators, Tokyo's hotels range from budget-friendly buzzy bases to superfluous luxury. You will also find modern, urban iterations of a classic ryokan – a traditional Japanese inn – as well as traditional onsen bathing experiences, where guests can soak in mineral-rich water.
Due to the sprawling size of Tokyo, it might make sense to stay at more than one hotel to experience different parts of the city (and a local's guide is essential for exploring). Base yourself near the trendy restaurants and nightlife of Shibuya, then move towards the listening bars, vintage stores and hip coffee shops in Shimokitazawa. A world-leading transport system also allows you to zip about with ease.
From lively boutique boltholes to minimalist hideaways, these are the best hotels in Tokyo.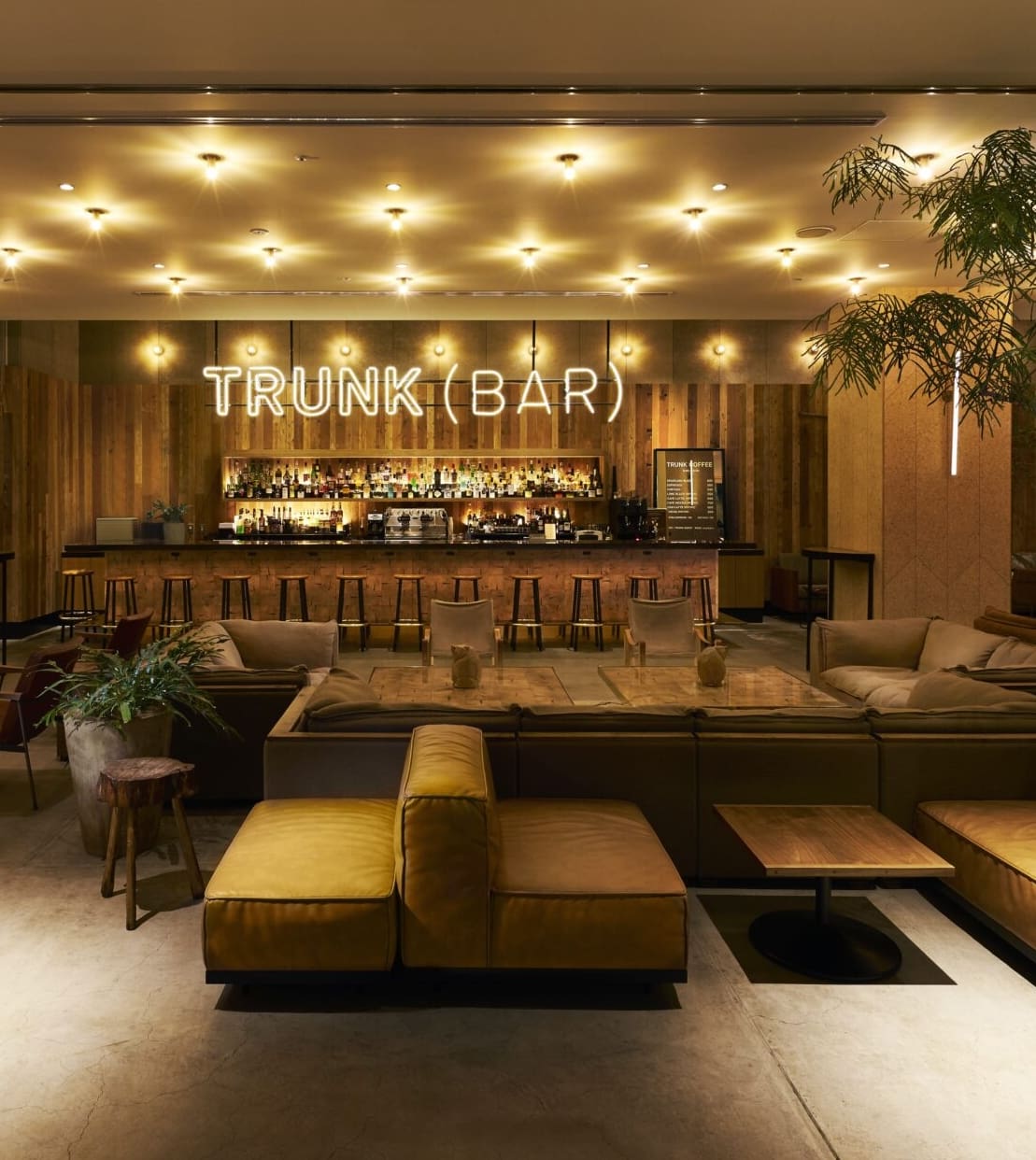 Shibuya
Trunk (Hotel)
Best for: A hip collective of hotels with contemporary Japanese design
Address: 5 Chome-31 Jingumae, Shibuya City, Tokyo 150-0001
Price: room only from 52,000 JPY / 344 USD per night
When Trunk opened its first location in Tokyo in 2017, it set a new standard for casual luxury not previously seen in the city. Inside, contemporary interiors balance recycled wood and grey stone with local art and hanging plants, and smartly dressed staff forgo traditional hotel uniforms. The hotel is located in the centre of young and happening Shibuya on Cat Street, noted for its hip fashion scene. Each of the 11 standard rooms feels bigger than your average Tokyo hotel room, with understated, minimal design, and several of the suites are equipped with kitchenettes for longer stays. The lounge area is a lively spot for coffee and drinks, and there is an outside seating area (rare for Tokyo) that puts you eye-level with the street action outside.
A second location opened in 2023 near Yoyogi Park, with an infinity pool and peaceful treetop views. There is also the private Trunk House in buzzy Kagurazaka (often referred to as Little Paris for its Parisian-style restaurants and boutiques). Set in an old geisha house with a beautiful garden, it can host up to four people and has its own private Karaoke room.
trunk-hotel.com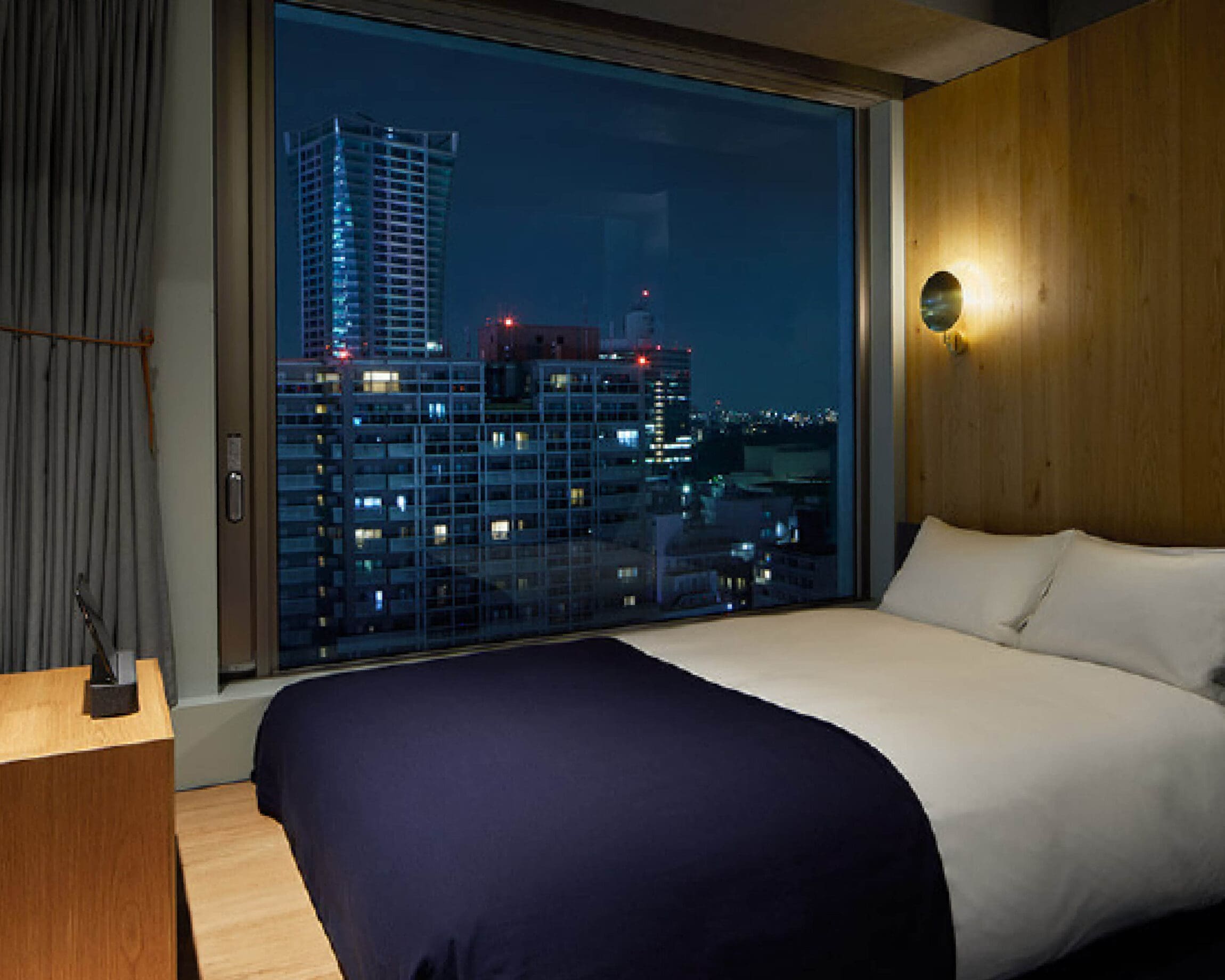 Sequence Miyashita Park
Best for: Central base, skyline views
Address: 〒150-0001 Tokyo, Shibuya City, Jingumae, 6 Chome−20−10 Miyashita Park North
Price: room only from 38,000 JPY / 253 USD per night
Sequence sits atop the Miyashita Park development in the heart of Shibuya. It is the more casual offering from local mega-developer Mitsui, who is also behind the stylish Celestine hotel brand. It offers a wide range of rooms, from bunk bed dorms for up to six people to private suites, all with stylish, modern interiors and epic skyline views. The location is hard to beat for exploring Shibuya's shops, nightlife and street action. On the fourth floor is a relaxed cafe, where you can sip coffee and get some remote work done. It also has direct access to the Miyashita roof park, where you'll find a local crowd unwinding after a day of working or shopping.
sequencehotels.com/miyashita-park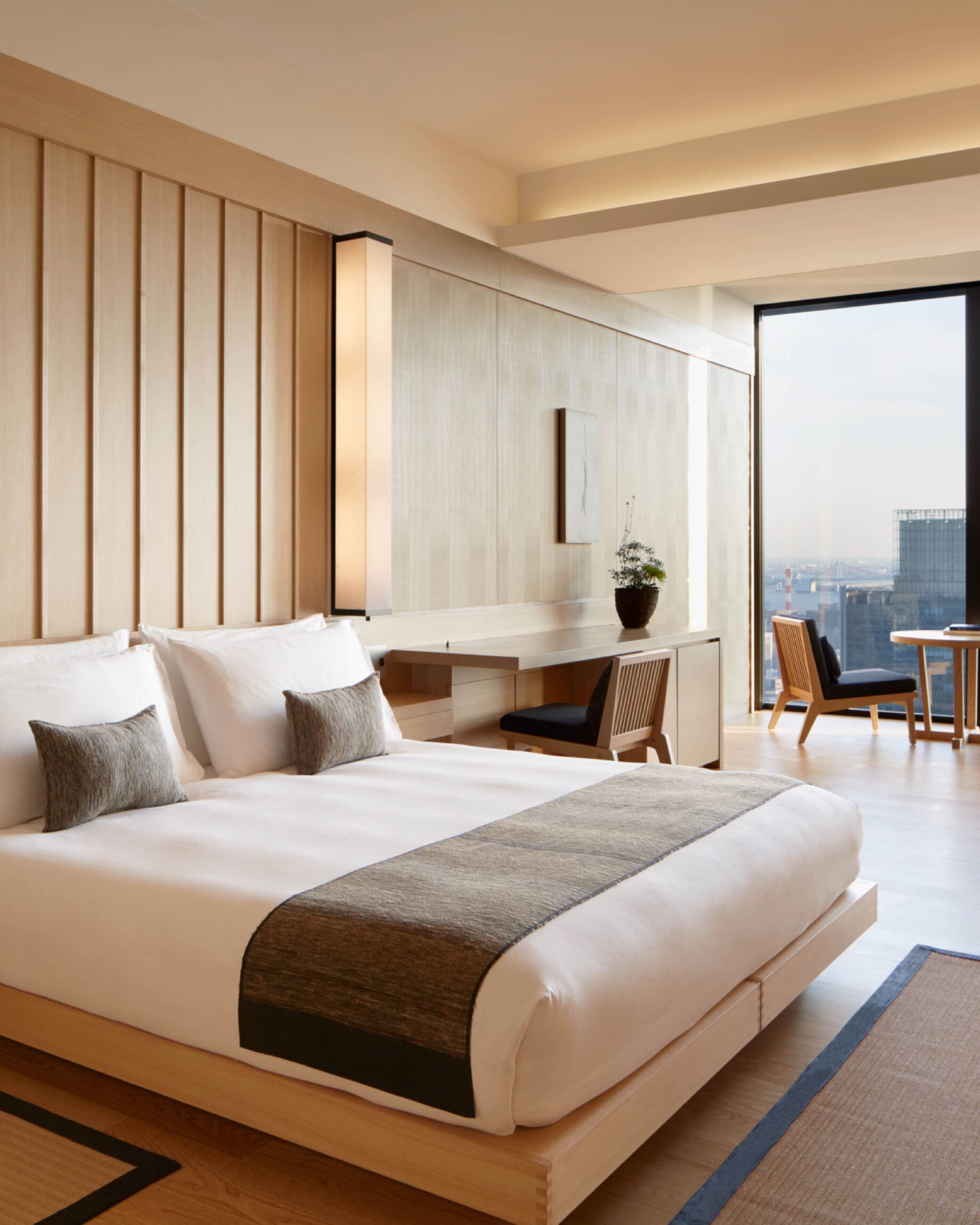 Tokyo Station/Ginza
Aman Tokyo
Best for: Complete luxury and serenity, conscious design, panoramic views
Address: The Otemachi Tower, 1-chōme-5-6 Ōtemachi, Chiyoda City, Tokyo 100-0004
Price: From 316,163 JPY / 2,102 USD per night
Aman has become a byword for quiet luxury, and its Tokyo outpost is no exception. A serene temple to sybaritic living located in the Otemachi Tower – just north of Tokyo Station – it offers some of the city's most stylish and beautiful rooms, alongside a meditation garden. Peaceful spaces are designed in a signature palette of natural materials such as stone and wood, with enthralling panoramas over the Japanese capital. The 27,000 sq ft spa is the largest and most impressive in Tokyo, with onsen-style baths and steam rooms, a swimming pool with sweeping city views, a dedicated yoga and Pilates area, fitness centre, and treatment rooms for traditional Japanese shiatsu massage. Afternoon tea is served in the lounge and also available to non-guests, should your budget not allow you to spend the night.
Aman is launching a new sister brand called Janu, and 2o24 will see the opening of its first hotel in Tokyo. Set to echo Aman's commitment to conscious luxury, it promises a focus on community and wellbeing with lively social spaces and a state-of-the-art Wellness Centre.
aman.com/hotels/aman-tokyo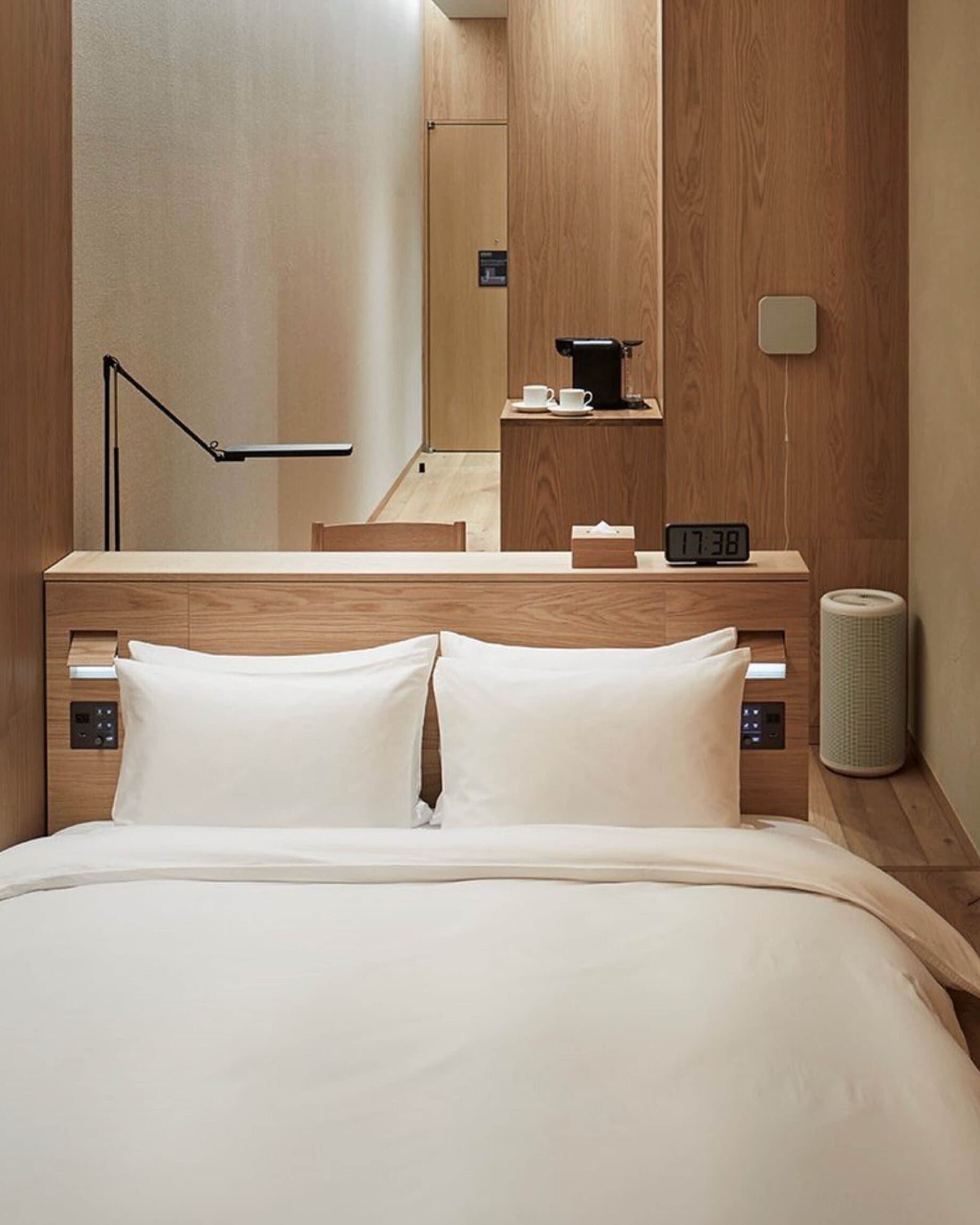 Muji Hotel
Best for: A minimalist bolthole in vibrant Ginza
Address: 〒104-0061 Tokyo, Chuo City, Ginza, 3 Chome−3−5 6F
Price: From 28,200 JPY / 187 USD per night
The Muji Hotel offers complete immersion in the Muji brand, located above the expansive flagship store in Ginza. Reflecting its world-renowned retail offering, the hotel is a minimalist, expertly designed space swathed in neutral tones. The diminutive 2.1 metre wide rooms feel inviting and far from cramped, while the largest 560 sq ft room comes with a Hinoki bathtub, a well-stocked reading room and large twin beds. As expected, rooms are curated with Muji products, which can be bought from the shop below. The hotel's restaurant Wa offers traditional all-day Japanese cuisine, served on – you've guessed it – Muji tableware. There is a long bar counter for coffee and even a small exhibition space (Muji Atelier) with changing exhibitions.
hotel.muji.com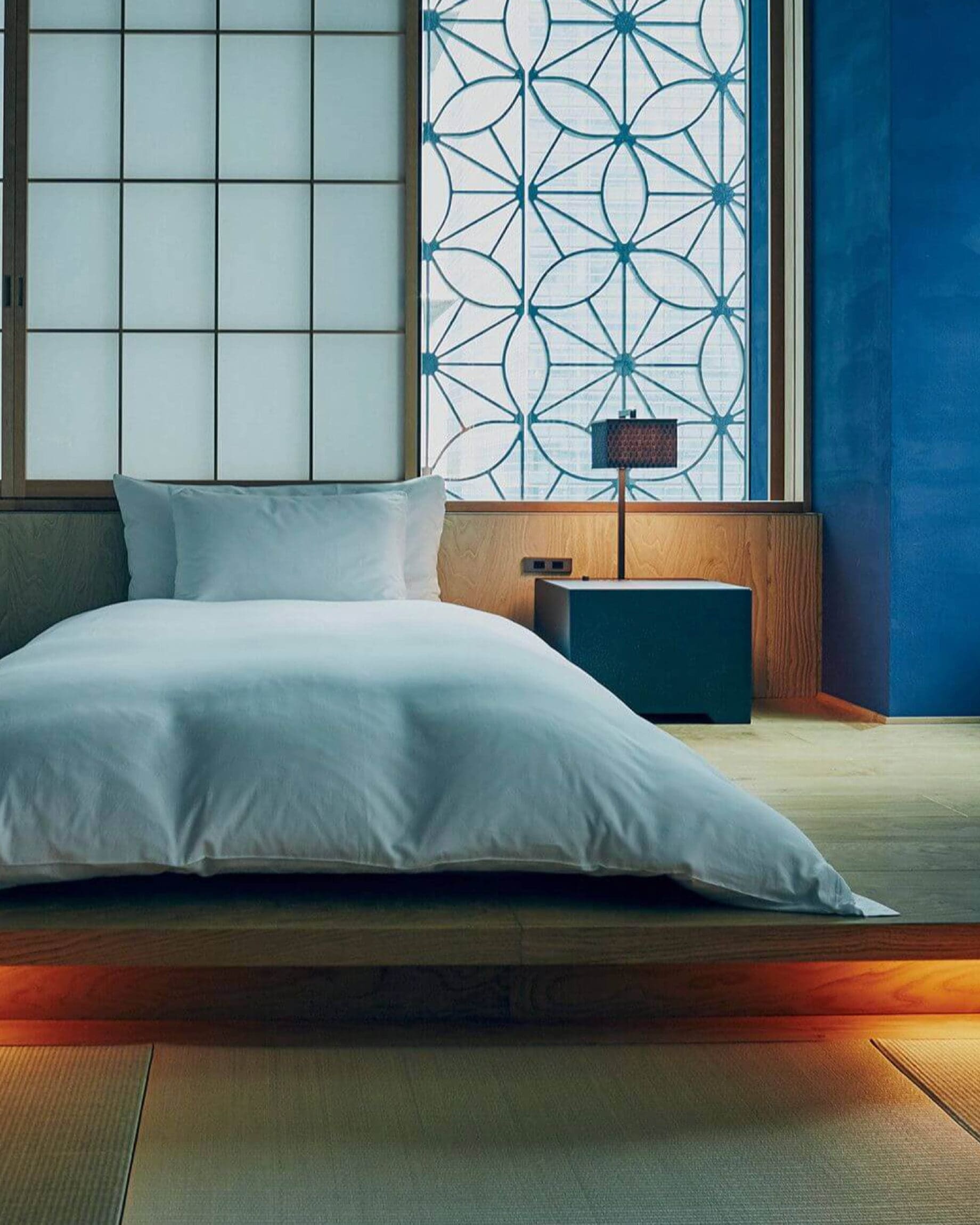 Hoshinoya Tokyo
Best for: A traditional ryokan experience in the heart of the city
Address: 1 Chome-9-1 Ōtemachi, Chiyoda City, Tokyo 100-0004
Price: From 42,075 JPY / 231 USD a night
Hoshinoya Tokyo was the first hotel to bring a luxury ryokan experience to the Japanese capital, with onsen bathing, carefully prepared kaiseki meals and omotenashi service (traditional Japanese hospitality). Traditionally, high-end ryokans are found in natural surroundings, but Hoshinoya Tokyo contrasts calm interiors with the busy Otemachi area, north of Tokyo Station. In true Japanese fashion, guests are asked to remove their shoes upon entering, as most of the ryokan's floors are covered in traditional tatami mats. The rooftop hot spring is a highlight not to be missed, but each of the serenely designed rooms also come with their own private bathtubs. Hoshinoya also offers different activities such as a Japanese Tea Ceremony or an introduction to Japanese art.
hoshinoya.com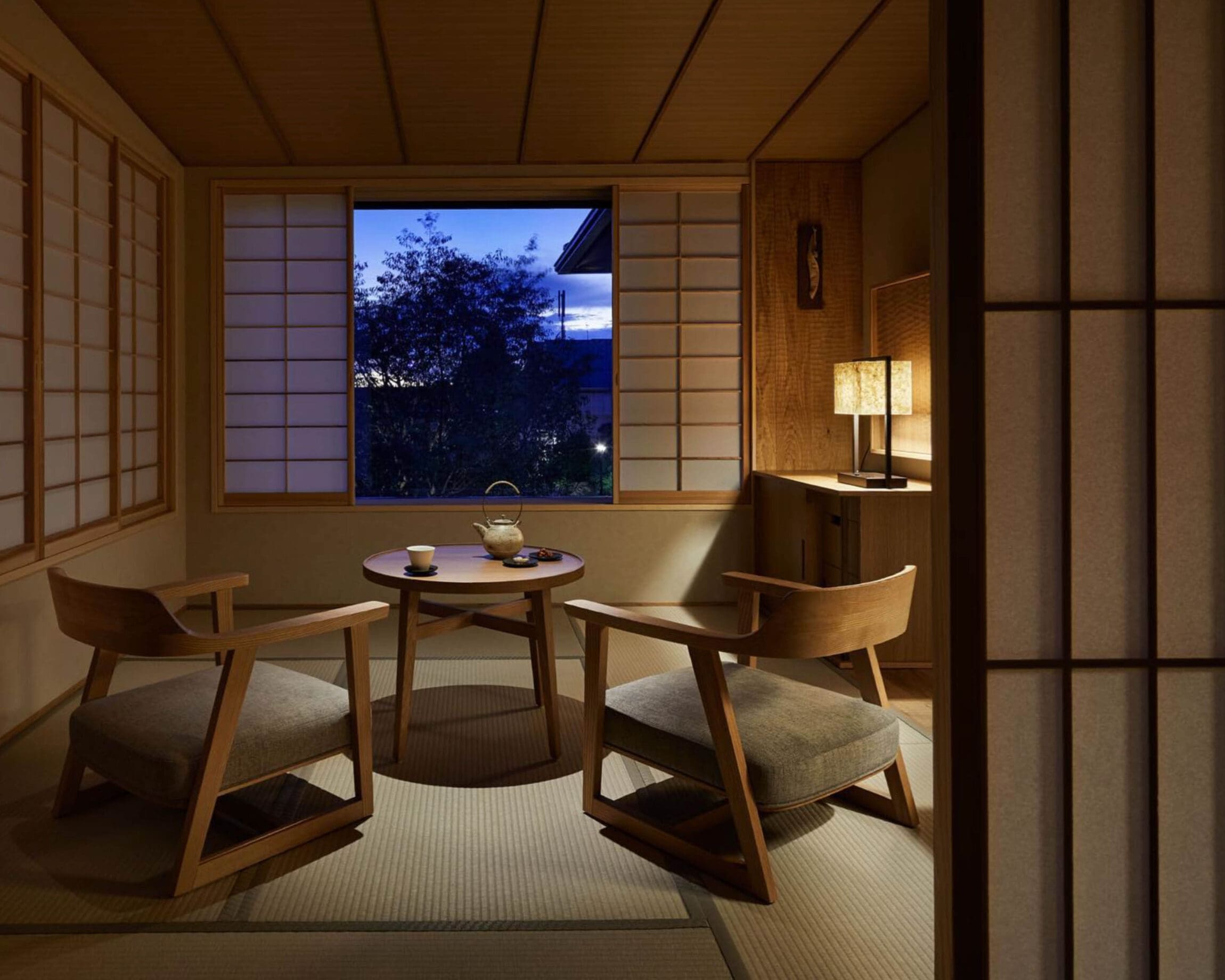 Shimokitazawa
Yuen Bettei Daita
Best for: a rural hot springs experience in Tokyo
Address: 2 Chome-31-26 Daita, Setagaya City, Tokyo 155-0033
Price: From 39,400 JPY / 263 USD a night
The Yuen hotel brand offers a contemporary take on the traditional ryokan inn. Yuen Bettei Daita is in a quiet residential neighbourhood near fun and happening Shimokitazawa (also known as Shimokita), where you'll find a creative crowd. Rooms come with traditional touches such as tatami flooring and shoji screens. The water is brought from a natural spring in Hakone and day use of the onsen is also available, if you are unable to spend the night.
uds-hotels

Mustard Hotel
Best for: A budget base in trendy Shimokitazawa
Address: 3 Chome-9-19 Kitazawa, Setagaya City, Tokyo 155-0031
Price: From 14,400 JPY / 96 USD a night
Despite the name, Mustard Hotel's interiors are predominantly white with minimal decoration. Rooms are on the smaller side, ranging from bunk bed dorms to twin rooms, and simple in design, but all feature comfy beds and a record player as standard. Rather than spending too much time in the hotel, head out to sprawling Shimokitazawa and browse vintage clothing and vinyl and sip coffee in one of the many independent cafes (Bear Pond Espresso is a local favourite). Bike rental is also available at the hotel to help you explore the neighbourhood.
mustardhotel.com

Nihombashi
Hotel K5
Best for: Scandinavian and Japanese design
Address: 3-5 Nihonbashikabutocho, Chuo City, Tokyo 103-0026
Price: From 45,000 JPY / 297 USD a night
K5 is a boutique hotel housed in a former 1920s bank in the Nihonbashi area – the oldest retail area in Tokyo. The 20 rooms have soaring double-height ceilings and were designed by Stockholm's Claesson Koivisto Rune studio. The design is based on the concept of 'aimai', a Japanese word for ambiguous or blurred boundaries, and rooms feature interconnecting areas, separated by shelving and hand-dyed curtains. Towering plants feature throughout the hotel, alongside sculptural furniture and tatami-inspired Kasthall wool rugs. Caveman restaurant on the ground floor should not be missed for its innovative ever-changing Japanese menu as imagined by chef Jun Hishiya. An impressive list of non-alcoholic drinks is available as well as natural wines and sake. For beers, head to the basement Brooklyn Brewery – the first of its kind outside New York – and enjoy tacos and snacks with your favourite IPA.
k5-tokyo.com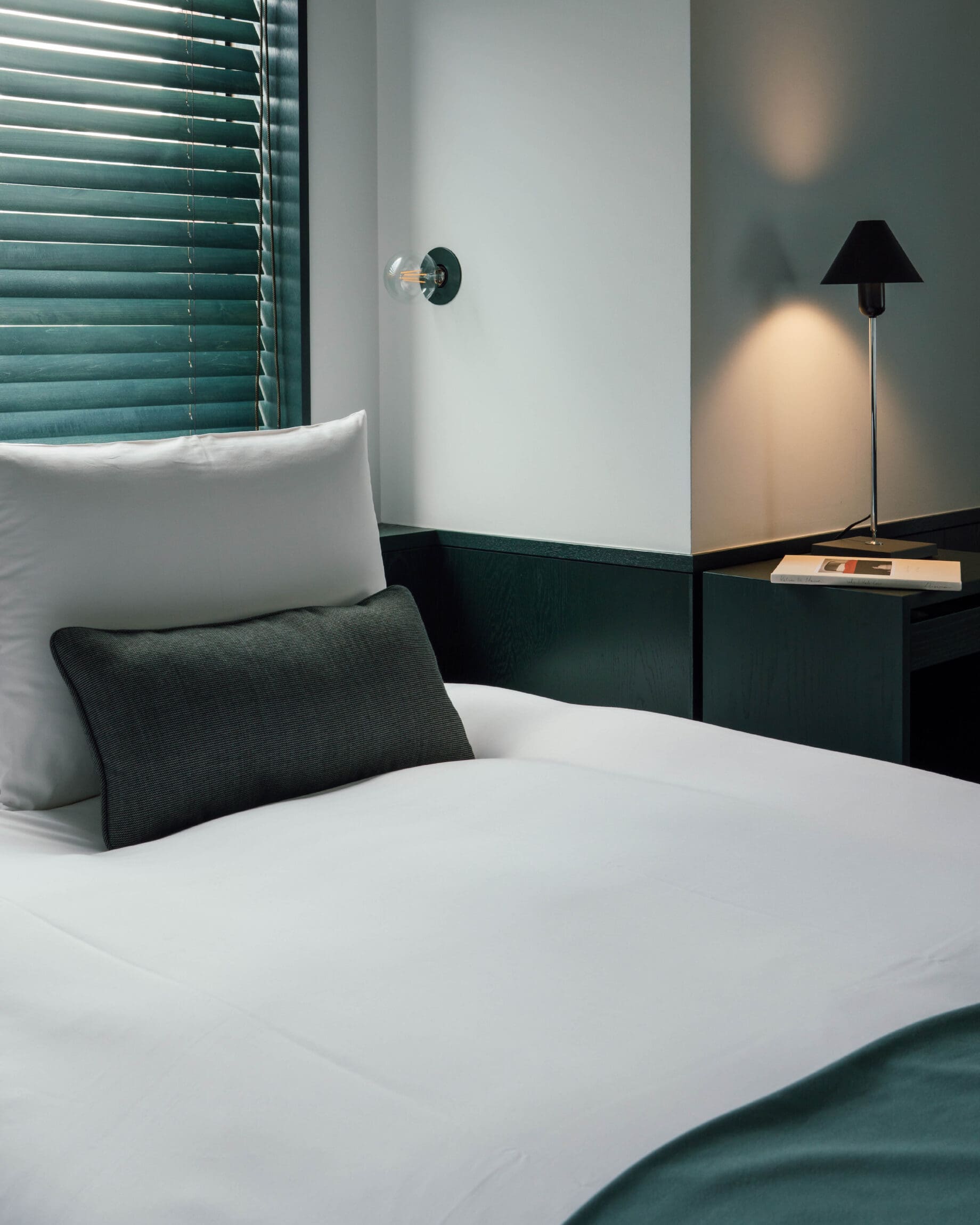 Bakurocho
DDD HOTEL
Best for: affordable base
Address: 2 Chome-2-1 Nihonbashibakurocho, Chuo City, Tokyo 103-0002
Price: From 17,700 JPY / 118 USD a night
The simple, inviting design of DDD Hotel by Fukuoka-based architect Koichi Futatsumata is a welcome addition to the rather bland accommodation around Bakurocho. Rooms are comfortable and simple in design, while the ground floor abno cafe is as stylish as it gets, with thick midnight-blue carpeting and a bespoke gas fire. There is also a Michelin-starred restaurants, nol, and an art gallery onsite. A short stroll north takes you to the up-and-coming Kuramae neighbourhood, full of smaller independent boutiques, cafes and tea stores, and just east over the Sumida river is Ryogoku and the Sumida Hokusai Museum, so there is plenty to keep you busy.
dddhotel.jp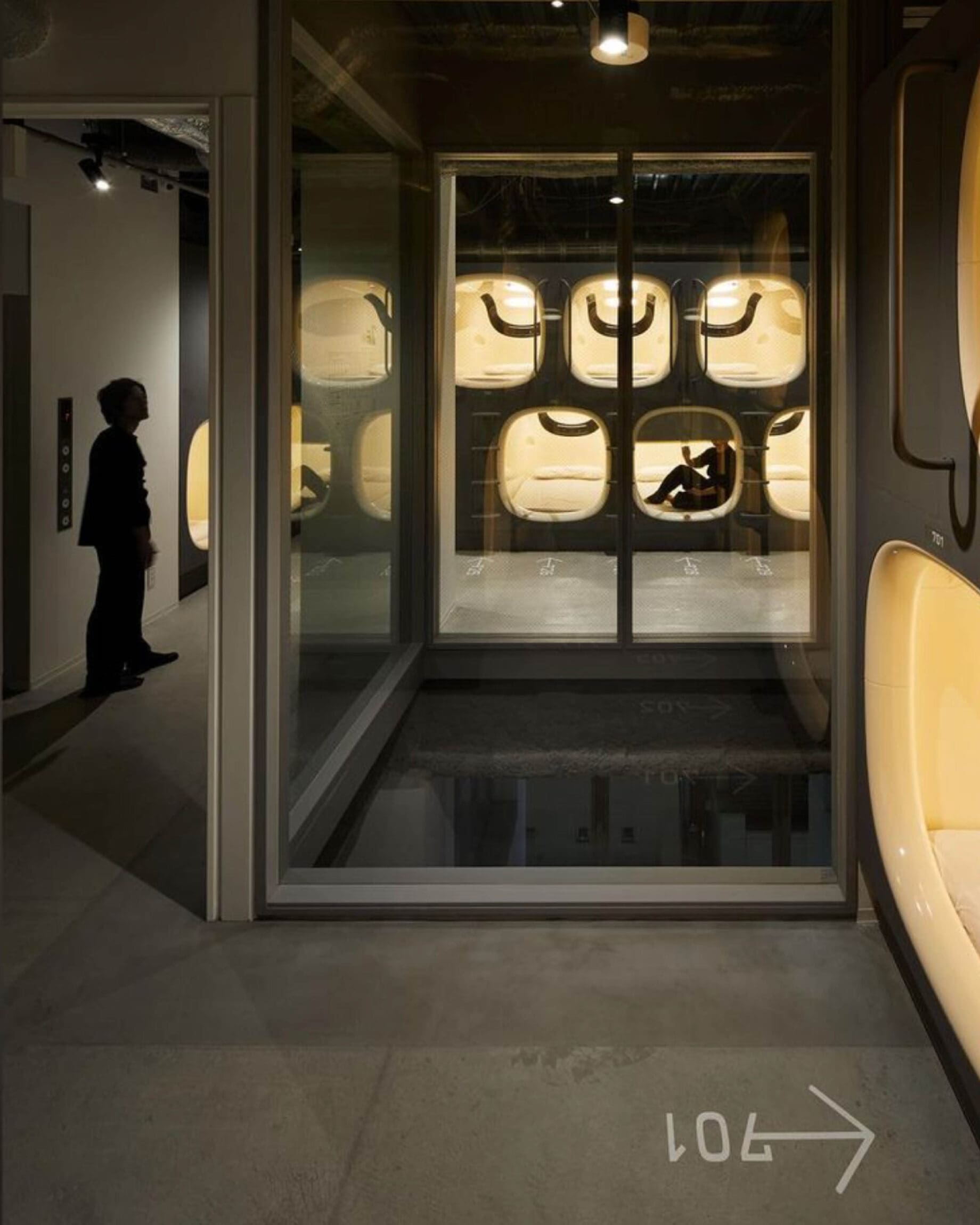 9hrs Capsule Hotel
Best for: A sleek pod for sleeping
Address: throughout Tokyo
Price: From 8,800 JPY / 58 USD a night
You might have heard of the Japanese trend for capsule hotels, favoured by salarymen that didn't make the last train home. 9hrs has given this tiny-hotel tradition a modern twist. Design is a little different depending on the location, but guests can expect modern sleeping capsules that can be accessed for nine hours at a time. Each one includes a dedicated locker for storage, and there are shower rooms and lounge spaces available too. There are six locations throughout Tokyo, with two reserved for women, and an additional location at Narita Airport. With prices well below that of regular hotel rooms, 9hrs is a fun, economical way to spend (probably no more than) one night in the city.
ninehours.co.jp