Insider Guide: Must-try Mumbai street food
Vada pav, chaat, and the Bombay Sandwich – a trip to Mumbai isn't complete without sampling these street food classics
Alongside Mumbai's institution restaurants and hip new hotspots, street food is an integral part of life in this city, especially if you work an office job or frequent a co-working space that engenders a long commute. Between the hours on the road and the long working day, there's a need for quick, easy-to-eat snacks on the go. That includes the humble vada pav (long considered a Mumbai invention), platefuls of samosas, idlis, and everything from sandwiches to expertly made chaats. While the pandemic may have disrupted street life, the thrum of the crowds and noise of street-side cooking has returned to Mumbai. Here are the best street food snacks up for grabs in the lanes of the Maximum City.
Vada Pav
The vada pav might be the dish most emblematic of Mumbai. A pav (a fluffy bread roll) is stuffed with a deep-fried potato dumpling, a smear of green chilli, and a sprinkle of fiery red garlic chutney. It's easy to prepare, easy to eat, and packs a punch. Vada pav can be commonly found at railway stations, in khao gullies ('eating streets') and at corner stalls in crowded office areas.
Where to eat it: What constitutes the best one depends on who in the city you ask, but Aram Vada Pav in Fort and Ashok Vada Pav in Dadar are often top of most lists. It doesn't matter if you don't make it to these particular restaurants though – this Mumbai street food is ubiquitous enough, and is best enjoyed in the moment when hunger takes its hold.
The Bombay Sandwich
This sandwich is a uniquely Bombay creation. It is made up of local vegetables, lots of butter, and a generous smear of green coriander and mint chutney. Grated cheese is sometimes used as a garnish, while others prefer to top their sandwich with sev (crunchy bits of noodles made from chickpea flour). The filling, served between plain white bread, usually consists of thinly sliced onions, cucumbers, bell peppers, boiled potatoes, boiled beetroot, and tomatoes — all toasted in a cast iron grill over coals. Found all over Mumbai, it's the kind of street food dish that gives sustenance to everyone from stock brokers to college kids.
Where to eat it: In Kala Ghoda, you'll find Sanjay Singh's Sandwichwala stool, which he's run for decades. He's a well known face in the area, and makes what many consider to be the finest Bombay sandwich in the city. While in the area, check out Kala Ghoda Cafe for a caffeine hit or a spot of remote working.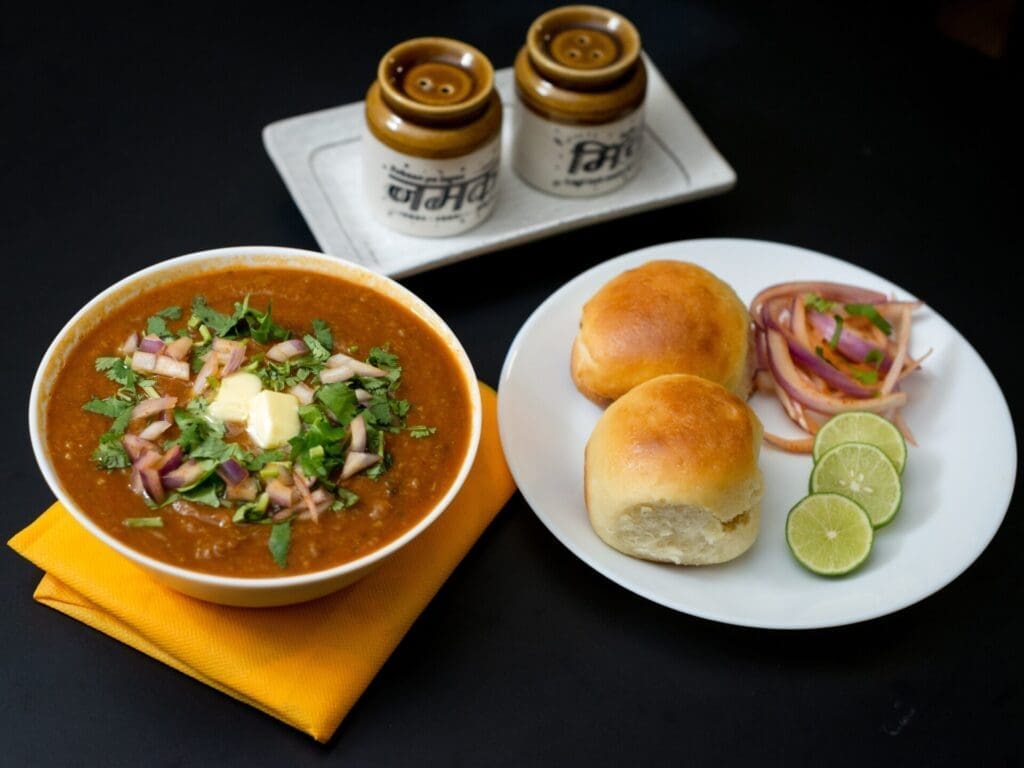 Pav Bhaji
Another street food dish unique to Mumbai is the pav bhaji – a thick vegetable curry made with tomatoes and potatoes, with plenty of onions, a sprinkling of vegetables, and served with a soft white roll on the side. The sauce should have a sheen to it thanks to a slick of melted butter atop the curry. This street food stalwart arose as a way of repurposing leftovers, and was a common food for mill workers. The best have a rich red colour from the tangy tomatoes, but each stall serves theirs differently. They're all meant to be mopped up with the pav, which is slightly charred from the tawa, yet still soft and pliant enough to scoop up the bhaji.
Where to eat it: If you're already stopping at Aram to try some vada pav, head to Cannon Pav Bhaji a few doors down for their take on pav bhaji. Other places that excel in Mumbai street food are Sardar Pav Bhaji in Tardeo, the stalls on Juhu Beach, and Amar Juice Centre in Vile Parle.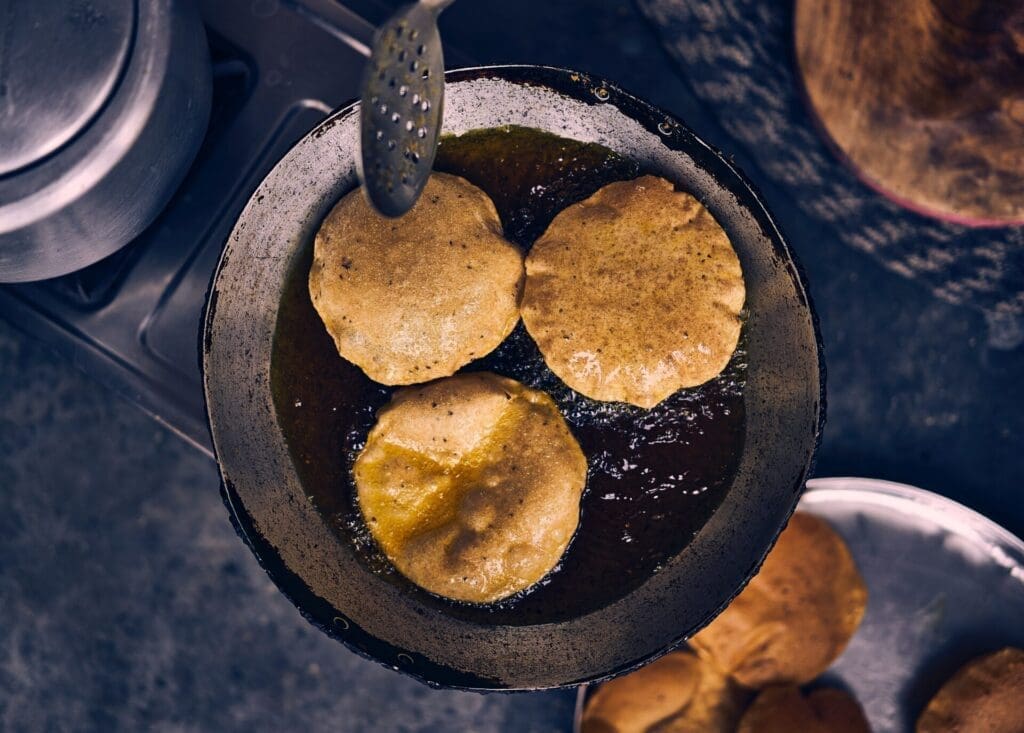 Chaat
Chaat is an all-encompassing term that includes sev puri, pani puri and bhel puri among others. The best chaat covers a range of textures and flavours — crunchy, tangy, sweet, salty and sour – and is best eaten quickly to stop it going soggy. Ingredients can include spicy green chutney, tart tamarind chutney, chilli powder, lentils or beans, and lashings of soothing yoghurt. Everyone has their favourites, but a pani puri – a crunchy, deep-fried unleavened bread filled with spicy water, potatoes, chilli powder, chaat masala and tamarind chutney — should be top of your list. Other options include the deep-fried dahi batata puri, a crunchy flat puri topped with boiled potatoes and generous drizzles of tamarind, spicy chutney and yoghurt. There's also the more filling samosa chaat, which is topped with chutneys and masalas.
Where to eat it: As they're found all over the city, the best chaat is the one closest to where you are. If you're willing to make the pilgrimage though, Elco in Bandra and Kailash Parbat in Colaba are great options to consider, and offer more of a seated restaurant experience than a quick food stall bite.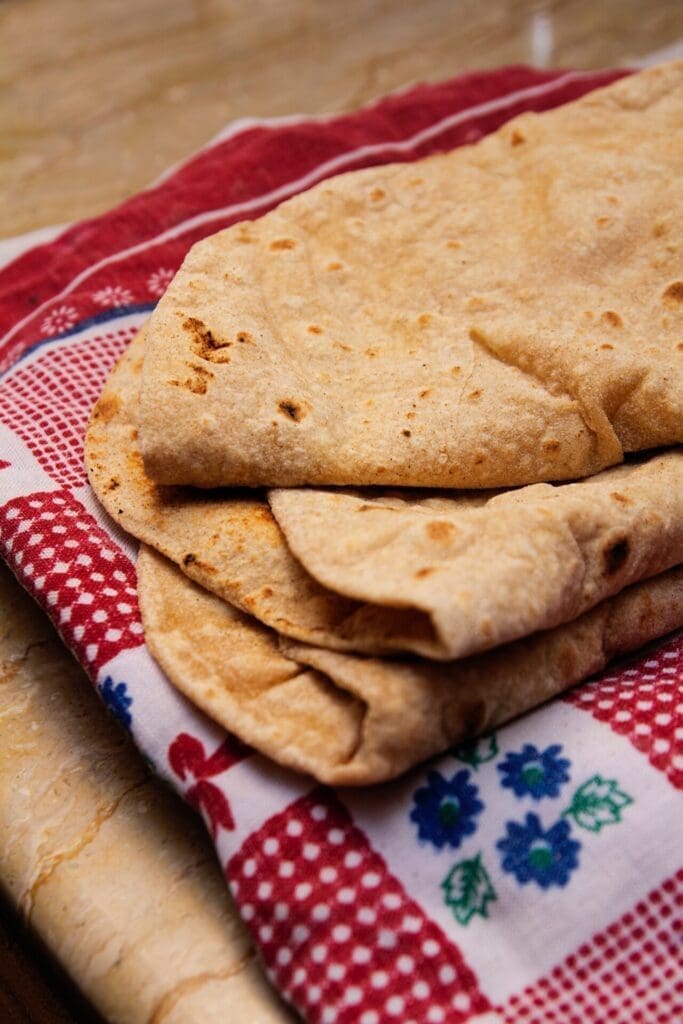 Baida roti
One for the carnivores, baida roti is a square roti parcel stuffed with minced chicken or lamb, often with an egg broken into it to provide a rich, silky texture to each bite. It's a popular late-night snack, but also makes for an equally good fuel-up during the day.
Where to eat it: The best roti can be found in Bohri Mohalla, an area of central Mumbai known for its community of Bohri Muslims and their cuisine. The roti and meat is cooked on a large frying pan, and pushed from the cool circumference of the pan into the centre to cook, before being skillfully assembled and plated with a spatula. Late at night, head over to Bade Miyan in Colaba, Kebabiz in Bandra, or Zaffran in Lower Parel to sate those hunger pangs. Or, if you're in the mood for a full meal, head to Chetana (considered one of Mumbai's best restaurants) for an all-you-can-eat thali.
Drinks
Mumbai's streets have plenty to offer to quench your thirst while on the move. Across the city, sugar cane stalls juice the tall grass for its cooling, sweet extract. Served with ice, the drink is a refreshing respite in the humid city. Most tourists are worried about the quality of water used in the ice at many stalls, so tend to make a beeline for the dependable Swati Snacks for their fix. Also worth considering is lassi and chaas, usually sold from the same vendors. Made with yoghurt, lassi is thicker and heavier. The most indulgent are sweetened with sugar, though a namkeen (savoury) version is made with salt and spices. Chaas, on the other hand, is made with churned buttermilk and is always savoury, flavoured with spices and salt. Excellent varieties of both can be found around Fort and Lower Parel. Another unique option is sol kadi, a pink-hued drink that gets its distinctive colour and taste from kokum – a local fruit used as a souring agent. It's a refreshing summer cooler, and is best had at the many thali spots that serve quick and filling lunches, like Bandra's Janata Lunch Home. If you are looking for a drink with a little more punch to it, head to nearby Mumbai bar Toast and Tonic for an excellent selection of gins.
For more insider guides to Mumbai, click here.