The best vintage shops and markets in Mexico City
Mexico City's vintage scene spans boutiques brimming with second-hand gems to lively flea markets, which make for a brilliant day out
Last updated: September 20, 2023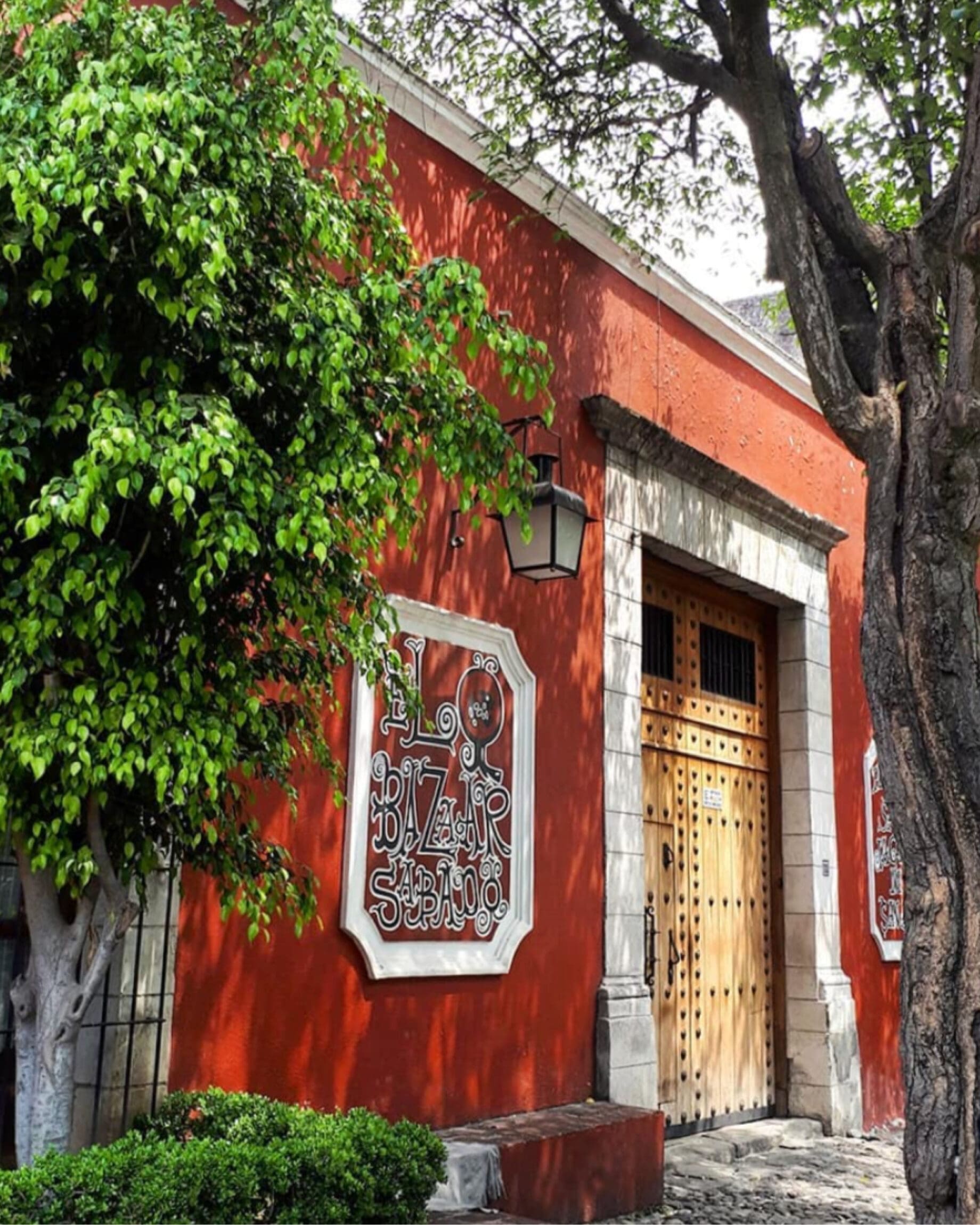 Mexico City is well known for its artisan boutiques and concept stores, but its secondhand scene is also thriving. There's a host of independent vintage shops housed in beautiful art deco buildings, lined with retro flares, vintage T-shirts, pre-loved mariachi jackets and embroidered peasant blouses, as well as music memorabilia and homeware. Weekly and monthly destination flea markets also come with bars, food vendors and live music for a full day out.
The majority of vintage shops and many of the markets are located in the borough of Cuauhtémoc — comprising Condesa, Roma, Juárez and La Lagunilla — making it easy to hit several secondhand and vintage shops in one day (and stop for lunch at one of the city's recommended restaurants).
Many of the addresses are within walking distance of each other, but Ubers are inexpensive and readily available, and the city's bus system is clean and easy to navigate.
The best vintage shops in Mexico City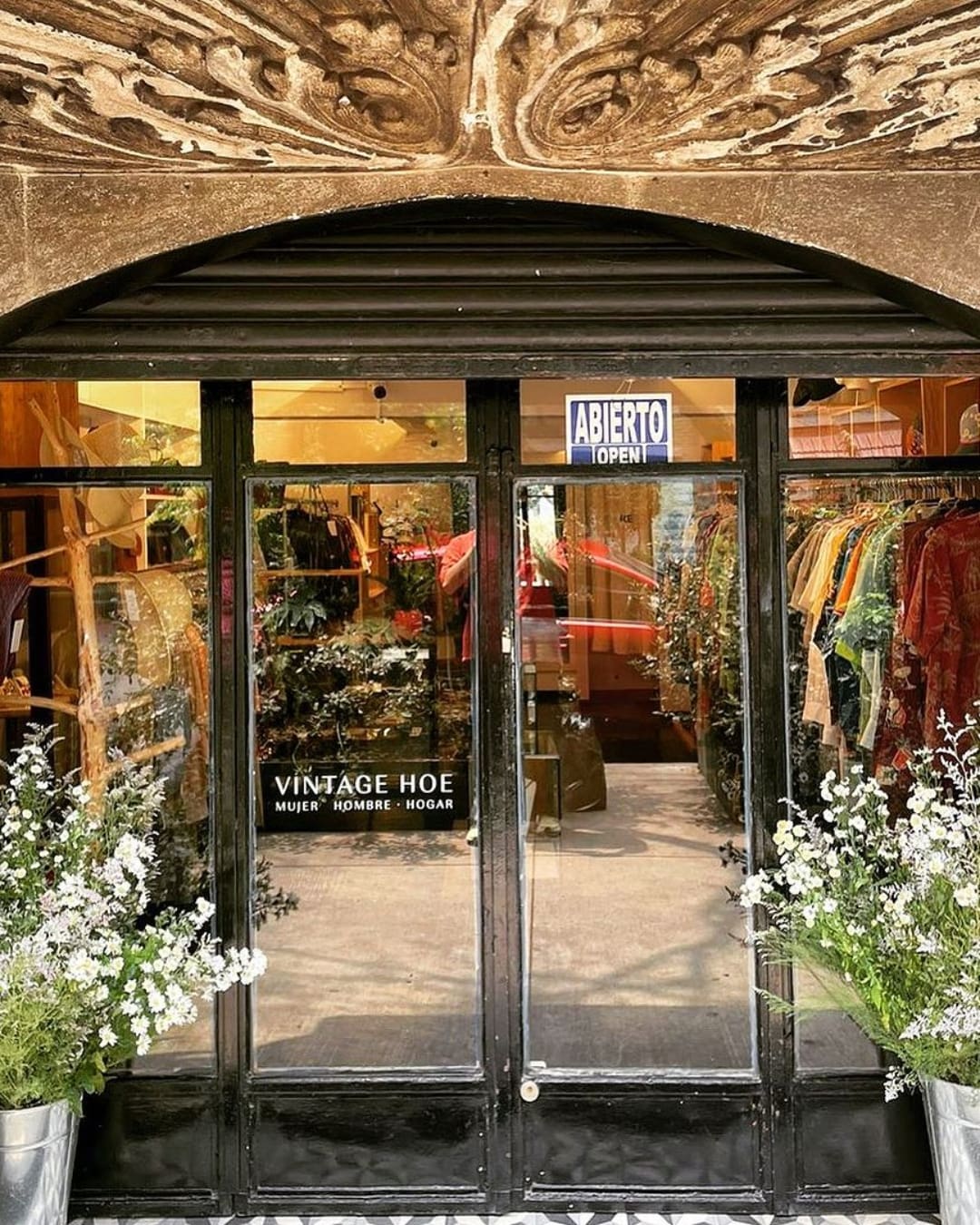 Vintage Hoe
Roma Norte
Best for: Kitschy and upcycled vintage from around the world
Address: Jalapa 27, Roma Norte, 06700, Mexico City
Vintage Hoe is a charming, pocket-sized boutique brimming with a well curated selection of affordable pre-loved clothing, mainly from the 1950s through the '90s. As the name might imply, the owners tend to focus on stock that veers towards the cute and sexy. Whether you prefer a 1950s housewife aesthetic or are searching for the perfect Y2K crop top, you'll find it here. From handmade embroidered Mexican peasant blouses to midcentury evening gowns, this store is a must-stop for any fan of femme vintage. Its line of upcycled retro shapewear, embroidered with slogans like 'Total Pleasure' and '20th Century Woman', is also a big hit.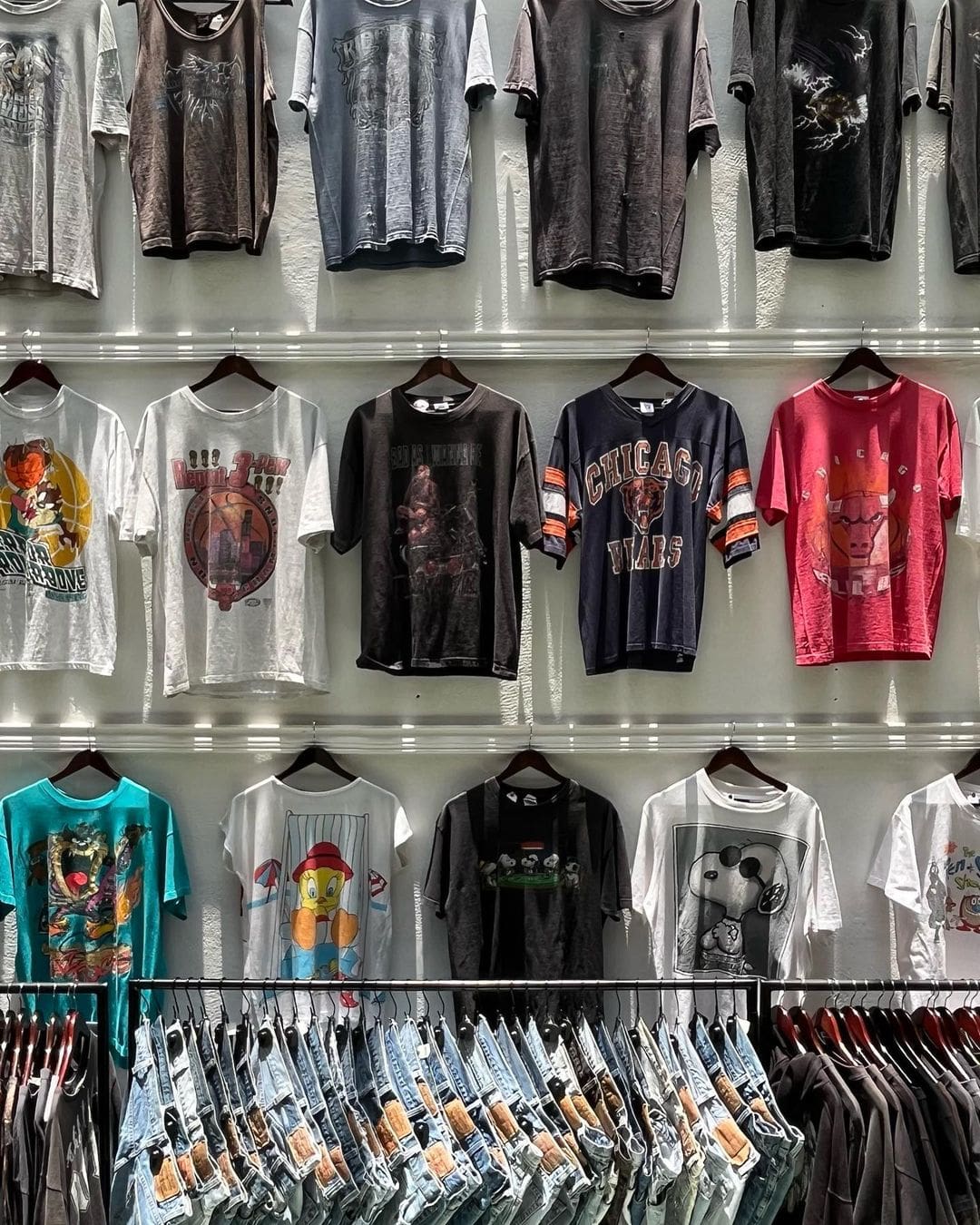 Goodbye Folk
Roma Norte
Best for: A three-storey trove of 70s-90s vintage
Address: Córdoba 55, Roma Norte, 06700, Mexico City
For pristine vintage casual wear, go directly to Goodbye Folk. The light filled, three-floor townhouse features themed rooms filled with collections that make you eager to part ways with your pesos. The ground floor is lined with covetable vintage T-shirts, ranging from Willie Nelson to Tupac. Upstairs, discover Harley Davidson items, retro 70s flares, perfect old kimonos, and Stevie Nicks velvet and lace glam. The prices match the quality and service — the staff are super knowledgeable and bilingual — but there are always a few cheap and cheerful finds as well.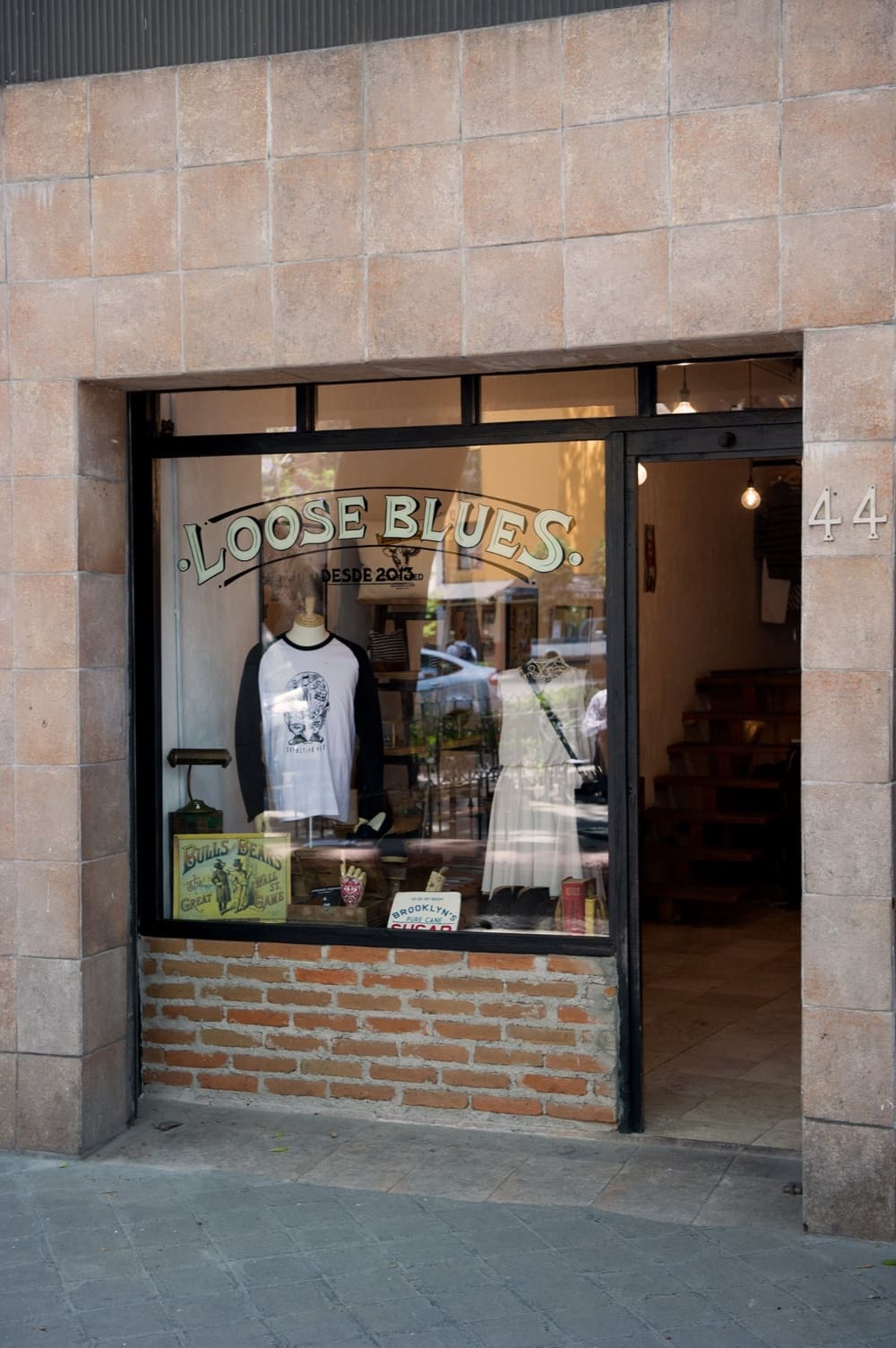 Loose Blues
Juarez
Best for: Vintage menswear, workwear, destination cafe
Address: Dinamarca 44, Juárez, 06600, Mexico City
This shop, curated by a Mexican and Japanese team, is a destination for fans of upscale vintage workwear. From rare vinyl to restored clothing and stiff dark Japanese selvedge denim, the stock here is unlike anywhere else in the city. Browse three floors of new and secondhand Mexican fashion before settling in the cafe, which has a Japanese-meets-Mexican menu. Loose Blues also hosts occasional events and art shows. Unlike most of the city's vintage shops, this address focuses on menswear and goes heavily on Hawaiian shirts, flannels and more.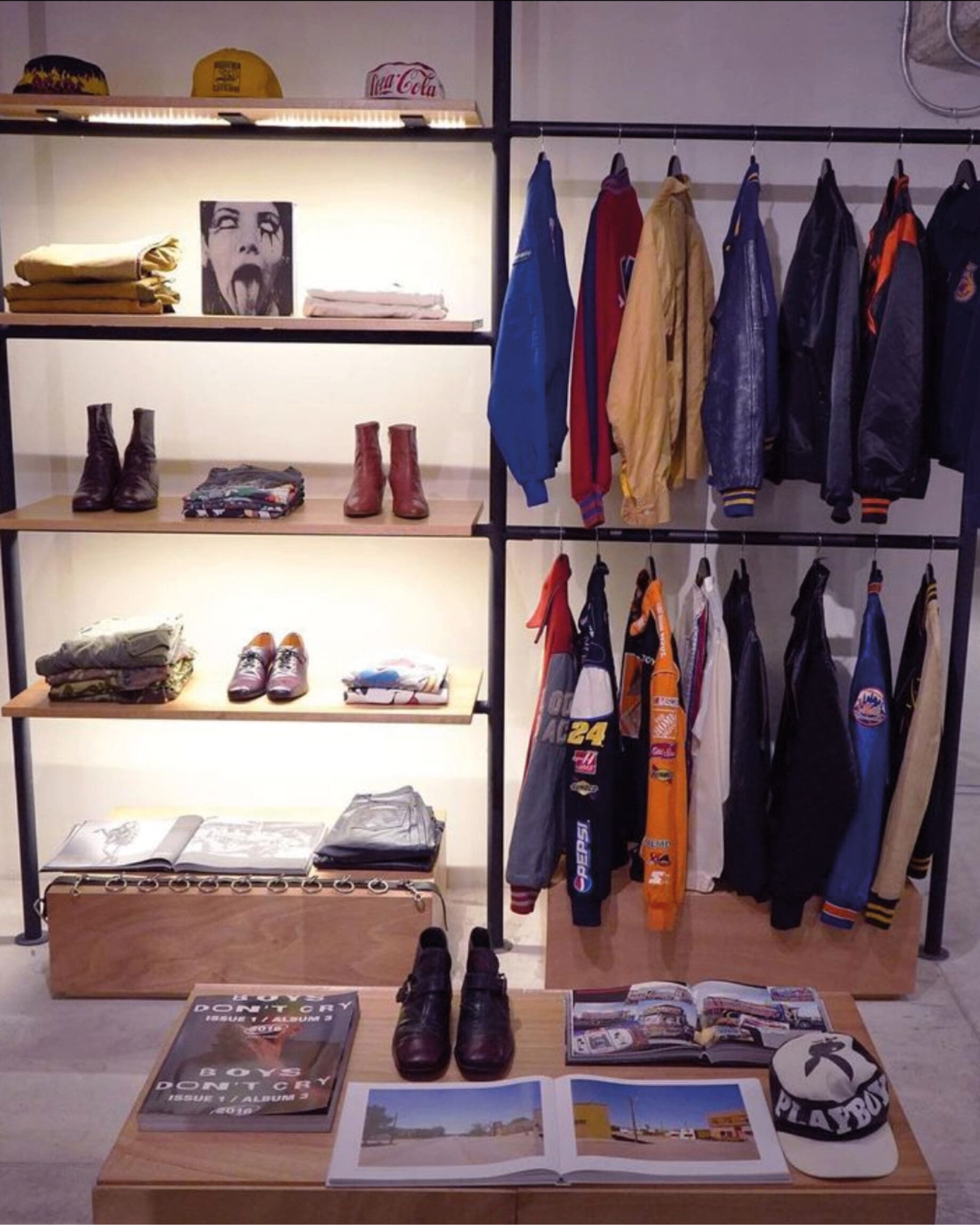 Void
Condesa
Best for: Designer vintage
Address: Calle Parral 5, Condesa, 06140, Mexico City
Condesa is noted for its creative atmosphere and array of bars, shops and restaurants. Set in a 1930s house, Void is divided into five themed rooms with a cafe in the back. It specialises in designer vintage clothing and accessories from global brands including Saint Laurent, Hermès and Miu Miu. Some corners of Void appear more like a gallery than a shop, while other sections resemble your hippest friend's apartment. Don't arrive expecting a bargain, though – the goods are in perfect condition, and the prices correspond.
The best vintage and flea markets in Mexico City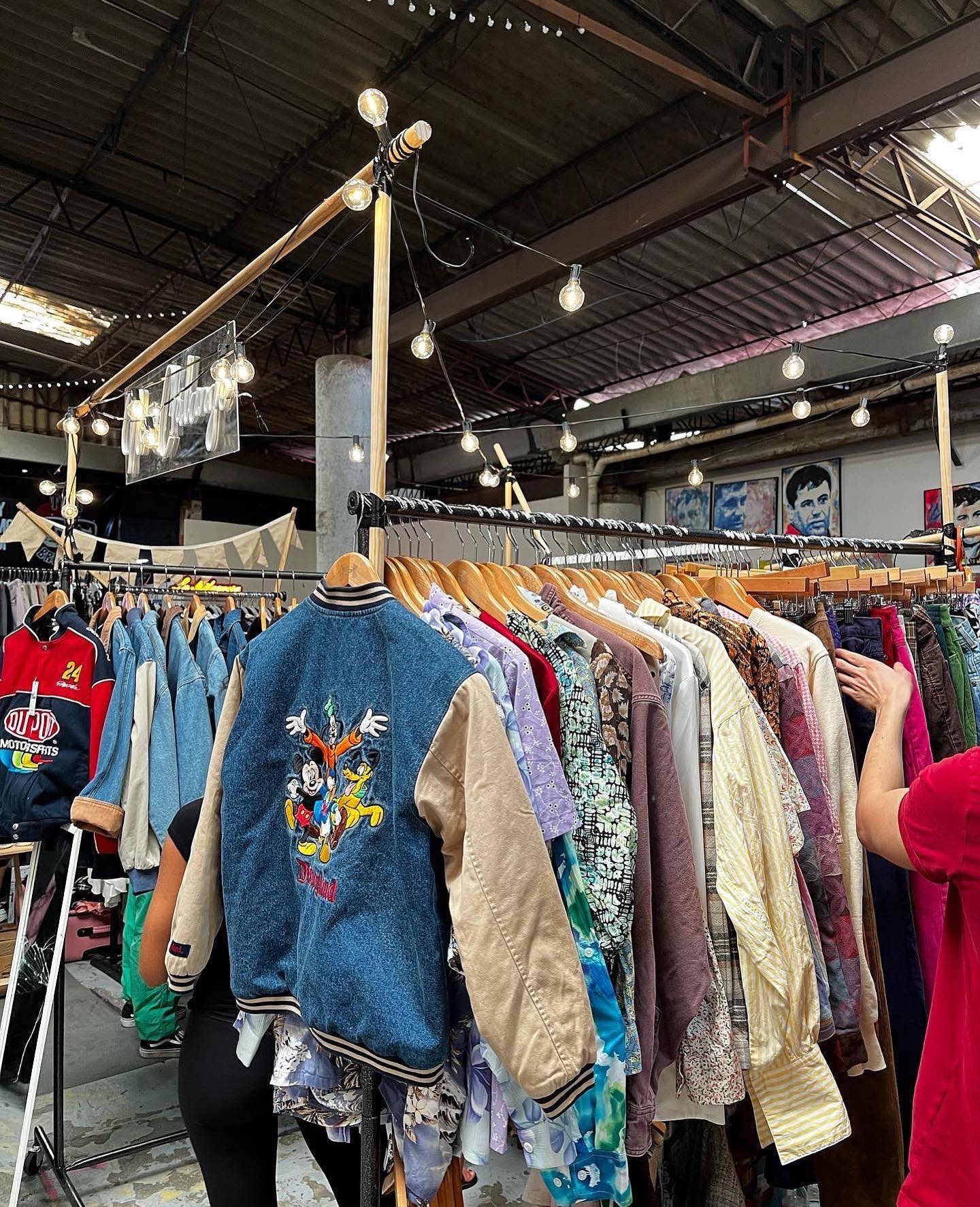 Adios Closet Bazaar
Roma Norte
Best for: A destination vintage market in one of Mexico City's most creative neighbourhoods
Address: Tonalá 308, Roma Sur, 06760, Mexico City
When: monthly (check Instagram for upcoming markets), 11am-7pm
For one weekend per month, a mural-covered warehouse on an unassuming block in Roma is transformed into a destination vintage market. Private vendors set up shop beside well known dealers selling collectible Levi's, pre-loved mariachi jackets, and lots and lots of sequinned items. Go for the scene, the snacks, a michelada cocktail topped with gummy worms, or to find your next campy, out-there festival outfit at a range of prices. If you're wondering why you've never seen that Bad Bunny shirt that riffs on the iconic Bad Brains logo, that's because it was made by a local.
Tianguis La Lagunilla
Morelos
Best for: a supersized Sunday market with clothing, furniture and fresh produce
Address: Comonfort 32, Morelos, 06200, Mexico City
When: Every Sunday from 10am-6pm

This booming Sunday street market takes place in the Centro Histórico, where hundreds of vendors pop up along six closed blocks. Head to the vintage section for kitschy homeware, unusual artwork, vintage barware and Mexican souvenirs. Shoppers can also enjoy live bands, endless tacos and cocktails. After a dig around the stalls, stop at a street bar to engage in excellent people-watching or get a haircut from one of the market's many flamboyant barbers. The LGBTQ+ friendly shopping spot is also great for picking up lucha libre wrestling merch and fresh local food produce.
Tianguis Cultural del Chopo
Buenavista
Best for: Rock and punk lovers of all ages, live music
Address: Calle Juan Aldama, Buenavista, 06350, Mexico City
When: Every Saturday from 10am-5pm

Fans of new and classic rock 'n' roll and punk music flock to this off-the-beaten-track Saturday outdoor market, which is also one of the best places to experience live music in Mexico City. Grab an agua de fruta and elote (a corn cob smothered in mayo, chilli, lime, and cheese) and peruse rock and punk memorabilia from the 1960s through to the present from obscure and legendary bands. The market covers the whole of Calle Juan Aldama near Buenavista station. As you draw closer, follow the hordes in studded jackets and denim vests to get there. Rummage through a wide assortment of new and vintage clothing, vinyl, concert T-shirts, set lists, autographed items, and more. As the stalls peter out, the market opens up to a stage area and up-and-coming bands play throughout the day.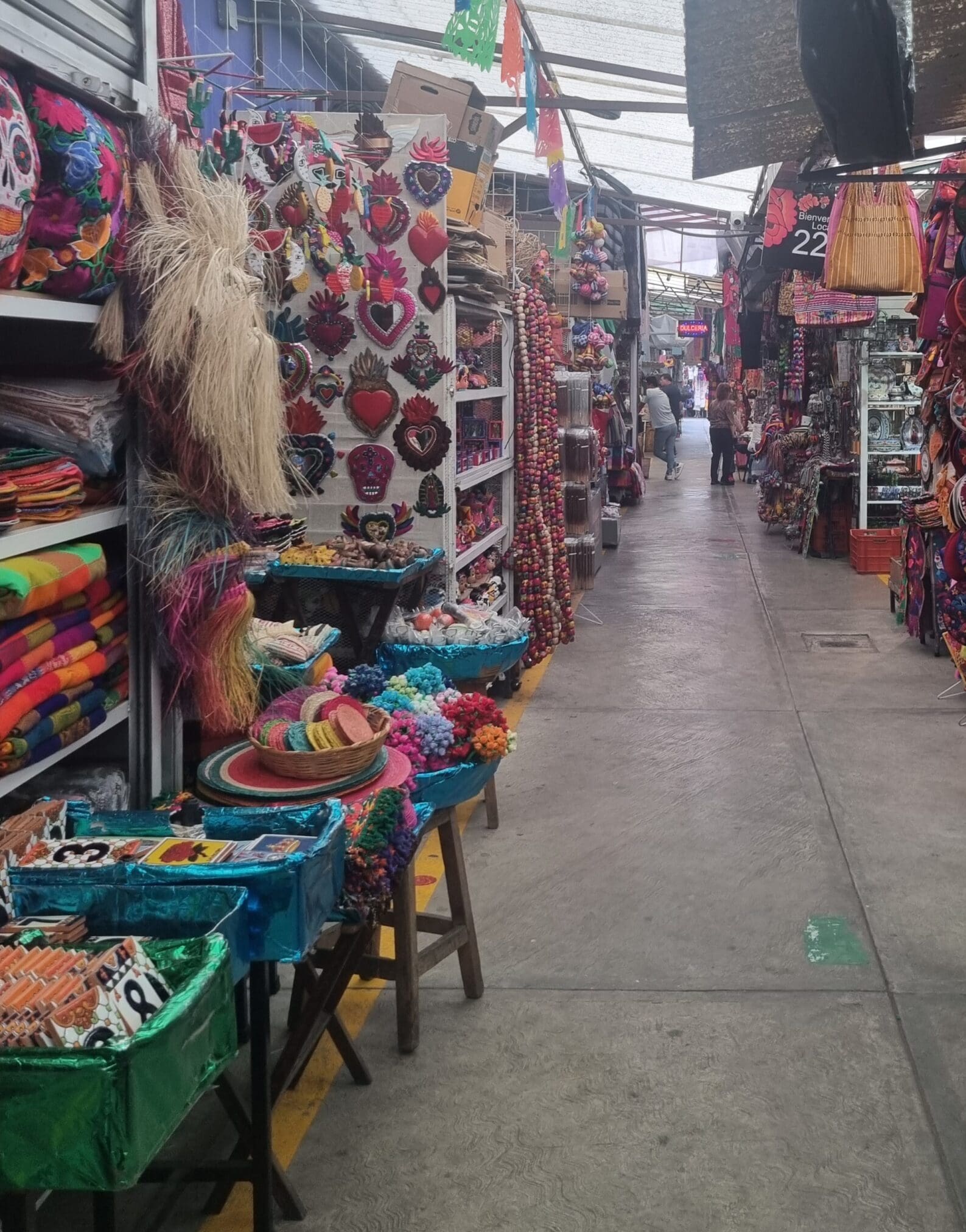 Centro Artesanal La Ciudadela
Centro
Best for: Serious souvenir shopping
Address: Balderas S/N, Centro, 06040, Mexico City
When: Daily from 10am-7pm, Sunday 10am-6pm
This indoor market is Mexico City's one stop destination for a wide variety of Mexican craft pieces from every region of the country at varying price points. Browse hundreds of vendors to find hand-painted tableware and pottery, folk art sculptures, blown glass items like swizzle sticks and ramekins, traditional wooden toys, Mexican clothing, embroidered items, and lots of kitschy and collectible Day of the Dead items. Bathrooms are clean and there are a handful of cute cafes for post-shopping refreshments. As you leave, stroll through the neighbouring Plaza de Danzón, a small park known for its informal, outdoor dance lessons. Catch locals returning from work that stop for a few spins around the fountain to the sound of classic Cuban music.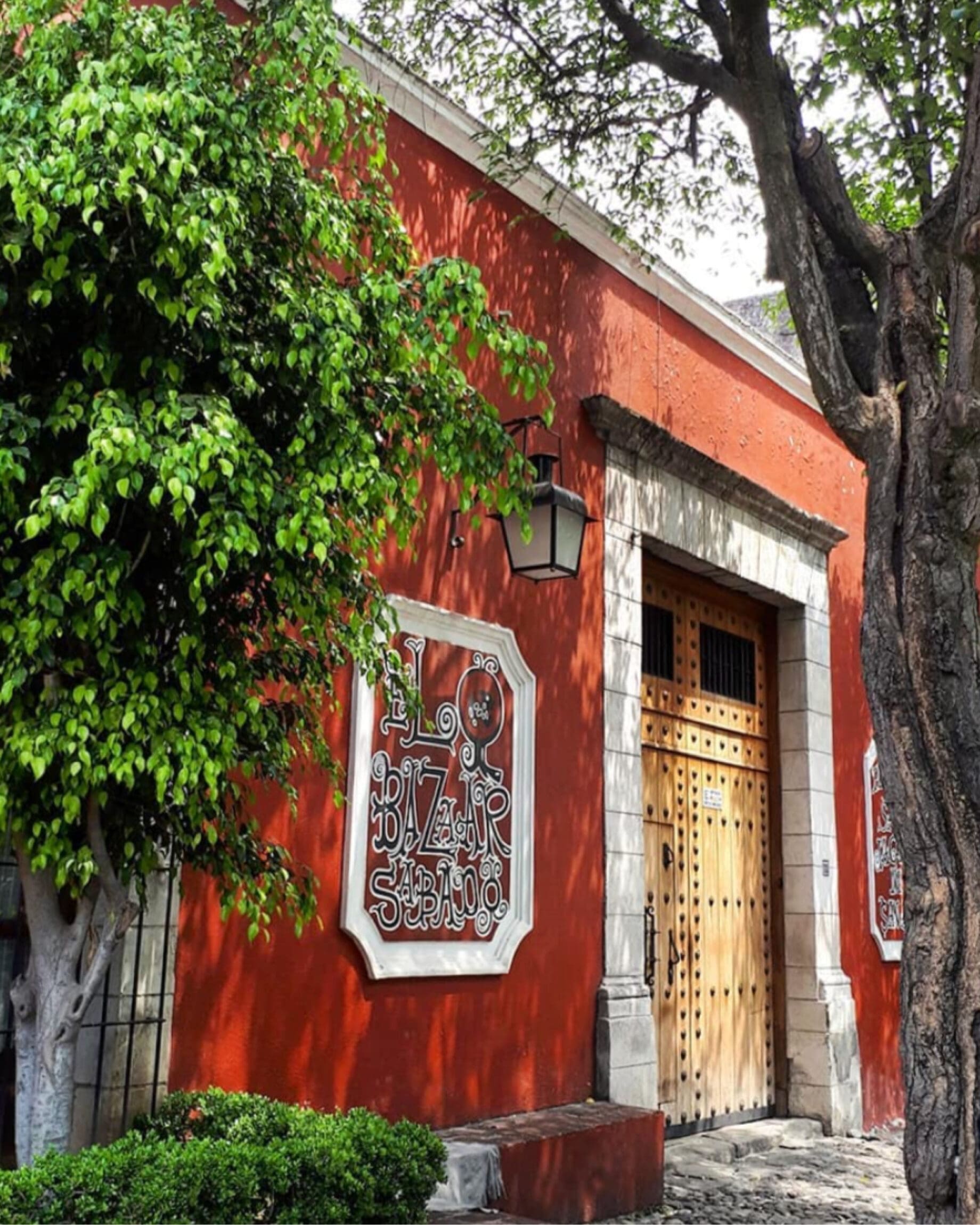 El Bazaar Sábado
Centro
Best for: Art lovers searching for the perfect piece
Address: Plaza San Jacinto 11, San Ángel, 01000, Mexico City
When: Every Saturday from 10am-7pm,
In leafy San Angel is a destination Saturday market at Plaza San Jacinto, filled with artisans and fine artists selling their creations. A pretty 18th-century house hosts indoor stalls, while outdoor vendors populate the adjacent plaza. The lively all-day market also has restaurants, bars, buskers, and street performers of all kinds, making it a pleasant place to spend an afternoon soaking up the local culture. Visitors can browse an array of silver jewellery, intricate textiles, and art at a range of price points. This colourful, artsy market has been operating since 1960 and is considered a must-visit for art lovers.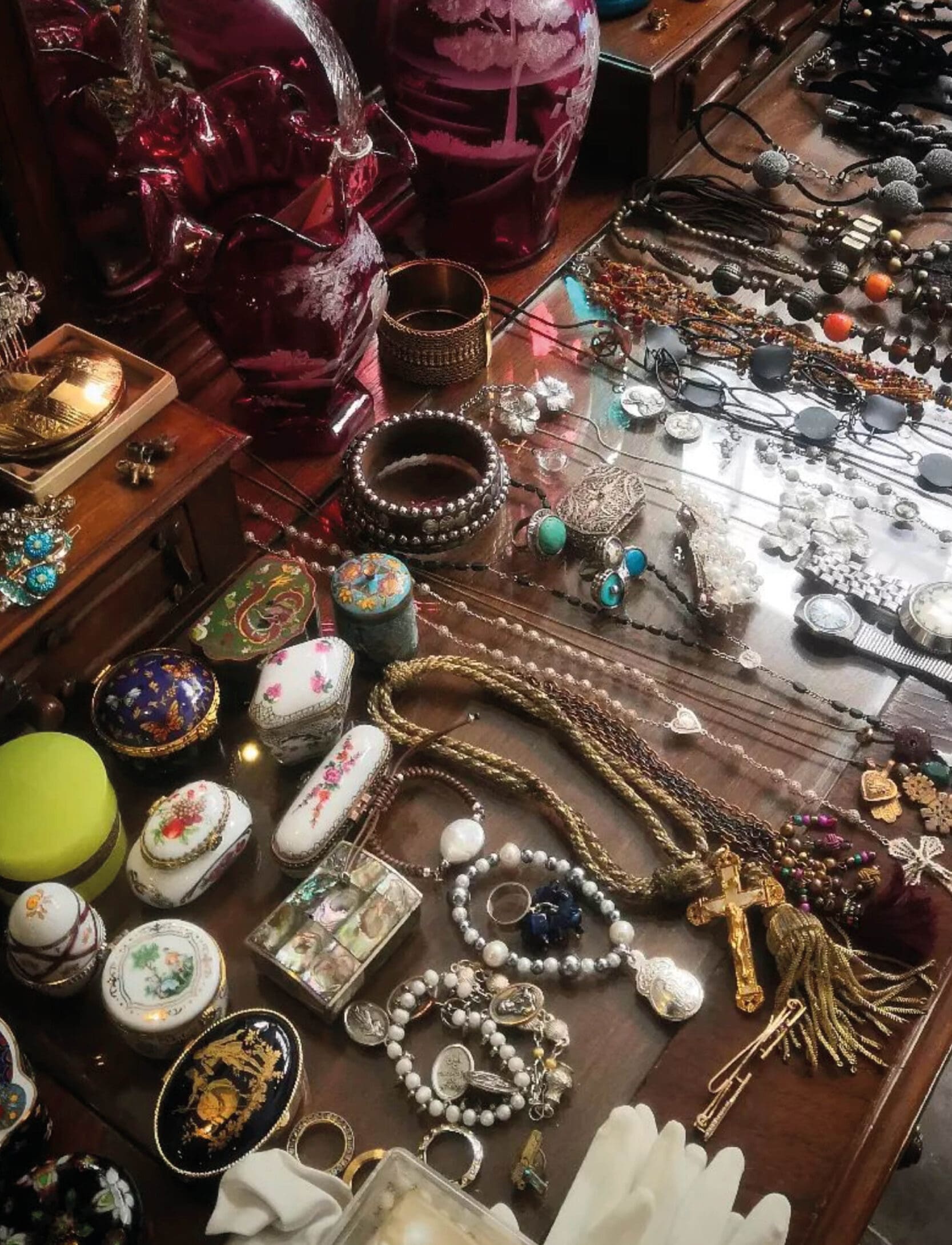 Plaza del Angel Centro de Anticuarios
Juarez
Best for: Antiques
Address: Londres 161, Juárez, 06600, Mexico City
When: Monday-Saturday from 10am-7pm, with additional vendors on Saturdays
Visit this antiques market if you're looking to invest in an antique Mexican chest of drawers, dining table, or piece of fine art. Opened in 1980, it's the country's main hub for buying and selling antiques. You'll find collectors, decorators and dealers, who also offer restoration and appraisal services. Marvel at the otherworldly chandelier section, and uncover colourful ceramics and all kinds of decorative objects. On Saturdays, the market overspills onto the street for an open-air antique fair with hundreds of additional vendors. Go for the buzzing weekend atmosphere, but visit during the week for more serious shopping and personal attention.