Yinka Ilori on the importance of joy and affirmation in his practice
Last updated: October 16, 2023
London-based multi-disciplinary artist Yinka Ilori discusses the symbolic power of bold colour, the importance of public art and how his Nigerian heritage informs his work
Nigerian-British artist Yinka Ilori's colourful creations enliven public spaces, street scenes, galleries, private homes, museums and design festivals across the UK and the world. From pavilion architecture down to socks, bowls and tea towels for his homeware range, every one of Ilori's uplifting designs is imbued with joyful colour and pattern, informed by his Nigerian heritage and upbringing in North London.
Over the course of the pandemic, Ilori applied his signature energetic pattern and colour to public billboards and murals imbued with powerful words of affirmation, such as Love Always Wins, and If You Can Dream Then Anything Is Possible. He designed the Colour Palace in 2019 – the second Dulwich Pavilion installation to stand outside Dulwich Picture Gallery in London – and in 2022 completed Filtered Rays, a permanent pavilion in Berlin on the banks of the River Spree. This year, he has collaborated with Domus to create a range of ceramic tiles and a permanent installation in the grounds of Soho Farmhouse.
In celebration of Frieze London and Black History Month, Ilori has designed a Murano glass sculpture for Mayfair private member's club George. The sculpture, titled One Life: Igbesi Aye Ka, takes the form of a calabash, a fruit that is hollowed and dried to be used as a traditional drinking vessel. The sculpture is accompanied by an exclusively designed dessert plate called A Web Full of Love.
We talk with the artist to hear about his highlights of the year so far, his thoughts behind colour and symbolism, and what travel means to his practice.
Collaborating with George club in London
What is the meaning behind the sculpture One Life: Igbesi Aye Kan that you designed for George club?
I've always admired the huge amount of resilience and faith I see in my friends who are immigrants, and how they take strength from things around them that bring joy. I was thinking about symbols of joy, and decided on the calabash – a gourd that is harvested, hollowed out and used as a vessel for serving palm wine. In Nigeria, palm wine is poured from the calabash and enjoyed by the elders of the community. I remember my parents and uncles drinking around the calabash – it's a really important vessel for communal gatherings. I found it really interesting that this humble object can be such a powerful symbol for enhancing joy.
I wanted this project to encourage us to celebrate more: celebrate ourselves, each other, and our journeys, and I think the calabash allows one to celebrate and create bits of joy.
There's always beautiful vibrant colour in your work –what does colour mean to you?
For me, colour is a way of sharing my personal moments of joy that I experience with my family and friends. It is an extension of my identity, and what it means to be Black British, growing up in North London, on a multicultural estate. My parents always stressed our Nigerian identity. They told me that even though we live in London, we are Nigerian, and we are going to wear Swiss lace to the corner shop, because that's where we're from. I think colour is also a way for me to show strength and courage. It means a lot of different things to me.
You've had some exciting projects this year, including a new permanent installation, Beacon of Dreams, in the grounds of Soho Farmhouse in Oxfordshire. What was your highlight of the project?
The highlight for me was being able to express myself in a new way. There's been a big conversation recently around mindfulness, and the benefit of being outdoors and going back to nature. I wanted to draw on that, and tap into my personal experiences and stories. The shell-like design stems from my childhood memories of going to Margate with my church to pray by the sea. I like to tap into really personal stories that I can share through public art.
The installation also features a soundscape, which is a totally new element to my practice. Music is a huge influence in my work and has been a big part of my life from young. I grew up listening to Fela Kuti and King Sunny Adé, these incredible musical pioneers, the godfathers of what we now call Afrobeats.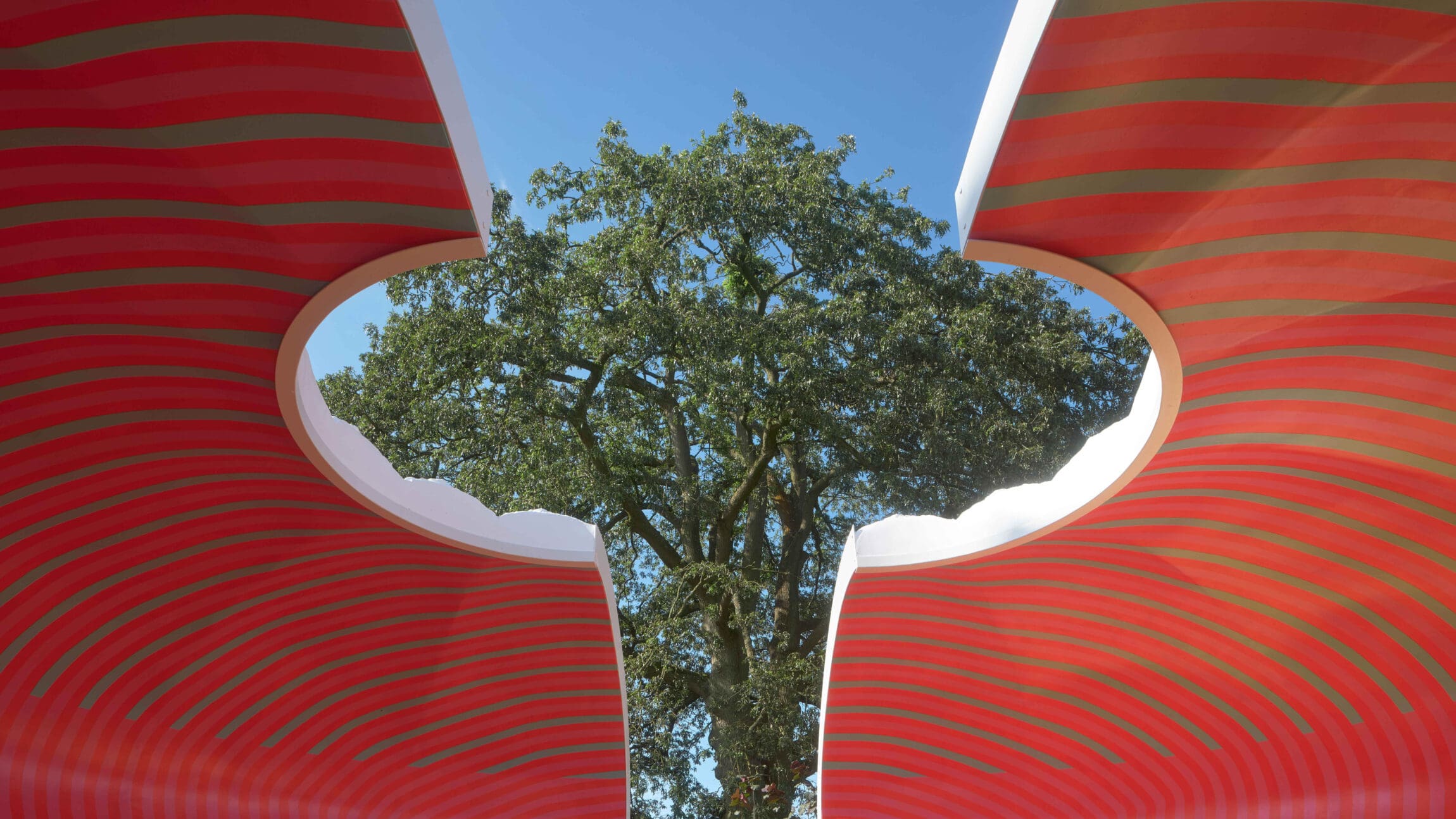 How did the sound design work for that project?
The piece is called 'N'be Sib La', which means 'I am dreaming' in the Mandinka language of Senegal and Gambia. We worked with an incredible group called Balimaya Project – they're actually performing at the Barbican with Obongjayar in October. I sent them the brief and they loved it, so we went down to the studio together and worked through the sounds and themes for the project. We wanted to include the sounds of the sea, of praying, of water, of birds and trees, and also poetry. I am obsessed with poetry – all the public mural work I do is built on words of affirmation, and is concerned with how we can manifest things that we can't see and make them come true. When I was growing up, manifesting was a big part of my upbringing and my culture. It's a big part of the immigrant journey: living in one country and moving to another, affirming things you believe in.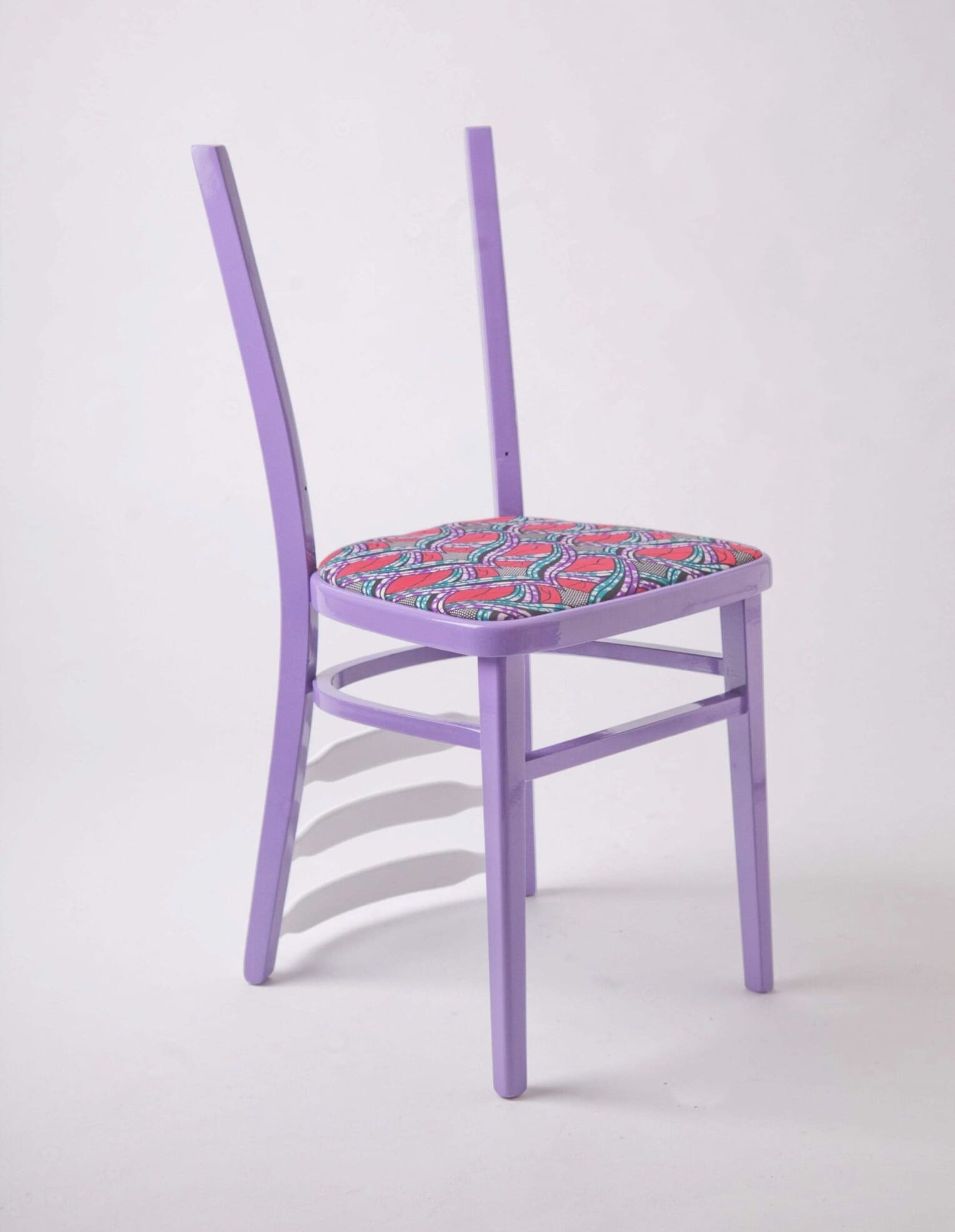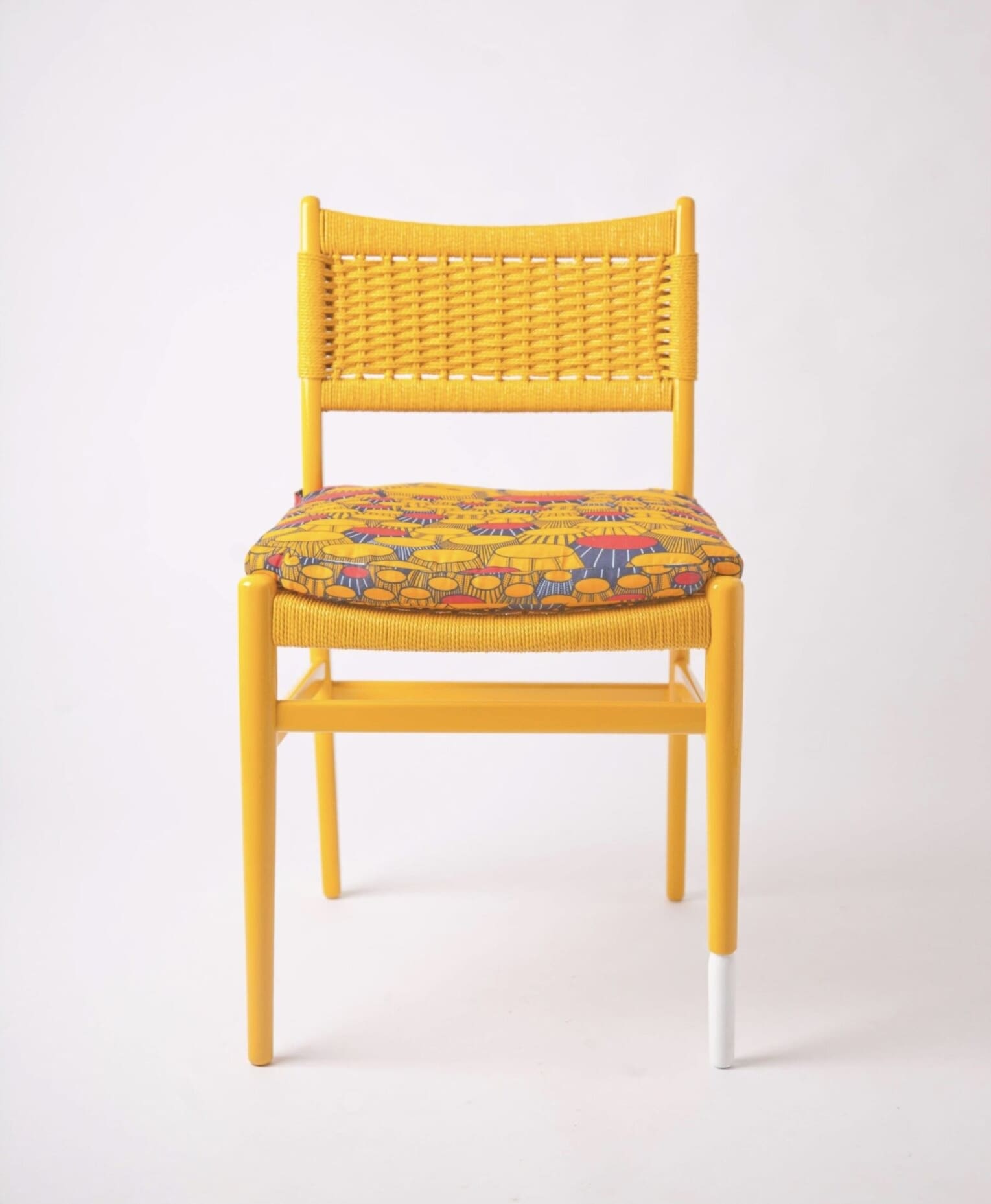 Seoul Frieze 2023
You recently presented two shows at Seoul Frieze Week with German fashion house MCM. It was great seeing pieces from your chair collection positioned against really traditional Korean buildings.
Yes, that was awesome. My practice started with designing chairs – finding forgotten, discarded chairs and giving them a new lease of life, telling a story through these objects by asking, 'if chairs could talk, what would chairs say?'
MCM is really big on sustainability and the brand invited me to work with recycled leathers from its archive, reusing the material to create sculptures and objects. By making these chairs with traditional Nigerian patterns and colours, they became an ode to my parents, celebrating their journey from Nigeria to London.
It was my first time visiting Seoul, and I fell in love with the city. I was there in 2023 when there was that awful stampede, and everything was shut down. But this year I was able to experience Seoul, and I could have stayed there for another six months, it was beautiful.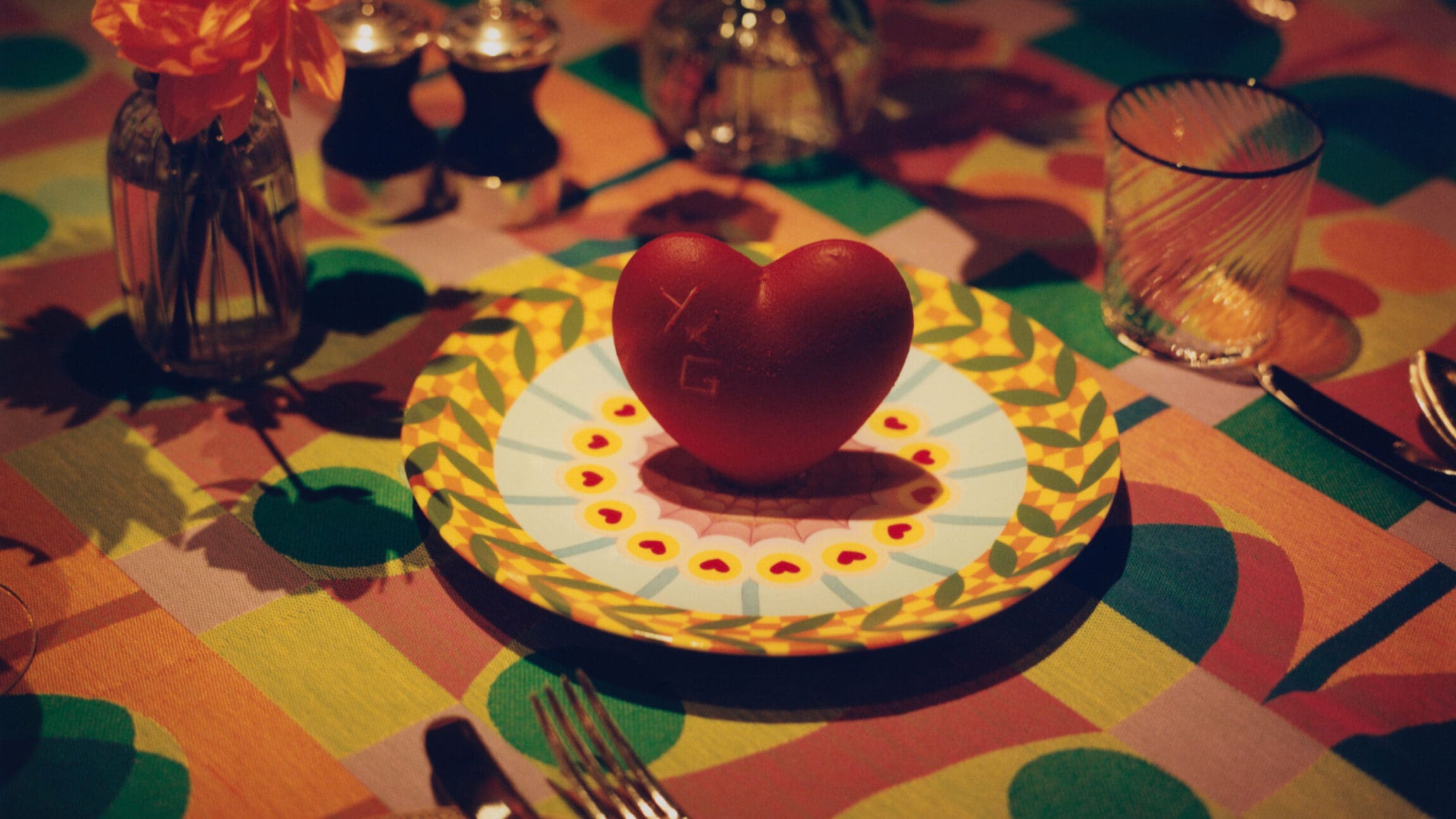 The role of travel in Ilori's work
Does travel influences the way you create?
One hundred per cent. I get lots of my inspiration from travelling and meeting people. Travelling helps me form new ideas, have new conversations, and tell new stories.
Is there a particular journey you've taken that has impacted your life or work?
I think it was the pandemic. It make me rethink why I do what I do, and what my purpose is. It solidified some questions I had, especially around my belief that public art needs to be accessible to everyone. When I was growing up, going to see art at a museum wasn't a thing I felt I could do. So making these affirming murals around London was super powerful and really important to me. Art is so important for our mental health, how we think, how we see the world, how we dream.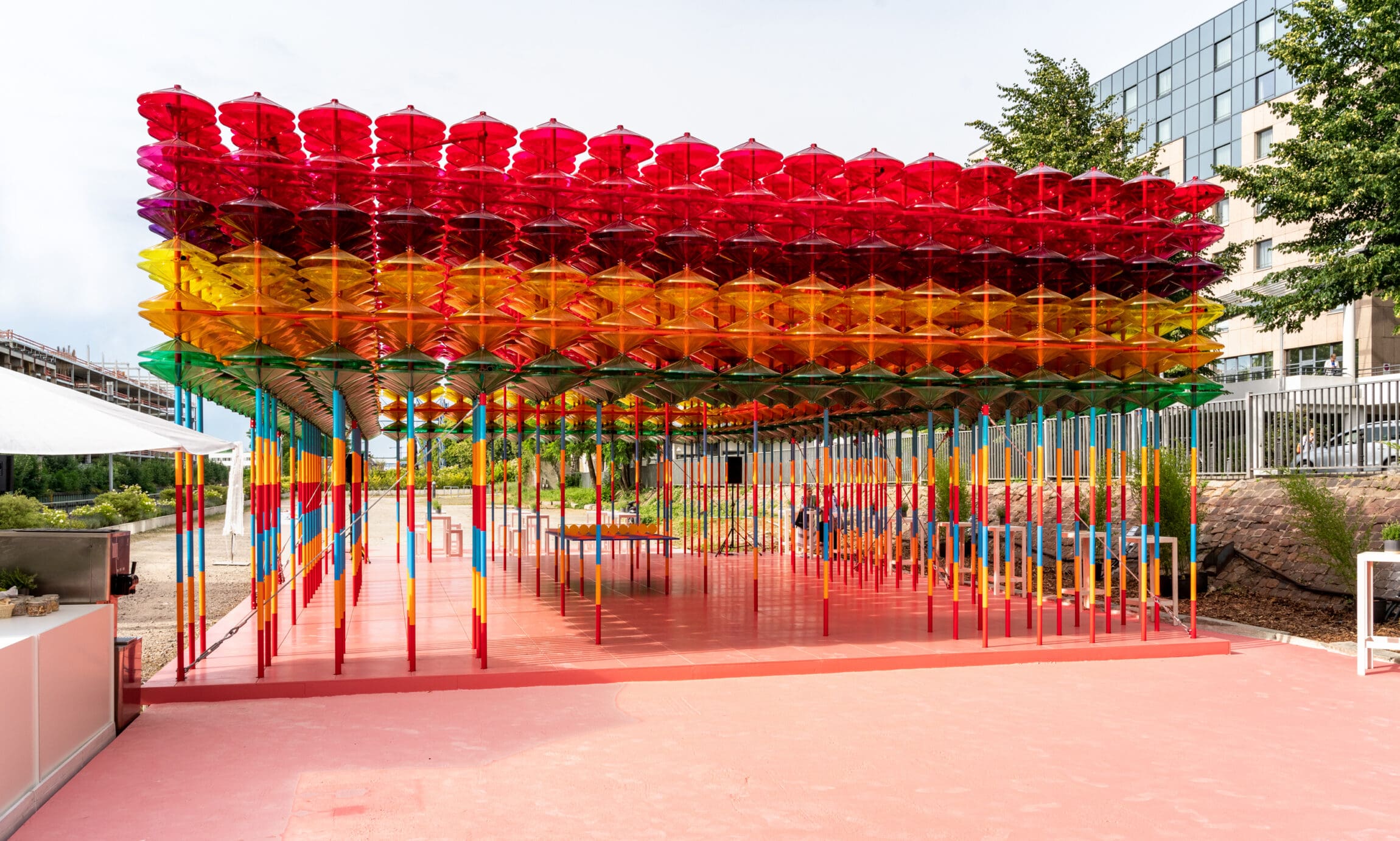 You have family in Nigeria that you visit often, whereabouts are they based?
My mum is from Ondo State, in Yorubaland. When we visit, we stop in Lagos first.
What are your favourite things to do in Lagos?
I like to go to a shop called Alara – it's like Dover Street Market I would say – a concept store that champions local artists and brands. That's where I like to go for shopping and inspiration. They also have a restaurant called Nok by Alara.
I love suya too (a Nigerian street food of spiced skewered meat). The first thing I do is find a local suya spot and have some suya and a Nigerian Guinness.
Is there a destination that grabs your curiosity that you haven't been to yet?
I've always wanted to go to Brazil because of the energy, the culture, the use of colour and the heritage there. When I think of Brazil, I always think of Pharrell and Snoop Dogg's song Beautiful (laughs). That's what I think of when I think of Brazil.


JOIN US FOR THE JOURNEY
Subscribe to the newsletter
City guides, culture, photography and ideas, with expert analysis on the biggest stories in travel