A large New York City hotel room is a paradox. In the city that reportedly never sleeps, quarters are often cramped, but to take full advantage of the city's cultural offerings – from world-class museums and galleries to an epic restaurant scene – it's necessary to find a base to recharge.
While London tries to claim it, New York is the original home of the modern boutique hotel: the Morgans Hotel by Ian Schrager and Steve Rubell (of Studio 54 fame) was the first to be officially recognised as 'boutique' when it opened in 1984, and once employed Bradley Cooper. These hotels have only improved in charm and scale since then, with many now housing some of New York's best bars, and sleek lobby spaces for remote working. Between tourist retreats in Midtown Manhattan and a constantly rejuvenating downtown scene, metropolitan lodgings have sprung up to meet the needs of those who want to experience the city like a local. The following is a list of the best hotels in New York City, which balance creative energy with affordable luxury.
Uptown
Arthouse Hotel
Best for: Art Deco swank, steps away from Central Park
Location: 2178 Broadway at W 77th Street, New York, NY 10024
Price: 177-229 USD per night
Despite its proximity to Central Park, the American Museum of Natural History, and Lincoln Center, the Upper West Side is not the first neighbourhood a tourist might gravitate to. Set in a historic building, The Arthouse Hotel was thoughtfully renovated in 2016 to preserve its Art Deco features, while infusing a sense of industrial cool. Its speakeasy-inspired lobby bar, Locl, is cutely framed with rolling garage doors, and its rooftop bar boasts views of Central Park and surrounding residential streets, which make this a real hidden gem. The dim sum at Red Farm, located inside the hotel, is also not to be missed.
arthousehotelnyc.com
Midtown
Hotel Chelsea
Best for: A luxury atmosphere on a site of famed New York excess
Location: 222 West 23rd Street, New York, NY 10011
Price: 239 USD per night
A decade-long renovation ended with less fanfare than it merited when Hotel Chelsea finally reopened in March 2023. The property famously housed the likes of Patti Smith, Robert Mapplethorpe, Jackson Pollock, and Andy Warhol during the 1960s and 70s, who paid as little as 55 USD per week and stayed for months at a time. Rooms now cost decidedly more but retain a louche charm, ranging from cosy doubles to generous quarters with kitchenettes, which are suited for longer stays. Progressive art pays homage to the hotel's creative past, with paintings by former guests hung throughout. Sip on cocktails and try the pan con tomate at the Spanish-inspired ground floor restaurant, El Quijote – just don't forget to make a reservation well in advance.
hotelchelsea.com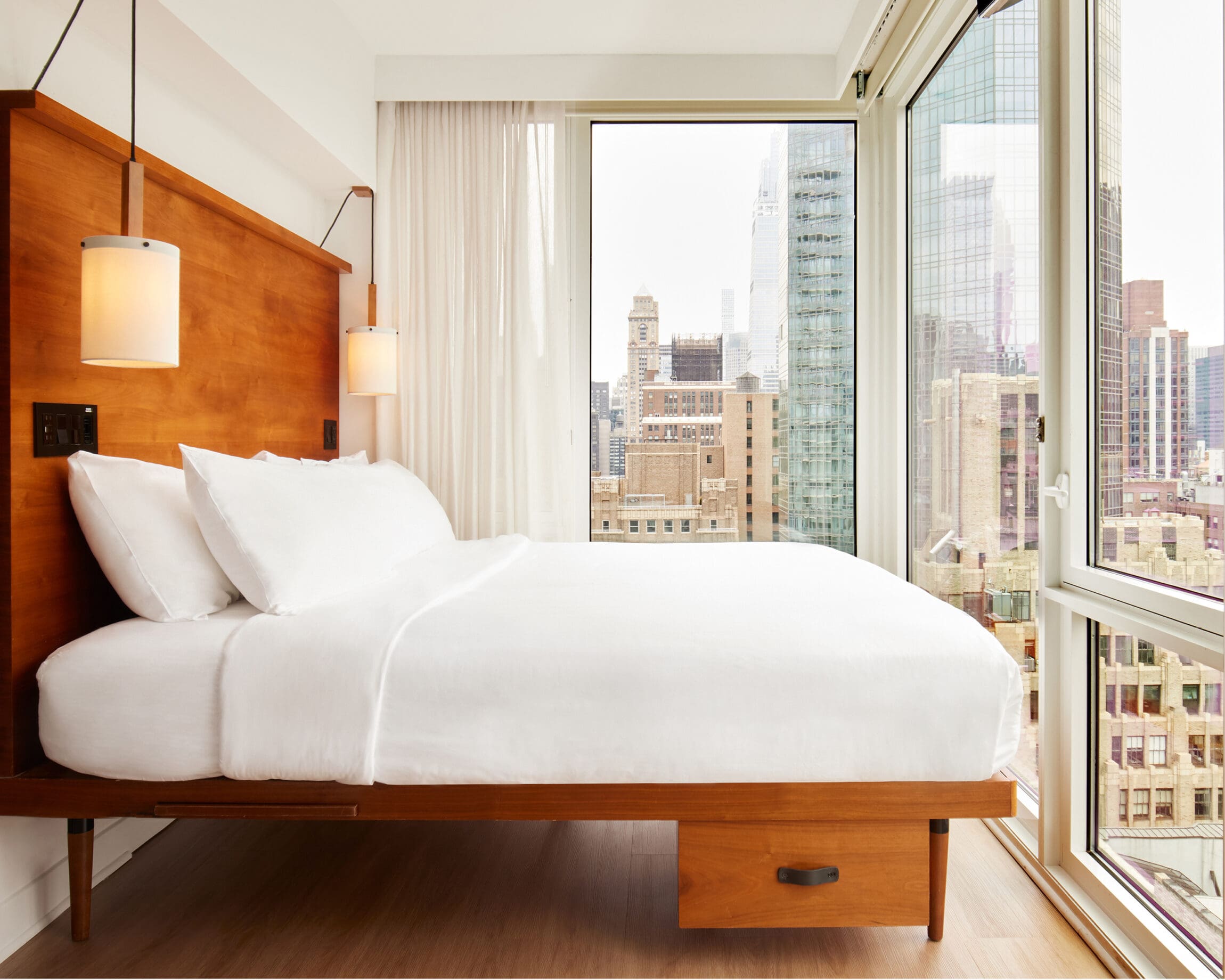 Arlo NoMad
Best for: Upscale atmosphere without emptying your wallet
Location: 11 E 31st Street, New York, NY 10016
Price: 160-500 USD per night
Visitors and residents alike are always in pursuit of the best view of Manhattan's iconic skyline. While you can fork out some cash to go up to the top of the Empire State Building, perhaps the best place to view the building itself is A.R.T. NoMad, the rooftop bar at Arlo NoMad, a stylish and reasonably priced hotel in the heart of New York. Often used as a co-working space or networking spot, it's bustling with the same energy as the sidewalks outside. The rooms are small, but opt for a Sky Room for far-reaching views of the city. Some excellent nosh can be had at Massoni, helmed by celebrity chef Dale Talde, or try Hortus NYC around the corner for inventive Asian fusion, and Cafe M Studio for one of the best croissants in Midtown. Arlo also has a sister hotel in SoHo.
arlohotels.com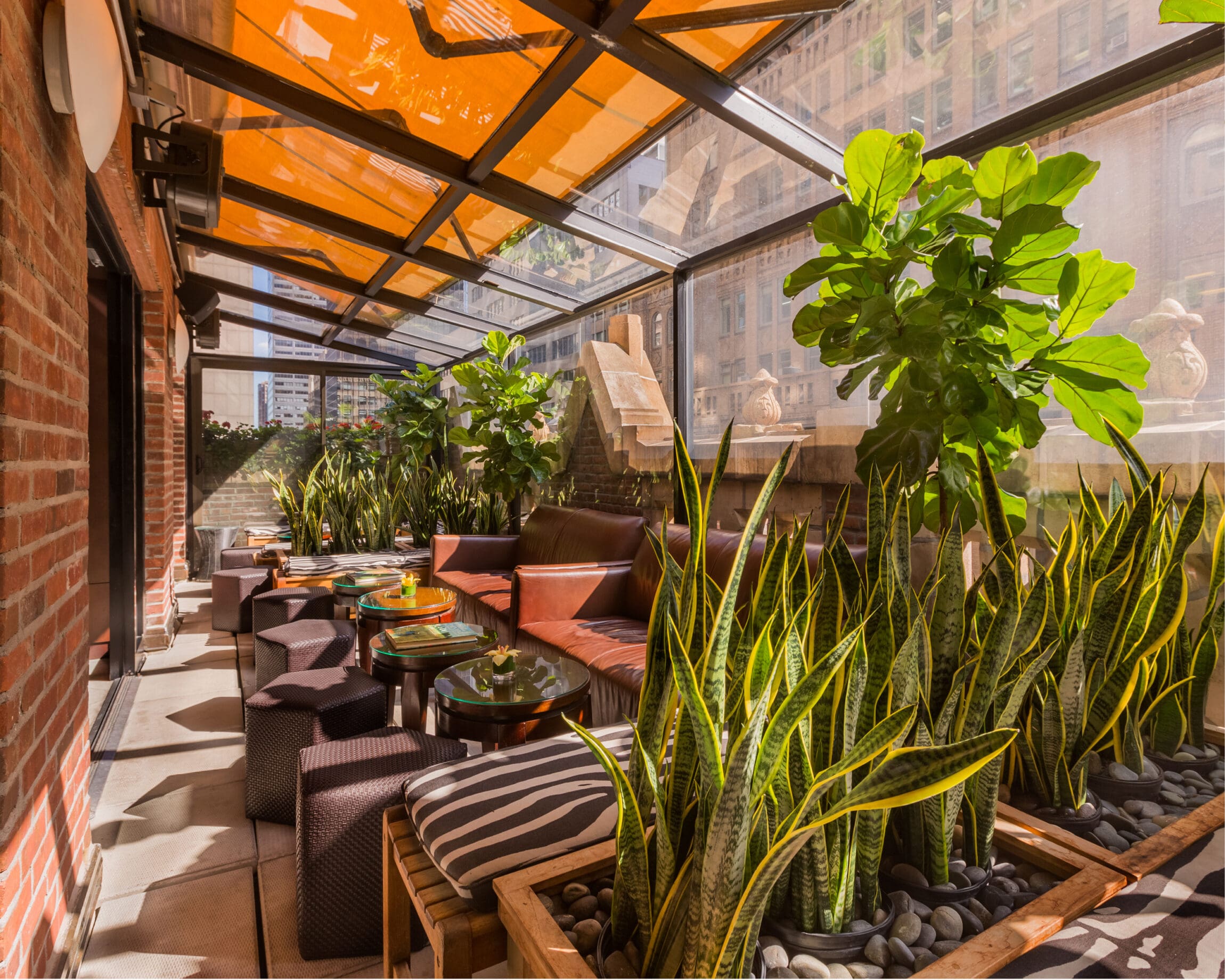 The Library Hotel
Best for: Unbeatable location and cocktail hour
Location: 299 Madison Avenue at E. 41 Street, New York City, NY 10017
Price: 249-599 USD per night
As its name suggests, books are in abundance at The Library Hotel – 6,000 to be exact, which can be enjoyed in communal spaces including The Reading Room, Writers Den and Poetry Garden. The Library Hotel's rooftop poetry garden – more like a solarium – is absolutely stunning, and provides a bird's eye view reminding guests just how centrally located this hotel is. The hotel is a block away from the main branch of The New York Public Library, where the Stavros Niarchos library cafe offers a fantastic free city view). Grand Central Station and Times Square are also both within spitting distance, making this Manhattan location hard to beat. The rooftop lounge Bookmarks is worth a visit, but cocktail seekers might fare better two blocks south at the tony Raines Law Room at The William or, if money is no object, have a drink at The Campbell located in Grand Central itself.
libraryhotel.com
Downtown
The Bowery
Best for: Timeless hip lodging with velvet rope chic
Location: 335 Bowery, New York, NY 10003
Price: 445 USD per night
A bohemian vibe and old world charm envelop The Bowery Hotel. Despite many reviews singling out its convenient location to nearby SoHo, St. Mark's Place and Union Square, its proximity to any tourist hotspots is perhaps the last on the long list of why The Bowery is worth shelling out for. This one continues to be a celebrity magnet. At a higher price point, with sun-drenched rooms and antique tapestries, it's the timeless brainchild of Sean MacPherson (the Jane Hotel, and Waverly Inn) and nightlife impresario Eric Goode (who, fun fact, produced the Netflix series Tiger King). Come for the deliriously cosy rooms, stay for the seasonal cuisine at its rustic ground floor trattoria, Gemma.
theboweryhotel.com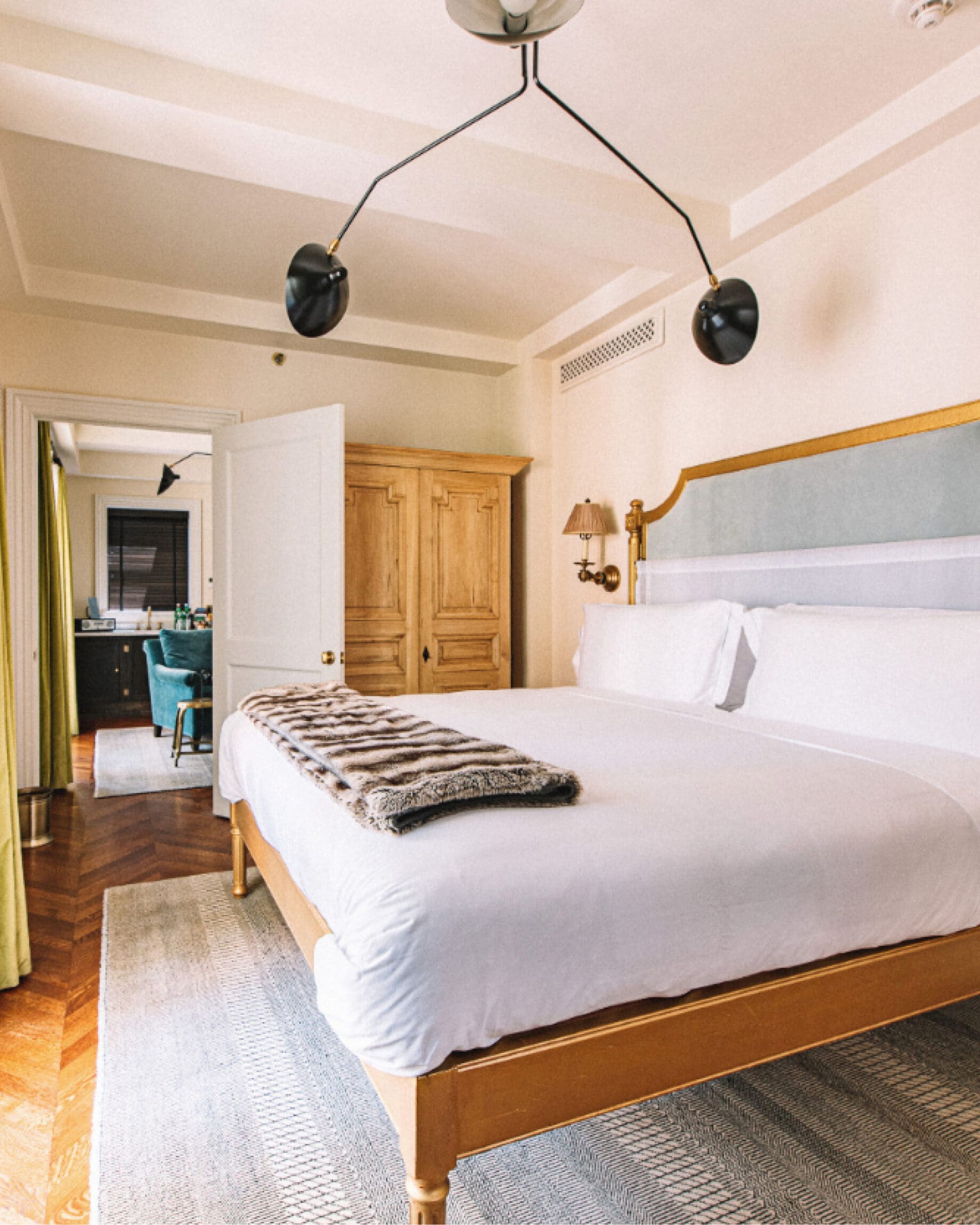 The Marlton Hotel
Best for: A snug getaway steeped in artistic history
Location: 5 W 8th Street, New York, NY 10011
Price: 295 USD
Often overlooked in favour of brighter young things, The Marlton Hotel is a historic bolthole situated in the heart of Greenwich Village, across the street from the famed Electric Lady Studios, where artists as diverse as David Bowie, Led Zeppelin, the Soulquarians collective and Lady Gaga have recorded. Its 112 storied rooms, while cosy, are elegantly designed for a peaceful slumber. The luxury hotel boasts a rich artistic heritage, having once housed students for The New School and, before that, hosted Jack Kerouac as he wrote The Subterraneans and Tristessa. Revamped in 2013 by hotelier Sean MacPherson, this hotel is a real 'if you know, you know' haunt for those looking for a classy cocktail by a crackling wood-burning fire. It is also a popular co-working spot for roving freelancers. Nearby, one can sample Magnolia Bakery's delish banana pudding, or visit Marc Jacobs' book shop, Bookmarc.
marltonhotel.com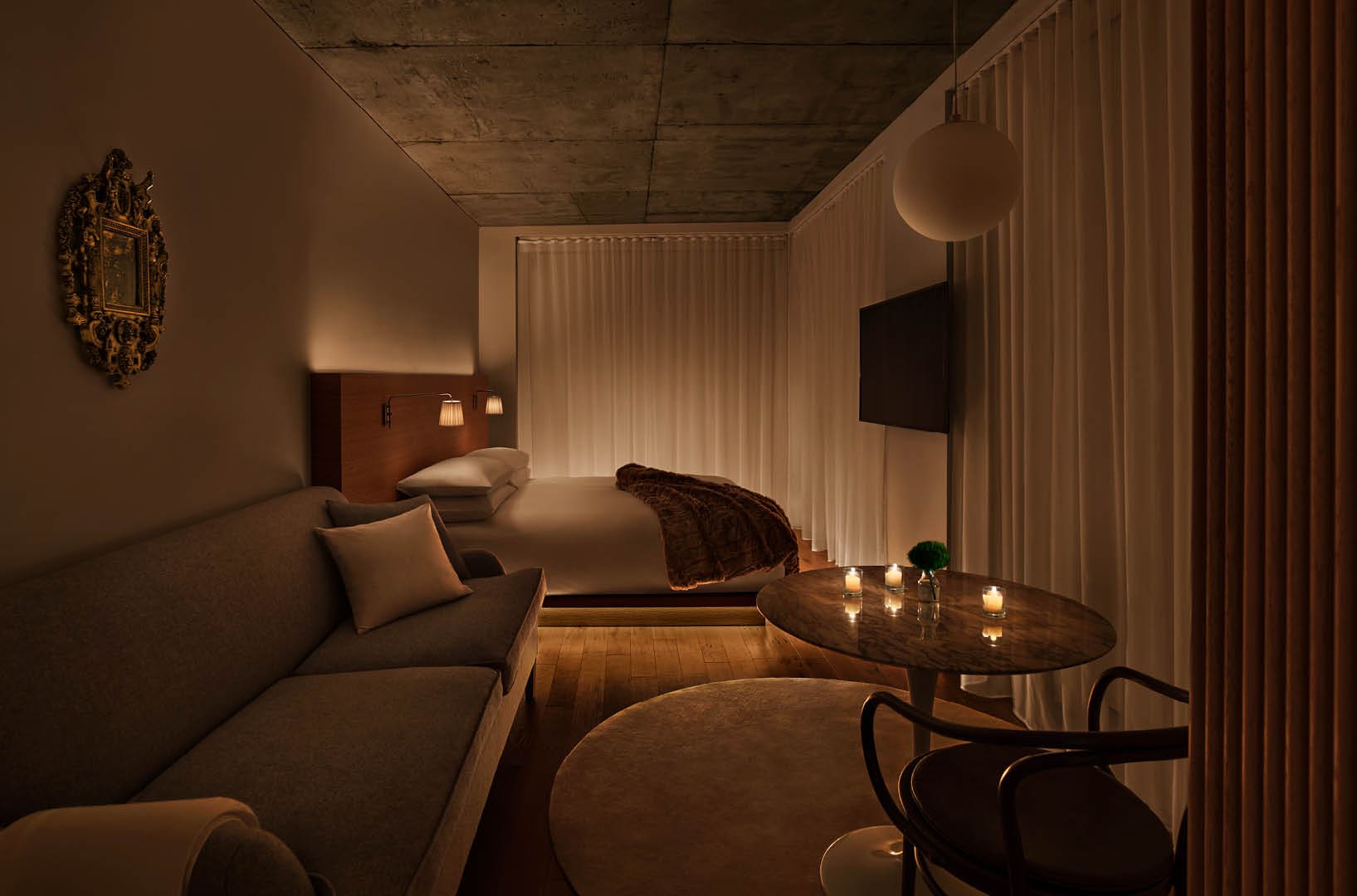 Public Hotel
Best for: Experiencing New York's fellow bright sparks
Location: 215 Chrystie Street, New York, NY 10002
Price: 195-500 USD per night
Ian Schrager might be familiar to those who have heard of the infamous Studio 54, which he launched in 1977, followed by various forward-thinking hotel ventures. When Schrager opened Public Hotel in 2017, artists and creative types flocked to fête a comeback of the downtown scene. Local DJ duo The Misshapes held a weekly party at the glassed-in rooftop (since scrapped) and it has played host to countless fashion week afterparties and glitzy affairs. The straightforward yet beautifully designed rooms blot out the city after a bleary-eyed night out, but as it's a pitstop for party animals, don't count on a particularly restful sleep.
publichotels.com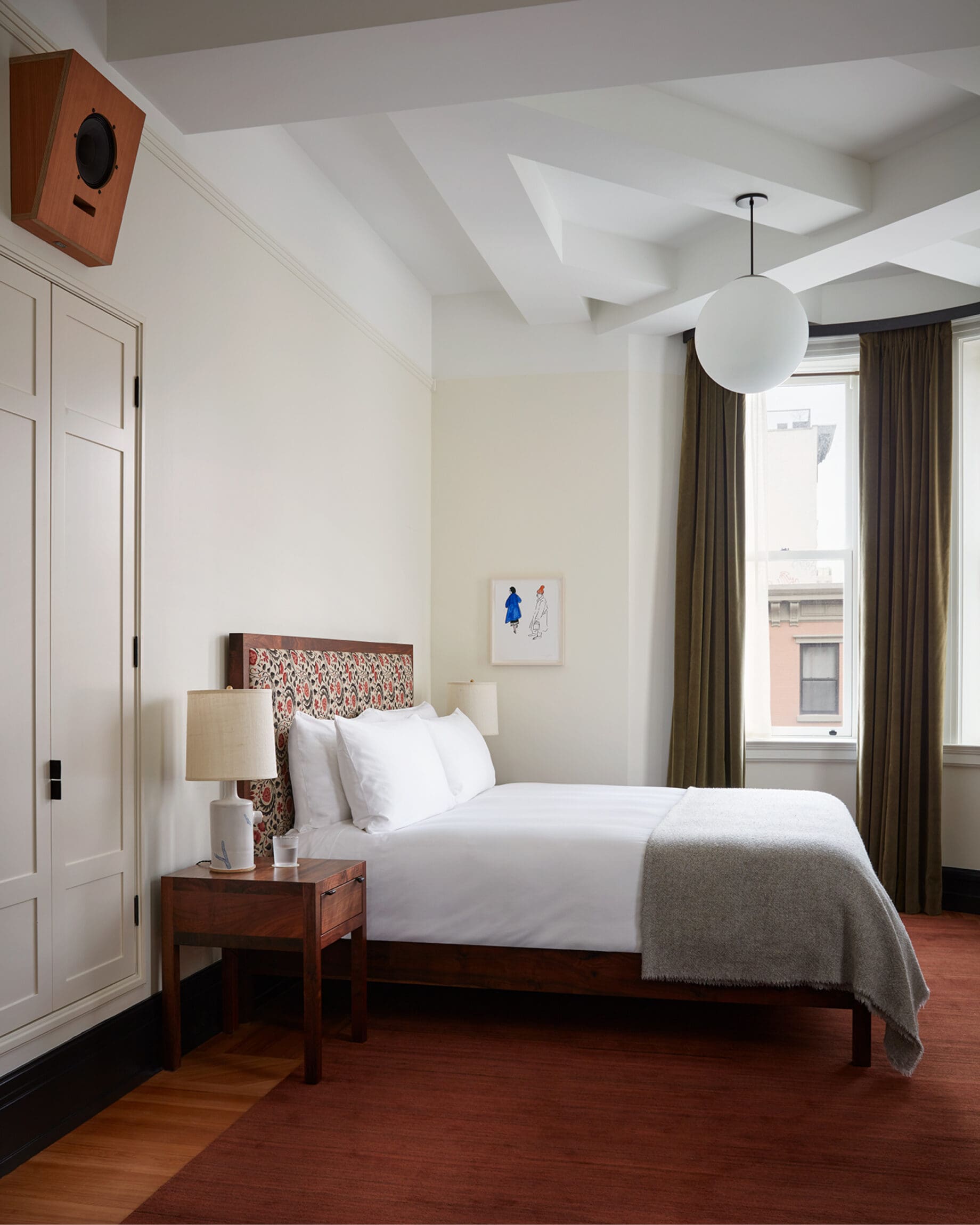 Nine Orchard
Best for: Swilling about the downtown scenesters, luxury hotel
Location: 9 Orchard Street, New York, NY 10002
Price: 525 USD plus tax per night
New to open in burgeoning Dimes Square – a freshly christened neighbourhood near the Metrograph arthouse cinema and Chinatown – Nine Orchard is the current must-visit hotel in New York. The landmark building was once home to the grandiose Jarmulowsky Bank and its 113 rooms have been meticulously reimagined with upscale elegance, with commissioned works by local artists. Feeling fancy? Try the steak au poivre at Corner Bar, the hotel restaurant from chef Ignacio Mattos. Steps away is Dimes, the new American restaurant after which the neighbourhood has been renamed, as well as popular wine bars Le Dive and Parcelle.
nineorchard.com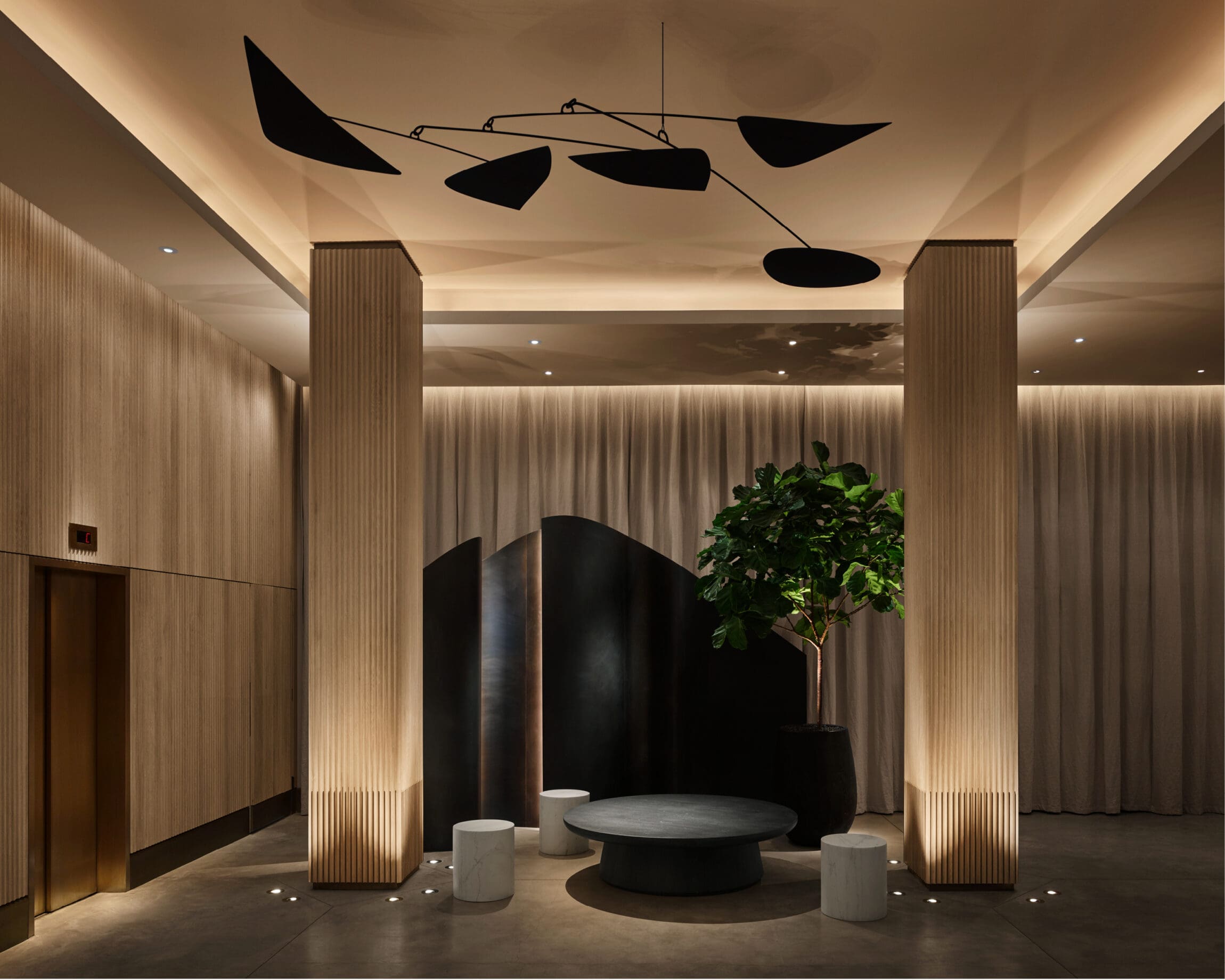 11 Howard
Best for: Trend-forward culture vultures who want to be part of the action
Location: 11 Howard Street, SoHo, New York, NY 10013
Price: 193-314 USD 
Tucked away on an unassuming street on the edge of SoHo sits 11 Howard, a discreet but modern and spacious destination for those who want to feel the buzz of Canal Street's edgy shops without having to elbow past throngs of tourists. Little wonder notorious scammer Anna Delvey bunked down here for so long. All 207 guest rooms and suites are kitted out with ergonomic Scandinavian furniture, a collaborative effort between Anda Andrei design and Danish firm Space Copenhagen. The trendier among us may enjoy a night out at The Blond, a bar and lounge with low lighting and seductive crowds. For a current-day scam, find a bedlam of knockoff luxury Prada hats and Louis Vuitton bags for sale a block south on Canal Street.
11howard.com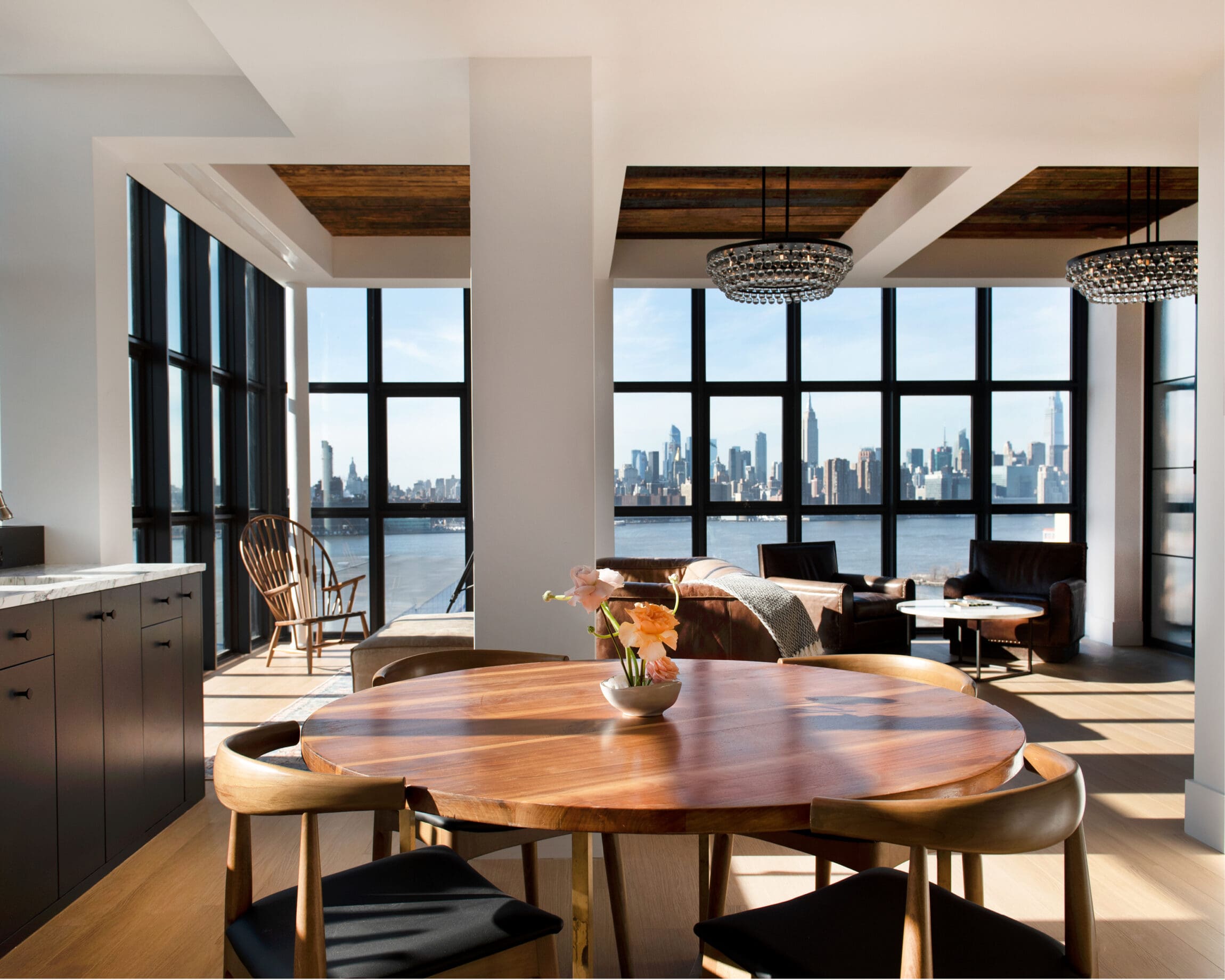 Brooklyn
The Wythe
Best for: All-day lounging with coffee and cuisine
Location: 80 Wythe Avenue, Brooklyn, NY 11249
Price: 201-400 USD
Williamsburg in Brooklyn continues to outdo itself with new restaurant, bar and hotel openings attracting locals and visitors alike. The Wythe was one of the first boutique hotels to open in the area back in 2012 and remains one of the best, with a stellar art curation that supports local talent. Its other calling card is the ground floor French restaurant, which pairs exceptionally gorgeous interiors with an even more decadent menu courtesy of chefs Jake Leiber and Aidan O'Neal. Reserve a table to get ahead of the snaking queues that wait outside for busy Sunday brunch. The Wythe's high-ceilinged rooms with exposed brick and sweeping panoramic vistas of the Manhattan skyline will have friends at home salivating over your selfies (if not the food).
wythehotel.com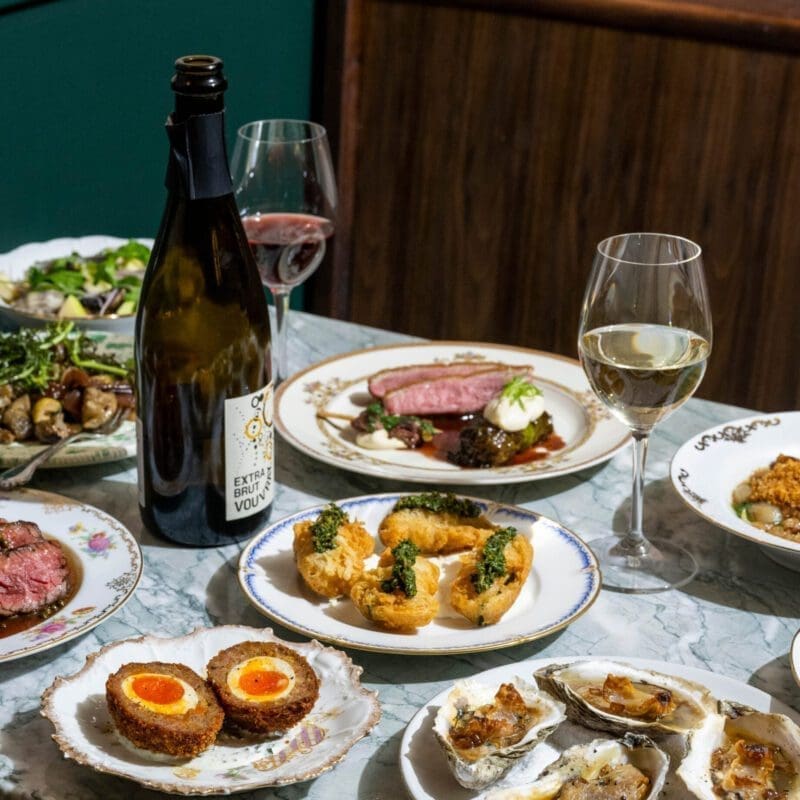 Sign up for superlative city guides around the world
If you book via a link on our website, we may earn an affiliate commission.