The best restaurants in LA's Arts District
The Los Angeles Arts District has a history of creativity, and its roster of restaurants only lives up to its reputation. From Bestia to Wurstkuche, here's where to eat in the downtown neighbourhood
Last updated: February 13, 2023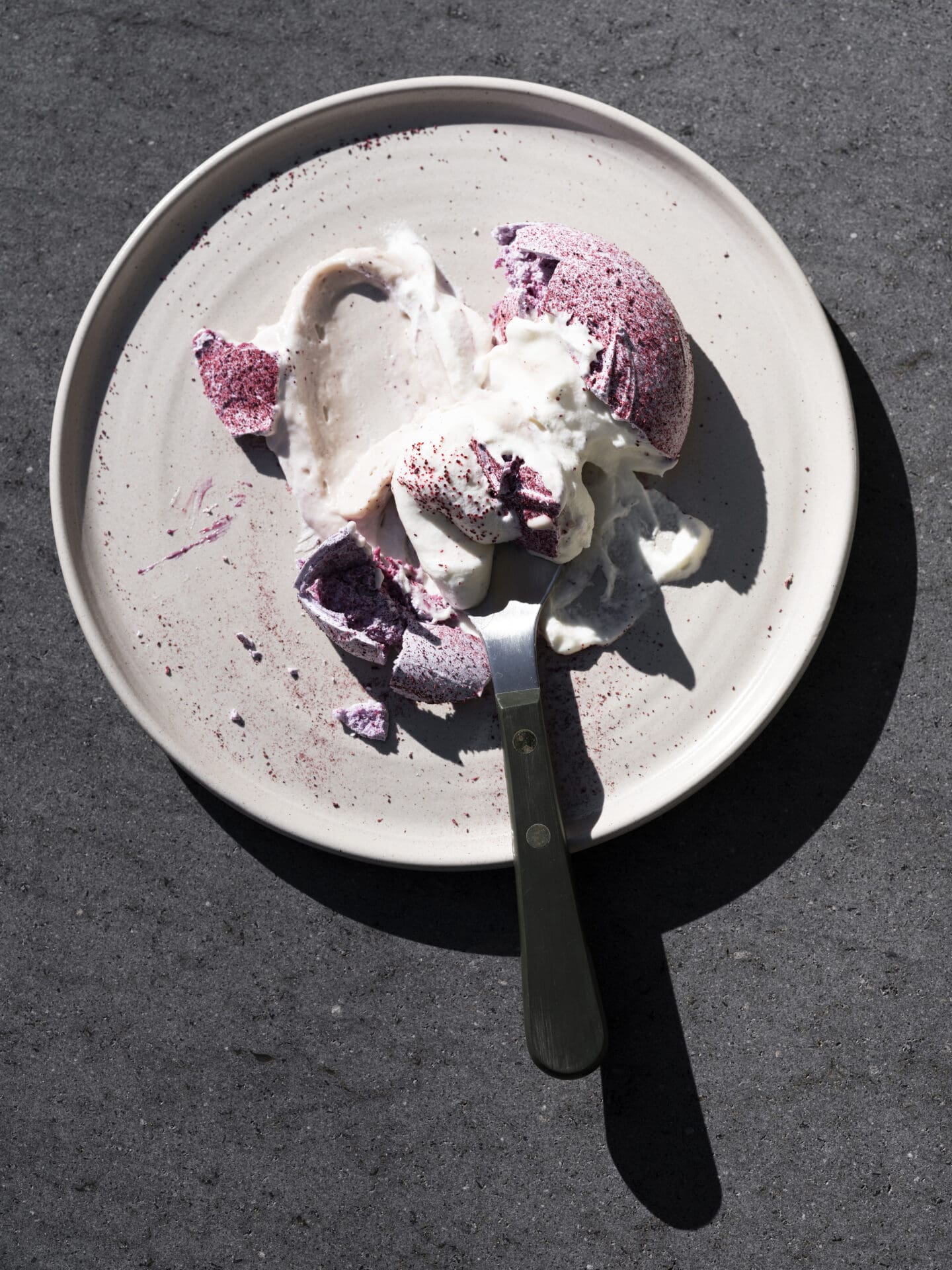 If you wander the streets of Los Angeles's Arts District, you'll find pavements lined with murals, galleries, breweries, bars – and some of the city's best restaurants, from nearly-impossible-to-book Bestia to newly opened Thai-French fusion hotspot Camphor. The area takes its name from an old artists' hub that took root here in the 70s, and today the creative spirit still survives in the form of vividly painted buildings and an energetic local community.
Located on the eastern edge of downtown LA, the district showcases prime restaurants ranging from Michelin-starred establishments to casual joints ideal for a convivial evening with friends. Some of the best restaurants in Los Angeles's Arts District have been in the area for decades, while others are newcomers quickly gaining attention for their innovative menus. Whether you're after slick, high-end Italian with a lengthy waitlist, rooftop drinks, or a fun night in a German-style beer hall, here are the greatest restaurants for every kind of occasion in the Los Angeles Arts District.
Bestia
Best for: Trendy high-end Italian
Location: 2121 E 7th Place, Los Angeles, CA 90021
Price: Mains from 20 USD
Since opening in 2012, Bestia has become one of LA's hottest restaurants. Housed in a downtown warehouse with a distinctive copper bar and exposed brick walls, the award-winning restaurant specialises in freshly made Italian fare, from handmade pasta to house-cured charcuteries. Don't skimp on the starters: the buttermilk ricotta topped with aged balsamic vinegar, herb-infused oil and lava salt, and the roasted bone marrow with spinach gnocchetti are both unmissable. Snagging reservations at Bestia can be tough, so if you haven't booked in advance, your best bet is to head over later in the evening.
bestiala.com
La Cha Cha Chá
Best for: Tapas-style bites with an emphasis on seafood
Location: 812 East 3rd Street, Los Angeles, CA 90013
Price: Mains from 28 USD
Easily one of the best restaurants in the Los Angeles Arts District, Cha Cha Chá doubles up as one of LA's best rooftop bars, too. The Californian sister restaurant to Mexico City's Terrazza Cha Cha Chá has a vibrant outdoor space adorned with more than 150 rare species of plant. Sunset views set the scene for seasonal tapas-style bites, like tuna tostadas topped with crisped cilantro, scallops served with yuzu salsa, and tacos laden with citrus-marinated meats. While you're here, don't miss the innovative cocktails – the red bell pepper negroni and the blue corn old fashioned are particular highlights.
chachacha.la
Wurstküche
Best for: Casual nights with friends
Location: 800 E 3rd Street, Los Angeles, CA 90013
Price: Sausages starting at 9 USD
Sausage maker Wurstküche opened its downtown beer hall location in 2008, and quickly becoming one of the neighbourhood's best-loved restaurants. It offers traditional bratwurst and hot Italian sausages alongside more unusual favourites – rattlesnake and rabbit sausage is perennially popular, as is the duck with bacon and jalapeno peppers. A wide range of German and Belgium beers and gourmet sodas serve to wash it all down, while the crispy Belgian fries are crying out for curry ketchup and fresh pesto mayo.
wurstkuche.com
Bavel
Best for: Veggie-leaning shareable plates
Location: 500 Mateo St, Los Angeles, CA 90013, USA
Price: Mains from 44 USD
Created by the team behind Bestia, Bavel is located within walking distance in a quieter part of the LA Arts District. The space evokes seaside villages of the Middle East, with whitewashed walls, roof skylights, and hanging plants that fill the space. The menu features East Mediterranean favourites with a twist: think duck-infused hummus, and oxtail tagine with coconut rice and a cherry reduction. The ridiculously creamy hummus comes with a wonderfully fluffy pita, while the oyster mushroom kebab, topped with sumac and Meyer lemon, is the ideal follow up.
baveldtla.com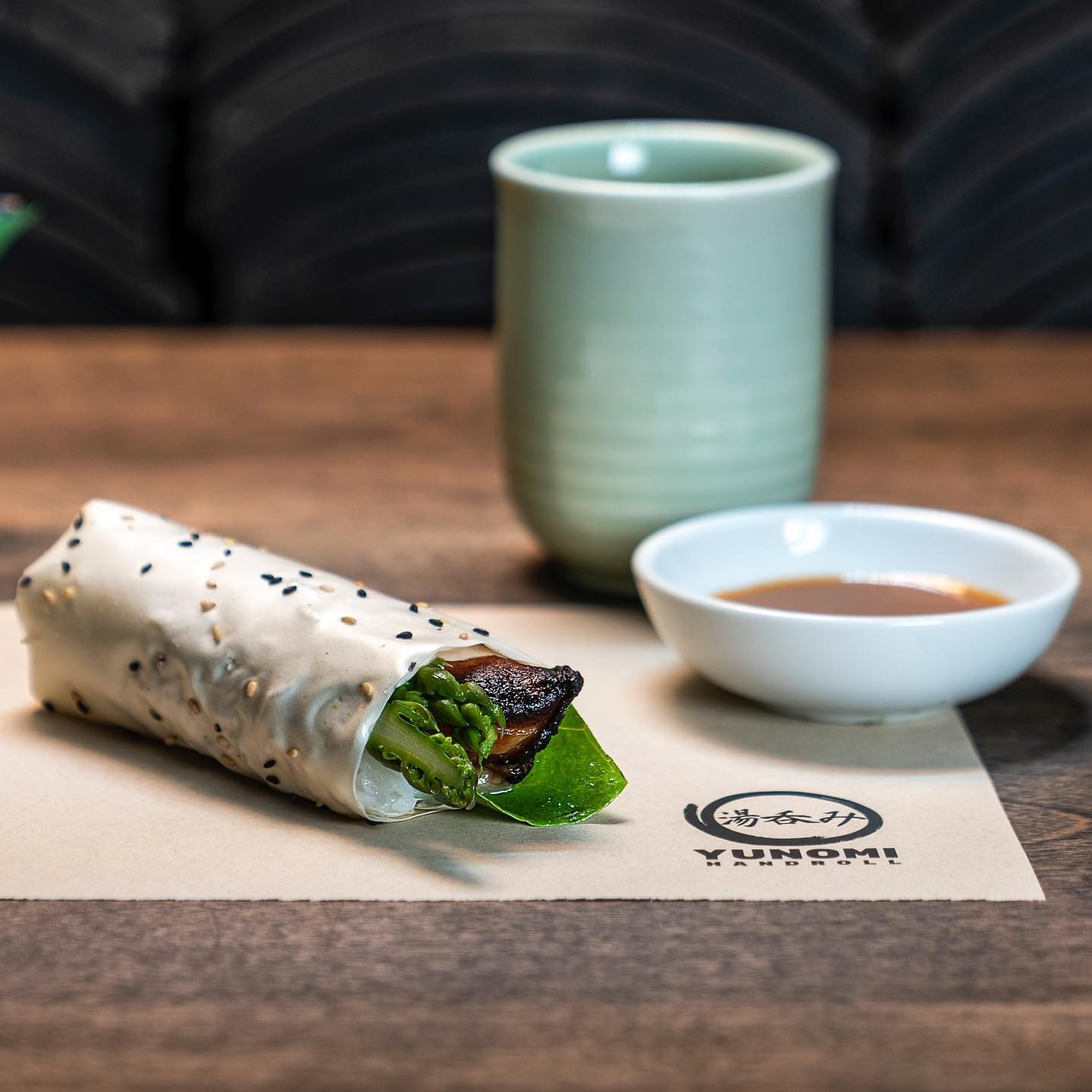 Yunomi Handroll
Best for: Sushi lovers
Location: 806 E. 3rd Street, Los Angeles, CA 90013
Price: Rolls starting from 4.50 USD
Opened in 2020, Yunomi Handroll focuses on traditional and modern hand rolled sushi, and has emerged as one of the best restaurants in the Los Angeles Arts District, which you'll know because it always has an impressively (and irritatingly) long waitlist. Swerve the queues by choosing something from the menu to go. One of the restaurant's long-term favourites is the Yunomi Special, brimming with spicy albacore tuna, shrimp tempura, crisp onions, and truffle soy. Elsewhere, the spice- and citrus-packed ceviche and spicy albacore-topped crispy rice with truffle soy sauce are both standouts, while the addition of Korean seaweed in a selection of the hand rolls only adds to the intense yet well-balanced flavour.
yunomihandroll.com
Kato
Best for:  Seriously special occasions
Location: The Row, 777 South Alameda Street, Building 1, Suite 114, Los Angeles, CA 90021
Price: Bar tasting menu from 145 USD; full tasting menu from 225 USD
Michelin-starred Kato moved into a new downtown location at the end of last year, bringing fans of its unforgettable Taiwanese-Asian-American influenced tasting menu to an LA Arts District strip mall called The Row. The omakase-style experience showcases a range of plates that are just as impressive in presentation as they are in flavour, whether that's grilled char siu short ribs with matsutake mushrooms atop sticky rice, or a wagyu beef tartare. A wide wine selection stands up to the menu's bold flavours, while each cocktail comes with a creative garnish and eye-catching presentation.
katorestaurant.com
Camphor
Best for: Date nights or group dinners
Location: 923 E 3rd Street Suite 109, Los Angeles, CA 90013
Price: Mains from 30 USD 
Newcomer Camphor opened this year, and it's no surprise the restaurant is quickly becoming one of the area's most popular – the chefs behind the joint are veterans of Bangkok's Michelin-starred Blue by Alain Duccase. Max Boonthanakit and Lijo George focus on French cooking techniques while incorporating global ingredients. Case in point is the "gunpowder" baby shrimp, which evokes Taiwanese flavours thanks to a delicate dusting of spice – it's ideal for sharing, but tastes so good you might want to keep it all to yourself. Other showstoppers include the iced beet salad, while Boothanakit is famed for his desserts: the marzipan alongside sharp Meyer lemon ice is on its way to gaining legendary status.
camphor.la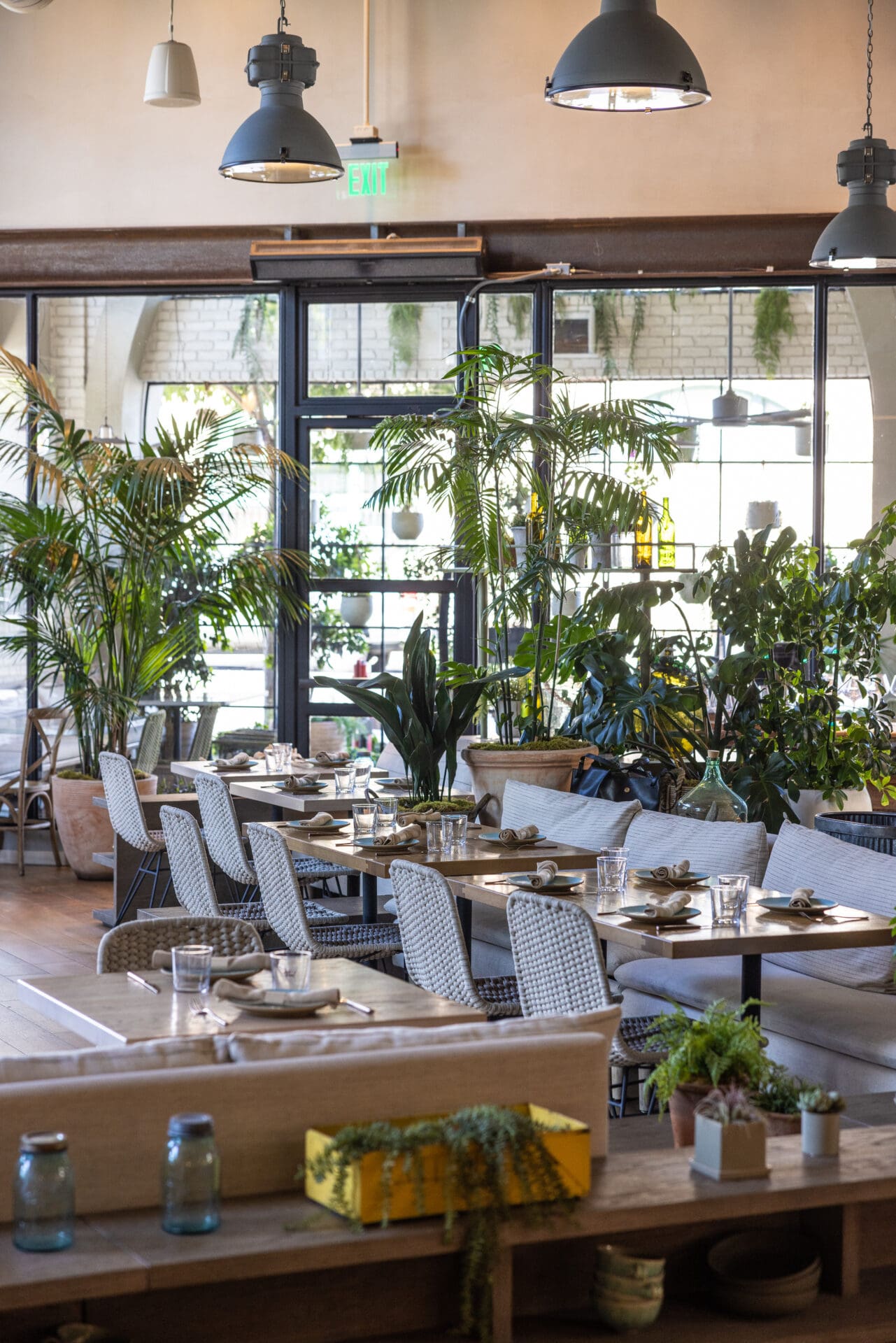 The Girl & The Goat
Best for: Meat and cocktail lovers
Location: 555-3 Mateo Street, Los Angeles, CA 90013
Price: Mains from 17 USD
Chef Stephanie Izard's Girl & the Goat began in Chicago, and its Los Angeles sibling is easily one of the best restaurants in the downtown Arts District. The LA menu focuses on local produce in eclectic dishes like duck tartare or roasted oysters served on a toasted clam baguette. Unsurprisingly, goat dishes regularly feature on the menu: you might be able to sample confit goat belly or goat curry during your visit, while desserts like a mango tamarind ice cream with pickled mango and watermelon granita are just as inventive. The cocktails – best sipped in the restaurant's dedicated bar area – are also a hit.
girlandthegoat.com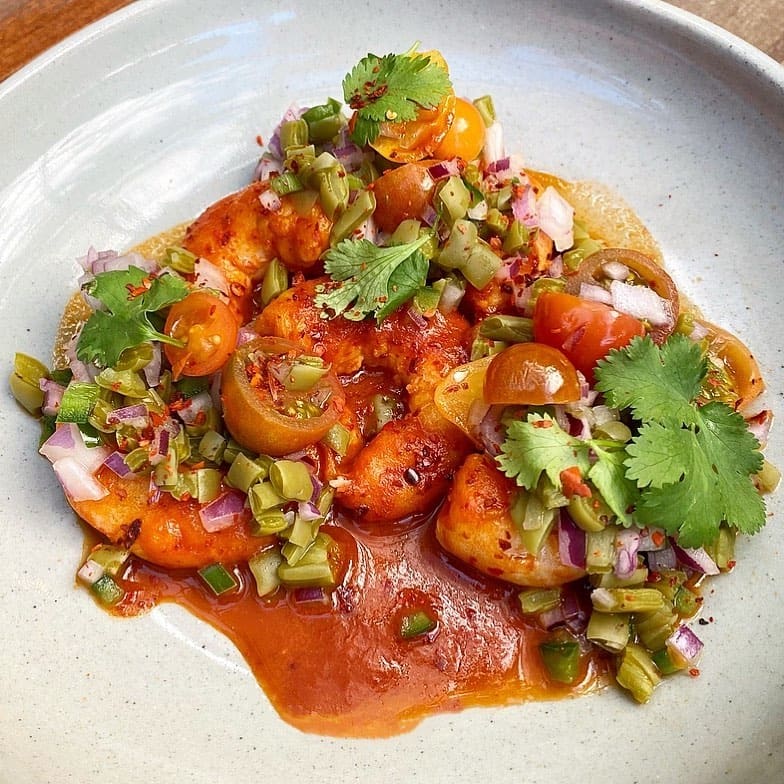 Manuela
Best for: Art lovers and vegetarians will both find a lot to love here
Location: 907 E 3rd Street, Los Angeles, CA 90013
Price: Dinner mains from 29 USD
Manuela offers brunch, lunch, and dinner, but no matter what time of day you eat, you'll be presented with a menu highlighting seasonal produce from southern California. The cream biscuits with raspberry rhubarb jam are a lovely way to start the day, while other choices include pink shrimp aguachile with cucumber, avocado, radish and ginger lime, shrimp and rice grits, or 'popover benedict' with ham, poached egg, hollandaise and greens. Later in the day, those biscuits are served with aged country ham and butter, or you can sample something heftier, like the grass-fed skirt steak. You'll find a range of vegetarian dishes alongside the prime meat selections, while the smoked albacore dip starter is packed with fantastic smoky and briney flavours. Art from notable creatives line the walls of this restaurant in the heart of the Arts District and an outdoor courtyard featuring chicken coops, herb beds, and fruit trees all add to the rustic ambience. We'll see you there.
manuela-la.com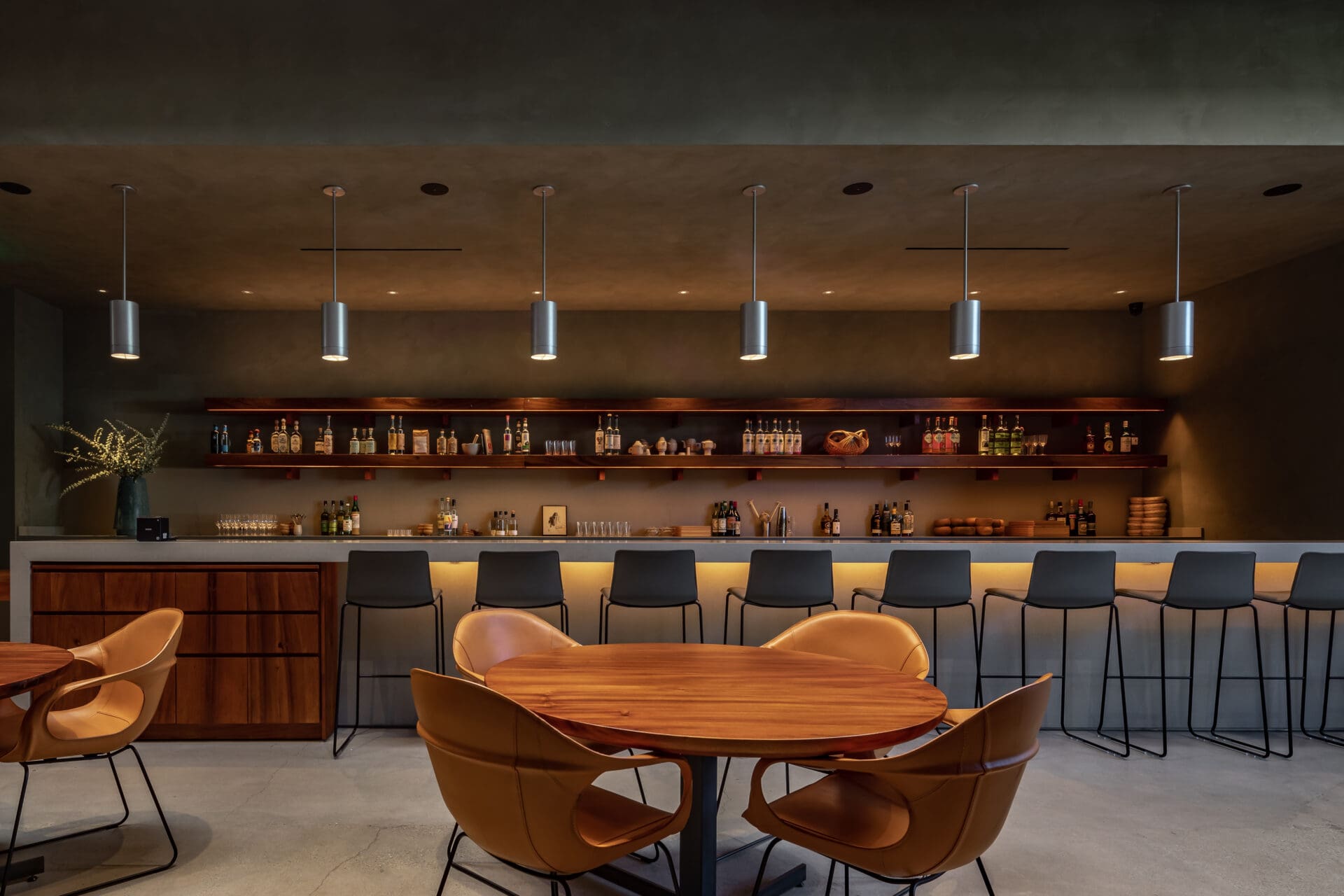 Damian
Best for: Outdoor dining, celebrations
Location: 2132 E 7th Place, Los Angeles, CA 90021
Price: Mains from around 30 USD
The focus on Californian produce continues at Damian, but this time with a Mexican bent. The downtown restaurant comes from chef Enrique Olvera, whose extensive list of award-winning establishments includes Pujol in Mexico City, ranked the 9th best restaurant in the world in 2021. Succulent carne asada with sweet potato and bone marrow, and duck al pastor with a pineapple sauce are two headline dishes, closely followed by hibiscus meringue. The kimchi martini and the DTLA (a cocktail made with absinthe and dill-infused tequila) make for an adventurous aperitif, too.
damiandtla.com
Follow lunch or dinner with a drink at one of the best bars in Los Angeles, from rooftop cocktails to low-key institutions.