From home-grown talent to labels rooted in the city, these are the best London brands for jewellery, homeware, fashion and fragrance
The Swinging Sixties, Punk, Mod Rockers, Teddy Boys, 70s' Hippies: the streets of London have inspired global fashion and design movements, and reflect a city that's long been at the front of art and culture. Today's 'London look' has shifted to tell the stories of the British capital's diverse population, and celebrates individuality that often doesn't subscribe to a particular style  – but it remains no less iconic. From fashion to food, fragrance to fine jewellery, here are the brands and products that sing of this historic city, while also placing craftsmanship and sustainability at the fore.
Clothing
From top left: Adidas X Grace Wales Bonner panelled sneakers, £160, farfetch.com; + Damien poulain stack two-tone shell jacket by Folk, £185, mrporter.com; The Poet dress by TooGood, £471, farfetch.com; laser-print wide-leg jeans by Ahluwalia, £175, matchesfashion.com; graphic T-Shirt by A-COLD-WALL*, £240, harrods.com
London has been an epicentre for fashion ever since the 80s – London Fashion Week was established in 1984 – and its abundant crop of new designers continues to expand the city's style vocabulary. Fusing elements from her Indian and Nigerian heritage, Priya Awhluwalia launched her eponymous label in 2018, inspired by music, art and literature. These wide-leg jeans, made from organic cotton, are enlivened with a laser print braid artwork to the front and rear and capture this season's verve for loose-fit, seventies-leaning denim.
Another member of this innovative generation of creatives is British-Jamaican designer Grace Wales Bonner. She founded her menswear label Wales Bonner shortly after graduating, and quickly won accolades from LVMH, The British Fashion Awards and the Council of Fashion Designers of America, before expanding her brand into womenswear. Citing Caribbean culture and radical diasporic scholars among her references,  she aims to bring "Afro-Atlantic spirit to European luxury." Her hit collaboration with adidas Original sells out each season, featuring tracksuits, logo T-shirts and retro-inspired kicks in nostalgic caramel and burgundy tones, alongside classic black.
Elsewhere, Folk is a 'quietly stylish' brand specialising in minimal designs with energetic accents of bright colour. This summer, the London-based label released a collection in collaboration with Parisian artist Damien Poulain that applies heraldic and flag symbolism to the garments. The green two-tone shell jacket above makes a subtle nod to these symbols in a label along the seam.
Multidisciplinary designer Faye Toogood creates everything from playful chair designs and calming interiors to fine art and clothes, which she makes in collaboration with her seamstress sister, Erica. Entering their studio and store House of Toogood on Shoreditch's Redchurch Street is to be transported into their singular world. The clothes take inspiration from traditional vocations such as carpentry, gardening and locksmithing – the bright, summery 'poet' dress, above, is cut in the brand's signature relaxed silhouette.
Northern Irish designer Jonathan Anderson is one of the fashion industry's most lauded designers, with an unrivalled reputation for playful and prolific design. Since 2013, he has split his time between his own brand and Spanish luxury label Loewe, where he's creative director. This pink baseball cap is ideal for putting a feminine feel on sports-luxe style. Finally, A COLD WALL*' comes from Samuel Ross, who seeks to merge British working-class uniforms with elements of Savile Row tailoring.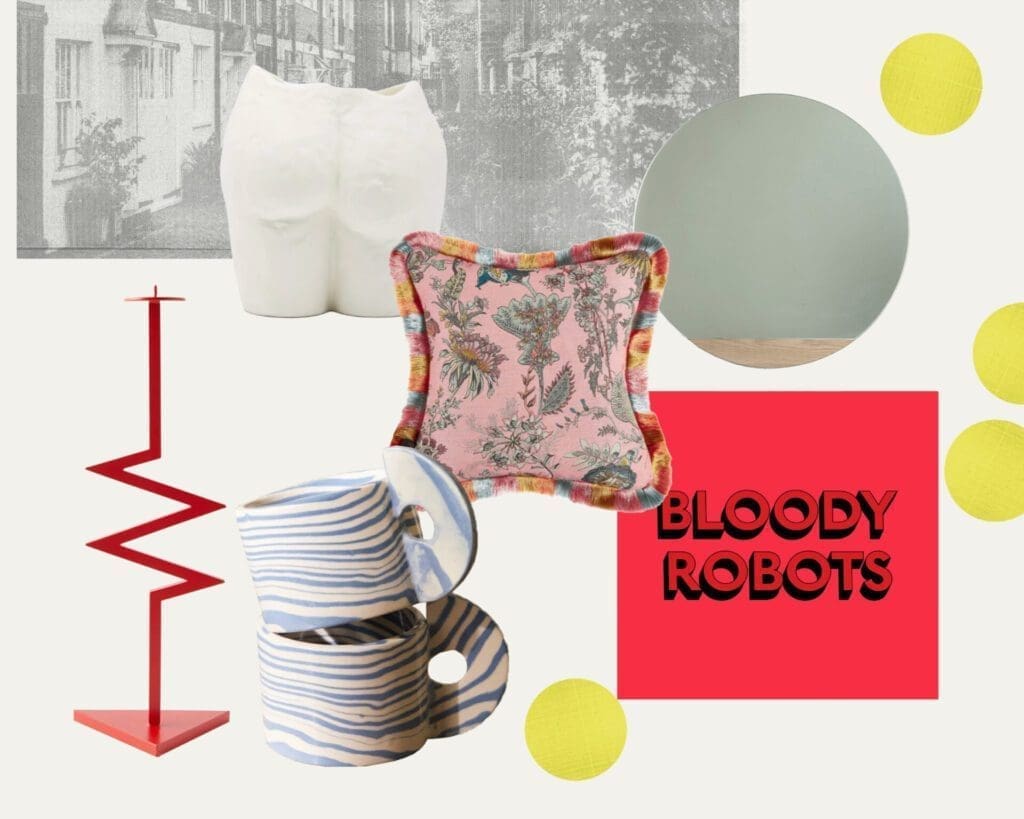 From top left: Popotin ceramic vase by Anissa Kermiche, £65, matchesfashion.com; Zigzag steel candlestick holder by Jermaine Gallacher, £350, matchesfashion.com; set of two marble-effect earthenware mugs by Henry Holland Studio, £110, matchesfashion.com; Flora Fantasia cushion by House of Hackney, £175, houseofhackney.com; Bloody Robots print by Tim Fishlock, £450, hanguppictures.com
London's diverse neighbourhoods are a cornucopia of design inspiration for the home. In Borough, you can find furniture dealer and designer Jermaine Gallacher's showroom. Alongside designing interiors for some of London's best restaurants (Bar Crispin is just one example), the designer has launched an inaugural homeware collection of high-end candlesticks, side tables and book ends in a signature zig-zag form, available exclusively on Matches Fashion. If rounded forms are more your thing, jewellery and homeware designer Anissa Kermiche creates vases and candleholders in curving female forms. The white ceramic Popotin vase has a tactile, imperfect surface, and makes for an eye-catching piece.
British fashion designer Henry Holland began experimenting with ceramics during lockdown. He soon pivoted from fashion to homeware and launched his own pottery practice in East London's Hackney. He employs a unique adaptation of the Japanese nerikomi technique, where coloured clays are rolled and stacked into slabs, then hand moulded into functional shapes such as bowls, mugs or plates. The designer has also just launched his first glassware collection, developed in collaboration with UK glassblowers. Designs feature the same nerikomi-inspired swirls as his pottery, and are guaranteed to bring instant cheer.
Nearby in London Fields is a Victorian townhouse that envelops a riot of patterns, colours and forms: the headquarters of British design sensation House of Hackney, a collective of designers and artists inspired by the arts and crafts principles of William Morris. Luxurious velvet cushions are printed with flora and fauna in shades of bisque-pink, fern green and sky blue, and accented by tactile fringing.
Also in the neighbourhood and backing onto the Haggerston stretch of Regent's Canal is independent contemporary art gallery Hang-Up, who commissioned London-based artist Tim Fishlock to create a series of limited edition prints. His work is typified by bright typography, and deals with subjects like society's love-hate relationship with social media and technology.
And then a journey from east to west: Another Country, based on Marylebone's Crawford Street, specialises in sustainable wooden furniture. Its chord mirror is a minimal round number made from solid oak or walnut and mirrored glass.
From top left: Freddie waxed cotton holdall in black by Ally Capellino, £375, allycapellino.co.uk; rose pink Panama passport cover, £140, smythson.com; Loose Pocket Little Things leather-trimmed pouch in recycled TPU by Anya Hindmarch, £75, net-a-porter.com; Herbrand Bold sunglasses by Cubitts, £125, cubitts.com; Large Clifton suitcase in mineral by Antler, £229, antler.co.uk; Trunk large cotton canvas tote bag, £95, trunkclothiers.com
Antler has been in the business of luggage since 1914, so it knows a thing or two about designing functional yet contemporary cases. The brand was revived in 2013 and relocated to London, with a focus on modern, durable pieces. Hard shell suitcases come with clever details such as laptop pockets and combination locks built in the design so the zips can be secured in place. Select from hand luggage-friendly dimensions and supersized cases, for those embarking on a longer stay.
Seeking something softer? Ally Capellino's lightweight and durable Freddie bag is made from the label's signature waxed cotton fabric and created with carry-on purposes in mind. The designer also recently collaborated with Barbour on a collection of outerwear and accessories in a typically earthy palette of muted military-style greens and navy blue.
For iconic leather stationary and travel accessories, heritage brand Smythsons is a British staple. Established on Bond Street in 1887, it has created personalised leather accessories for royalty, celebrities and prime ministers alike. Elsewhere, Anya Hindmarch is your go-to for playful, responsibly made bags and accessories, from the smart bespoke luggage range to its playful organisers. This 'Loose Pocket Little Things' pouch is made from translucent plastic with a leather trim, and is ideal for holding loose currency and travel essentials.
Finish with a set of frames by Cubitts, considered an innovative disruptor in the world of eyewear. Founded by Tom Broughton, the brand applies modern design principles to its collection of spectacles and sunglasses, which can be fitted with optical or tinted lenses. It has several shops across London, including Spitalfields and Soho, each one with unique interior design that reflects the characteristics of the surrounding neighbourhood.
From top left: Hook gold-vermeil necklace by Shaune Lean, £350, matchesfashion.com; FORTE Beads 18-karat gold bracelet kit by Carolina Bucci, £480, net-a-porter.com; Snake & Moon 18-karat recycled gold, enamel and diamond signet ring by Cece Jewellery, £2,860, net-a-porter.com; Gold tip Ciggie Ring in 18-karat gold by Hatton Labs, £200, hattonlabs.com; Mini space ear cuff, £305, Alan Crocetti, farfetch.com; The Path of the Moons 24-karat gold-plated necklace by Alighieri, £145, matchesfashion.com
Whether you smoke or not, Hatton Labs' Gold-Tip Ciggie ring is a subtle, tongue-in-cheek design from a contemporary London jewellery brand known for celebrating subcultures. Shaune Leane also creates jewellery using precious metals, and found fame with his long lasting collaboration with Alexander McQueen during the 1990s and 2000s. This gold-vermeil necklace features a hook design that combines angularity with elegance.
The colourful beaded bracelet above, reminiscent of a friendship bracelet, comes from Carolina Bucci, a fourth-generation jeweller leveraging her family's Florentine legacy to create a modern brand firmly ensconced in London. The beads swap plastic for precious hard stone, which means they remain bright and durable. At her smart Motcomb Street flagship boutique, brimming with Carerra marble and Italian art, you can mix and match to create your own unique design.
Elsewhere, CeCe – a fine jewellery brand from former art historian Cece Fein Hughes – creates modern heirlooms inspired by ancient styles, but this painstakingly etched enamel serpent might just be too nice to ever pass on…
Alighieri is the jewellery brand of designer Rosh Mahtani, who works in 24k gold-plated bronze, rhodium and solid gold and silver to create pieces inspired by the works of Dante. Her showroom is in the heart of Hatton Garden, London's oldest jewellery quarter. This 24-karat gold plated necklace, The Path of the Moons, is inspired by Dante's Paradiso, and features two circles fused together, as if two moons are meeting.
The celestial theme continues: Alan Crocetti is a womenswear and jewellery designer. This contemporary ear cuff is formed from two bands of gold-plated sterling silver, bringing to mind the orbiting rings of a planet.
Fragrance
From top left: Natural deodorant balm by AKT London, £19, selfridges.com; Smoke and Musk soy wax candle by Earl of East, £50, selfridges.com; Rose bath oil by Bamford, £48, net-a-porter.com; Rain Cloud fragrance by Perfumer H, from £140, perfumerh.com; Alcazar essential oil blend by Homework, £20, homeworkstore.co.uk
Lyn Harris is the only female classically trained 'nose' in the UK, and her atelier, Perfumer H on Crawford Street in Marylebone, is a treasure trove of scents. Her luxurious fragrances are all bottled in handblown glass, and engraved in gold lettering. Rain Cloud is made up of white florals including ylang ylang, vetiver, vanilla bourbon, jasmine, orange flower, and iris, all housed in an appropriately misty bottle.
Earl of East makes scented candles, incense, and bathing products in London, inspired by travel memories from Denmark and Japan. Since launching in 2014, its website has grown into a bonafide lifestyle brand, showcasing its wares alongside a curation of like-minded brands, including fellow London favourite AKT. The premium skincare line is best known for its recyclable, vegan, and cruelty-free natural deodorant balms, and was originally devised by two West End performers who needed something that would withstand the heat of the stage. If it works to keep them fresh, it'll work for you – recent weather included.
Wellness brand Homework, based in the London Design District, is the brainchild of Stephanie Hannington-Suen. Her parents ran an acupuncture and herbal medicine clinic and she inherently understands the restorative power of natural ingredients. Drawing on the principles of traditional Chinese medicine, unique skincare and home fragrances are loaded with botanicals, with a focus on minimal packaging and sustainable production methods. Case in point: this essential oil blend, with notes of citrus and spice to promote warmth and stimulate the senses.
Finally, female powerhouse Carole Bamford, the matriarch of the Daylesford Organic and Bamford Spa brands. While hailing from the Cotswolds, it has strong roots in London thanks to its collection of cafés, farm shops and a South Kensington spa, topped by a picturesque yoga studio. At Bamford, everything is organic, sustainable and tranquil as can be, such as this nourishing and beautifully scented bath oil, blended with precious Moroccan rose and calming Cchamomile.
Food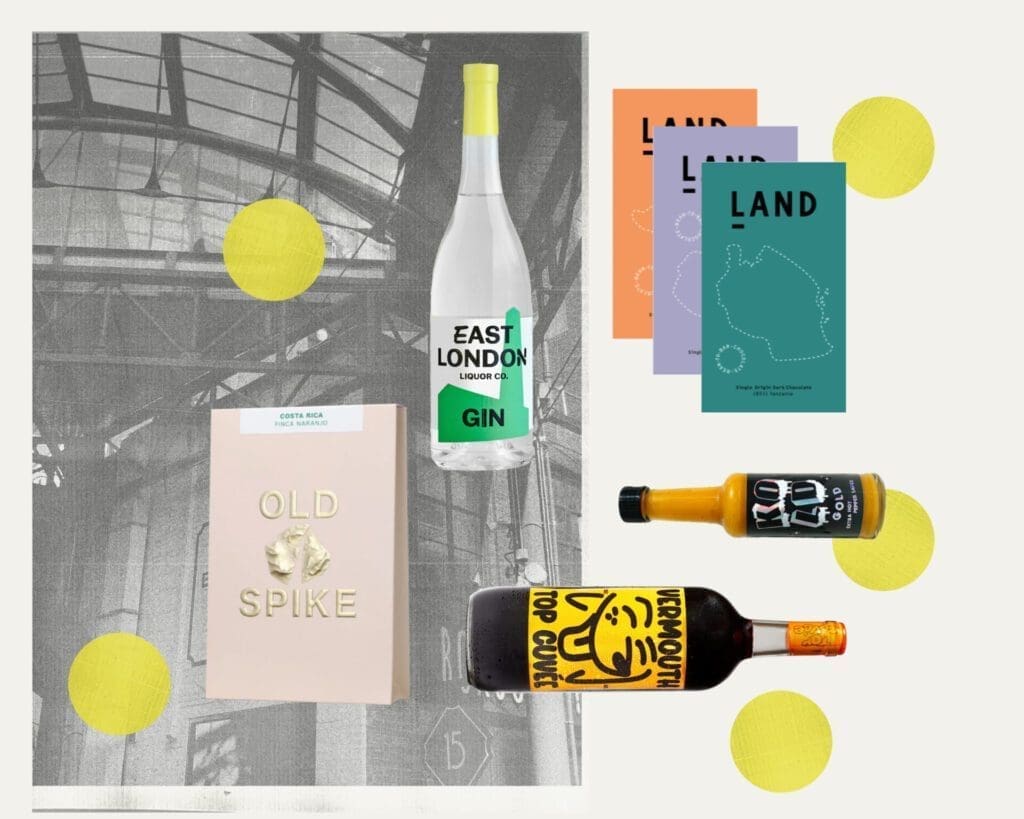 From top left: East London gin by East London Liquor Company, £22.50, eastlondonliquorcompany.com; Guatemalan milk chocolate by LAND, £6, landchocolate.com; coffee by Old Spike Roastery, from £10, oldspikeroastery.com; Gold fermented hot sauce by Kold Sauce, £8, koldsauce.com; House Vermouth by Top Cuvée, £25, shopcuvee.com
Down in Peckham, Old Spike Roastery is a coffee and roastery working for social change. Not only does it help those affected by homelessness to gain new skills by employing them and training them, but it sources its beans as ethically as possible and even plants a tree for every bag of beans sold. Its sister company, Change Please, runs coffee shops around London, so stop in if you happen to walk past.
Near Victoria Park, East London Liquor Company distil their own gin, rum and vodka. Its London Dry gin combines notes of citrus and juniper, ending in a spicy finish with coriander seeds, cardamom pods and angelica root botanicals. Its East London neighbour LAND chocolate does all its roasting, winnowing, grinding, conching and wrapping in E1. It was one of the first brands to focus on single-origin chocolate, giving you a true taste of terroir (yes, it's not just for wine). Did we mention the branding is incredibly nice, too?
Another product that looks as good as it tastes is Kold, which aims to bring American-style hot pepper sauce to London and has since become a firm favourite in the hipster-foodie circle. But Kold wanted to do things differently, focusing on natural ingredients and fermentation – which means it is indeed made cold – and the result is a fiery yet smooth sauce suitable for slathering over almost anything. Buy a bottle from Shop Cuvée, the alter ego of London favourite wine bar and restaurant Top Cuvée, which sells seriously good bottles and moreish nibbly bits just around the corner from the Highbury site. The wine bar has also just made a foray into brewing and bottling its own wines, and most recently a house vermouth – perfect for negronis or for enjoying over soda and ice.
If you purchase something from our website, we may earn an affiliate commission.
Subscribe to the ROADBOOK newsletter for an inspirational dose of travel, photography and design, direct to your inbox


JOIN US FOR THE JOURNEY
Subscribe to the newsletter
City guides, culture, photography and ideas, with expert analysis on the biggest stories in travel