Essential London restaurants
Trying to keep up with London's food scene is silly business – but all the more fun for it. From historic institutions like St. John to new-school natty wine bars like Top Cuvée, food writer and Londoner Lydia Winter picks the essential London restaurants you need to try
Last updated: February 21, 2023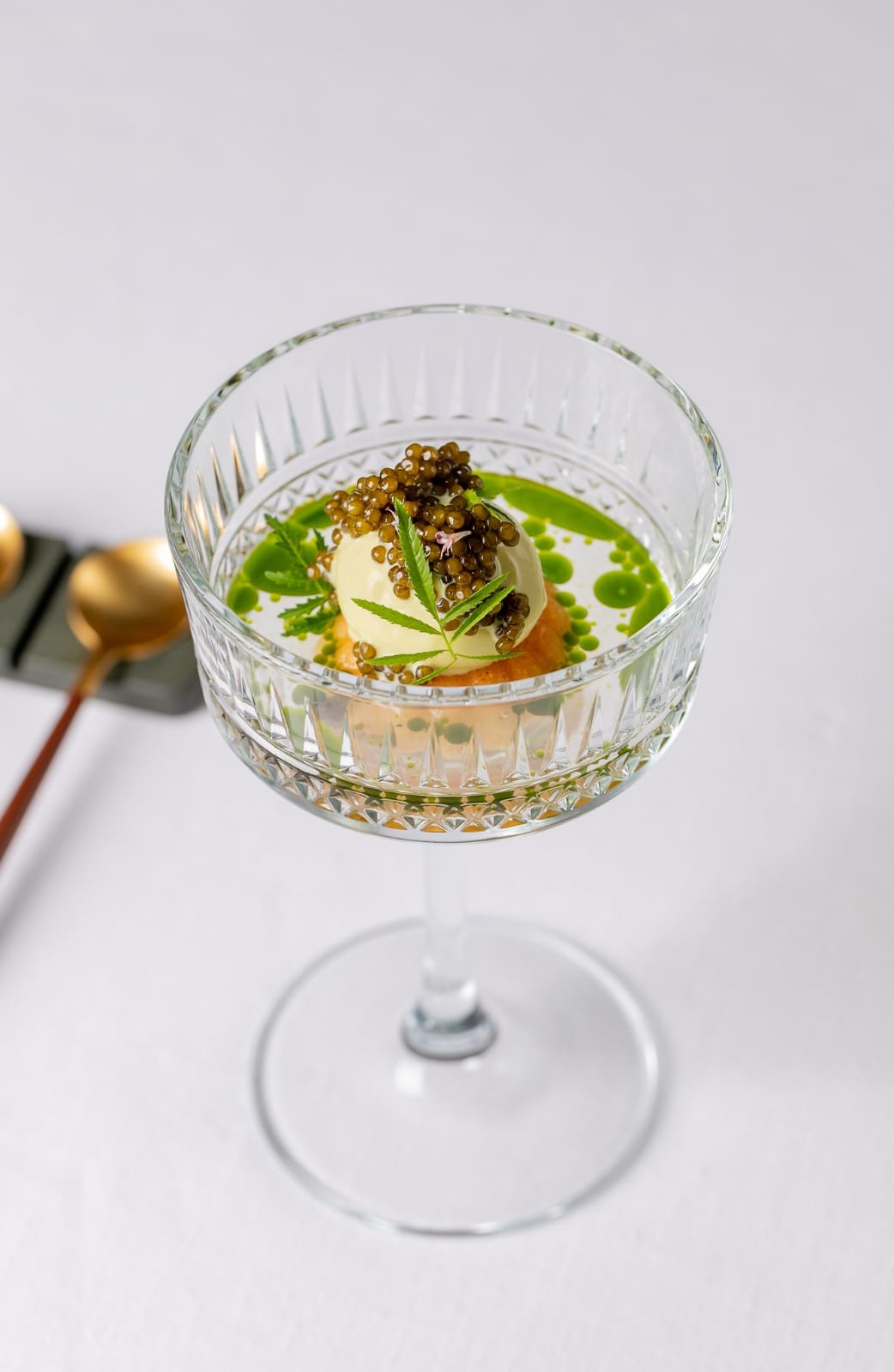 London's food scene is dizzyingly, dazzlingly delicious; the city's best restaurants a smorgasbord of culinary excellence that runs the gamut from world-leading Michelin stars to historic institutions to tiny BYOB neighbourhood favourites and noodle shops that have gained cult status, like Shuko Oda's Koya. Each week there's a clutch of new openings and pop-ups,  so much so that even as an insider, it's hard to know which way to turn, and trying to check them all off becomes some sort of mad wild goose chase.
It's hard to identify a prevailing food trend at any given time – we've had tacos, bao, regional Thai, pasta – but the overarching theme these days is a focus on seasonal cooking and sustainable sourcing, and so it should be. During the warmer months, London's array of outdoor restaurants really comes into its own. Consider the recommendations below a short tasting menu of a city that's totally obsessed with food: use it as your starting point and get ready to tuck in, preferably after an aperitif (or two) in one of London's best cocktail bars.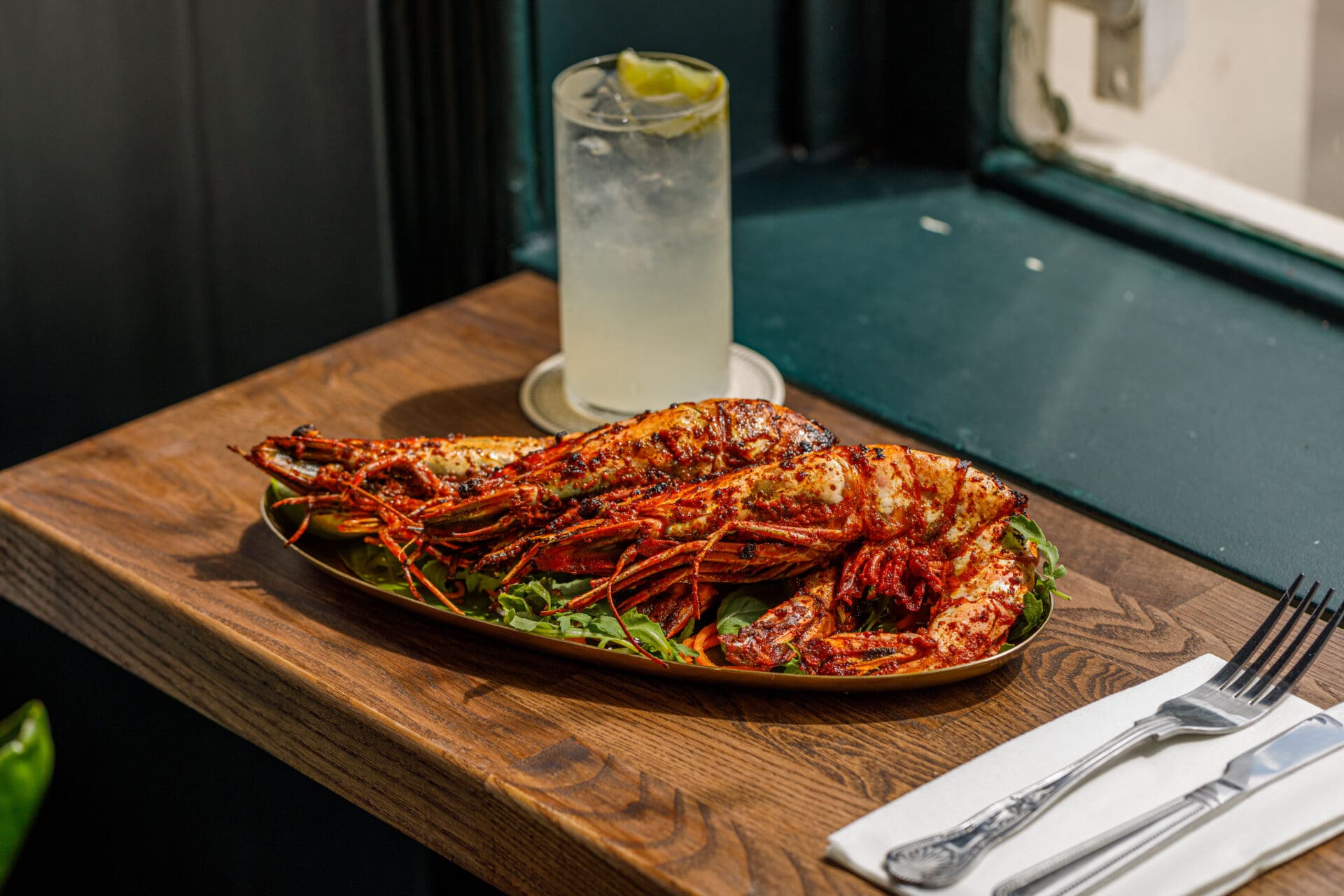 Tamil Prince, Islington
What: Tamil cooking from a chef with a cult following, served in a North London boozer
Where: 115 Hemingford Road, London N1 1BZ
A London pub serving Indian grub doesn't initially sound like headline news, but it most certainly is when the food in question comes from chef Prince Durairaj, also behind the smash hit Roti King. He's now striking out on his own, and there's no doubt that there'll be hungry hordes following him all the way to his first solo site in between Caledonian Road and Barnesbury. The space itself feels distinctly swish thanks to dark-green walls and slate-grey tiles, but the cooking remains packed with heart, soul and the flavours of Durairaj's home state, Tamil Nadu in South India. There are, of course, incredible rotis, but other dishes worth mentioning are the juicy grilled tiger prawns, and beautifully buttery dahl.
thetamilprince.com
Bubala Soho
What: A bright, contemporary take on vegetarian cooking
Where: 15 Poland Street, London, W1F 8QE
Price: Around £7 for a small plate
Confit potato latkes with aleppo chilli; falafel with tahini amba and sumac onions; baklava semi freddo: reading through the menu at Bubala Soho is the gastronomic equivalent of whispering sweet nothings in someone's ear. This peachy-hued restaurant is the second opening from Bubala (the original is in Spitalfields) and chef Helen Graham, who used to head up the kitchen at The Palomar, another one of London's greats and similarly focused on Middle Eastern cooking. Flavours here are punchy without overwhelming and, together with the frankly lovely space, they make the restaurant worthy of its name – 'bubala' means 'darling' in Yiddish. Something else worth noting – although we didn't want to make a big deal out of it – but everything here is vegetarian.
bubala.co.uk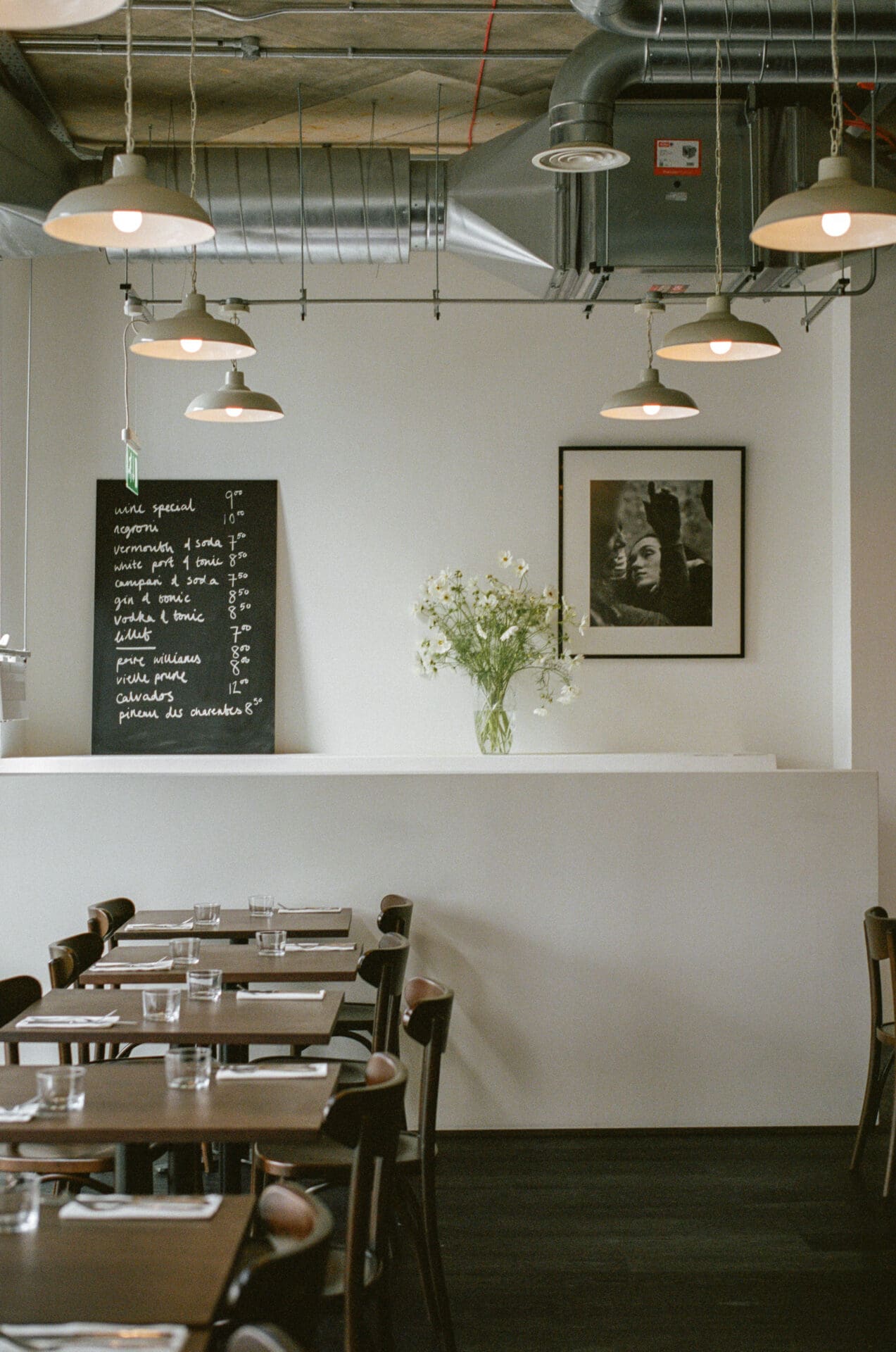 Café Cecilia, Hackney
What: Simple, seasonal cooking from an all-star line up
Where: Canal Place, 32 Andrews Road, Hackney, London E8 4RL
Price: Starters from £7
Café Cecilia in Hackney comes out of the starting gate strong before you even get to the food: the chef-owner is Max Rocha (he's done stints at St. John, Spring, River Café, among others), and the design has input from his equally successful family: his sister is fashion doyenne Simone Rocha (she designed the staff uniforms), while his father is Irish interior designer John Rocha. That's a whole lot of creativity floating around, and the result is a pared-back space by the canal delicately serving up plates of seasonal food that nod to the chef's Irish background. Guinness pumpkin bread is waiting to be slathered with creamy butter; pork, apricot and pistachio terrine is roughly hewn but all the more perfect for it; pillow-shaped ricotta agnolotti with sage butter is far more than a sum of its parts. It is one of the most popular restaurants in Hackney, for very good reason, so book in advance.
cafececilia.com
BAO Borough
Best for: Informal dinners with mates (and impromptu karaoke nights)
Location: 13 Stoney Street, London, SE1 9AD
Price: Bao from 5.50 GBP/7 USD
BAO, run by Erchen Chang, Wai Ting and Shing Tat Chung, went from Netil Market stand in East London to one of the most well-known restaurant groups in London. This is in part due to banging baos, naturally – the Taiwanese founders led the charge in turning the pillowy buns into a household name here – but also because of their impeccable sense of style. Each location, whether the Soho original, the new BAO Noodle Shop in Shoreditch, or the Borough Market outpost with its downstairs karaoke room, is beautiful and just plain cool. The vibe is casual and the food is outrageously delicious, and each site has its own different bao fillings, so you'll just have to go to them all. That being said, to make an evening of it, head to Borough, where you can peruse the market stalls and bask in the buzzing market vibe.
baolondon.com
The Barbary, Covent Garden
Best for: Special dates
Location: 16 Neal's Yard, London, WC2H 9DP
Price: Small plates from 4.50 GBP/6 USD
The Barbary is the kind of restaurant that you want to keep going back to – but the rest of London feels the same way, which means there's one hell of a waiting list. It's certainly worth it though: The Barbary in Covent Garden is one of the most sought-after bookings for its fire-cooked moreish and Moorish cuisine and buzzy vibe. Most of the dining takes place at the counter; the lighting is low, and the music is pumping – perhaps not one for parents, but great for a one-on-one dinner (brownie points if you swing it for a date, and even more brownie points if you pair it with a night at the Henrietta Hotel, one of London's most beautiful places to stay). The food is outrageously delicious, especially the plates of black salmon with dukkah and harissa lamb chops. Nip into the new little sibling The Barbary Next Door – yes, it's next door – for a similarly inspired yet more bijou space.
thebarbary.co.uk
St. John, Smithfield
Best for: Proper British cooking
Location: 26 St John Street, Barbican, London, EC1M 4AY
Price: Starters from 10.50 GBP/14 USD
The cooking of St. John's chef-patron Fergus Henderson changed the way we eat in London and beyond – St. John was even planning to open an outpost in LA, currently on hold because of the pandemic. These are big words, but they aren't without substance: Henderson brought our attention to nose-to-tail cooking when we were all blithely, boringly looking the other way, and in doing so, he created a London food legacy that's still in full flow. His alumni – Lee Tiernan of heavy metal mangal Black Axe Mangal, and Doug McMaster of pioneering zero-waste restaurant Silo among them – have gone on to spawn a new wave of restaurants in this city. But back to St. John: there are a number of sites around London, but the Smithfield original is the best example, with an old-school dining room – white tablecloths, informal but informed white-jacketed staff – that compliments equally old-school British cooking. The essential dishes? Bone marrow salad, where you spread the marrow over a hunk of sourdough toast; flavour-packed ox liver; and half a dozen of the infamous madeleines.
stjohnrestaurant.com
Pantechnicon, Belgravia
Best for: an upmarket 'Japandi'-inspired creative space 
Location: 19 Motcomb Street, London SW1X 8LB
Price: starters from 5.50 GBP / 6.50 USD
Pantechnicon is a multi-storey behemoth in Belgravia, which blends restaurants, bars and creative spaces, which draw on Japandi (Scandinavian and Japanese) influences. Start at the top in the rooftop brasserie, which serves an all-day menu with a Nordic flex. Light floods the plant-filled dining room, while the cosy heated terrace has far-reaching views across the neighbourhood's stucco-fronted Georgian buildings. Come evening, head down below to the atmospheric Sachi restaurant – all natural wood and exposed brick, with an extensive menu of high-end Japanese fare. Watch chefs theatrically chop and prepare sashimi, nigiri and maki rolls at the sushi counter, while a dedicated sake sommelier tempts you with one of London's best saki selections. Pantechnicon is also home to one of London's best coffee shops.
pantechnicon.com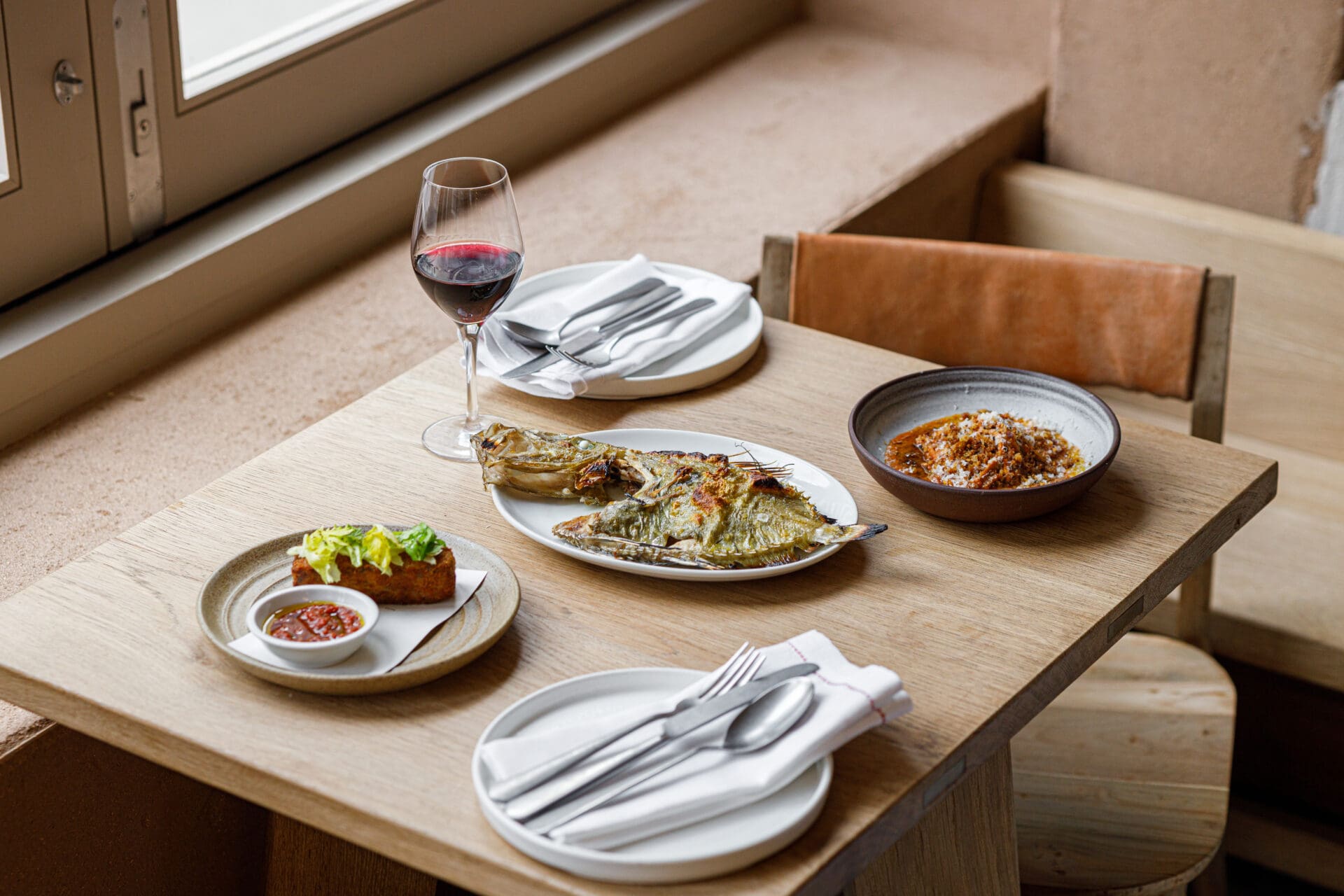 Manteca, Shoreditch
Best for: Large appetites and carnivores
Location: 49-51 Curtain Road, London, EC2A 3PT
Price: Starters from 6.50 GBP / 8.50 USD
Pasta has been having a moment in London for a while now (and you can't mention cacio e pepe without talking about Padella), but to swerve the queues and to get something just as good (in our humble opinion), go for dinner at Manteca. It's a collaboration between David Carter (of iconic London barbecue restaurant Smokestak – also worth a visit) and Chris Leach, formerly of the Michelin-starred Petersham Nurseries Café down in Richmond. This manifests in an Italian-inspired menu with nose-to-tail dishes like pig's ear ragout and crispy pig skin; crab cacio e pepe, and a seriously impressive wine list. There's a clutch of great bars nearby, but if you want to start with a palate-opening amaro and stick with the Italian theme, head to Bar Swift for a quick sharpener.
mantecarestaurant.co.uk
Sessions Arts Club, Clerkenwell
Best for: Those who want a table at the hottest ticket in town
Location: Old Sessions House, 24 Clerkenwell Green, London, EC1R 0NA
Price: Starters from 9 GBP / 12 USD
Probably one of London's most talked-about restaurants right now, Sessions Arts Club is a space that offers both style and substance. Taking over a former courtroom, it sits tucked away up a side street, behind a red door, in a cavernous space that's been beautifully restored, with purposely untouched sections of unplastered walls, a sweeping staircase, and hulking old service lifts. The space doubles up as an art gallery, and the food comes from Florence Knight, whose talents truly shine in this endeavour. Plum bellinis, clams steamed in riesling, and crab croquettes are just some of the dainty delicacies to expect here (as are fairly steep prices). The restaurant has also just unveiled a new rooftop restaurant, with views over the London skyline.
sessionsartsclub.com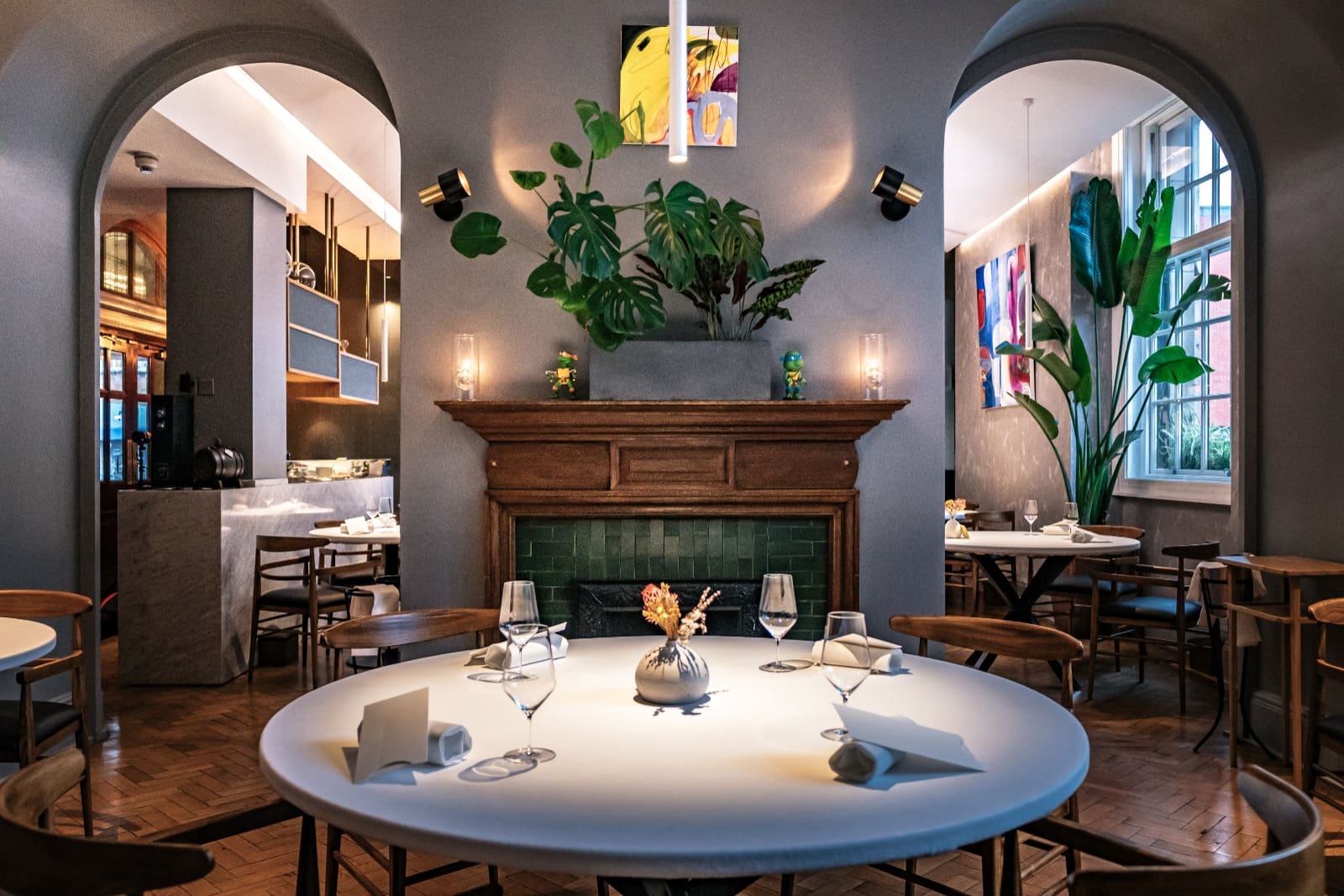 Da Terra, Bethnal Green
Best for: A seriously special evening
Location: 8 Patriot Square, London, E2 9NF
Price: Short menu from 150 GBP / 197 USD
London is home to a slew of Michelin stars, so if that's your bag, you're in good company. Even within that category, Da Terra, a gorgeous space in Bethnal Green's Town Hall Hotel (another one of London's loveliest places to stay), seems to sit a bit under the radar – and here's exactly why it shouldn't: Brazilian-Italian cuisine that's been recognised with two stars, served with a warm yet elegant approach. Lunch is a short tasting menu, while the full dinner is nine or ten courses long – it sounds like a lot, but you won't have any problems getting through it all thanks to the talents of chef Rafael Cagali, who uses British ingredients to create dishes like a show-stopping delicate ravioli, plump with duck, served in a whey sauce, and topped by a tiny but lip-smackingly gorgeous sliver of duck bacon. Before or after, head for a drink at Coupette (on the World's 50 Best Bar List) and you'll be in for a stellar evening.
daterra.co.uk
The Camberwell Arms
Best for: Refined pub grub
Location: 65 Camberwell Church Street, London, SE5 8TR
Price: Starters from 8 GBP / 11 USD
Pubs aren't just places for a pint: London is home to a slew of brilliant boozers that put just as much thought into their cooking as their selection of beers. There are heaps to choose from – but we've included The Camberwell Arms in, er, Camberwell, because it requires an adventure to the depths of leafy South London, and because it serves dishes like scotch bonnet pork fat on toast, and lemon sole with puntarelle and anchovy butter. And before you start to worry about what else to do in the area, it even has a bar upstairs for cocktails, wine and snacks that stays open till late – making this a one-stop eating and drinking shop.
thecamberwellarms.co.uk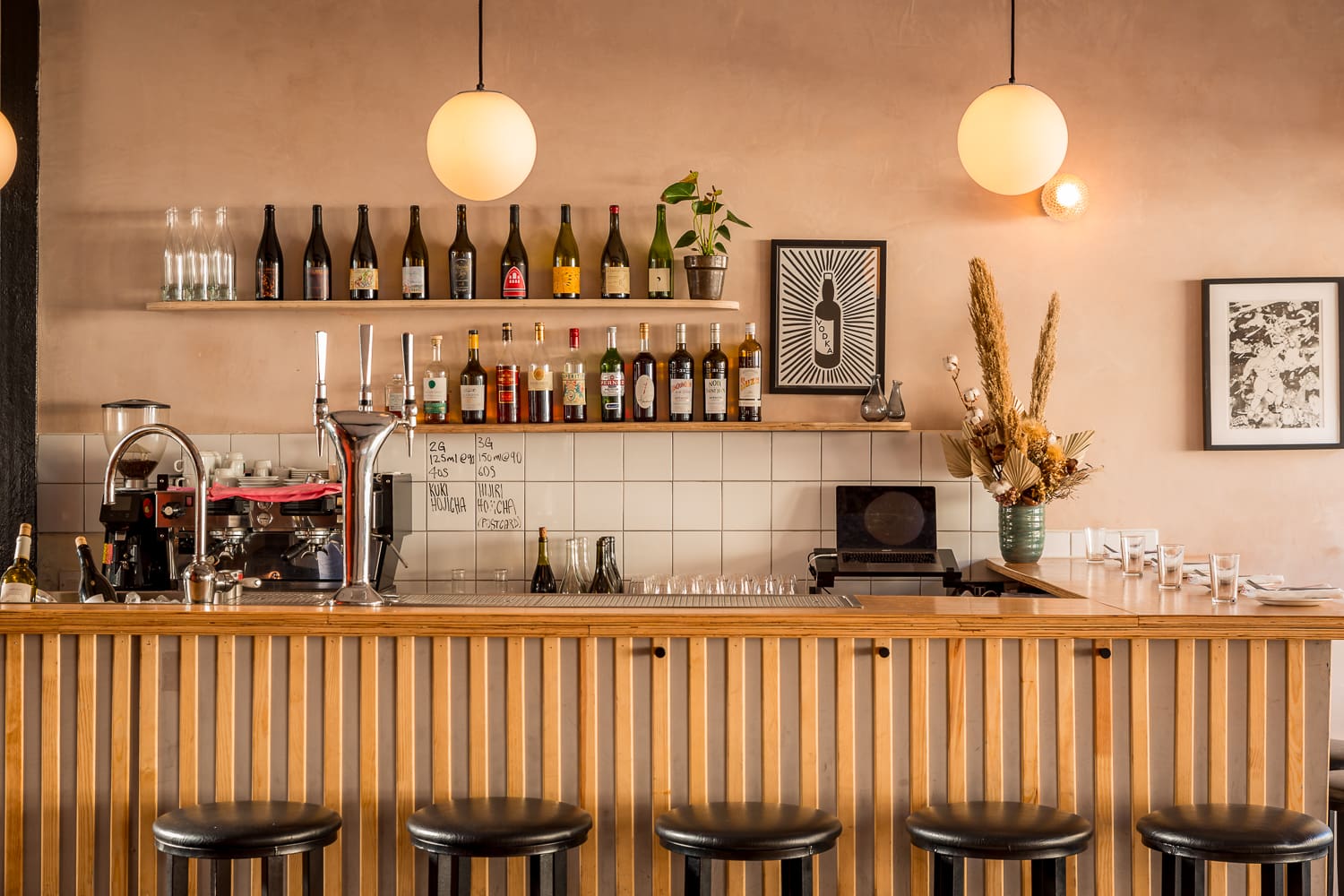 Top Cuvée, Highbury
Best for: Catch up dinner and natural wines with your best friend 
Location: 177B Blackstock Road, London, N5 2LL
Price: Tasting menu around 50 GBP / 65 USD
A visit to Top Cuvée will take you out of the main haunts of Shoreditch and Soho, and into one of London's lesser-known neighbourhoods: Highbury, just north of Angel. The main thoroughfare, Highbury Park (which transitions into Blackstock Road as it heads north) can, at points, feel a bit shabby, but it's undergoing a restaurant renaissance. Top Cuvée, a natural wine bar and seasonal small plates restaurant, is as cool as they come, and became a known name during the Covid-19 lockdowns thanks to some guerilla-style social media marketing and their wine delivery service. Head to the restaurant now, and you'll be treated to an evening (or lunch) of seasonal small plates (including a terrific terrine), and 'natty' wines (natural, organic and biodynamic). If you want to take some home with you, pop to their bottle shop Shop Cuvée around the corner. If you've come for lunch, Clissold Park is one of the loveliest spaces in London for a stroll, and the coffee shops and boutiques of bougie neighbourhood Stoke Newington lie just on the other side.
topcuvee.com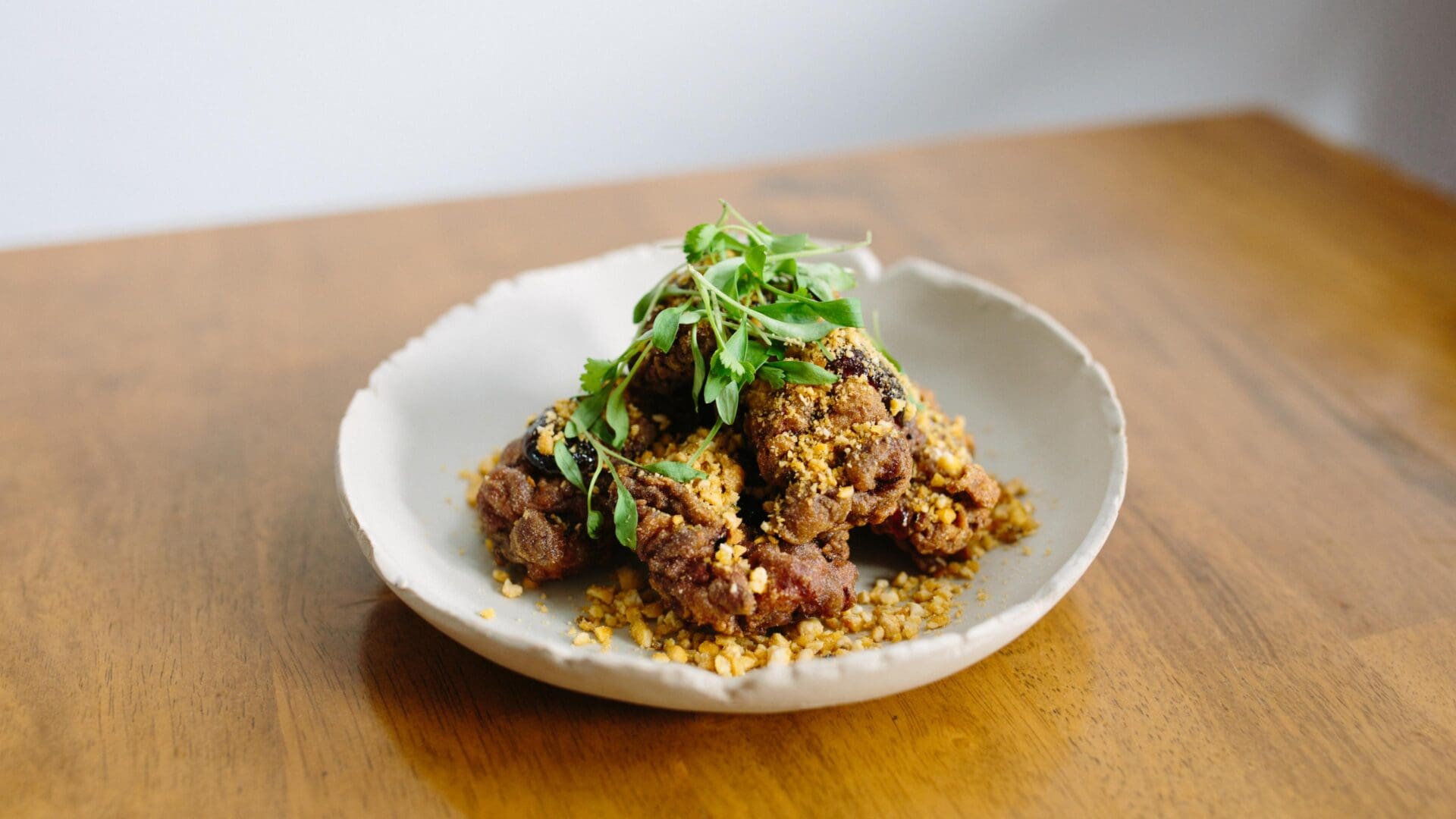 1251, Islington
Best for: Affordability and utterly delicious food
Location: 107 Upper Street, London, N1 1QN
Price: Five-course tasting menu from 40 GBP / 52 USD
Tasting menu, shmasting menu: long considered the peak dining experience, they can sometimes leave you a bit cold with their pomp and circumstance. Not so at Islington's 1251, where chef James Cochran leverages his Haitian and Scottish heritage to create an affordable, delicious and accessible menu. Dishes switch up regularly, but the fried chicken with scotch bonnet jam is one that put Cochran on the map – so much so that people regularly order it a second time instead of having dessert (although you absolutely should eat the chocolate tart too). For atmosphere, flavour and price, a meal at 1251 can't be beaten, and you're not far from Angel's excellent clutch of pubs, either (Earl of Essex, we're looking at you).
1251.co.uk
If that's left you craving more of our insider insights into the best of London, you can find out more about the capital's best museums and galleries, or the local artists beating the drum for London's music scene.