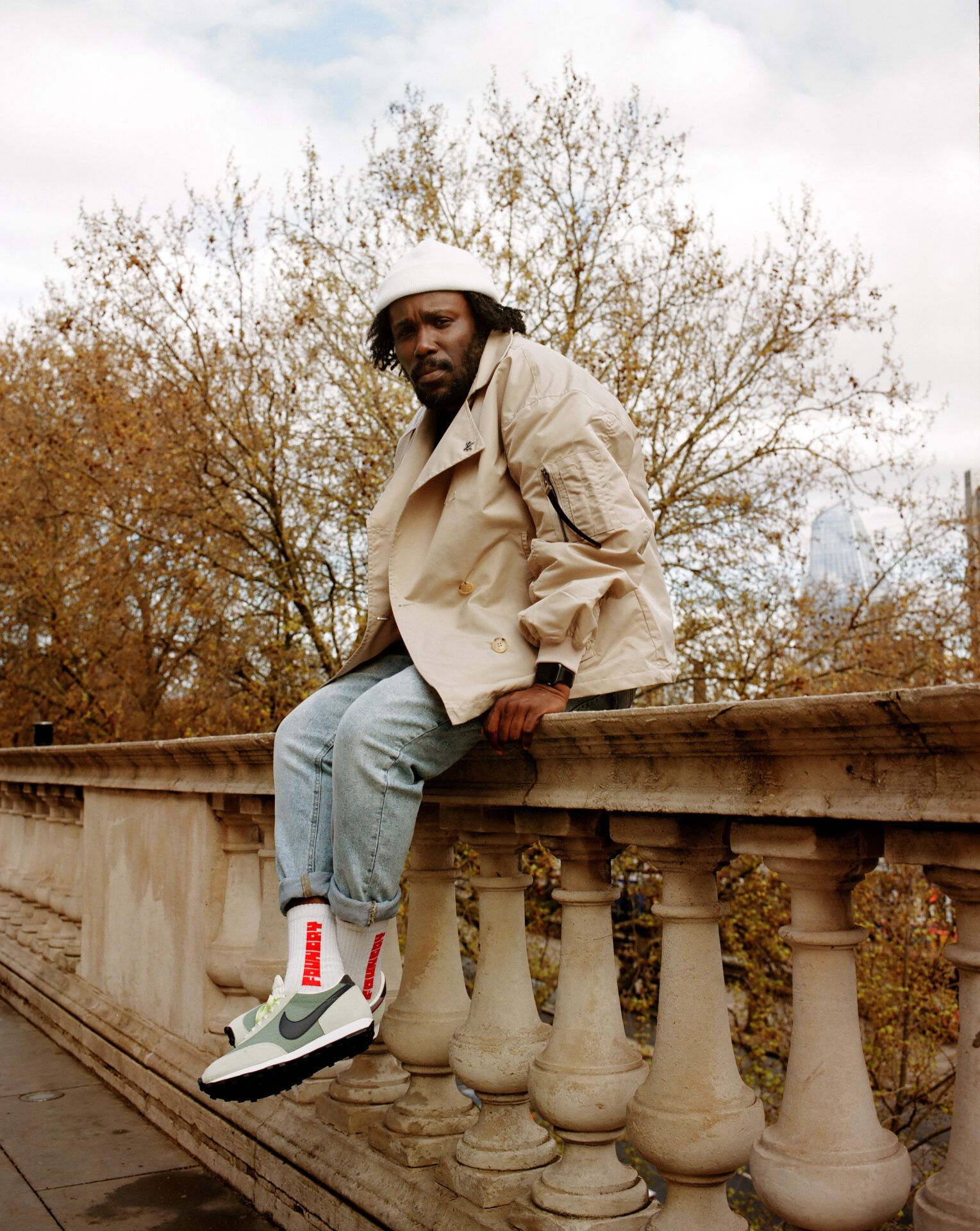 "Travel has helped me think globally, but act locally": an interview with chef Akwasi Brenya-Mensa
Last updated: March 16, 2023
The chef behind supper club and soon-to-be London restaurant Tatale on his mission to raise the profile of African cooking around the world
Whether it's a dish you ate regularly as a child – in Ghanaian-British chef Akwasi Brenya-Mensa's case, burgers for breakfast – or a meal you experienced for the first time while a long, long away from home, food's ability to connect is remarkable. Not only is it a vehicle for linking us to our own cultures, but it's an entry point into communities that are new to us, too.
Food pathways are something that Brenya-Mensa, the man behind supper club and soon-to-be London restaurant Tatale (pronounced "Tattalay"), observed over an adult life spent travelling, first as an artist rep in the music industry, and more recently when he took his dining concept on tour to Puerto Rico, Lisbon, Amsterdam and beyond.
By showcasing the food of Ghana and West Africa – and with the ambition to create a platform that will celebrate and share the food of the wider African community – Brenya-Mensa aims to increase the profile of the cuisine of the African diaspora around the world. It's not a small ambition, but one the chef, who grew up in South London, approaches with fun and creativity.
Ahead of a supper club in Berlin, Brenya-Mena shares how travel has made a significant impact on his life and his work.
When did your interest in food begin?
I'm a second-generation immigrant and the eldest of four boys, and I grew up in South London. If I'd had a sister, I might not be having this conversation with you right now. But I didn't, so I was my mum's sous chef. There was a point where my parents had several jobs, so I was the designated babysitter. From as early as I can remember, I was in the kitchen, peeling and chopping things as soon as my mum would let me hold a knife, and that's where my initial interest in food began. I was fascinated by cooking: it's almost science, because you start with ingredients you bought from the supermarket, they go through this process and then you have a meal on the other side of it.
This increased when I went to university, in Sheffield. Uni was expensive and one of the ways to make it less so was to cook your own meals, and I enjoyed it. I'd man the barbecue, or if we were having a dinner party I'd be in the kitchen. We used to have house dinner parties – probably to impress groups of girls. That did actually work a few times!
What was the turning point that made you think about doing it professionally?
I'd always loved burgers, because my dad used to cook them for breakfast. He's not much of a cook so he would do what was convenient: in the morning, it was either scrambled eggs and beans; burgers; or frankfurters. When the burger wave started happening in London with Honest Burger in Brixton and MeatLiquor, when it was just a van in a car park, I would come down to London specially for these things. Previously I'd have described myself as a champion of the BirdsEye burger, but now burgers were… sexy?!
I found that super interesting, but none of that was happening back in Sheffield, where I stayed after uni and set up several businesses in events and music – I set up an events company that expanded from being in Sheffield to nine cities around the UK. And then came food, and the burgers. And so we started a small pop-up doing farmers markets or small events.
How did it grow into Tatale?
I'm quite happy with being shit at things. A lot of people don't do something because they're afraid of being shit, but I view it as part of the process. The first pop-up that we did was probably horrendous. But that's what I had to do in order to learn how to make things slicker and smoother. We did it again and again, and eventually we started doing our own small events, and then we were able to do a street-food market in Sheffield, and within a couple of years we were doing large events, including things in London.
I opened a burger restaurant in Sheffield, which I ran for two years. Then I got an opportunity to work in music in London – based there, but the job was worldwide. I moved to London and operated the restaurant remotely, but with the amount of travelling I needed to do for the job, it rapidly became clear to me that I wasn't going to be able to maintain the restaurant. I sold the restaurant and focused on my job as an artist manager, and over the next two years I must've gone to around 30 new countries, so travel has been a big part of what I do for a while, whether that's in music, or now food.
How has that travel shaped you?
Travel has allowed me to develop an approach of thinking locally, but acting globally. My original supper club, Mensa, Plates & Friends, had a different concept originally, with menu items from the places that I visited. I wanted to give people a chance to engage with these other cultures or communities or foods that I was coming across.
Now, with Tatale, while I'm trying to address a corner of the market in London, the representation that I'm trying to give isn't London-centric. African foods or foods of the African continent, are underrepresented everywhere. Taking Tatale on tour means I can give people a taste of the food of the African diaspora.
There have been a lot of people that have said, "I don't know anything about this, I haven't had this before. But I'm going to try it." My hope is that my restaurant will serve as a gateway to foods and ingredients from Africa, which will then in turn hopefully mean that, away from my restaurant, people in their local areas will try the local African restaurant or the local Caribbean takeaway, because they have more of an understanding of the food. I want it to have a knock-on effect.
How has travel impacted the way you approach food?
It's made me see things without borders, but also what the links and connections between things are.
It really hit me in 2014 when I went to Brazil for the World Cup. I was walking through a food market, and I could smell red palm oil. It didn't make sense to my brain. It's not a smell I've ever experienced outside of the West African community, and I was smelling it in a place very far away.
I followed the smell and it was coming from a stall run by a lady from Salvador. She told me that Brazil has the second-largest Black population outside of Africa. Salvador in particular, has a very, very large Afro-Brazilian community. The people there have tried to keep a very true idea of their heritage and have fervently guarded their traditions. Their food has remained very close to how food is back home in West Africa, while also taking on other influences.
The dish that she was making was moqueca, a fish stew made with coconut milk – and red palm oil. It's such a great example of how food travels, food pathways and how people's lineage and identity is wrapped up in a plate. That's one of the reasons why I think food is so important, because it fills in a lot of gaps in history that we don't have answers to.
It's so interesting when you find versions of dishes that are connected. It's interesting to me to see the genesis of a recipe, or a dish in its original form where you know where it's from, but then the version in front of you has been created by necessity thanks to the circumstances and the ingredients available.
How does that feed into what you're doing at Tatale? 
My goal is for Tatale to be a Pan-African concept that aligns with black people, wherever they are in the world. Tatale is the name of a plantain dish that will resonate with children of the diaspora. At the beginning, at least, the restaurant will be more West-African leaning, because that's what I know. My goal over the next three years at the Africa Centre is to explore different parts of Africa, to learn different ways of cooking, to learn different techniques, and bring those back to the restaurant and incorporate those into what we're doing.
At the same time, in the same way that I came up through supper clubs, I want to invite other people to come and do supper clubs, with an emphasis on people from other parts of Africa, or the Caribbean, so the concept can embody a Pan-African offering. It'd be great to see East, South and North African chefs and people come and represent their cooking in the space. They'd learn from us, and we'd learn from them.
Will music play into the creative concept?
Music was my first creative foray. I started DJing when I was 15 years old, after I got a job in Woolworths and saved up for decks. Music has been central to what we do all the way along, whether it's having a specifically curated playlist, which we usually have at the supper clubs. At my last event I had three DJs and a live performance. They go hand in hand, and it's all about creating that unique atmosphere. Long term, what I'd like to create is unique experiences around food, live performance music, art and exhibitions and immersive installations.
What does your mum think of your cooking?
I'm still not allowed to touch anything Christmas apart from the Brussels sprouts. Not even rice. Even when my mom was away, she did the Christmas dinner by FaceTime. I'm allowed to do breakfast on Christmas Eve and I'm allowed to contribute to something on Boxing Day.
Which country most inspires you?
Ghana, because that's where my heritage is. And that's where the cultural references that have allowed me to create this concept are. And it's also where the idea of the concept came to me when I went to Ghana in 2019. I'm Ghanaian first before anything, but I was raised in this country. I am Ghanaian-British as opposed to British-Ghanaian. That's a very purposeful choice for me.
Twi, a Ghanaian, is the first language that I spoke. We weren't actually allowed to speak English in the house when we were growing up, because my parents wanted their children to be able to speak their language. And that was very important to them. And I'm very glad they did.
Where would you most like to go back to?
Atlanta. Atlanta is a Black city. I've not seen that outside of Africa before. When you go back home [to Ghana], you have this added benefit of feeling like a person. And what I mean by that is, I'm a person in the UK. In my house, when I wake up, I'm a person; when I brush my teeth, I'm a person; when I shower, I'm a person; breakfast, person; check Instagram, person. But the moment I leave my front door, I'm a Black person.
Even though there's a lot of Black people in America, Atlanta is the place that has the most similar feeling to when you go back home, wherever back home might be for you. This is specific to all children of the diaspora, when you go back home, and you are in a place where everybody looks like you and you just become a person. That's a very magical feeling.
Which journey has impacted you the most?
The journey that had a profound impact on me was when I went to Ghana in 1995. I was there for Christmas and I made friends with a turkey in the backyard. And on Boxing Day that turkey wasn't there anymore, and I didn't understand why. When I asked the adults, the room went quiet. And I vowed to never go back to Ghana for Christmas again, and I haven't been back for Christmas since.
What does the future of travel look like to you?
Right now, I'm very happy about the demise of the passenger locator form. But more seriously, the future of travel is interesting, especially in the UK because we're in a post-Brexit world. For me, the sentiment towards immigrants in this country, especially over the last couple of years, has made me think about things more. Throw in the cost of living, gas and petrol in the UK, and it makes perfect sense that people are going to look much more seriously at where they set themselves up for the rest of their lives. So many people thought they'd leave temporarily, but now… They're not coming back.
Photography by Michael Harrison Rudd. Tatale opens at the Africa Centre in London in June. tataleandco.com


JOIN US FOR THE JOURNEY
Subscribe to the newsletter
City guides, culture, photography and ideas, with expert analysis on the biggest stories in travel