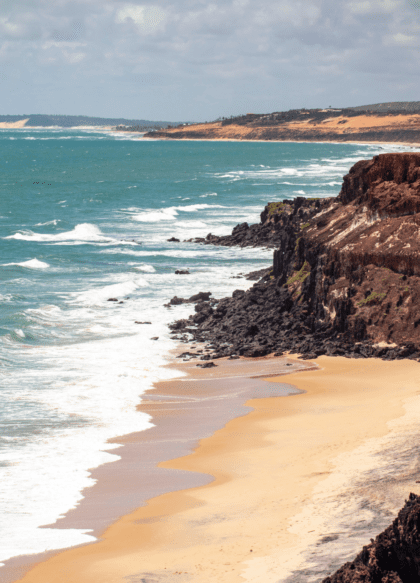 A new 'digital nomad village' is coming to Pipa beach, Brazil
Last updated: May 3, 2023
New platform NomadX matches remote workers with co-living spaces and affordable houses on the ground, creating digital nomad communities and stimulating local economies
Imagine waking up on a Monday morning and getting ready to go to work: instead of an umbrella you pack a sun hat; instead of a suit, you don your best board shorts. Your gym is a stretch of golden sand against a cliff backdrop; instead of competing for space with fellow cyclists, dolphins flash past you in crystalline blue waters.
For many of us, this idyllic vignette is our dream: the ability to work remotely from a beach location. And in Pipa, Brazil, a pilot scheme for a 'digital nomad village' is set on helping those of us lucky enough to be able to work remotely to do just that. The project is the first of its kind in South America, led by NomadX  – a platform that connects digital nomads with co-living spaces and affordable housing, thus helping to foster communities for remote workers. The company was co-founded by David Nicol Williams, an American tech entrepreneur who now lives in Portugal.
Rather than building anything new, NomadX puts local businesses in front of its community of digital nomads, filling guesthouses and Airbnbs that were languishing after the pandemic-induced tourism slump. It's not about getting external private companies to swoop in and profit off a destination's popularity, but working to put existing destinations on the map and preparing them for the influx of remote workers, tightening up infrastructure like accommodation and WiFi.
NomadX's trial run starts in November 2022 and will end in April 2023, during which time it hopes to stimulate economic activity in Brazil's Rio Grande do Norte region, famed for its beautiful beaches and laidback vibe. If the trial is deemed successful, NomadX will continue in partnership with the local municipality and state tourism board.
The Pipa project comes off the back of the first NomadX project in the town of Ponta do Sol in Madeira, which was struggling with a similar lull in tourism.
The publicly and privately funded initiative was a partnership between the Regional Government of Madeira, StartUp Madeira, and Goncalo Hall – a digital nomad from Lisbon. It generated 30 million USD a year for the local economy, and had 6,000 sign ups – but Hall believes the potential could be far greater.
It's unsurprising that this kind of cash injection appeals to many countries, including Brazil. It's predicted that the latest NomadX outpost will generate 36 million USD a year for the economy in Pipa, once a sleepy village that has since become a trendy holiday hotspot. It is 90 minutes from Natal International airport and is well connected with a good bus network.
More than a year on, the original Madeira community is going from strength to strength: there's early morning yoga, a co-working space in a repurposed municipal building, a Nomad Coffee Club, and a dog walking set up where nomads-in-residence can take a pooch from the local dog shelter out for a walk. Feedback has been positive, and there are more villages in the pipeline for other Portugal areas that might benefit.
As the tourism industry navigates shifting perspectives and tries to carve out a more equal, sustainable path, projects like these will become invaluable – dog walks on the beach and all.


JOIN US FOR THE JOURNEY
Subscribe to the newsletter
City guides, culture, photography and ideas, with expert analysis on the biggest stories in travel