Inside artist Rana Begum's colourful, light-dappled world
Last updated: August 1, 2023
British-Bangladeshi artist Rana Begum discusses what drives her multifaceted practice, and how travel has shaped her work and life
Artist Rana Begum lives and works in a rather spectacular setting. Her home and studio complex, which was completed in 2020, sits against the Victorian brick wall of Abney Park Cemetery in Stoke Newington, North London. Her studio occupies the ground and basement floors, accessed via a courtyard where fern trees dapple the light. Above is the family's home, where an open plan living room opens onto a wall of glass, cantilevered over the cemetery wall to make it feel as if you are floating above the canopy of trees. Opposite the everchanging view from the window, a work of folded coloured steel hangs on the wall, its neon underside illuminating the white wall in vivid yellow.
In Begum's studio, a piece in metal mesh hangs from the ceiling below a skylight. The mesh is manipulated into overlapping clouds of translucent colour, and appears completely weightless, as if it were tissue paper. The web of interlocking material seems to move as the intensity of the sunlight changes overhead. Another work in powder-coated aluminium is mounted to the wall. What seem to be perfectly white rectangular bars emit yellow and pink light from their sides, their hidden coating only visible as reflections.
Begum's practice is broad, encompassing metal, wood, glass, mirror, and textiles. Her work is united by a clear geometric language, bold use of colour, and a sensitivity to natural light; vivid works fluctuate as they move and illuminate with the sun.
As we talk in the office part of the studio, assistants, her children, and an electrician all come and go, with Begum effortlessly keeping tabs on our conversation as daily life continues around her. We discuss her recent exhibitions, what drives her practice, and what role travel plays in her life and work.
Begum's touring solo show Dappled Light
Your Dappled Light show at Pitzhanger Manor in London has just come to an end. How did it all go?
It's been brilliant. I love how the architect and original owner of the manor, Sir John Soane, brought light into the space. That's very much the focus as you walk through – the light seems to move around with you. I really liked having my reflective pieces on display in the conservatory. Soane placed mirrors throughout his home, and there's a lot of coloured stained glass at the manor. It felt like a fitting connection to my work, which deals a lot with colour and the changeability of light.
Dappled Light is a touring show: it started at Mead Gallery at Warwick Arts Centre in Coventry, and it moves to Plymouth next. I like how each move gives the show a new burst of energy. It looks completely different in each space. There is potential for the show to tour abroad, and if it does, I would be really interested to see how that would affect it. I've found that, over the years, I've become more sensitive to the different qualities of light in different countries.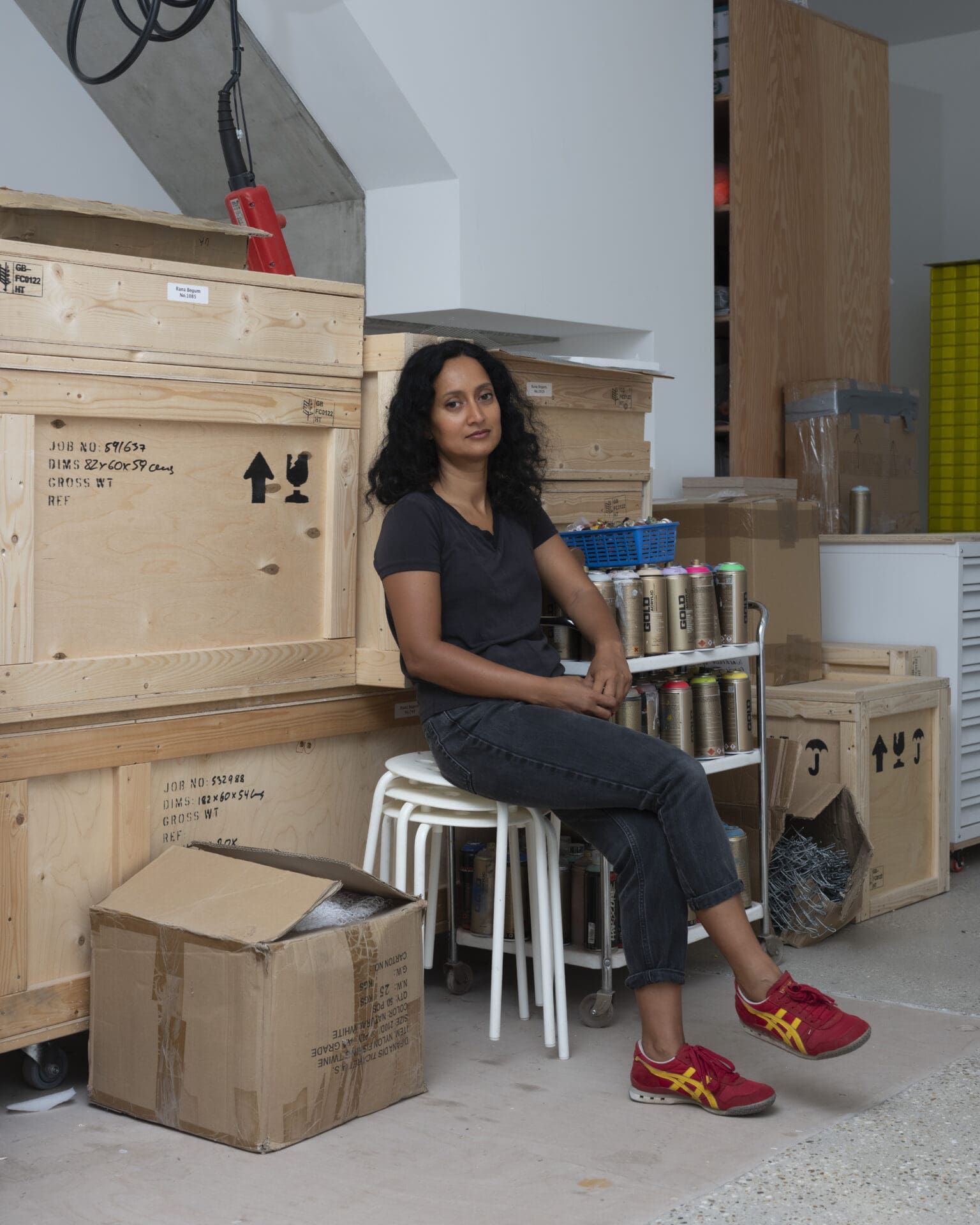 Designing Begum's London home
The quality of light was also a big consideration in the design of your home and studio.
Yes. The architect Peter Culley and I thought we'd never actually get it built. The plot is a former workshop and is completely landlocked – there were 13 different party wall agreements involved, so it was a bit of a shock when it all went through planning.
Peter's main brief was quite simple: there had to be a lot of light in the space, particularly the studio. He came to observe how we worked in our previous space, and he saw how we'd take pieces outside to look at them in the daylight.
In the flat above the studio, it feels like we are in a treehouse. Peter had to really think about balancing the light, because in summer, the trees reflect this intense green into the home, so he dotted skylights around the flat to neutralise it. It's lovely to see the light changing throughout the day. I love waking up early in the morning and seeing the sunrise coming through the trees. I definitely feel calmer living here.
You have recently become a Royal Academician, how does that feel?
(Laughs) Yes, it's quite weird! I became a Royal Academician just before the pandemic, so there was no celebration, it was quite strange. But this year I got to coordinate the Summer Exhibition with the sculptor Alison Wilding, which was really fun. Our theme for the show was 'climate', and we wanted to combine art and architecture together, which apparently was the first time this has happened in the Royal Academy. We showed lots of paintings and sculpture alongside pieces of architecture that were developed in response to environmental challenges. For example, we had a Khudi Bari – a modular mobile house designed by Marina Tabassum to provide shelter to victims of flooding in Bangladesh – assembled inside the gallery, as well as a structure built by Boonserm Premthada using elephant dung. It was interesting to appreciate these pieces of architecture in that context – they became sculptural.
Begum's travel experiences
How does travel shape your life and work?
Part of me is quite glad that travel has slowed down because of the pandemic. I find that any travel you do now, you are very conscious of the impact it has on the environment, and you have to justify it to yourself. And because you have to justify it, it really makes you appreciate the journeys you do make. You really taste the heat, the atmosphere, the sun – you soak it in.
We have definitely cut back as a studio. We're about to go to Houston to install a show, and we've planned everything to ensure we make the least amount of impact possible. We are fabricating the work out there, and are looking at other opportunities to show the work once that exhibition has finished, as well as combining the trip with talks and other events to maximise our journey.
Another important part of travel for me is inspiration. I recently travelled around Rajasthan for the first time. I've been really inspired by that culture growing up, watching Bollywood films, and listening to the music. I wanted to use the visit as a chance to reconnect with my work. I've started doing a lot of watercolours when I travel, and it's a nice way of remembering things, to think about what direction my work is going in. At the studio, I tend to get bogged down with day-to-day production. I've realised it's really helpful to take physical time away from the studio, to allow yourself time and space to think.
What has been a particularly impactful journey for you?
Bangkok was a really important trip for me – it opened my eyes in many ways. I can still remember some specific sensory moments I had there. I did an artist residency in Bangkok in 2006 for six weeks – it was one of the best residencies I've done. The studio was on a weird street near an egg-shaped building that was used for clubbing. It was really popular in the 80s. I did the residency through Slade, where I studied, and British Council, which gave the grant. The residency forced me to work and connect. I find it's much better working and doing something rather than travelling through, otherwise you don't really connect with the place.
I loved the pace of everything. We are so used to everything being immediate in London, but in Bangkok it's like, 'yeah, it's gonna get done, of course, it'll get done.' And two days later it's still not there (laughs). It forces you to really slow down, even in an intense city like Bangkok.
But I've found that actually nowhere moves like London. No city produces or moves at the same speed as London.
That's interesting what you said about sensory memories. I was reading a previous interview of yours, talking about your childhood memory of reading the Quran in a mosque, with the sound of trickling water and prayer combining in one sensory experience.
Yes, it's funny how some moments really stuck with me. Growing up in Bangladesh, I was surrounded by rice fields. They are a very intense green, which is reflected all the more so by all the surrounding water.
Over the years since university, I've been doing cognitive analytical therapy, which involved delving into my childhood. I had a lot of solitary moments and for years I couldn't understand why. And when I was talking with the therapist, it just made so much sense. I felt a massive connection with my work, and why I was constantly striving to have these subtle changes. I struggled with flat art work while I was studying and I think I needed the work to embody change, and that's when it clicked – light is a big part of that change, and connecting to those vivid experiences I remember from childhood made me realise that.
Is there a journey you'd love to go on?
There's so many places I haven't been to. My partner and I would love to go to Brazil to see the amazing Oscar Niemeyer architecture there. He designed the entire capital, Brasilia – it's laid out like a spaceship.
What other projects do you have coming up?
We've got quite a few projects in the US: a show at Moody Gallery in Houston, Texas, and one at Boston Fine Art Museum. We will also be involved in Dhaka Art Summit in 2023. That's all we can announce at the moment!
Photography by Kalpesh Lathigra


JOIN US FOR THE JOURNEY
Subscribe to the newsletter
City guides, culture, photography and ideas, with expert analysis on the biggest stories in travel