The best coffee shops in Los Angeles
Iced coffee; coffee cocktails; pour overs; grapefruit tootsies: Los Angeles' coffee shops go above and beyond when it comes to caffeine creativity. Here's a some of the city's best spots for that energy hit
Last updated: March 8, 2023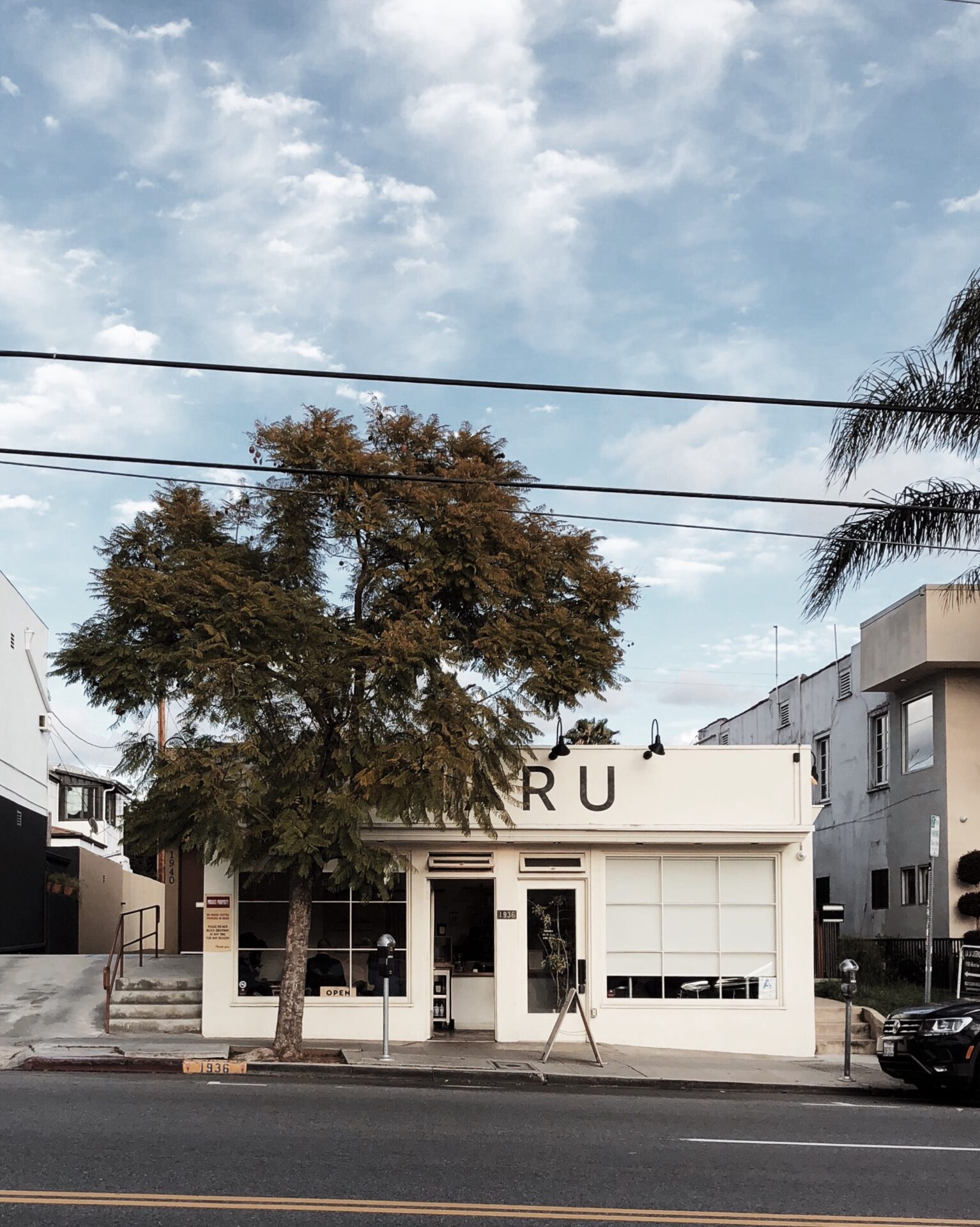 Los Angeles' coffee shops feel almost infinite in number, with choices ranging from hotspots for true coffee nerds to cool cafés suitable for all-day caffeine-fuelled co-working. Along with LA's tantalising array of restaurants and slew of incredible bars, the City of Angels has managed to wrangle to coffee crown away from Seattle, the birthplace of Starbucks and the US's original caffeine capital. As Andres Piñeros, founder of The Boy and the Bear coffee shop, says: "Right now the coffee culture in Los Angeles is super diverse: there are Hispanics, Central Americans, South Americans, Asians, all really into coffee. Each culture has a different way of seeing and tasting things. It makes each coffee roasting company in Los Angeles that little bit more interesting."
We've tracked down the best coffee shops in each neighbourhood to give you a jumping-off point for exploring this energetic scene.
Maru
Best for: Your morning coffee before a hike
Location: 1936 Hillhurst Avenue, Los Angeles
Prices: From 5.50 USD for an iced latte
Maru takes its moniker from a native Korean language, San Ma Ru, which means 'mountaintop'. The roastery and coffee shop has locations in Los Feliz and the Arts District. Locals love its calm, minimalist interiors, soothing music and friendly baristas, who are an unusually affable bunch, even for Los Angeles. It has a distinctly neighbourhood feel, which is why a trip to Maru is a really lovely way to start your day. While it's clear that care goes into every cup of coffee, this is also the kind of place that anyone can go to and find something they like; no one will be judged for ordering a vanilla latte – or not even wanting coffee – at Maru.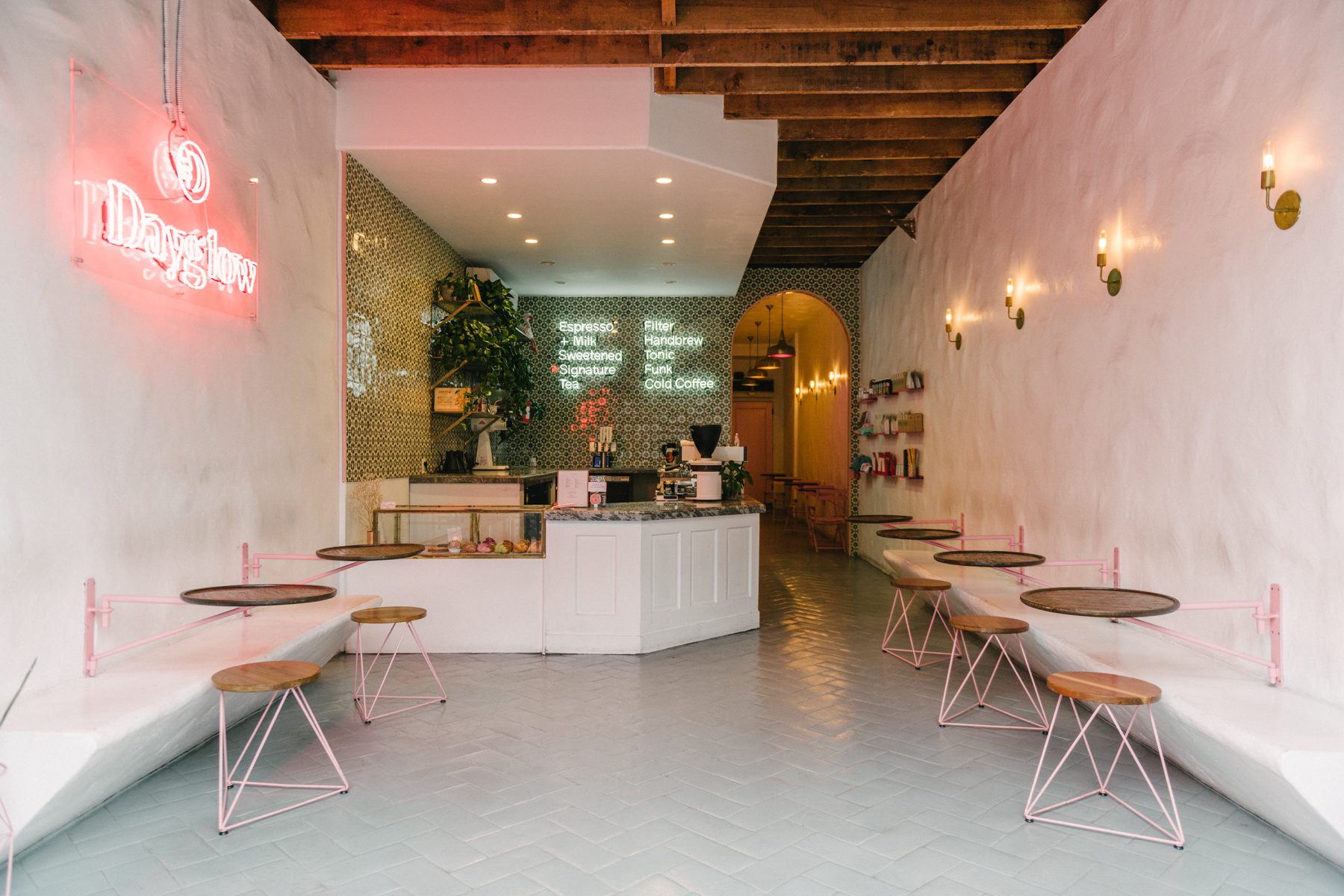 Dayglow Coffee
Best for: Relaxing on a chill Sunday afternoon
Location: 3206 Sunset Boulevard, Los Angeles
Prices: From 8 USD for an original coffee cocktail 
This pastel pink and neon shop on Sunset Boulevard is evocative of an indie romcom, in the best way possible. From the chill music to the adorable décor to the unique coffee cocktail menu, Dayglow delivers a mood that other coffee shops in LA fall short of.  The non-alcoholic coffee cocktails rotate in and out, but the Andy Warhol is a staple of the menu – equal parts espresso and cream with a little cinnamon, citrus, and vanilla to perk it up. Expect similar creative combinations; take one to go and channel your energy into exploring the other storefronts along Sunset.
Photo by John Kingston. dayglow.coffee
Kumquat Coffee Co
Best for: True coffee nerds
Location:  4936 York Boulevard, Los Angeles
Price: From 8 USD for an original coffee cocktail 
Nestled on a busy street in Highland Park, Kumquat Coffee Co is a coffee and tea bar founded by Q-graders (the accreditation for grading coffee) Andres Jinhan Kim and Scott Sohn. Their dedication to serving excellent coffee is obvious in every perfectly brewed cup – a pilgrimage to Kumquat is a must for anyone dedicated to the best of coffee. At the moment there's only a small amount of seating outside, but the trade-off is that the inside is filled with bags of coffee from all over the world. Pick up bags of beans from locales as far-flung as Maryland or Korea on any given day.
kumquatcoffee.com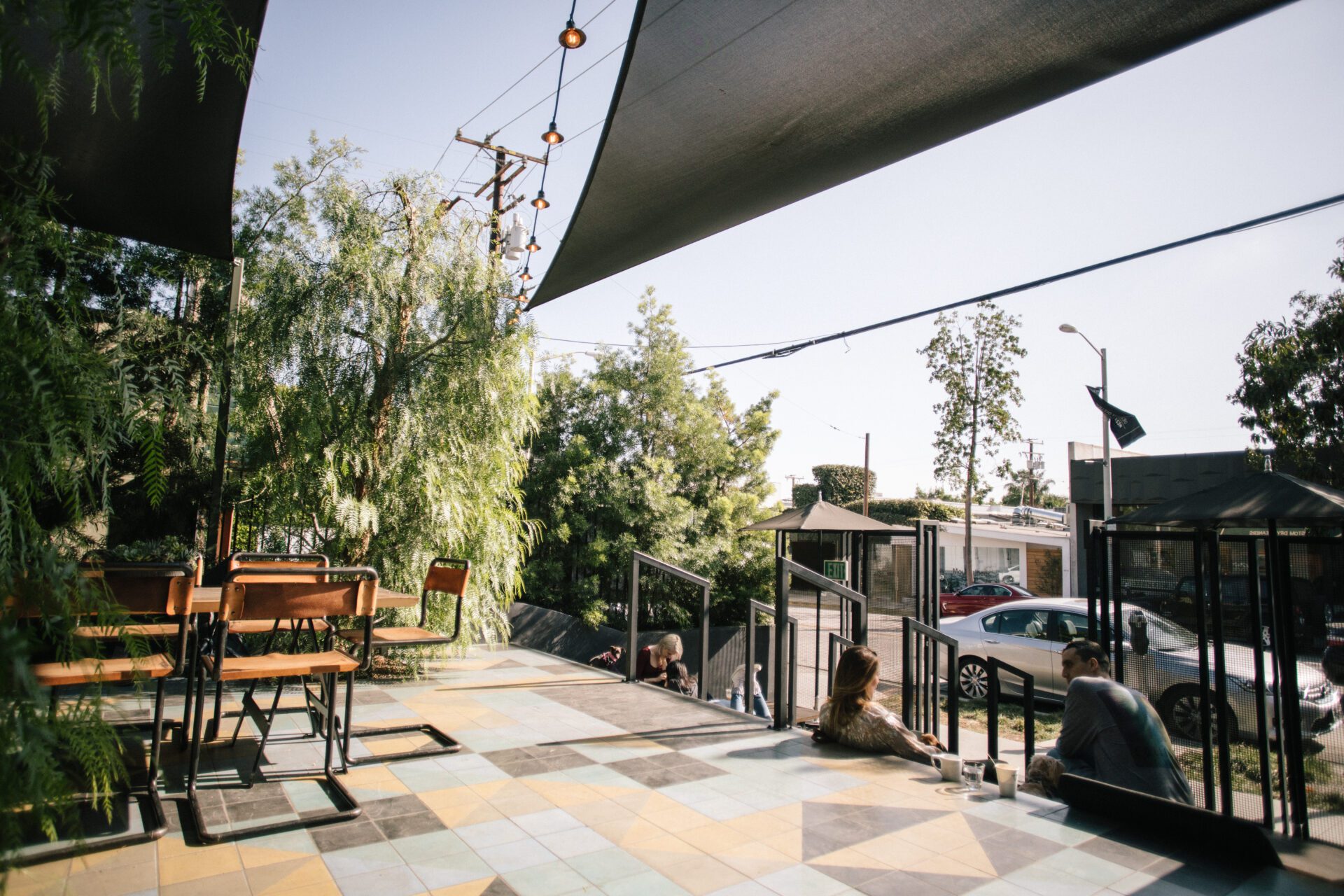 Verve
Best for: First dates with someone from Hinge
Location: 8925 Melrose Avenue, Los Angeles
Price: From 5 USD for a pour-over
Originally from Santa Cruz, California, Verve opened in Los Angeles soon after, planting a flag as one of the early California specialty coffee roasters. Today, five Verve locations dot the city, infusing each neighbourhood with earnest seed-to-cup energy. Each cafe is great, but this West Hollywood location in particular is beautiful, and has a huge shaded porch perfect for lingering over a first date. The coffee program revolves around what it calls the Farmlevel Initiative, transcending boundaries of distance, language, and culture to connect coffee farmers with coffee consumers. What's more Verve pays farmers premiums to produce great coffee with the brand in mind.
vervecoffee.com
Eightfold Coffee
Best for: An important coffee meeting
Location: Suite 313, 555 Mateo Street, Los Angeles
Price: From 3.75 USD for an americano
Freshly opened in the Arts District, the new Eightfold is the perfect place to take a meeting. Seating is more comfortable than an average shop, so you won't be squirming an hour in. Plus, unlike some other more experimental menus, Eightfold focuses on the basics, crafting perfect lattes and black coffee to meet any palate. Though it exclusively serves the famously flavourful Heart Roasters coffee out of Portland, Oregon, Eightfold is otherwise fairly dedicated to LA local businesses. Stop by on a weekend for occasional pop-up partnerships, where local flower shops or cheesecakes are sold alongside the great coffee.
eightfoldcoffee.com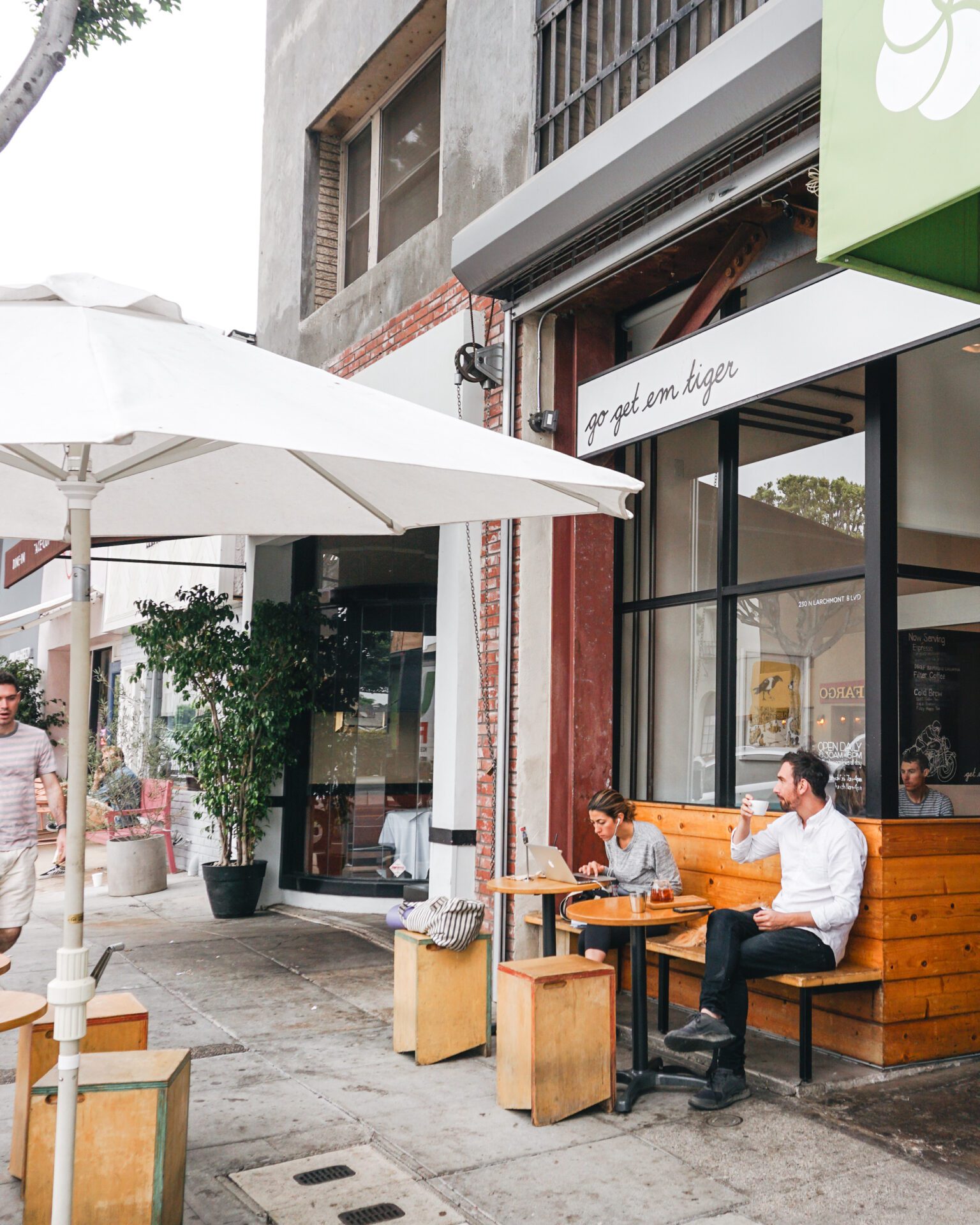 Go Get 'Em Tiger
Best for: Kick-in-the-pants energy to tackle your day
Location: 230 N Larchmont Boulevard, Los Angeles
Founded by US Barista Champions Kyle Glanville and Charles Babinski, Go Get 'Em Tiger has, well, go-get-em energy. Constantly striving for better – not to mention succeeding – is a theme of these cafés that continuously rethink how consumers interact with coffee. It's also LA to its core: the Larchmont location opened in 2013, during the first wave of renewed energy being infused into a previously stale coffee scene. Stop by for a Business & Pleasure, which is a flight of three drinks: a shot of espresso with a side of fizzy hoppy tea (the business) and an almond-macadamia milk cappuccino (the pleasure).
gget.com
Equator Coffees
Best for: Sustainably minded, inclusive vibe
Location: 8900 Venice Boulevard, #105, Culver City
Founded by partners Helen Russell and Brooke McDonnell, Equator Coffees is a stalwart of the Californian coffee scene, with locations across the Bay Area. Its first Southern Californian spot opened in Culver City in 2022, with futuristic interiors by Kellie Patry and a bright, spacious layout that lends itself to remote working. Equator Coffees was the first California roaster to receive B Corp certification and is renowned for its Fair Trade organic blends and inclusive vibe. Expert pours are accompanied by pastries and bread by Los Angeles favourite Bub & Grandmas.
equatorcoffees.com
No Free Coffee
Best for: Seeing and being seen
Location: Pop-up  – location changes so check Instagram
The famous pop-up No Free Coffee, set up by Mario Kristian, blends his love of good coffee and high-quality streetwear. Every time they open in a new space for a couple of days the lines are down the block from open to close – which is one heck of a good sign in a city with coffee shops on every corner. The original Instagram bio – "We do coffee, but the clothes really hit" – says it all: an NFC sweatshirt with the two-heart logo has attained cult status. If you make it to a pop-up (get there early and plan to stick around for a while), make sure you add a grapefruit tootsie to your order; they always sell out, and once you've tried one you'll understand why.
@nofreecoffee
The Boy and the Bear
Best for: Colombian-style coffee
Location: Suite 101, 12712 Washington Boulevard, Los Angeles
Prices: From 3.75 USD for a "Quick & Black"
The Boy and the Bear occupies a really unique space in retail coffee chains in the US. The founder, Andres Piñeros, is from Colombia, a simple fact that is surprisingly rare in coffee: American retail cafés are almost never run by someone from a coffee-producing country. He decided he would use his shops to focus on Colombian coffee and culture, trying to bring that culture into the spaces he's opened in Los Angeles. The all-Colombia coffee menu is full of rich and chocolatey coffees, brewed closer to the way Colombian farmers take it than the way US baristas normally do. Watch our exclusive interview with Piñeros over on Instagram.
Photo by Noah Mensink. theboyandthebear.com
Flowerboy Project
Best for: A coffee date with your bestie
Location: 816 Lincoln Boulevard, Venice, Los Angeles
Price: From 5 USD for a cold brew 
The inclusion of Project in the name gives you a hint of what you're in for: Flowerboy Project has a fun work-in-progress feel. Situated perfectly along one of the busiest stretches of Lincoln Boulevard, this space is part clothing store-part coffee shop-part florist. The menu – rendered in children's fridge magnets – is welcoming, straightforward, and each coffee on it is tasty. This is the perfect place to bring a friend on a girls' day out. Ask the florist/barista for help picking a drink (the dirty rose girl is a winner) then building a bouquet, and leave with matching bracelets to boot.
Photo by Art Gray. flowerboyproject.com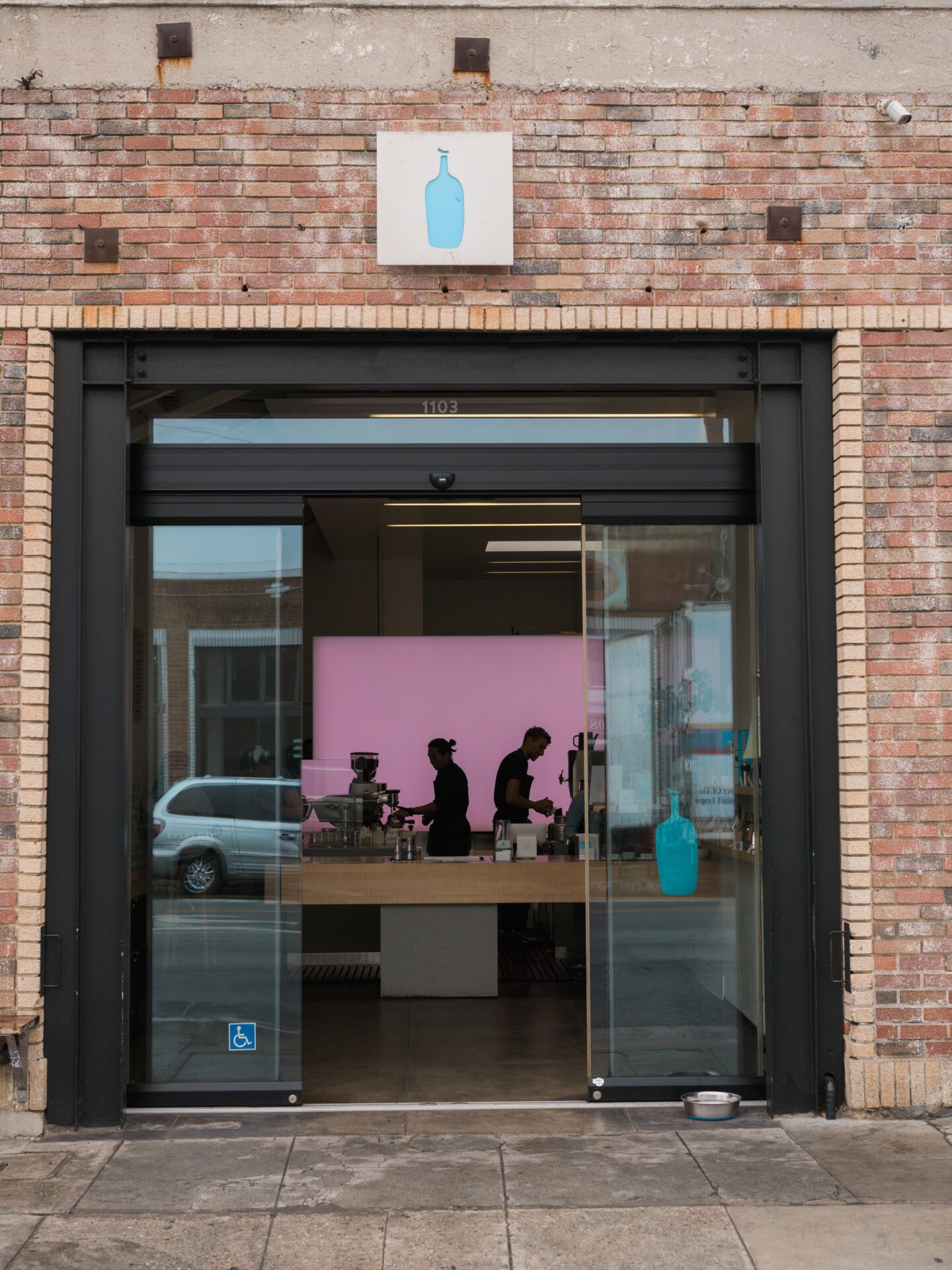 Blue Bottle
Best for: Grabbing a cup on the way to the beach
Location: 1103 Abbot Kinney Boulevard, Venice, Los Angeles
Price: From 5.75 USD for a cappuccino
Mere blocks from the Venice Beach Skate Park and, beyond that, the Pacific Ocean, something about this specific Blue Bottle café has a welcoming vibe that the other 20-something Blue Bottle cafés in Southern California aspire to. Maybe it's the breezy come-and-go atmosphere – there's hardly any seating – or the career baristas who love working there; either way, this is the perfect place to stop by for a coffee before or after a morning surfing. If you're done with caffeine and looking for something refreshing, ask for the Cascara Fizz. Made from the under-appreciated coffee cherry, this one always hits the right spot.
bluebottlecoffee.com
For something a little stronger, explore the ROADBOOK insider guide to the best bars in Los AngelesInsider Guide: LA's best cocktail bars.