Great places to co-work in Los Angeles, from clubs to cafes
Los Angeles offers freelancers a vast buffet of places to co-work, from casual dog-friendly digs to high-octane 24-hour tech incubators and former mansions turned into inspirational ateliers
Last updated: October 4, 2023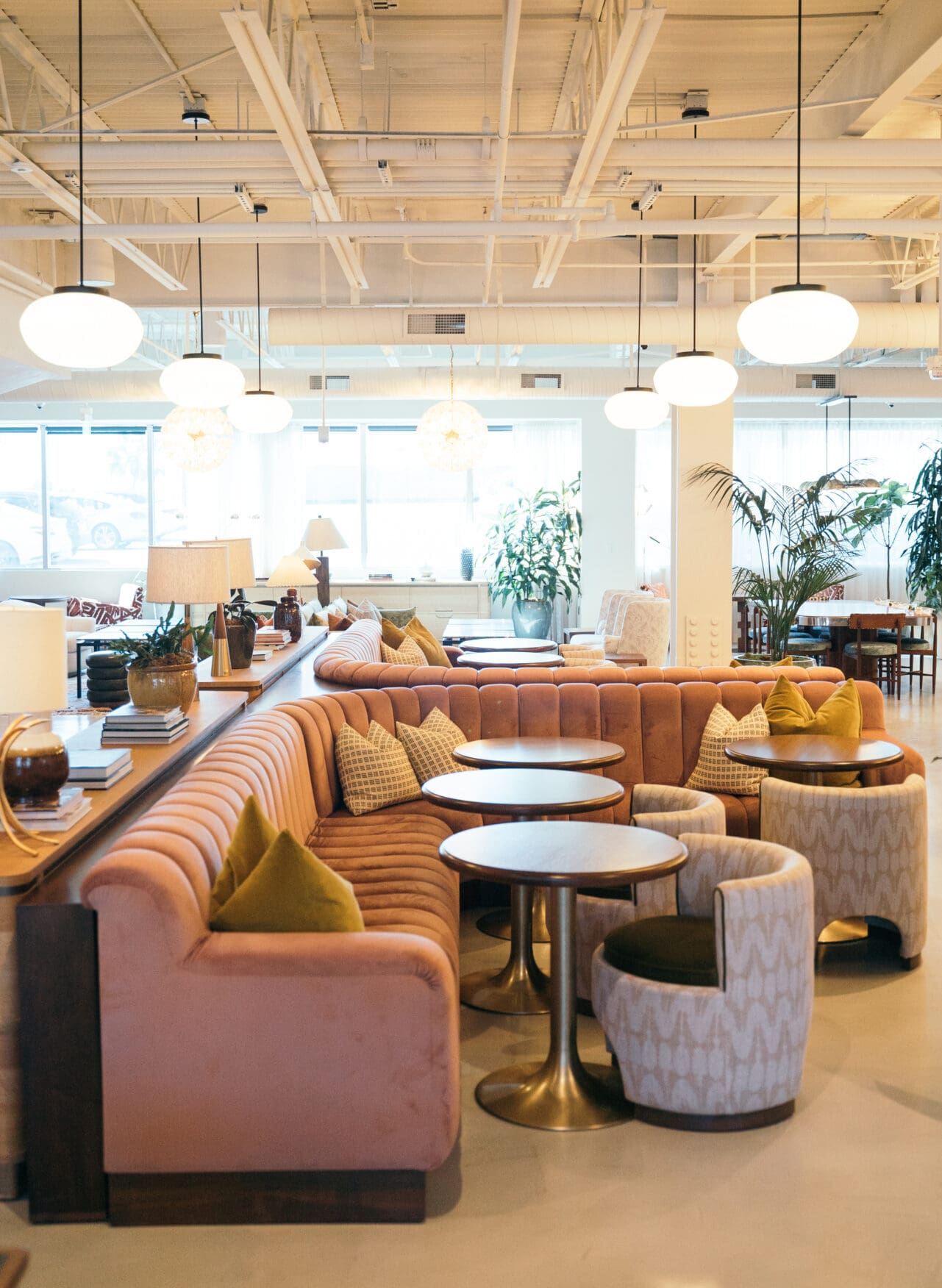 They call Los Angeles the City of Angels, but it's more a City of Freelancers these days: Los Angeles has the second-largest (only behind NYC) co-working market in the United States, thanks to the city's staggeringly high percentage of workers in the entertainment, arts, tech and media industries. You'll sense the feisty, freelance flavour of LA as soon as you ride your first Uber, because an LA Uber driver is also a part-time screenwriter, stand-up comic, designer or bootstrapping entrepreneur. So it should be no surprise that Los Angeles has one of the most forward-thinking and competitive co-working scenes on the planet. Spaces in West Hollywood and Beverly Hills are heavily flavoured by production companies and creatives, while Venice (aka Silicon Beach) and Playa Vista attract tech-savvy startup teams, but there truly is a co-working space for anyone.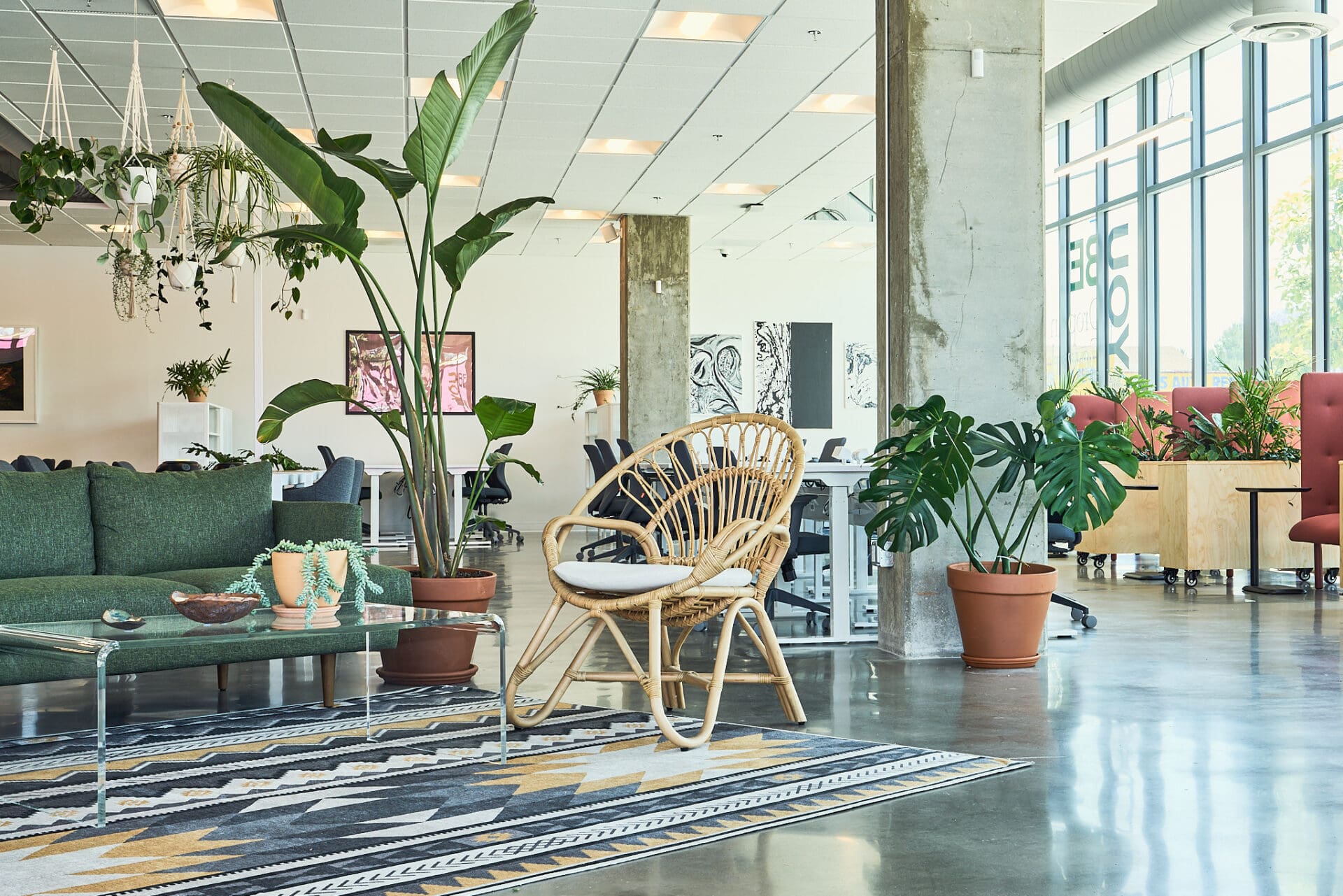 West Adams
YOUBE
Best for: Commitment phobes and roving workers
Location: 5335 West Adams Boulevard, Los Angeles, CA 90016
Price: From 6 USD an hour
This drop-in, no-contract co-working space has desks starting at 6 USD an hour, making this brightly hued, pot plant-heavy co-working space particularly suitable for freewheeling travellers or workers in a state of post-pandemic flux. Which, let's face it, describes a lot of us right now. You can choose between desks, standing desks, pods and rooms, all for different pay-as-you-go credits. Perks are simple and streamlined, just free parking, tea, coffee and water, but cult bakery Tartine is just around the corner for desk snacks. West Adams is one of LA's most rapidly-gentrifying areas, home to a diverse demographic of freelancers and a great central base for a pop-up office, and YOUBE just opened a second Larchmont location.
yoube.today
Hollywood
NeueHouse
Best for: Podcasters and movie makers
Location: 6121 Sunset Boulevard, Los Angeles, CA 90028
Price: From 595 USD a month
When NeueHouse landed in Hollywood, they took over the old CBS Studios building, so you'll be tapping away on your laptop in the same cavernous Atrium that sheltered the Beach Boys, Bob Dylan and Janis Joplin. It's squarely aimed at aspirational, affluent creatives, with screening rooms, private studios, podcast and broadcast studios and wellness rooms, plus a robust cultural calendar of progressive talks and workshops. Membership is not cheap, starting at around 595 USD a month, but the vibe, facilities and perks are a rock-solid investment if you're looking for the crème de la crème of the co-working crop.
neuehouse.com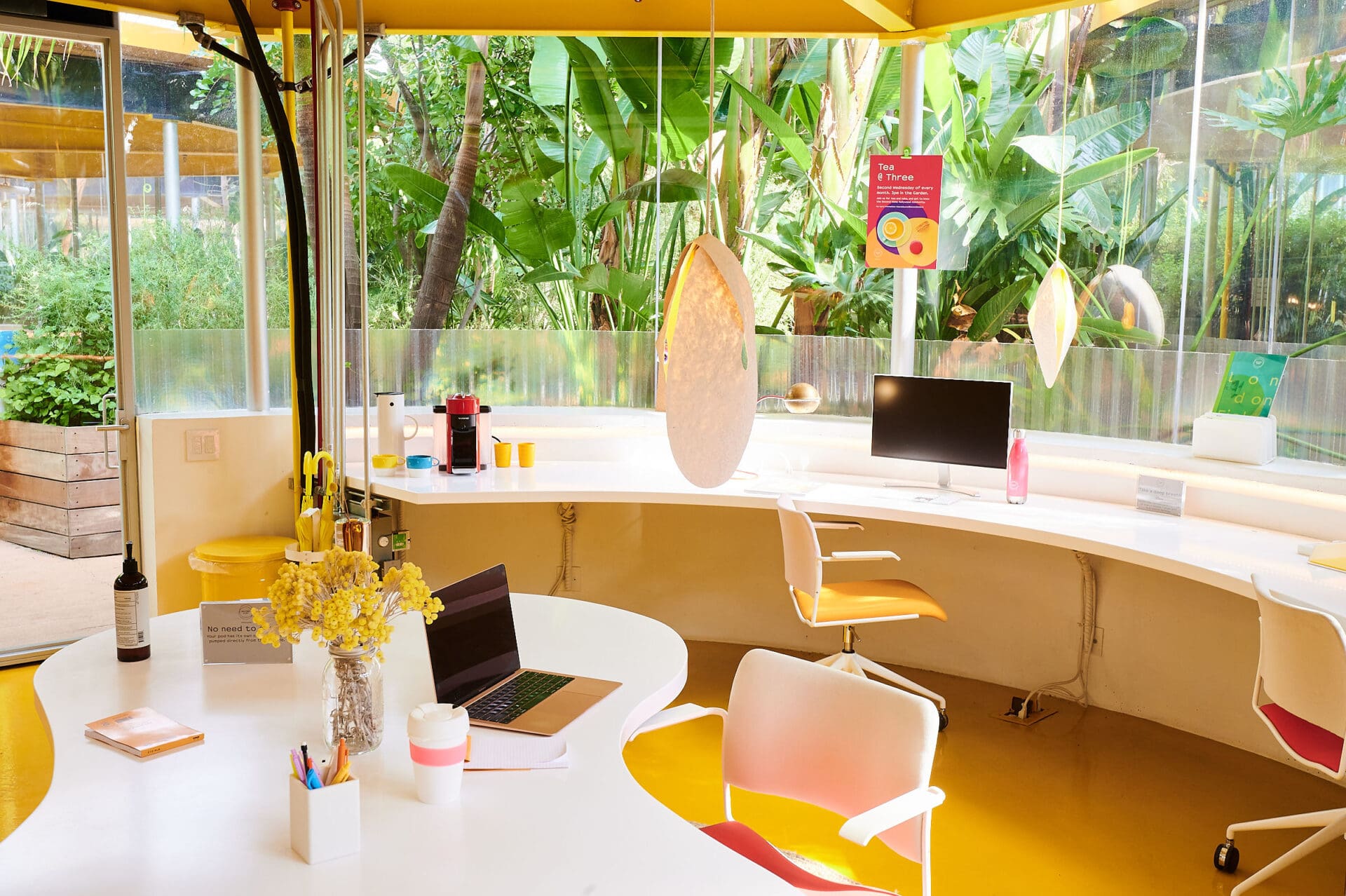 Second Home
Best for: A green oasis and a sustainable edge
Location: 1370 N St Andrews Place, Los Angeles, CA 90028
Price: Day passed from 25 USD
For freedom-craving remote workers who dream of tapping away at their laptops barefoot in a Balinese jungle, Second Home Hollywood comes closer than most to that digital nomad dream. Second Home enlisted Madrid architectural firm Selgascano to create LA's greenest and most outdoorsy co-working space, converting a former community centre and car park into a lush garden dotted with work pods, plus 60 elliptical garden studios and 6,500 trees and plants. The garden architecture and progressive vibe attracts non-profits, sustainable retail ventures, tech companies and entertainment industry workers. Day passes are available for 25 USD, and roaming monthly memberships start at 400 USD.
secondhome.io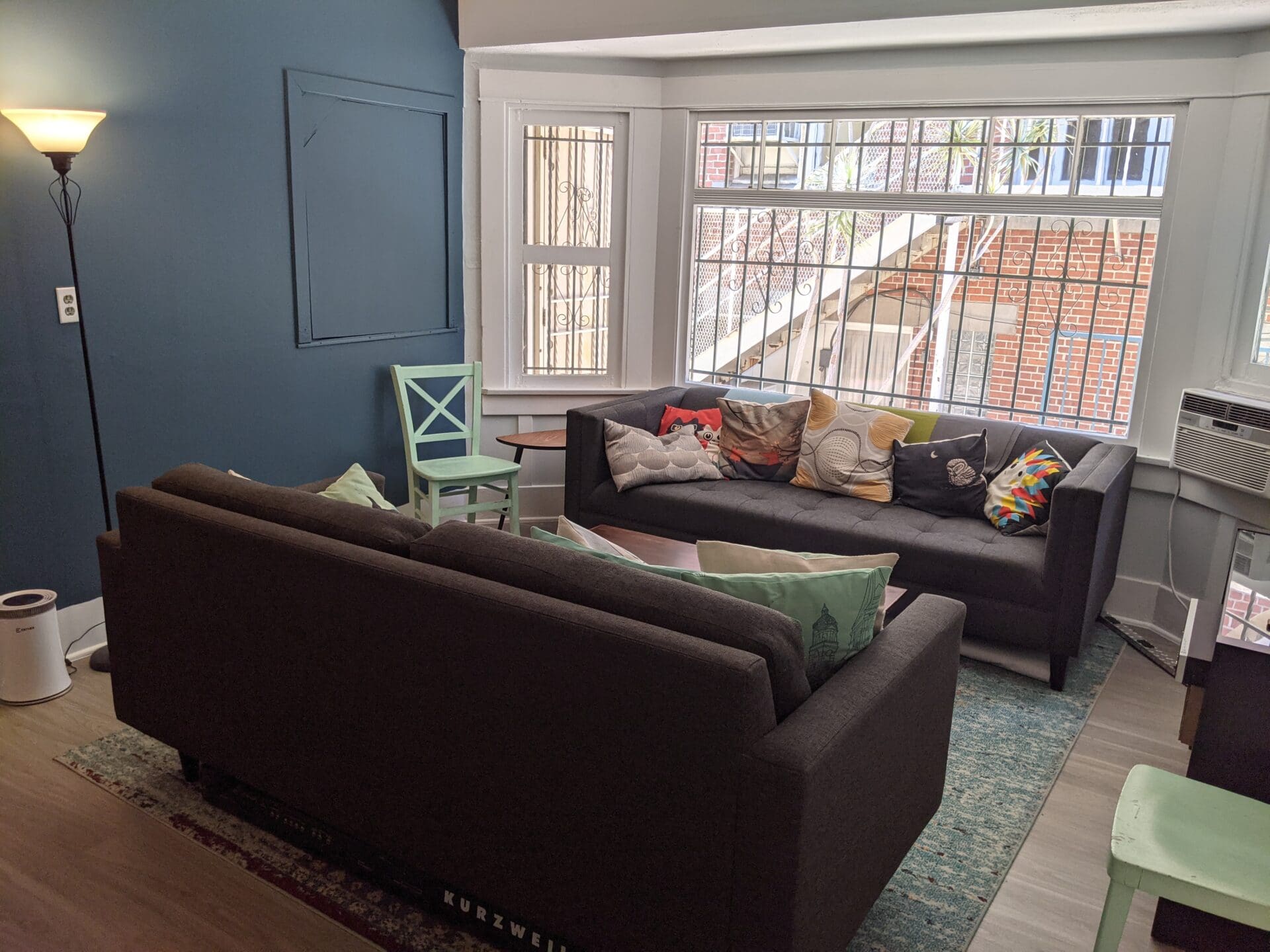 Epiphany Space
Best for: Artists looking for a community
Location: 1774 N Gower Street, Los Angeles, CA 90028
Price: Daily passes from 20 USD
Very much focused on artists and entertainment industry freelancers, Epiphany Space offers an affordable and ultra-supportive working environment for those hell-bent on creating. Expect cultural workshops or events such as The Artist's Way study groups, writing workshops, film discussions and members art exhibitions, and there's even a team of coaches on hand to help with songwriting, scriptwriting and shifting creative blockages. There's a piano, a patio and a community kitchen, and a truly communal vibe, plus this won't break the bank; daily drop-ins start at 20 USD, and weekly memberships are available from 75 USD, which is very reasonable in the co-working landscape.
epiphanyspace.com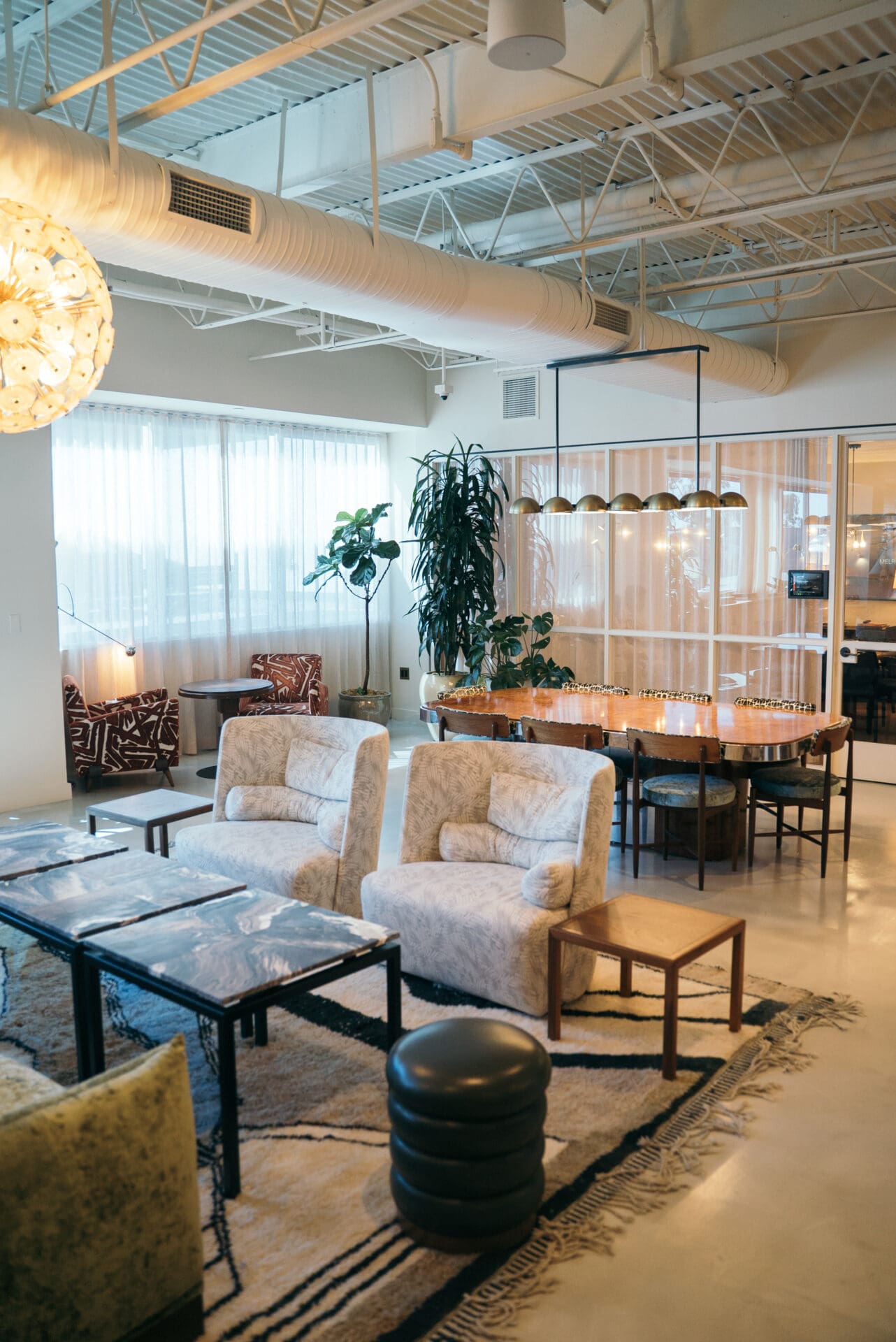 West Hollywood
Soho Works 9000 Sunset
Best for: Access to events and a creative community
Location: 9000 Sunset Boulevard, West Hollywood, CA 90069
Price: From 450 USD a month
Slap-bang in the middle of the restaurants, galleries, hotels and venues on Sunset Boulevard, Soho Works feels like the more industrious and ambitious little sister of the decadent Soho House West Hollywood up the road. The vibe leans heavily towards the entertainment and arts sectors, and offers desks for individuals, lounges for creative brainstorming, private lofts and meeting rooms, plus event spaces. You can also expect a snazzy roster of events and workshops. Prices vary depending on membership options, but start at around 450 USD a month.
sohohouse.com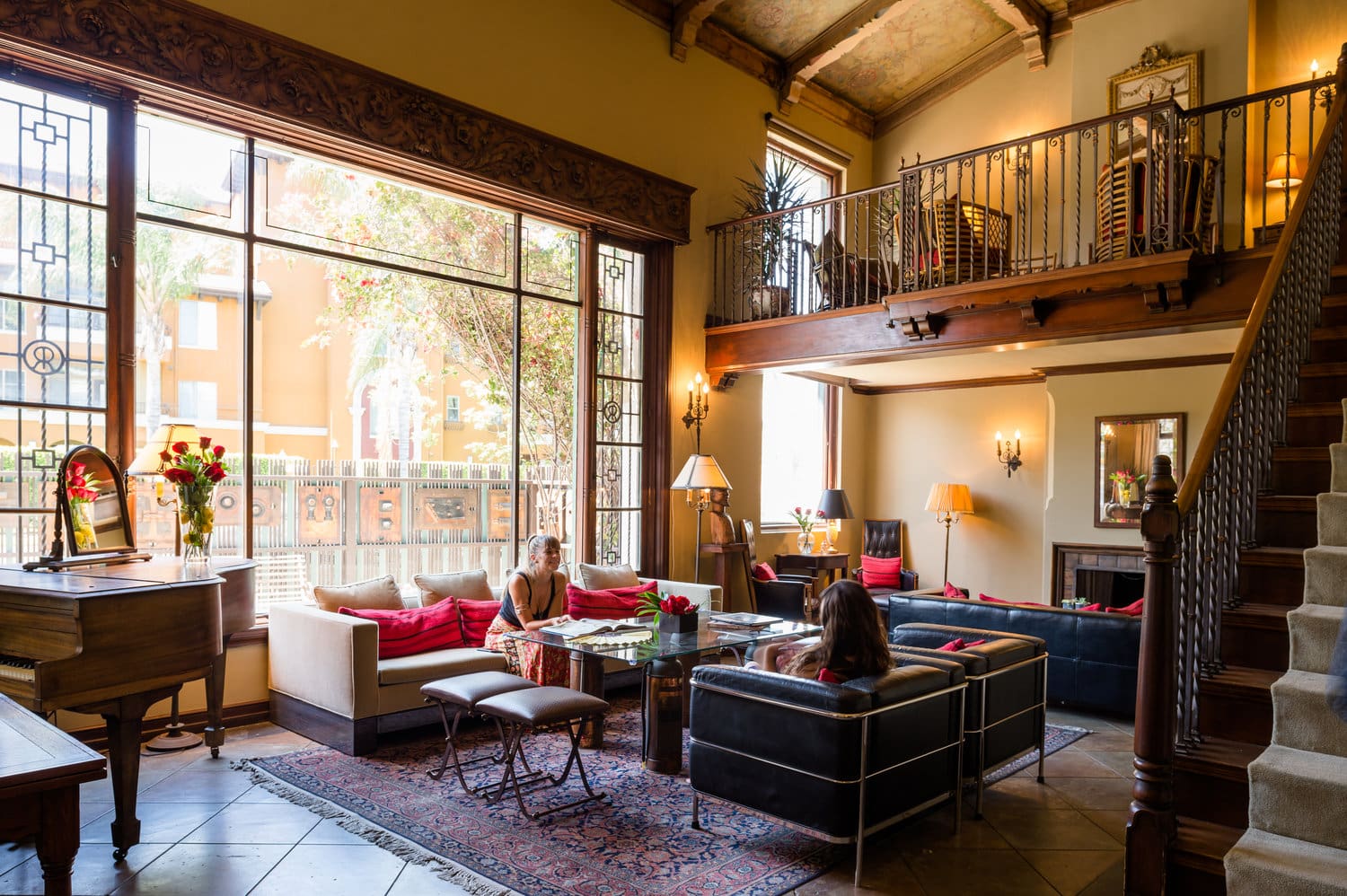 Fairfax
Rita House
Best for: Old-school glamour
Location: 5971 W 3rd Street, Los Angeles, CA 90036
Price: From 275 USD a month
In a sea of glass-and-steel co-working spaces, Rita House is an island of old-school grandeur: a beautifully converted Spanish colonial mansion that once belonged to Rita Riggs, stylist to Alfred Hitchcock and Norman Lear. There are vegan cookery demonstrations, CBD massages and comedy nights, and best of all, the monthly community memberships start at 275 USD, an absolute bargain for such atmospheric and romantic surroundings. Naturally it's a hit with writers, stylists and costume designers, with podcast and broadcast studios and a screening room.
ritahouse.com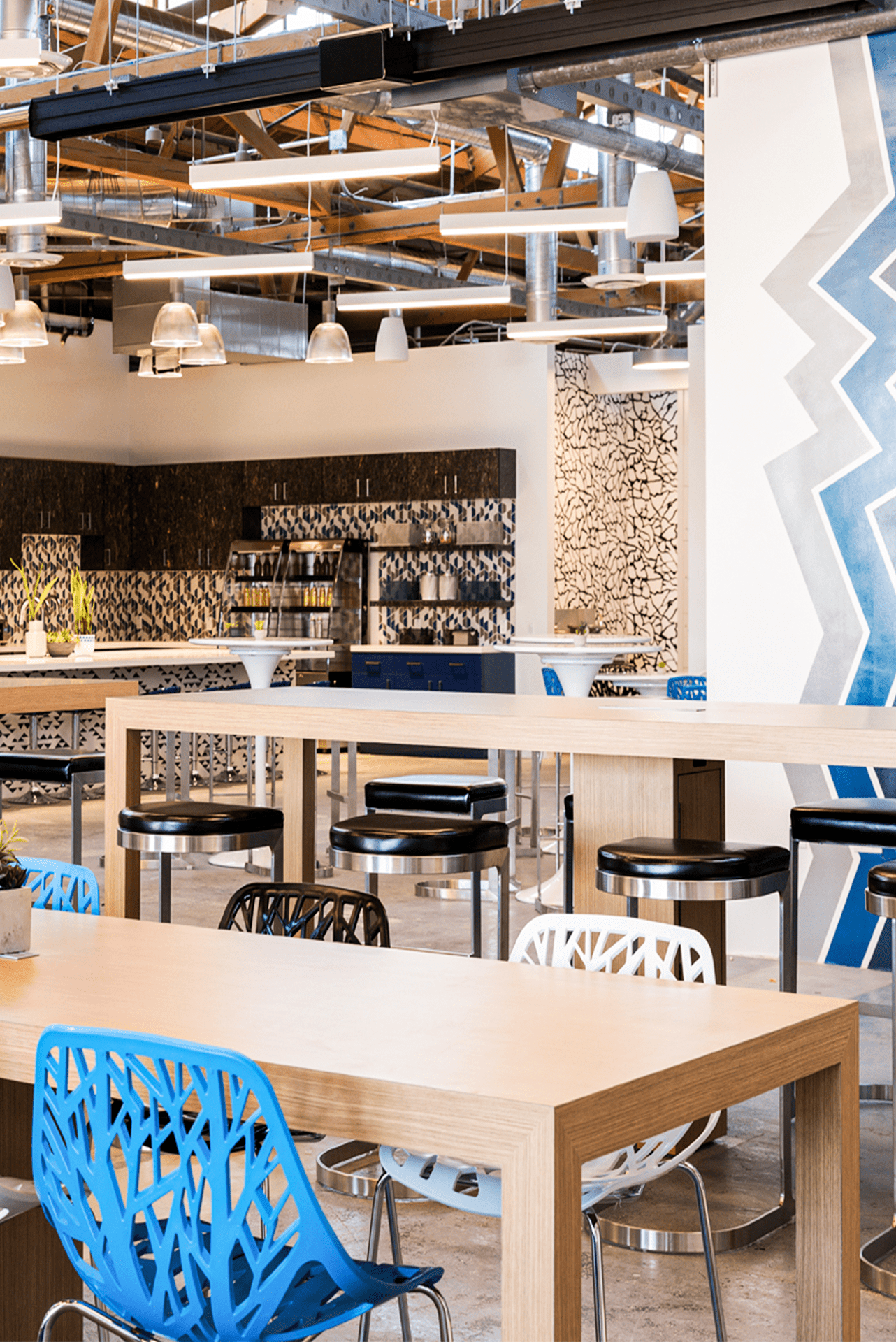 Culver City
Phase Two
Best for: Technies and media types
Location: 5877 Obama Boulevard, Los Angeles, CA 90016
Price: From 390 USD a month
This ultra-flexible, tech-focused co-working space in Culver City predominantly caters for teams of 20 to 200 who want to scale up or evolve their businesses, with plenty of support and opportunities for geeky collaborations. But it's also a good fit for hot desking workers in entertainment and the media, with roving desks for 325 USD a month, in an enterprising environment equipped with a green screen studio, call booths, screening space and kitchen stocked with free coffee and booze.
phasetwospace.com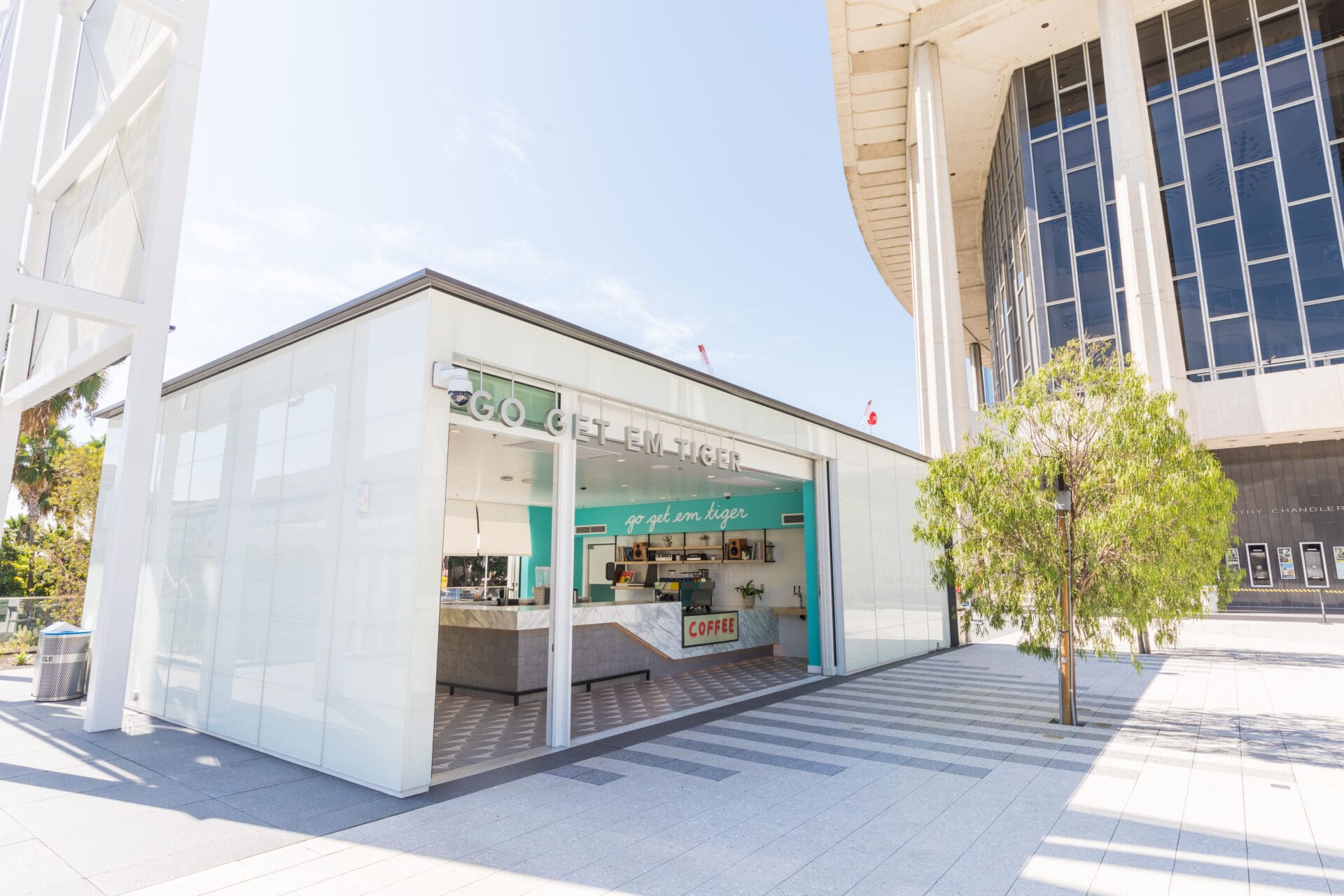 Highland Park
Go Get Em Tiger
Best for: Outdoor space
Location: 5916 N Figueroa Street, Highland Park, CA 90042
Price: 
What kicked off as a Larchmont start-up is now a much-loved LA mini-chain, with six locations all serving superb coffee and waffles worth writing home about. But when you really need to get stuff done, the Highland Park branch of Go Get Em Tiger is the best, with a large patio area back off the road, adjacent to Triple Beam Pizza – the perfect reward after a productive day. Be warned that GGET fills up fast at weekends, but on weekdays you can linger here most of the day like it's your very own outdoor office.
gget.com
Arts District
Groundwork Coffee Co.
Best for: Café vibes, but WeWork-style facilities
Location: 811 Traction Avenue, Arts District, CA 90013
Price: N/A
Famously freelancer-friendly Groundwork has several locations around Los Angeles, but the Arts District spot is a real winner, with long communal tables, booths and an upper level where you can take calls away from prying eyes. Since you're basically getting a WeWork for free, you can justify loading up on salmon and cream cheese bagels or poached-egg-topped avocado toast; and the menu changes most days, so you won't get bored, either.
groundworkcoffee.com
Experience Los Angeles like a local with our insider guide to the city, detailing everything from cocktail bars and world-leading restaurants to design-led hotels