Where to work remotely in London, from co-working spaces to cafes
London is choc-a-block with co-working options, from cool, laptop-friendly cafes to dedicated workspaces and members' clubs. These are the best spots in the city for remote workers, with mobile creatives in mind
Last updated: November 24, 2022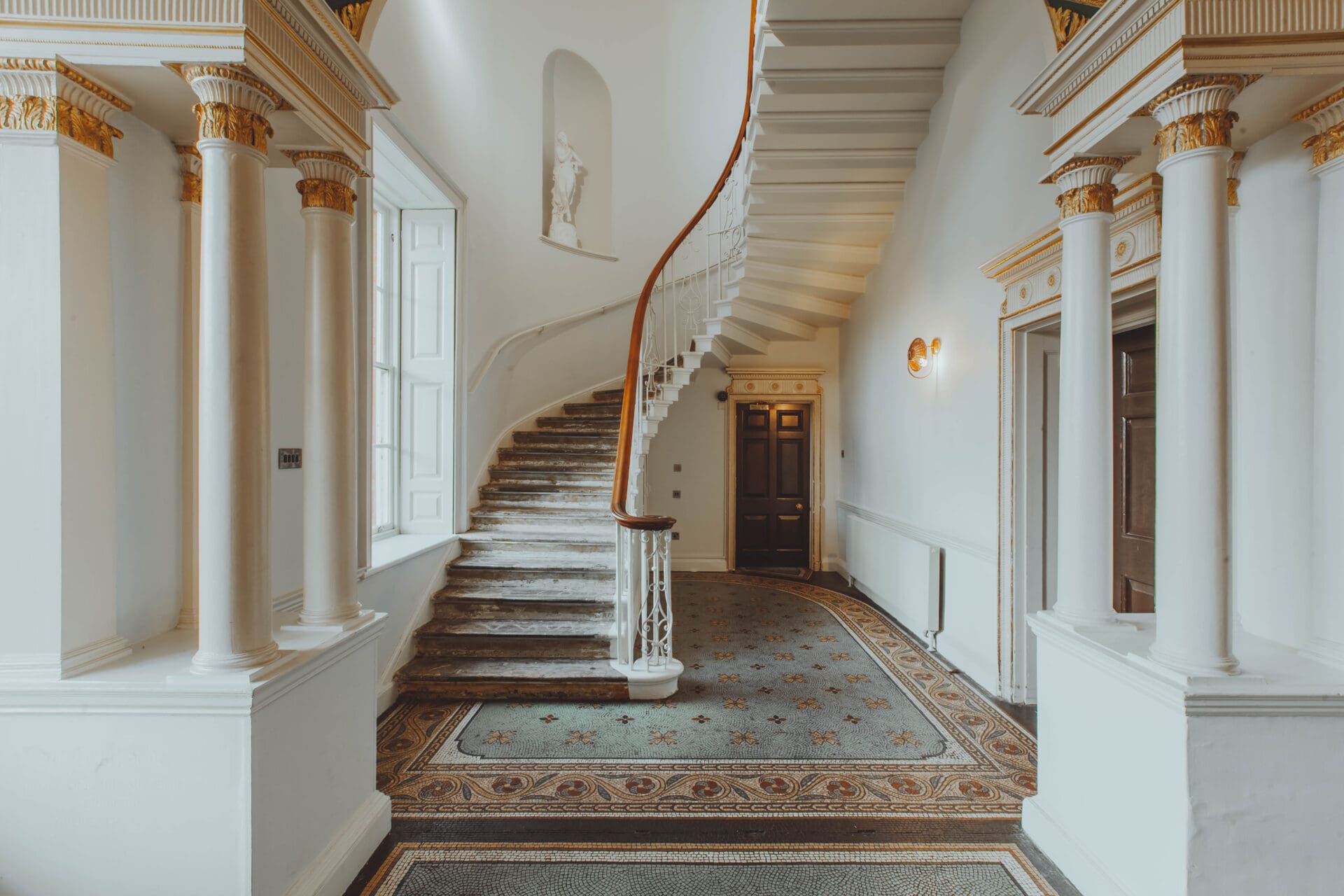 It's no surprise that London is packed with great places to work remotely. Creatives of all calibres are well catered for here, with an increasingly diverse offering of places to co-work that range from coffee-forward cafes with comfy seats to designated workspaces decked out with high-tech kit. Specially chosen for their locations in the capital's creative hubs – with excellent proximity to London's best restaurants and best bars – these co-working spaces are not only places to get some work done, but also the kind of hubs that facilitate creativity and collaboration – and who knows, you might make some new friends or colleagues while you're there.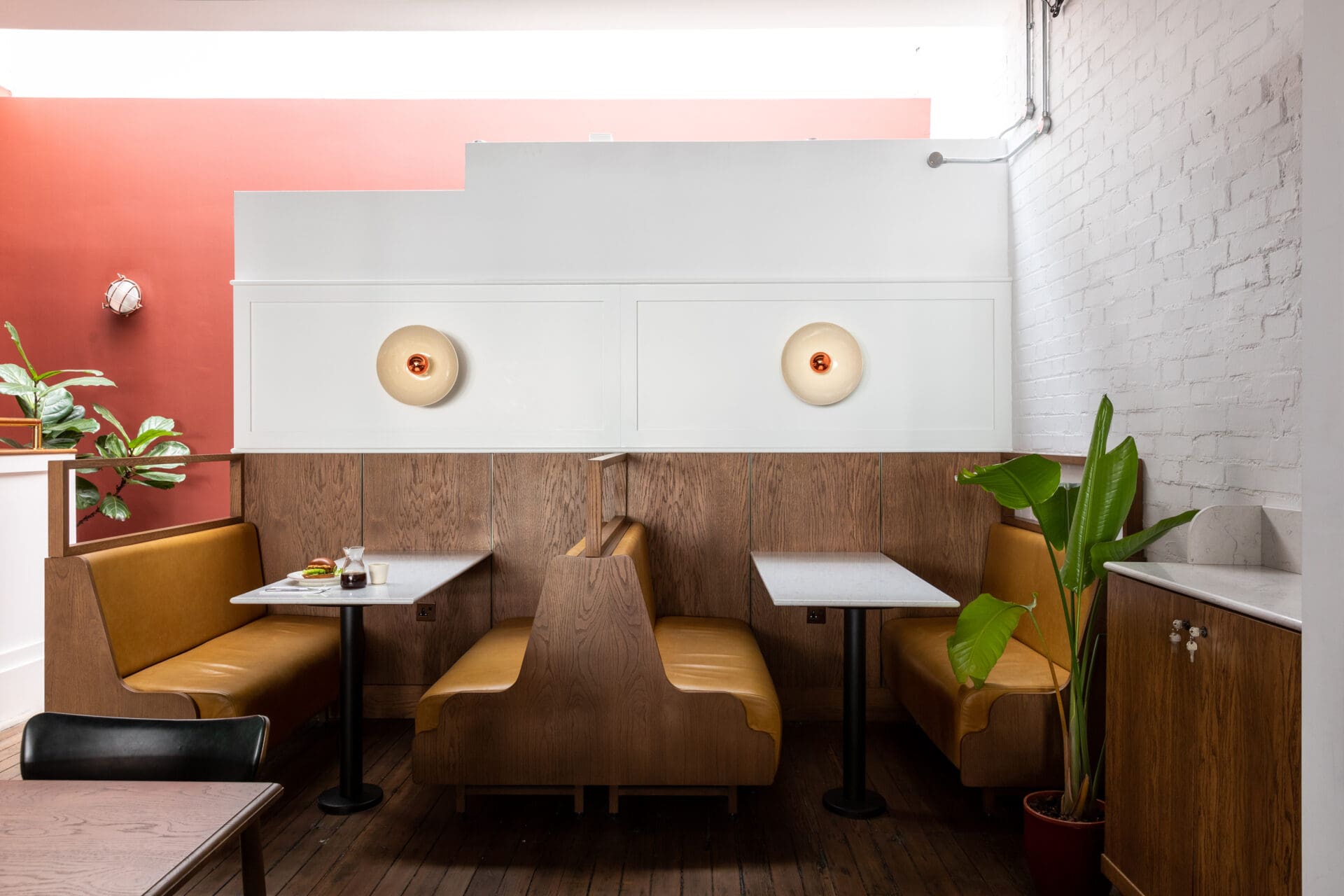 Prufrock Coffee
Cafe in Holborn
Best for: coffee connoisseurs and street food fans
Location: 23-25 Leather Lane, Holborn, EC1N 7TE
Price: Coffee and juices from 2.60 GBP; brunch plates from 5.30 GBP
Prufrock is not just one of London's best coffee shops, it is an ideal cafe for working: there's plenty of small tables, heaps of natural light, and banging coffee to keep you pushing through. And best of all, it's located on Leather Lane, which is home to what's got to be the best street food market in Central London. The market is on every weekday, and is made up of dozens of food stalls specialising in cuisines from all over the world, from Brazilian bbq to Korean bibimbap and Ethiopian stews. You may as well head over to Prufrock every day, fuel up with your favourite coffees, and try a different stall outside for each lunch. But why leave your seat? Prufrock's brunch menu and selection of cakes are just as deserving of your attention. Beyond the food, Prufrock is perfectly perched for access to both East London and Central London – and, if you happen to like your history, it's convenient for the British Museum and other London museums and galleries, too.
prufrockcoffee.com
Huckletree
Co-working space in Shoreditch
Best for: creatives looking to mingle
Location: Alphabeta Building, 18 Finsbury Square, Shoreditch, EC2A 1AH
Price: Day pass 35 GBP + VAT
Huckletree's co-working spaces in London, Manchester and Dublin are themed around specific sectors, and its Shoreditch outpost has the theme of disruptive tech. This isn't an exclusionary policy, but more of a guide to encourage creatives from similar industries to turn up and meet one another. The benefit of these designated co-working spaces is you have excellent facilities at your disposal, from hireable meeting rooms to phone booths and even an auditorium for talks and other events.
huckletree.com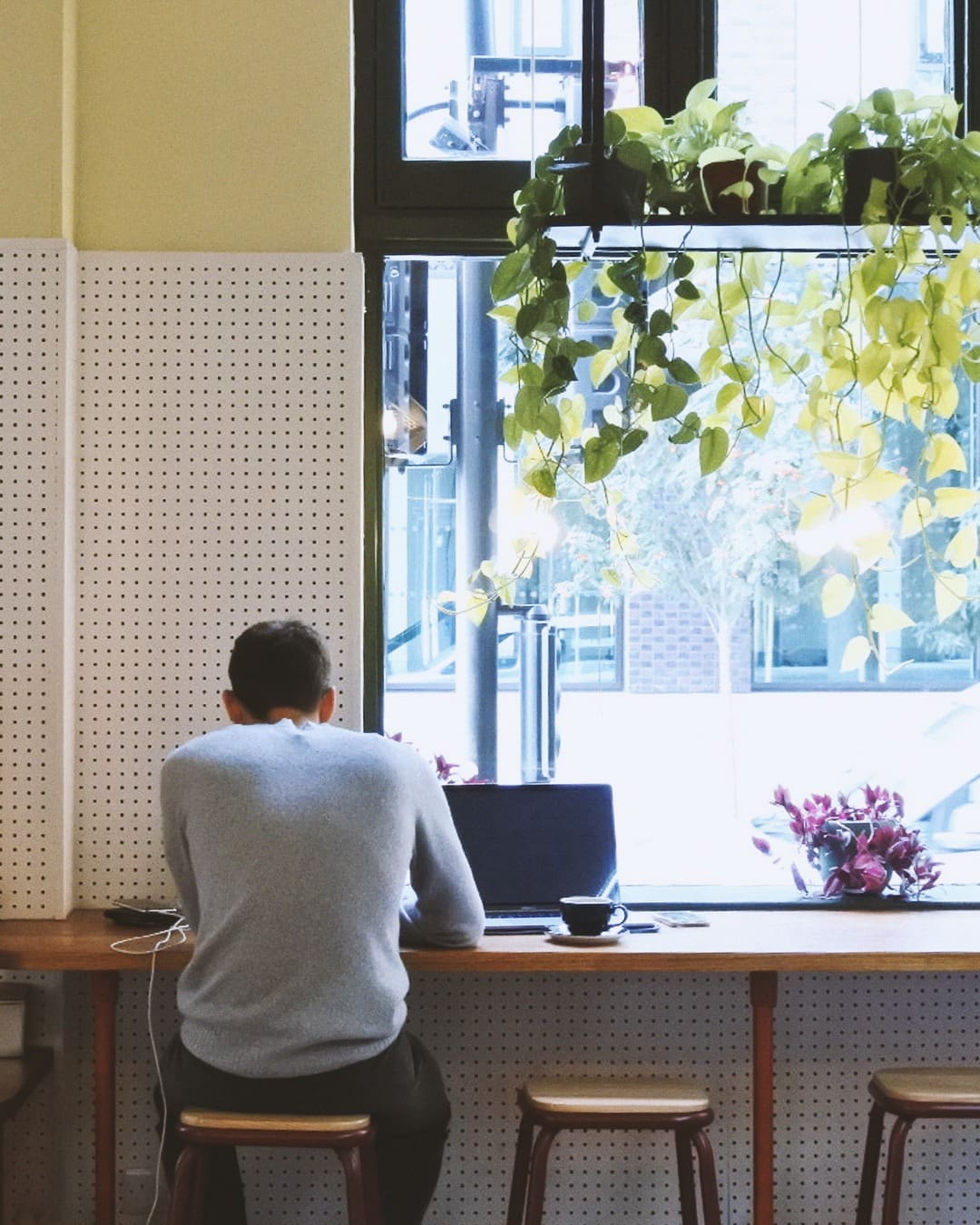 FWD:Coffee
Cafes in Shoreditch, Clerkenwell, and Barbican 
Best for: work-friendly corners and high grade coffee 
Location: 54 Farringdon Road, Clerkenwell, EC1R 3BL
Price: Coffee from 2 GBP, lunch dishes from 3.50 GBP
Specialty coffee, good tunes, and a welcoming team –  FWD:Coffee (formerly Powerhouse Coffee) has got it all. It describes itself as a 'work-friendly cafe', with plenty of room for meetings at each location. The company's third space on Farringdon Road has small tables and a bar along the window, perfect for those that like working with a dose of people watching, and a larger space in the basement. All Powerhouse's coffee is roasted and blended especially for them by Climpson & Sons, and strictly scores above 80 out of 100 by the Specialty Coffee Association in recognition of its quality.
fwdcoffee.co.uk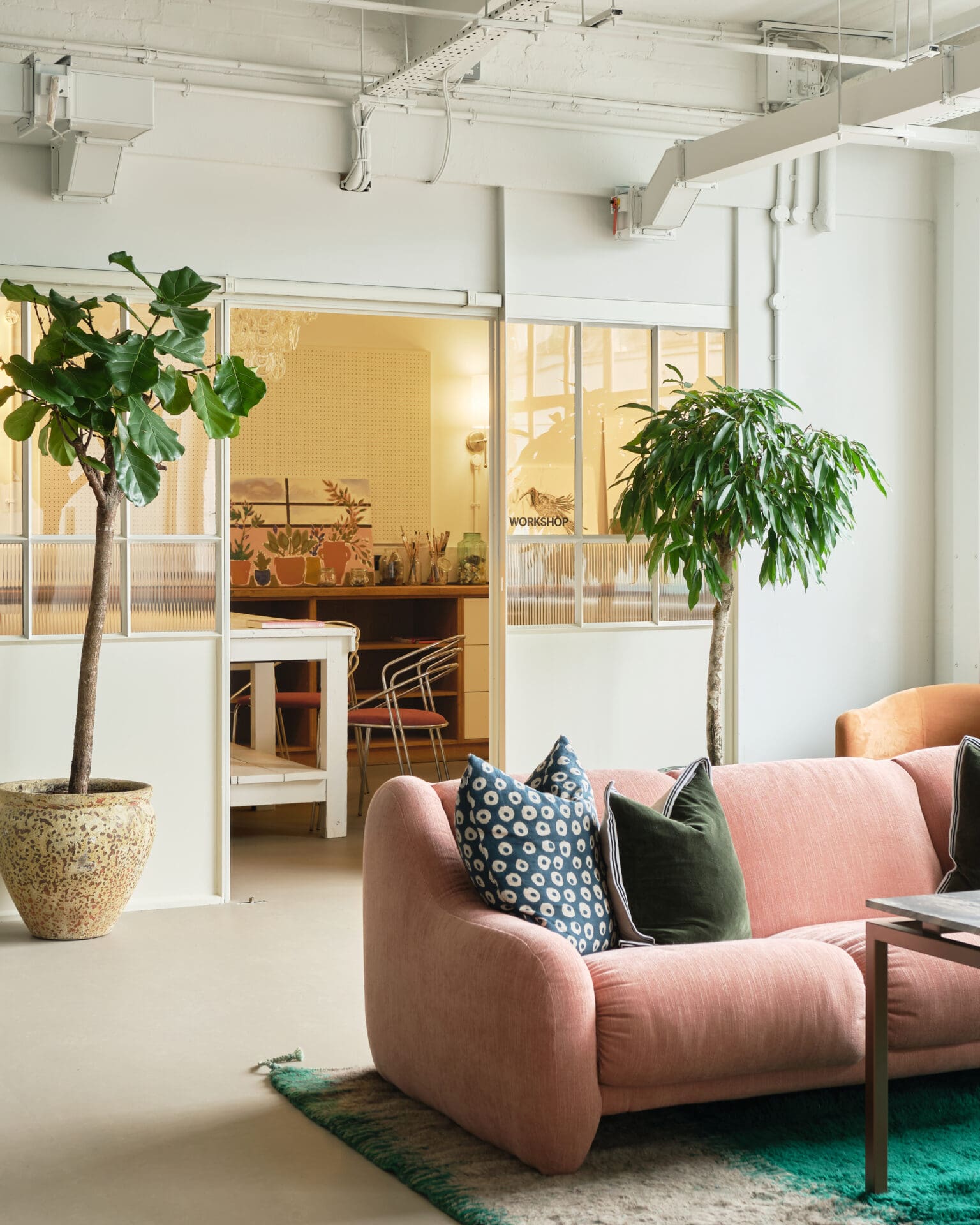 Soho Works
Communal workspaces across London
Best for: dedicated deskspace for creatives
Location: across London
Price: from 300 GBP per month
Soho House was, unsurprisingly, quick to recognise the hybrid working model and rolled out Soho Works locations across the globe at rapid speed. There are four sites in London: White City, Shoreditch, The Strand and Dean Street in Central London, all of which offer ample desk space, meeting rooms and slick Soho House-style interiors. Members can mingle with likeminded professionals and enjoy an eclectic programme of weekly socials and events. There are different tiers of membership available: hot-desking in the Lounge starts at 300 GBP per month when you have a Soho Friends membership (100 GBP per year), or 200 GBP if you are an existing Soho House member; dedicated desk space starts from 600 GBP per month, and any level of membership allows access to all UK and North America Soho Works sites.
sohohouse.co.uk
British Library
Public library in St Pancras
Best for: researching, a pre-Eurostar pitstop
Location: 96 Euston Road, St Pancras, NW1 2DB
Price: Free entry
The British Library is right next to St Pancras International Station. If you're leaving the country by Eurostar, this could be a convenient place to get some last-minute work done before you zoom off to Paris, just saying. There are 11 reading rooms inside, where you can work from comfy chairs and desks, and view books and documents from the impressive archives. You have to apply for a free reader pass first, but if you're only popping by, you can work upstairs without a pass in the main entrance hall which, for all its enormous size, is surprisingly quiet. As for the reading rooms, the two humanities rooms get rather busy, but the maps room is less subscribed, and has massive desks perfect for spreading your notes, books and laptop over.
bl.uk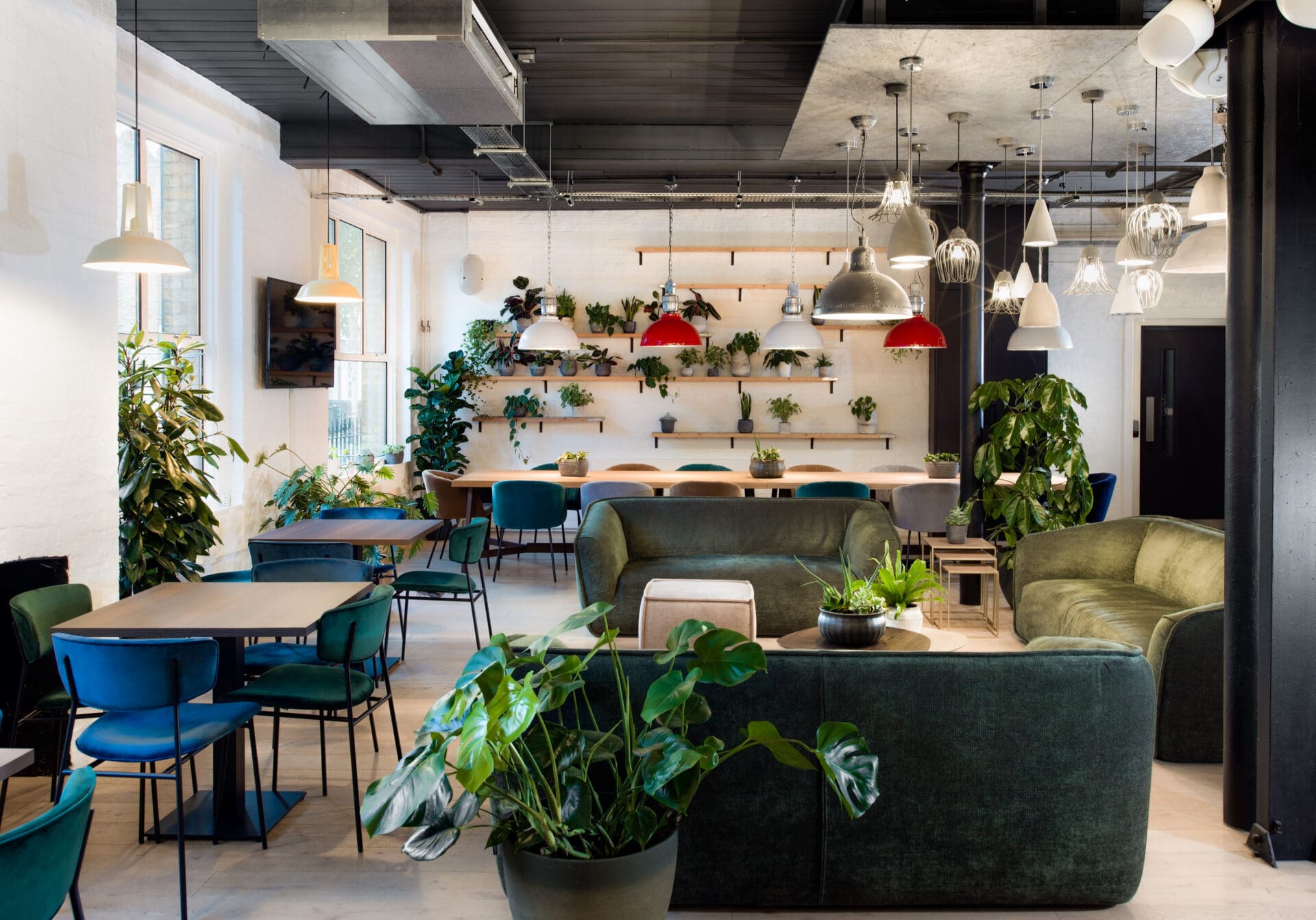 Uncommon
Co-working spaces in Highbury, Liverpool Street, Fulham and Borough 
Best for: working with a healthy dollop of self-care
Location: 25 Horsell Road, Highbury, N5 1XL
Price: 40 GBP + VAT for day pass
Uncommon boasts workspaces across London, but Highbury has the edge. There are two key draws at Uncommon in Highbury: lots of comfy sofas, and a lot of house plants. There are of course all the other features you can expect from a good co-working space too: a serious internet connection, phone booths, good tea and coffee in the kitchens, bike lock ups and showers, but the point of difference here is Uncommon's emphasis on self care. There are healthy snacks in the kitchens and cafe, an in-house nutritionist to advise you on your diet, staff to help nurture a good posture while you work, and yoga classes, HIIT workouts, and a running club to get involved in, and puts it in the running as one of our favourite co-working set-ups. Its location is also lovely, within walking distance of the green spaces and cute cafes of Highbury Fields, as well as the perfect plates of pasta at Trullo.
uncommon.co.uk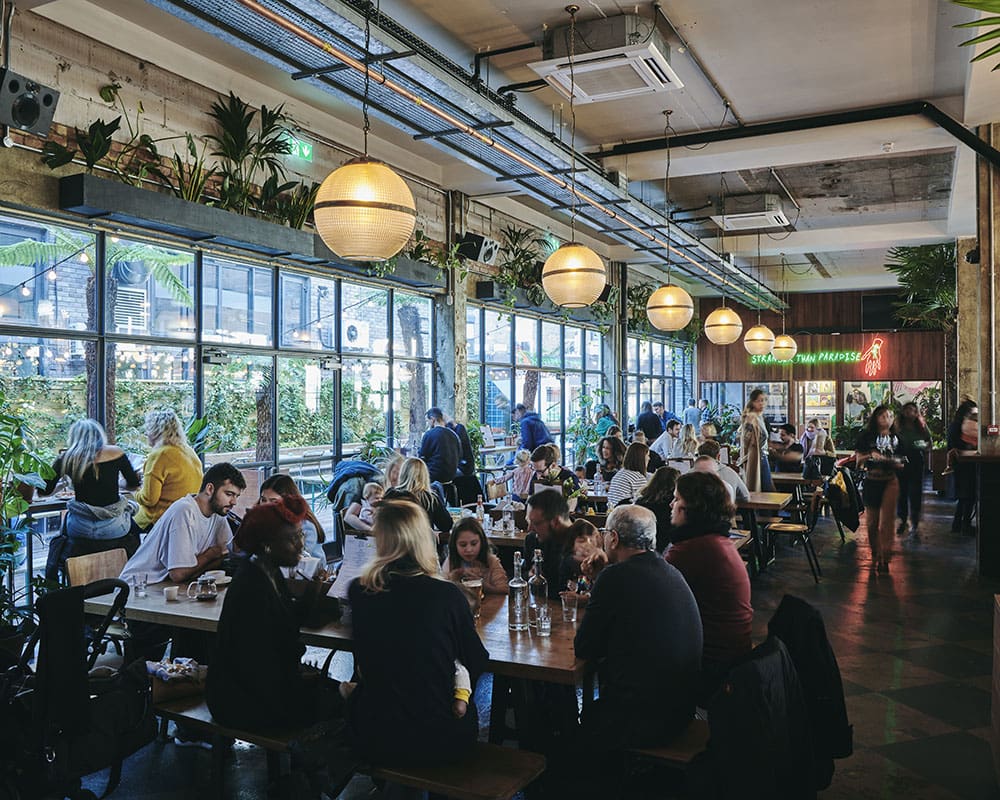 Mare Street Market
Restaurant in London Fields
Best for: working in a lively setting
Location: 117 Mare Street, London E8 4RU
Price: Coffee from 2.50 GBP, breakfast from 4.50 GBP, pizzas at around 10 GBP
If being left alone in silence fills you with dread, and you need a bit of hubbub to concentrate, then Mare Street Market might be for you. Its open-plan restaurant area is a good place to work from in the morning, with heaps of natural light, and good coffee served by Flying Horse Coffee, who roast the beans at the market. When you're in need of a break, there's plenty to divert your attention, with a record shop, florists, barbers, and antiques shop all encompassed in the market, not to mention a tattoo artist – what better way to spend a work break? And when the working day is done, you may as well stay for an aperitivo (or three) in the beer garden, and if you're in the market for a night out, iconic London live music venue Moth is just around corner.
marestreetmarket.com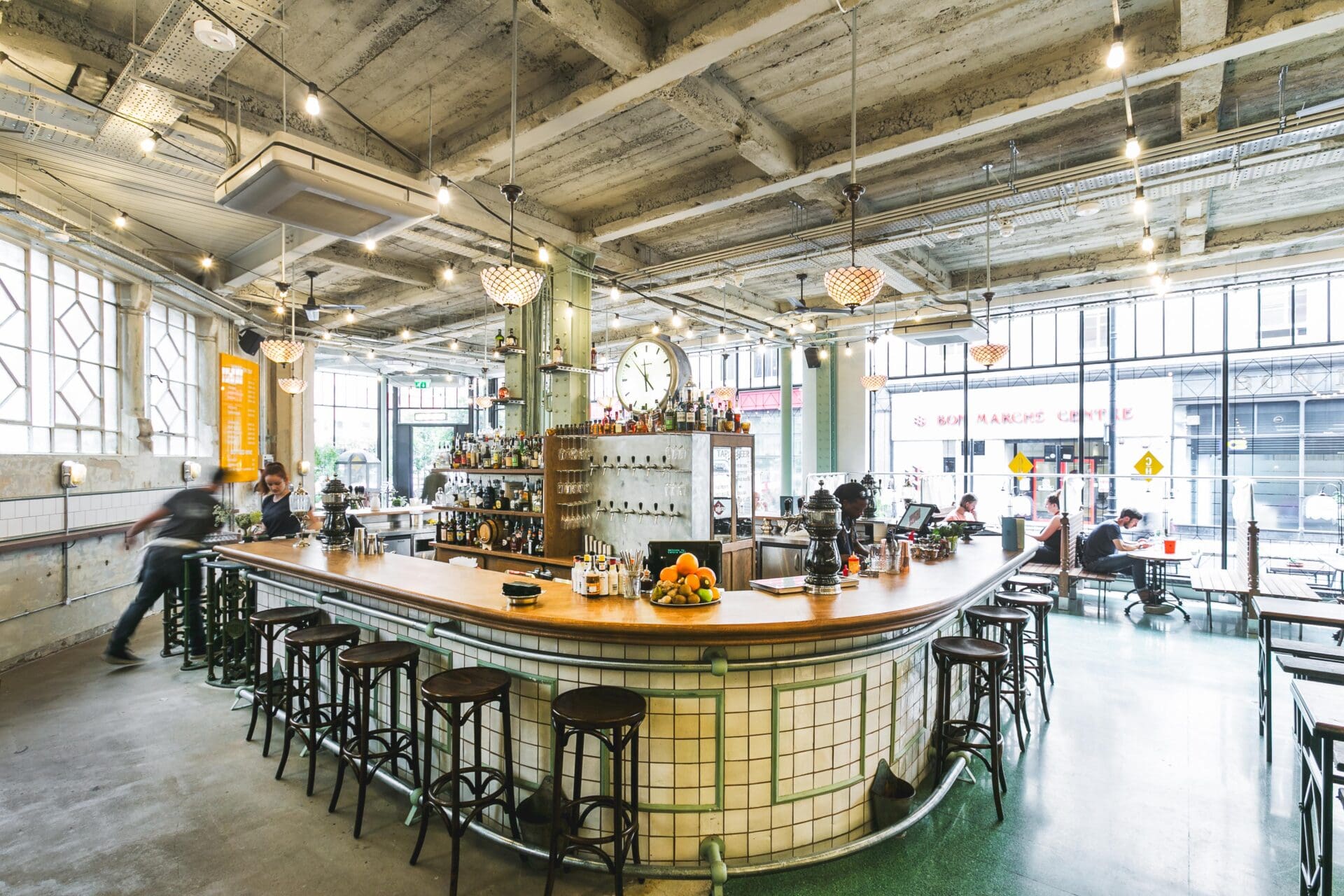 Canova Hall
Restaurant in Brixton
Best for: restaurant hot desking with wood-fired pizzas
Location: 250 Ferndale Road, Brixton, SW9 8BQ
Price: Pizza from 11 GBP, Hot desking day pass 10 GBP
Canova Hall is a great half-way house between a restaurant and a hot desking space. Pizzas are served all day from their wood-fired oven, and there's plenty of tables in the big open-plan space. You're welcome to work from here for free, but you can also opt for a hot desking day pass for 10 GBP, which gets you bottomless hot drinks (careful on the caffeine, yeah?). You can also get a week or month membership, which gets you free coffee at the Hackney and Old Street outposts too, as well as half-price pizzas for you and your friends on a Monday. Monday meetings over a bubbling pizza sounds pretty good to us.
canovahall.com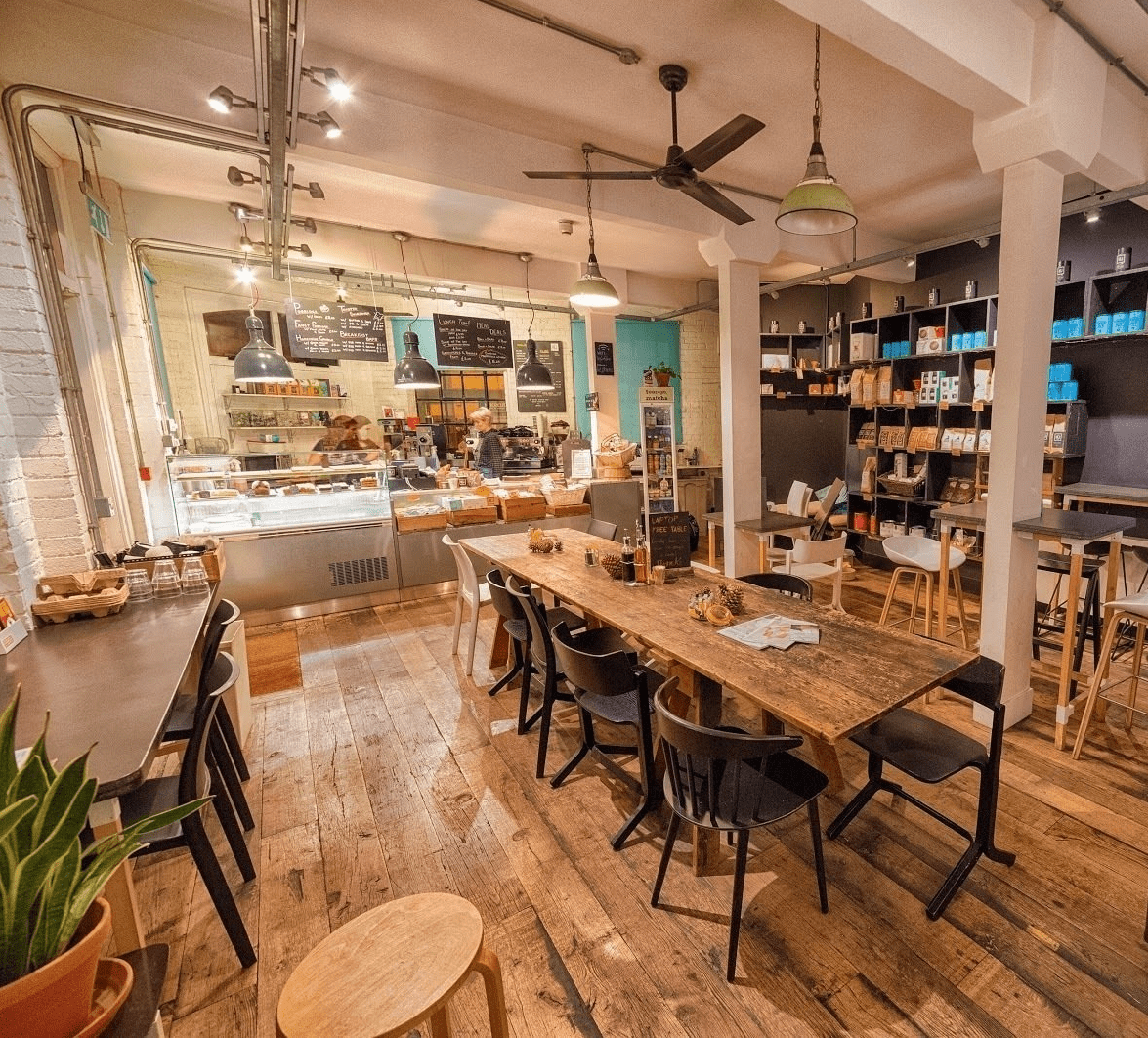 Hej
Cafe in Bermondsey
Best for: coffee and beer fans
Location: 1 Bermondsey Square, Bermondsey, SE1 3UN
Price: Coffee around 2.50 GBP, sandwiches and bagels around 6 GBP
If you're based in South London and love your coffee, then Swedish artisanal coffee shop Hej is the place to work from. They roast their own beans and deliver them wholesale across London, as well as train baristas at the barista school onsite, so you can expect pretty darn perfect coffee. They also serve excellent sandwiches, bagels and cinnamon buns. The cafe is fairly small so arrive early to ensure a table. But perhaps the best time to work from here is on a Friday; when you're done, you can walk over to the Bermondsey Beer Mile – a stretch of craft beer breweries and taprooms that occupy a string of railway arches. It's a London must (just try to avoid the stag dos on Saturdays).
hejcoffee.co.uk
Birch
Hotel near Waltham Cross
Best for: those looking for a break from the city
Location: Lieutenant Ellis Way, Cheshunt, Goff's Oak, Waltham Cross, EN7 5HW
Price: Rooms from 140 GBP. Tasting menu at the restaurant 56 GBP per person
Birch is one of London's loveliest hotels, arranged in a Georgian manor and its grounds just to the north of London. It was founded by the former managing director of Ace Hotel London, who describes it as a "festival in a hotel" – sounds like our kind of party. There's a multitude of restaurants, bars, wellness areas, and craft activities, all in a series of vibrantly designed spaces. All in all, it's an adult's playground, and one of the best places to co-work from in London, because it makes work feel not much like work at all. Key to our purposes though is The Hub, a hot desking area with private office spaces and phone booths and what not. Get the train for 30 mins from Liverpool Street, have lunch in the former barn, and spend a day working in the calm of the country. Or stay for the whole weekend – if you book Friday and Saturday night, you get Sunday for free.
birchcommunity.com
Explore London like a local with our insider guide to the city, from design-led hotels to cocktail bars and hype-worthy restaurants.