The best co-working spaces in Lisbon for remote working
Here are the best places for remote working in Lisbon, from designated co-working spaces to cutting edge coffee shops, hidden hotel lobbies, and voluminous book stores
Last updated: August 21, 2023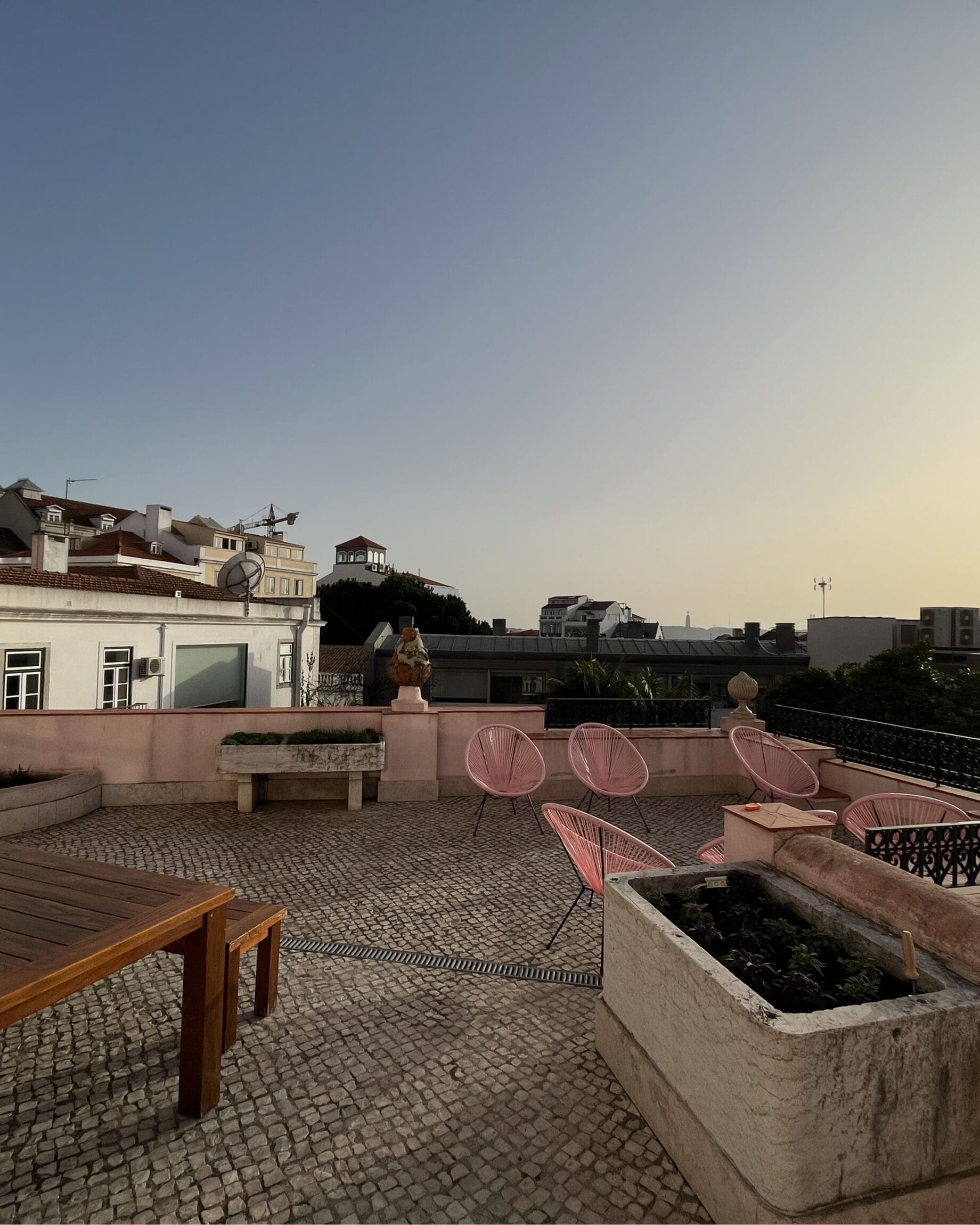 The case for remote working in Lisbon is strong. There are around 19,000 digital nomads in Lisbon, drawn to the Portuguese capital for its world-class surf, perennial sunshine, superfast Wi-Fi, relatively low prices and a palpable creative energy. Young workers of every nationality can be found mixing in laptop-friendly cafes and workspaces in every neighbourhood, while you'll also find quiet co-working areas nestled in many of Lisbon's best boutique hotels. When the working day ends, drinks follow most evenings at the city's brilliant bars and live music venues. The Croissant app is popular, helping you uncover the hundreds of purpose-built co-working spaces Lisbon now has hidden in plain sight.
If you're thinking of making the jump, here are the best places for remote working in Lisbon, so you've got one less reason not to go for it.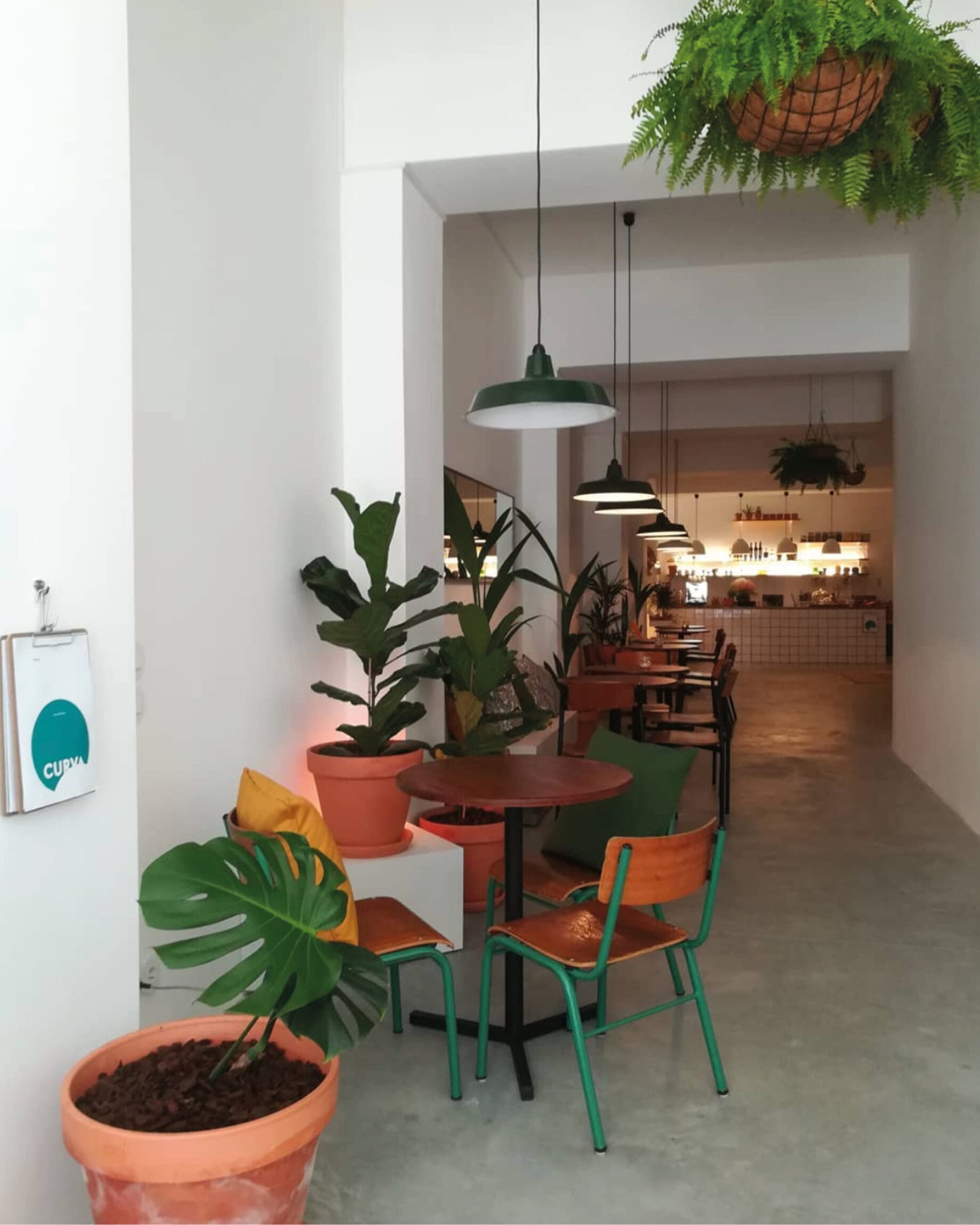 Graça
Curva
Best for: A blend of coffee shop, art gallery, concept store and creative space
Location: R. Damasceno Monteiro 108D, 1170-113
Price: 2.50 EUR for a flat white or cappuccino
Work-friendly Curva is the sort of place you can roll into for iced coffee and scrambled eggs at 9am, and find yourself still there come late afternoon, digging into a halloumi salad and checking out a local artist's new exhibit. The cafe's elegant location, sandwiched between buzzy Intendente and relaxed Graça, attracts a low-key cool crowd tapping on a laptop by day, and sampling the ever-excellent wine list in the evening. There is also a gallery and concept store, where you can buy handmade jewellery and homeware from local independent makers.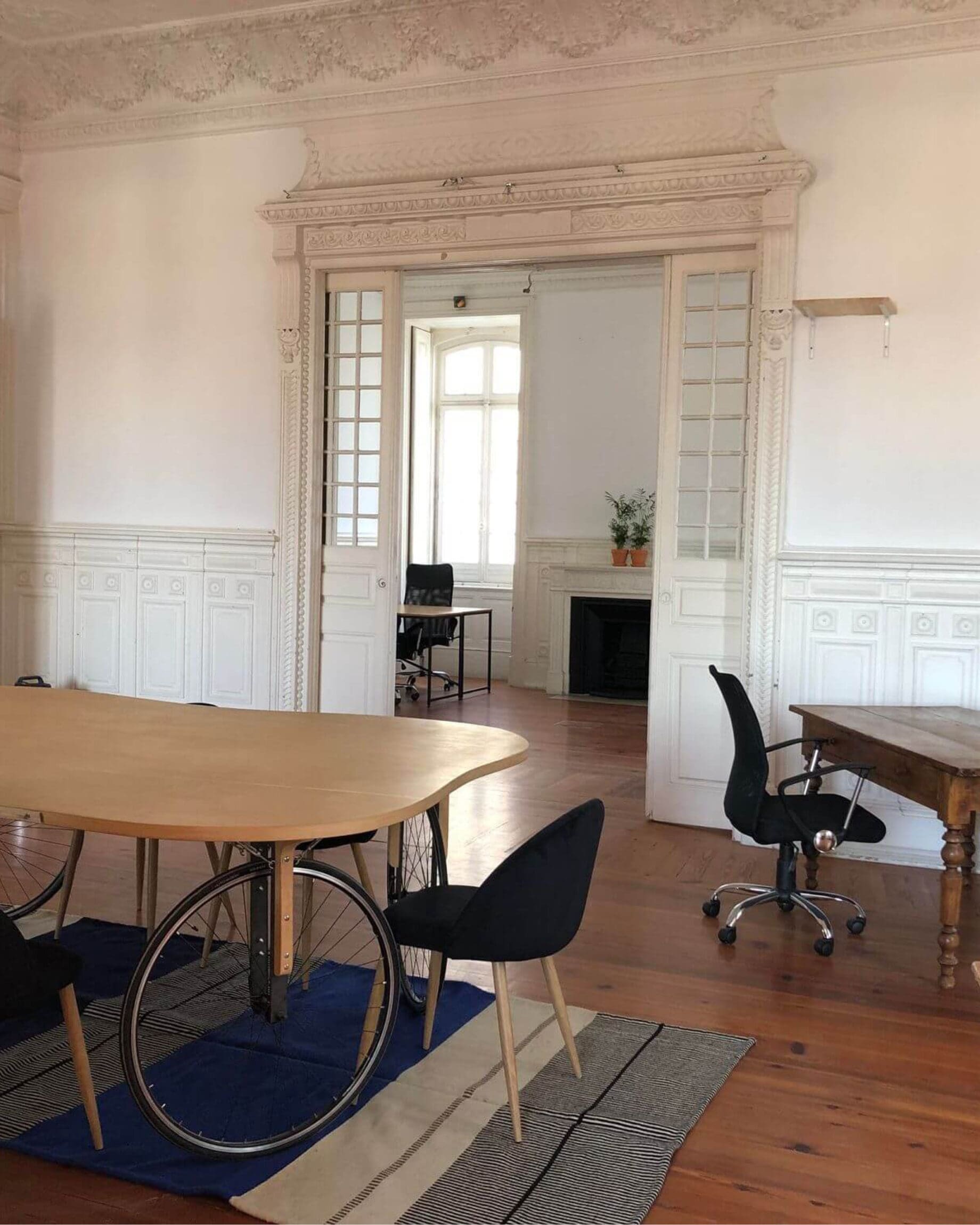 Príncipe Real
A Dama Rosa
Best for: A co-working and events space with design credentials
Location: Praça do Príncipe Real 18, 1200-230
Price: 20 EUR +VAT for a day pass
A Dama Rosa is a calm haven housed within a converted palácio, and is a riot of gorgeous original tiles and high ceilings. The space was created so that entrepreneurs, start-ups, freelancers and remote workers from around the world could meet in a truly unique place – and we can confirm, they've succeeded. There's tons of flexibility, too: choose from a fixed desk, hot desk, weekly or daily pass, while rentable event spaces add to the allure. The Loft area can be transformed into a conference room, seminar or meeting space, while the terrace offers a theatrical view for cocktail receptions and exclusive dinners.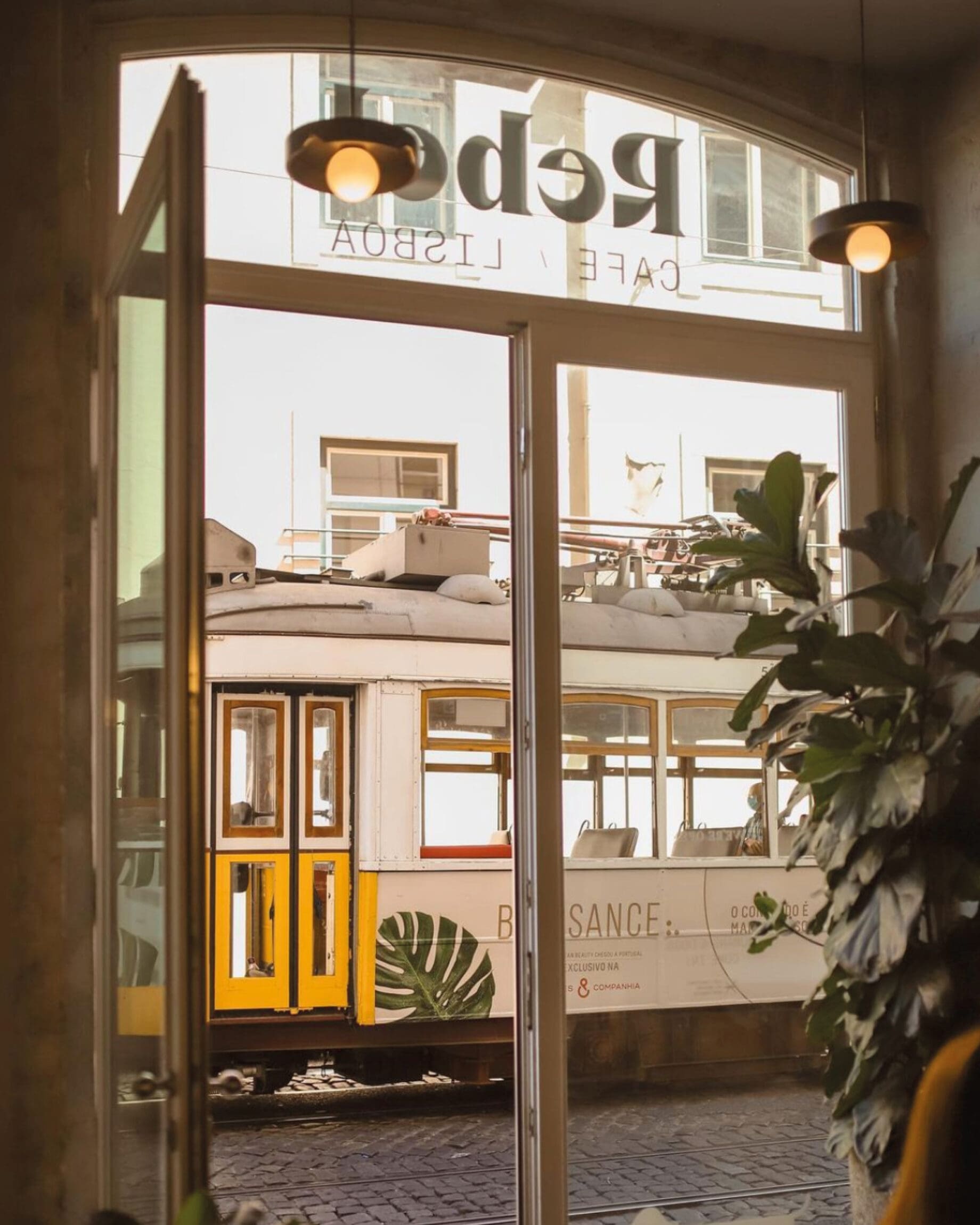 Rebel Cafe
Best for: Ducking in when work pops up unexpectedly
Location: R. de São Pedro de Alcântara 35, 1200-146
Price: 3 EUR for a Flat White or Cappuccino
Found on the ground floor of the iconic Lumiares hotel (listed as one of the best in the city), Rebel Cafe is within walking distance of most of the city's key sights. It has a dedicated laptop area, while a short menu includes stellar sandwiches, pastries and artisan coffees. It's a handy spot to get some work done without leaving the centre of town. For a change of scene, head up to the hotel rooftop Lumi, where modern Portuguese snacks are served against views of the city.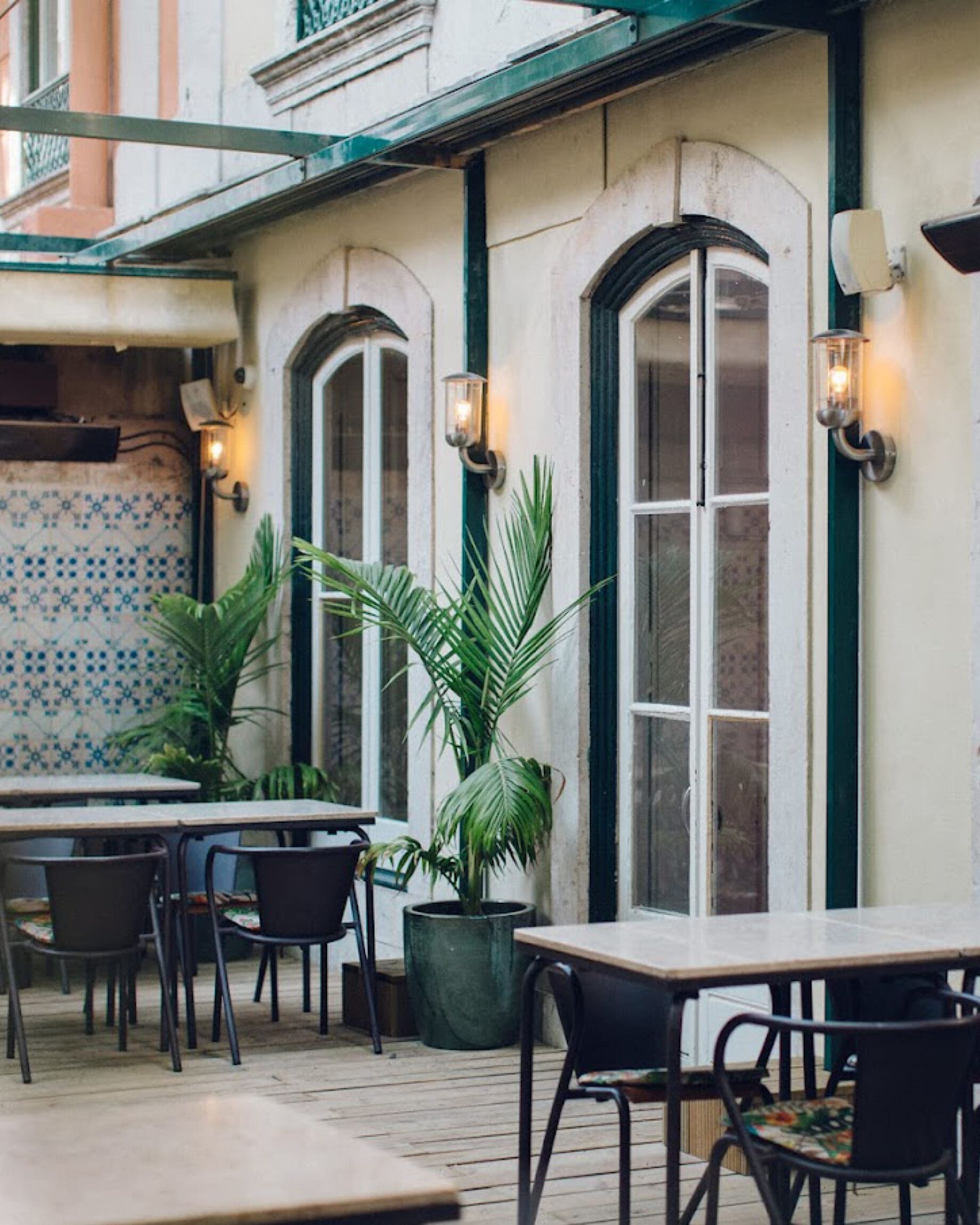 Decadente
Best for: Working straight through into happy hour
Location: R. de São Pedro de Alcântara 83, 1250-238
Price: 2.50 EUR for a flat white or cappuccino
From 1 to 6pm each day, Decadente cafe at Independente Hostel & Hotel is open to outside guests for use as a co-working space, cleverly tucked away in the back of the building. The hotel's frontage overlooks the city's most magical viewpoint, Sao Pedro de Alcantara. Both locals (Portuguese and expats) and guests tend to work from the space, which creates a fun, collaborative atmosphere. Working from here offers up a few reasons to get your work polished off as quickly as possible: the excellent happy hour prices in the hotel bar, and the gorgeous vista steps from the entrance. The cafe-hostel-hotel sits on the border of Lisbon's trendy Bairro Alto district, so you'll find yourself in the middle of the action – and surrounded by like-minded people – the moment you've hit that deadline.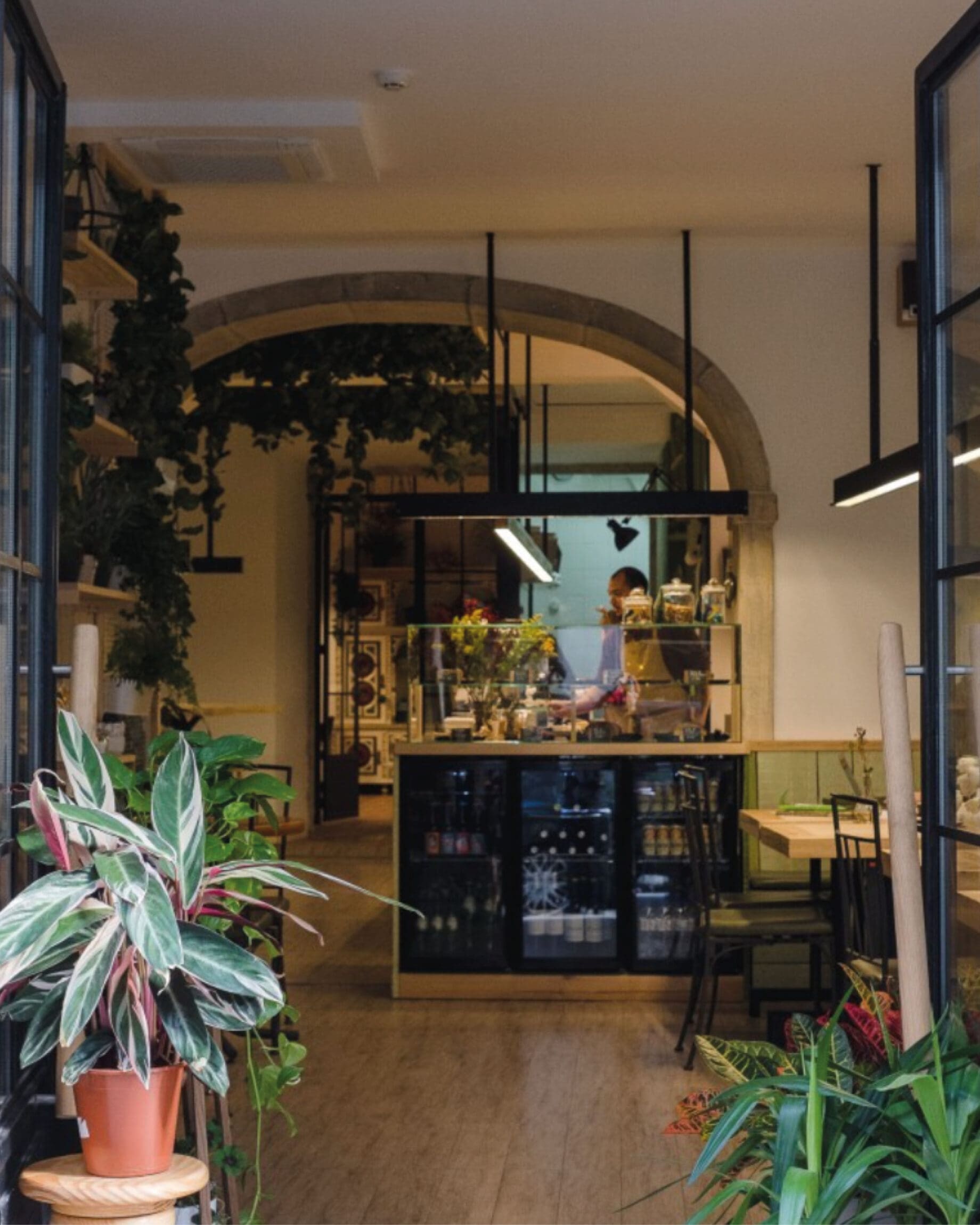 Avenida da Liberdade
Stanislav Brunch
Best for: Slipping into a centrally located, but relatively quiet, Russian-style cafe
Location: 1150, R. São José 182
Price: coffee is priced at 3 EUR or less
Every day from 8am to 5pm, tunes play while homemade quiche and pastel de nata fly out of the kitchen at Stanislav, a cute Russian-style cafe in the Avenida da Liberdade neighbourhood. It benefits from a super central location, but is hidden away enough to avoid throngs of tourists. We recommend starting a Monday with a spin class or bootcamp session at the nearby Amplify gym, then heading here to blast through your emails, powered by Fabrica Coffee Roasters flat whites, bowls of porridge and the usual brunch suspects.
Various locations
IDEA Spaces
Best for: Entrepreneurs looking to connect with like-minded locals and remote workers
Location: Various. ROADBOOK recommends: Palácio Sotto Mayor, Parque das Nacoes, Saldanha
Price: hot desk day pass from 20 EUR
With locations across Lisbon, these purpose-built workspaces have everything one might need for the most productive day possible. We like the Palácio Sotto Mayor outpost, where a fancy gym sits right next door – perfect for letting off some steam. Nearby you'll find the imposing Sotto Mayor Palace, where a free tour can inject a little culture into your lunch break. Hot desk plans give you access to any of the IDEA Spaces, Monday to Friday from 9am to 6pm. Dedicated desk plans ensure 24/7 access to your own space in the selected location, access to any common areas, a mail handling service, and some meeting room credits. All you need to bring is your laptop and your A-game.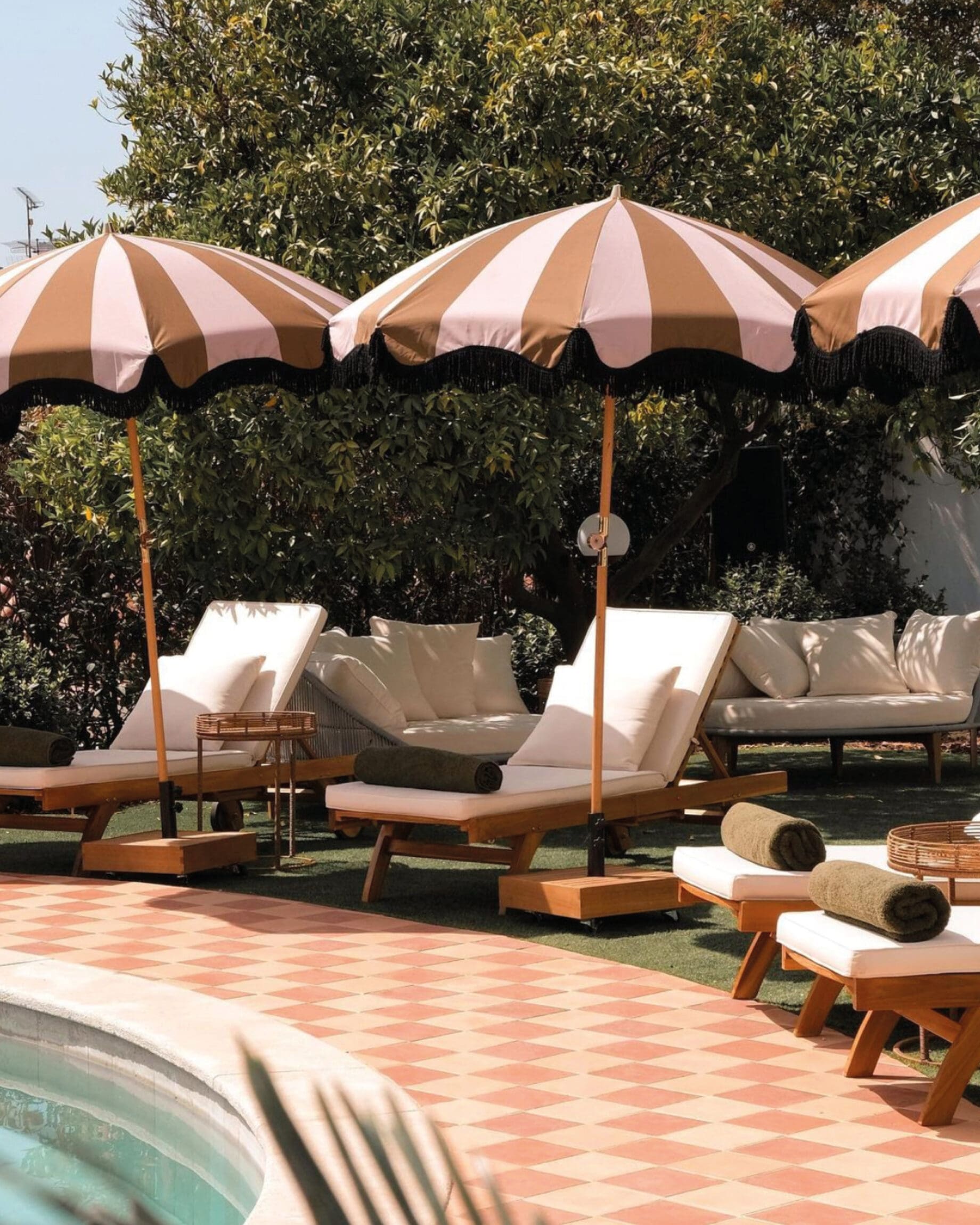 Pena
NINHO Lisboa members' club
Best for: Working poolside. Now this is what you moved to Lisbon for.
Location: Rua Júlio de Andrade 5, 1150-225
Price: A day pass is priced at 65 EUR
Lisbon offers surprisingly few swimming pools and beach club setups, but in-the-know creatives have NINHO Lisboa up their sleeves: a 19th-century palace-turned members' club with a beautiful garden, reimagined to inspire great work and new connections through fluid design and a programme of enriching experiences. Community membership provides access to the bar, restaurant, fitness studio, spa and secret garden as well as a programme of achingly cool events. Better yet, it's steps from the tranquil Jardim Torel, with soaring views of Lisbon's terracotta rooftops. Day pass prices include all-day access from 11am, pool entry, and any complimentary member events held during your visit.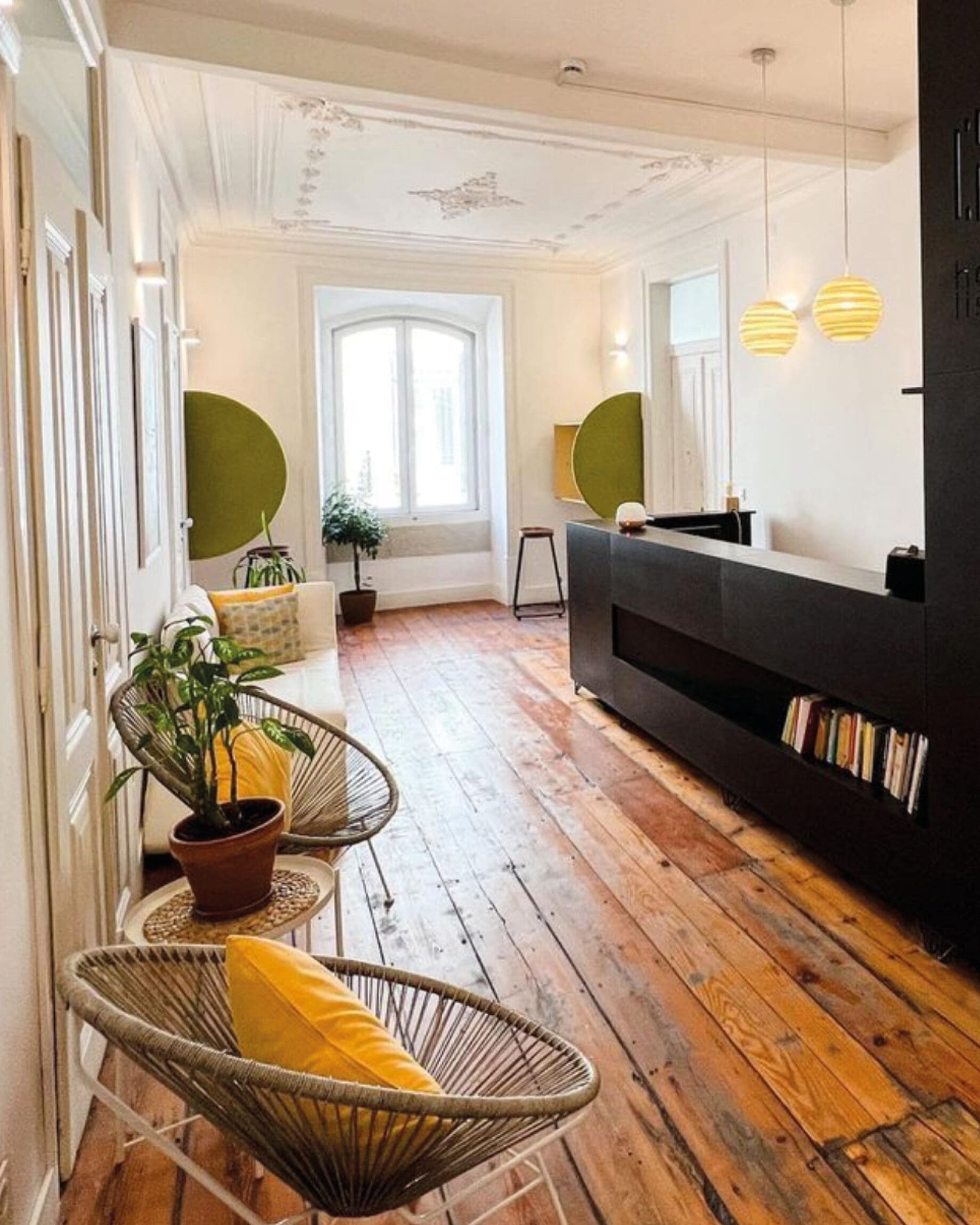 Santa Apolónia
Heden
Best for: Environmentally-conscious bleisure travellers
Location: Doca Jardim do Tabaco, Terminal de Cruzeiros de Lisboa – Edifício NE 1st floor, 1100-651
Price: Monthly passes start at 250 EUR (flex desk). All memberships are month to month
Heden offers dedicated co-working spaces in Graça, Santa Apolónia and Chiado, all with flex desks, private offices and meeting rooms. Santa Apolónia is the newest and largest purpose-built modern co-working space in Lisbon. You can rent everything from art studios to a 120-person auditorium, while extracurricular perks include movie screenings, workshops, and wellness talks. You're placed in the heart of the most characterful and historic area of Alfama, near the Castelo St Jorge, with a river-facing balcony and lush gardens – made for catching a few moments in the sun on long phone calls. It sits in a super convenient spot, right by Santa Apolónia Station and the Cruise Terminal. Sustainability is at the heart of everything Heden does, from building materials to the coffee they brew.
Cais do Sodre
Outsite Coworking Cafe
Best for: Joining a global network of remote workers and creatives
Location: Rua de S. Paulo 109, 1200-275
Price: 17 EUR (includes one welcome drink)
The Outsite brand is noted for its co-living and workspaces across the world, designed to bring digital nomads together under one collaborative roof. Outsite's Lisbon outpost occupies a heritage tiled building in the lively Cais do Sodré district. It is ideally located for after-work drinks and languorous lunches; this buzzy location is where much of Lisbon's nightlife begins and ends. The cafe has private phone booths and soundproof meeting rooms, which block out the clamour of the neighbourhood. Daily, weekly, monthly and flexi passes are available, and with further locations from New York to Costa Rica and Bali to Nicaragua, you can connect with a global network of remote creatives.
Alcantara
Ler Devagar
Best for: 'Reading slowly', as its translated name suggests
Location: R. Rodrigues de Faria 103 – G 0.3, 1300-501
Price: Books from 7 EUR 
LX Factory is a converted warehouse-style industrial space, and an essential stop for creatives and digital nomads in Lisbon. You'll find kooky accommodation, off-the-wall club nights, art galleries, shops, boutiques and countless restaurants, as well as Ler Devagar: an alternative bookshop, cafe and concept store set across four floors, with plenty of tables for getting your head down. When you're done for the day, order an ice-cold beer and take a moment to marvel at the moving bicycle suspended from the ceiling – a stunning piece made of waste materials by Italian artist Pietro Proserpiot. Stick around to catch a thoughtful new exhibition, book launch, or concert.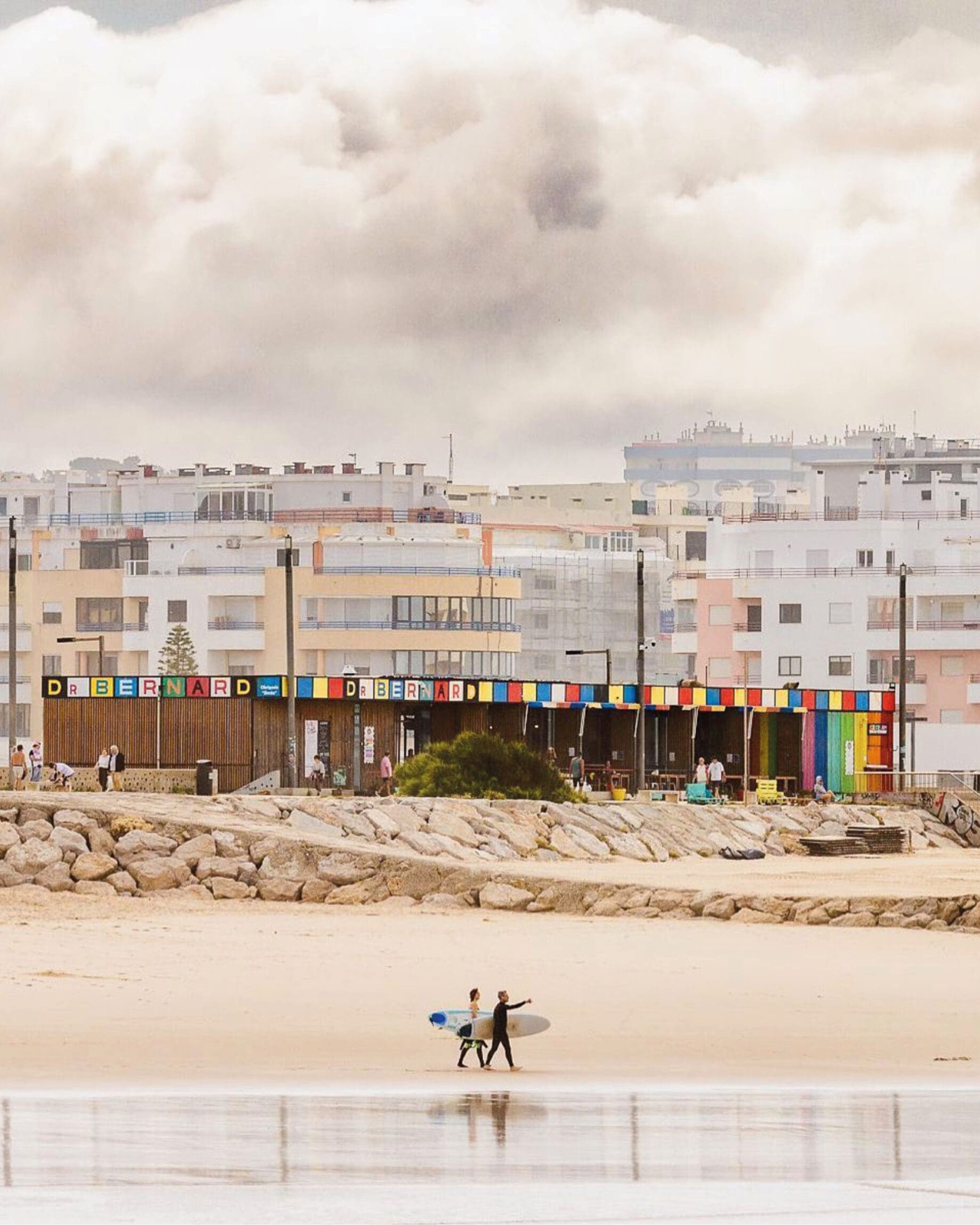 Costa da Caparica
Dr Bernard
Best for: Slamming the laptop shut and jumping straight into the sea
Location: Praia do CDS, Apoio de Praia 11, 2825-391
Price: 10 EUR for a day pass
Half an hour by (gloriously cheap) taxi or boat across the Tagus river will bring you to Costa da Caparica. It's a surprisingly little-known sleepy beach town, full of clued-up digital nomads who've nailed remote working in Lisbon. They're jogging or surfskating the seaside running track, riding the abundant waves (excellent for beginners) and doing some work here and there, too. Bright and breezy surf school, eatery, wellness centre and event space Dr Bernard pulls crowds for coffee, beers and pizza with incredible sea views. So many visitors bring their laptops along that Dr Bernard has now opened a dedicated co-working space, with printing and mail services, luggage storage and fast Wi-Fi.
For a dose of culture, check out Lisbon's array of art galleries and museums, as part of the ROADBOOK Lisbon city guide.