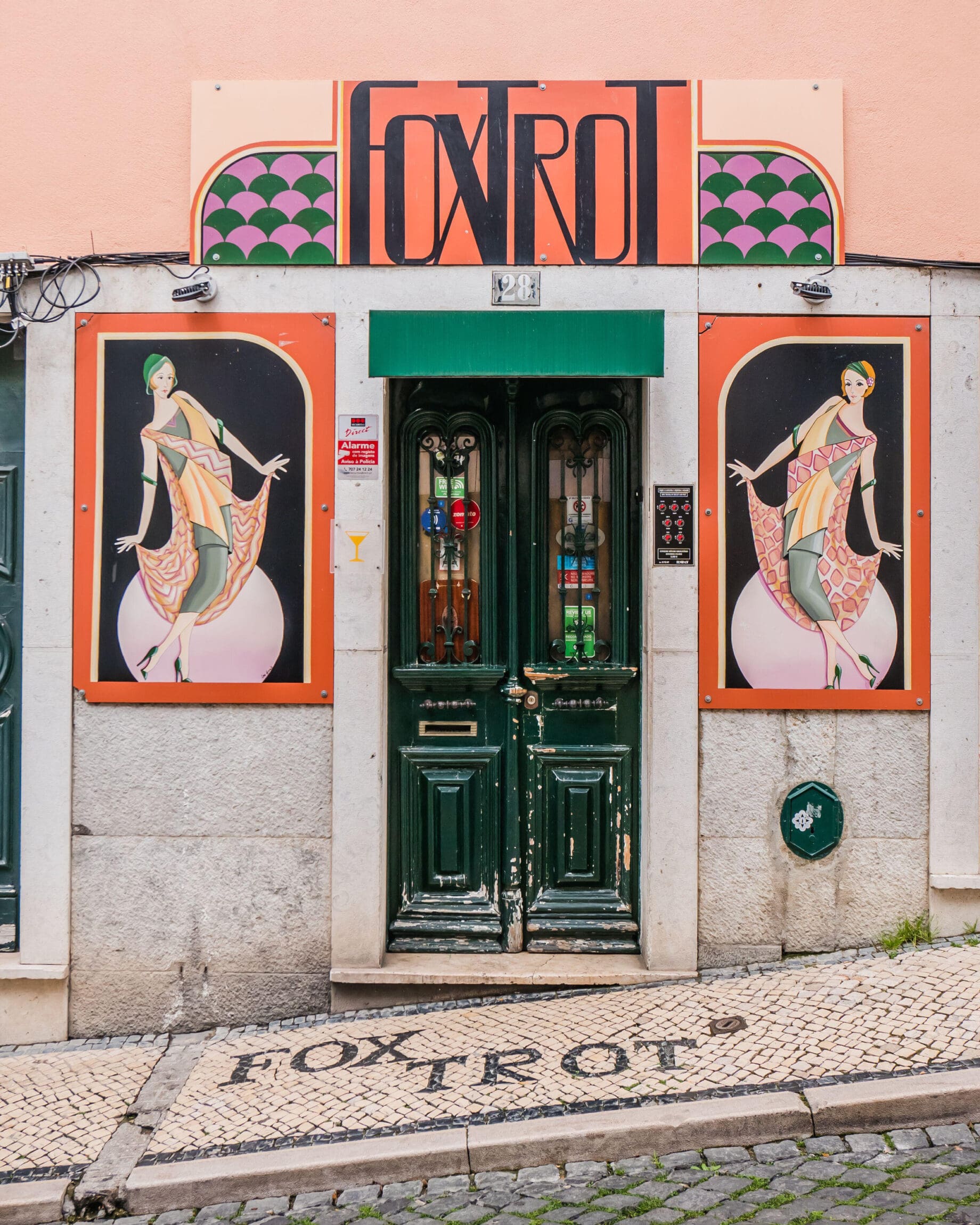 Lisbon's nightlife scene exudes the lively energy you'd expect from any major sunny European city, with al fresco drinking and street festivities until the small hours. It's the air of informality, however, which really sets the city apart. Laidback rooftop bars have panoramic views and zero dress code, while cocktails are served on cobblestone corners, with live music never far away. An ice-cold beer from a tiny kiosk overlooking one of the city's many miraoudoros (viewpoints) will cost you no more than two euros, and you can linger in a low-lit, cosy wine bar nursing a glass of vinho verde (green wine), without anybody moving you on. Once you're done, bed down in one of the city's beautiful boutique hotels, or continue your night by exploring Lisbon's live music scene.
Navigating Lisbon's bar scene
Bairro Alto is Lisbon's notorious party district, which spills into Chiado's cobbled streets. Graça is noted for its trendy wine bars and restaurants, while Santos mixes 16th-century palaces with basement club nights. A local writer handpicks the best bars in Lisbon, whether you are looking for inventive cocktails, natural wine or a packed-out dancefloor at 2am.
Bairro Alto
A Capela
Best for: A sweaty dance-off in the dark, Bairro Alto's best bar
Address: R. da Atalaia 45, 1200-043 Lisbon
Price: Drinks from 5 EUR or less
Bairro Alto, known as Lisbon's party district, is full of bars – many of them underwhelming, serving watered-down cocktails and table fries from photo-heavy menus. Side-step these in favour of A Capela, a hidden gem and tiny sweat-box of a bar with a clubby feel and DJs spinning vinyl. Expect funk, house, disco and some fun remixes to impress your music-nerd friends and keep even the biggest introverts swaying on their feet.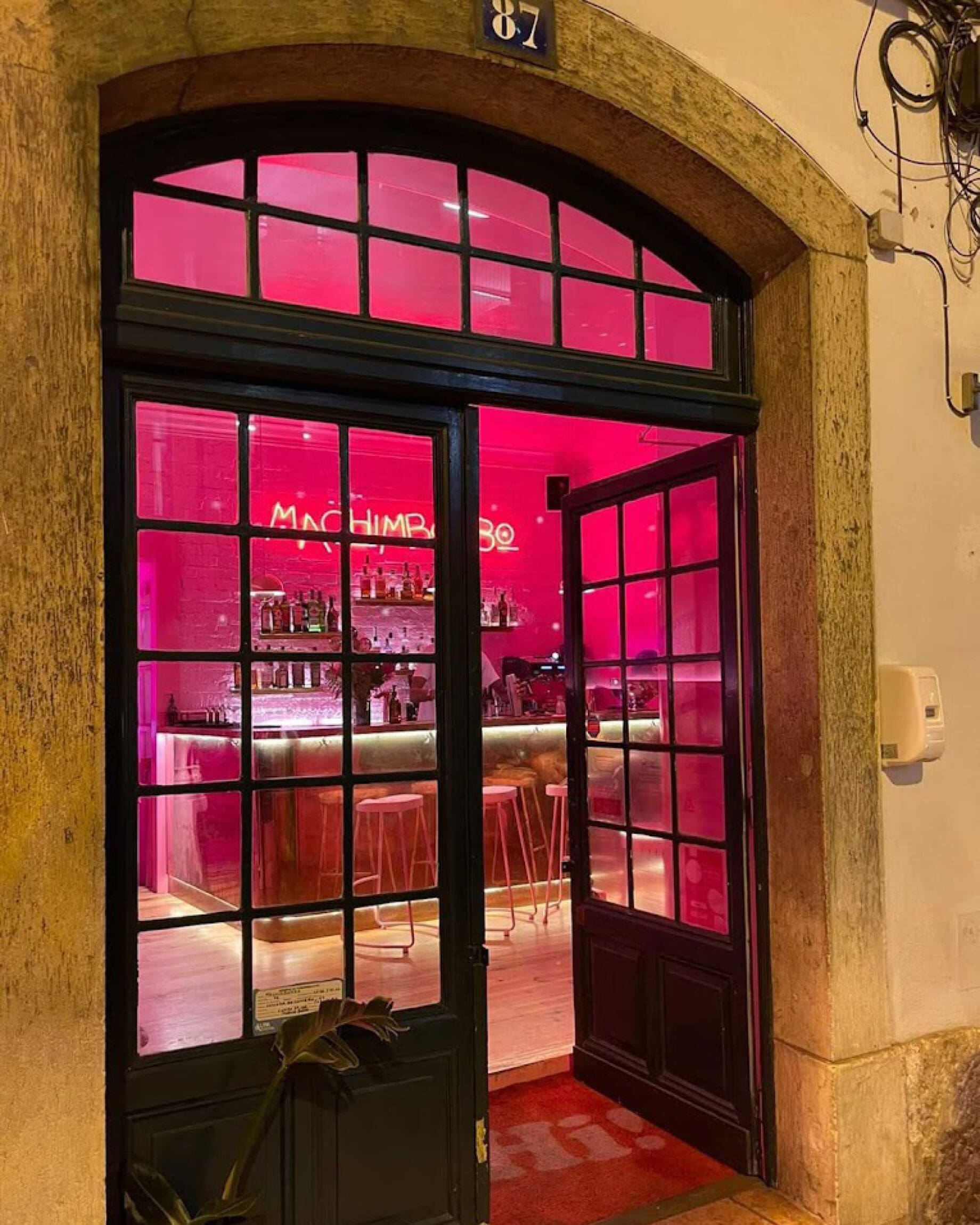 Machimbombo
Best for: A quick drink and a boogie before heading into town
Address: Calçada do Combro 87, 1200-111 Lisbon
Price: Wine is priced at 3-7 EUR per glass, cocktails from 8 EUR
Machimbombo is known as the 'pink bar' for its glowing magenta interiors. Positioned in the bustling Bairro Alto district, it is a popular brunch spot during the day and a lively bar at night. Serving cocktails, craft beer and local wine, it attracts a young and diverse crowd. Live DJs play Amapiano, house and R&B music, and a small dance floor often spills out onto the street.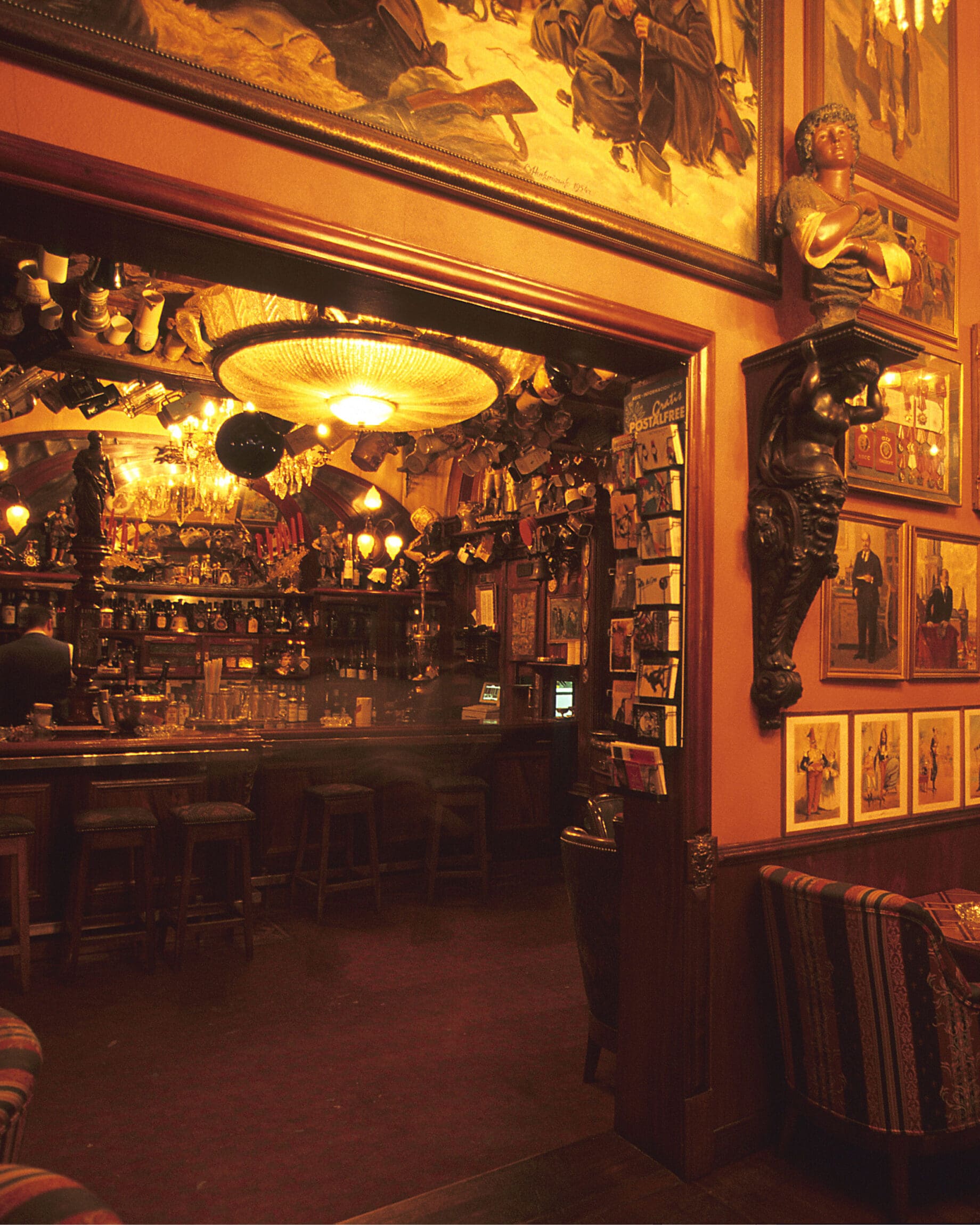 Pavilhão Chinês
Best for: a madcap, immersive cocktail bar, fado music 
Address: R. Dom Pedro V 89, 1250-093 Lisbon
Price: Cocktails from 10 EUR, beer and wine priced at 5 EUR or less
Ring a bell to enter Pavilhão Chinês, an antique time warp in Barrio Alto. Housed in a former grocery store, the bar is spread across five rooms and packed to the rafters with vintage bric-a-brac. Enjoy a craft beer, wine or cocktail beneath crystal chandeliers and model airplanes, and among the shelves and glass cabinets of toys, porcelain busts and paintings, accompanied by occasional fado music. Just don't break anything.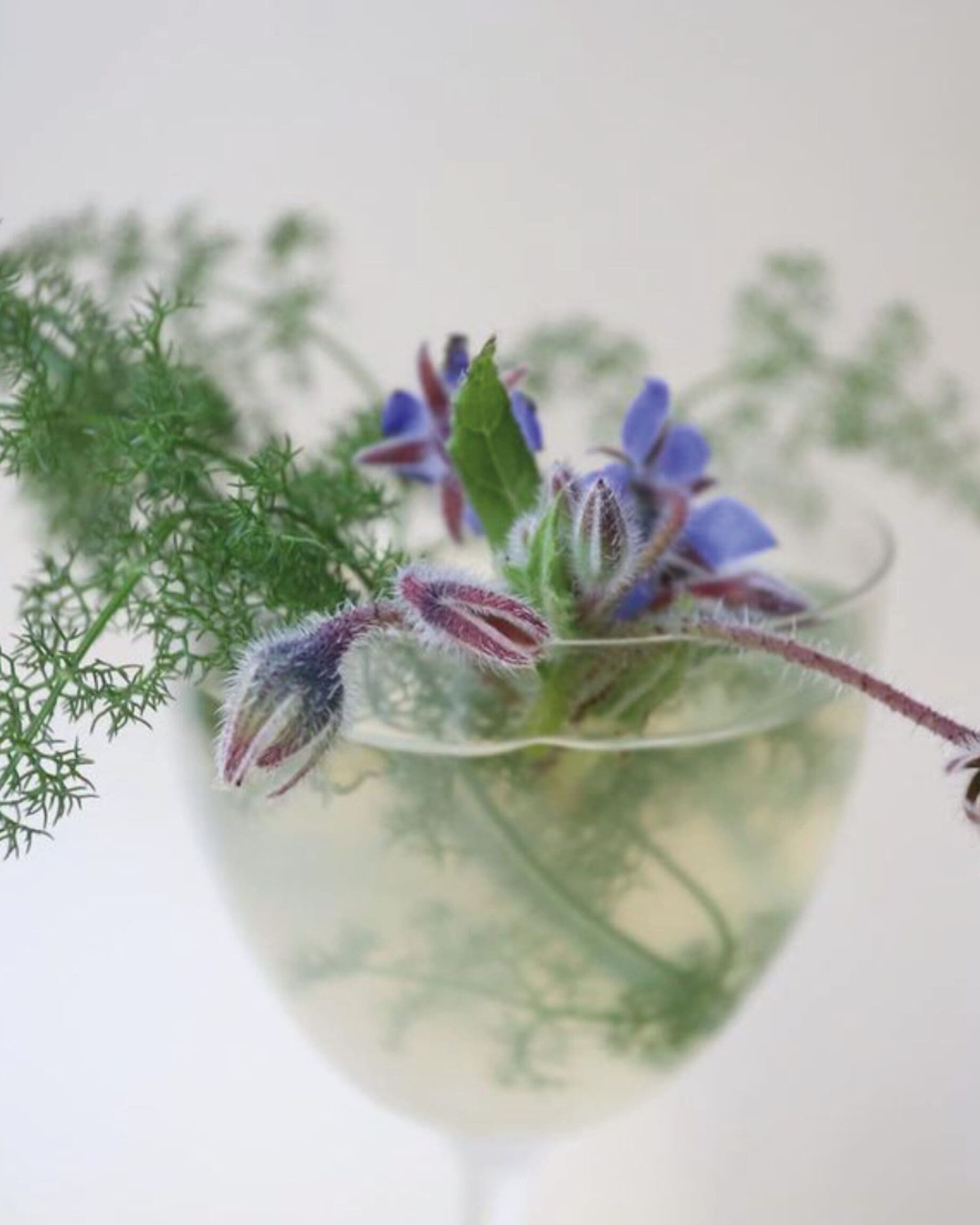 Chiado
Toca Da Raposa
Best for: A stylish sexy date spot, inventive cocktails
Address: R. da Condessa 45, 1200-302 Lisbon
Price: Cocktails from 10-13 EUR
This low-lit contemporary cocktail bar is known for its inventive drinks made using foraged and locally-sourced ingredients. Founder Constança Cordeiro hosts guided foraging expeditions outside of Lisbon and drinks are often loaded with 10 to 15 different ingredients. Don't expect any of the classics here – the menu has a playful, cartoon-style design and each cocktail is so-called after a different animal. Try the spicy scarab, stirred with clementine leaf, gin and turmeric, or the glowing panda, with wild fennel gin, strawberry and vermouth. Reservations, like many bars on this list, are not accepted, but rock up before 7pm (in low season) and you should be able to find a table easily. Cordeiro also recently opened Uni, a pocket-sized cocktail bar in Bairro Alto with a futuristic aesthetic.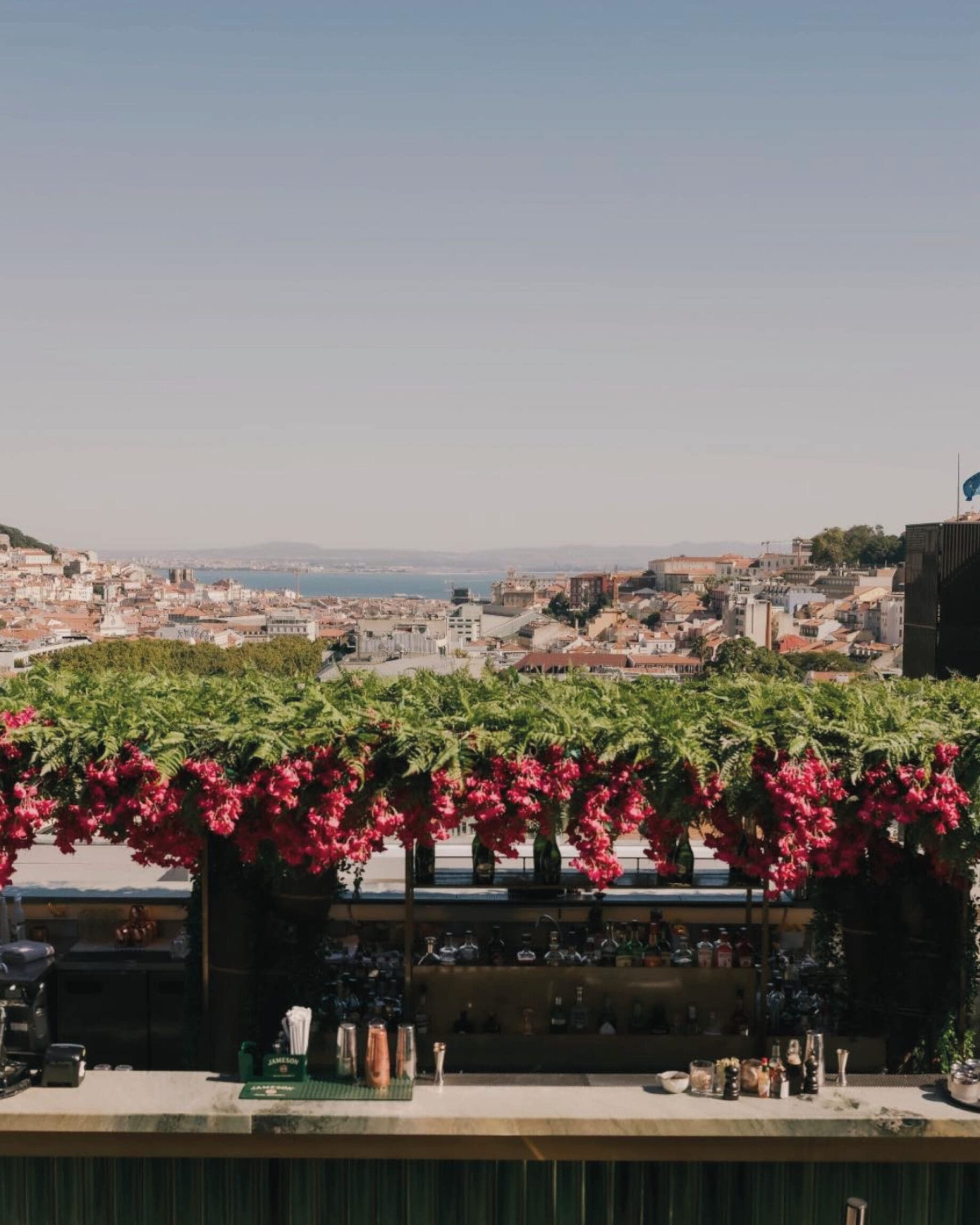 Sky Bar at Tivoli Avenida da Liberdade Lisboa Hotel
Best for: Special occasions, panoramic views
Address: Avenida da Liberdade 185, 9º floor 1260-050 Lisbon
Price: 14-17 EUR for cocktails
This rooftop bar is on the 9th floor of the Tivoli Avenida da Liberdade hotel and is an extension of Restaurant SEEN Lisboa by Olivier. Perched high above the city's rooftops, the main draw here is the skyline view, with the Tagus river in the distance. Signature cocktails and bar bites are met by live DJs, spinning low-key house music until late.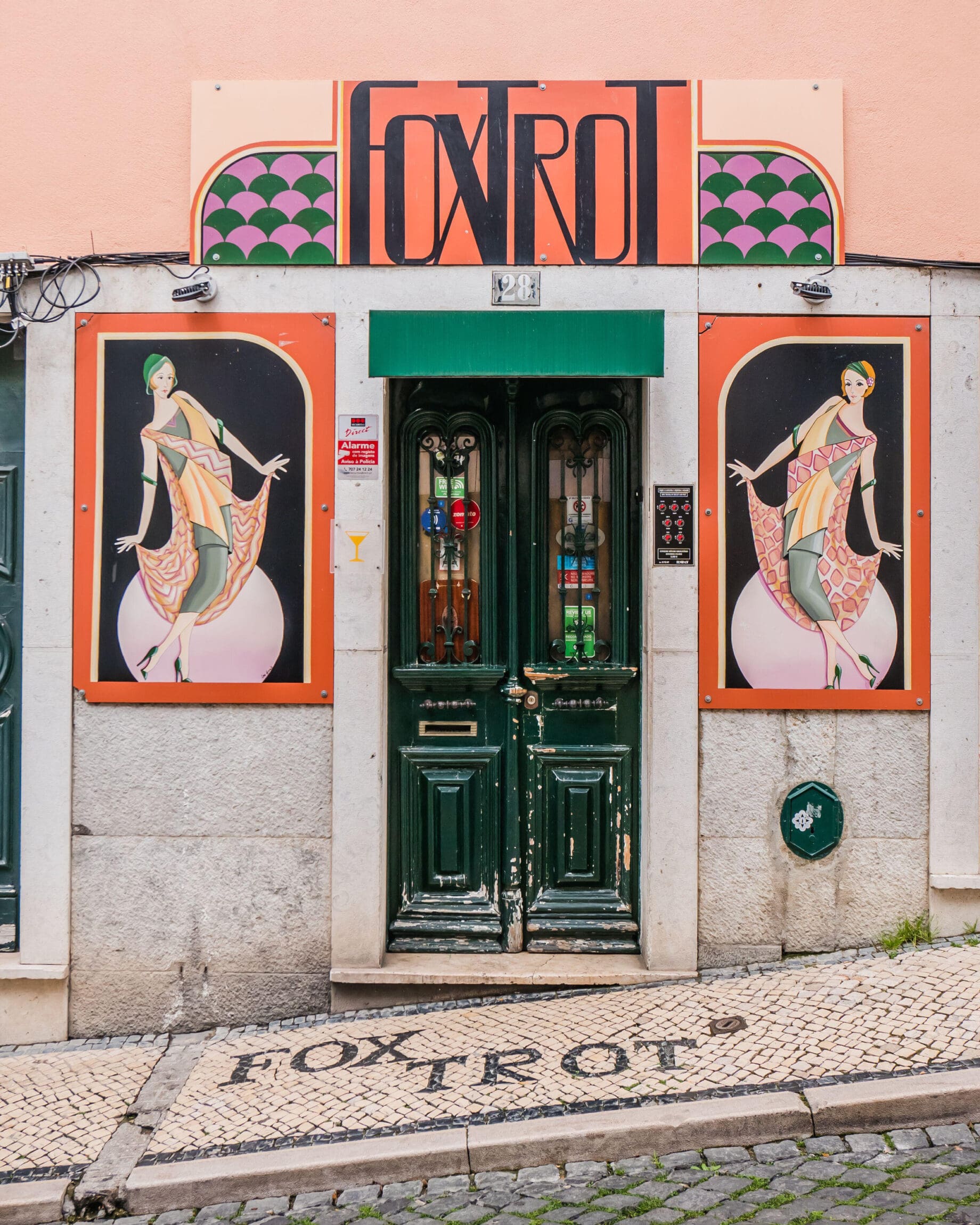 Príncipe Real
Foxtrot
Best for: a legendary art deco stalwart, outdoor terrace
Address: Travessa de Santa Teresa 28 Príncipe Real 1200-405 Lisbon
Price: 12-15 EUR per cocktail, 3-5 EUR for craft beer
This speakeasy-style cellar bar has been serving Lisbon for more than 40 years and has achieved something of a legendary status in and outside of the city. With a roaring fireplace in the winter and a terrace to the back, Foxtrot pays homage to the art deco era with eclectic decor – think gigantic mirrors, large-scale figurative artwork and lacquered wooden tables. A wide range of craft beers are available, but the cocktails reign supreme here, with the barmen serving up all the regular classics (negronis, white Russians and pisco sours), as well as bespoke pours.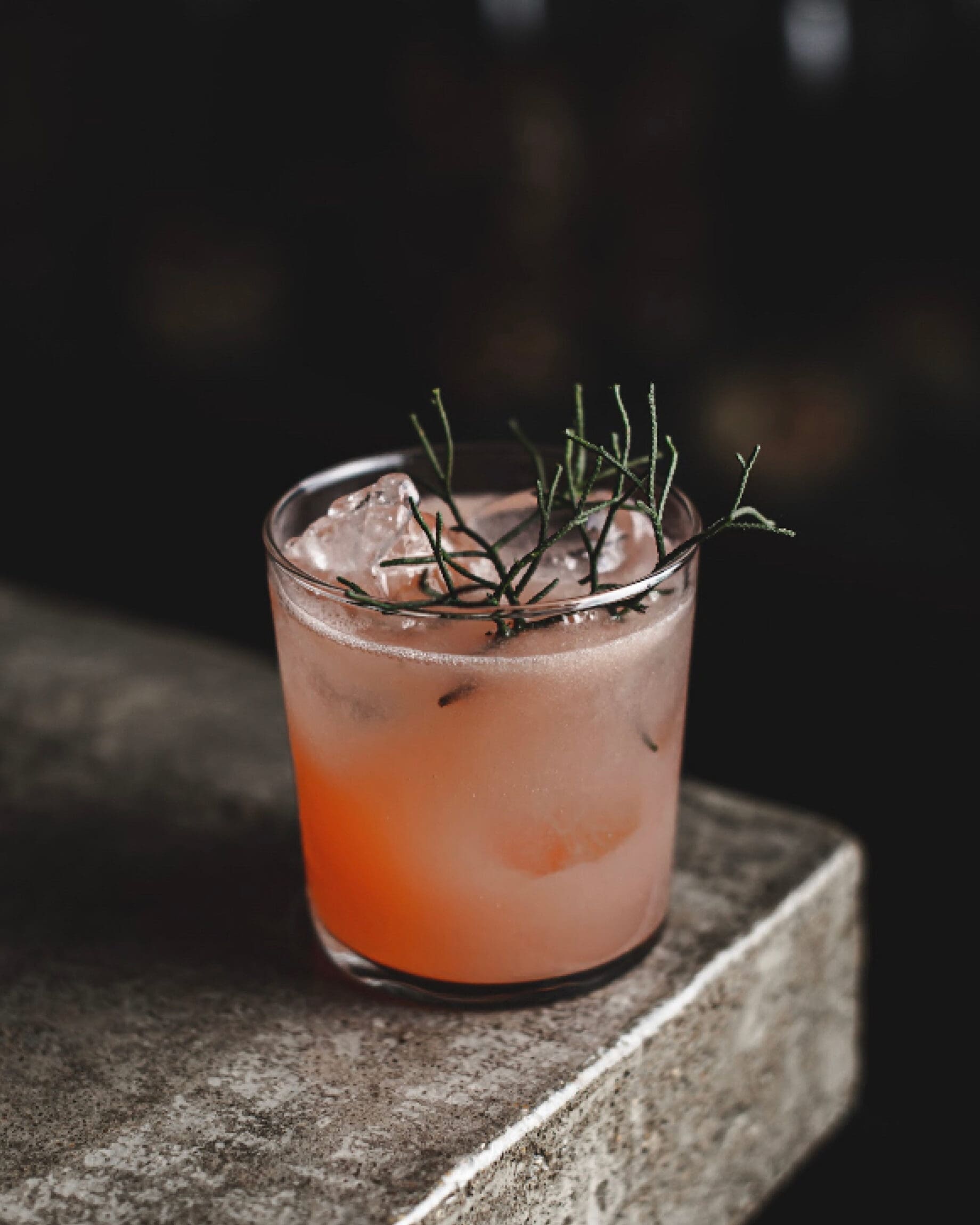 Imprensa
Best for: oysters, cocktails, outdoor seating
Address: R. da Imprensa Nacional 46, 1250-127 Lisboa
Price: Cocktails from 10 EUR
This cosy, low-lit bar in the trendy Príncipe Real neighbourhood serves cocktails, natural wine and craft beers. Imprensa translates from Portuguese to 'printing press', and each cocktail is so-called after a typeface, meaning design geeks can enjoy sipping on futura and gill sans concoctions. Service is excellent, and the owners are often on-hand to explain the menu and conjure up drinks from scratch. There is a seafood-rich snack menu of shrimp brioche, ceviche and oysters, freshly delivered daily from the Setúbal region of Portugal. Imprensa is open every day from 6pm to 2am and there is also outdoor seating for balmy evenings.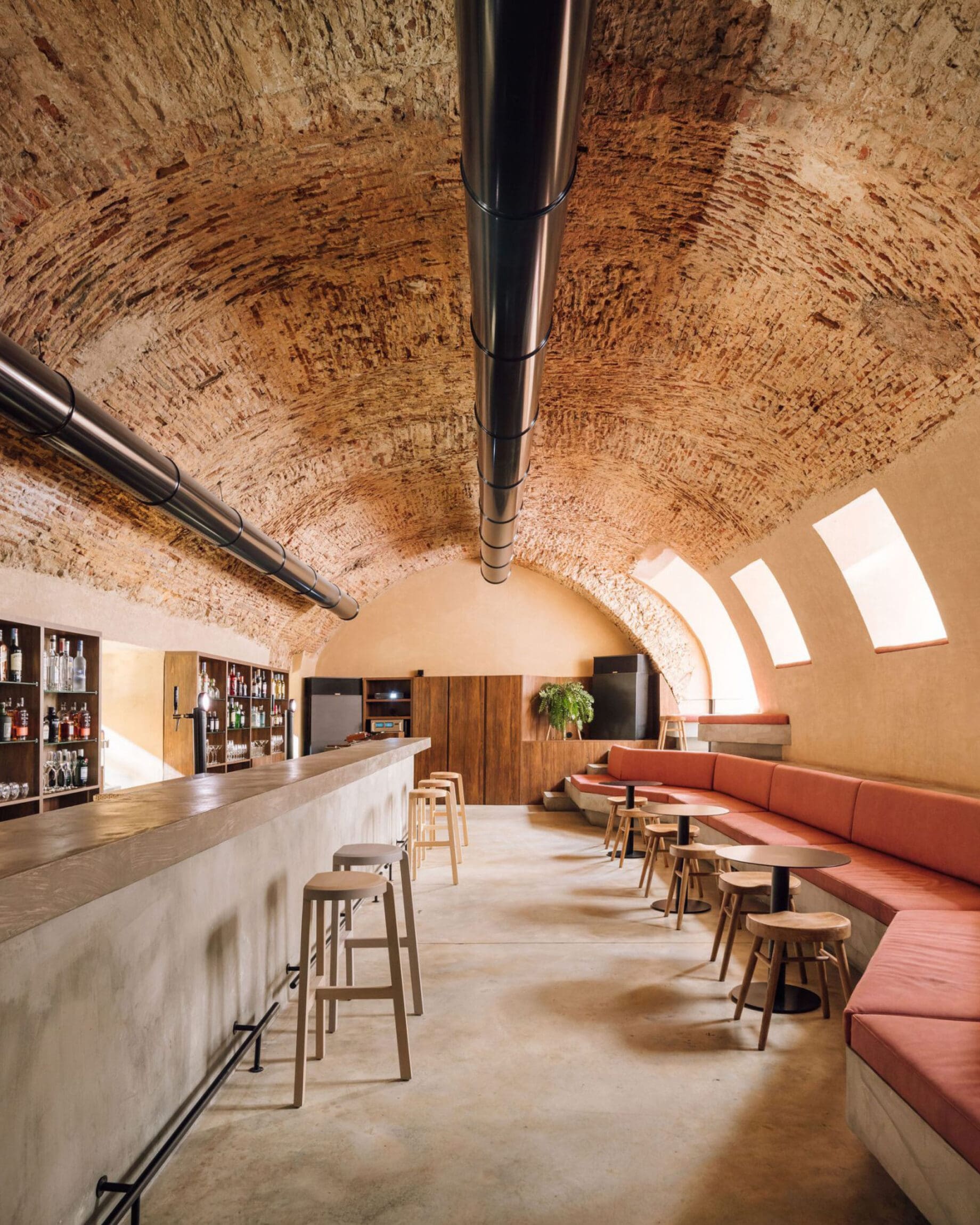 Santos
Vago
Best for: House music in a basement bar, late nights
Address: 11A Rua Gaivotas, 1200-163 Lisbon
Price: wine from 4 EUR, beer from 2 EUR, cocktails from 9 EUR
This trendy basement bar in Santos is considered one of the best spots for live music in Lisbon. Vago is inspired by Japanese listening bars and is fitted out with high-spec audio equipment. The owners are both DJs, and house, techno and contemporary dance music plays every weekend until 2am. Sip on excellent cocktails, alongside craft beer and wine.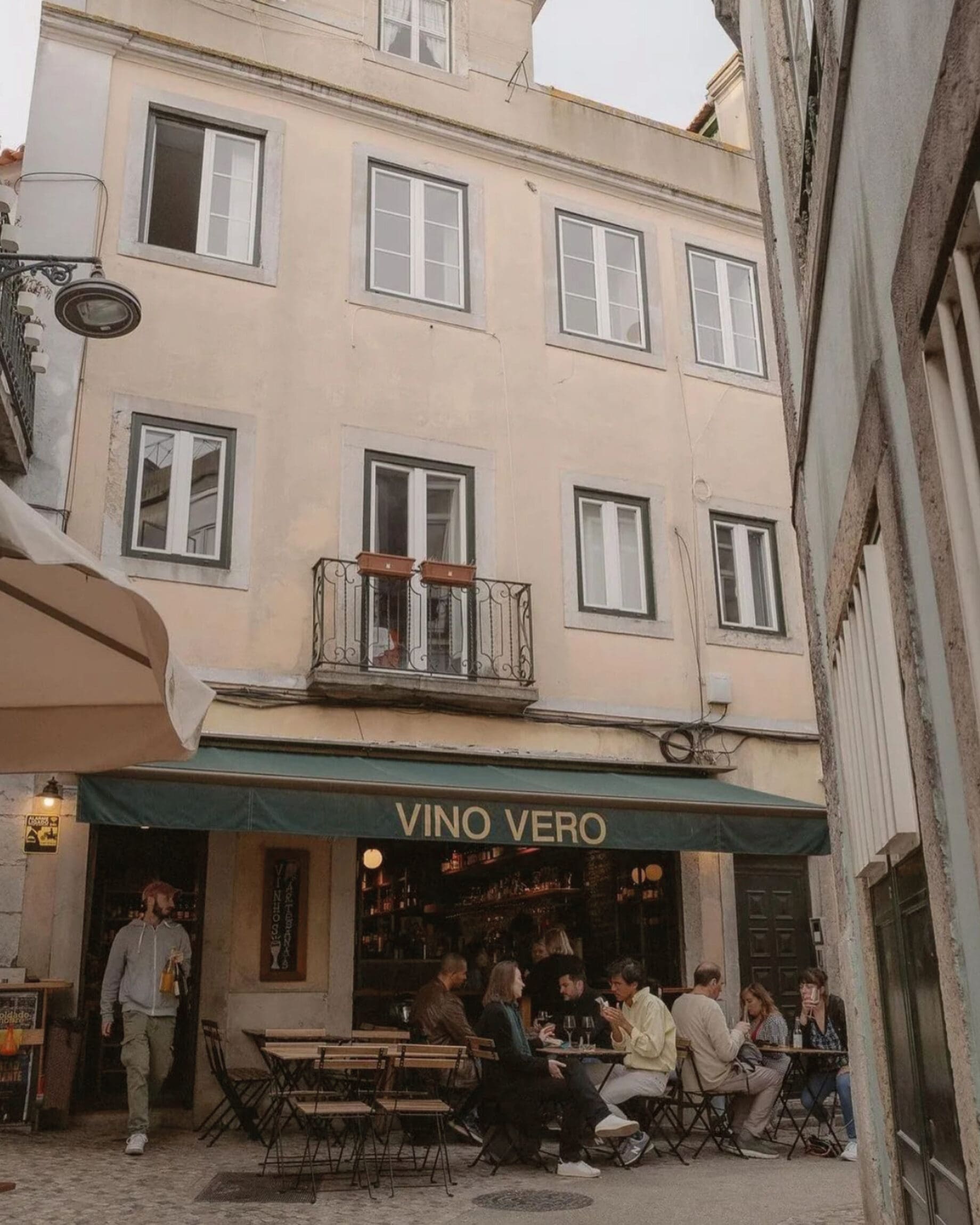 Graça
Vino Vero
Best for: Natural wine, outdoor seating
Address: Tv. do Monte 30, 1170-265 Lisbon
Price: Wine from 4-7 EUR per glass
Vino Vero, which also has an outpost in Venice, is a casual wine bar on a cobblestone street in the hip Graça neighbourhood. This laid back, buzzy spot is a short walk from the area's notable viewpoints, and noted for its selection of natural and biodynamic wine, alongside charcuterie boards and small plates. Reservations are recommended on weekends.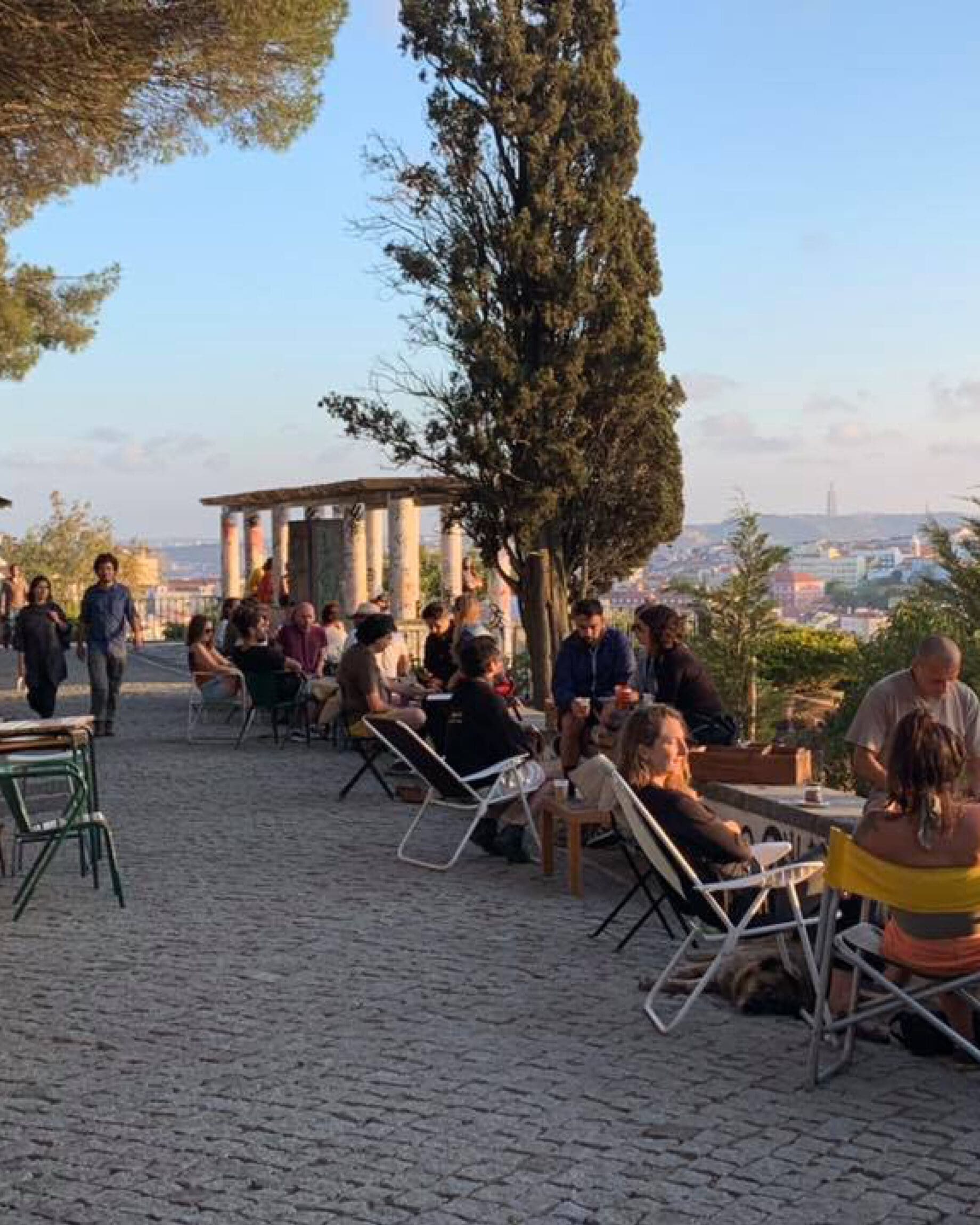 Kiosk in Monte Agudo
Best for: Drinking in panoramic views of Lisbon
Address: Rua Heliodoro Salgado Arroios, Lisbon
Price: Beers from 2 EUR
This family-run miradouro and kiosk is hidden between Graça and Anjos and opens at around 1pm each day. There's limited seating at this casual spot, which fills up fast during sunny weekends and evenings, but perch on the wall or a small bench nearby and you'll get the same experience. Affordable beers and wines are available, or you can try the Port Tonic, a popular sparkling concoction made with white port and tonic, best sipped while watching the sunset melt into the horizon.
Sign up for superlative city guides and compelling long reads