Lisbon is having a moment. Digital nomads from across the globe are eschewing office drudgery for extended stays in the Portuguese capital, filled with breezy evenings on terraces, sun-soaked lunch breaks and endless beach weekends. In-the-know travellers have long had this gem on their radar, but right now it's abuzz with a fresh energy, buoyed by street parties, a burgeoning food scene, fine local wine and incredible surf.
Where to stay in Lisbon
Lisbon's hotel scene ranges from luxury stays in pastel period buildings to apartment-style properties hidden in plain sight. From rooftop swimming pools to co-working communities, you'll find what you're looking for in Lisbon.
The city's neighbourhoods are distinct and each characterful in its own way. Estrela and Amoreiras are on the sleepier side, while Graça and Alfama house a low-key creative scene. Every night is Friday in crowded Bairro Alto, where younger tourists grab a few hours' sleep in affordable hostels and hotels (pack earplugs). Príncipe Real is teeming with upmarket restaurants, boutiques and bars, while Baixa places you right in the centre, with the city's landmarks and nightlife within walking distance.
Príncipe Real
The Vintage
Best for: Pounding the pavements of Príncipe Real, then cooling off with a dip in the subterranean spa
Location: R. Rodrigo da Fonseca 2, 1250-191 Lisboa, Portugal
Price: Rooms from 156 EUR
The Vintage hotel is ideally located steps from the artsy boutiques, restaurants and cafes of LGBTQI+ friendly Príncipe Real – reserve an afternoon for wandering the area's shady gardens and gourmet ice cream shops. Back home, spin some records in the artsy cocktail lounge, grab a drink on the rooftop or sink into the low-lit jacuzzi hidden in the hotel's base. In your room, a 1950s bar cart is laden with complimentary Portuguese Sharish gin and snacks, and bathrooms are decked out with Benamôr products that are almost too pretty to open. Head to the neighbouring Amplify gym on Príncipe Real if you fancy a high-energy workout with some active locals and visitors, and reserve a table at A Cevicheria for excellent ceviche and pisco sours.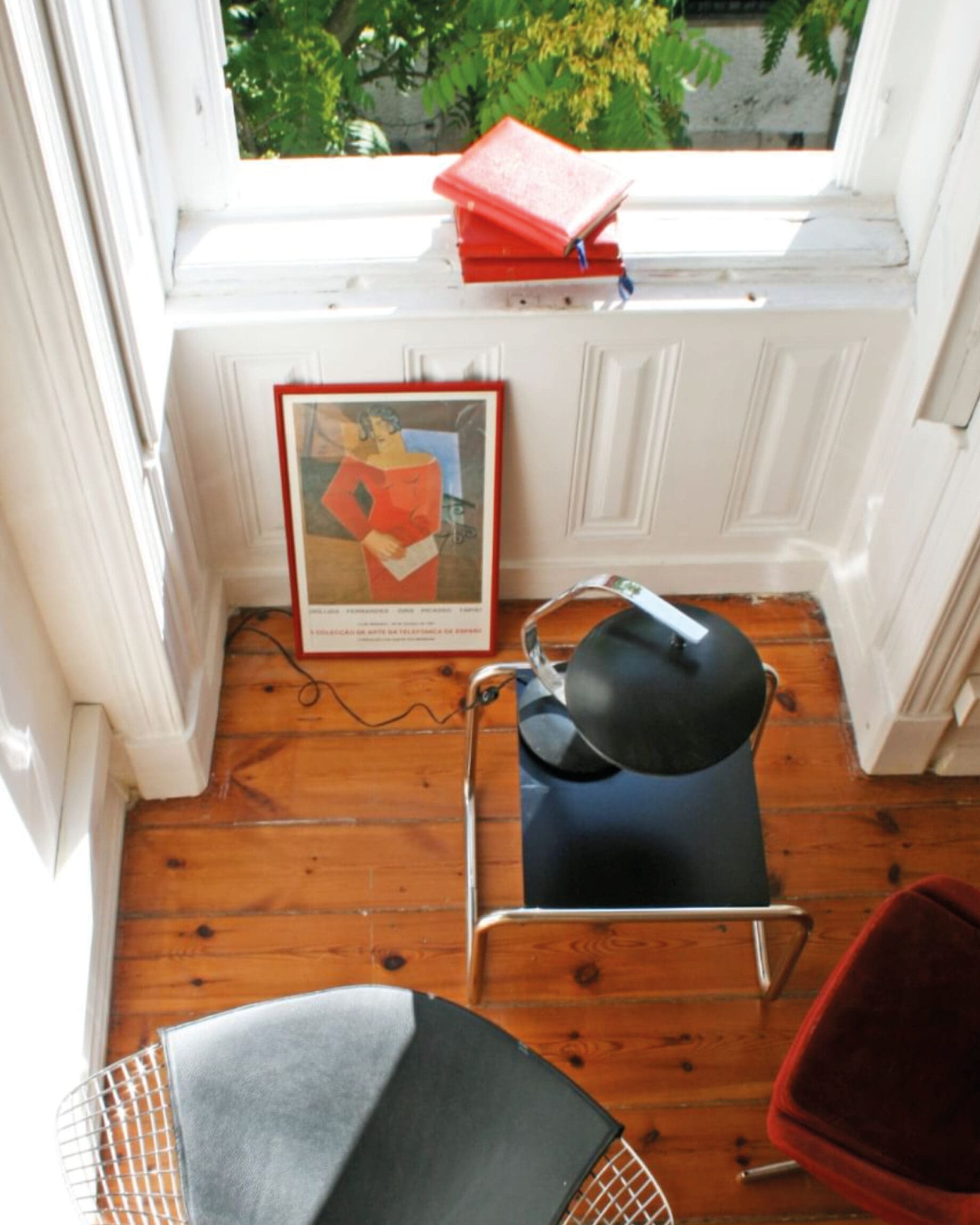 Independente Principe Real Hostel & Hotel
Best for: An affordable base in one of Lisbon's trendiest neighbourhoods
Location: Rua São Pedro de Alcântara 81, 1250-138 Lisboa, Portugal
Price: Double rooms from 110 EUR per night
Independente Principe Real Hostel & Hotel has 22 private suites and a selection of affordable shared dorms. Dorms with twelve, nine and six beds are mixed, and one nine bed dorm is female only. All offer access to one of the best viewpoints in the city: the Miradouro de São Pedro de Alcântara. Sandwiched between theatre hub Chiado and glorious Príncipe Real, Independente is bohemian in all the best ways. It doesn't offer room service, nor a spa, gym or valet parking, but what you do get is breezy, attentive staff, an excellent happy hour, and quiet corners to work in, should you have to. Panoramic views stretch out across the city's iconic rooftops to Alfama, Lisbon Castle and the river beyond, best enjoyed from the rooftop bar and restaurant, Insólito.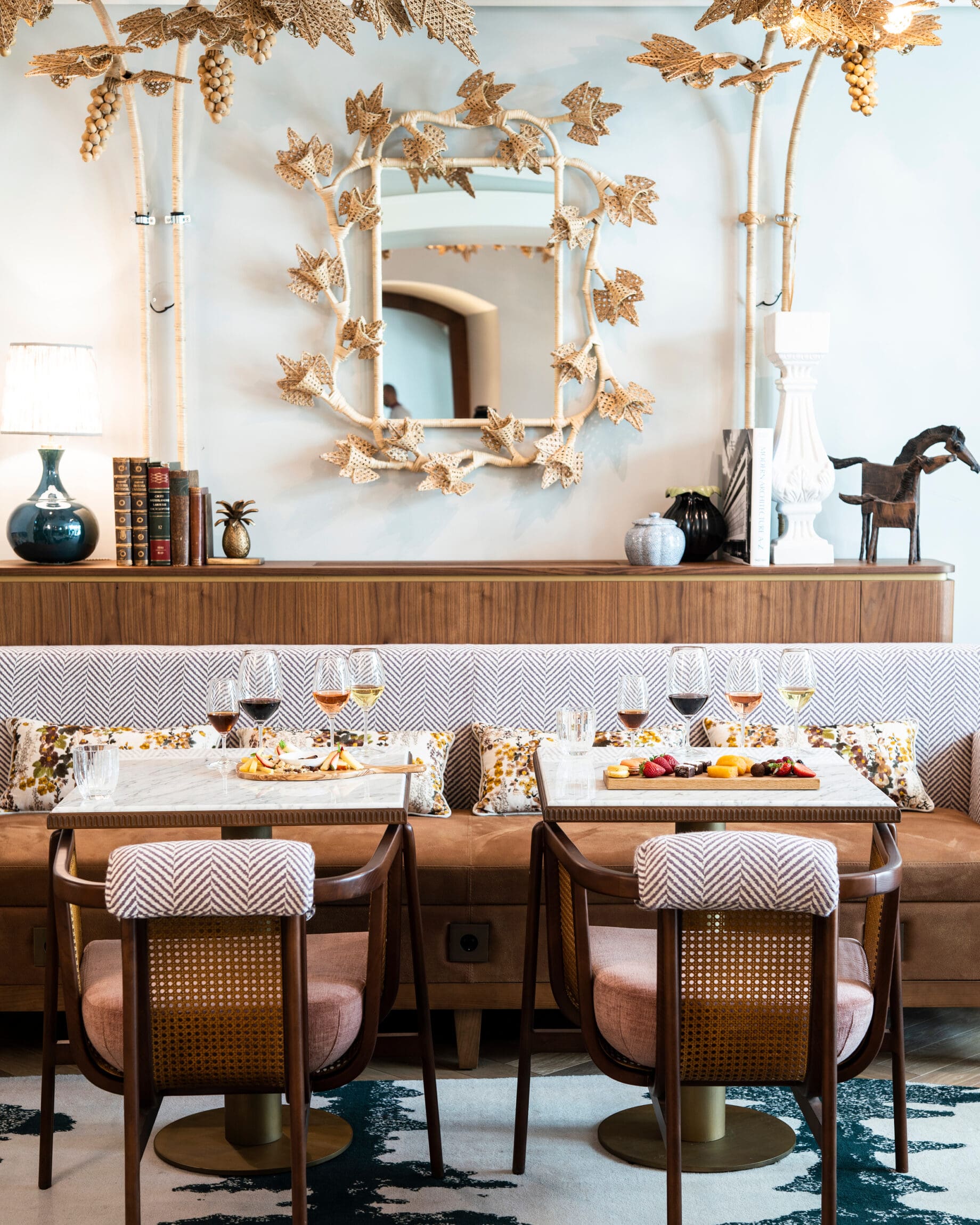 Palácio Ludovice
Best for: Toasting life, at one of the best wine experiences in Portugal
Location: R. de São Pedro de Alcântara 39, 1250-237 Lisboa, Portugal
Price: Rooms from 253 EUR
The canary yellow facade of the former private residence of João Frederico Ludovice (architect to King João V in the 18th century) can't be missed. The majestic building enjoys the same festive atmosphere as the nearby Miradouro de São Pedro de Alcântara terrace viewpoint, with added bells and whistles. Think stucco ceilings, regal staircases, swathes of marble and glamorous touches. There are 61 rooms and suites, many with balconies for soaking up views of the city. Downstairs, a bar awaits in an old cellar, stuffed with vintage wines (book in for a tasting, or the paired wine and dinner experience). The Caudalie spa next door is the place to be spoiled, while the adjoining shop is lined with tempting products that'll make you curse yourself for only bringing hand luggage.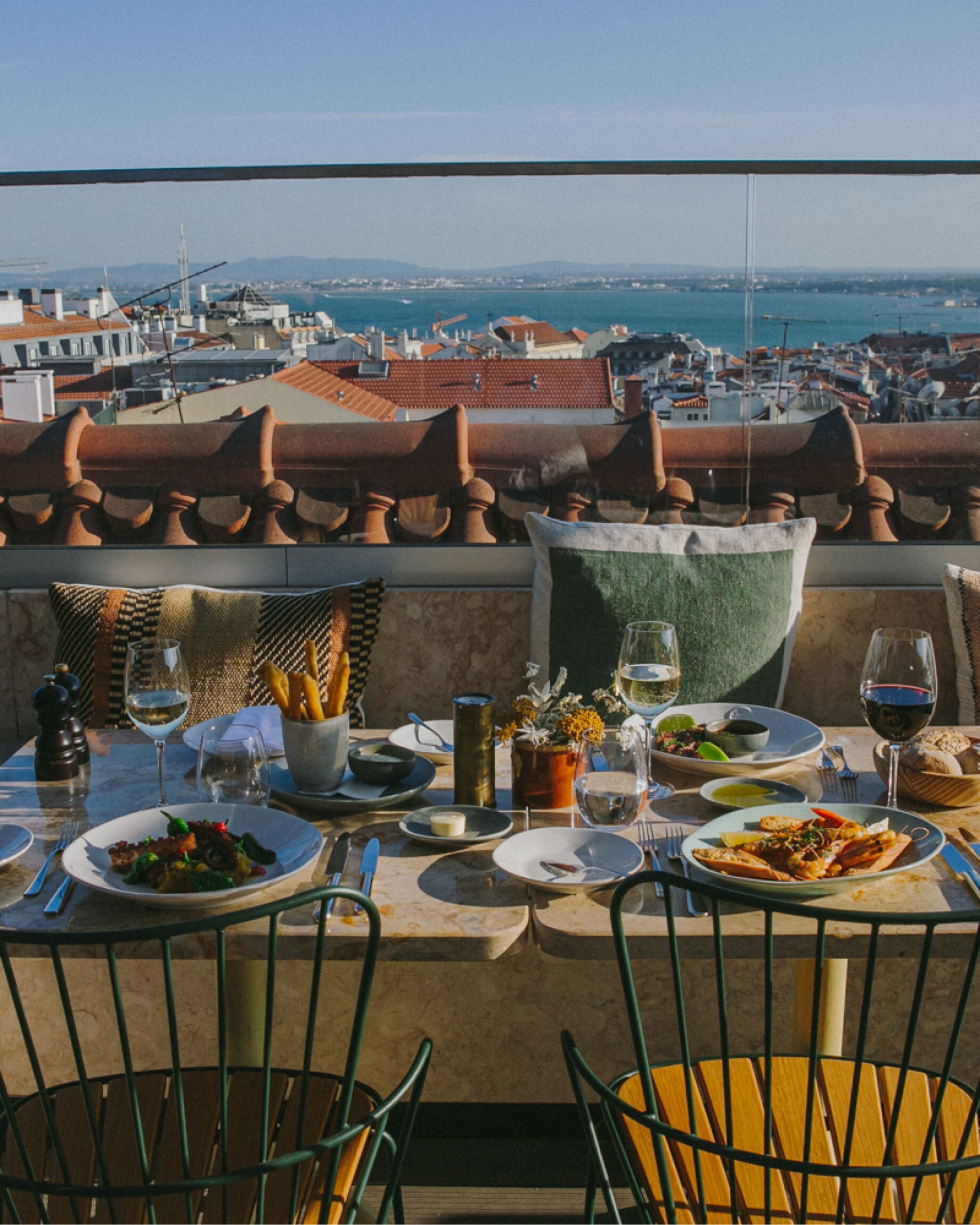 The Lumiares
Best for: apartment-style living with a polished hotel feel
Location: R. do Diário de Notícias 142, 1200-146 Lisboa, Portugal
Price: Rooms from 332 EUR
Stay at Lumiares for the sheer proximity to its rooftop restaurant Lumi, one of the best in Lisbon. Its spicy garlic king prawns and pica-pau (traditional Portuguese beef strips in pickle sauce) are must-try dishes, best enjoyed with a glass of well-priced wine and jaw-dropping rooftop views of Bairro Alto and beyond. The digs are spectacular too – this is a former palace after all, converted into several thoroughly modern apartments, studios and mezzanine suites. Highlights include SMEG appliances, a great little gym, treatment rooms and fabulous artwork throughout. Downstairs you'll find Rebel Cafe, where an iced coffee and mortadella ham and egg brioche bun should be immediately consumed upon arrival. On the streets outside, you'll catch the iconic 28 Tram rolling by.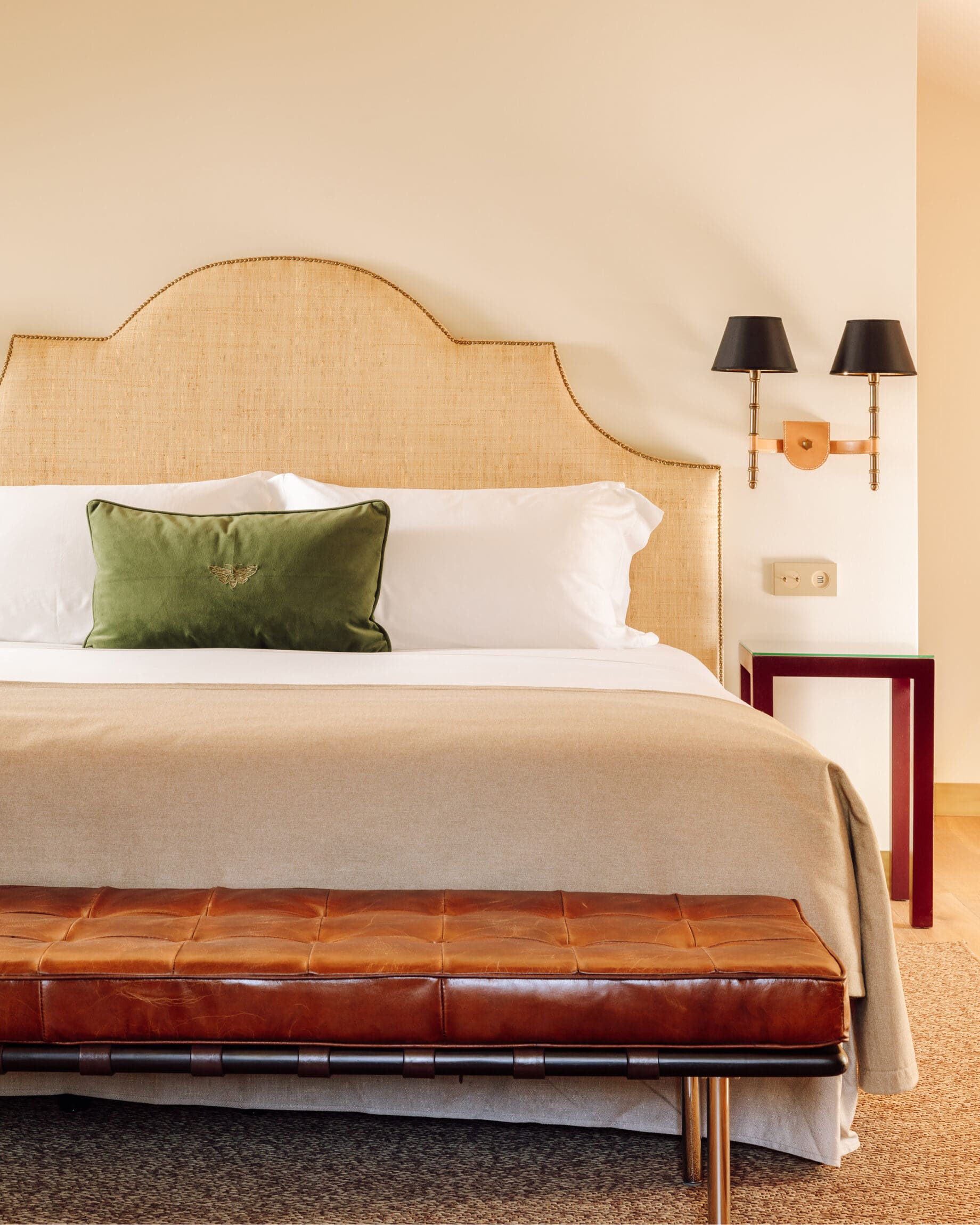 Amoreiras
Hotel das Amoreiras
Best for: True aesthetes
Location: Praça das Amoreiras 34, 1250-020 Lisboa, Portugal
Price: Rooms from 165 EUR
This low-key boutique hotel is set in Praça das Amoreiras square, which is planted with 332 mulberry trees. It also skirts the Jardim das Amoreiras, a peaceful garden with a kiosk from which to watch the world go by with a local Super Bock lager in hand. There are 17 rooms and two attic suites, all filled with art and furnishings lovingly handpicked by owners Pedro and Alicia. It feels truly homely, if your home was put together by talented and discerning designers. You're placed right by two museums – the Arpad Szenes-Vieira da Silva Foundation, dedicated to the two artists, and the Water Museum – if you feel like sprinkling a little culture into your itinerary. The 18th century Águas Livres Aqueduct, where the renowned Chapel of Our Lady of Monserrate can be found, is right in front. Set back from the noise of Bairro Alto and the crowds of Cais do Sodre, Hotel das Amoreiras is an excellent choice for a reflective, peaceful trip. Wander beneath the mulberry trees, then dip into Forno d'Oro, one of the city's best Italian restaurants, for dinner. Turn things up a notch with rooftop drinks and DJ sets at buzzy Mama Shelter nearby. A short walk away is the Parque Eduardo VII, a glorious green space right in the middle of the luxurious shopping area Avenida Liberdade.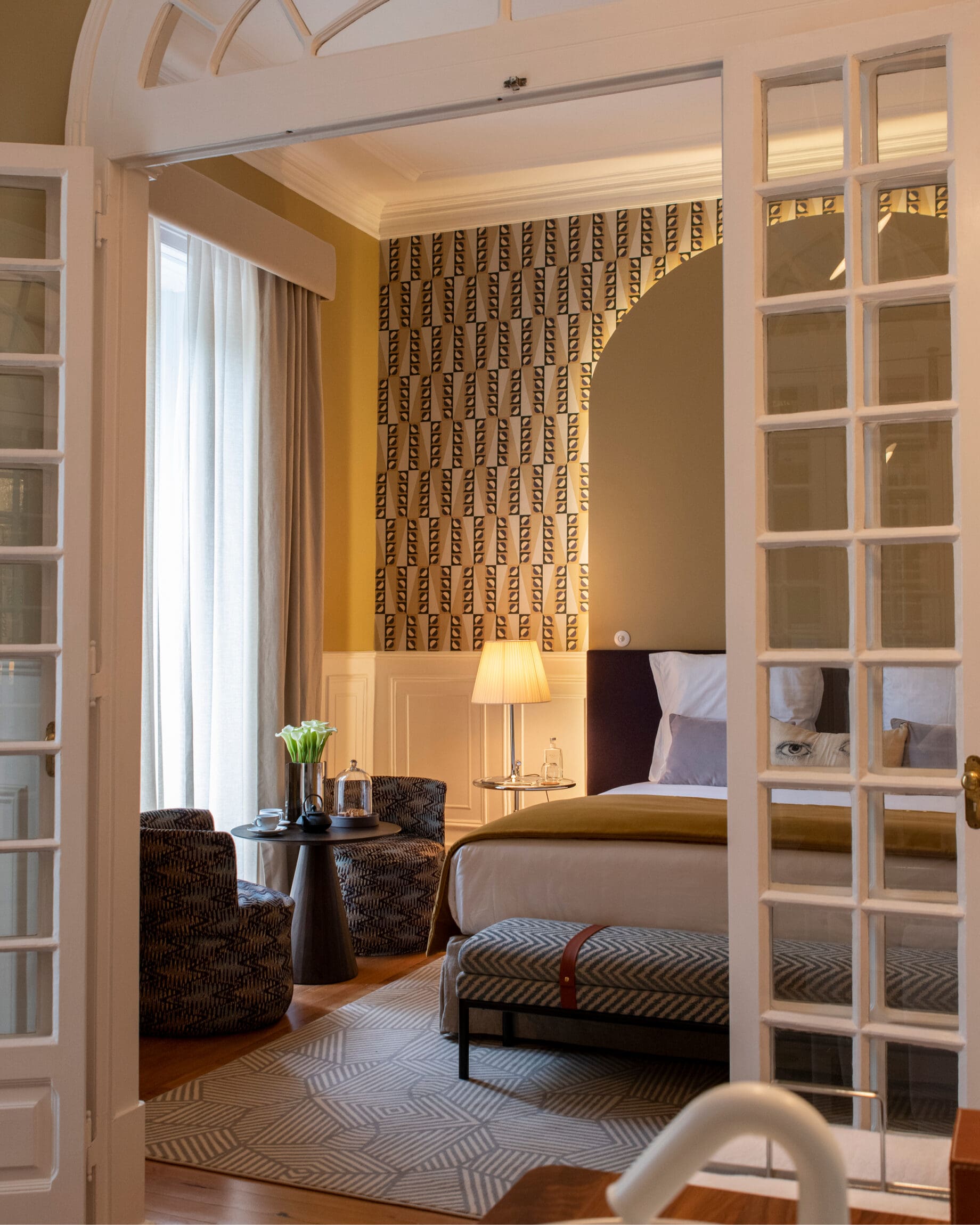 Sublime Lisboa
Best for: The good life, writ large
Location: Address: R. Marquês de Subserra 10, 1070-012 Lisboa, Portugal
Price: Rooms from 270 EUR
Sister property to renowned celebrity getaway Sublime Comporta (an hour's drive from Lisbon in a sleepy seaside freguesia), this glossy new hotel draws the city slickers. Artfully furnished bedrooms and suites have a modern 'boudoir' feel, while Davvero is the destination Italian restaurant. Ingredients mostly hail from Sublime Comporta's kitchen garden, where discerning locals head for weekend escapes. You can truly taste the love and care that goes into each dish at both properties. Aside from its gardens, the big draw of the neighbourhood is the gargantuan shopping mall, which few know has a viewing platform from which to gaze at the Lisbon skyline. Not far is the Calouste Gulbenkian Museum, filled with a dazzling array of treasures (with free entry every Sunday after 2pm).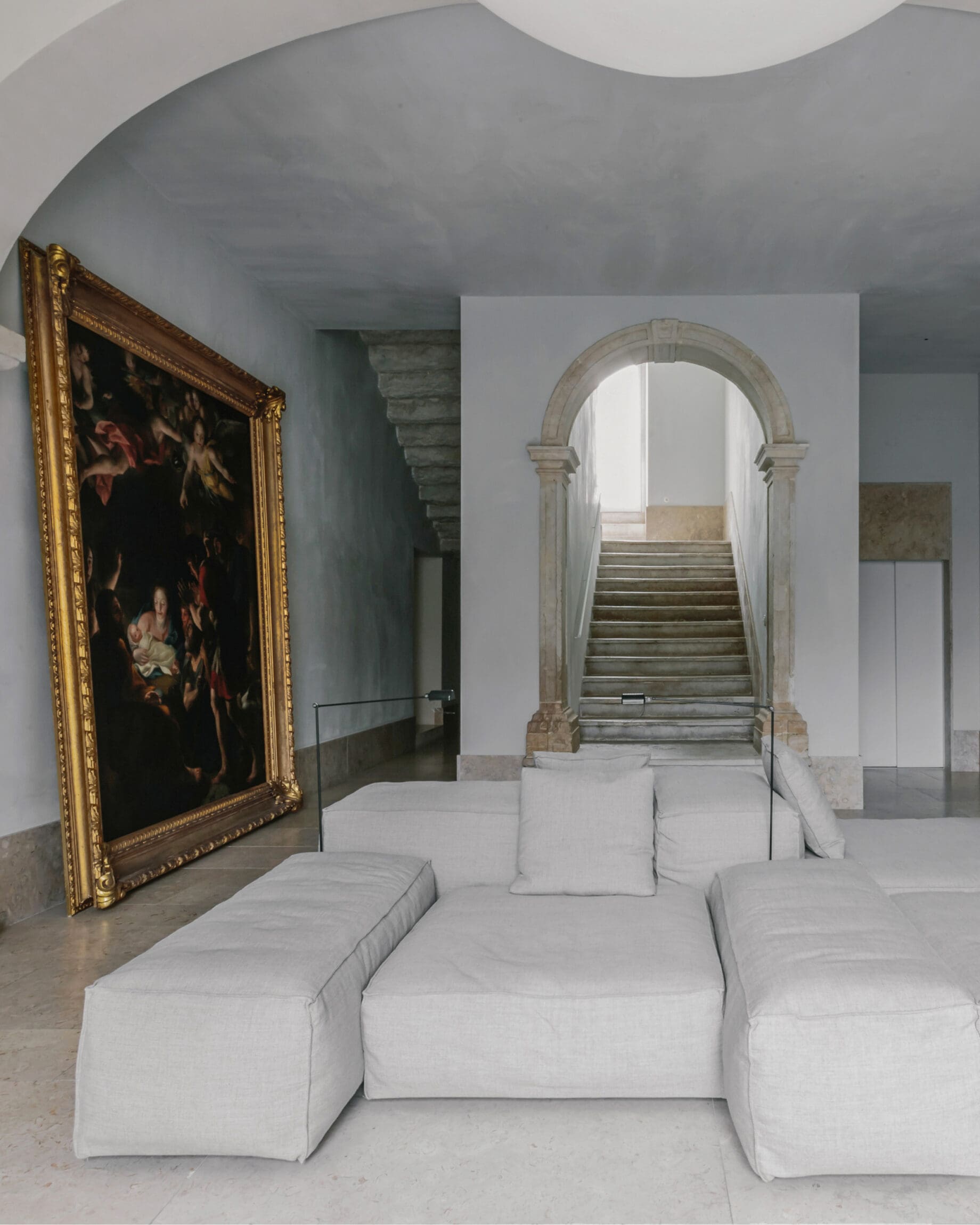 Alfama
Santa Clara 1728
Best for: Beautiful interiors, intimate setting
Location: Campo de Santa Clara 128 RC, 1100-473 Lisboa, Portugal
Price: Rooms from 500 EUR
The team at Santa Clara 1728 do everything in their power to preserve the wow factor of this converted 18th-century building, ensuring dropped jaws and wide eyes on arrival, every time. It's the Lisbon location from Portuguese small hotel group Silent Living, who are masters of slow, serene stays. There are just six rooms, and high ceilings, breathtaking artwork, unusual fixtures and high-spec fittings delight at every turn. Here, it's all in the details: the kitchen is left open at night, so peckish guests can help themselves to freshly made bread, cheeses and wine whenever they like. In the bathrooms, freestanding bathtubs and sinks are made from pink limestone, and candles and matches are provided for the ultimate relaxing soak. Breakfast is enjoyed family-style: three courses of locally-sourced organic produce served up to what quickly becomes a small group of new friends, swapping stories and recommendations. Minutes from the Monastery of São Vicente de Fora, you're not short of incredible things to see. Step out of the hotel on a Tuesday or Saturday and you'll enter one of the city's most famous flea market, Feira da Ladra – it's a riot of unusual antiques and vintage finds.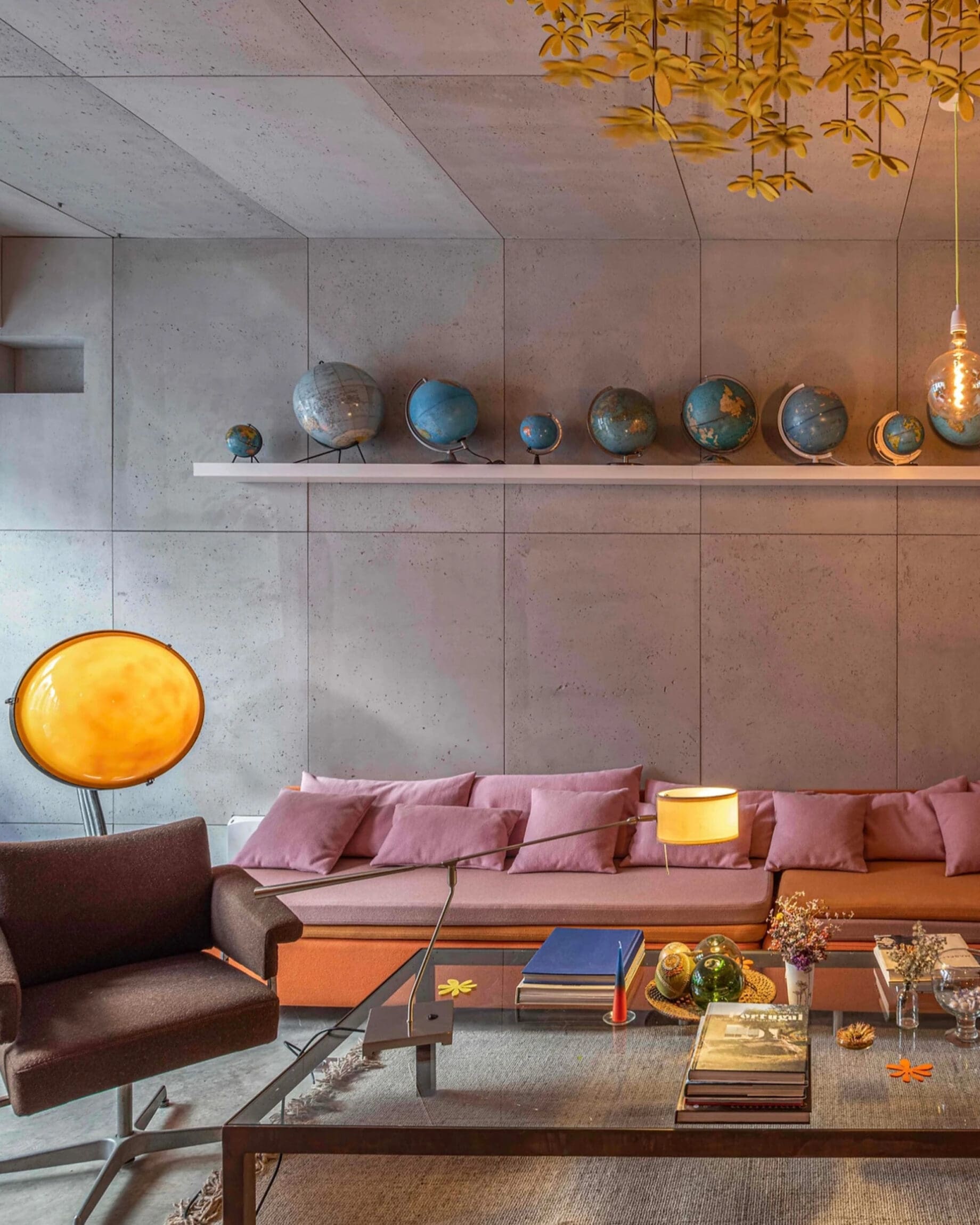 Estrela
Toctoctoc
Best for: Lovers of all things eclectic and slightly eccentric
Location: R. de Santo Amaro 29 R/c, 1200-803 Lisboa, Portugal
Price: Rooms from 500 EUR
Resembling both a boutique hotel and a guest house, Toctoctoc offers one of the more unusual and memorable stays in Lisbon. It is positioned between the renowned Estrela gardens, and near the antique dealers of Santo Bento, in a quiet part of town. It's the perfect base from which to escape to Praça das Flores, one of Lisbon's loveliest, leafy squares. Behind the flaking azulejo tiles lie ten rooms, which face into a patio and serene garden. Design fans will appreciate the artful mix of vintage and industrial accents collected from the owners' various travels. In winter, enjoy leisurely drinks by the crackling fireplace in the tasteful lobby.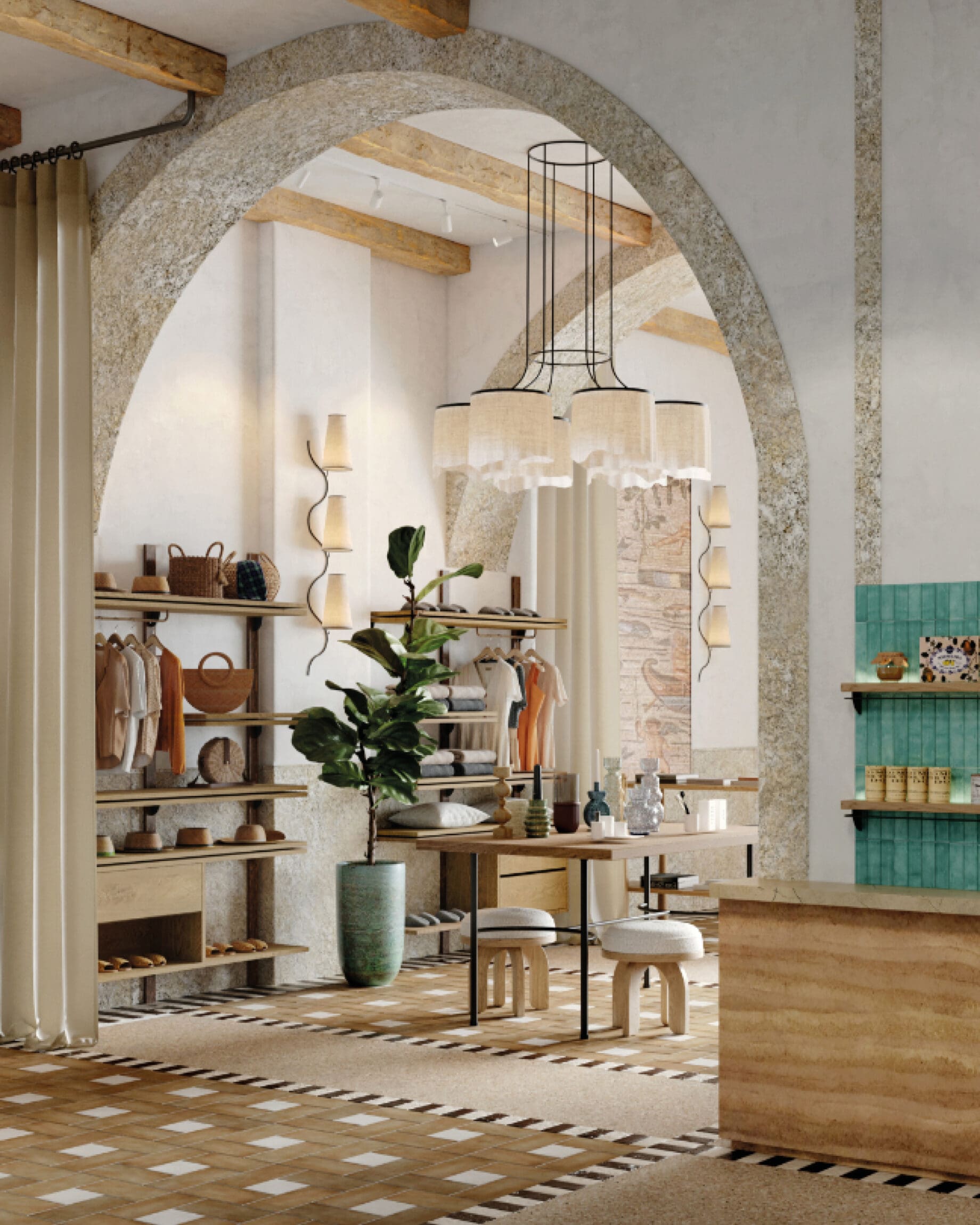 Baixa
Ando Living
Best for: Feeling properly looked after
Location: Santa Justa 77 Apt 202 by Ando Living / Rua de Santa Justa
Price: Rooms from 250 euros
Ando Living operates five houses across central Lisbon, billed as 'lifestyle service residences'. Santa Justa 77 is located in the centre of Baixa, a stone's throw from the area's high-end shopping and near the best pastel de nata in town at Castro. Scattered around the city, these residences range from entire buildings to individual apartments. Residents can access the Ando Club, which has a restaurant, bar, cafe, concept store, rentable living room, gym and swimming pool – a rarity in central Lisbon. Guests can expect a generous supply of coffee pods and a 24-hour concierge service via Whatsapp. Ando Living is poised to expand to Portugal, Spain, Greece and Dubai.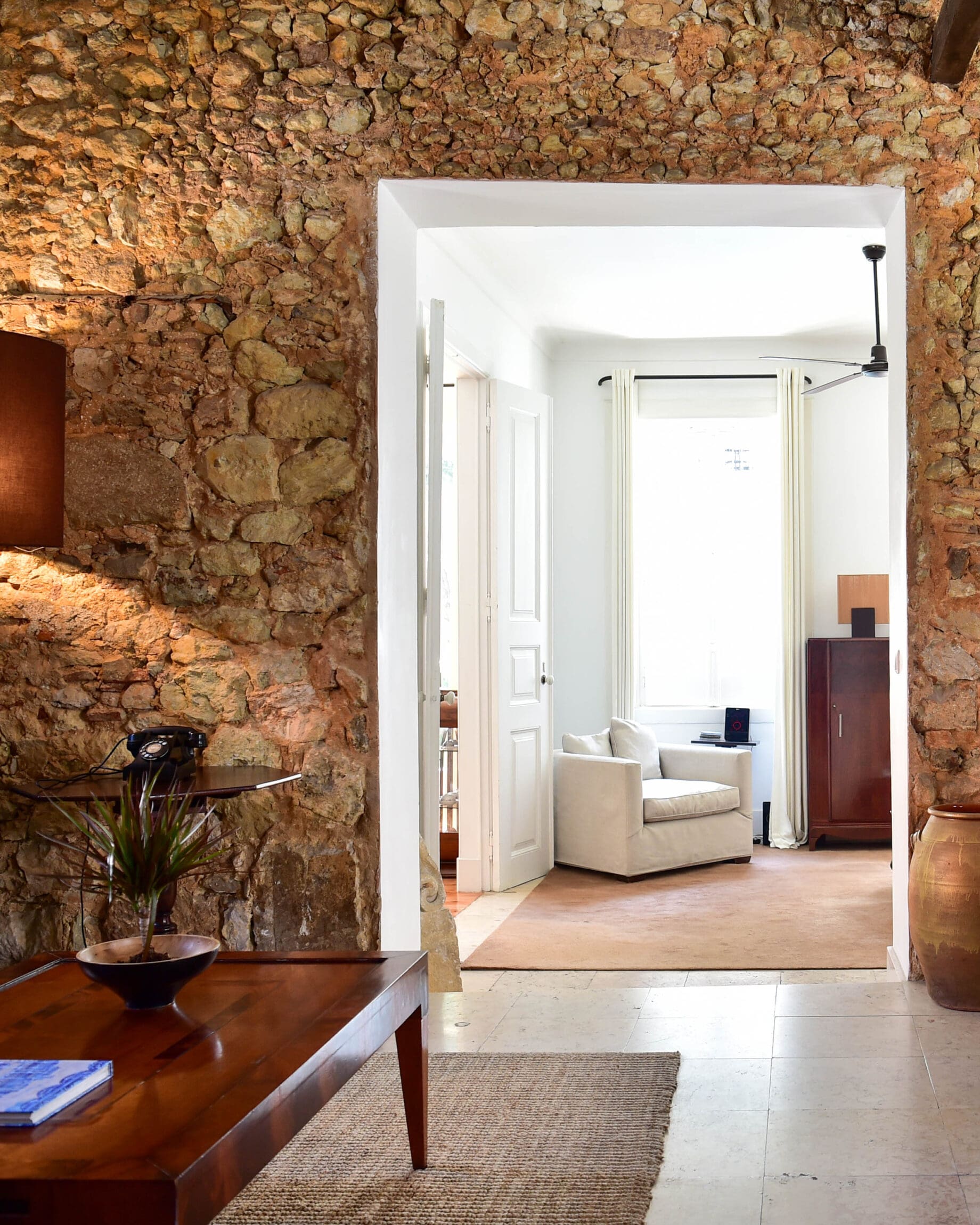 Casa Balthazar
Best for: Living it large, swimming pool
Location: R. do Duque 26, 1200-159 Lisboa, Portugal
Price: Rooms from 240 EUR
The term 'hidden gem' is grossly overused, but it was surely invented for spots like this. Tucked away behind an unassuming door on a winding street, in the hubbub of bustling Baixa, you'll find Casa Balthazar's quiet courtyard with a swimming pool, an airy breakfast area stacked with trinkets, and a handful of highly polished rooms with balconies and terraces – some of which include a hot tub. Steps away are some of the city's best restaurants, bars and clubs. Hit as many of them as you can, before rolling home to toast the holiday overlooking Lisbon's terracotta rooftops. If you've been thinking about asking someone in your life a rather big question, might we suggest you do it here?
If you book via a link on our website, we may earn an affiliate commission.