Hit refresh this spring 2023 with a curation of covetable new product launches, from cutting-edge skincare to light layers and home furnishings
What does spring mean to you? Maybe it's lapping up the sunshine and vibrant architecture in Mexico City; sipping beers on the banks of the river in Amsterdam; or segueing from state to state as a roving digital nomad in America. Whatever the backdrop, spring brings a desire to hit refresh, while brands and designers unveil their latest wares. ROADBOOK picks out the season's highlights, for both you and your home.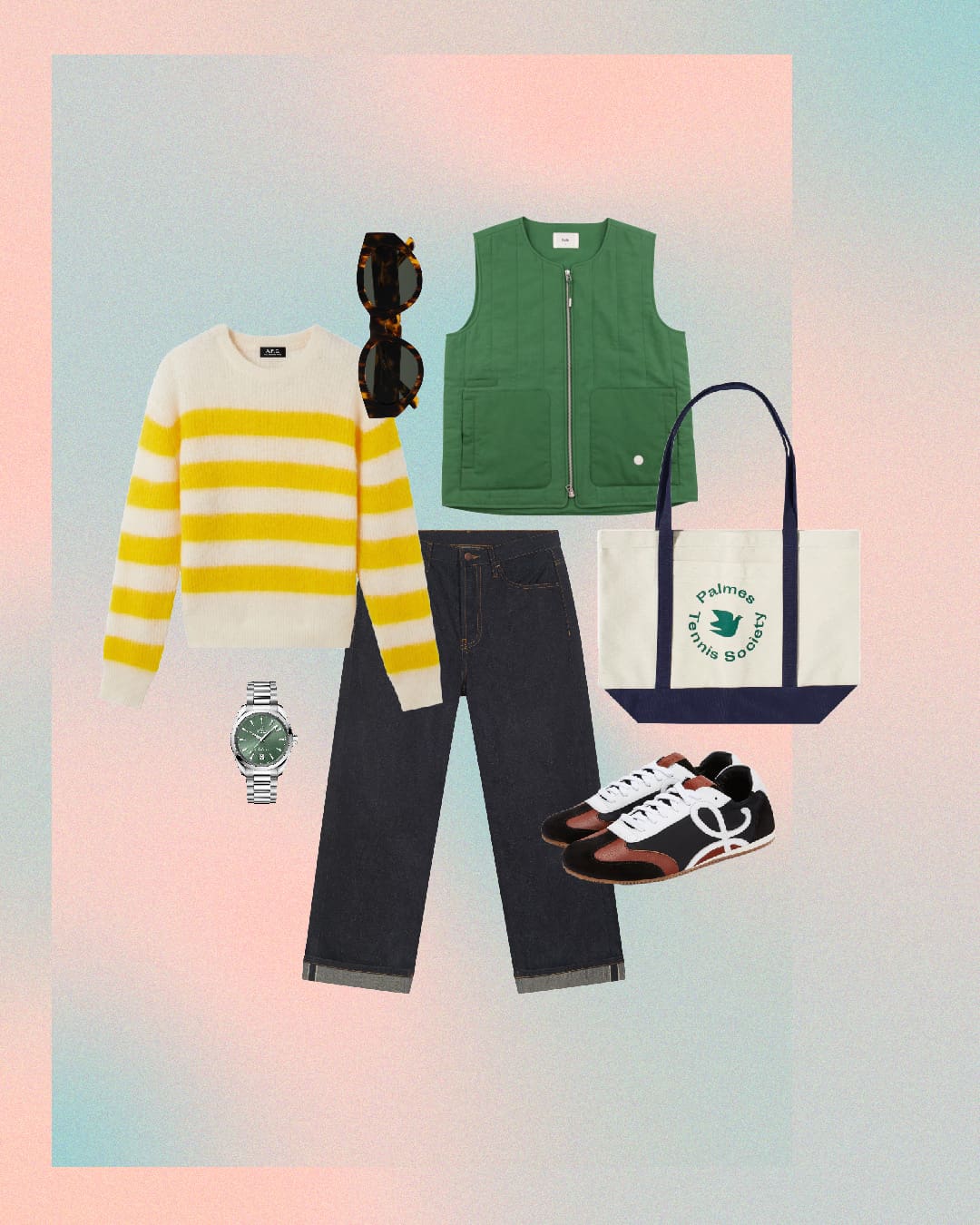 From left: Lia jumper by APC, £98, apcstore.co.uk; Polly Havana sunglasses by Monokel Eyewear, £140,  monokel-eyewear.com; Curve gilet in green by Folk Clothing, £170, folkclothing.com; Palmes Society tote bag, £59, endclothing.com; Seamaster Aqua Terra by Omega, £6,100, omega.com; Selvedge wide leg jeans, £240, i-and-me.com; Ballet Runner by Loewe, £400, loewe.com
APC excels in enduring transitional basics, from buoyant stripes to lightweight jackets, gilets and tees. Add in requisite sunglasses (Stockholm-based Monokel Eyewear gets our vote) and a hard-wearing, carry-all canvas tote bag – ideal for cramming in everything one might need for a spring escapade.
Hailing from east London, I AND ME is a denim and lifestyle brand with a focus on ethical fabrication and manufacturing practices. Founder Jessica Gebhart launched the brand in 2015 as an antidote to the 'fast fashion culture' of the time that she encountered while working as a high street denim buyer. Relaxed, unisex cuts are made from selvedge denim from Japan and Italy, created using fully biodegradable and natural sources.
Ground your look with the much-lauded Loewe Ballet Runner, which couples 'the construction of a ballet pump with the style of a 1970s track shoe' appliqued with the curvaceous Loewe Anagram. First released in 2019, the style is updated for Spring 2023 in a range of high and low profiles in retro tones.
From left: Five-piece stainless-steel cutlery set by Les Ottomans, £65, matchesfashion.co.uk; Bellhop table lamp by Flos, £205, conranshop.co.uk; Costa Serie rug by Rrres studio, $545, rrrrrr.es; Wood Land incense by Perfumer H, £30, perfumerh.com; Grey woven cushion by Kvadrat/Raf Simons, £225, matchesfashion.com; Set of two marble-effect earthenware mugs by Henry Holland Studio, £110; Brad retro record player by Gadhouse, $149, gadhouse.com
Rumpled table linens, late-night laughter and clinking dishes in a garden – outdoor entertaining is almost upon us. Give your evening an tactile edge with bamboo cutlery by Istanbul-based Les Ottomans, crafted with bamboo resin handles. For an additional retro twist, swap bluetooth for vinyl and a bright tangerine-toned record player by Bangkok-based Gadhouse, which also excels in wireless speakers with a vintage aesthetic.
Further home comforts include joyfully vibrant ceramics by Henry Holland Studio and graphic rugs by Rrres studio, founded by Javier Reyes. The brand works closely with local craftspeople in Oaxaca, Mexico, to create its artisanal patterned textiles and woven sculptures, inspired by the Mexican state.
Bamford has also launched its first diffuser, which is seriously smart. The cordless design employs waterless technology and works directly with essential oils for a fuss-free model that immediately fills your home with a soothing, spa-like aroma for up to 12 hours.
Meanwhile, swap candles for zero-waste incense. Perfumer H's latest iteration is hand-rolled in Kyoto, Japan, and scented with its new Wood Land fragrance, created in collaboration with Tokyo-based Arts&Science. The fragrance reimagines a British woodland setting in Tokyo, stirring cedar and juniper wood, with cypress and a hint of frankincense.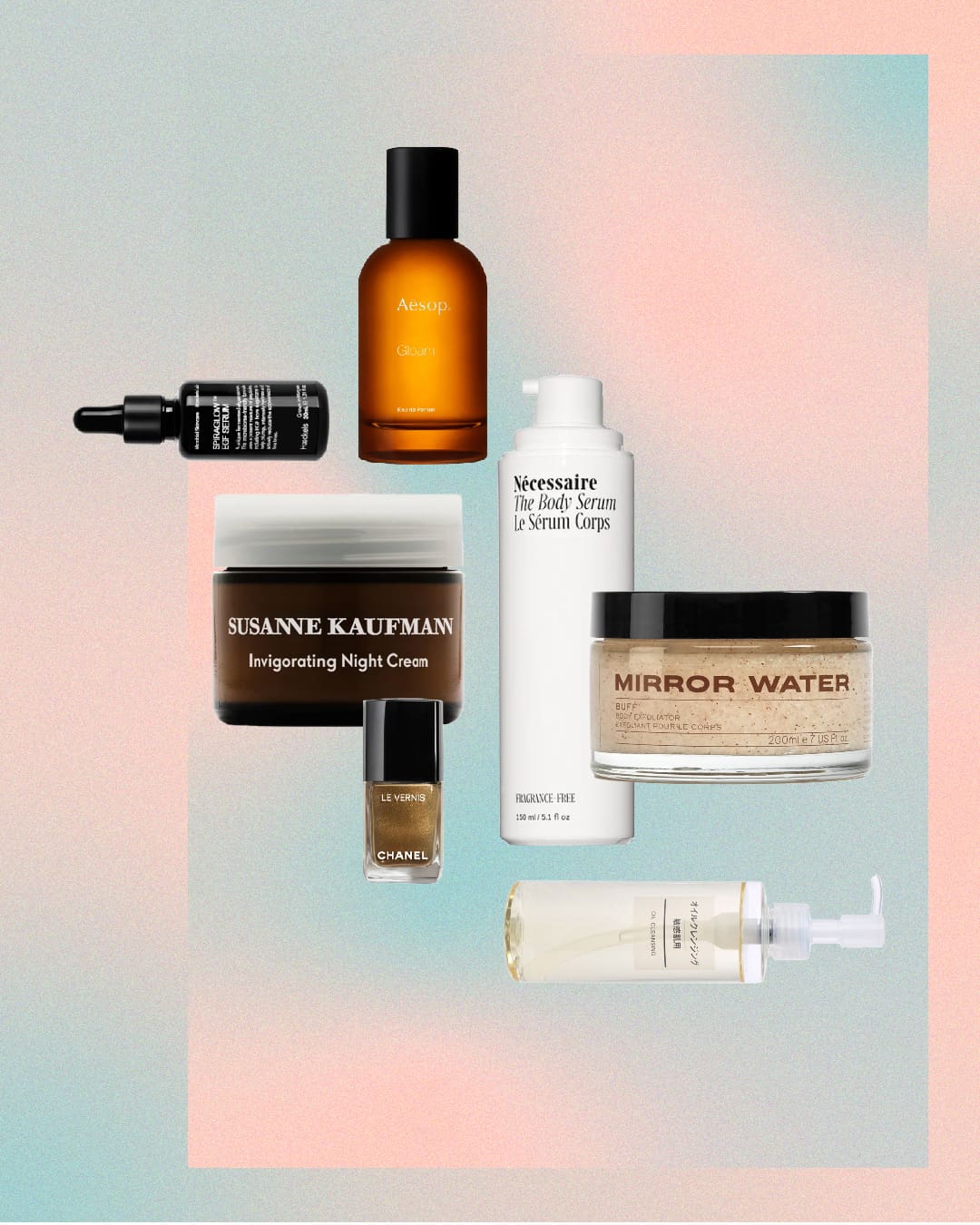 From left: Spiraglow™ EGF Serum by Hæckels Lab, £72, haeckels.co.uk; Aesop; Gloam eau de parfum by Aesop, £140, farfetch.com; Invigorating Night Cream by Susanne Kaufmann, £60, net-a-porter.com; The Body Serum by Nécessaire, £45, net-a-porter.com; Buff Body Exfoliator by Mirror Water, £47, spacenk.com; Le Vernis nail colour by Chanel, £25, selfridges.com; Oil Cleanser by Muji, £12.95, muji.com
Hæckels, the Estée Lauder-backed skincare brand based in Margate, UK, has launched a new Hæckels Lab skincare line, which harnesses the power of lab-grown ingredients. Ten years in the making, the collection comprises a Hydrating Toner; Cleansing Milk and EGF Serum, all made entirely with ingredients grown using in-house biotech. Hæckels' signature ingredients, including seaweed and algae, were previously harvested from Margate's sandy shores. Spiraglow, an in-house designed algae, is just as powerful its plantlike counterpart, hydrating and soothing skin by feeding the good bacteria on your face and helping to maintain a balanced microbiome.
Also new is Gloam by Aesop, which adds a spicy edge to a floral scent by mixing mimosa, saffron and iris. Elsewhere, slather yourself in Nécessaire's The Body Serum, responsibly formulated with thirst-quenching Hyaluronic Acid and now available as part of a three-step skincare set. And finish the day with Susanne Kaufmann's Invigorating Night Cream, loaded with botanical ingredients.


JOIN US FOR THE JOURNEY
Subscribe to the newsletter
City guides, culture, photography and ideas, with expert analysis on the biggest stories in travel