Quentin Tarantino famously spent three months in Amsterdam in 1992 writing the script for Pulp Fiction, staying in a one-room apartment with no phone. Thankfully, our list of the best hotels in Amsterdam offers far more than that, from historic canal-side hideaways to hip sustainable stays in the heart of the action.
Whether you want to be smack dab in the midst of Noord's creative scene, near the brilliant bars and restaurants of De Pijp, or you're looking for a quiet place to get on with some remote work, these are the best places to stay in Amsterdam, organised by neighbourhood.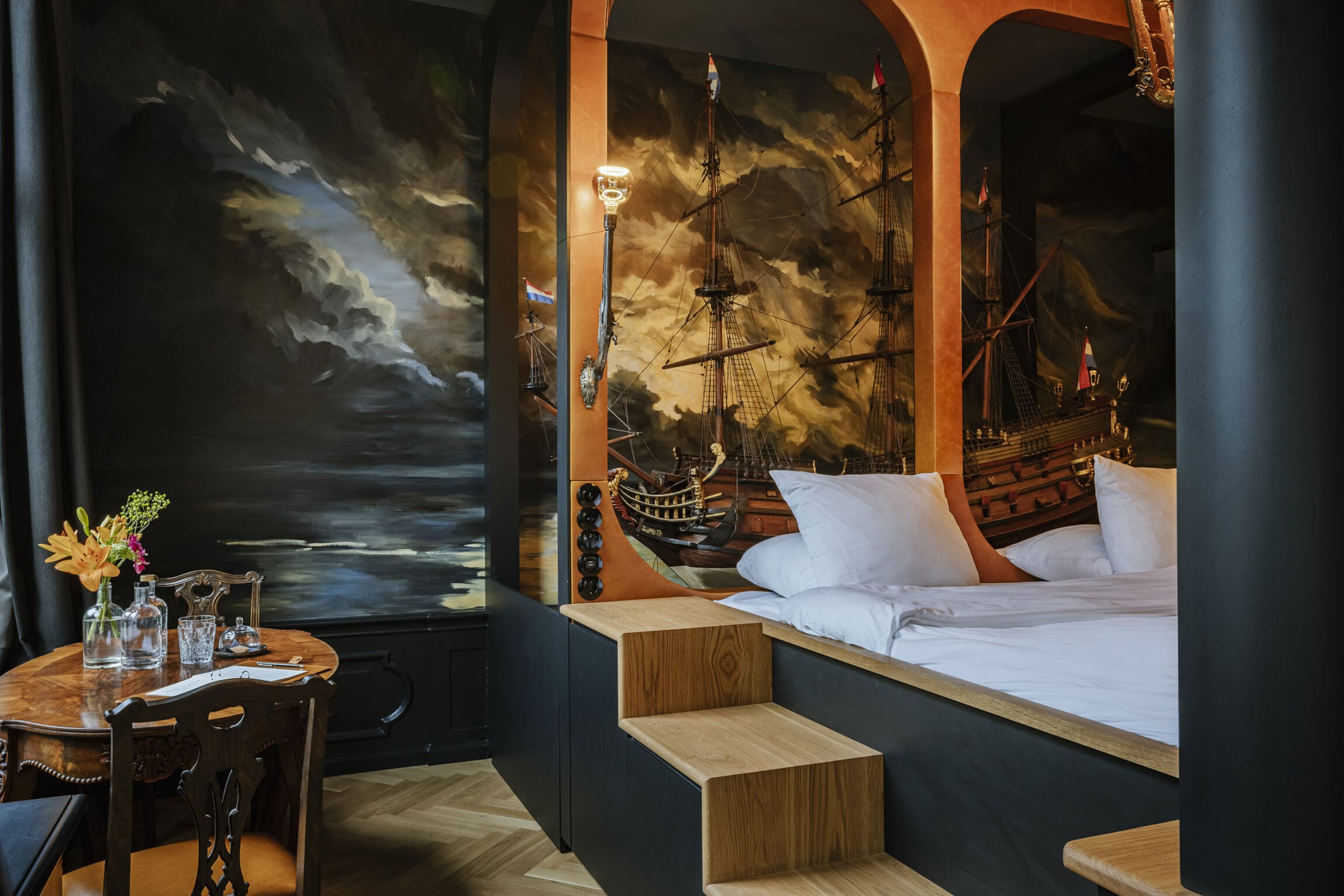 Centrum
Boutique Hotel The Noblemen
Best for: A journey into Amsterdam's Golden Age
Location: Leidsegracht 14, 1016 CK Amsterdam, Netherlands
Price: 314 EUR / 333.21 USD per night
The Nobleman is a cosy 17th-century canal house turned boutique hotel with just 13 rooms, balancing contemporary interiors with original details. The hotel's creative director, Stef van der Bijl, picked various pieces that hark back to the city's past, such as golden telescopes, a rotating globe and solar system, and gleaming copper bathtubs, to furnish the hotel. The signature rooms are inspired by 'noblemen' from Amsterdam's Golden Age; for example, the Rembrandt van Rijn room nods to the artist's practice with a painter's studio and a cabinet of rarities, much like those Rembrandt collected himself. With a short, pleasant walk through the canals, you can be in Vondelpark, the Museumplein, or Dam Square in no time. Make sure to book a private 45-minute spa session at the hotel, where you can enjoy the sauna and Turkish hammam.
hotelthenoblemen.com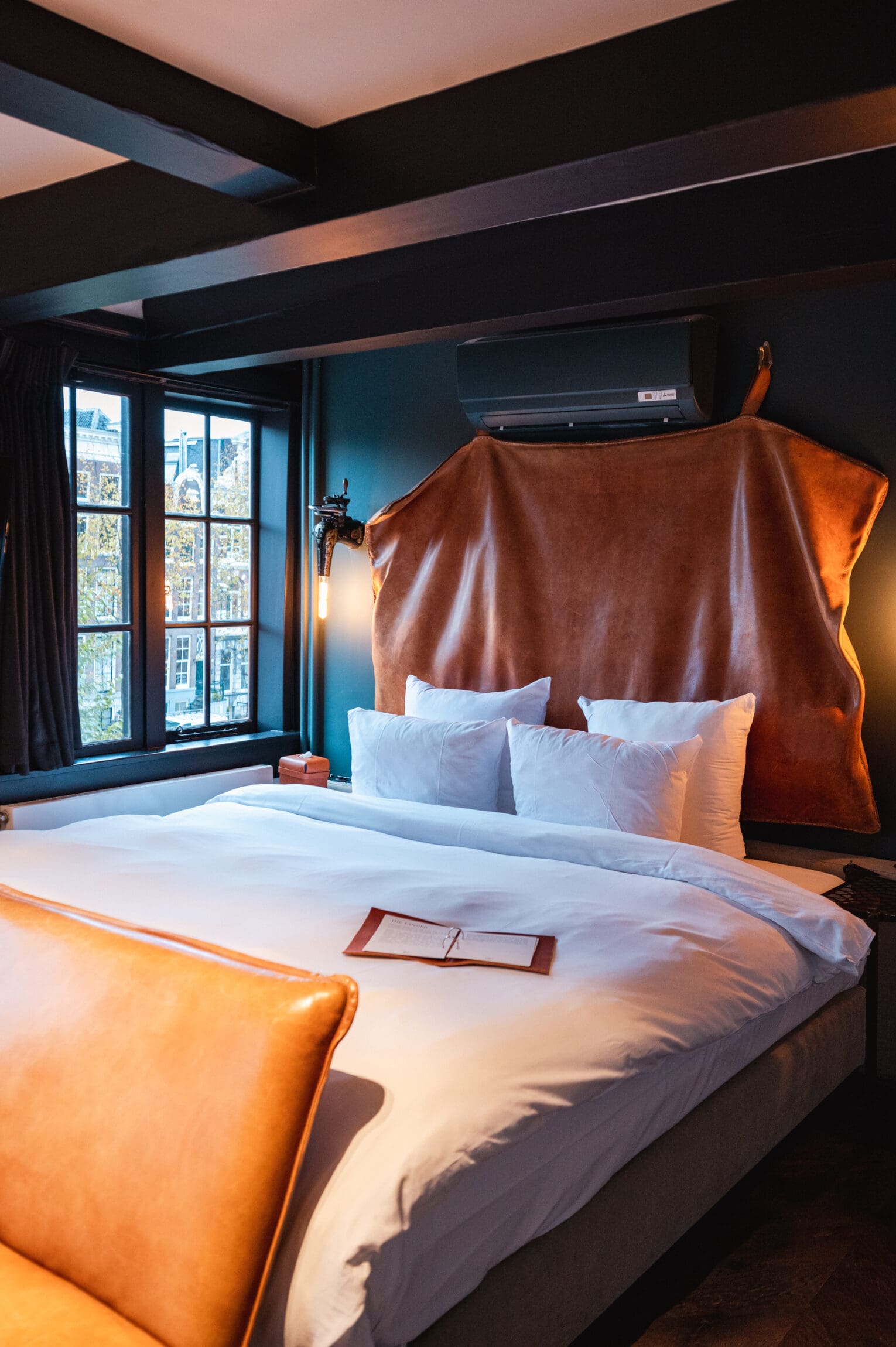 Hotel The Craftsmen
Best for: Antique tools and curiosities meet modern comfort
Location: 83 Singel, 1012 VE Amsterdam, Netherlands
Price: 200 EUR / 212.24 USD per night
Another boutique hotel that has retained its historic roots is Hotel the Craftsman. Each signature room is dedicated to a different Dutch craft, such as shipwrights, luthiers, and bike builders, while traditional tools and curios objects have been polished and given new life as light fixtures, tables and reception desks throughout the 14-room hotel. The Craftsmen has won a number of accolades and was placed in the top 10 per cent of best hotels in the world according to Tripadvisor's Travelers Choice Awards. The Jordaan location places the hotel in walking distance to Dam square, the Anne Frank House and Centraal station. You won't want to miss the new Craftsman Kitchen sandwich store that recently opened next door.
hotelthecraftsmen.com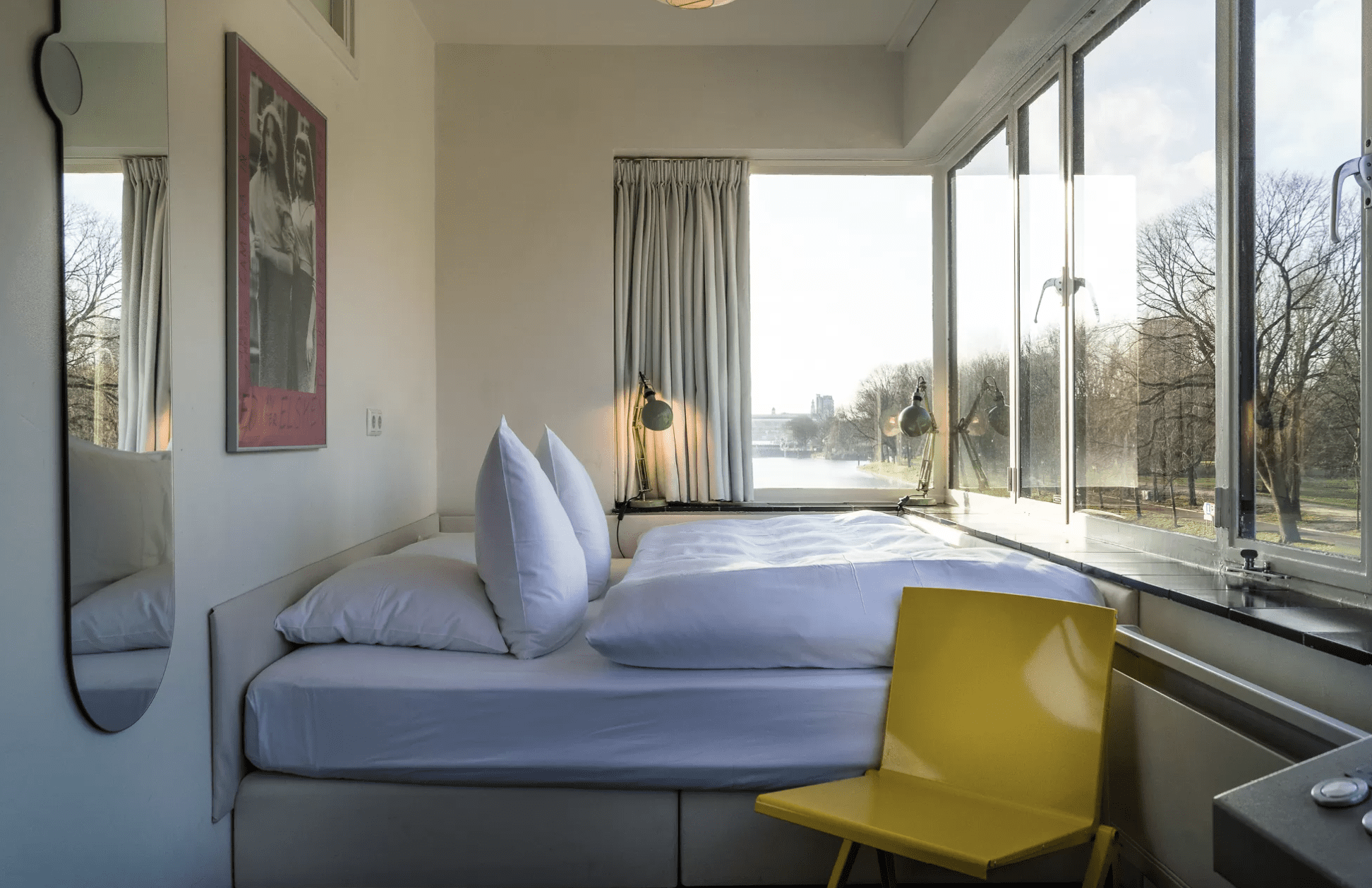 SWEETS hotel
Best for: A unique stay right on Amsterdam's historic waterways
Location: Various locations across Amsterdam
Price: 137 EUR / 145.38 USD per night
SWEETS is a collection of 28 hotel suites set in renovated bridge houses, dotted along Amsterdam's canals. The previously abandoned houses were converted as part of an urban reconstruction project, and each one has its own distinct character. Interiors have been chosen with the history of each building in mind, and each suite makes inventive use of the space available. In a city of canals, Amsterdam's bridges are an iconic part of the landscape, and are a great place to watch the boats float by, see the sun rise and set, and the lights turn on over the city.
sweetshotel.amsterdam
Pulitzer
Best for: Luxuriously restored canal houses with its own private boats
Location: Prinsengracht 323, 1016 GZ Amsterdam, Netherlands in Jordaan
Price: 481 EUR / 510.43 USD per night
Considered one of the best hotels in Amsterdam, the privately owned Pulitzer unfolds across 25 restored 17th- and 18th-century canal houses, making it feel like a private neighbourhood unto itself. Despite its size, the luxury hotel has a prime location in the centre of the historic Jordaan Nine Streets, with easy access to all the city's best-known sites. Rooms and suites have canal views and mix antique furniture with modern pops of colour. But perhaps the most unique part of a stay at the Pulitzer is a trip along the canals in one of the hotel's classic saloon boats. Book a public or private tour directly through the hotel to beat the often overcrowded tourist boat cruises. The hotel's onsite restaurant, Jansz, is a destination in itself that serves up Dutch-inspired modern cuisine.
pulitzeramsterdam.com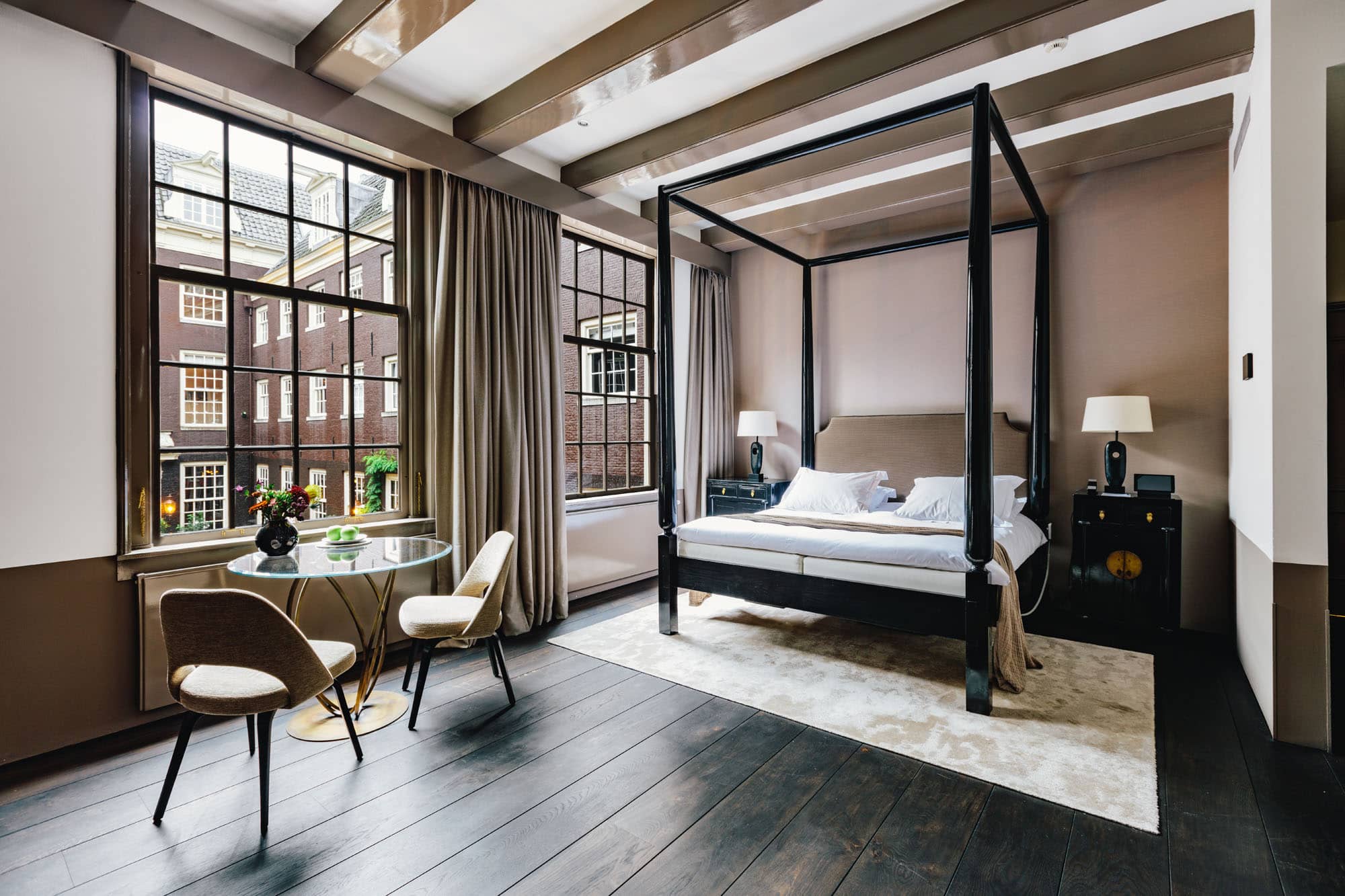 The Dylan
Best for: A luxurious setting and fine dining
Location: Keizersgracht 384, 1016 GB Amsterdam, Netherlands
Price: 356 EUR / 377.78 USD per night
The Dylan is a beautiful boutique hotel located in the Jordaan's famous and picturesque Nine Streets, discreetly set behind an ornate arch and gateway. The building dates back to 1613 and includes a private garden used for dining and events. Elegant wood-panelling and exposed brick is offset by contemporary design flourishes, while each room has its own distinct colour palette and ambience. Located on the historic Keizersgracht canal, guests can choose between garden and canal views, where you can watch the waterways from above. Dine at the hotel's acclaimed Michelin star restaurant Vinkeles, indulge in a high wine (a fun take on high tea) at Bar Brasserie OCCO, or book a spa treatment directly to your room. Make use of one of the hotel's bicycles to explore the city like a local, with the Van Gogh Museum and the Rijksmuseum within easy peddling distance.
dylanamsterdam.com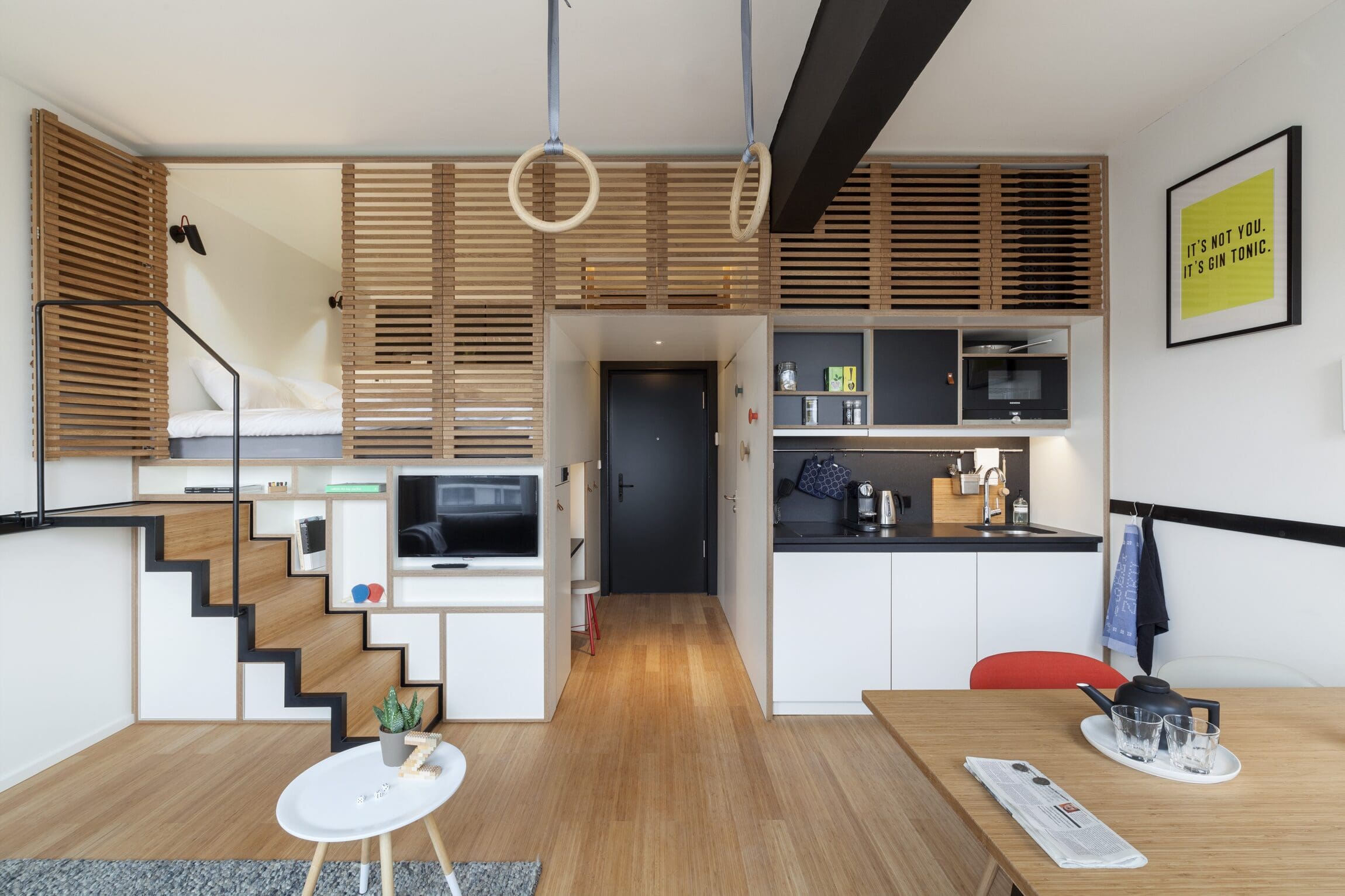 Zoku Amsterdam
Best for: An aparthotel for digital nomads and solo travellers
Location: Weesperstraat 105, 1018 VN Amsterdam, Netherlands
Price: From 119 EUR / 126.15 USD per night for a bootstrap room to 199 EUR / 210.95 USD for a Zoku Loft XL
Zoku is one of the best hotels in Amsterdam for digital nomads looking for a temporary home in the city. The aparthotel offers cosy loft-style rooms with their own kitchen, workspace, living room and bathroom. Guests can personalise their space by selecting artwork from the hallway art swap stations, and those on a budget can opt for smaller, simple rooms with private bunk beds with access to all facilities. But don't plan to stay in your room – the hotel has workspaces and meeting areas, a restaurant and a rooftop bar. Knowing that solo travel in a new city can often be lonely, Zoku organises different events, workshops and meet-ups to bring people together and make connections.
livezoku.com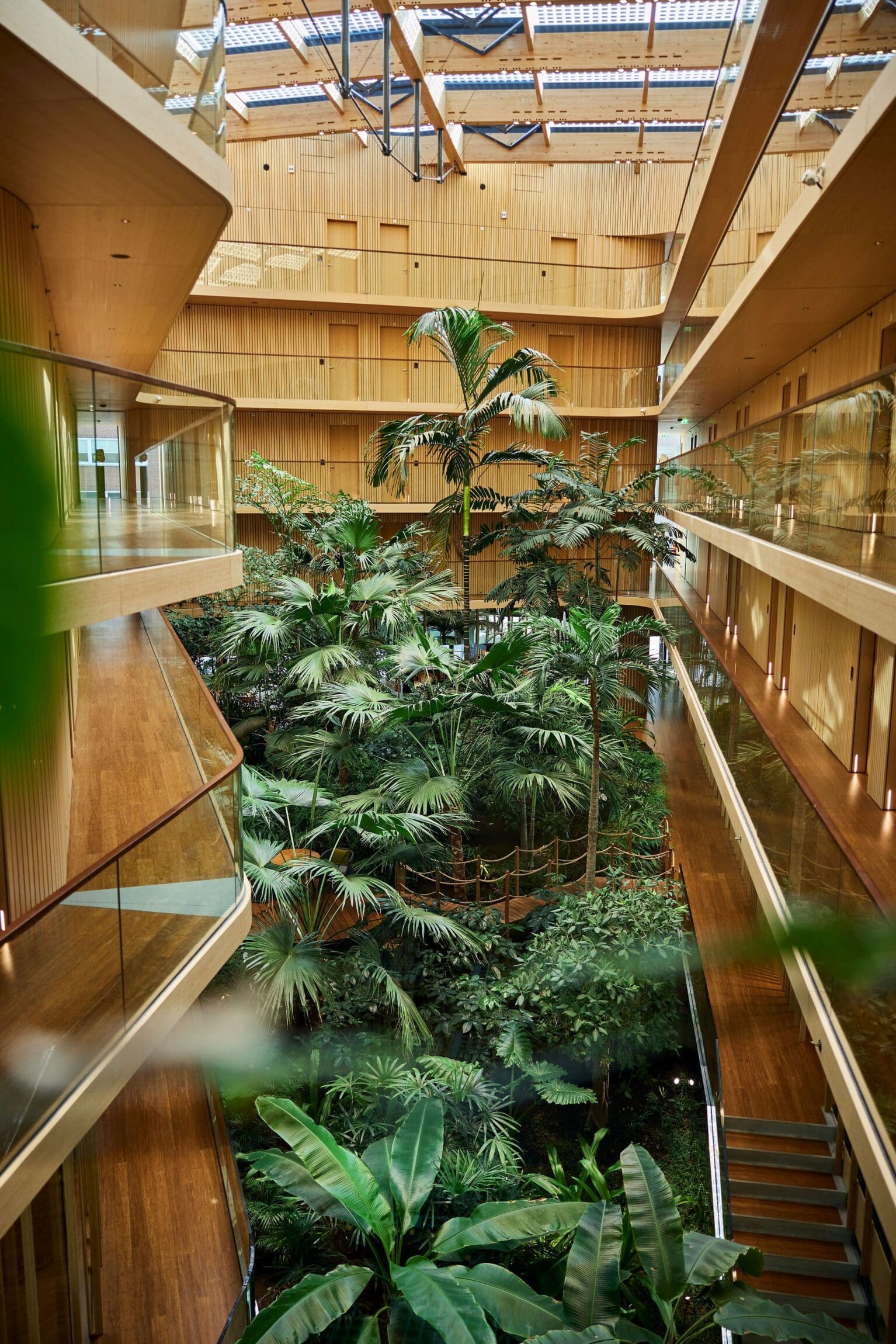 Oost
Hotel Jakarta
Best for: A plant-filled sustainable oasis
Location: Javakade 766, 1019 SH Amsterdam, Netherlands
Price: 191 EUR / 202.69 USD per night
Hotel Jakarta is built on Java Island's redeveloped docks, where large ocean liners used to embark for the Dutch East Indies from 1910 to 1970. Recalling its history, the glass-fronted modern hotel draws on Asian influences to inform its unique design, as well as an indoor subtropical garden developed in collaboration with Amsterdam's Hortus Botanicus. Enjoy the tropical atmosphere of towering palms, banana trees, climbing plants, and exotic flowers via the wooden walkways that run across the hotel. Vying for the title of most sustainable hotel in Amsterdam, this focus on nature also translates to its energy-neutral design. There is a wellness centre and indoor swimming pool, an Indonesian-inspired restaurant, and unobstructed views of the Ij.
hoteljakarta.com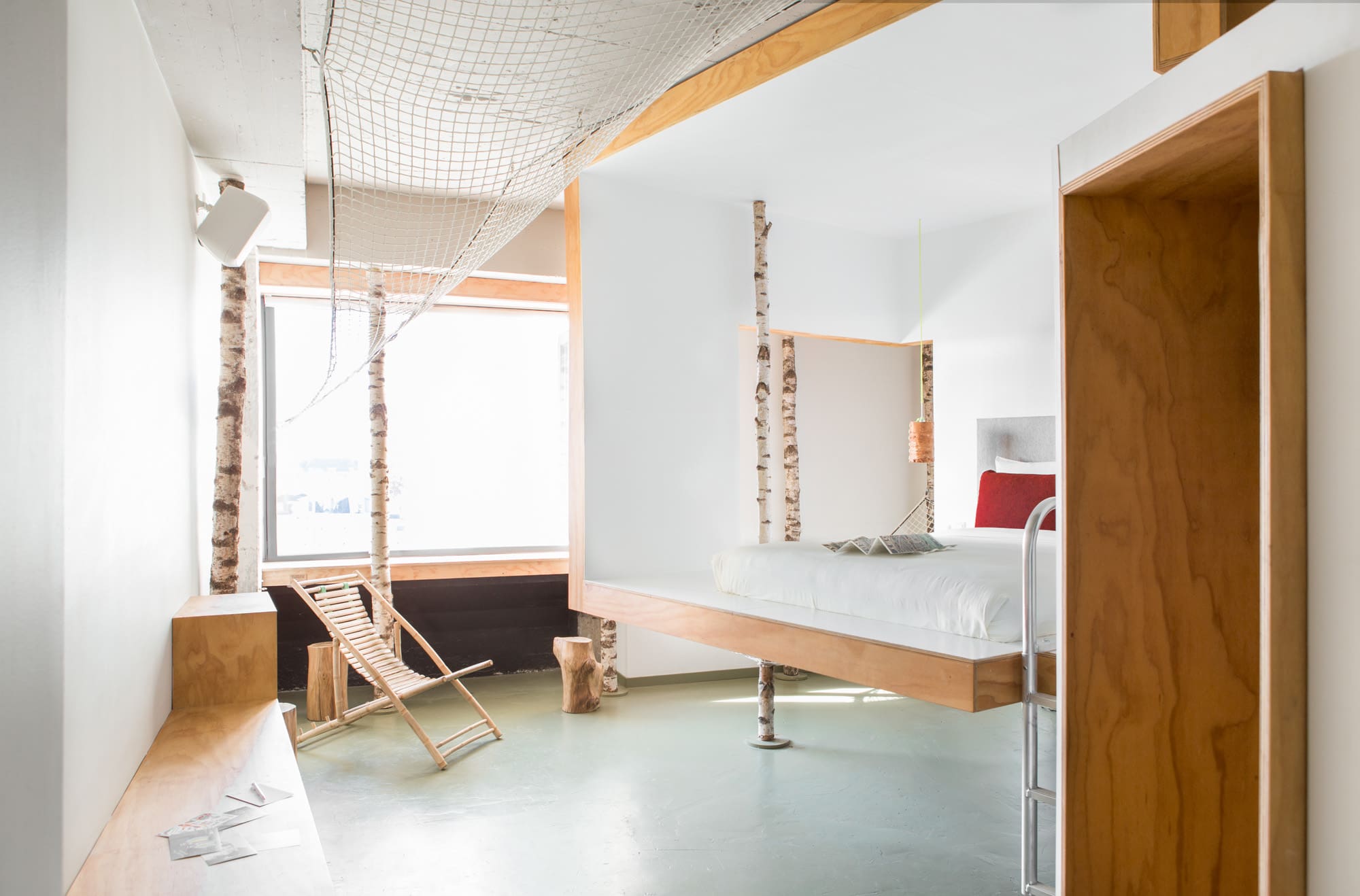 Volkshotel Amsterdam
Best for: An affordable stay with integrated workspaces and a basement club
Location: Wibautstraat 150, 1091 GR Amsterdam, Netherlands
Price: 68 EUR / 72.16 USD per night for a sleeper cabin 109 EUR / 115.67 USD for standard double room
Located in Amsterdam's up and coming Oost neighbourhood, Volkshotel caters to every budget, from sleeping pod cabins for lone travellers to studios equipped with a full kitchen for digital nomads looking to stay longer in the city. The hotel also offers far more than just a place to sleep: there are yoga classes, a hair salon, a barrel-shaped sauna and hot tubs, and a wide range of workshops, from belly dancing to pottery. Not enough? Volkshotel also has an onsite flexible workspace, a rooftop cocktail bar and restaurant, and a nightclub in the basement (not to worry, it's soundproof).
volkshotel.nl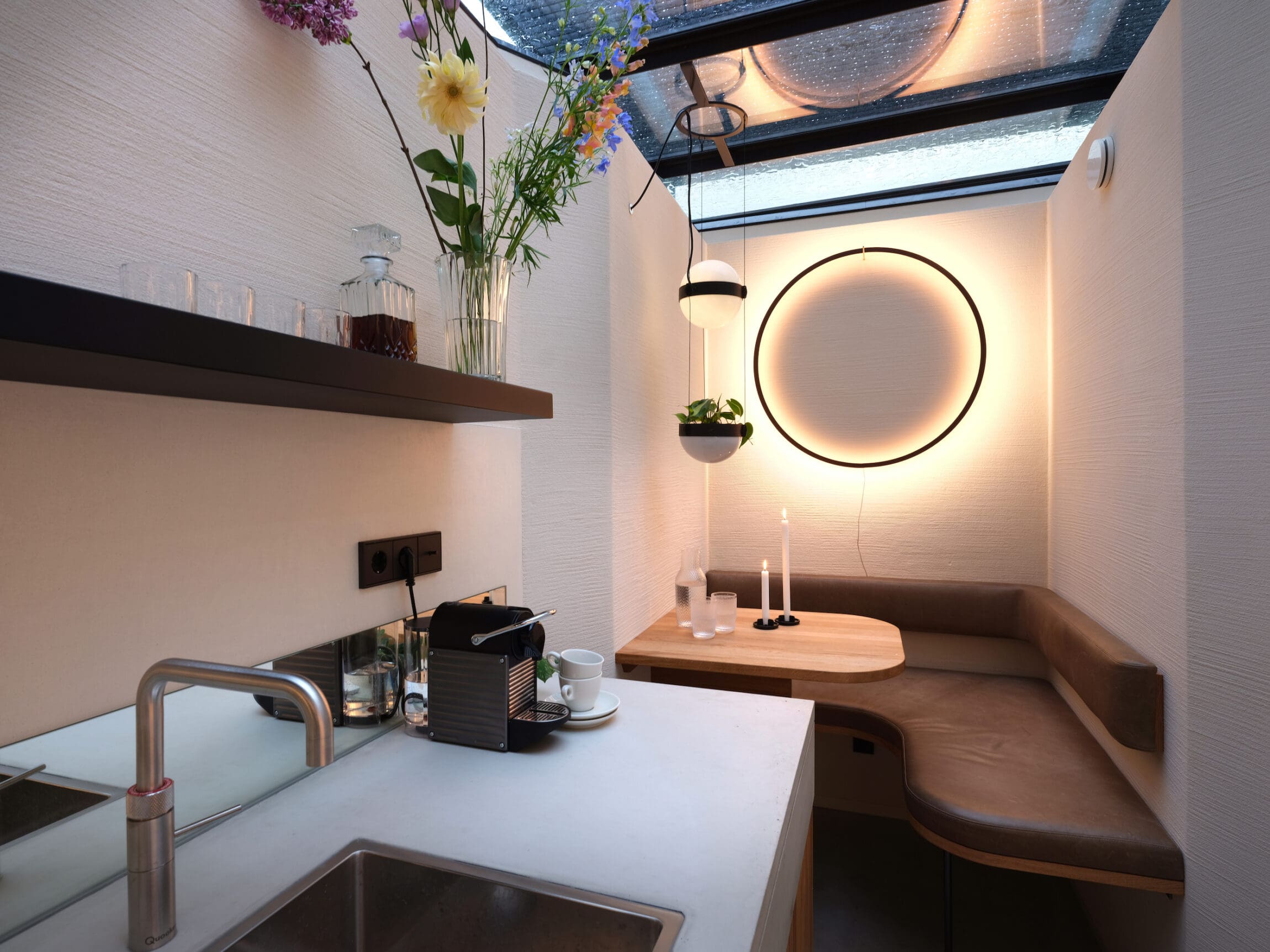 Vondice Hotel
Best for: Industrial design meets sustainability in this up and coming neighbourhood
Location: Roepie Kruizestraat 4, 1095 MD Amsterdam, Netherlands
Price: 252 EUR / 267.42 USD per night
The outcome of another innovative new design project focused on reinvigorating the city's derelict buildings, Vondice Hotel sprang from an initiative to transform a former pumping station in Amsterdam Oost. The result is an ultra modern, industrial space that pushes architectural design to new heights. Vondice is more a rental property than a hotel, with one single suite spread across varying levels, with the capacity to sleep up to a family of four. This unique design allowed the architects to take full advantage of the space, with the living room and bathroom placed slightly underground, with large skylights supplying the spaces with natural light. The Vondice is located in the Zeeburg neighbourhood, making it perfect for those who want to explore the less touristy parts of Amsterdam, while still being just 15 minutes from the city centre.
vondice.com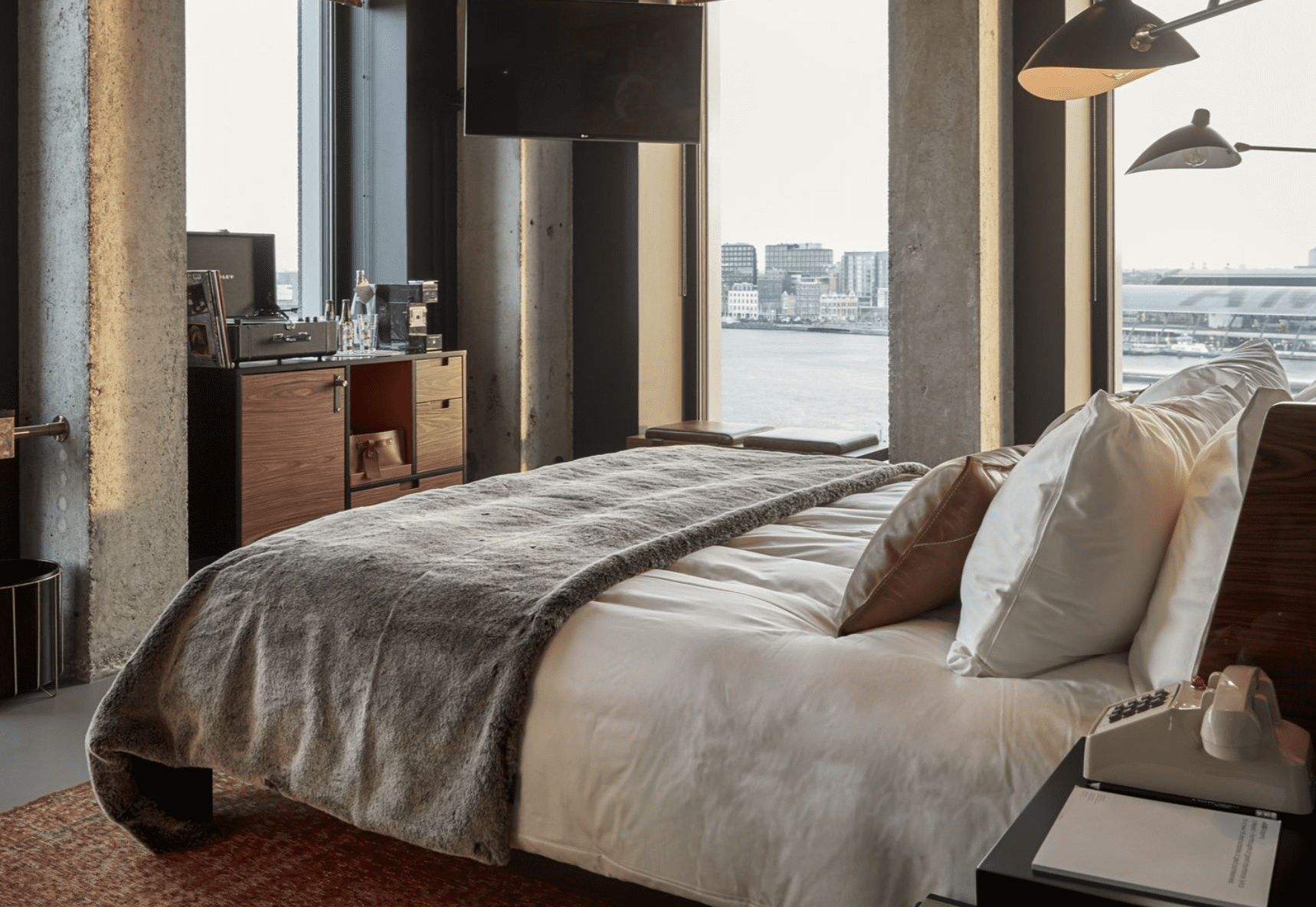 Noord
Sir Adam Hotel
Best for: Music lovers, and amazing views of Amsterdam
Location: Overhoeksplein 7, 1031 KS Amsterdam, Netherlands
Price: 196 EUR / 207.99 USD per night
The Sir Adam hotel group has two locations in Amsterdam, but its Noord addition is its newest and perhaps most unique choice, thus gaining it a place on our list of best hotels. It is located in the 22-storey waterfront A'DAM tower, on the Noord side of the Ij river, which offers a birds-eye view of the city. Alongside the Sir Adam Hotel, the multifaceted tower houses bars, cafes, and a revolving restaurant. The hotel's design is inspired by these surroundings, particularly the A'DAM Music School, which is located in the same building, and The Eye Filmmuseum a few steps away. Look out for electric guitars, classic movie posters and record players in the rooms, and the onsite music library, where vinyls for every taste can be found. The Sir Explore programme also connects guests with local hosts who can take you on a wine hunt, art tour, and even lead you in a sound bowl meditation session.
sirhotels.com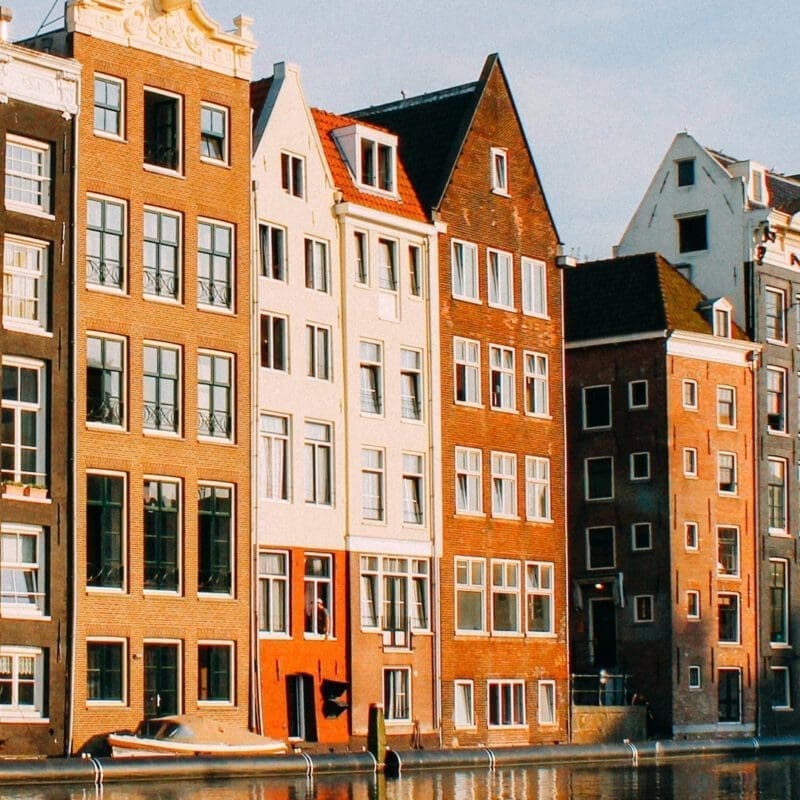 Sign up for superlative city guides across the world
If you book via a link on our website, we may earn an affiliate commission.