The best co-working spaces in Amsterdam for remote working
Amsterdam is packed with flexible co-working spaces, catering to the city's ever-growing cohort of remote workers. Two local creatives round up the best spots, from laptop-friendly cafes with excellent coffee, to stylish working spaces that are either membership-based or pay-by-the-hour.
Last updated: February 18, 2023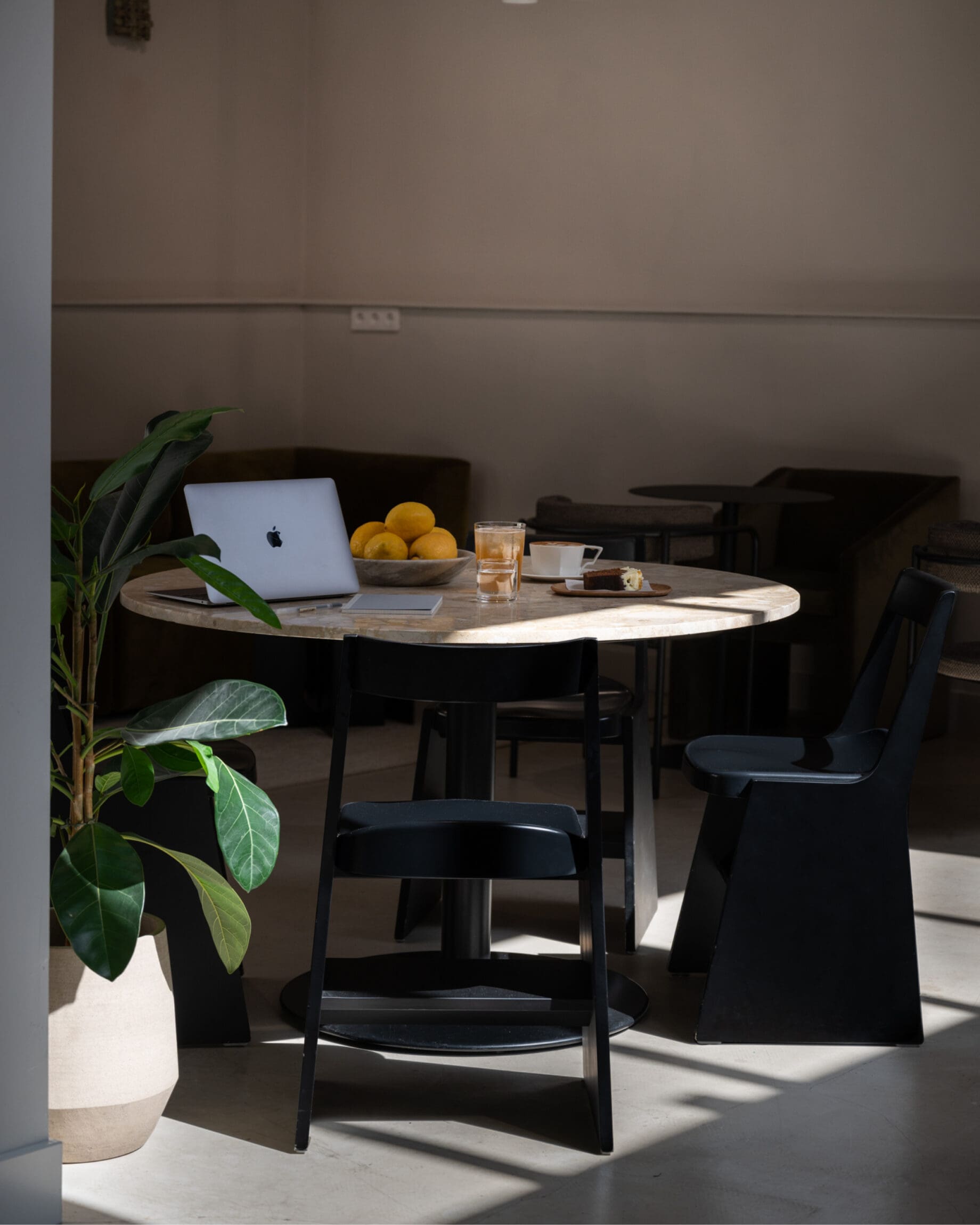 Amsterdam has one of the highest percentages of freelance workers in the EU, so it's no wonder the city provides desks in all shapes and forms, from counters and coffee tables to public library desks and designated workspaces. The list below compiles the best haunts to co-work across town – whether you're looking for a comfy sofa or a sleek desk, peace and quiet or an afternoon mingling and clinking glasses – followed by a visit to one of Amsterdam's brilliant restaurants or bars. And it goes without saying that all the suggestions are within easy reach by bike.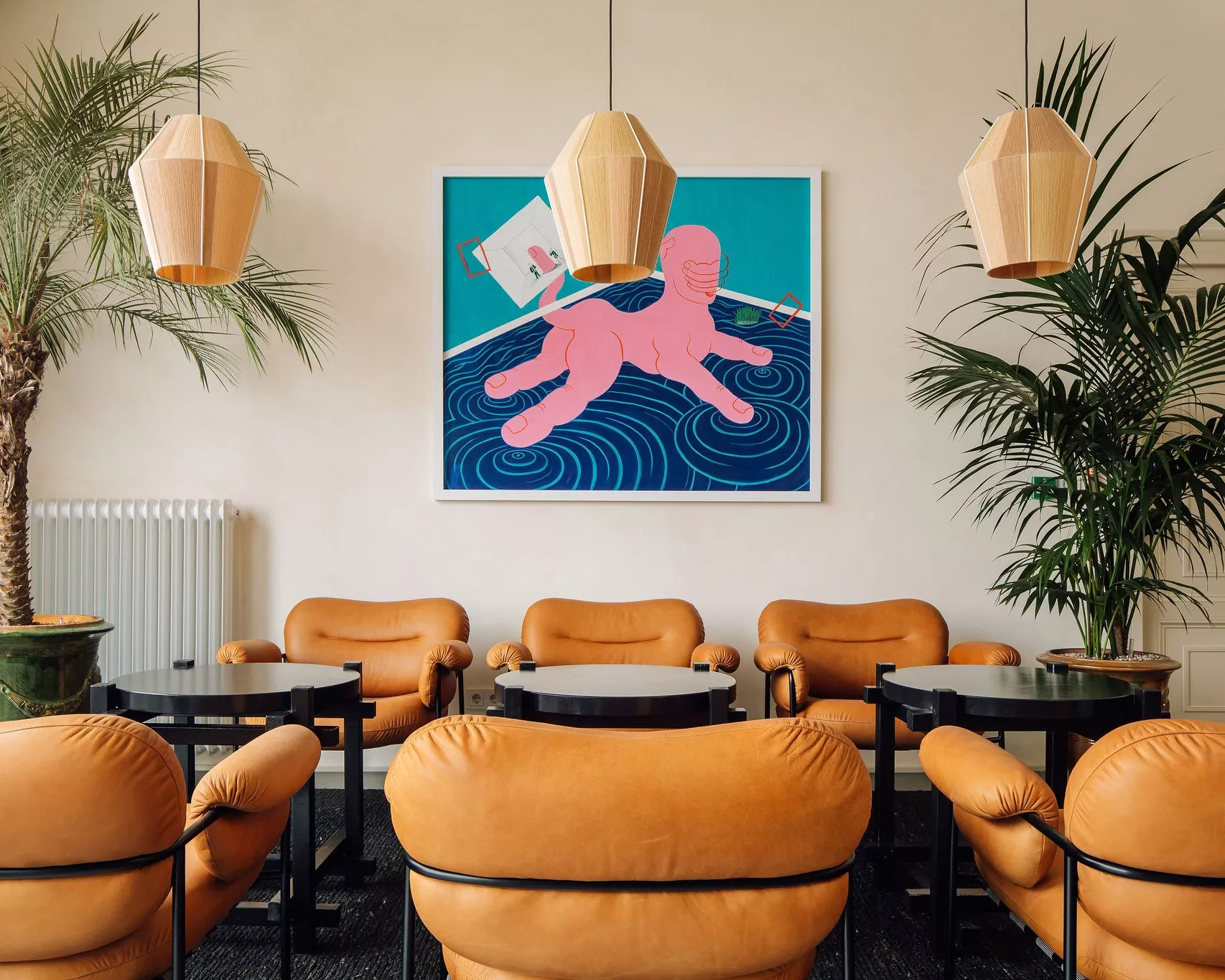 CENTRUM
Fosbury & Sons
Best for: High quality work spaces + facilities
Location: Prinsengracht 769, Amsterdam Centrum
Price: From 19 EUR for half a day
Fosbury & Sons makes the bold claim that 'the office as you know it is dead'. With the pandemic radically changing our relationship to work environments, it has a point. Its response: take the old office and raise it to luxurious new heights. Fosbury & Sons caters to the dynamic professional of today, with extra care for workspace quality. Printing facilities, postal service points, and communal kitchens are located on every floor. Flexible offices start at 19 EUR for half a day, but you can also opt for stability and hire a private office per month. A wide array of meeting rooms and event spaces are also available.
fosburyandsons.com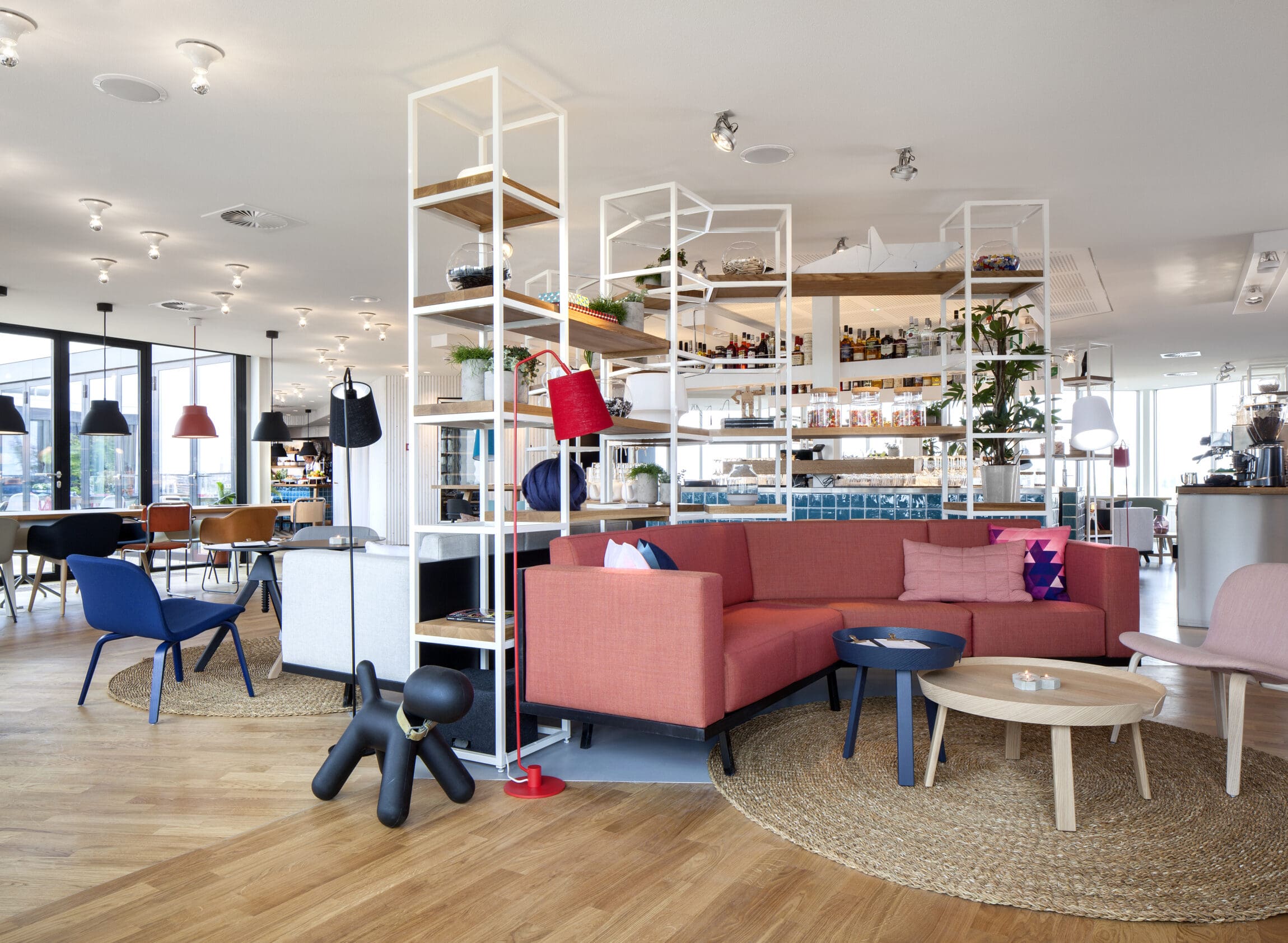 Zoku
Best for: Long-stay, co-working and networking
Location: Weesperstraat 105, Amsterdam Oost
Price: Unlimited membership for 180 EUR / month, day pass at 39 EUR
Zoku is the ideal hybrid space for the remote professional. With locations in three different European cities (Copenhagen, Vienna, and Amsterdam), Zoku has a hotel-like service accommodating all of your needs. It truly is the home away from home – if your home includes a built-in office, game room, spa, and in-house convenience store. If you don't want to stay the night, Zoku also offers monthly memberships that allow access to its rooftop working space. As a member you also receive discounts on Zoku's other facilities, and for an additional 75 EUR a month, you can register your business at the address. Alternatively, a day pass (at 39 EUR per day, first come) grants you access to their Social Spaces and includes lunch. At 15:30, join the Swedish ritual of Fika – a moment to pause, share a coffee, and socialise with other professionals.
livezoku.com
OBA
Best for: Researching, classic quiet library environment
Location: Various locations across Amsterdam, see here
Price: Free entry, sandwiches at 7 EUR in restaurant Babel, salads for 12 EUR
With an abundance of hip co-working spaces and cafes on offer, a public library might feel like an old-fashioned spot, but don't be mistaken: with more than 28 locations throughout Amsterdam, the OBA collection of public libraries has a wide variety of working options in the most diverse places. The biggest one is located on Oosterdok, close to the Central Station and overlooking the former 'wet dock' in Central Amsterdam. Scattered among the bookcases, working spots can be found on all floors of the library. On the 7th floor you'll find Restaurant Babel where you can take your lunch break, while on the ground floor is a smaller cafe can be visited for a quick coffee on your way in or out.
oba.nl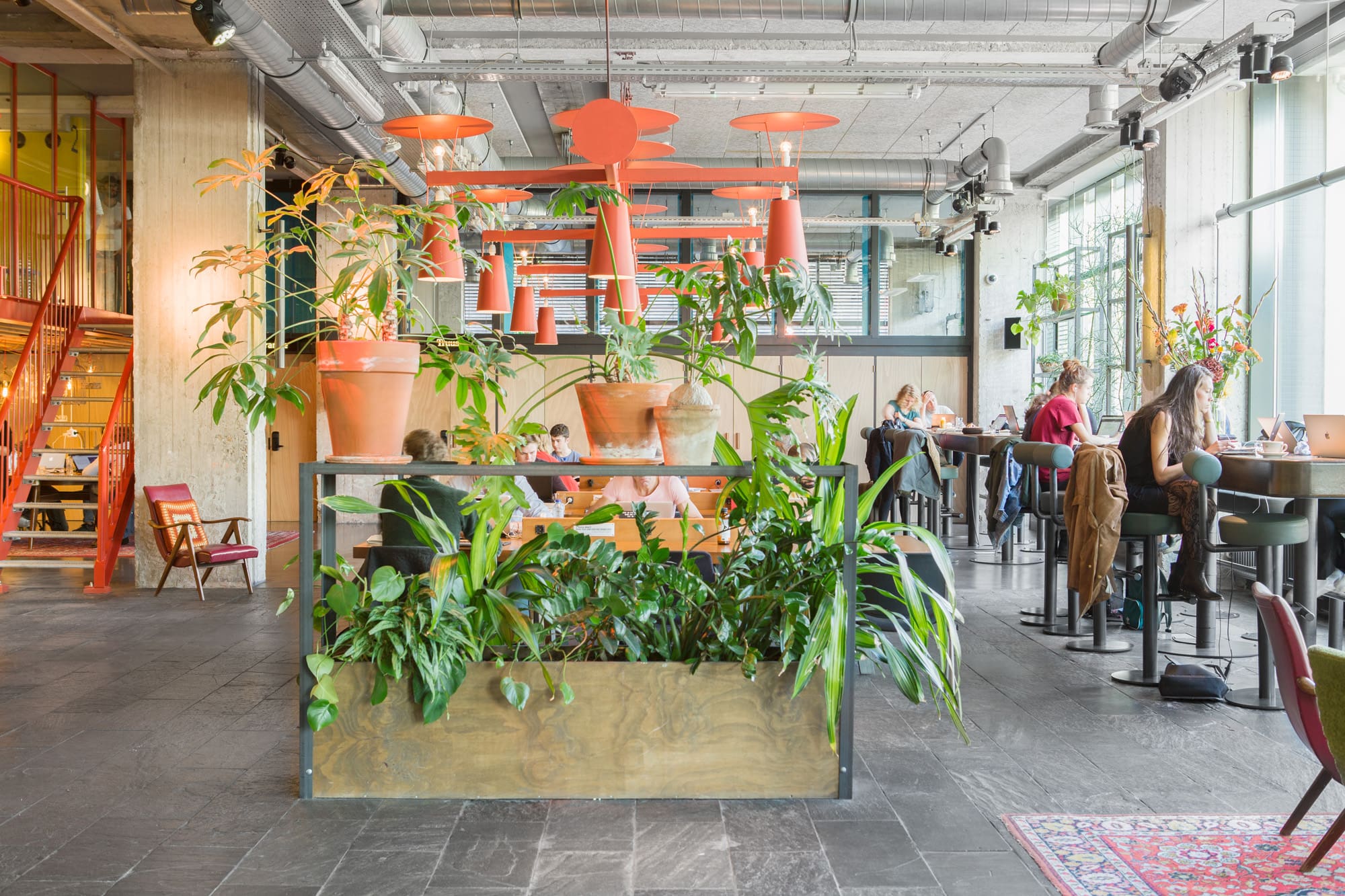 OOST
De Werkplaats, Volkshotel
Best for: Friendly, no-nonsense, A+ toasties
Location: Wibautstraat 150, Amsterdam Oost
Price: 5-7 EUR for a toastie, 3-4 EUR for a coffee
De Werkplaats ('The Workshop') is a well-functioning co-working space on the ground floor of the Volkshotel, where you'll find multiple shared tables and a laptop bar facing the floor-to-ceiling windows. The cafe, sporting cosy nooks and softer seats, has a particularly good toastie on the menu. The cafe also doubles as an event space that hosts a hairdressing salon pop-up on Fridays. Volkshotel has a variety of meeting areas for rent, from smaller co-working cabins for six to twelve people to larger event spaces. After your work session is over, take the elevator up for a drink at rooftop bar Canvas, with breathtaking views of the Amsterdam skyline. Or go underground to Doka for basement club nights and live coding sessions.
volkshotel.nl/werkplaats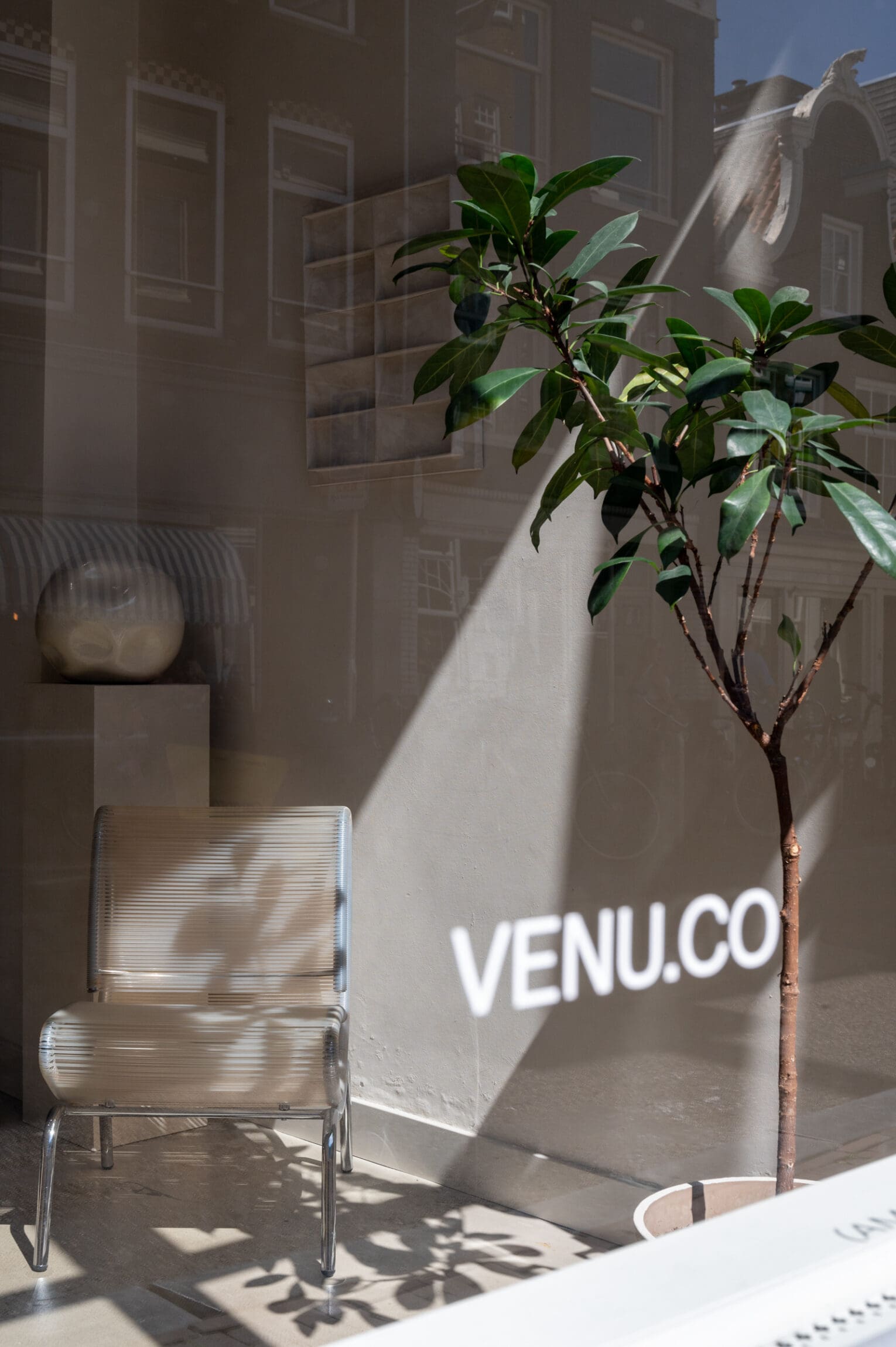 WEST
Venu
Best for: Clean aesthetic, creative hub
Location: Haarlemmerdijk 138A, Amsterdam Centrum
Price: Pay by the hour (from 4 EUR)
Venu's clean beige and marble design is as warm and organised as we wish our brains were. Existing at the intersection between a specialty coffee store and co-working space, Venu styles itself as a 'third place for creative people'. You can either pay by the hour or buy a bundle of Venu hours. It offers working spots in the communal area (4 EUR per hour), and meeting rooms (10 EUR per hour), which are fully equipped for presentations. Venu also hosts events every now and then, so keep an eye on their socials for upcoming moments in the calendar.
venu.co/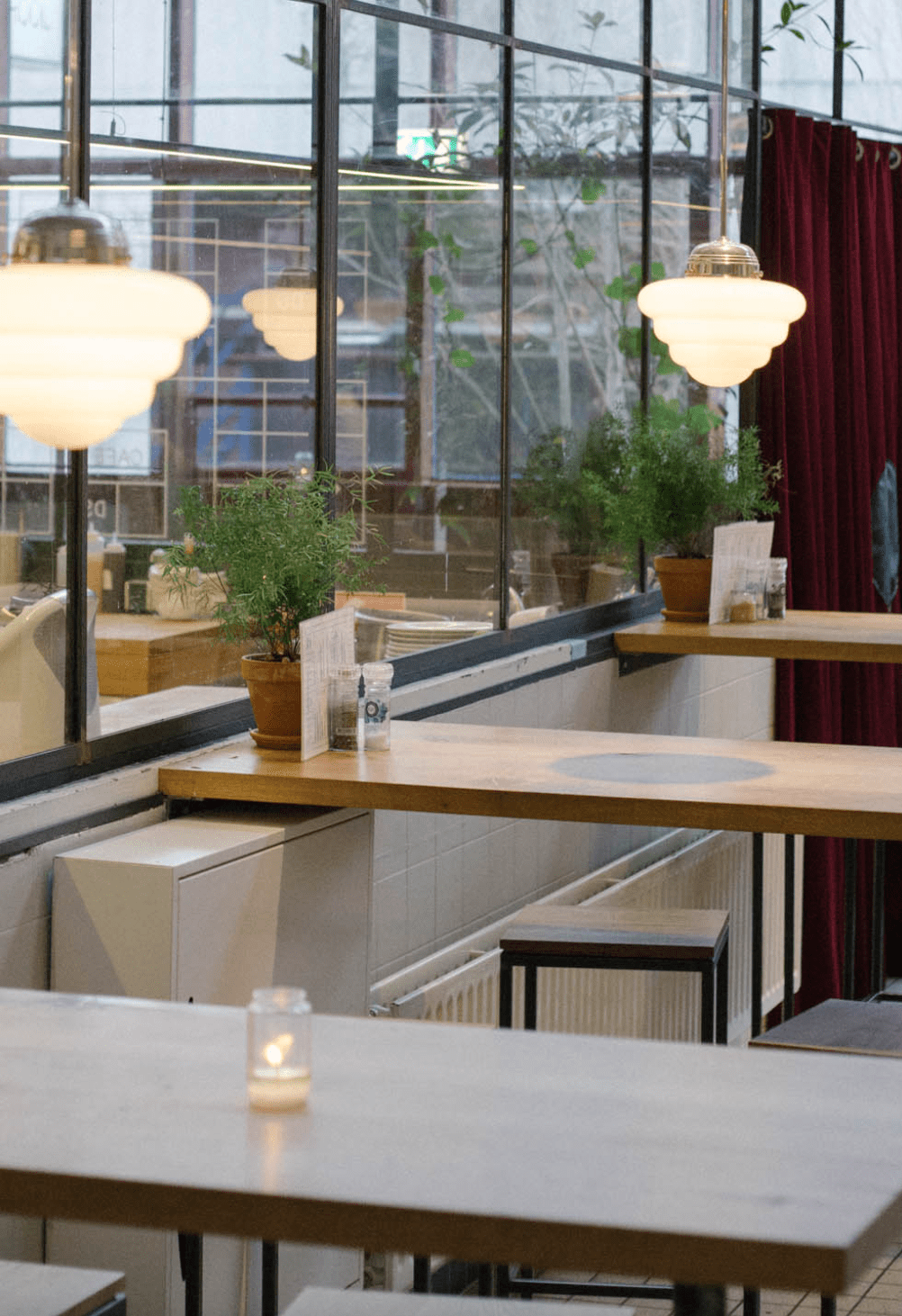 Cafe DS, De School
Best for: Dynamic, cultural and creative hub
Location: Doctor Jan van Breemenstraat 3, Amsterdam West
Price: 9 EUR for a bagel, 12.50 EUR for the dish of the week
Internationally known as one of the nightclubs in Amsterdam, De School offers much more than dark, smoky techno raves. As its guise as a cultural centre, it hosts creative studios, a restaurant, gym, and Cafe DS, where you can enjoy a simple and largely plant-based menu. On summer days, enjoy its large shaded patio. In De School, you will find yourself in the ideal space for quiet working, but without someone telling you off for eating during office hours. Make sure to check out their programming for workshops, events, and other fun out-of-school activities.
deschoolamsterdam.nl
Kanarieclub
Best for: Spacious, perfect for (many!) snack breaks
Location: Bellamyplein 51, Amsterdam West
Price: TBC
Under the moniker 'the nest of West', Kanarieclub – located inside 'De Hallen', a former tram depot in the heart of Amsterdam Oud West – aims to be the neighbourhood's very own living room. Little nooks for quick meetings surround the central bar, while laptop desks line the quieter sides of the cafe. Whether you're looking for lunch or a post-work schooner, all is in store at Kanarieclub. And while you're at it, why not relax with a game of table tennis? For lunch or dinner, you can also pop into the Foodhallen, the big food court next door with over 20 different food stands. After a productive day of work, hop over to the Filmhallen and catch an early-evening screening of the best arthouse and blockbuster films.
kanarieclub.nl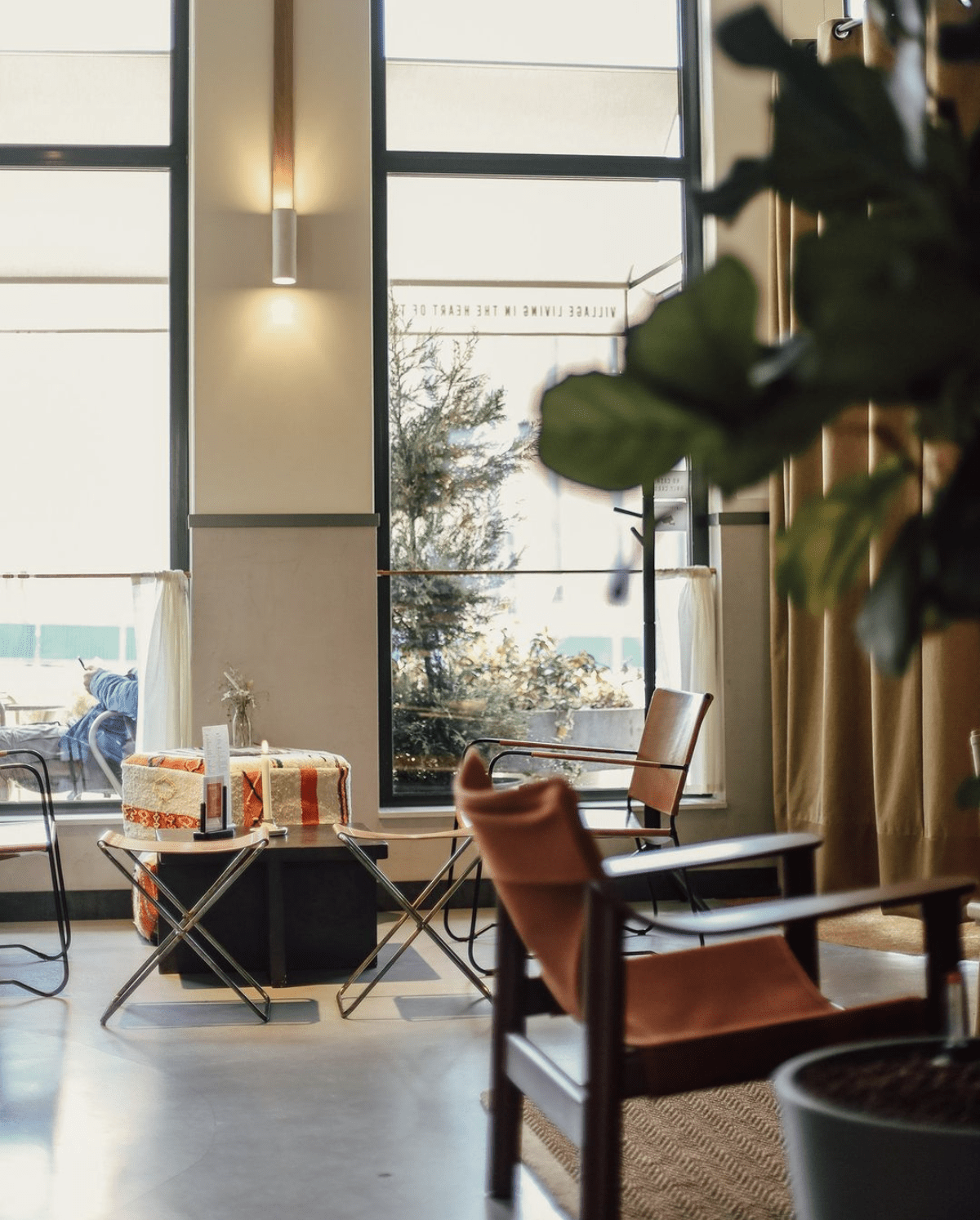 The Villy Rhapsody
Best for: Yummy smoothies, unlimited coffee
Location: Bos en Lommerplein 302, Amsterdam West
Price: 0.10 EUR per minute for a desk, 0.50 EUR per minute for a meeting room
A spacious but cosy cafe and workspace just outside the circle highway. Great for lunch meetings (the yellow smoothie is a must) or just to open your laptop and type away for a few hours. Workspaces are pay-per-minute, and there is with a choice of either a flex desk or a meeting room, and Included in the price are unlimited coffee, tea, and water are included in the price. Meeting rooms include a screen with Google Chromecast and a flipchart. At the end of the day or during your midday break, make sure to hop around the corner and visit MAQAM – the pop-up location of Amsterdam's famous photography museum, Foam, for an art break and some Moroccan tea.
thevilly.com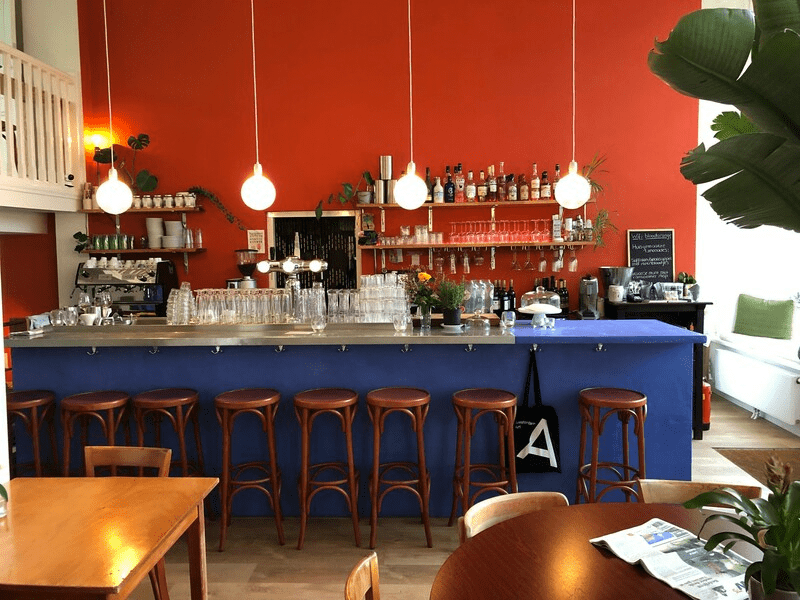 No Man's Art Gallery & de bar
Best for: After work drinks, art and events
Location: Bos en Lommerweg 90, Amsterdam West
Price: 9 EUR for a cocktail, 5-10 EUR for shareable snacks
Only a few minutes away from The Villy lies we find this hybrid art-drinks space place, perfect for your last meeting of the day. No Man's Art Gallery is an art gallery hosting exhibitions and pop-up galleries around the world, features work from young, emerging and international artists in a bright, colourful space with a cosy terrace on the bustling Bos en Lommerweg. Sit back and allow your last meeting to trickle into cocktail hour, stay for the great food (vegan buns with kimchi) and inspiring artworks, and make sure to end the day with a NMAG spritz or a Negroni.
nomansart.com
ZUID
Caffènation
Best for: Cosy vibes, gentle whirring of the coffee machine
Location: Warmondstraat 120, Amsterdam West
Price: 4 EUR for a coffee
Overlooking a quiet square on the edge of Amsterdam-West, Caffènation (an extension of the artisan coffee roastery based in Antwerp) is the perfect spot to meet over a good cup of coffee. Upstairs we find is a small, intimate cafe, but hidden downstairs are many tables to sit down with a laptop or co-worker. Or choose A favourite perch is the comfy couch in the window upstairs, and enjoy a nice with views of the square below. Don't forget to bring back home a bag of their artisanal coffee beans.
caffenation.be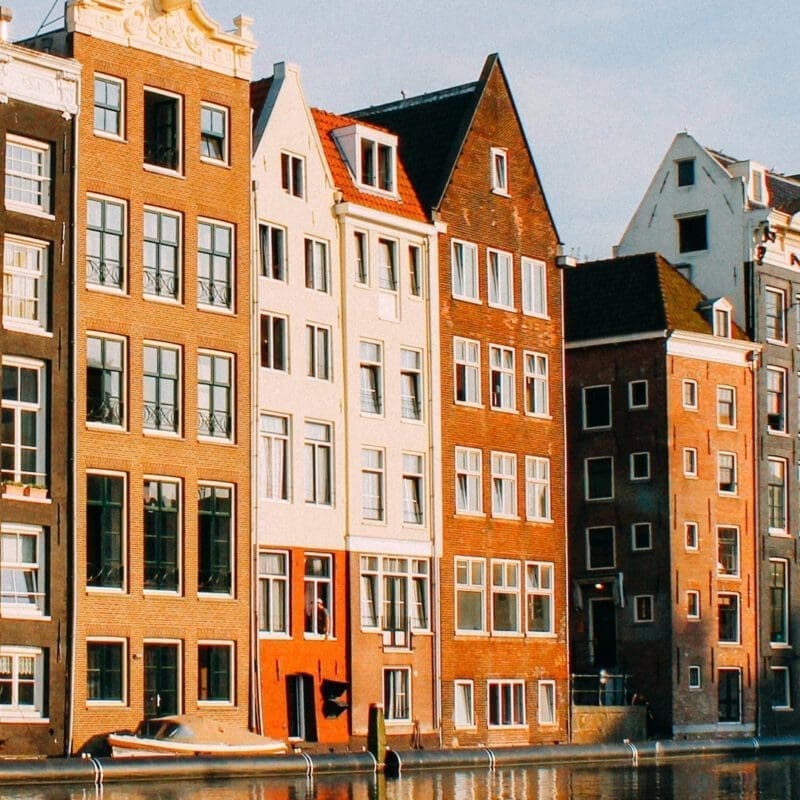 Sign up to the ROADBOOK newsletter for superlative city guides across the world