The best hotels in Los Angeles
Wondering where to stay in the vastness that is Los Angeles? Check out our picks for LA's best hotels, in terms of design, food, location, and atmosphere
Last updated: July 31, 2023
Though it can be hard to decide where to stay in Los Angeles, it's all about staying in choosing a hotel in a neighbourhood you want to see. Because the city is so vast, there are many different sides to the US's second-largest city. Some might want to stay near the beach, others might want access to the best shopping or the city's hype-worthy restaurants. Others still may set their sights on a particular street with its own distinct vibe – and to be clear, there are many different vibes across Los Angeles. Here's our breakdown of the best hotels in LA.
Koreatown
The Line Hotel
Best for: Urbanites wanting to be in the midst of the action
Location: 3515 Wilshire Boulevard, Los Angeles, CA 90010
Price: 179 USD
The Line Hotel's central location means there's no shortage of attractions in all directions, from world-class Korean food, to museums, concert venues, bars and clubs, and the historic homes and shops of Larchmont Village. Choose a room with a view of Griffith Park & Observatory and the Hollywood sign for true LA ambience. To relax, bask poolside on the second floor before strolling through the garden terrace. Be sure to check out the hotel's various packages, with discounts on extended stays and room bundles with concert tickets.
thelinehotel.com/los-angeles
West LA
Hotel June
Best for: Beach worshippers
Location: 8639 Lincoln Boulevard, Los Angeles, CA 90045
Price: 178 USD
Book a room at The Hotel June for boutique comforts and an easy two-mile stroll to Playa Del Ray beach. Vibrant murals enliven an earthy colour palette in the lobby, while plenty of natural light and works by local artists brighten the bedrooms. Its in-house restaurant, Caravan Swim Club, has excellent food by Chef Manuel Portillo, and hosts not-to-miss culinary events such as producer-focused wine dinners. Join a yoga class or hop on a hotel bike and head to the beach to bathe in the South California sun.
thehoteljune.com
Silver Lake
Silver Lake Pool & Inn
Best for: Chillers with a taste for mid-century motels, a hip LA postcode
Location: 4141 Santa Monica Boulevard, Los Angeles, CA 90029
Price: 325 USD
This former mid-century motel sits adjacent to Sunset Junction in Silver Lake, one of the hippest areas in Eastside LA. Independent shops, galleries, workout studios, movie theatres, music venues, bars, restaurants and cafes are all within walking distance, giving its guests no shortage of things to do. Its adjoining restaurant, Marco Polo, is set around a U-shaped bar, and serves up excellent Italian food, where staying guests can get 10% off their bill. Hang out by the pool and order trattoria classics throughout the day, or prop up the bar for an aperitivo during happy hour on weekdays. Although it's a hotel, Silver Lake Pool & Inn has a decidedly local vibe, so you can really soak up the neighbourhood energy.
palisociety.com
Downtown LA
Downtown LA Proper
Best for: Downtown epicureans 
Location: 1100 South Broadway, Los Angeles, CA 90015
Price: 195 USD
For a stay in DTLA, look no further than Downtown LA Proper Hotel. Not only are some of the city's hottest restaurants and bars nearby, two of LA's James Beard award-winning chefs and restaurateurs, Suzanne Goin and Caroline Styne, helm two of them right on the premises: Calo Verde on the first floor, and Cara Cara on the rooftop. You're also privy to LA's hottest cultural centres thanks to the nearby Museum of Contemporary Art, Broad Museum, Walt Disney Concert Hall and the Music Center.
properhotel.com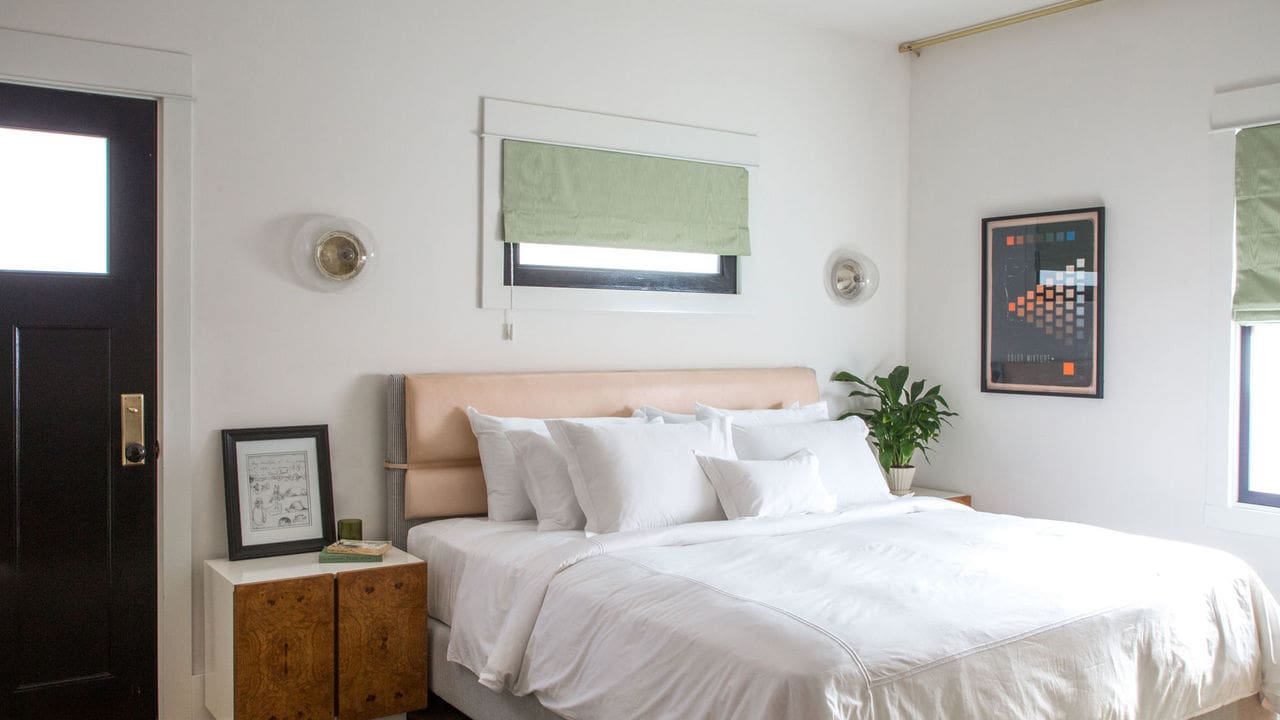 East Hollywood
Hotel Covell
Best for: Travellers looking for a personal, boutique service
Location: 4626 Hollywood Boulevard, Los Angeles, CA 90027
Price: 289 USD
With only nine suites, Hotel Covell is one of the most intimate boutique hotels in East Hollywood. In fact, a more accurate description would be that it's like staying in your dream apartment: there's no lobby and no on-premises dining, so a stay here feels like a proper getaway. Each suite has its own theme, and comes with a kitchenette with retro Smeg refrigerator, and a Crosley record player with a specially curated record selection. Some also have their own outdoor deck. Adjacent to both Hillhurst and Vermont Boulevards in Los Feliz and walking distance to Sunset Junction in Silver Lake, there's plenty of the city's best shopping, restaurants and cafes just steps away.
hotelcovell.com
Cara Hotel
Best for: A retreat from LA's frenetic pace
Location: 1730 North Western Avenue, Los Angeles, CA 90027
Price: 289 USD
Cara Hotel sits right at the intersection of Los Feliz, Thai Town, Hollywood and East Hollywood, meaning there are plenty of sides of LA to explore from this cloistered urban oasis. Pristine rooms are ensconced in white with natural wood touches, arranged around a courtyard pool area dotted with 100-year-old olive trees and plenty of hanging linen drapes. Its food and beverage programme boasts seasonal, organic ingredients from Californian farmers, with wines from local biodynamic producers. All in all, there's everything you need for a relaxing stay in the city.
carahotel.com
Hollywood
Mama Shelter
Best for: Informal, tongue-in-cheek fun
Location: 6500 Selma Avenue, Los Angeles, CA 90028
Price: 211 USD
Mama Shelter is located in the centre of it all, namely Hollywood, so anyone looking for the hustle and bustle of Tinseltown will find this accommodation the perfect fit at an affordable price. Brightly coloured textiles inside and a buzzy rooftop bar outside mean you've got plenty to enjoy at the hotel – including DJ sessions in the restaurant and free movies to stream in the rooms. With Hollywood's theatres, music clubs, restaurants and bars within close walking distance, the whole of Los Angeles's entertainment district is your oyster. Looking to see other parts of the city? Hop on the Metro for easy access to DTLA, too.
mamashelter.com
West Adams
Alsace Hotel
Best for: A relaxed Mediterranean vibe
Location: 5170 West Adams Boulevard, Los Angeles, CA 90016
Price: 197 USD
Alsace Hotel is the perfect place to stay while enjoying the historic West Adams neighbourhood. Warm wood tones, terracotta tiles, and Moroccan rugs lend a Mediterranean feel to the hotel, which is arranged around a spacious courtyard replete with rock gardens and rattan furniture. Guests can borrow bikes from the hotel, and can also receive credits to their nearby coworking space, Yoube, which has shared and private office spaces for you to get your work done – perfect for those on a remote working trip.
alsacehotella.com
If you book via a link on our website, we may earn an affiliate commission.
Looking to let your hair down in the City of Angels? Consult the ROADBOOK guide to the best cocktail bars in Los Angeles, followed by dinner at one of these hype-worthy restaurants.