The best restaurants in Shoreditch and Spitalfields
The best places to eat in Shoreditch and Spitalfields, London, from top-notch market stalls to nose-to-tail specialists and Michelin-starred tasting menus
Last updated: September 15, 2023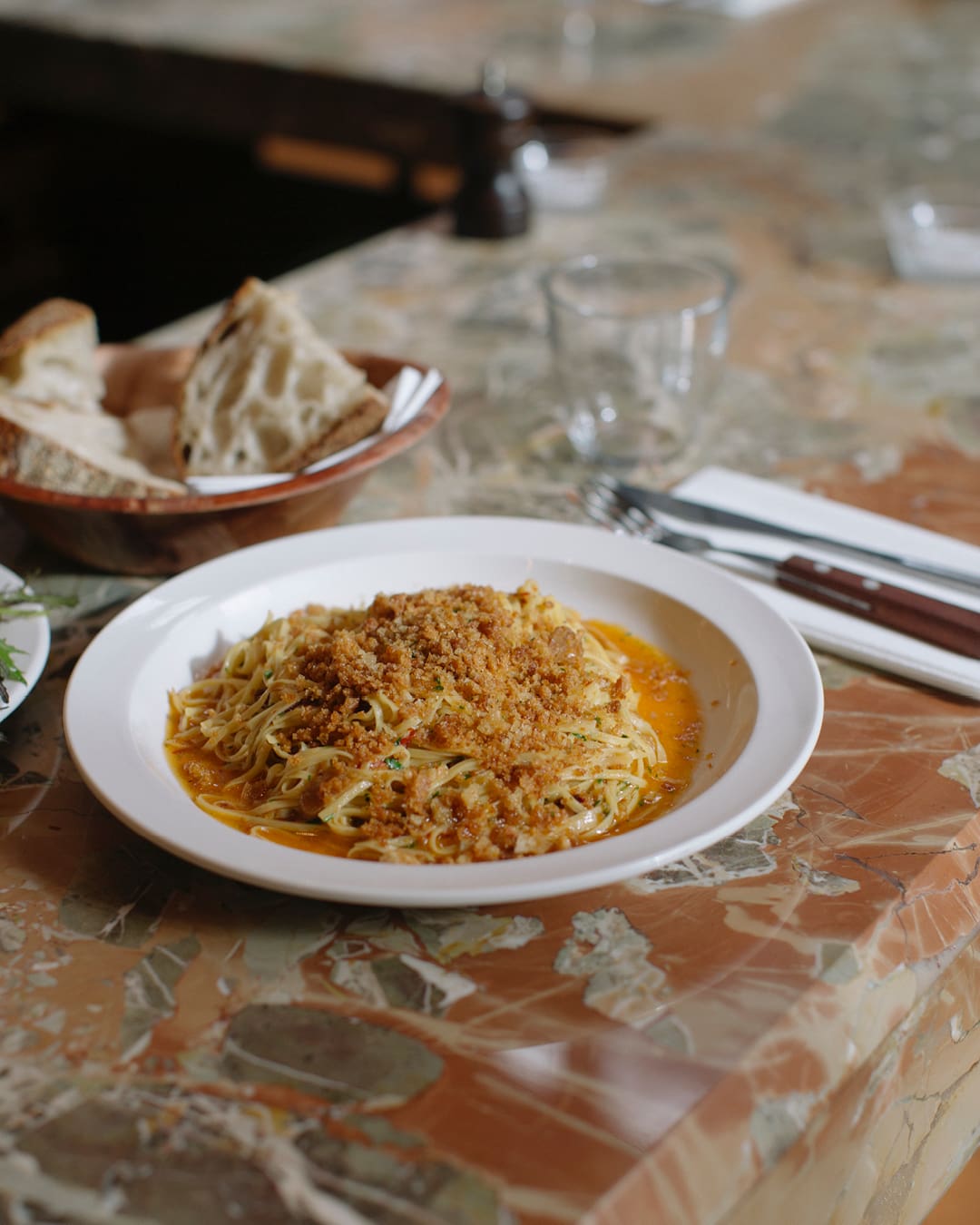 As anyone who works in East London could tell you, Shoreditch and Spitalfields have some of the best restaurants in London – for lunch or dinner. From the many food stalls of Spitalfields's historic covered market to Shoreditch's cutting edge pasta, open fire, nose to tail and tasting menu restaurants, there is something for every cuisine and price point.
Shoreditch, stretching from Old Street station in the west to Brick Lane in the east, has been a constantly evolving nucleus of activity in East London, from the Young British Artists' time living there in the 90s, to its current role as a tech and business hub and shopping and nightlife district.
Shoreditch is bordered by Hoxton and the outer reaches of Hackney to the north, The City to the south, and Spitalfields to the south east – the latter of which is centred on Commercial Street and Spitalfields Market.
Some of the best restaurants in Shoreditch and Spitalfields have been favourites for many years, others are entirely new entries with excellent pedigree, but all offer the best at what they do. Thrumming with locals and visitors, they are all exceptionally popular, so get your table reservations in now.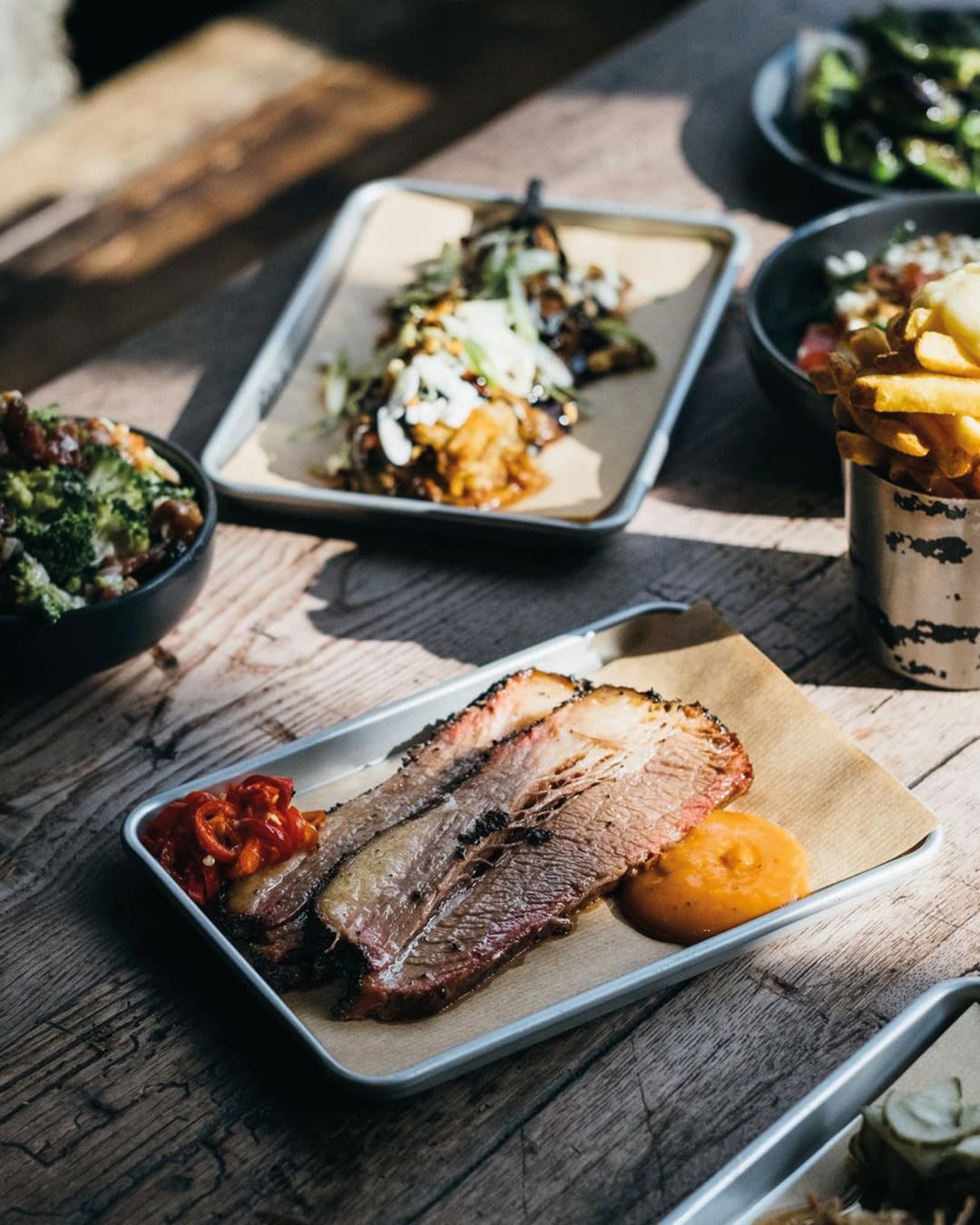 The best restaurants in Shoreditch
Smokestak
Best for: the iconic beef brisket bun
Location: 35 Sclater Street, London, E1 6LB
Price: Mains around 11.50 GBP
Pulling back the heavy metal door and walking into Smokestak is to step inside a meat eater's paradise. The industrial space has an in-house smoker that fills the air with charcoal aromas, and imbues its flavour to most of the menu, including the chargrilled aubergine. The most iconic dish served here is arguably the smoked brisket bun, served with slices of red chilli: it is simple, delightful and moreish. There's all sorts of other meat and vegetarian dishes on offer, including beef croquettes with an anchovy mayo, and pork belly ribs in a sticky glaze with pickled cucumber. And the good news is you can wash it all down with a hazy pale from Dalston's 40 Ft Brewery. If you're in the mood for a meat feast or a cheeky work lunch treat, look no further than Smokestak.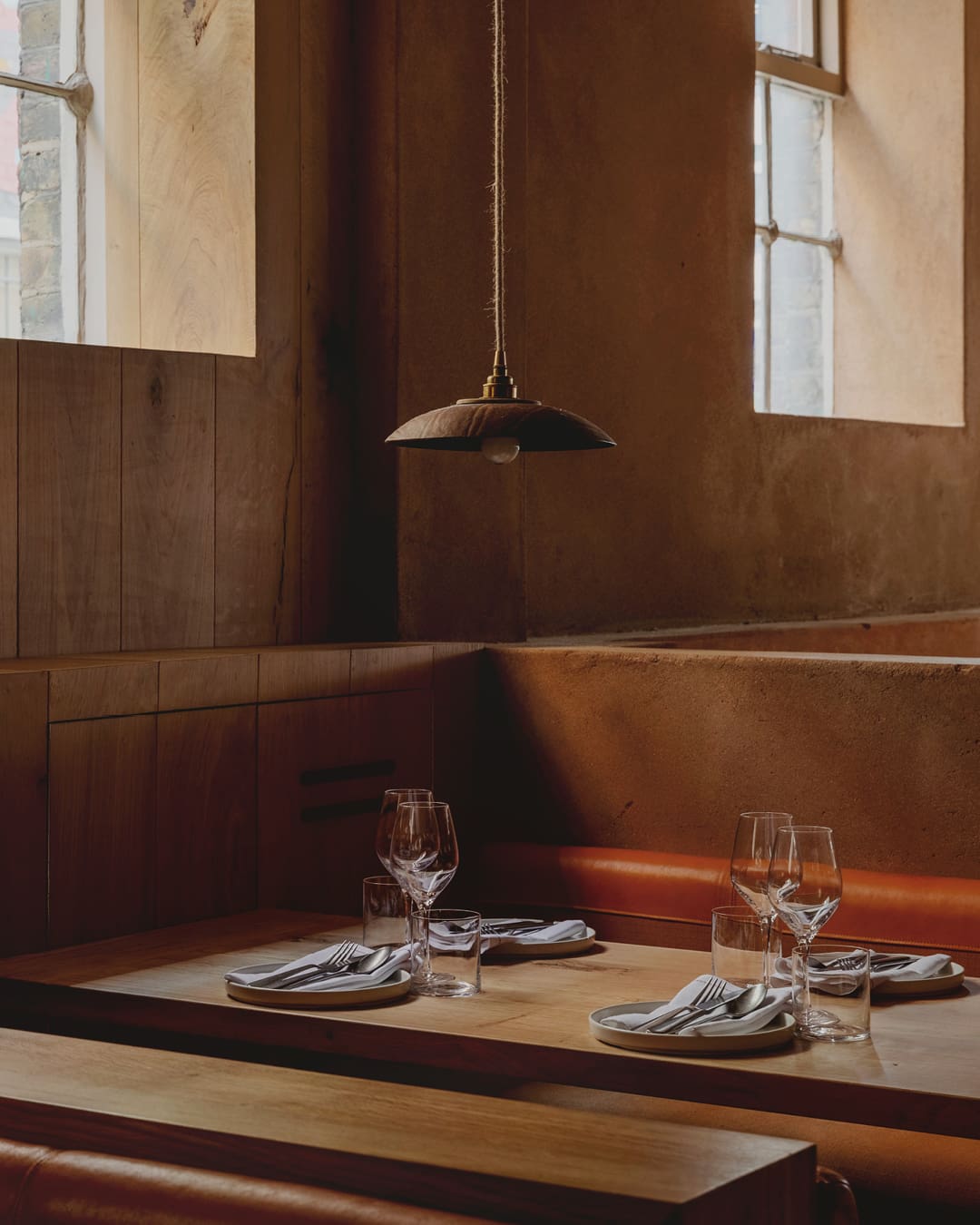 Manteca
Best for: hand rolled pasta meets nose to tail dining
Location: 49-51 Curtain Road, London, EC2A 3PT
Price: Pasta from 11 GBP
Also from restauranteur David Carter of Smokestak comes Manteca, which Carter runs with chef Chris Leach. The Italian-inspired nose to tail restaurant on Curtain Road shares the same elements of fire cooking and utmost attention to meat dishes as its sister restaurant, but combines them with elegant hand-rolled pasta and an in-house salumeria that serves up finely sliced cured meats with wood-fired focaccia. The pasta side of the menu includes rigatoni in a kale and chilli sauce, tonarelli with brown crab cacio e pepe and malloreddus pork sausage ragu, while the open fire sharing dishes range from wood-roasted whole fish to an 800g sirloin of British wagyu beef.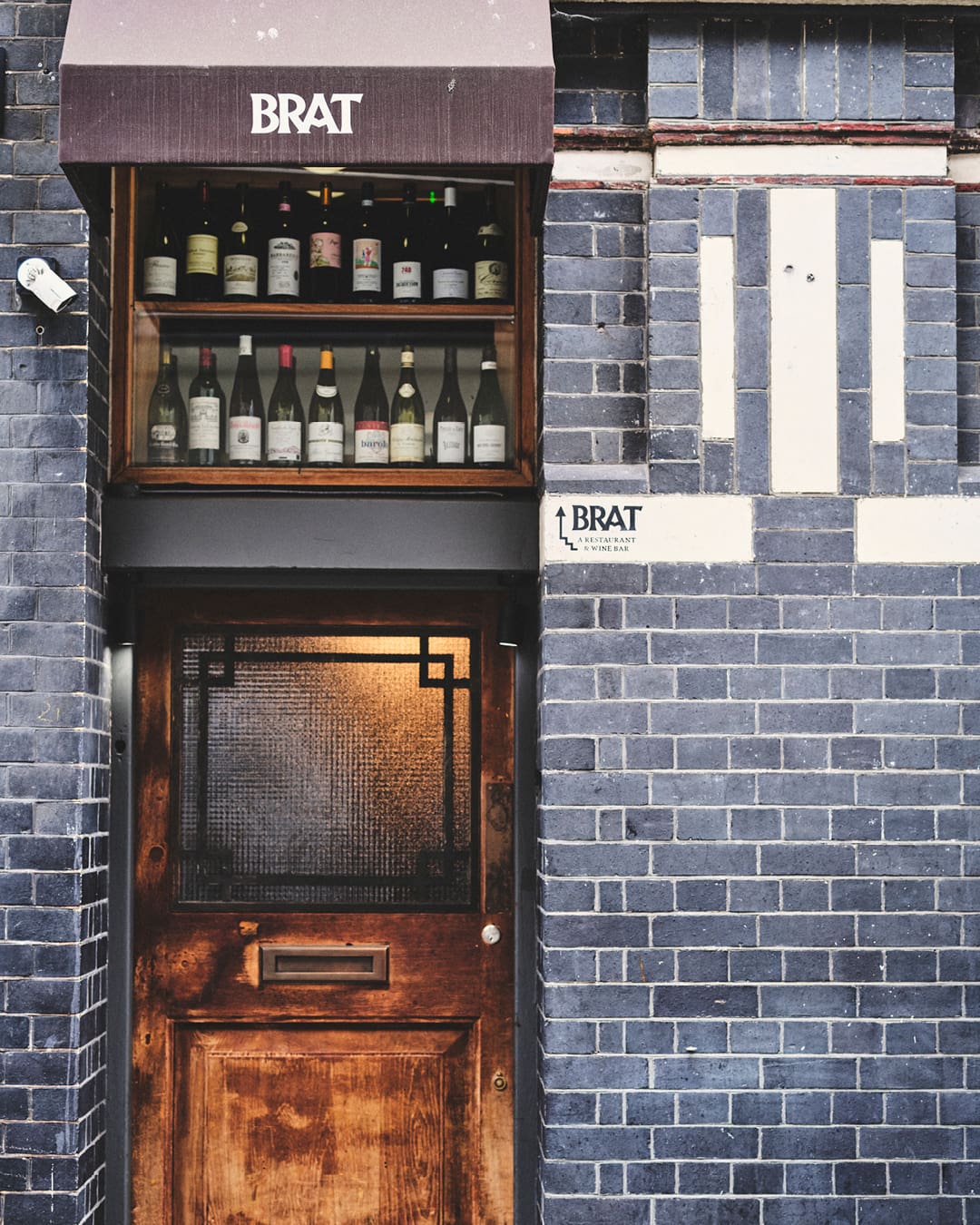 Brat
Best for: sophisticated seafood cooked on coals
Location: 4 Redchurch Street, London, E1 6JL
Price: Starters from 8 – 14.50 GBP, mains 21.50 – 36 GBP
In an upstairs dining room on Redchurch Street is Brat, one of the best seafood restaurants in London. The restaurant has a mix of bar seating and small tables and is almost always fully booked, so get your reservations in early. Head chef Tomos Parry secured Brat a Michelin star in 2022, and you can see why as soon as the food arrives. The non-negotiable part of every order is starting with the fluffy grilled bread with anchovy fillets draped over the top, and scattered with chopped chives. Brat takes its name from the Old English word for turbot, and offers the fish as one of its signature dishes, grilled whole over charcoal and served for sharing between three and four people. Other highlights include the spider crab toast, grilled mackerel with soused tomato starter, and burnt cheesecake with nectarine dessert. Brat also has a sister restaurant in Hackney's London Fields, which specialises in wood-fired cooking.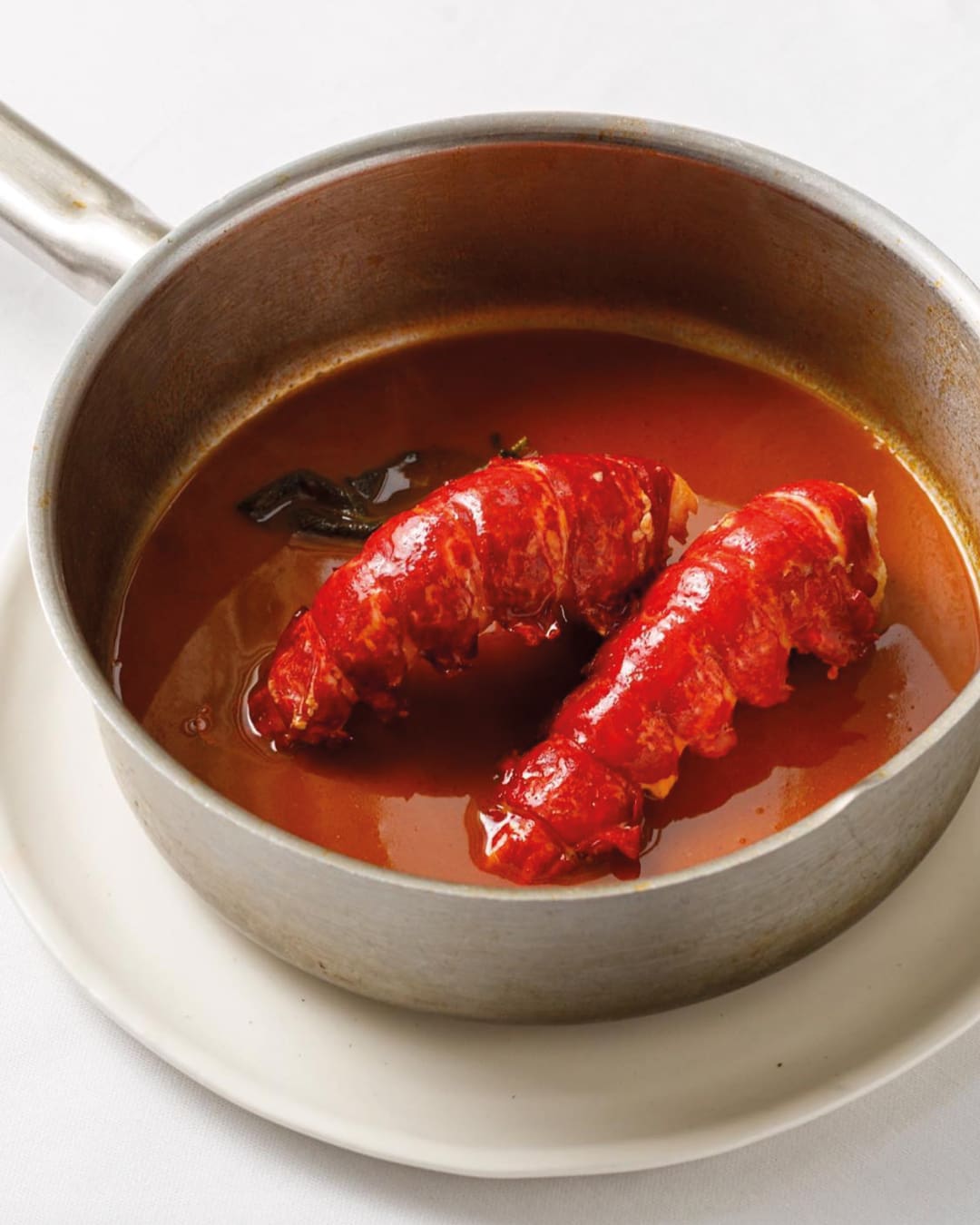 The Clove Club
Best for: the ultimate tasting menu, a fine-dining stalwart of Shoreditch
Location: Shoreditch Town Hall, 380 Old Street, London, EC1V 9LT
Price: Tasting menu 195 GBP, short menu 155 GBP
The grade-II listed Shoreditch Town Hall is home to the two-Michelin-starred restaurant The Clove Club, a fine dining favourite ever since it first opened its doors in 2013. Everything is centred on its seasonal tasting menu, featuring modern dishes rooted in impeccable technique, which is paired with a substantial wine list. The team, led by head chef Isaac McHale, prides itself in sourcing the finest produce the British Isles has to offer, from Orkney scallops to Cornish lobster, and assembles each dish with art and flair in the open-plan kitchen. There's good reason The Clove Club has remained the highest-placed UK restaurant in the world's 50 best restaurants list since its entry in 2016.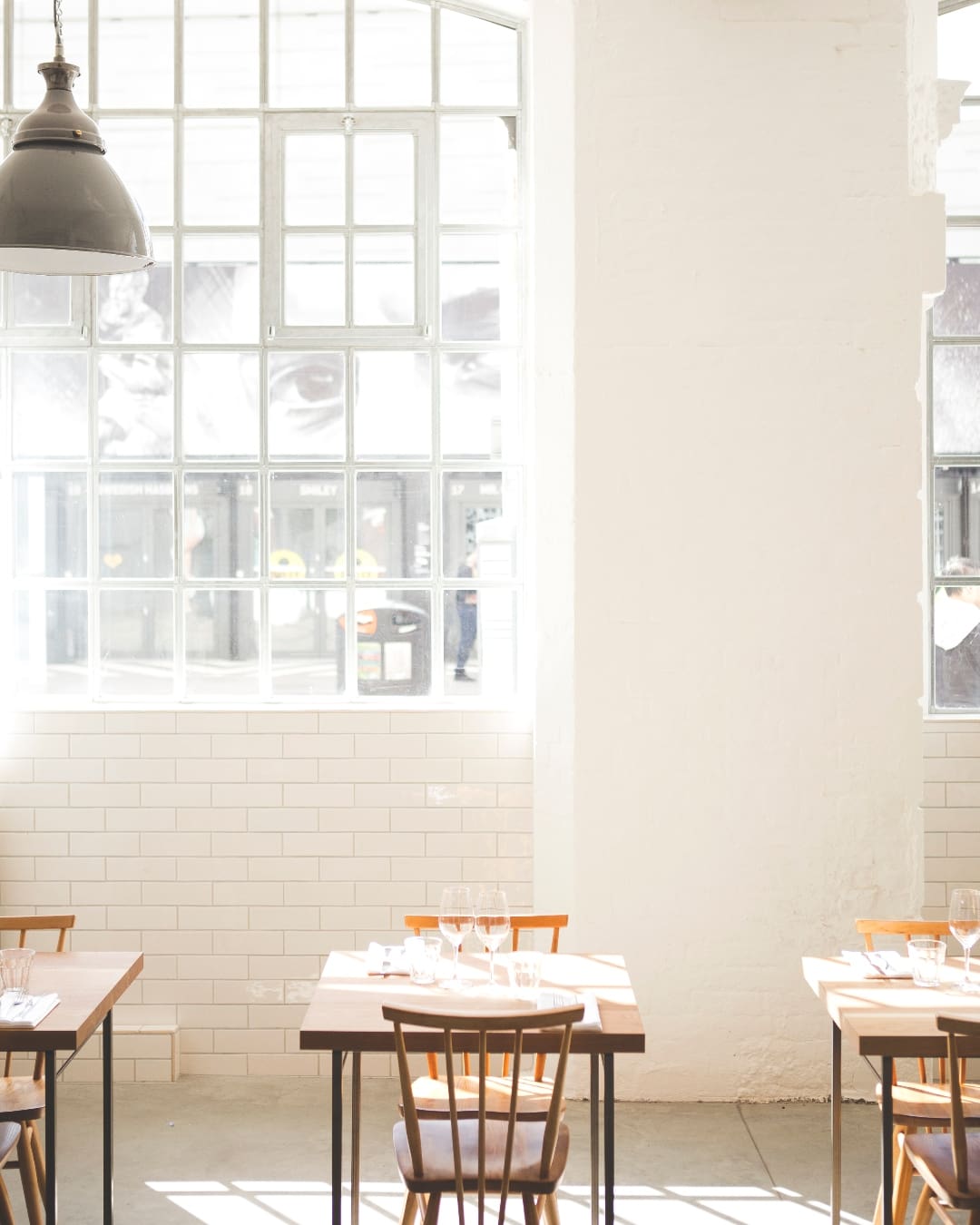 Lyle's
Best for: British seasonal produce in a minimal setting
Location: Tea Building, 56 Shoreditch High Street, London E1 6GY
Price: Set dinner menu 95 GBP, lunch dishes 15 – 35 GBP
Another Michelin-starred restaurant can be found on the ground floor of the Tea Building, where light streams through the former factory's Crittall windows over polished concrete floors, minimal ash and elm tables, and Windsor chairs. Lyle's serves modern British fare in the form of a four-course tasting menu for dinner and an a la carte menu for lunch. The focus is firmly seasonal, and as such, the menu changes regularly. Recent dishes have included fried squid and black pepper, game liver and damson toast, and peach and marigold seabass. The descriptions are kept short, yet the food is complex and delightful.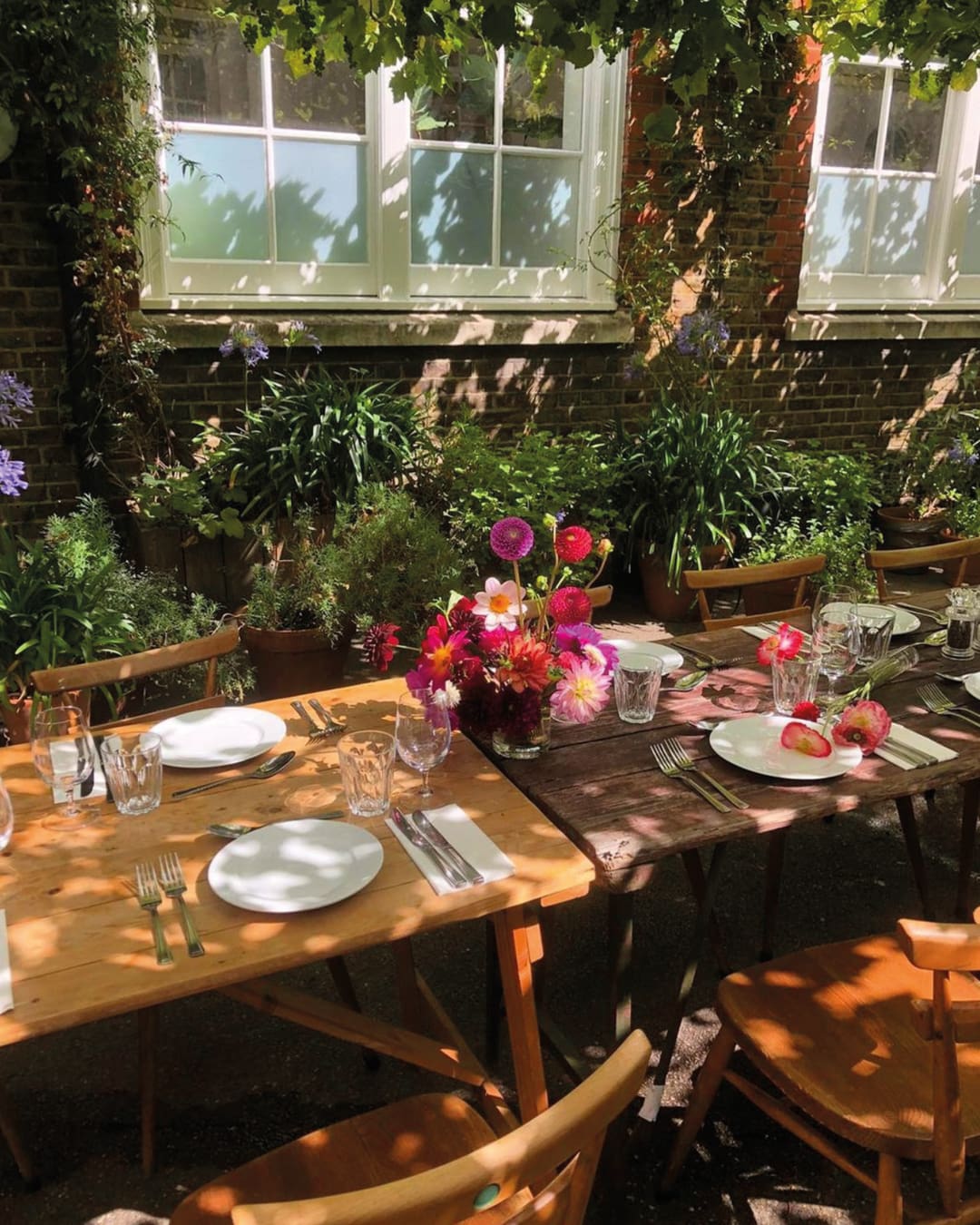 Rochelle Canteen
Best for: al fresco dining
Location: 16 Playground Gardens, London, E2 7FA
Price: Mains 19 – 26 GBP
Hidden behind a discreet door in Shoreditch's Boundary Estate is Rochelle Canteen, housed in a former bike shed. In the spring and summer months, the tables are set up in the outdoor courtyard, making this one of London's best restaurants for al fresco dining. The short menu changes daily to make the most of seasonal produce, and the food is top notch, which is what you can expect from the founders Melanie Arnold and Margot Henderson – the latter ran The French House Dining Room in Soho with her husband Fergus, who went on to co-found St John. The unique dining setting, replete with chipped enamelware, old wooden chairs and blankets, and the spectacular food, make Rochelle Canteen one of London's most beloved restaurants.
Padella Shoreditch
Best for: hand made pasta
Location: 1 Phipp Street, London, EC2A 4PS
Price: Pasta 9 – 16.50 GBP
Borough Market's cult pasta restaurant Padella has a second outpost in Shoreditch, and has one advantage to its original location: bookable tables. With no need to navigate a 40-minute queue, and all the same delectable pasta dishes on offer, it's a clear winner. The pasta here is hand rolled each day, which passers-by can watch happening inside through the vast windows. The same classic dishes are on offer here, including the legendary cacio e pepe, the eight-hour-cooked beef shin ragu, and the taglierini with crab chilli and lemon. There's also a cocktail bar serving unique twists on Italian classics, such as the Padella Negroni, which adds lemon and thyme. And with an onsite bakery churning out fresh sourdough every day, Padella has all your Italian feasting needs covered.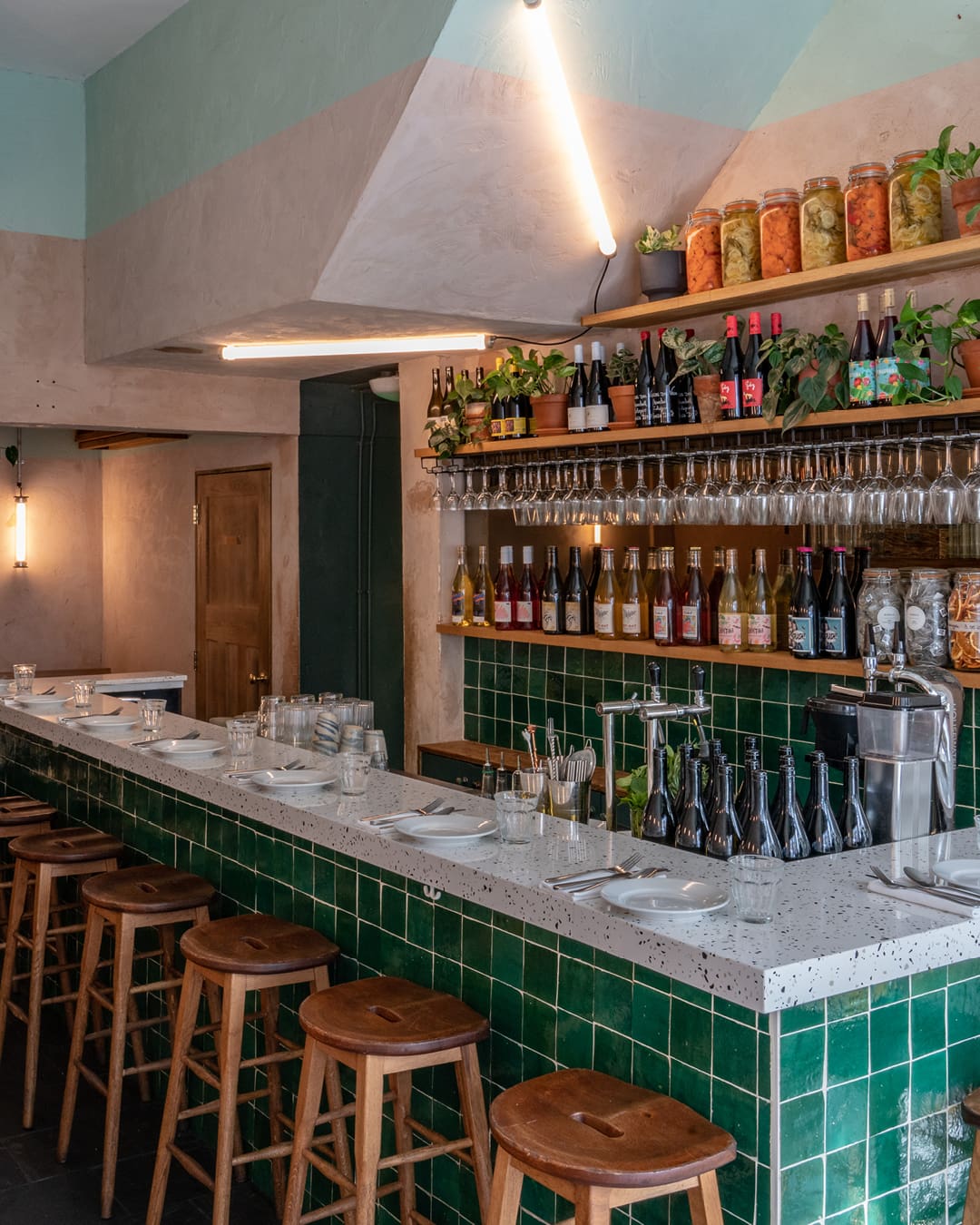 The best restaurants in Spitalfields
Bubala
Best for: the finest vegetarian dining available
Location: 65 Commercial Street, London, E1 6BD
Price: Set dinner 40 GBP
Bubala, which means 'darling' in Yiddish, is an East Mediterranean restaurant in Spitalfields' Commercial Street that serves probably the best hummus in London. Inside the pink plastered walls, waiters are energetic and informative, and the food is charred, spiced, and sweetened to perfection. In the evenings, a 'Bubala Knows Best' set menu is offered, while a Mezze set menu or a la carte menu are available for lunches. Highlights include the labneh with confit garlic and za'atar, the silky hummus with burnt butter and toasted pine nuts, the umami-rich oyster mushroom skewer, and big block of grilled halloumi sweetened with black seed honey. You may well make it to the end of your meal before realising everything you ate was vegetarian. For special occasions and big gatherings, there's also a particularly fine private dining room to reserve here.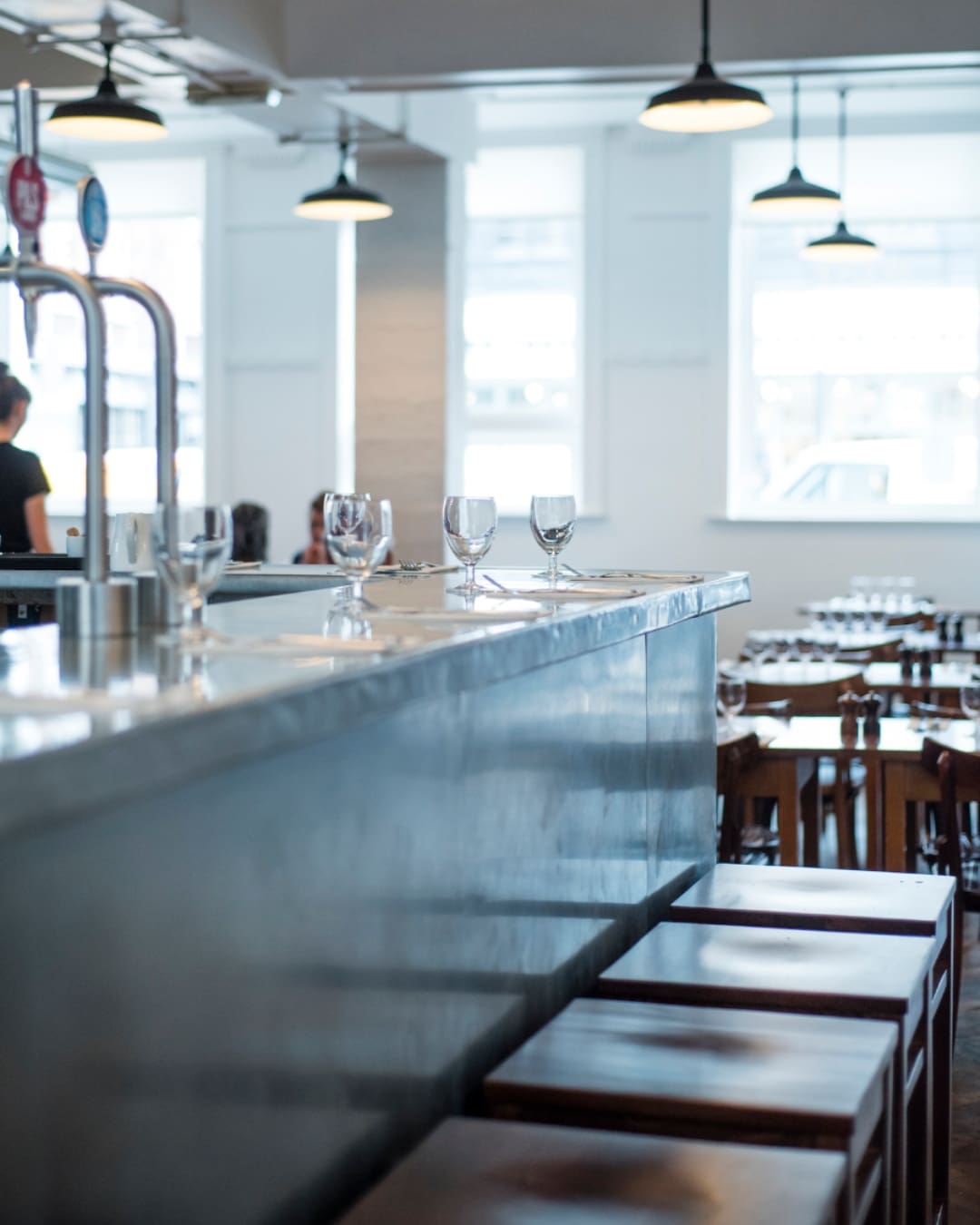 St John Bread and Wine
Best for: nose to tail dining with freshly baked madeleines to finish
Location: 94-96 Commercial Street, London E1 6LZ
Price: Small plates from 11 – 28 GBP
St John Bread and Wine is the follow-up restaurant to the Farringdon original (considered one of the best restaurants in London), and preserves the same reverence for nose to tail cooking, while placing an emphasis on small sharing dishes, served in a slightly more casual setting. The modern British menu is highly seasonal and features the roasted bone marrow on toast dish that made chef Fergus Henderson famous, as well as other nose to tail treats like soused pig's ear. But the highlight is perhaps the dessert menu, which is almost as long as the savouries – the freshly made madeleines are particularly good.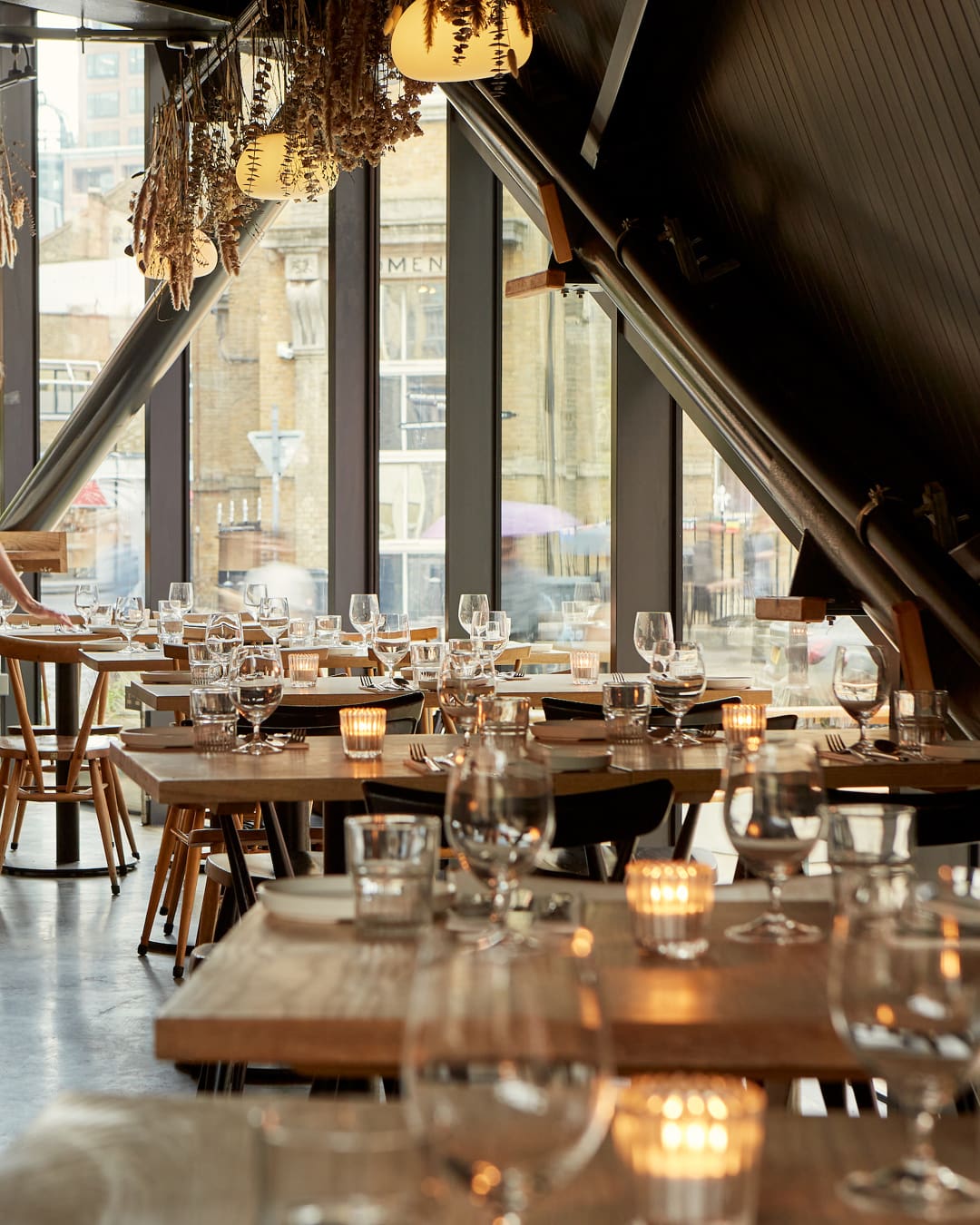 Crispin
Best for: smart small plates with an even smarter wine list
Location: Pavilion on The Corner, White's Row, London E1 7NF
Price: Small plates from 5 – 20 GBP
In a glass and steel pavilion tucked on a sunny side street in Spitalfields is Crispin, a modern European small plates restaurant and wine bar. Seating is laid out beneath the dynamic pitched roof and outside on the patio, where seasonal small plates and low intervention wines can be enjoyed. The wine list is predominantly European and champions wines with a sense of place and biodynamic practices. Their caramelly brown butter served with Dusty Knuckle bread is a great way to get things going, followed by Welsh rarebit, pickled vegetables, and maltagliati pasta served with cime di rapa, chilli, and parmesan.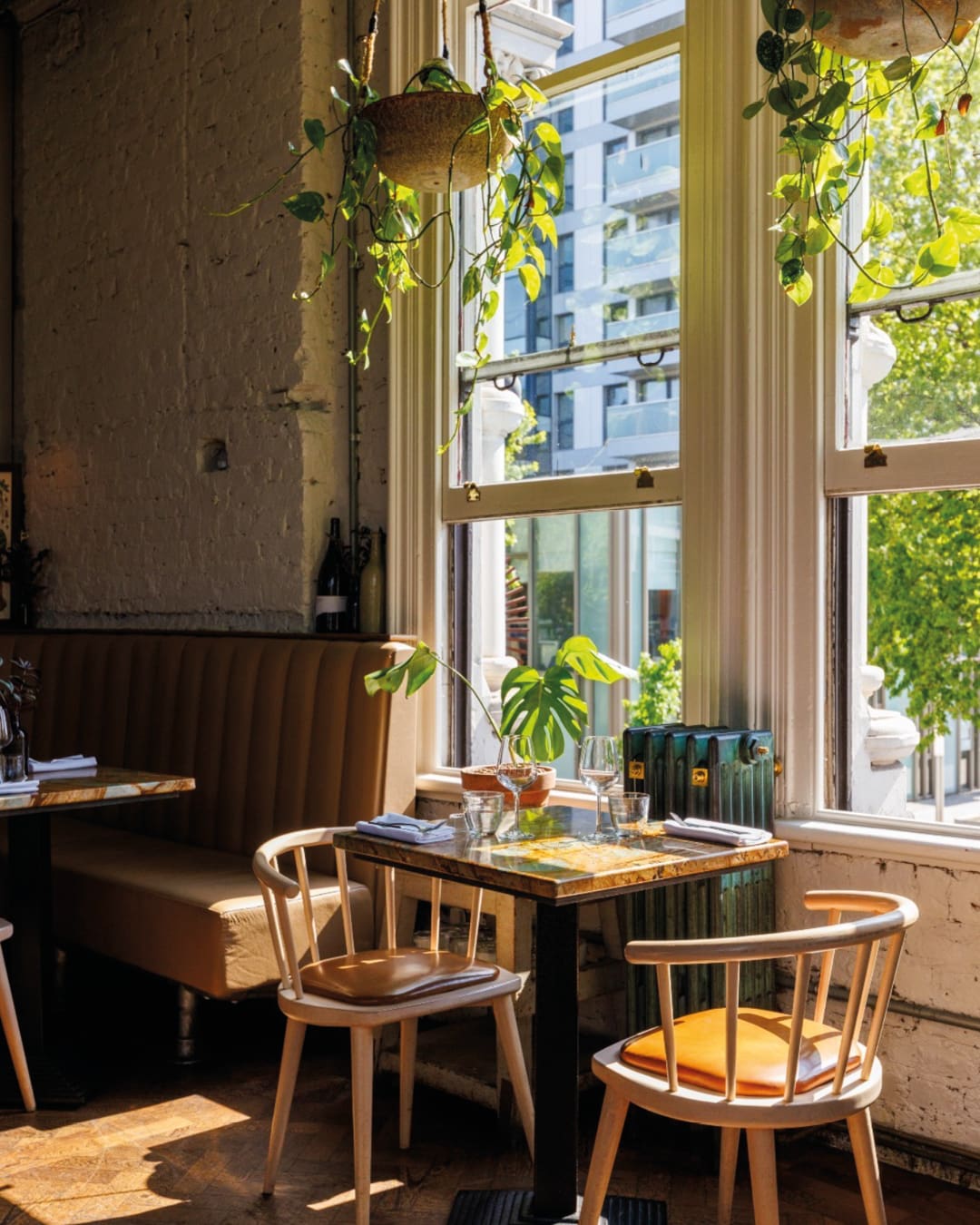 The Culpeper
Best for: bistro dinner and a pint
Location: 40 Commercial Street, London E1 6TB
Price: Mains from 20 – 23 GBP
It's a tough one to call, but The Culpeper is probably one of the best pubs in London. Its high-ceilinged bar area is bright and spacious with excellent beers on tap, the rooftop garden (one of the best in London) has its own greenhouse and wonderful views of The City, and the first floor restaurant serves brilliant food. What more do you need? Well, if you're visiting London, probably a place to stay, and The Culpeper has you covered there too, with some lovely rooms on the second floor. But for today's purposes, let's talk about the food, which is served in an English bistro style with emphasis on top produce and warm service. The room, team and food are all equally as inviting as each other, and their creamy, crispy dauphinoise potatoes are some of the best around.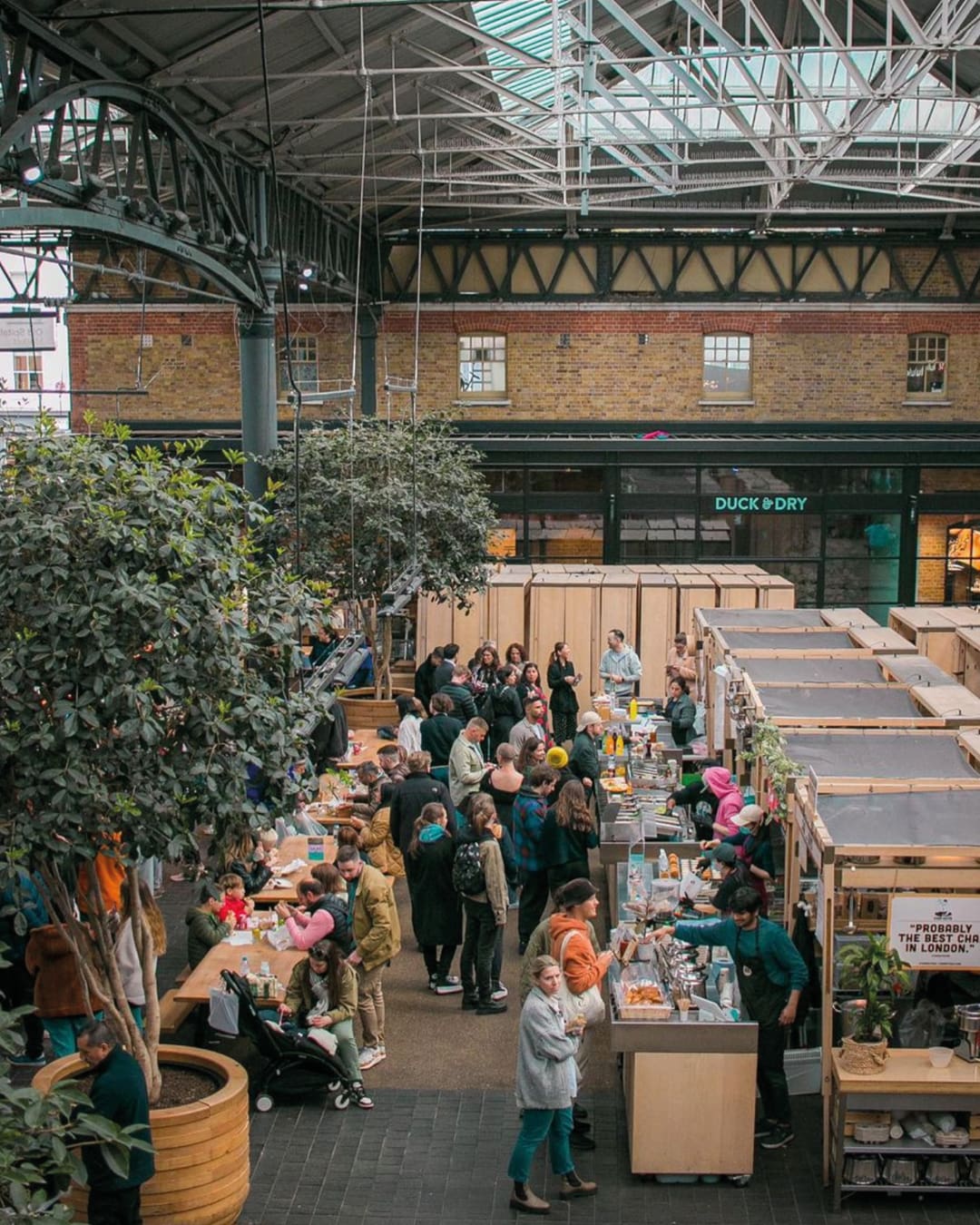 Old Spitalfields Market
Best for: a sea of options
Location: Old Spitalfields Market, Brushfield Street, London, E1 6BG
Price: Four dumplings for 6.50 GBP
If you find yourself in Spitalfields, particularly at lunch time, nothing beats a wander through the old market, even if you've already eaten. Beyond the clothes and homeware stalls are a cluster of brilliant pop-up restaurants serving everything from bubble tea and traditional chai to dumplings and yorkshire puddings. If you are looking for something to eat, Dumpling Shack and its sister stall Fen Noodles serve brilliantly long ribbons of hand pulled noodles in wonderful flavours, and Sud Italia is an excellent wood-fired pizza van that serve a large Neapolitan pizza slice that's folded like a crepe for a delicious, and reasonably priced, handheld lunch on the go.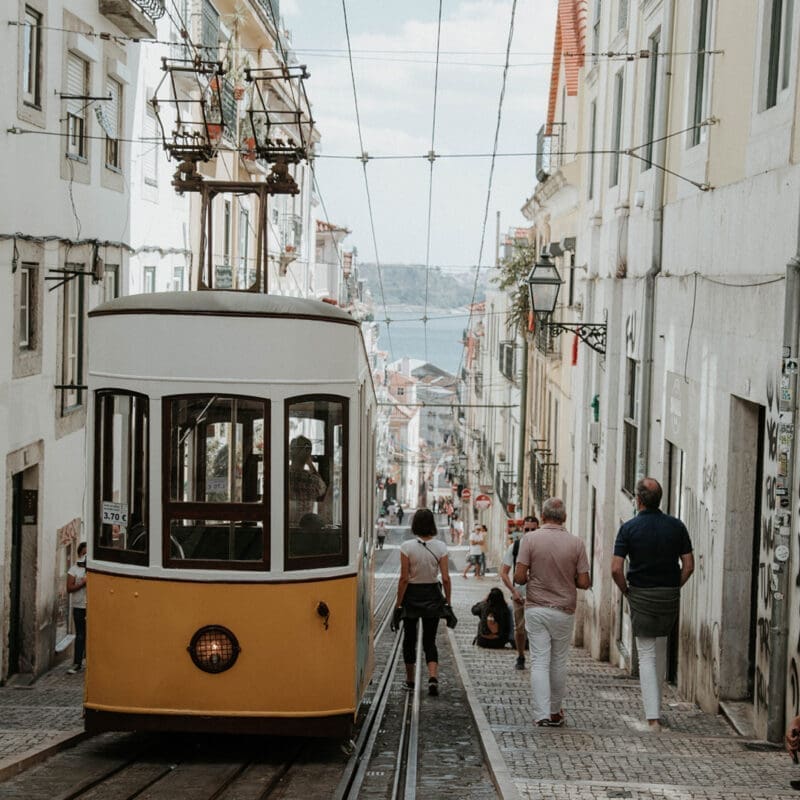 Sign up for insider recommendations and the latest hospitality news