How London's new wave Asian cafes have built a cohesive community
Last updated: April 18, 2023
London's Asian cafes have popularised Cantonese, Filipino and Indonesian coffee and cuisine across the city, while providing comfort and community spirit
Nigel Motley and his brother David, both working in successful but ultimately unfulfilling corporate jobs, would visit coffee shops in the City of London like Nude Espresso and Taylor Street Baristas, marvelling at the dedication to detail that made such establishments stand out amidst London's bustling coffee scene in the mid 2000s. The brothers eventually traded their day jobs for the independence of small business ownership, opening their first cafe, Kape and Pan, as a pop-up by SOAS University of London. Their second venture, Kapihan, launched in Battersea a few years later, drawing on Filipino influences.
At Kapihan, a single origin barako coffee from the Philippines is favoured instead of the standard espresso base, while a lineup of Filipino bibingka and cassava cakes, baked on the premises, replaces cinnamon buns and pain au chocolats. Something for the weekend? The espesyal royal – for pre-order only – is loaded with cured salted egg, ube jam, and dusted with queso de bola, and is fast becoming a ritual for their regulars, who travel from all over the city to experience the brothers' love letter to the Philippines.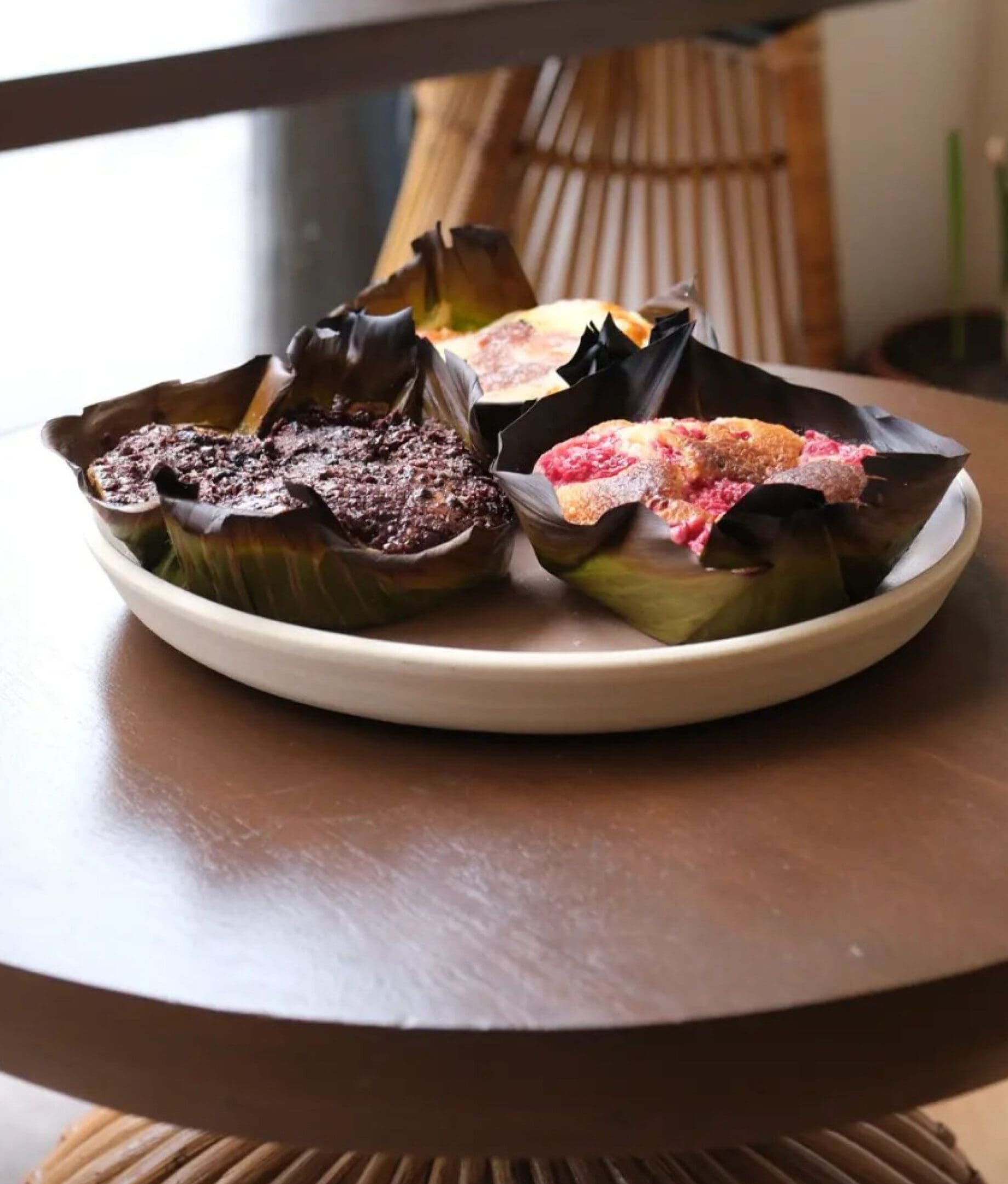 Leaning into the sights, sounds and flavours of its founders' Southeast Asian background is, ultimately, what has distinguished Kapihan from other third wave coffee shops. And among London's diasporic communities, the blossoming of cafes opened by first or second-generation Asian owners places the brothers in esteemed company, with an array of individuals from across East and Southeast Asia (ESEA) choosing to set up businesses with aspirations that reflect their own upbringings as well as the circumstances of their arrivals.
These businesses, in turn, have provided affirmation for a complex raft of Asian identities that have become interwoven into the fabric of the city, further refuting the myth of Asian communities as a monolithic, perpetual 'other'.
In a sense, the current wave of London's Asian cafes are as much part of the fabric of the city as the people who open and frequent them. So, how did we get here? And why does it matter?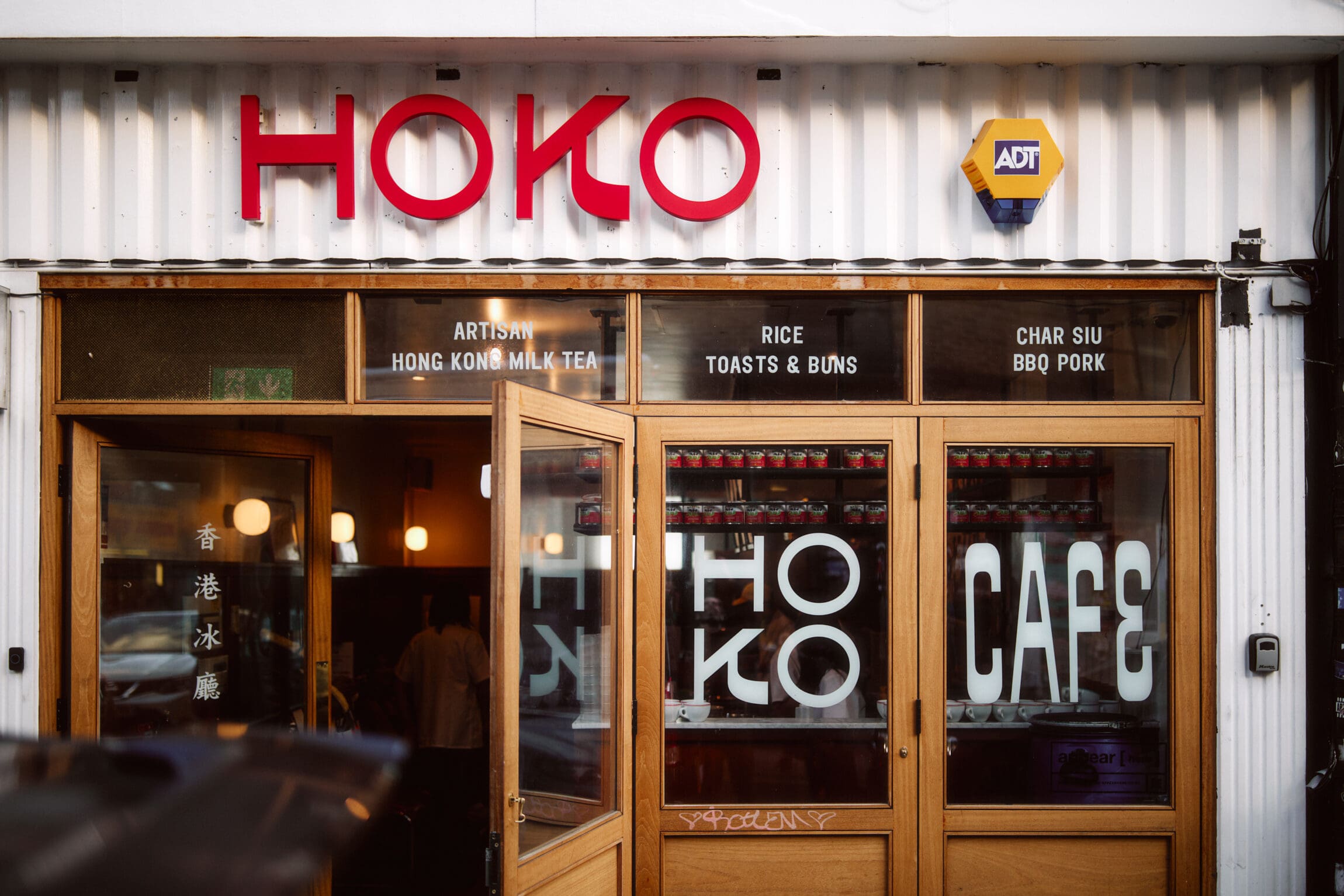 Hoko, Shoreditch
Nicole Ma arrived in London several years ago, departing her native Hong Kong with the goal of breaking into the city's floral industry. Fast forward to 2021 and she successfully launched Hoko, one of Britain's first Hong Kong-style milk tea brands, with a sold-out pop-up cafe in Shoreditch a year later.
For Ma, her fledgling brand's Hong Kong milk tea – with its distinctive pouches and recognisable typography – was an opportunity for her to tell the story of Hong Kong's culture, as well as a way for homesick Hong Kongers and Cantonese to experience a taste of home and reconnect with their motherland. But in her eyes, the milk tea is only part of the puzzle: "You really need the whole dining experience to tell the story", she says, referencing the complexities in Hong Kong identity that the city's cafes have come to represent.
Upon moving to London, Ma yearned for the cha chaan tengs (Hong Kong caffs) she used to frequent. Her Hoko Cafe pop-up immediately drew queues from the local Hong Kong community through strong word of mouth and social media interest, with millennial and Gen Z students and working professionals making up the bulk of the cafe's customers. The space was styled to emulate the diner-like decor of classic cha chaan tengs, and feasted on a menu of nostalgic dishes like HK-style French toast and succulent char siu, served over rice with a runny egg, or sandwiched in brioche as a nod to local tastes.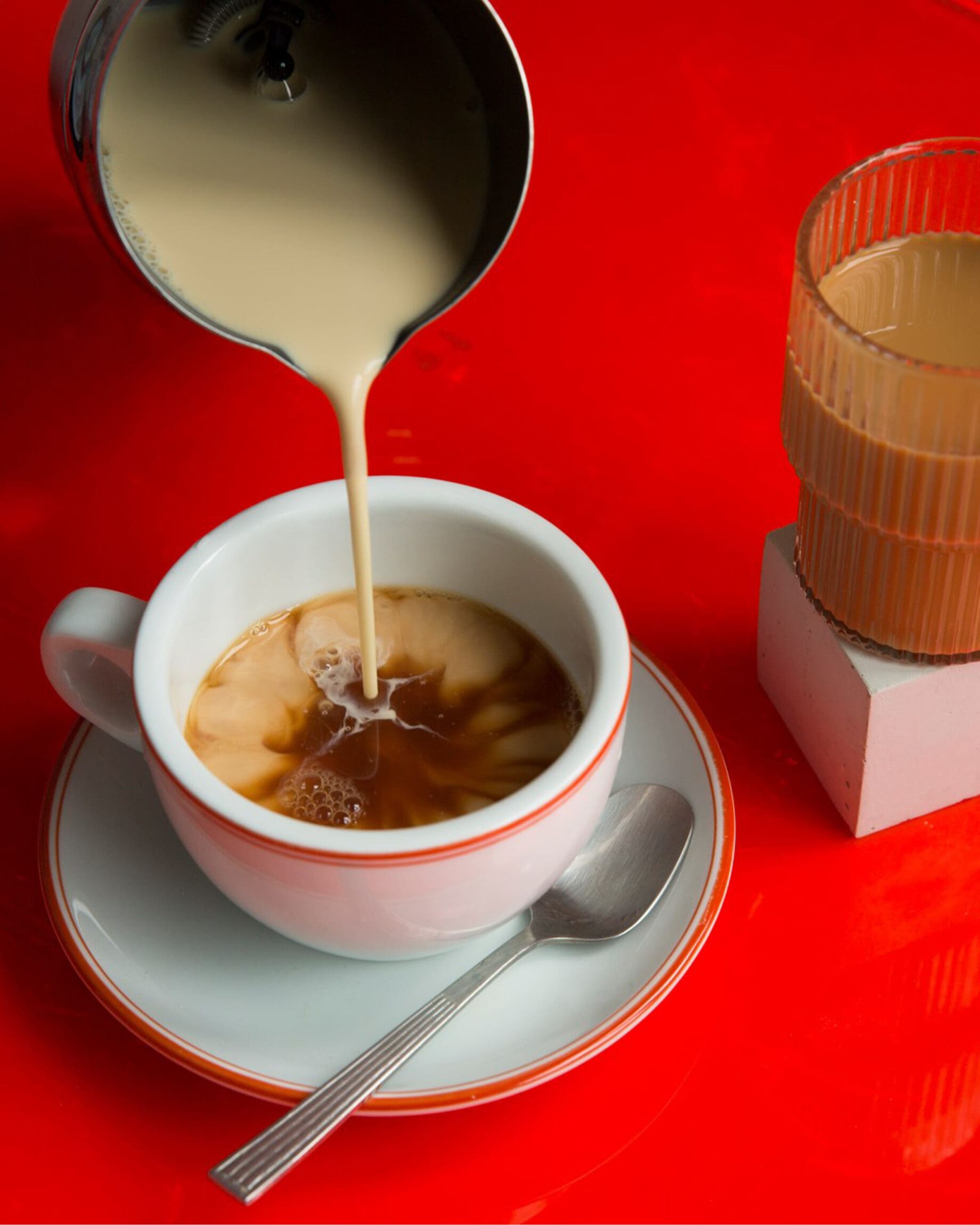 For Ma, dishes like Hoko's French toast help tell the story of her home city through the medium of food. "The dishes really had a story behind them about the colonial period of Hong Kong life, and the influence of western culture, and how local Hong Kong people twisted it with their own experience and influence in the recipe," she says.
The majority of the team that worked during the pop-up cafe's two-month run were made up of Hong Kong expats like herself, driven by the same desire that, in part, motivated Ma to start the brand: "I think they were also missing this community spirit, working and sharing the same language, sharing the same food," she says.
Ma's roving Hoko cafe closed in November 2022 and is currently securing a permanent location in east London. "We're proud that people understand what we're doing, and then it actually delivered a result," she says. "I think it means courage for other Hong Kong food owners or people who want to do similar things."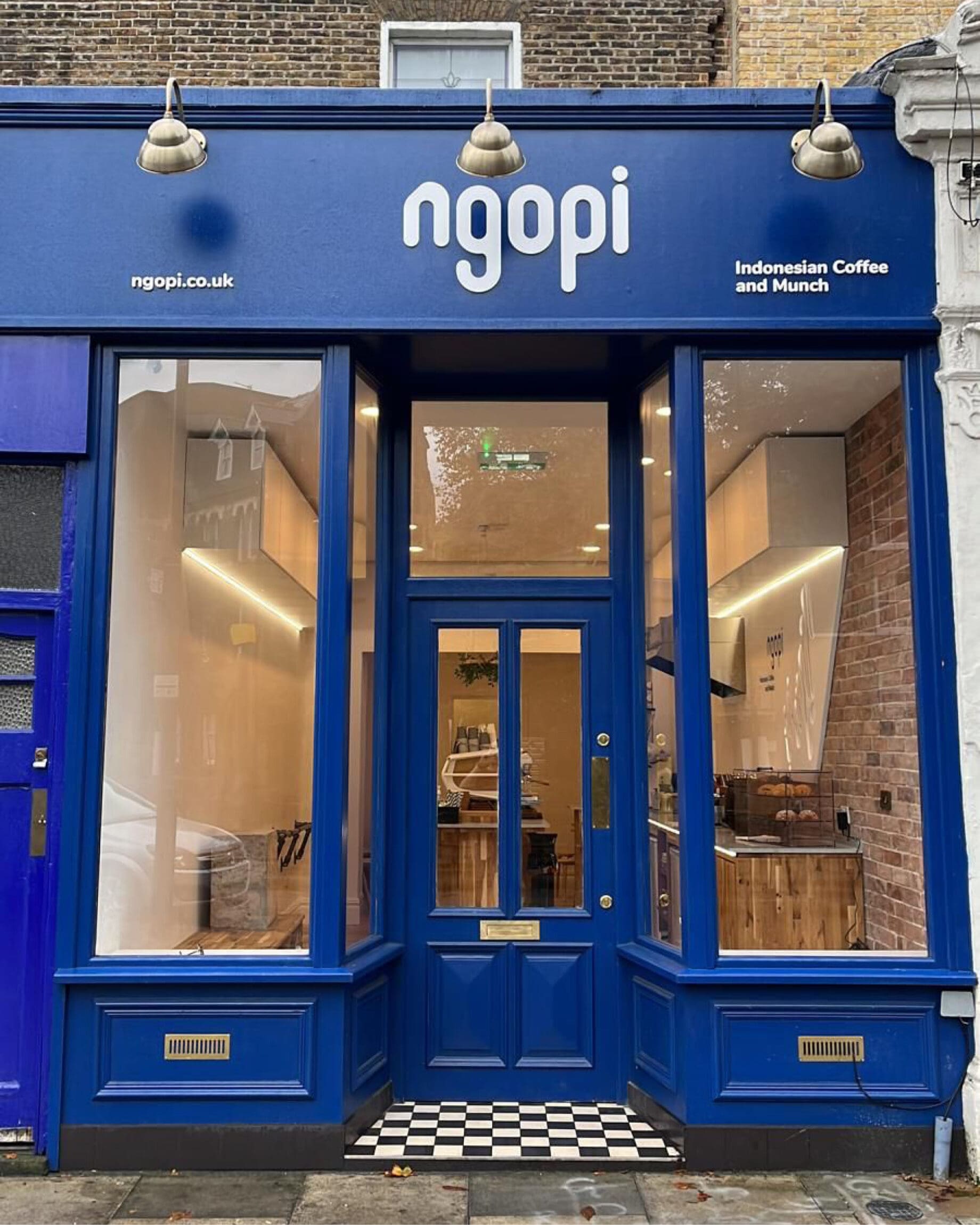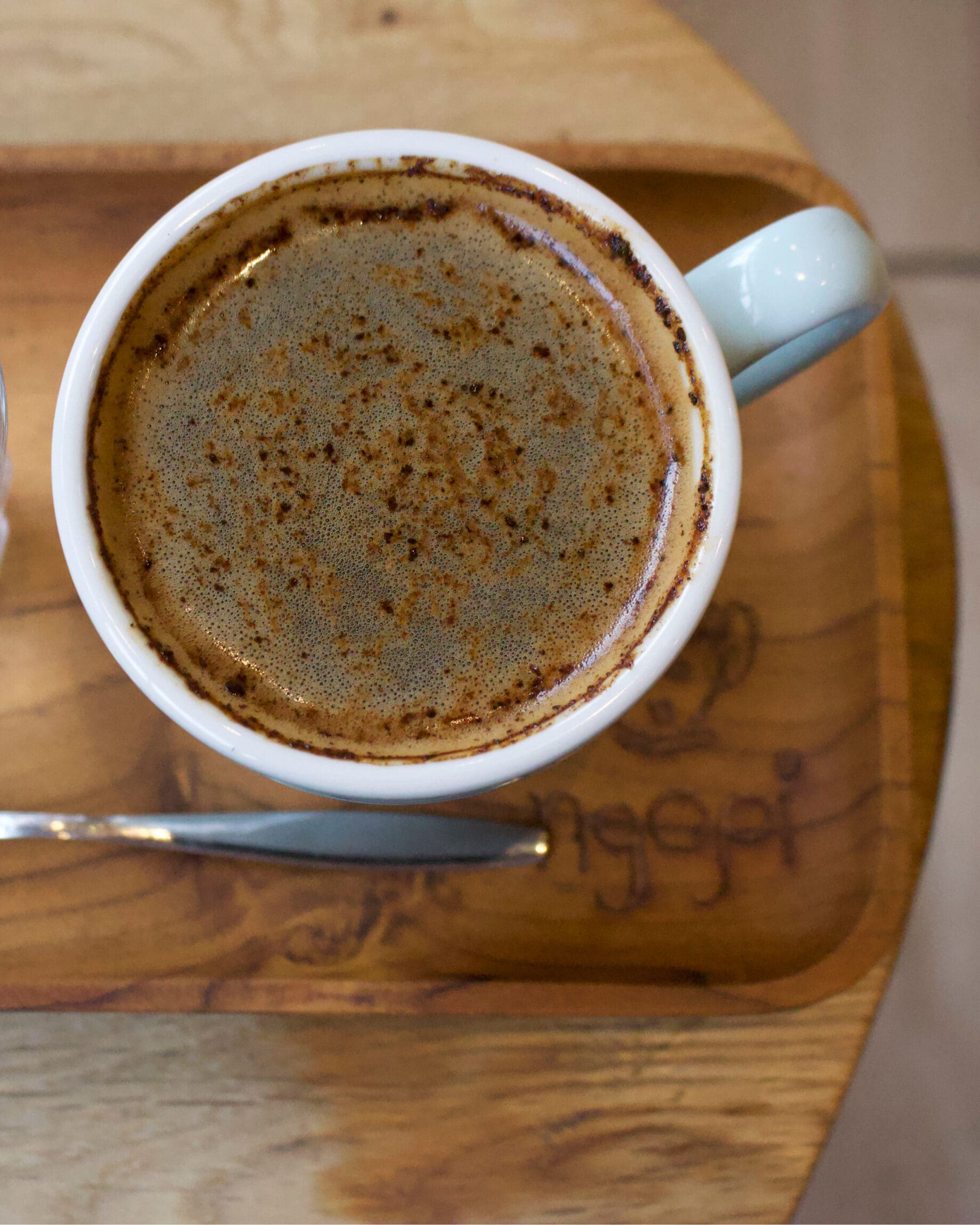 Ngopi, Dalston
Given that Elmira Gladini and her husband Birama own a coffee shop in their native Jakarta, some aspects of opening a cafe in the UK, in theory, should have been a little easier. While the logistics of opening Ngopi, their first Indonesian cafe in Birmingham in 2018 were more intuitive, the fact that Indonesian dishes like bakso and soto ayam weren't as familiar to local diners proved a significant obstacle during their first year of business. "At the beginning, it was really hard," she says. "Sometimes people ask where Indonesia is – they know Bali, but they don't know where Indonesia is. It's crazy."
The pair persevered, capturing the local Indonesian community and eventually winning over a local crowd who began to frequent the cafe for Gladini's bestselling ayam penyet, the East Javanese dish of smashed and fried chicken served with sambal, tempeh and fried tofu.
Opening their London outpost in 2021 on a residential street in Dalston was an opportunity to share the virtues of Indonesian cuisine to an even larger audience – a core motivating factor in their original decision to create Ngopi. The experience at the cafe is analogous to other specialty coffee shops, but a key differentiator is the presence of Indonesian drinks scattered through the menu, like teh tarik or kopi susu, shot through with milk and jaggery, as well as the Indonesian coffee beans that the cafe uses in its espresso. "We have an export partner in Indonesia, so we usually ask our team there to find the good beans, based on characteristic and price, because the shipping is very expensive. You can't find our beans elsewhere," she says.
Instead of bakes, as at Kapihan, the cafe offers a menu of classic Indonesian dishes, from the aforementioned bakso and ayam penyet, to crispy martabak and stir-fried Indomie. The beloved instant noodle also features in the cafe's bestselling snack: a white bread toastie layered with corned beef, cheese, Indomie, and a fried egg.
Ngopi's clear Indonesian identity – found in the food and drink they serve, the design of their cafes, branding and merchandise, and even the business's name – was a deliberate decision, spurred on by what Gladini describes as a lack of representation in Britain. "I can name less than 20 businesses that have a physical store and are trading well," she explains. "For coffee shops, there's only us that I know of in the UK."
"Sometimes people see it as competition. But we see it as a growing community that can offer similar but different things, so we can grow together," she continues. "Just like Thailand or Japan for example, they have quite well-known dishes. We all know that Japan has sushi; I want people to know that Indonesia has rendang."
And though a focus for the business has been capturing cross-cultural appeal and repeat custom from non-Asian locals, the Indonesian communities in London and Birmingham remain the lifeblood of the cafe. As she tells it, "Our Indonesian community will always be there for us."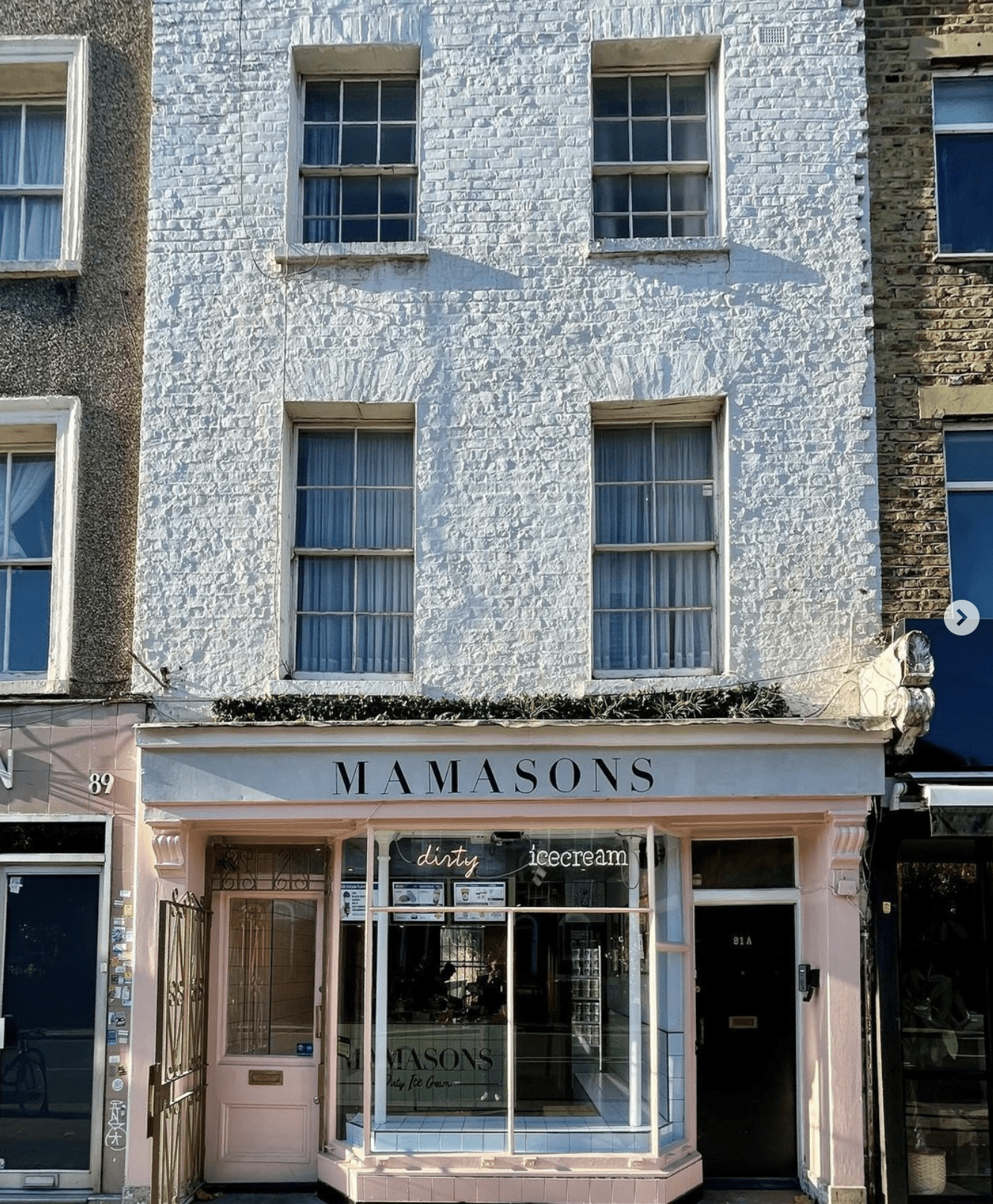 Maginhawa Group, across London
If you were to ask who has done the work to create a strong Filipino identity in London through the medium of food and restaurants, a portion of the credit would go to Florence Mae Maglanoc and Omar Shah, co-founders of the influential Maginhawa Group. It comprises several standalone restaurants, hit dessert bar Mamasons (famed for its purple cube ice cream brioche), a growing e-shop and merch empire, and a dedicated bakery in Kentish town that's put the focus squarely on Filipino bakes.
Born to a Bengali father and Filipino mother, Shah's own heritage and London upbringing has shaped his understanding of two distinct food cultures, which he has leveraged to appeal to both Filipinos and a broader London audience alike. "Growing up, I remember my only exposure to Asian baked goods was the bakeries in Chinatown," he says. "But in the Philippines, they're in every neighbourhood – you can smell it every time you turn a corner. That's what we were missing in London."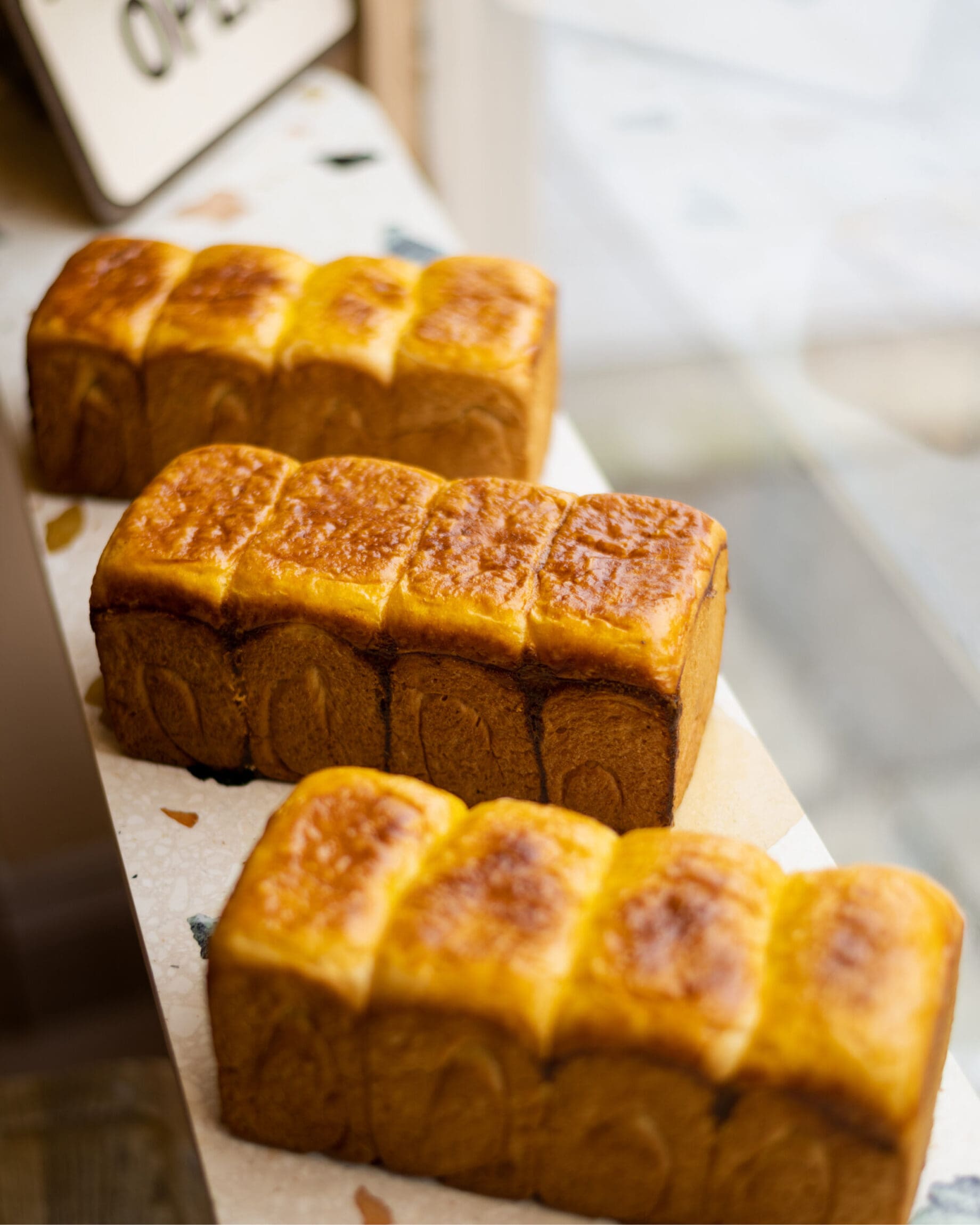 Pandesal, the group's standalone bakery, runs a brisk trade in coffee and hot snacks, and its pandesal dough ("our shining star") – a sweetened white bread similar in flavour profile to brioche – forms the foundation for a variety of bakes like pan de coco, Spanish-influenced pao, and a pandesal loaf inspired by Japanese shokupan, used as the basis for the bakery's bestselling sandwiches. "No one was waving the flag for Asian white bread," Shah explains. "That's our heritage. It may not be perceived as artisanal or have that provenance, but that's what we grew up with."
On this last point, Shah may be underselling Panadera's appeal – he and Maglanoc are searching for a central London site for the bakery, another potential flag to be planted in the centre of town to join Mamasons dessert parlour in Chinatown, and Ramo Ramen in Soho. It is a move that would further consolidate the group as a force within the city's dining landscape.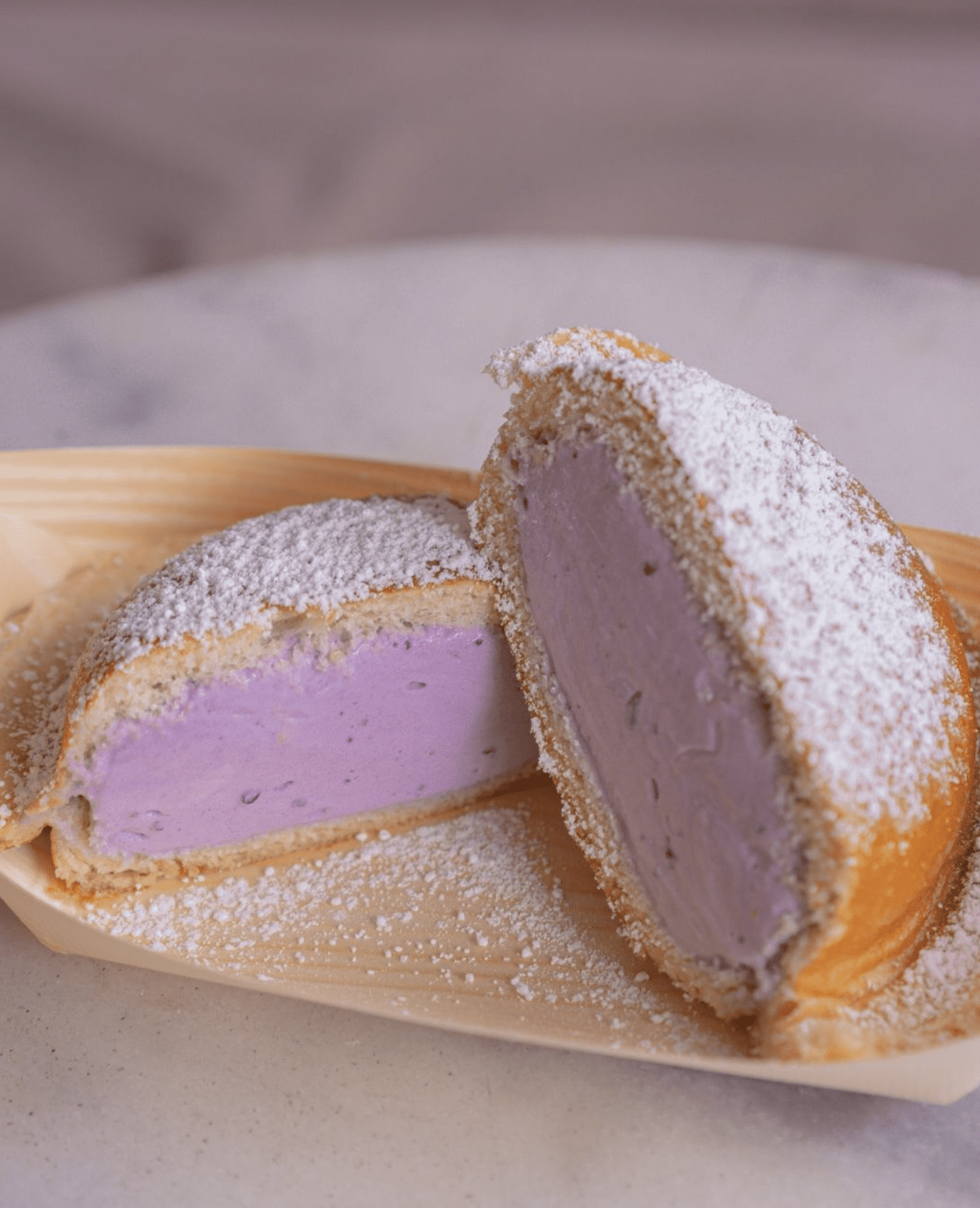 Proudly Filipino, the popularity of Panadera and Mamasons today is a far cry from Shah's experience growing up in Kentish Town, hiding his heritage and trying to explain the appeal of the cuisine to his friends. "It felt impossible. They weren't used to some of the textures, but people gravitate to those very same textures now like crazy – particularly that stickiness and mouthfeel. Now I see locals coming in and nonchalantly asking 'Bruv, bruv, can I get a couple scoops of ube?' like it's vanilla ice cream, or chocolate – it's part of their vernacular," he says.
"That's the great thing about these Asian caffs now. It's part of London culture. You don't have to be Asian to say that it's something you're looking forward to at the weekend. It gives me goosebumps."


JOIN US FOR THE JOURNEY
Subscribe to the newsletter
City guides, culture, photography and ideas, with expert analysis on the biggest stories in travel