The best restaurants in Lisbon
Explore the best restaurants in Lisbon, from open-air kiosks serving long-lost Portuguese snacks to gargantuan seafood feasts and Brazilian street food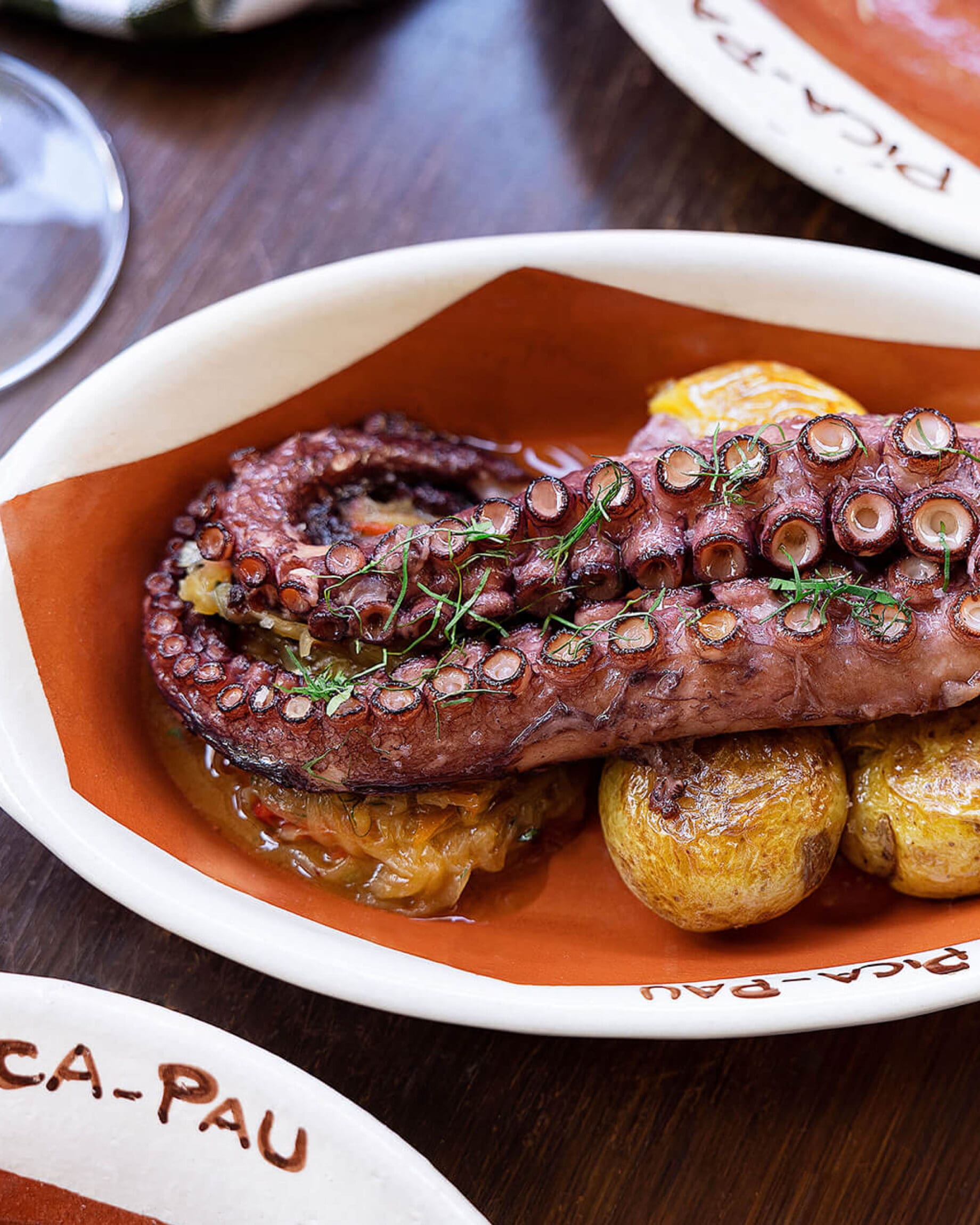 Lisbon lays claim to one of the most exciting food scenes in Europe right now. Exceptional seafood, clever rice dishes, hearty snacks, endless pastries and value for money local wine are par for the course in this Portuguese city, but talented chefs are also breaking new ground and finding new ways to experiment with excellent local ingredients.
The best cooking in Lisbon is often found at a growing number of low-key and relatively affordable restaurants, ranging from old-school stalwarts to inventive newcomers. Lisbon's compact size means that many of these are also conveniently located near the city's boutique hotels and brilliant bars.
From quintessential quiosques (kiosk cafes) serving authentic Portuguese bites to zero-waste dining and fragrant West African cuisine, these recommended Lisbon restaurants take the city's food scene far beyond pastéis de nata.
City Centre
Cervejaria Ramiro
Chiado
Best for: a decadently good-value seafood feast
Location: Avenida Almirante Reis 1-H, Martim Moniz, Lisbon 1150-007
Price: mains from 14 EUR
You'll find this temple to seafood in every guidebook and on every best list. But unlike many other highly-touted restaurants around the world, Ramiro actually delivers – every single time. Tourists – and, yes, locals – pile in every day, in great numbers and under very bright lighting for prehistoric-looking gooseneck barnacles, spider crabs the size of a chihuahua and sweet shrimp slimmer than your pinky finger. Most of these items are simply sprinkled with salt and seared on a griddle, meaning the emphasis at Ramiro is on the product. Follow the lead of the locals and opt for a prego for dessert: a garlic-studded steak sandwich, ideally slathered with cheap, sweet mustard.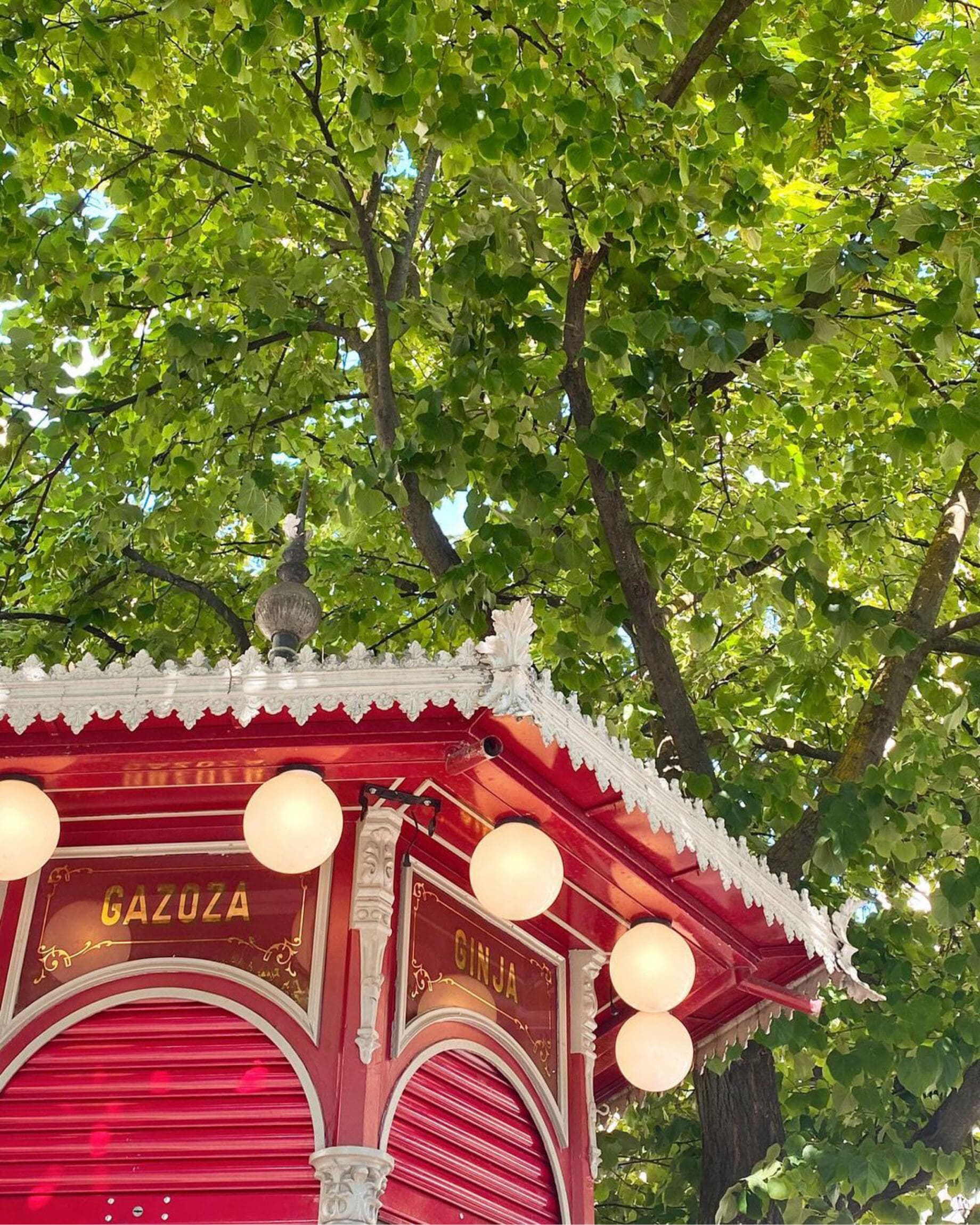 Quiosque de São Paulo
Cais do Sodré
Best for: outdoor snacking and drinking in the city centre
Location: Praça São Paulo, Cais do Sodré, Lisbon 1200-194
Price: mains from 4 EUR
Lisbon is dotted with quiosques – Art Nouveau stalls that sell coffee, drinks and, typically, a rather uninspiring selection of international snacks and light meals. But chef and restaurateur André Magalhães envisioned a quiosque that reflected the city's culinary legacy, so he took over the oldest and only privately-owned one in town. Positioned on a cobbled square, it serves a repertoire of largely forgotten snacks and light meals. Order the hard-to-find punheta de bacalhau ('salt cod hand job') – raw, shredded salt cod drizzled with olive oil and onions, or the fan favourite deep-fried squid sandwich, and pair with one of the unique drinks that also haven't been served in decades, such as vinho quinado – wine seasoned with a touch of quinine.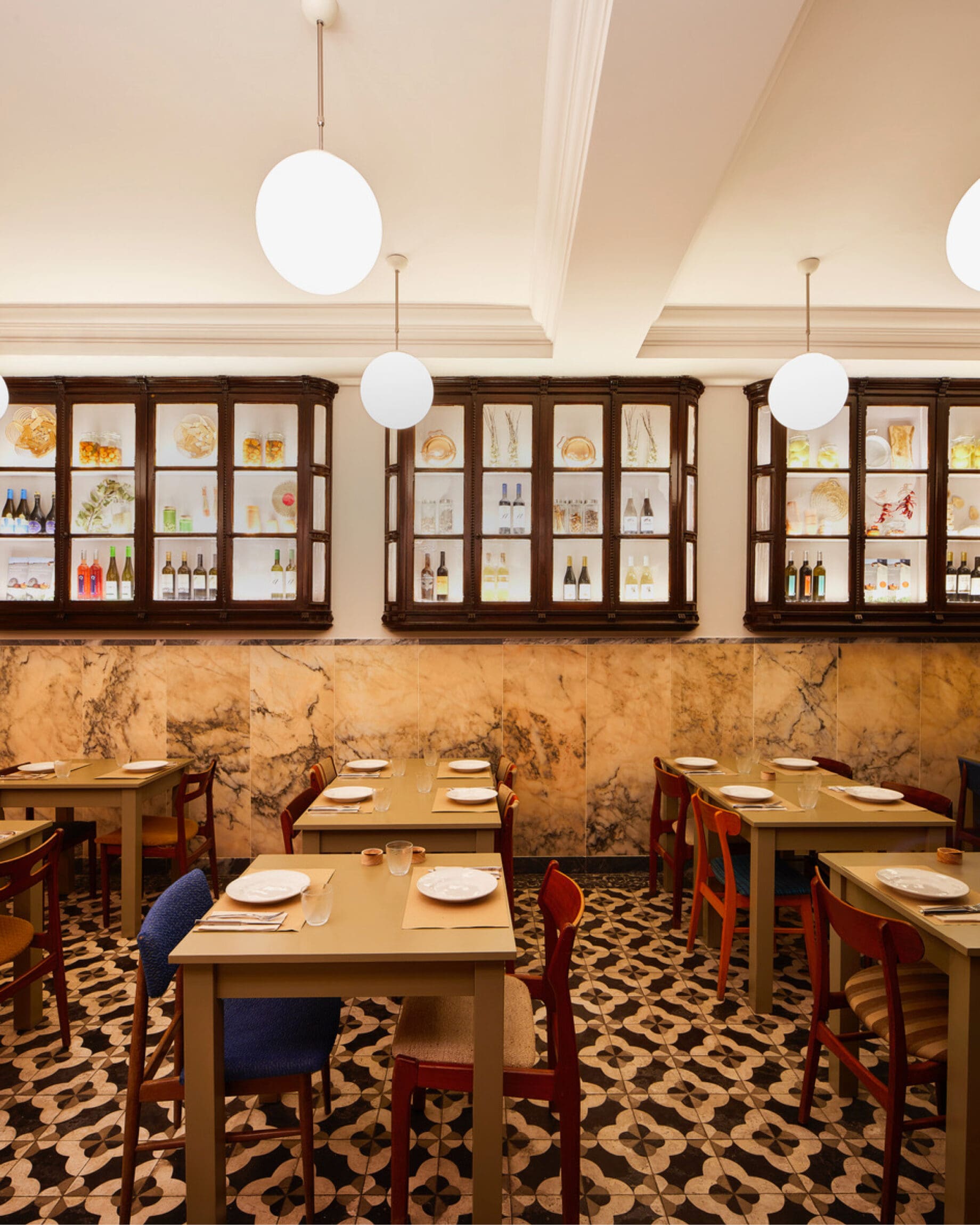 Taberna Albricoque
Santa Apolónia
Best for: southern cookin' with a Portuguese accent
Location: Rua Caminhos de Ferro 98, Santa Apolónia, Lisbon 1100-395
Price: mains from 13 EUR
This is one of the only places in Lisbon where you can sample dishes from the Algarve, Portugal's southern region. But Taberna Albricoque isn't only about rarity or vicarious travel: the food here is just plain delicious. You can stump even the locals with uniquely southern dishes such as fried moray eel, octopus baked with sweet potatoes, or ray sauteed in garlic-studded olive oil. There's a list of wines that includes a few bottles from the south – a rarity – and the whole package is ensconced in a marble, tile and brick-lined vintage building, whose patio is as warm and inviting as the south.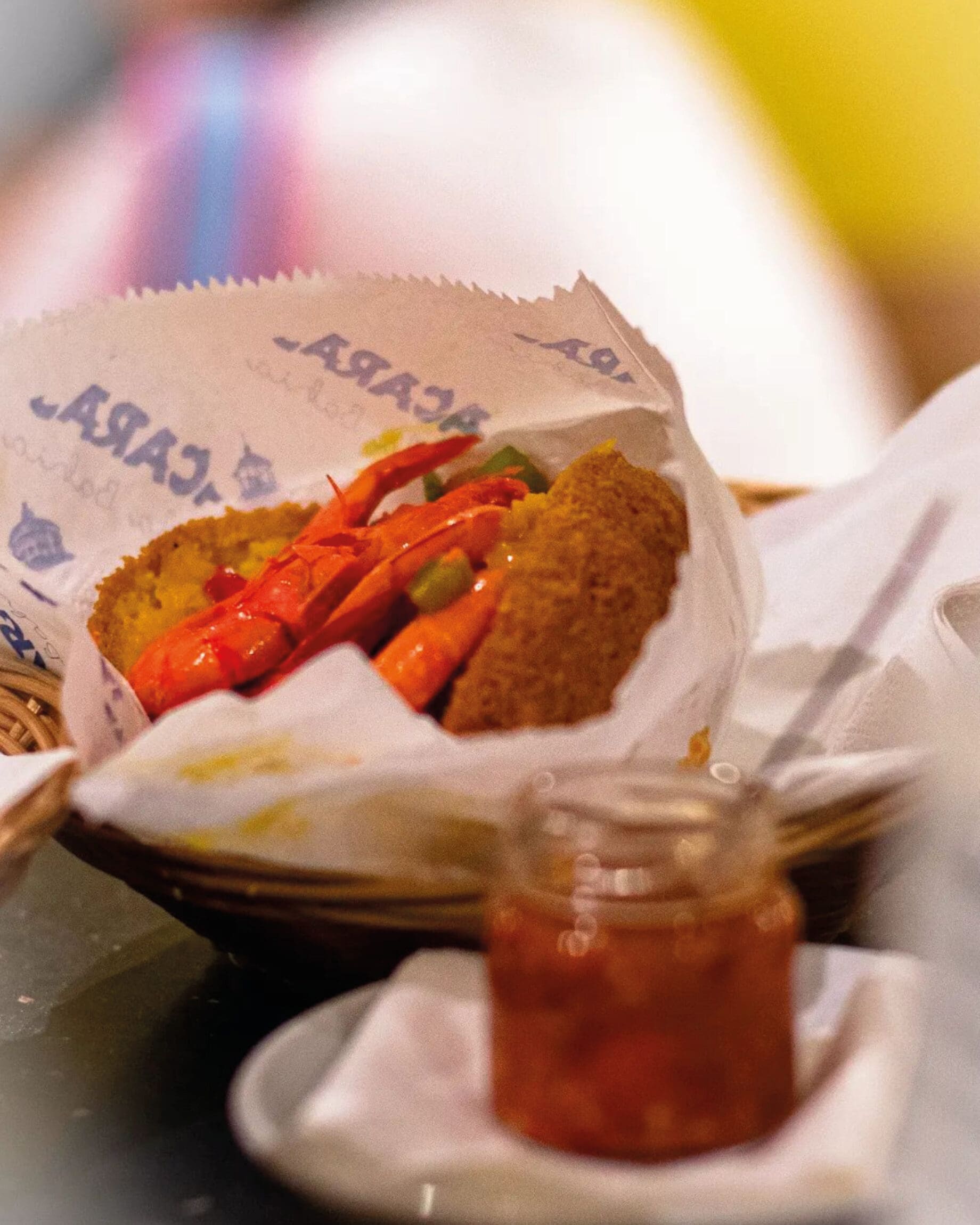 Acarajé da Carol
Bairro Alto
Best for: a taste of tropicália in Europe
Location: Rua da Rosa 63, Bairro Alto, Lisbon 1200-248
Price: mains from 6 EUR
Lisbon has a massive Brazilian population, and Brazilian dishes are slowly making their way into the dining vernacular of locals. But for a full-on Brazilian experience, look no further than Acararjé da Carol. The go-to dish here is its namesake black-eyed pea fritters, fried in raw palm oil until crispy and orange on the outside, the fluffy white interior then stuffed with vatapá, a paste made from peanuts, coconut milk and other seasonings, a salad, and dried shrimp. The dish, with roots in western Africa, is a staple in Bahia, the predominantly Black state in northeastern Brazil. The owner Carol, who can't be missed wearing the distinctive dresses of her homeland, calls her restaurant Lisbon's unofficial Embassy of Bahia.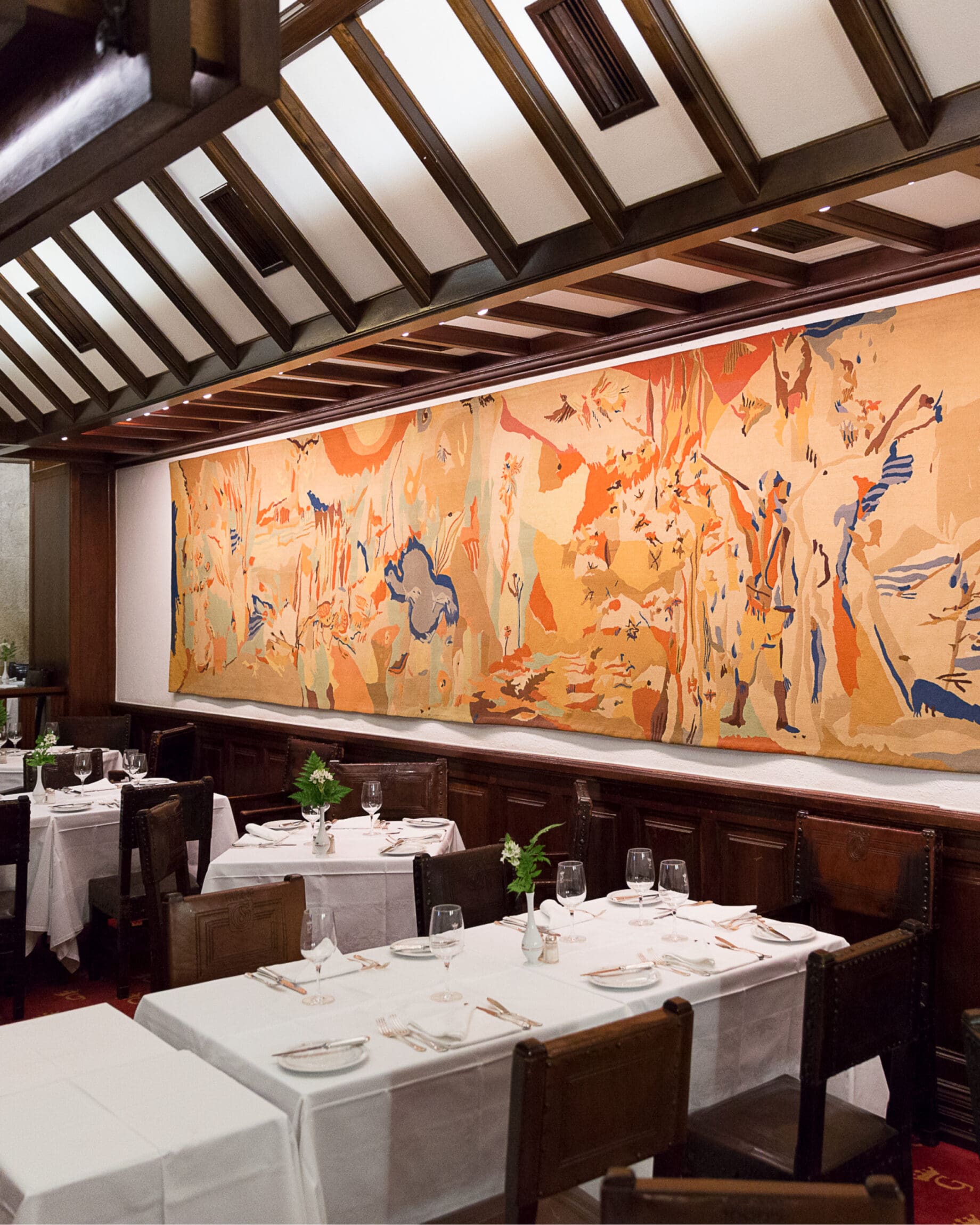 Gambrinus
Santa Maria Maior
Best for: a dress-up meal, old school stalwart
Location: Rua das Portas de Santo Antão 23, Rossio, Lisbon 1150-264
Price: mains from 24 EUR
Founded in 1936, Gambrinus is one of Lisbon's noblest eateries. Dinner in the beautifully stuck-in-time dining room followed by a dessert of crêpes Suzettes made tableside is an immensely charming, classic meal. But locals know to proceed straight to the bar. There, the cheeky (and similarly stuck-in-time) staff will top up your glass of wine well before you ask while you enjoy what many consider the city's best croquettes (served with your choice of mustard), a plate of cured ham, speciality seafood dishes, or a stack of positively addictive rye toasts slathered with salty butter.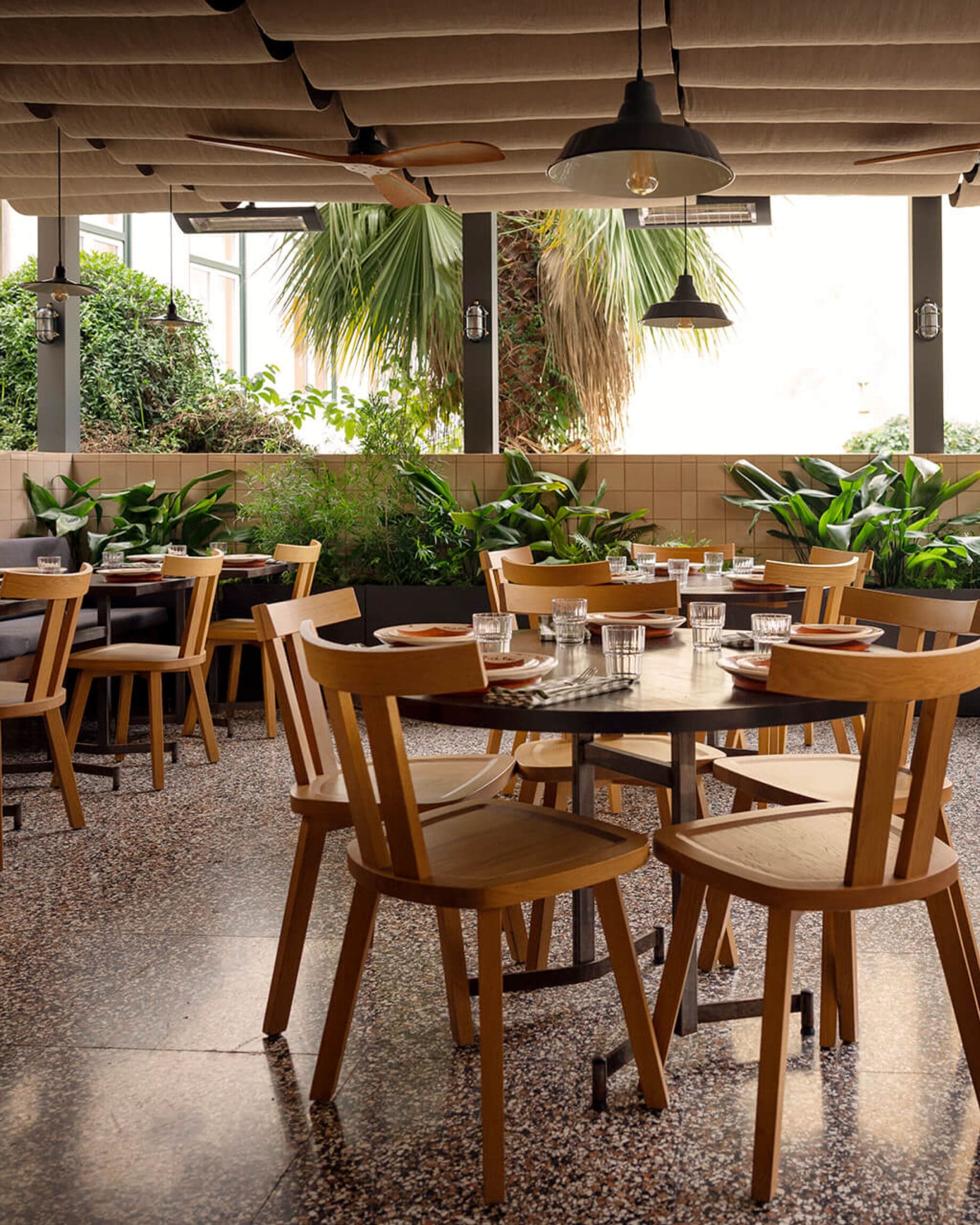 Pica-Pau
Príncipe Real
Best for: a crash-course in Lisbon gastronomy
Location: Rua da Escola Politécnica 27, Príncipe Real, Lisbon 1200-244
Price: mains from 14 EUR
Having been open for less than a year, Pica-Pau is the new kid on the block. But in this short time, it's become one of Lisbon's most capable introductions to local dishes. In particular, it's a great place to dip into the world of petiscos – plates meant to be combined with a drink. The eponymous dish of strips of beef, seared and served in a rich beer sauce, and topped with pickles, is a more than capable starting place, or if you're looking for something heartier, each day of the week offers a different – and uniquely Lisbon – main dish.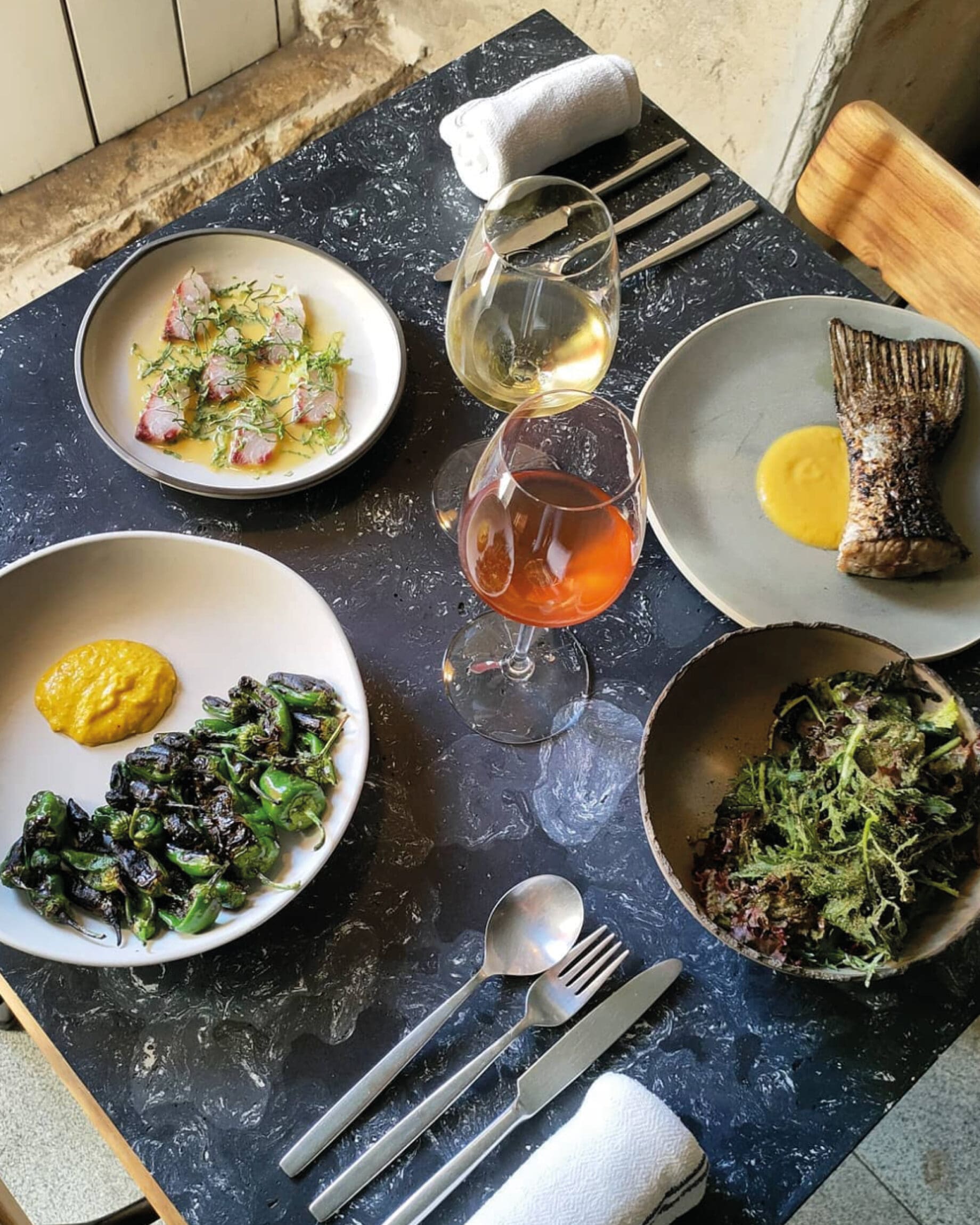 SEM
Alfama
Best for: Zero-waste cooking, informal fine dining, outdoor seating
Location: R. das Escolas Gerais 120, 1100-220 Lisbon
SEM is a restaurant and wine bar that is unwaveringly committed to low waste and a responsible business model. You won't find a whiff of plastic, and co-owner and head chef George McLeod works with a small, considered list of local producers to champion seasonal and foraged Portuguese produce. It often gives fresh verve to disregarded or overlooked ingredients, while the walls are lined with jars of fermented food offcuts. A seven-course tasting menu is served in a warm, relaxed setting and regularly changes depending on what is available that day. The drinks list of organic and biodynamic wines and cocktails is let by the team from Toca Da Raposa, one of the best bars in Lisbon. Wooden interiors were handcrafted by furniture designer and maker Miguel Saboya, while artist Salvador Salazar is behind the conical light shades, made using recycled paper from the fast-food industry. Recommended by ROADBOOK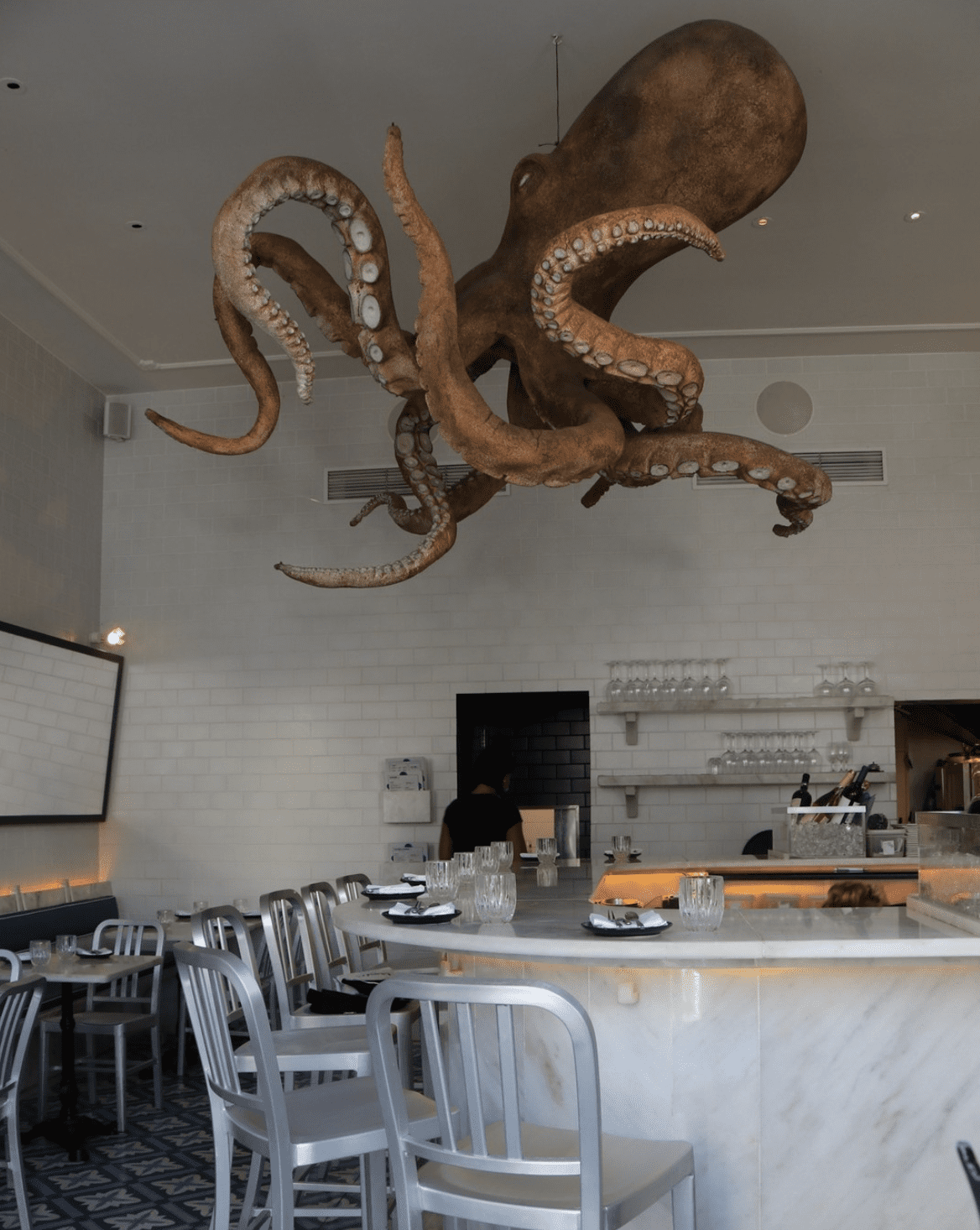 A Cevicheria
Príncipe Real
Best for: unbeatable ceviche and pisco sour in a casual neighbourhood setting
Location: R. Dom Pedro V 129, 1250-096 Lisboa
Price: Ceviche from 18.60 EUR
On the edge of Bairro Alto and Príncipe Real, the small neighbourhood restaurant A Cevicheria serves some of the best pisco sours and ceviche in Lisbon. The restaurant marks its seafood focus with a dramatic sculpture of a large octopus hanging from the ceiling. Evenings are buzzy so book a table if possible, or hang on the street and drink sour after sour from the bar hatch until one becomes available (these cocktails really are a must). Joining the Peruvian elements on the menu, including no less than six varieties of ceviche, are quinoa, taco and Asian and Portuguese dishes. For inventive modern cuisine in a casual neighbourhood setting, you can't do far wrong here. Recommended by Ollie Horne
Outside the City Centre
By Milocas
São Bento
Best for: an expedition to Africa
Location: Centro Cultural de Cabo Verde, Rua de São Bento 640, São Bento, Lisbon 1250-220
Price: Mains from 9.50 EUR
Lisbon serves as a convenient gateway to the cuisines of the Lusophone world, including some corners that most of us have never heard of. Milocas is from Cabo Verde, a string of ten islands located off Africa's west coast. Her restaurant is set in the basement of the Cape Verdean Cultural Centre, the first African cultural centre in Europe. It is dedicated to her homeland, with a concise menu of dishes. Headlining here is cachupa, a hearty, delicious stew of hominy, beans, tuna or meat (a mix of pork parts and Portuguese-style sausages) and tubers. As it does on the islands, corn features in several other preparations, from savoury pies stuffed with tuna to a dessert based around toasted cornmeal.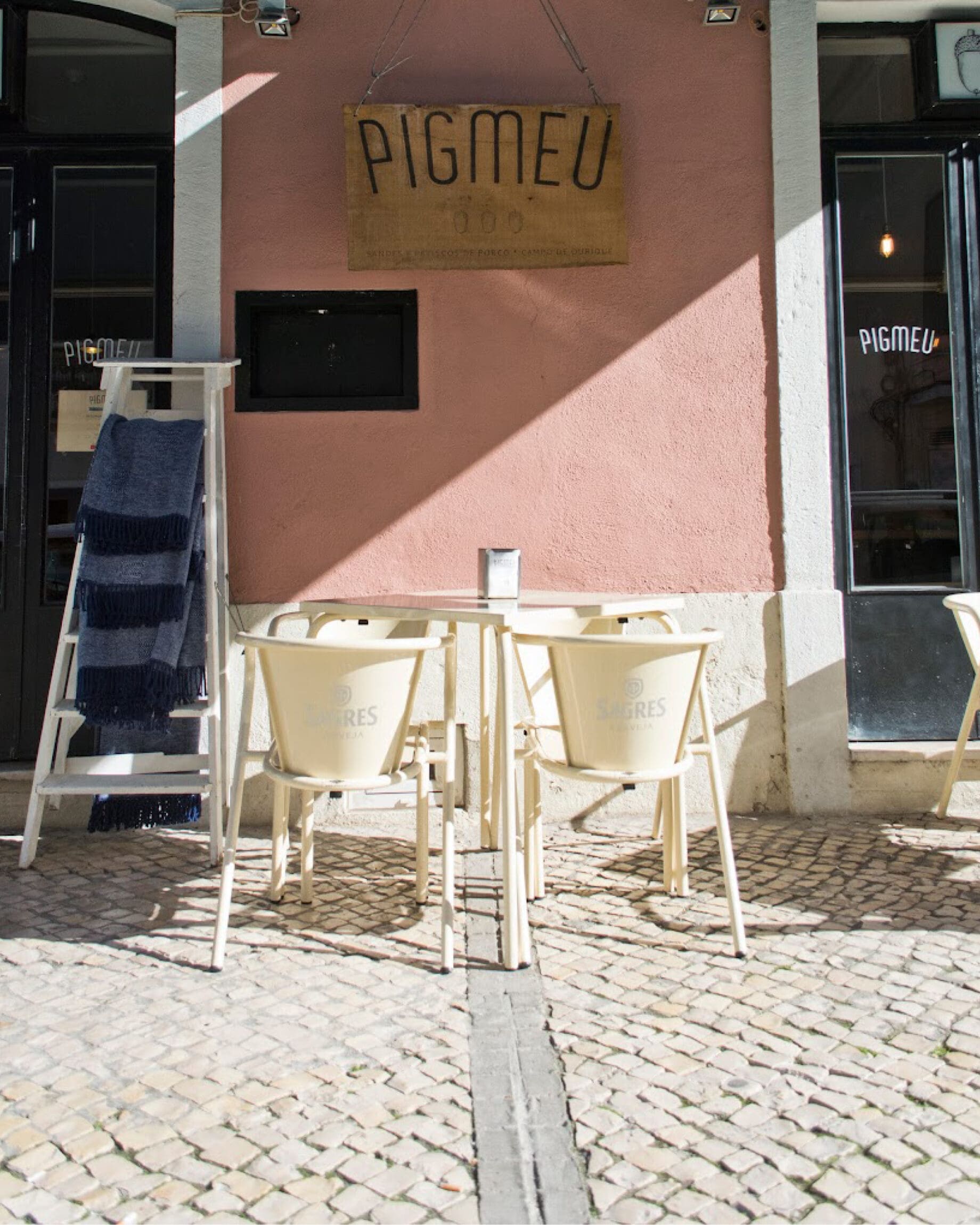 Pigmeu
Campo de Ourique 
Best for: eating all the parts of the pig
Location: Rua 4 de Infantaria 68, Campo de Ourique, Lisbon 1350-274
Price: mains from 9.50 EUR
Nose-to-tail dining no longer feels revolutionary, but rarely has it been so tasty. At Pigmeu, chef and owner Miguel Azevedo Peres takes whole hogs from Portugal's oldest organic farm and breaks them down and divides them among a short, enticing, ever-changing menu of dishes. Hearts are braised with beer before ending up in pastéis de massa tenra – tiny, savoury hand pies, while rendered lard, not butter, is paired with bread. But it's not only about meat; vegetables are treated with just as much respect, and the result is a restaurant so effortlessly delicious, you probably won't even notice the philosophy.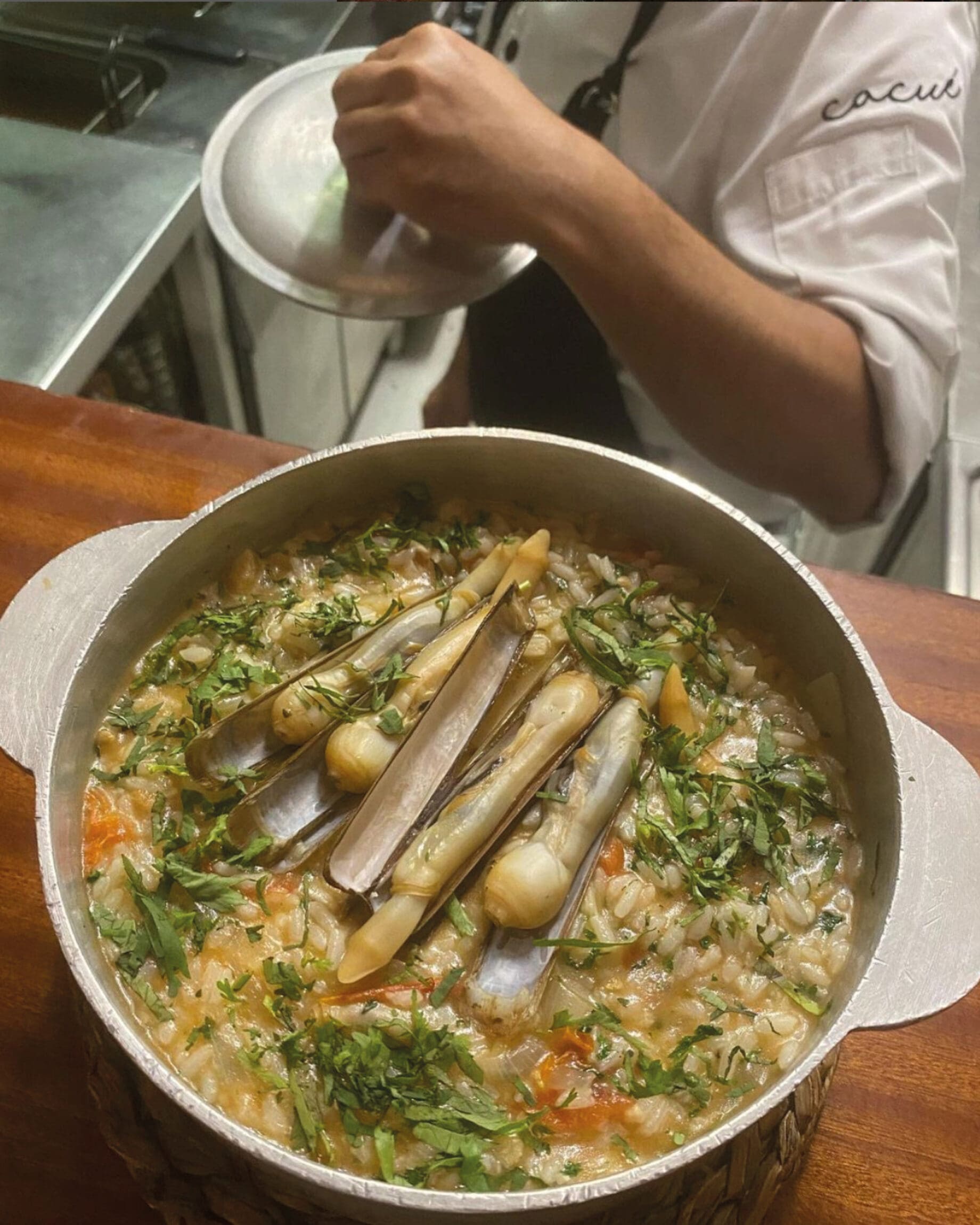 Cacué
Picoas
Best for: refined takes on rustic dishes
Location: Rua Tomás Ribeiro 93 C, Saldanha, Lisbon 1050-227
Price: mains from 11.50 EUR
Do you want the dishes of a tasca (a rustic, inexpensive, traditional Portuguese eatery) but made and served with a bit more care and refinement? Yes you do, and for them you should go to Cacué. It's the ideal place to dip your toe in varsity-level Portuguese dishes such as cabidela, chicken stewed in its own blood with rice, or carapauzinhos fritos, tiny mackerel, deep-fried and eaten head and all. The brief, self-confident menu compliments the minimal vibe, and the end result is a new-ish restaurant that feels like it's been around forever.
Galeto
Saldanha
Best for: time-traveling to the '60s, casual Portuguese and Brazilian cuisine
Location: Avenida da República 14, Saldanha, Lisbon 1050-191
Price: mains from 6.25 EUR
Want to find a Lisbon chef, food writer or food photographer on his night off? Head to Galeto. Opened in 1966, it seems to have not been altered an iota since day one, and its counter-only seating plan is evocative of the swinging indulgence of that era. Is the food going to blow you away? Well, the croquettes have their fans, and they do a tasty prego, Lisbon's beloved garlicky steak sandwich, not to mention a capable feijoada brasileira (the restaurant was founded by immigrants from Brazil), but Galeto is more about comfort – and, again, those countertops – than challenge.