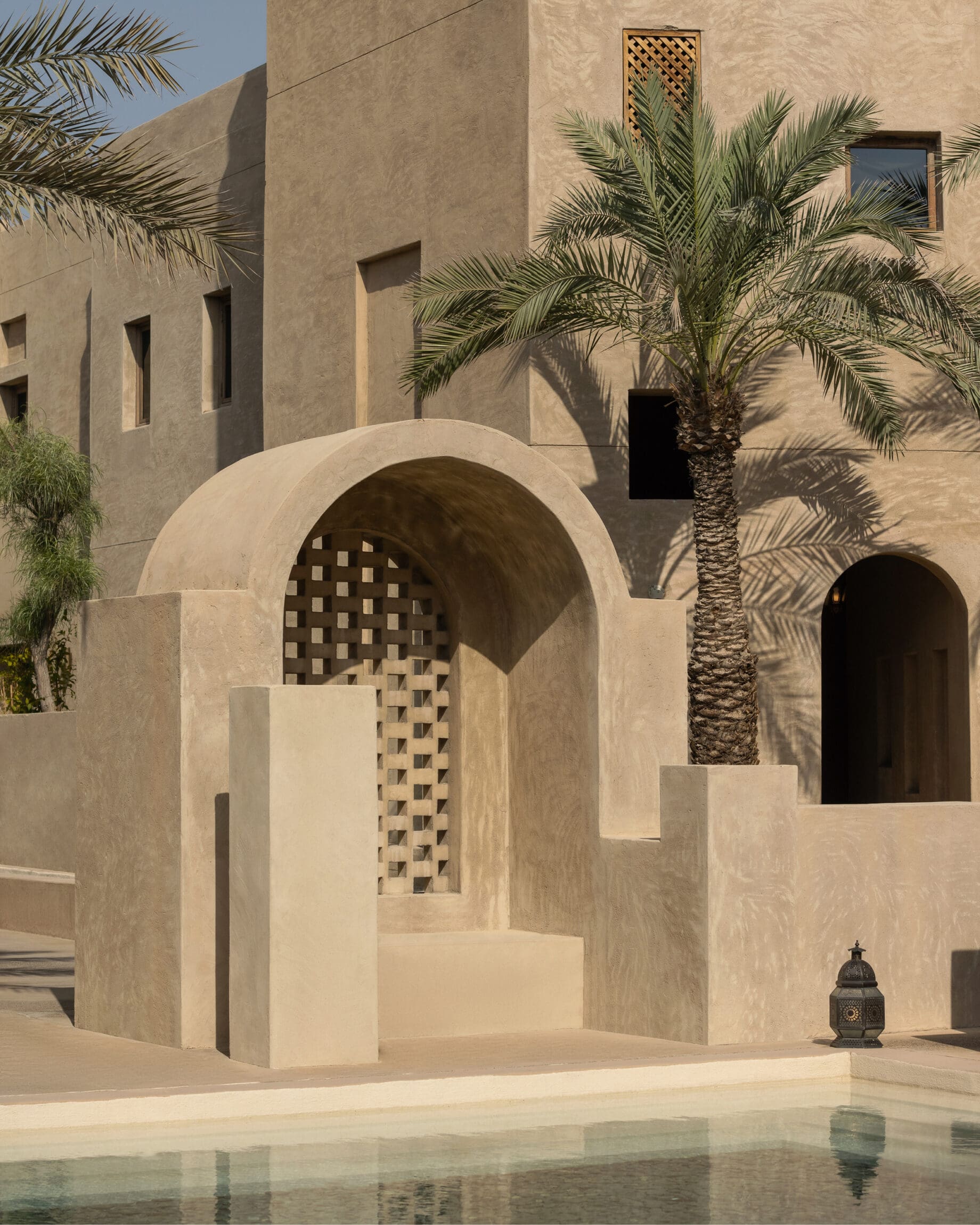 Dubai is better known for its record-breaking luxury hotels and floor-to-ceiling aquarium restaurants than its boutique stays. These include the world's tallest hotel in the Burj Khalifa, and the ultra-luxurious Burj Al Arab Jumeirah, where private butlers accompany each duplex suite. Address Beach Resort has the world's highest infinity pool, closely followed by The St. Regis Dubai, while the gargantuan Atlantis hotel is famed for its family-friendly amenities and kids clubs, with an enormous water park and private beach. Raffles on The Palm – lined with beachside resorts – has one of the most enviable, and regal, spas.
Away from razzmatazz, however, you'll find some rare gems, including smaller luxury hotels and authentic stays with a difference, many of which support local artists and have laudable sustainability credentials. Discover the best boutique hotels and resorts in Dubai and further afield for those seeking a different kind of thrill.
XVA Hotel
Best for: Creative souls
Address: Al Fahidi Street, Bur Dubai, Al Fahidi Neighbourhood (formerly Bastakiya), Near Dubai Museum, Dubai (The hotel will send you a detailed map after booking)
Price: 123 GBP / 556 AED per night, room only
Accessible only by foot through a maze of shaded alleyways in the heart of Dubai's historic Al Fahidi neighbourhood, the XVA Art Hotel is a rare gem. Part art gallery, part one-story hotel, the quaint 15-room boutique stay was the former home of the Seddiqi family (Dubai's Rolex dealers), until hotelier Mona Hauser took over at the turn of the millennium. She kept the charming wind towers, Arabesque architecture and dark wood interiors and filled the space with contemporary artwork, creating one of the city's most soulful stays. Each cosy room has been designed by a handful of regional guest designers including S*uce concept boutique owner Zayan Ghandour, who hung hers with Warhol-esque prints of Mentos mints and Fanta bottles. Dine in the quaint courtyard restaurant from an ever-changing vegetarian Arabian menu that draws on seasonal ingredients, or sip a lemon and mint mocktail alongside the arty crowd that regularly hangs out here. It's perfect for anyone that wants to skip the skyscraper scene and experience a quieter side of Dubai.
xvahotel.com
Magic Camps Dubai
Best for: Star gazing, glamping
Address: Magic Camps Dubai, Silver Tower-2704, Business Bay, Dubai
Price: 1,995 GBP / 9,116 AED per night
Escape the dizzying city lights by heading into the Sharjah desert where a luxury private camp emerges from untouched dunes. Comfort and camping coalesce, with each of the six tents hosting comfy beds with cool cotton sheets and Berber rugs. Sand board down the slopes, quad bike over the dunes and ride camels by day, and sip cocktails by candlelight at night. Guests can dine outside their tent with a private chef, or head to the communal majlis (social spaces) decorated with hanging lanterns and plush cushions to mingle with the other happy campers. Tuck into an Arabian feast of grilled meats and salads in the evenings, while a continental breakfast of cheeses, labneh and freshly-baked bread accompanies the sunrise. Magic Camps Dubai closes during summer between 1 May and 31 August, as its remote desert location and environmentally-friendly ethos means there is no air conditioning to mitigate the city's baking climes.
magic-camps.com
Mysk Al Faya Retreat, Sharjah
Best for: Urbanites wanting to escape
Address: Al Batayeh, Al Faya Road Al Modam Road, Sharjah
Price: 550 GBP / 2,513 AED per night, room only
The stark brutalist edifice of Musk Al Faya masks a pioneering alternative to the high-rise chains that dominate the Emirates shoreline. Nestled in the UNESCO-protected Mleiha region an hour's drive East of Dubai, the stone and steel building was repurposed from an abandoned 1960s structure and is now a five-room property available to hire exclusively. Bedrooms are cosy, cool and comfortable, with a skylight for stargazing at night, but it's the minimalist saltwater pool that attracts the design crowd. The hotel is encased in concrete and steel butterfly shutters that open up to expose the surrounding sands and barren mountains. The therapist-free spa boasts a Himalayan salt therapy room, herbal sauna, and immersive water therapy room, allowing you to relax and unwind at your own pace. There's a small restaurant with a modern menu of crowd pleasers, including drip coffee, avocado toast and burgers. For dinner, you can opt for a blazing BBQ of grilled meats and seafood with all the trimmings courtesy of the resort's culinary crew. They'll also set up a screen for you to watch movies if you can pull your gaze away from the desert sky.
myskhotels.com
Hotel Indigo Dubai Downtown
Best for: Art aficionados, lively social spaces
Address: Marasi Drive, Business Bay, Dubai
Price: 101 GBP / 461 AED per night, room only
Anchored between Dubai Design District and The Dubai Mall, Hotel Indigo Downtown marries traditional Arabic interiors with modern details. The hotel has teamed up with local institutions the Alserkal Cultural Foundation, Tashkeel and XVA gallery to curate its art collection, which comprises more than 200 works (all available to buy) from local artists. In the rooms, find Mashrabiya-style wooden wall panels, colourful surrealist paintings, mother-of-pearl adorned bathrooms (a nod to the city's origins in pearl farming), and rugs made by Afghani female artisans as part of a collaboration with the Fatima Bint Mohamed Initiative. Challenge the mixologist to shake you up something unique at Off The Wall, a relaxed drinking hole with wall murals by Syrian artist Baseem Rayyes and Paul Bruwer. The hotel's restaurant, Open Sesame, serves a diverse menu of Emirati, Levantine and Anatolian fare including mezze platters and mixed grills. Even if you don't end up laying your head here, visitors can book an art tour of the hotel for 50 AED (13 USD), which offers an excellent insight into the local art scene.
hotelindigo.com
Al Maha, a Luxury Collection Desert Resort & Spa
Best for: Isolated luxury
Address: Al Ain/Dubai Road, Dubai
Price: 660 GBP / 2993 AED per night, room only 
A 45-minute drive from Dubai, hidden away amidst the desert landscape, Al Maha Resort is an environmentally-friendly oasis like no other. It is the only property to sit on the sprawling 200 kilometres of sand that makes up the protected Dubai Desert Conservation Reserve. There are 42 luxurious tented villa suites, each with its own private infinity pool with expansive desert views, and the odd gazelle wandering past. The word 'tent' is used loosely here: under canvas roofs, you'll find Arabian antiques, super king beds, huge soaking tubs in marble bathrooms, and Bulgari amenities. Sustainable choices include LED lighting, solar panels and a purifying water system. Try Arabian-inspired treatments in the spa, followed by an afternoon tea in the terrace bar. All-day restaurant Al Diwaan serves five-star fare (try the Bedouin platter with mahi-mahi fish, grilled jumbo prawns, rice and grilled vegetables) with a casual dress code, or staff can bring your order to your room. It's one of Dubai's more expensive stays, but the generous all-inclusive system – which includes complimentary horseback wildlife tours, nature drives and champagne sunset camel rides – make it worth the splurge.
marriott.com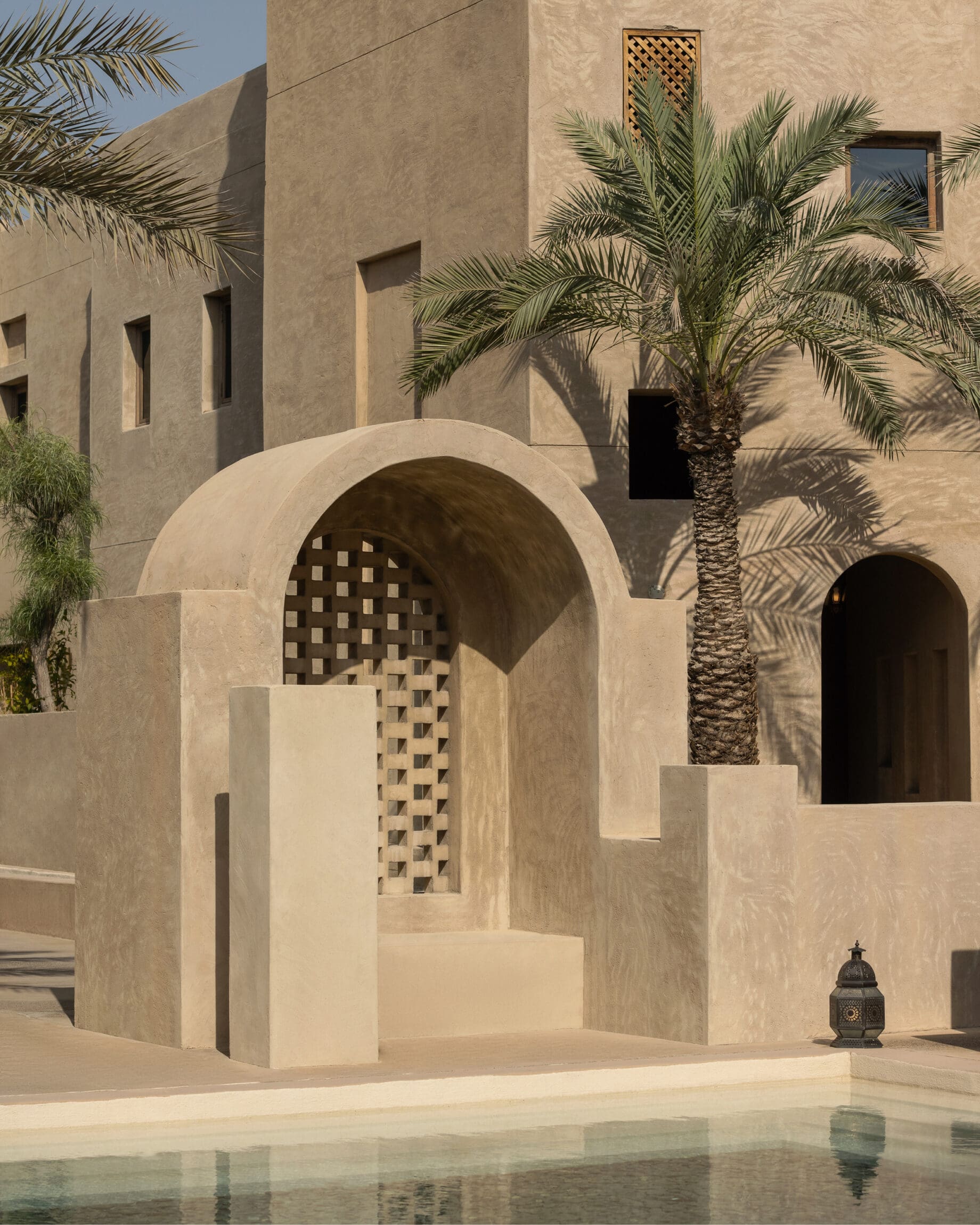 Bab Al Shams Desert Resort
Best for: An Arabian Nights experience
Address: Al Qudra Road (opposite Endurance City), Dubai
Price: 270 GBP / 1,234 AED per night, room only
Bab Al Shams opened in 2004 but has recently had a do-over, once again making it one of the best hotels in the UAE for those looking to get away from it all. Just a 50-minute drive from Dubai, the local institution has retained its beloved Arabic architecture, with desert-facing infinity pools and fort-like walls. Inside, Berber rugs and a muted, earthy palette provide a contemporary feel, while arched windows frame the desert view beyond. Spacious rooms have private courtyards shaded with leafy palm trees, while suites boast beguiling views of seemingly endless sand dunes. There are three pools and five new restaurants, complete with an all-singing, horse-galloping, belly-dancing Al Hadheerah nightly dinner show. This, plus a menu of flame-grilled seafood and regional delicacies like tender lamb ouzi and sticky date pudding served beneath the stars, is worth the drive alone. The crowd is a mix of couples, families and local repeat guests, all wanting to wind down and relax.
babalshams.com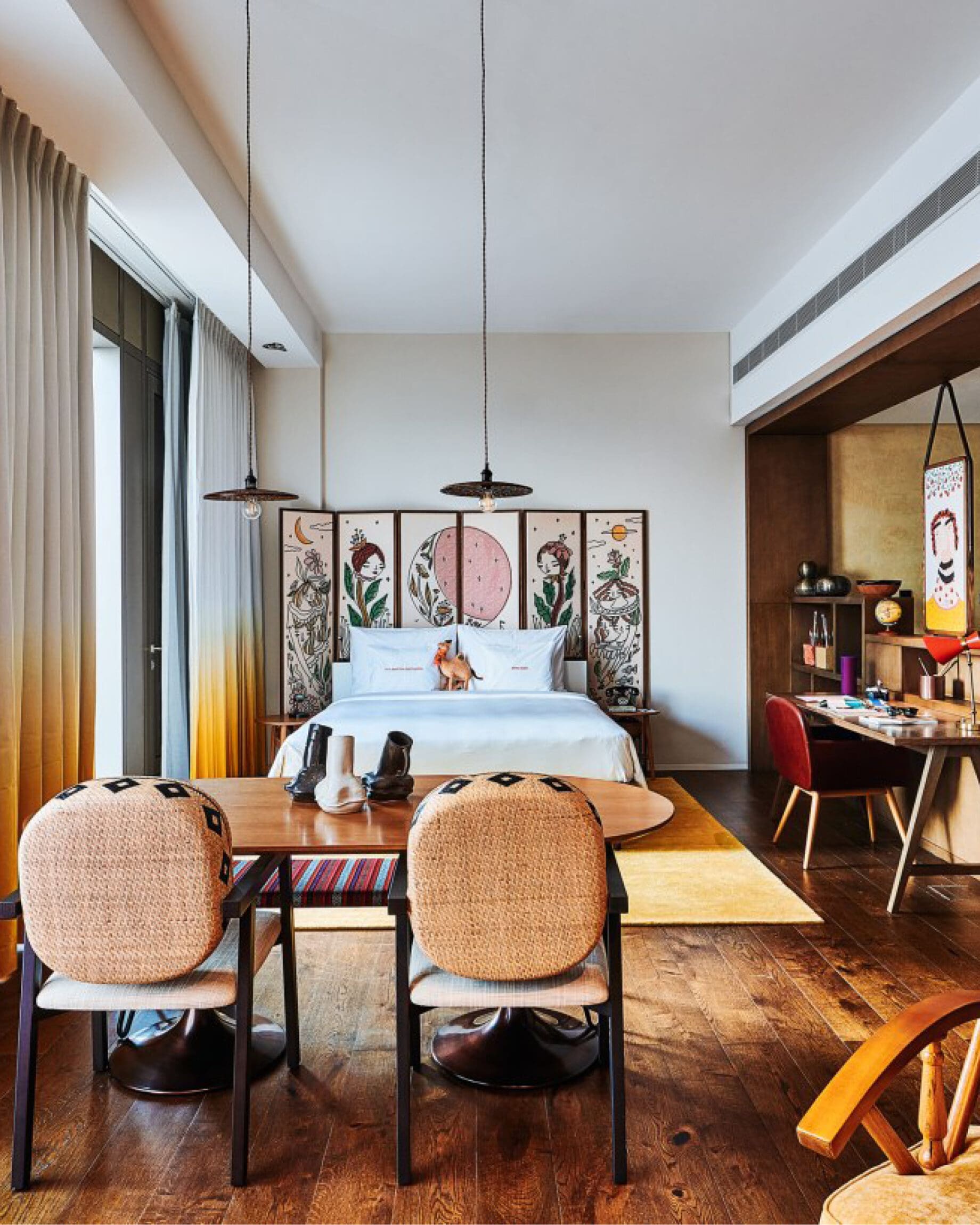 25hours Hotel Dubai One Central
Best for: Party people with euro cool
Address: Trade Center Street, Sheikh Zayed Road, Trade Centre, Trade Centre 2, Dubai
Price: 109 GBP / 498 AED per night, room only
25Hours hotels are known for being playful pads for party people, and the Dubai property (the first outside of Europe) is no exception. The kitsch and inclusive space has changed the face of Dubai's hotel scene, drawing a youthful, eclectic crowd looking to let loose. The lobby sets the tone, with a mind-bending hand-painted ceiling by Dominik Bulka and a book-filled sculptural centrepiece, topped by a giant globe. More than 6,000 antiques are dotted through the hotel, including retro typewriters, vintage trunks and polaroid cameras. In the rooms, open showers and colourful living areas are a nod to the region's traditional majlis (a social place where communities gather). The mixed-gender sauna and cheeky slogans ("come to bed with me") were unheard of before 25Hours landed. Expect to find a crowd of thirty-something creatives sipping coffee in the multiple co-working spaces. The hotel's Monkey Bar is one of the city's hot spots, partly thanks to its impressive views of the Museum of the Future, and its Latin-American-inspired menu. On Friday nights, you'll find Dubai's pleasure-seeking crowd toasting champagne pina coladas at the already legendary 'Hot Mess' party, thrown by Beirut-based collective Factory People.
25hours-hotels.com
One&Only The Palm
Best for: A 'boutique' luxury resort
Address: West Crescent, Palm Jumeirah, Dubai
Price: 1,250 GBP / 5,666 AED, inclusive
One&Only The Palm, at the end of The Palm's West Crescent, is one of the city's most luxurious stays, and also its greenest. This calm oasis features verdant gardens, cascading fountains and a private stretch of golden sand. The Andalusian-styled property has only 90 rooms, which is small by Dubai standards. Rooms are generously sized, with king-size beds, rain showers, free-standing marble bathtubs and Acqua di Parma amenities, while all suites have private pools. The shared pools have sprawling day beds and staff will regularly polish your lenses and top you up with fruit popsicles. If you can muster up the energy to pull yourself out of a horizontal state, the two-Michelin star restaurant Stay by Yannick Alléno serves local ingredients infused with excellent French flair and attracts serious foodies from all over the globe.
oneandonlyresorts.com
One to watch: Mama Shelter Dubai
Famous for jazzing up the budget hotel scene with pizazz, Mama Shelter is set to open in Dubai in 2024 in a new Franklin Azzi Architecture-designed building in Dubai's Business Bay. The wallet-friendly hotel will have 201 rooms set across 25 floors, and 80 one-and two-bedroom residences, all designed by Paris-based interior designer Thierry Gaugain. If its previous hotels are to go on, expect lively, laptop-friendly social spaces, a coffee house, and rooftop bar, with views of the city's ever-evolving skyline.
Explore Dubai's pulsing underground techno scene as part of our Dubai city guide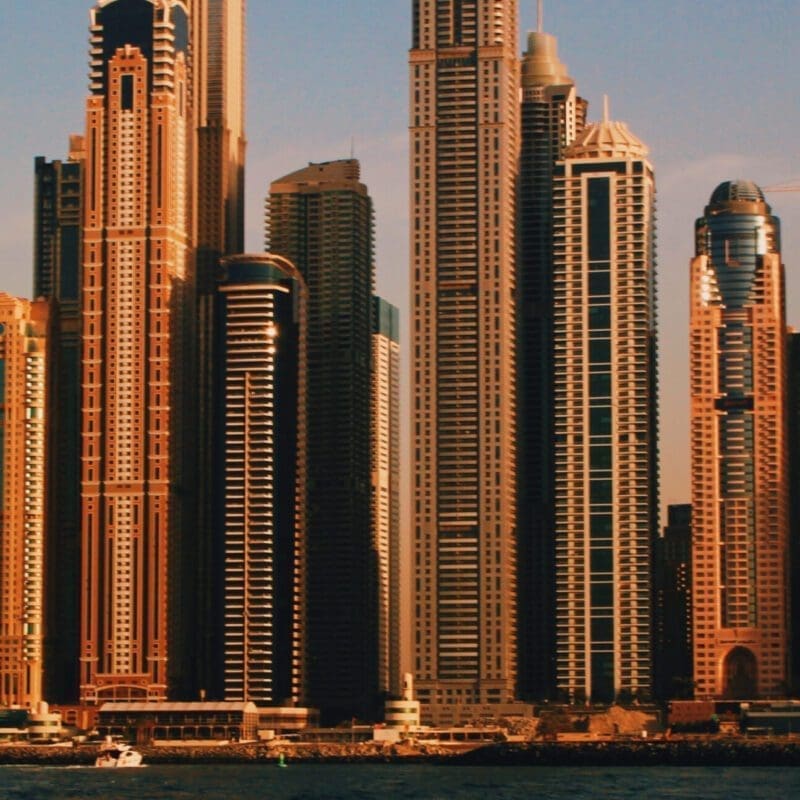 Sign up for superlative city guides across the world