Artist Luisa Salas, aka Hola Lou, makes bold, abstract murals redolent of Mexico's Caribbean coast
Last updated: July 26, 2023
Abstract graphic artist Luisa Salas on what inspires her minimal style, her commission work for Nike and Google, and how travel informs her work
Mexican graphic artist, muralist and printmaker Luisa Salas, who works under the name Hola Lou, lives and works from her home studio in Narvarte in the south of Mexico City. Her vibrant, minimal compositions are inspired by the colours of her country, and adorn the facades of beachside hotels, the interiors of brand headquarters, and even a running collection created in collaboration with Nike. She studied design in Torreón and worked as a graphic designer before embarking on her solo practice, and creates prints as well as commission work for private clients and brands.
We find out about Salas's practice, what drew her to move from the Yucatán Peninsula to Mexico City, and what inspires her work.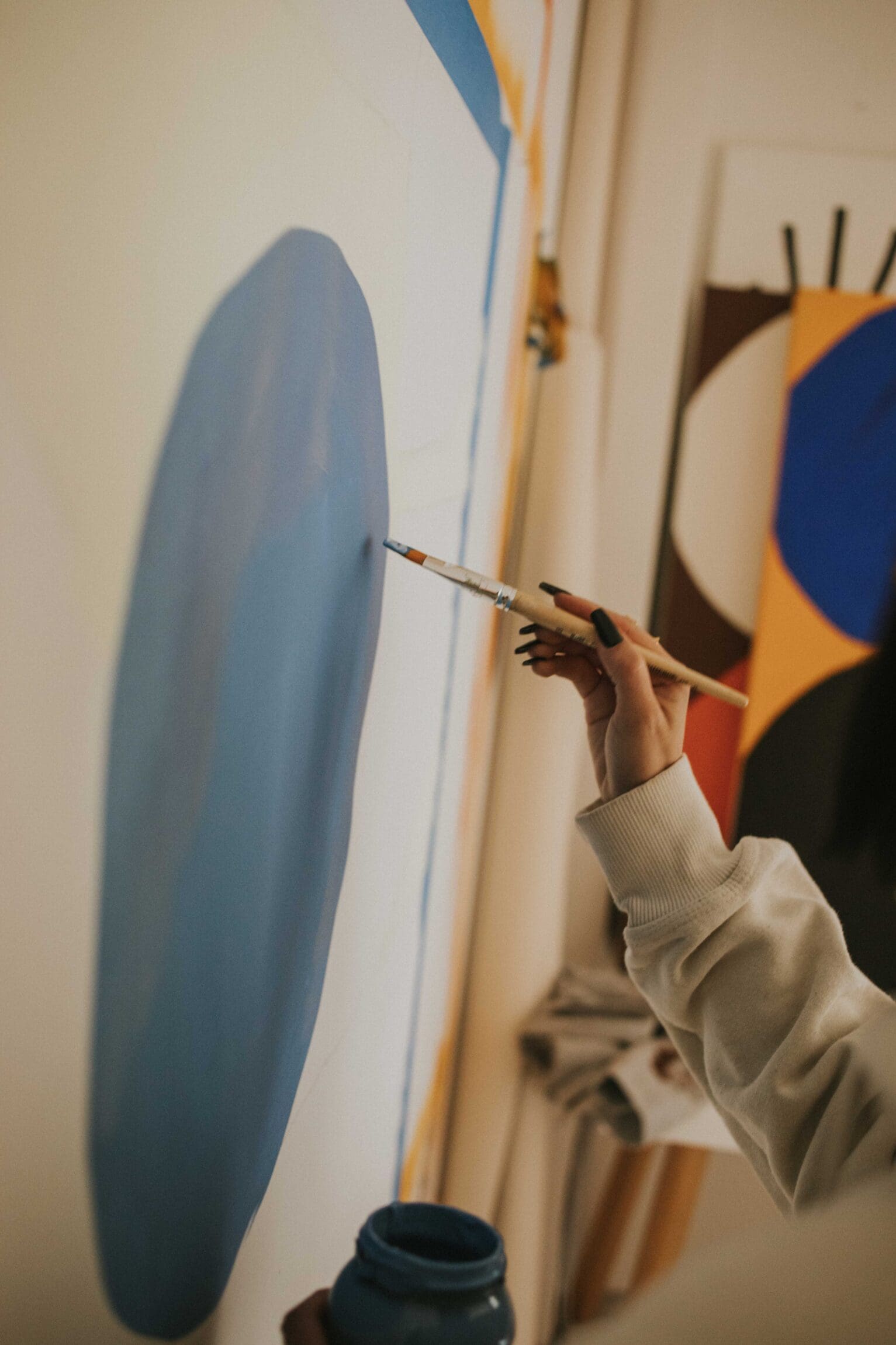 Salas's move to Mexico City
You have been living in Mexico City for two years. Where were you based before that, and what drew you to move?
I was living in Mérida in the Yucatán Peninsula, and before that, I lived along the Caribbean coast in Cancún, Playa del Carmen, and Tulum. I was in that area for eight years. It's really beautiful nature-wise, and the colours and jungle are really inspiring, but I wanted more to do creatively, so I moved to Mexico City. It's the only place in the country that has this amount of cultural things going on, and so many brand opportunities are here.
Have you found it easier to meet new clients in Mexico City?
Yeah for sure, although I am quite pleased with the number of clients I worked with when I was in those smaller cities like Mérida or Tulum. They were mostly from the US, UK or Australia – any place other than Mexico – and at least I am getting a bit more attention from Mexicans here in CDMX.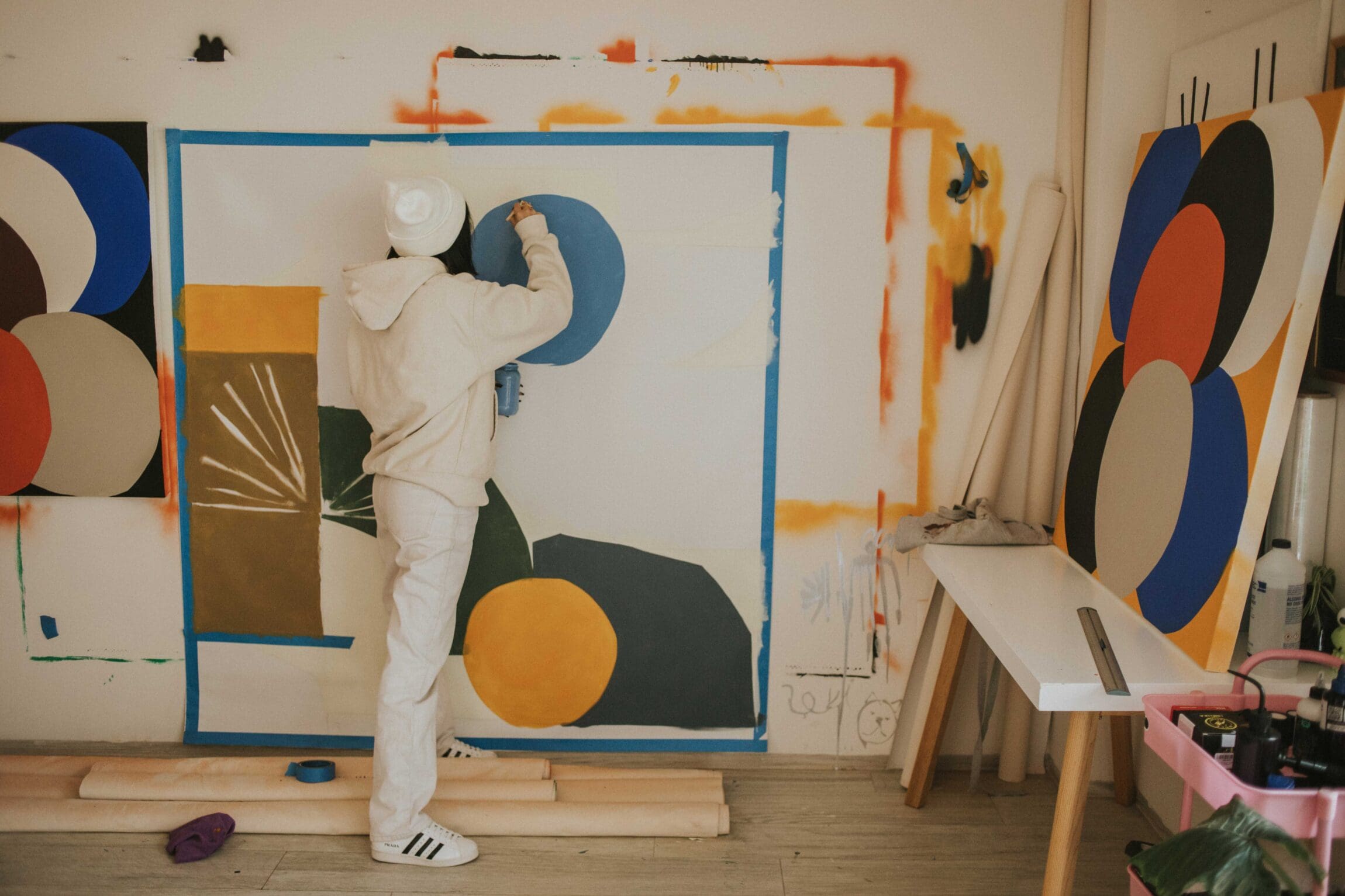 Her art practice and process
What has been the most transformational client you've worked with?
There were several throughout the years, but the collaboration with Nike totally changed my mindset about where I could go. We started working together in 2019 on a men's running collection, which included shoes and apparel, and was launched globally in October 2022. The same design that was chosen for the collection was made into a mural for a new four-storey building in Nike headquarters in Portland, Oregon, called the Serena Williams building.
When did you first realise you were interested in art?
I've been painting since I was a kid, but I became a graphic designer after graduating, and my urge to get back to art was mostly out of this frustration with the creative limitations imposed on you as a designer. That's when I started painting as a hobby again, and my work got a lot of interest from people. I realised I had a choice between graphic design, where you are creatively limited the whole time, and art, where people say 'you are the artist, you do whatever you want'. It was a no brainer.
What does a typical day look like to you?
It depends on the project I am working on. Some days I will stay in the studio and paint the whole day without distractions, listening to hip hop and jazz, smoking weed – but there's other days when I'm replying to emails, making digital artworks, having a photoshoot, or going to events. I like that part very much too, thinking about my self image, and everything as a whole.
What is your process like when you are working on something new?
It depends on the concept, because commercial art is my main thing. Commercial art is like the middle point between graphic design and art: it's not as loose as following your feelings or doing whatever you want, because there is always a concept to develop, or something to communicate with people. It has to be coherent.
Mostly, I base my art on the colours I see around me, my travels, and my music. I love using big contrasts. I feel like that's my way of expressing who I really am. I usually dress in all black, and I'm a very laid back person. My art tends to be the total opposite: bright, bold, and with loads of contrast and colour (laughs).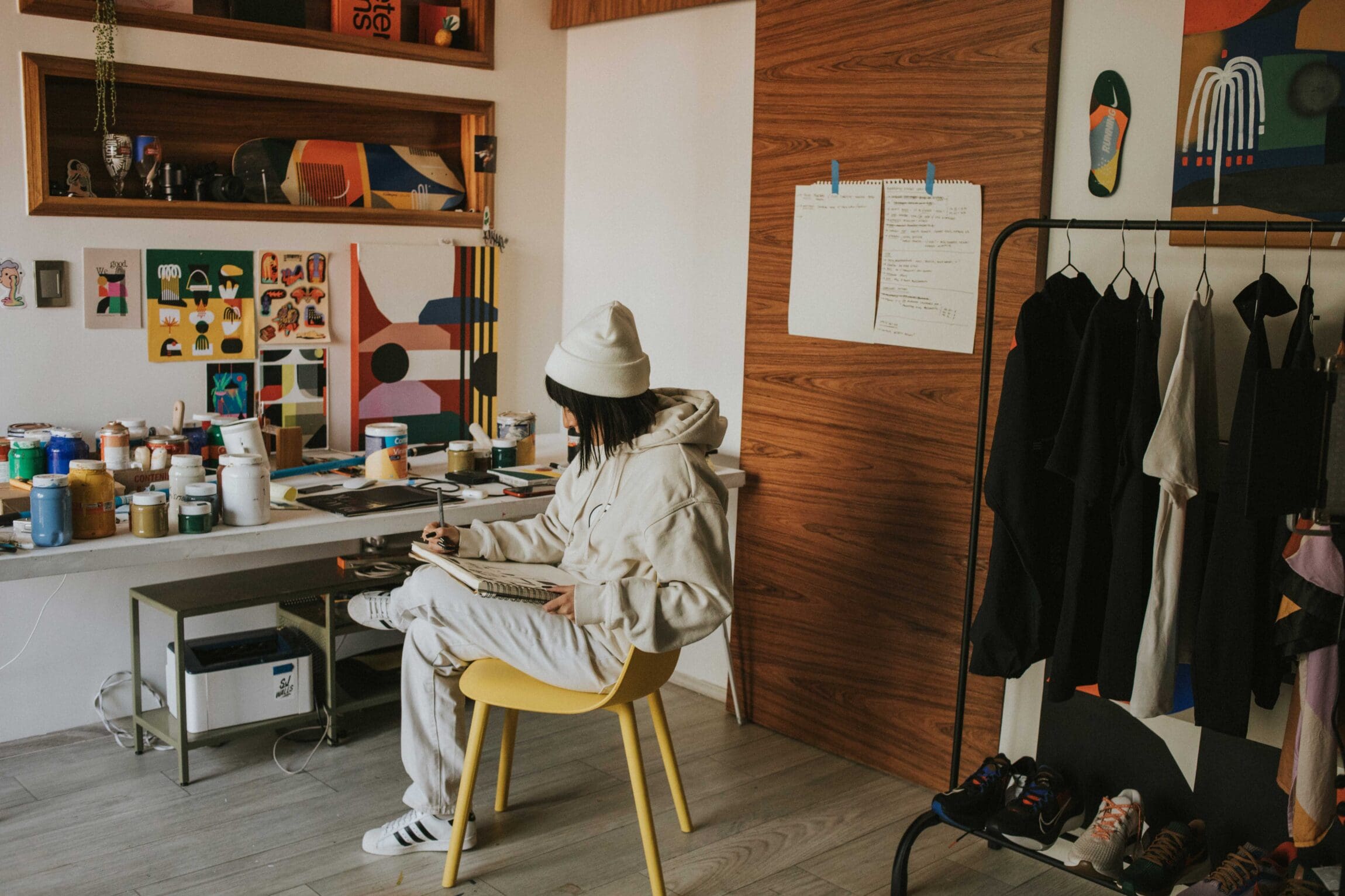 Has there been a favourite commission you've worked on recently?
Yes, although it hasn't come to life yet and I'm not sure it will. I did a poster for Arctic Monkeys, for their tour here in Mexico. It turned out really well, and my inner teenager was super hyped about it (laughs).
Have you worked with musicians before?
Yeah quite a lot actually. That was my first gig when I started painting: making album covers and tour posters for bands and artists. My first big one was for Miami Horror.
What are you working on at the moment?
Mostly commission pieces, very big paintings for private clients and their residential projects. I am also working on a mural for Google for their offices in California, which I'm doing remotely.
Salas's travelling experiences
Is travelling important to you?
Yes. I've been travelling to Colombia a lot lately for some reason; opportunities seem to keep popping up to go there. It's so nice; I come back home and I get depressed. The people there are so friendly, and consequently the parties are so fun. No matter who you approach, even if you're in a boring place like an airport, they are just the nicest people. And it's so cheap, even cheaper than Mexico. I've been to Bogotá twice, and Medellín, and I went to a beach area near Santa Marta on the Caribbean coast.
When I first started going out in Colombia, discovering the nightlife scene, the creative scene, the art, programming and NFT scene, I realised that everywhere around the world, no matter where you travel to, there is always another version of yourself, your friends, your family – everyone you know. I kept meeting people, and I'd be like 'oh my god, she's Andrea from back home!' That was really eye opening. No matter where you go, there's home.
Do you think those trips influence the way you create?
Yes absolutely. It's very eye-opening to see a new culture as a whole, how people act, the colours, even new plants, which I love looking at when I'm away. Seeing the flora there, the weather – inspiration is absolutely everywhere.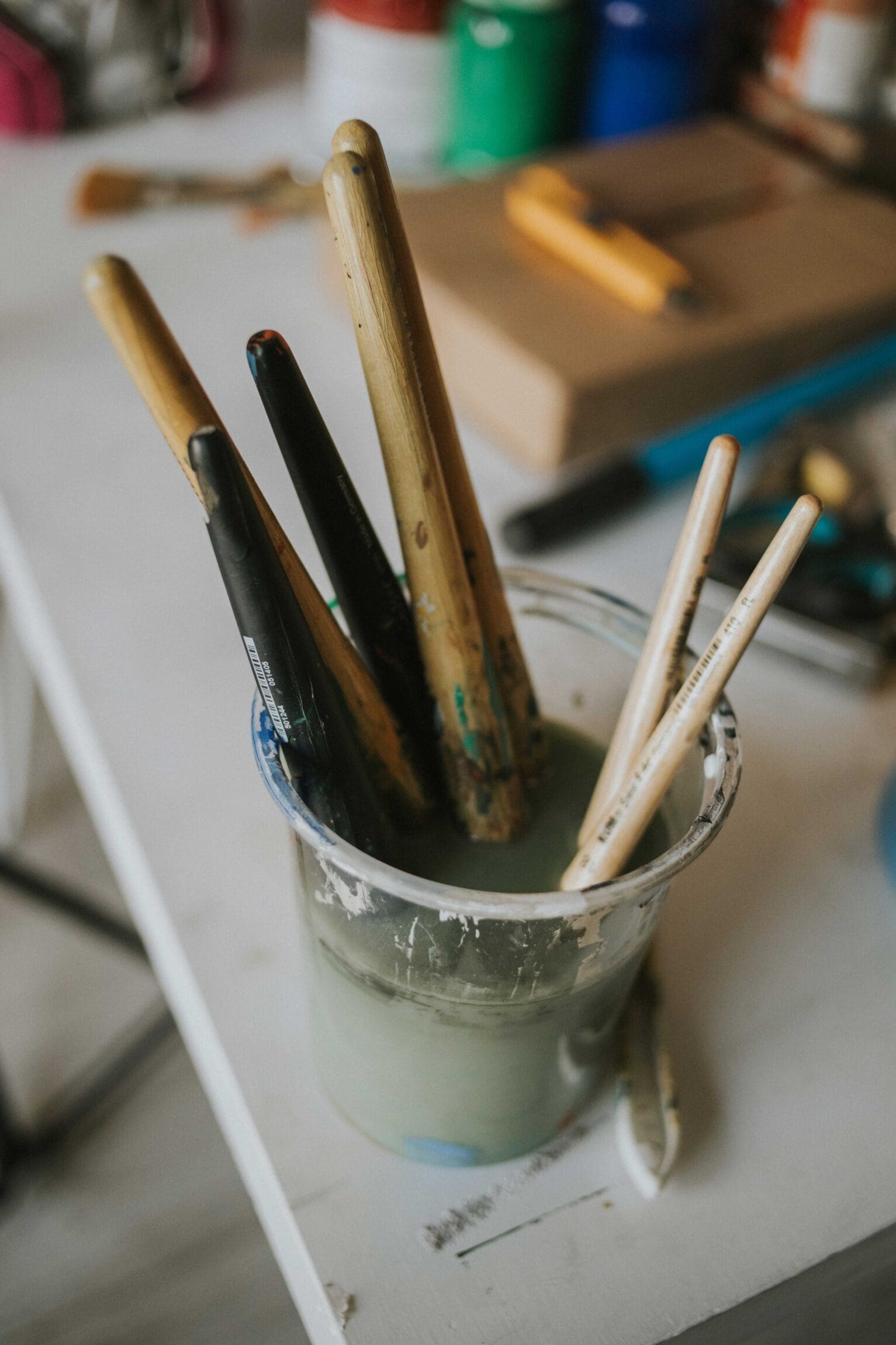 Settings for showing her work
Do you show your work at galleries?
I do, but it's not my focus. The whole gallery thing – the 'who you know', 'who your parents are', kind of thing – I don't love that. When you go to a gallery, most of the time you are not seeing the most talented people, you are seeing whoever got their way in. So I try not to put too much time into it, but if the opportunity pops up, then yeah, I'm part of it.
What would be your dream scenario for showing your work?
I prefer more urban art settings. Somewhere that absolutely anyone can access and enjoy, where you don't have to pay to enter, and you can interact with it, like a huge art installation in the middle of a city.
That makes a lot of sense for your mural work. You've done some public pieces before haven't you?
Exactly. I made one on the beach for a beautiful hotel in Mérida called Club de Patos. Those jobs are great; it's like a vacation – you get everything paid for in return for taking your shoes off and painting in the sand (laughs).
How do people respond to your work?
People receive it in a very positive way, because it has very strong, vivid, positive colours, so that is their immediate response. I find it really interesting that, with abstract art, there's no specific depiction of anything, so when people view it, they put their own experiences and thoughts and life into it. When I show a new piece, one person might say 'oh, it looks like an ice cream cone', and the person next to them could say 'oh, it looks like a rainy night'. The piece speaks way more about the viewer than itself. That's what I love about abstract art – it is completed once the viewer puts their own thoughts and imagination into it.


JOIN US FOR THE JOURNEY
Subscribe to the newsletter
City guides, culture, photography and ideas, with expert analysis on the biggest stories in travel