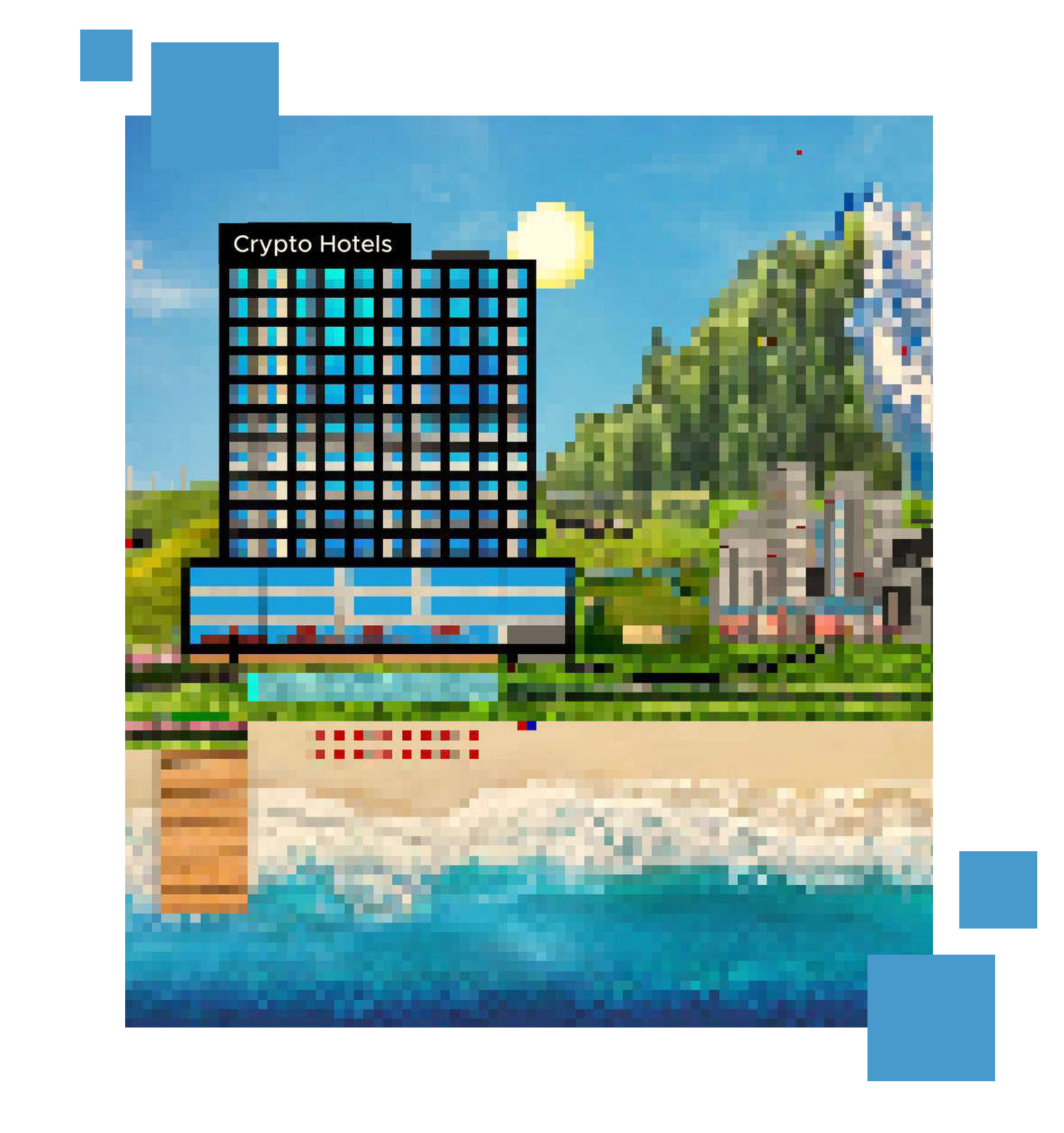 What the hell are travel NFTs?
Last updated: August 4, 2022
Non-fungible tokens, or NFTs, are sweeping the worlds of art, gaming, fashion and music – but could they be adopted by the travel industry next?
The figures are laugh-out-loud ludicrous; $69 million here, $2.9 million there, a (relatively bargainous) $250,000 elsewhere. These sums are being bandied about not for a superyacht, a mansion, or an Old Master, but… a string of data.
That's right – understanding the rise of the NFT involves understanding that a lot of people are essentially paying a lot of money for a digital file, aka some computer code, which represents the proof of ownership. In these particular instances, the computer code stands for a piece of digital art; basically, a bunch of pixels.
The $69 million was for the sale of an NFT by US artist Beeple called 'Everydays: The First 500 Days'. Auctioned by Christie's, its lucky new owner (an Indian entrepreneur) wasn't able to get it packaged and transported home, because, of course, it doesn't physically exist.
$2.9 million is what Twitter founder Jack Dorsey sold the NFT of the screenshot of his first ever tweet for, while $250,000 might be enough to get you one of 10,000 NFTs depicting different images of a gormless-looking cartoon simian, known as the Bored Ape Yacht Club. Much of NFTs' value comes either from their rarity, or from the fact they come as a collection – prompting buyers to want to own as many as possible.
"Art NFTs are pretty much like Pokemon cards, but involving big sums of money," laughs Rob Llewellyn, founder of digital marketing agency Digital Spring. But will the same concept be embraced by the travel industry?
"That remains to be seen. Theoretically, a tourist board could produce a set of digital artworks of key locations, or key events, in that country; and if these were done by a famous artist, say, Banksy, they would certainly be more desirable for people to buy," says Laurie Ainley, co-founder of Poplar Studio, which specialises in creating Augmented Reality NFTs. "It might not be long before we see tourism boards create collectible, location-based NFTs in a bid to attract young travellers, or digital souvenirs of certain places that travellers want to cherish."
"At the same time, hotels and museums might launch premium packages that use NFTs as the "key" to gain entry to a particular experience or accommodation, such as buying an NFT of a trip to Walt Disney World which includes things like entry, an exclusive animation, and a physical souvenir."
One thing the travel industry is already using, and has done for decades, is another buzzword: the blockchain. "Blockchains are, essentially, an accounting ledger," explains Llewellyn. "They're a record of transactions that depict the ownership of the thing that sits on it, whether that's a piece of digital art, a Glastonbury ticket, or a flight ticket. Because the blockchain exists in the public domain, it's effectively impossible to forge or manipulate, which is why people like to use it for Bitcoin and other crypto-currencies."
31-year-old Josh Sandhu, who has been trading NFTs for the past three years, is behind Europe's first dedicated NFT art gallery, Quantus Gallery, located in – where else? – East London. Aside from the booming art side of things, he also believes that there are multiple ways they could be used in the travel industry. Echoing Llewellyn, he says, "the first and obvious way would be in tickets. The primary benefit would be to keep everything centralised and accessible to an airline, or a hotel."
Mark Basa, global brand and business manager at crypto company HOKK Finance, which offers NFTs agrees: "Airlines could issue NFTs to an individual passenger who would have their itinerary, invoices, refunds, baggage status, everything stored under it. It could be used to check in by syncing with a QR code; you could get access a lounge and track your points, all with a single login, and never have to use text or email again."
Eddie HUI, COO of Singapore-based company MetaVerse Green Exchange, believes there could be several benefits for airlines: "With the implementation of a blockchain-based system, airline companies could cut workload and costs and provide more convenience to travellers by leveraging the decentralised aspect of blockchain.  Travellers would be able to view the availability of tickets, transfer them from one passenger to another easily and all done in real time.  I believe airline companies would prefer seeing such liquidity in the secondary market and fill their planes with passengers over a no-show. Besides, similarly to the collection of royalties in the secondary market, airlines could receive a fee for the transfer of a plane ticket."
Another benefit, adds Sandhu, is the eco-angle, as NFTs can be used to help track carbon offsetting; MetaVerse Green Exchange has just started a Carbon Neutrality Management System, helping organisations record and verify their carbon footprint.
Once a business has been verified, it can choose to offset its emissions using the equivalent amount of Carbon Neutrality Tokens. "At the end of the process, organisations are able to declare themselves Carbon Neutral with the highest standards and we will produce an NFT for the organisation, which contains all the data, certifications and verifications," explains MetaVerse Green Exchange chairman Dr Bo Bai.
The NFT system could even be extended to documents like Covid passports, as an individual's vaccine status and information could be stored on the blockchain, applicable only to the person it belonged to, meaning it could become a global scheme that any country's government could access and accept. NFT vaccine passports have already been adopted by the tiny Italian microstate of San Marino; it might not be long before others follow their lead.
Loyalty programmes are also something that can benefit from usage of NFTs. "Hotel groups and airlines commonly have a multitude of partners they work with, each using their own database," says Sandhu. "What the blockchain, and, in turn, NFTs, would allow is to have a shared protocol that can be read by all partners. What this means for the consumer is that club, or membership, access will in some instances be through the use of an NFT."
One recent example is from Marriott Hotels, whose loyalty programme, Marriott Bonvoy, launched its own NFTs as part of its 'Power of Travel' campaign last December at Art Basel Miami, with the aim of attracting younger and wealthier travellers. The brand partnered with digital artists to allow three lucky individuals to win one of the NFTs and 200,000 rewards points for Marriott Bonvoy. They aim to continue building a digital presence with NFTs to engage and incentivise customers and members.
Elsewhere, Latvia's AirBaltic holds the title of being the world's first airline to issue NFTs. Its artwork collection, launched last year with OpenSea, the world's largest NFT marketplace, features a range of lesser-known Latvian towns and cities, which will effectively serve as a tourism campaign for them.
And if you want to be really meta (verse), you can even 'stay' in the world's first NFT hotel. The Crypto Hotel exists only in digital form, on the blockchain, and can therefore be visited anytime, from anywhere. It's got 100 rooms – many with views onto a beach – and a string of facilities from a pool to a golf course, casinos, spa and conference rooms. It's also sustainable, with a crypto farm and crypto garden, solar panels and wind power – all beautifully rendered in colourful pixels. Ah, you can almost feel the (digital) sun on your face…
So is this really going to be the future? "I think NFTs hold much potential for the travel industry," acknowledges Jenny Southan, founder of travel forecasting company Globetrender. "As the metaverse evolves, and travel companies, hotels and destinations decide to have a virtual presence, the need for NFTs will become more obvious. We are at the beginning of something huge."
Illustration by Cami Ruohonen