The best vintage shops and markets in Amsterdam
Last updated: July 3, 2023
From rails of retro clothing to renowned flea markets and pre-loved denim, discover the best vintage shops in Amsterdam
The Dutch capital may not be as renowned for style as Paris or London, but Amsterdammers can put together a fit or two. The smorgasbord of subcultures, nationalities and thriving creative industries gives the city a laidback sense of style, with a focus on quality and simplicity.
Amsterdam is home to an excellent selection of vintage shops, which meet the increasing demand for conscious consumption and second-hand clothing. These are scattered across the main areas of the city, but most are concentrated between The Nine Streets, the best shopping area in Amsterdam, and the neighbouring Jordaan, where you'll also find a handful of beautiful boutique hotels. Pre-loved fashion finds a home in the De Pijp neighbourhood, noted for its independent boutiques, while those looking for a retro bargain can rummage through the heaps of vintage clothing at one of Amsterdam's renowned flea markets. Afterwards, reward your efforts by visiting one of these brilliant bars or recommended restaurants.

The Nine Streets
Concrete Matter
Best for: unisex workwear
Address: Gasthuismolensteeg 12, 1016AN, Amsterdam
The Amsterdam outpost of Concrete matters is smaller than its sister store in Haarlem, but still offers shoppers an excellent blend of new and vintage unique items with a classic workwear sensibility. The collection focuses on unisex vintage jackets, collegiate outerwear and sweaters and well maintained French workwear in a classic cobalt blue shade. New items are equally well selected, including a range of tailored trousers, outerwear and t-shirts. The staff are always keen to chat through styles and sizes, and the interior layout of the shop feels like walking into a very chic hunting lodge, or an Ivy league dorm room circa 1970.
concrete-matter.com

Episode
Best for: affordable vintage, casual clothing for men and women
Address: Berenstraat 1, 1016 GG Amsterdam
Episode is a chain of more traditional vintage shops across the city, but the best kept and least chaotic is the Berenstraat location on the edge of The Nine Streets. It offers a wide range of affordable retro wool jumpers, sweatshirts and vintage T-shirts, varying in quality and style. A short-sleeved, second-hand plain shirt is around 15 euros, to give an indication of price. Episode is similar to Rokit in London, or the Brighton Lanes. Although the curation doesn't change often, and it caters very much to the mass shopper more than the eagle-eyed vintage dresser, there is always something to be found if you are patient enough to comb through the stock.
episode.eu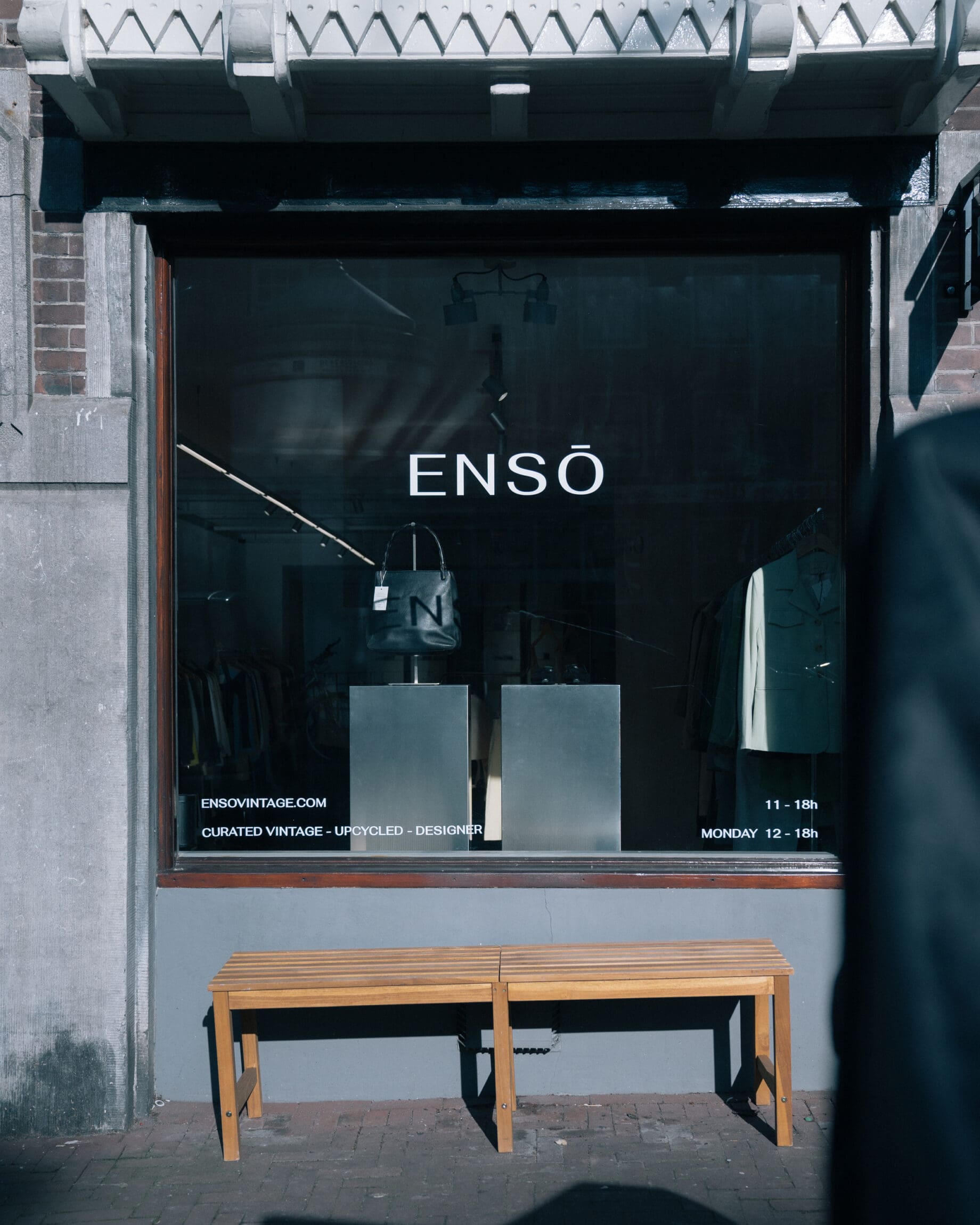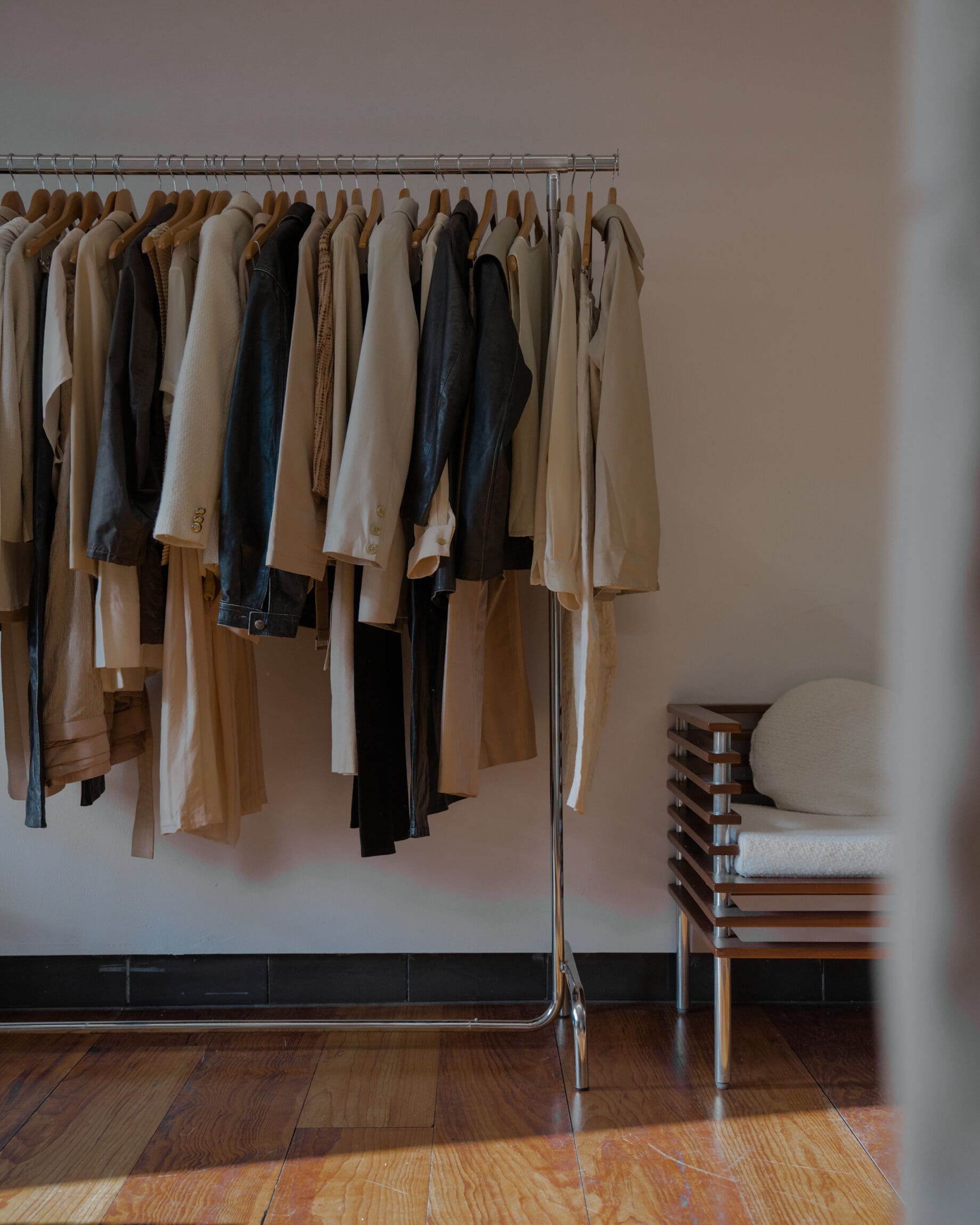 Jordaan
Ensō
Best for: laidback, classic European pieces for women
Address: Elandsgracht 12H, 1016 TV Amsterdam
Ensō has a concise offering of vintage clothing, curated to fit the classic Amsterdam style, which is – at least currently – inspired by the chic monochromatic looks of Scandinavia. Think oversized linen, great tailoring and neutral shades. Rotating stock often includes timeless pieces such as long trenches, suit trousers and cashmere sweaters. Enso's founders, Andrea & Liseth, champion a circular fashion model, mixing vintage clothing with upcycled pieces. Ensō collaborates with a local atelier to re-make and modernise vintage shirts and tops, thus giving them a new lease of life.
ensovintage.com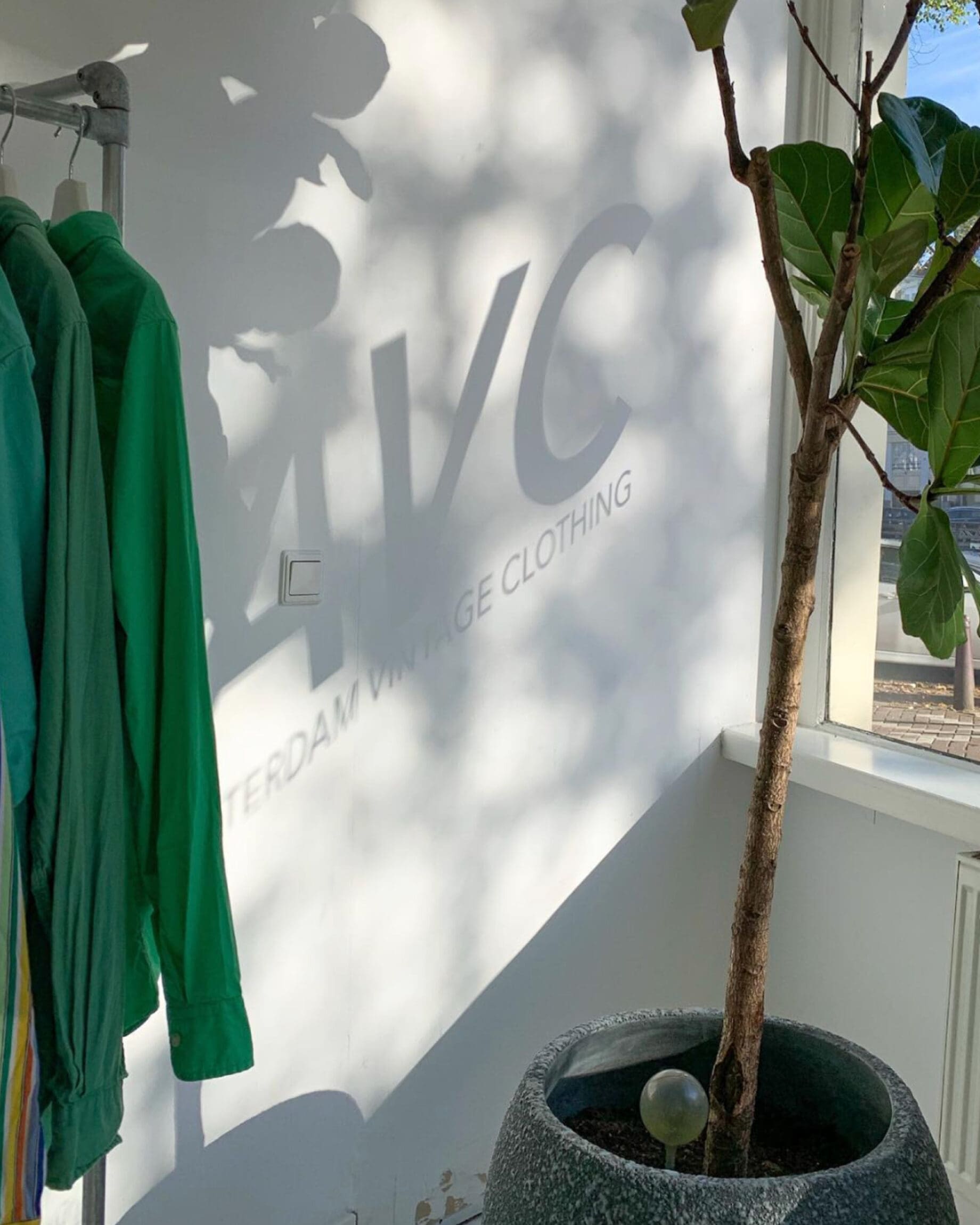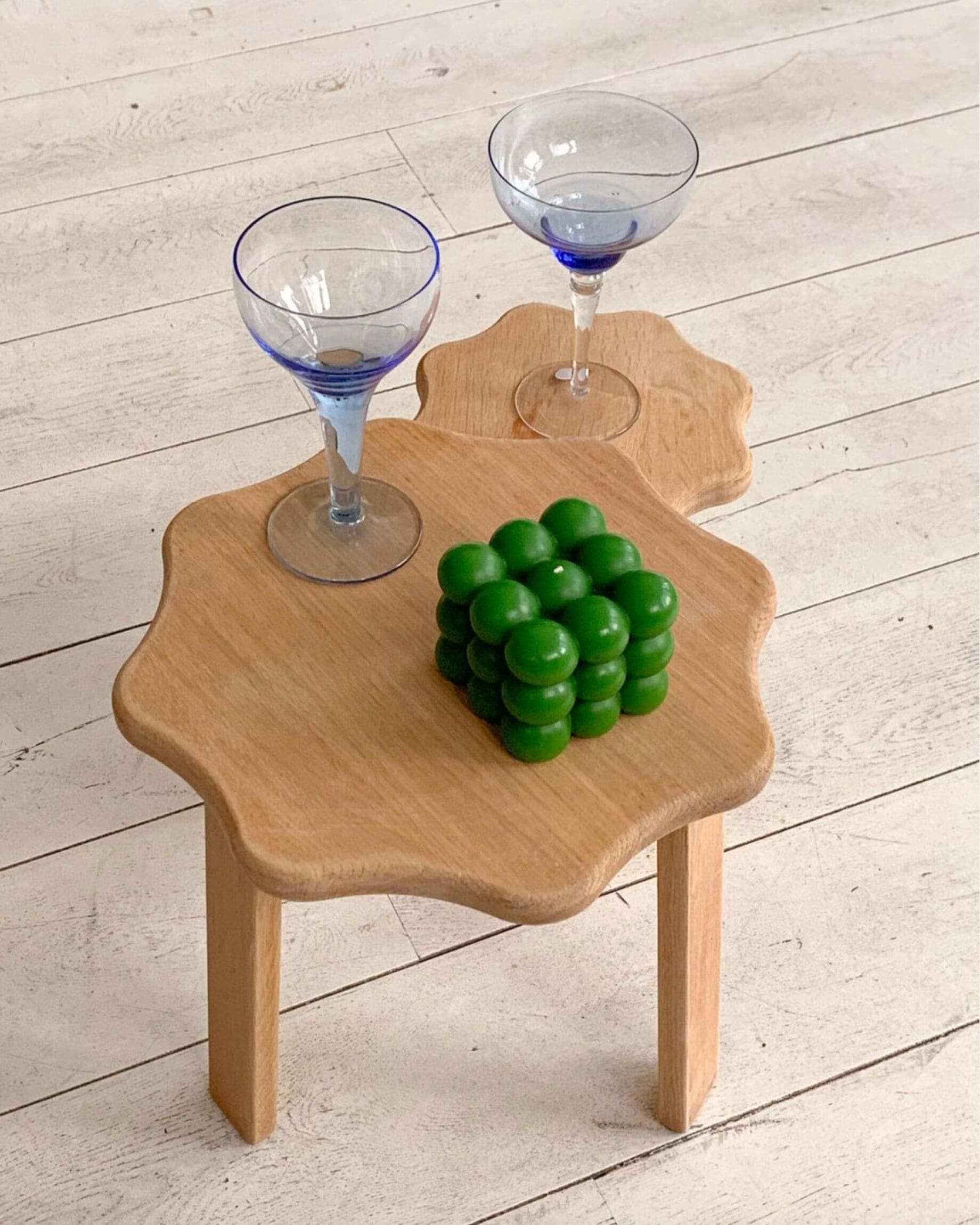 Amsterdam Vintage Clothing
Best for: Y2K fashion for men and women
Address: Prinsengracht 226. 1016 HD Amsterdam
Amsterdam Vintage Clothing, also known as AVC, offers its shoppers a trend-centric curation with a streetwear aesthetic, focusing on brands such as Ralph Lauren and North Face. Pre-loved nineties fashion and Y2K dominate the racks, drawing a younger clientele. Browse a broad selection of sweatshirts, polos and jackets, with a smaller offering of trousers. AVC also holds some designer surprises, with high end pieces from Maison Margiela and Comme des Garçons between the shelves too.
amsterdamvintageclothing.com
Mokum
Best for: rare trainers and streetwear
Address: Rozengracht 25, 1016 LR Amsterdam
Much like AVC, Mokum focuses on streetwear and designer vintage labels, including rare pre-loved pieces from brands such as Patta and Supreme. What really sets Mokum apart is its impressive retro trainer collection, including iconic Nike styles. The team sources some seriously sought after sneakers, which are revealed regularly on Instagram. Alternatively, take a gamble and ask the staff what pairs they have available in your size, you'll be sure to come away with something unique.
mokumvintage.com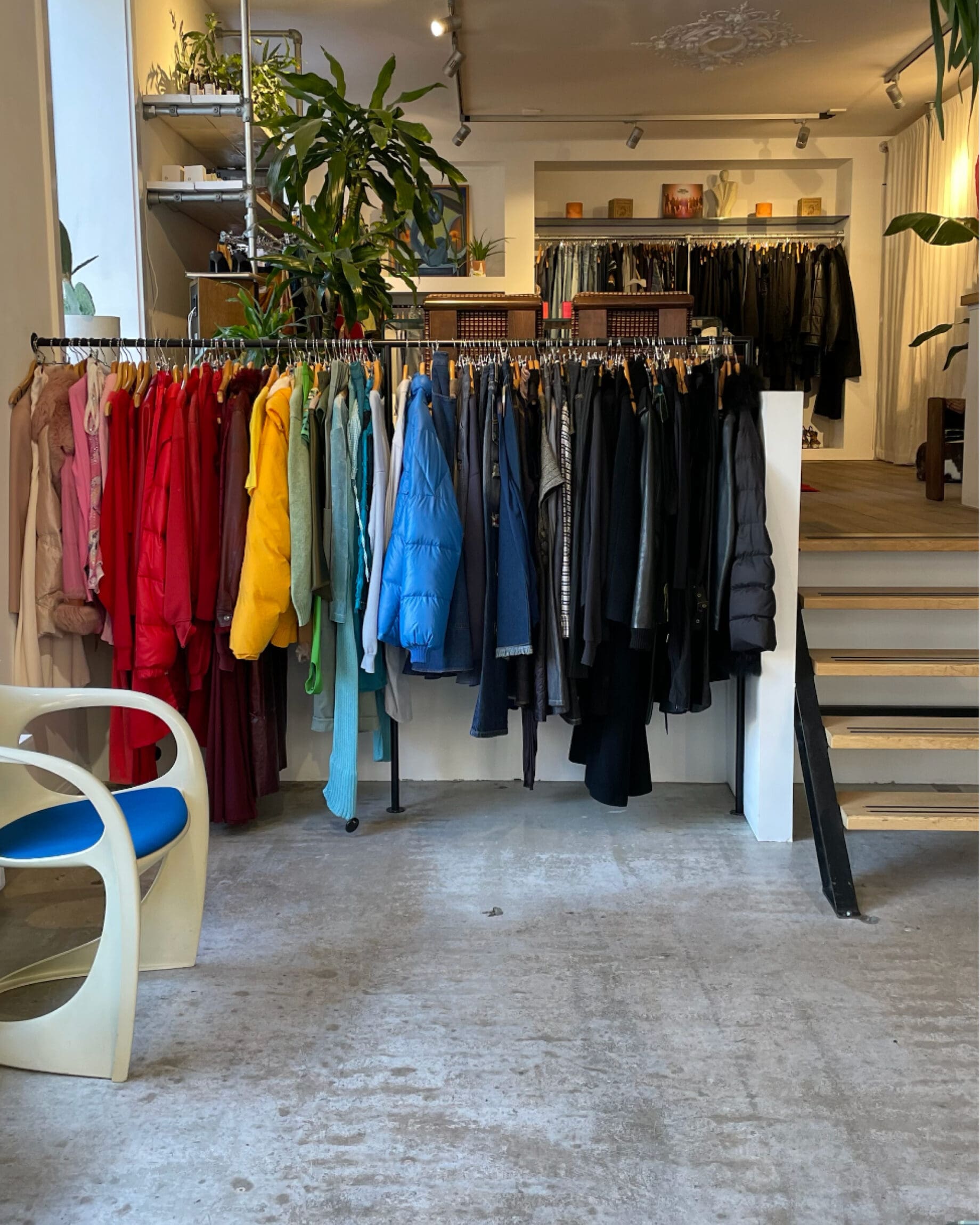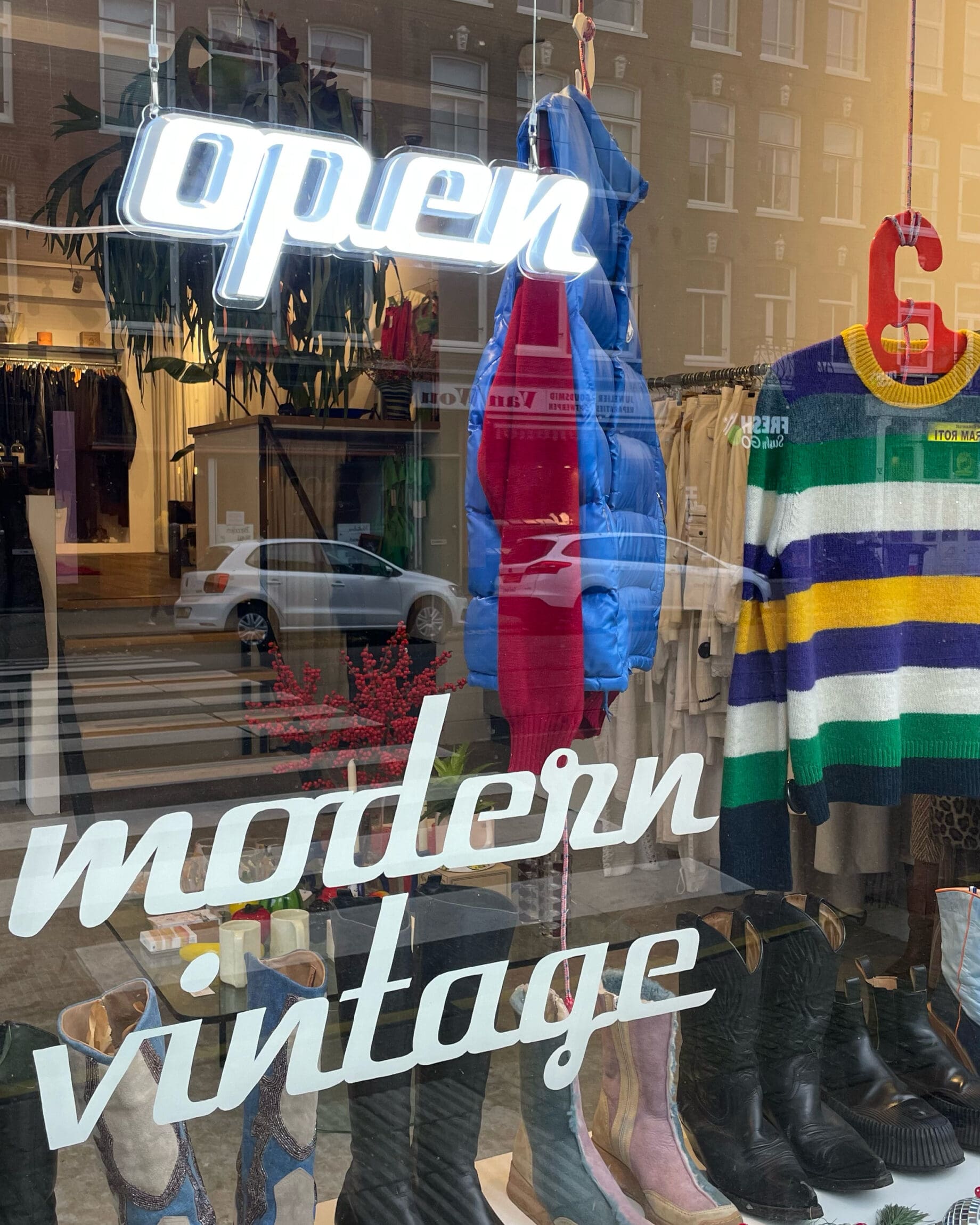 De Pijp
Lucille
Best for: upmarket vintage clothing and homeware
Address: Van Woustraat 52 H, 1073 LM Amsterdam
Owned by an American expat duo, Lucille showcases a boutique curation of contemporary vintage fashion for women, including accessories and shoes. Alongside unique vintage pieces, it stocks local and small batch beauty products, candles, and a wonderful collection of well priced homeware pieces – something much trickier to come across in Amsterdam.
shop-lucille.com
Amsterdam-Zuid
Salon Heleen Hulsmann
Best for: designer vintage
Address: Jacob Obrechtstaat 18, 1071 KL
Salon Heleen Hulsmann beautifully curates a selection of designer vintage pieces. The elegant space feels more like a showroom than a shop, with pre-loved Prada and Hermès, as well as contemporary houses like Acne, The Row and Nanushka. The accessory collection comprises arm candy by brands including Celine and Gucci, alongside statement sunglasses from Chanel. Salon Heleen Hulsmann is open by appointment only Monday – Thursday, and for walk-in browsing on Friday and Saturday.
salonheleenhulsmann.nl
Centrum
Ckx studio
Best for: vintage denim
Address: Sint Annenstraat 6, 1012 HE Amsterdam, Netherlands
Shopping for new (but old) jeans is usually an exhausting experience, but two of Amsterdam's best vintage shops make the process more enjoyable. Ckx studio's tagline is, 'a concept store where (almost) everything is blue' – and this includes denim. It is stacked with jeans from iconic brands including Levi's, Wrangler and Lee. If trying on several pairs causes your energy to lag, customers can order an indigo blue latte from the shop's take-out coffee corner. Original vintage denim is accompanied by reworked items, alongside European vintage workwear pieces and indigenous made turquoise jewellery. The shop is centrally located in the historic Blaauwlakenblok (blue cloth block) district, where the city's dye shops were traditionally found.
ckxstudio.com
Marbles Vintage
Best for: retro clothing for men and women 
Address: Haarlemmerdijk 64, 1013 JE Amsterdam, Netherlands
There are three Marbles Vintage shops across the city, but the Haarlemmerdijk outpost is most accessible to those visiting the city. Joining the area's independent boutiques, it's stuffed full of vintage T-shirts, retro dresses, tasselled suede, denim, cowboy boots, shearling jackets… you name it, it's here. Rake through the rails of retro clothing and come away a full outfit (or two).
@marblesvintage

Mood Indigo
Best for: Japanese selvedge denim, Americana workwear
Address: Nieuwe Hoogstraat 8, 1011 HE Amsterdam
A couple of canals over from Ckx studio is another vintage denim destination in Amsterdam. Mood Indigo is the epitome of Americana workwear and a real treasure trove for long-lasting vintage staples. Contemporary brands such as Pendleton, Woolrich and Carhartt are stocked alongside Levi's and the like. The Mood Indigo team is particularly diligent about the quality of the items on sale, and you'll find a lot of deadstock (unworn vintage, usually with tags) amongst the racks too.
For denim connoisseurs, Mood Indigo stocks a brilliant edit of Japanese selvedge denim. Jeans aside, its Americana style extends to leather jackets and waistcoats, gilets, cowboy boots, and an excellent curation of t-shirts and vests.
moodindigo.nl
Vintage flea markets
Waterlooplein market
Best for: retro bargains 
Address: Waterlooplein 2, 1011 NZ Amsterdam
Amsterdam's famous flea markets offer vintage clothing at affordable prices. The Waterlooplein market runs Monday to Saturday, and the number of sellers depends mostly on the season and the weather. The stalls vary in size and quality, and the majority are cash-only. If you have the stamina (and it isn't raining), you can find some gems for a lot less than you'll pay in any of the shops listed above. It definitely isn't all vintage – you'll see 2012 H&M muddled between nightgowns and old football shirts, alongside a good smattering of tourist tat. But if you are diligent in your rummaging, you might uncover ten euro retro summer dresses, vintage boots and pre-loved leather jackets. The stock changes seasonally to match the European weather.
waterlooplein.amsterdam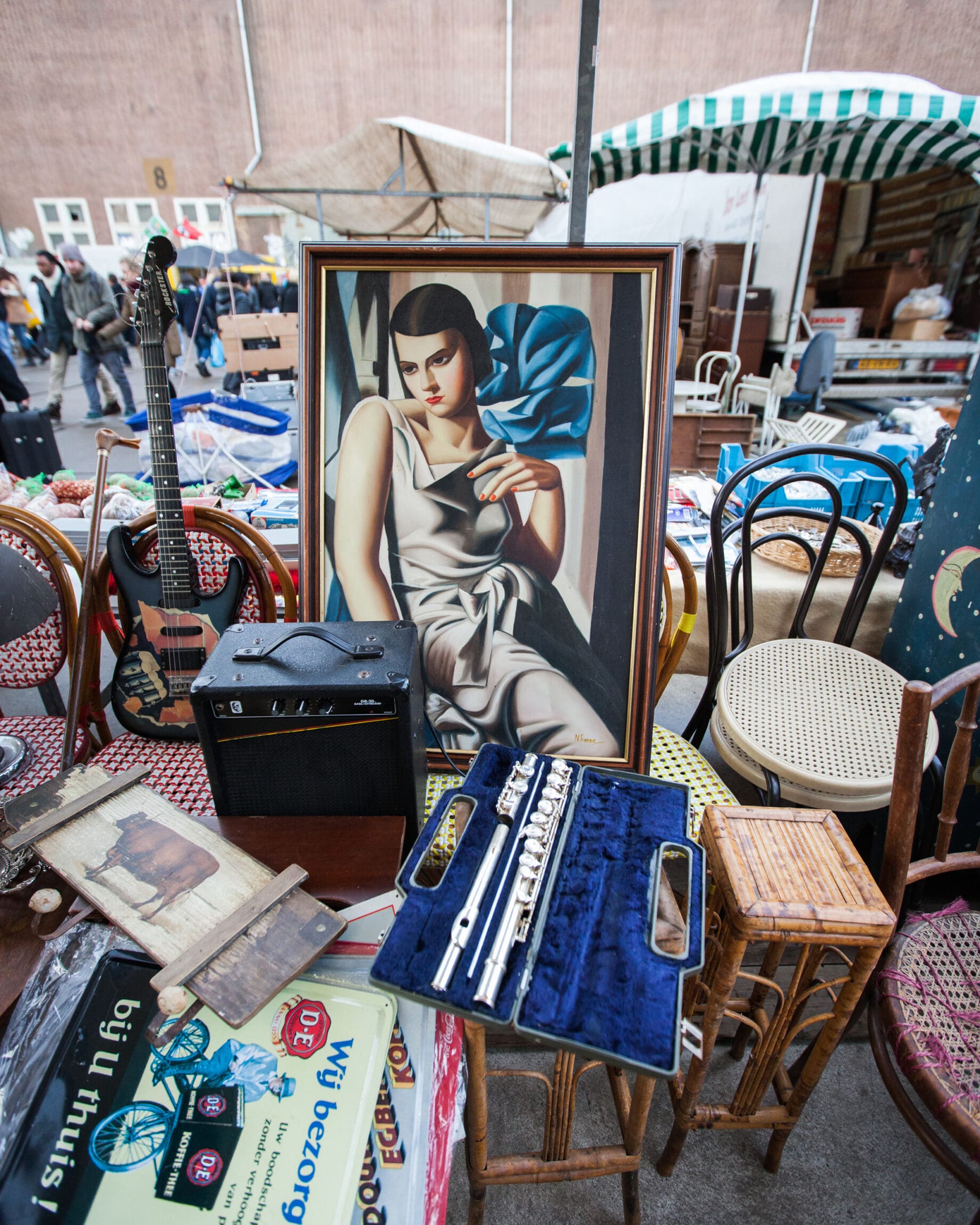 IJ Hallen
Best for: absolutely everything, in Amsterdam Noord
Address: T.T. Neveritaweg 15, 2012 ZM Amsterdam
Some of the Waterlooplein sellers will also ply their wares at the much bigger monthly market, the IJ Hallen. The largest of its kind in Europe, the flea market typically takes place once a month and is held at an old industrial yard in trendy Amsterdam Noord. The best (and most unique) way of getting there from the city centre is via the free ferry boat from central station. Arrive before 10am if you are serious about finding the cream of the vintage crop. The strictly secondhand offering is expansive, including high-end stalls hung with designer vintage, such as Burberry trenches and Ralph Lauren waistcoats. There is an extensive collections of retro wool jumpers from the UK and Germany, alongside vintage T-shirts and shoes. Prices varies hugely between sellers, and many accept payment via iDEAL and Paypal. Like Waterlooplien, it is not just clothes on offer – records, mid-century modern furniture, old toys, trinkets, IJ has it all. Refuel at one of Amsterdam's best bars or restaurants when you're done.
ijhallen.nl/en


JOIN US FOR THE JOURNEY
Subscribe to the newsletter
City guides, culture, photography and ideas, with expert analysis on the biggest stories in travel