A weekend allows just enough time to take a one-hour train ride from London to revel in Brighton's free spirit, creative streak, and sunny disposition
We've been labelled 'London By The Sea', and yes, we've even got a Soho House now. But the seaside city of Brighton is its own brand of wonderful, home to a cluster of creatives, anarchists and loveable weirdos (often all of the above). Its unsquashable spirit lies in its fiercely protected independence, naked bike rides, winter solstice Burning of the Clocks parade, (enthusiastic) participatory busking scene, punk roots, altruism and being home to the UK's only Green Party MP.
Life revolves around the promenade that runs the length of Brighton's pebbled beach, which is essentially one massive town square and the best place to take in the diverse local community, from the ever-enthusiastic Hare Krishna brigade to the hardcore parkour crew leaping from bollard to bollard.
Oh-so-serious pétanque players meet not-so-silent disco tours; protesters come face-to-face with the costumed stag do contingent; and it all takes place against the backdrop of the sea, which hosts stoical year-round swimmers and out-of-towners, who soon learn why it's best not to eat from an open tray of chips on the beach (more on which later).
When it comes to Brighton (and neighbouring Hove), there is no shortage of things to do, from vintage shops and plant-based restaurants to art galleries and its famed beach, alongside a tempting array of boutique hotels to rest your head. Here's what you need to know to plan the ultimate weekender: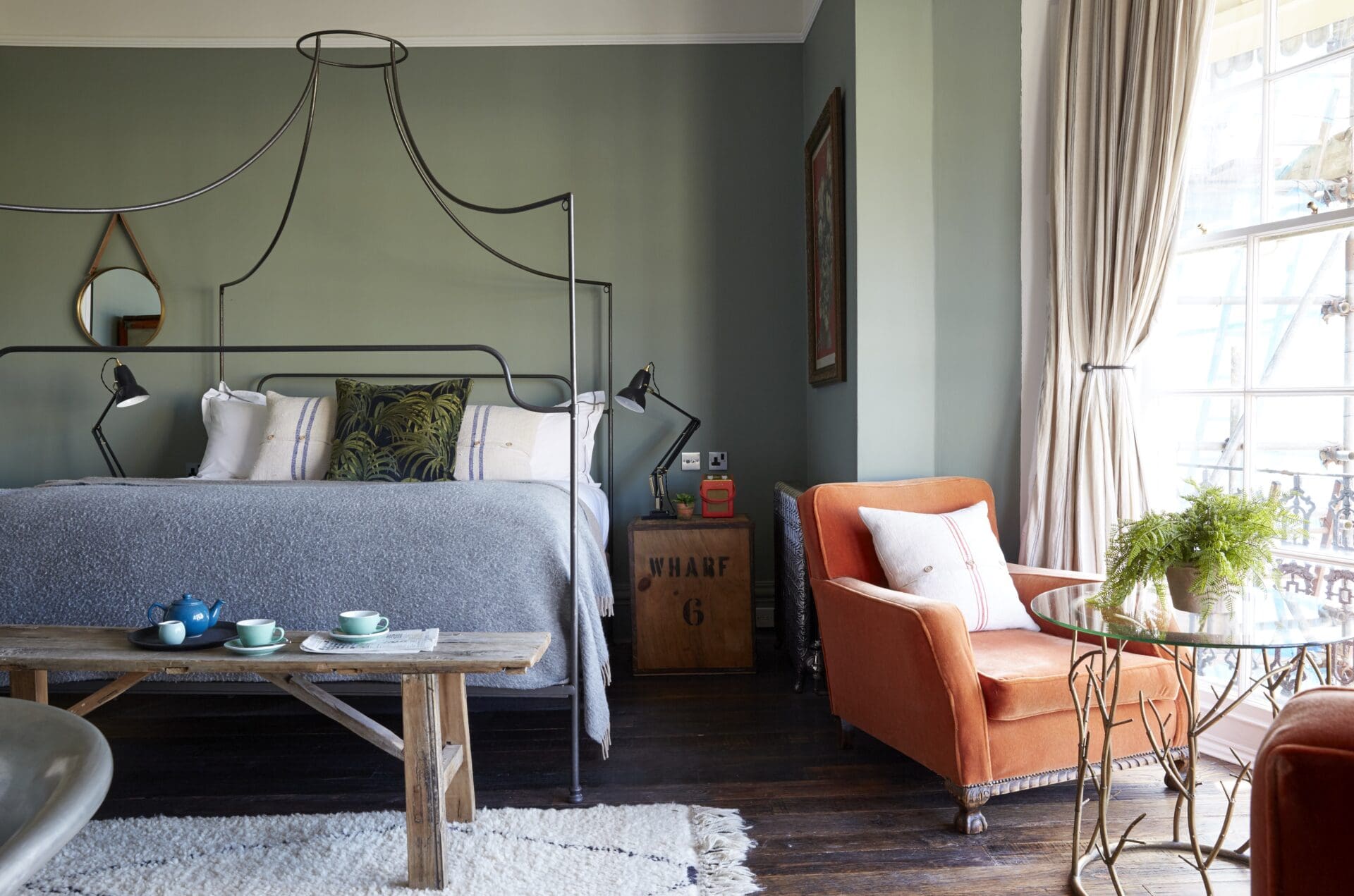 The best hotels in Brighton
There's nothing like waking up to the echo of seagull cackles on a languorous Sunday morning. Brighton's boutique hotel staples include the secretive-yet-central Artist Residence, cosy bolthole The Ginger Pig (tehcnically in Hove), Drakes with its romantic roll-top baths and sea views, and Hotel Pelirocco with its quirky rooms and unique vibe (the Lovers Lair suite has a mirrored ceiling and pole dancing area). Since it opened in 2020, Selina Brighton has held entertaining events and talks hosted by Brighton personalities in its 'Amy's Room' hotdesking-event space.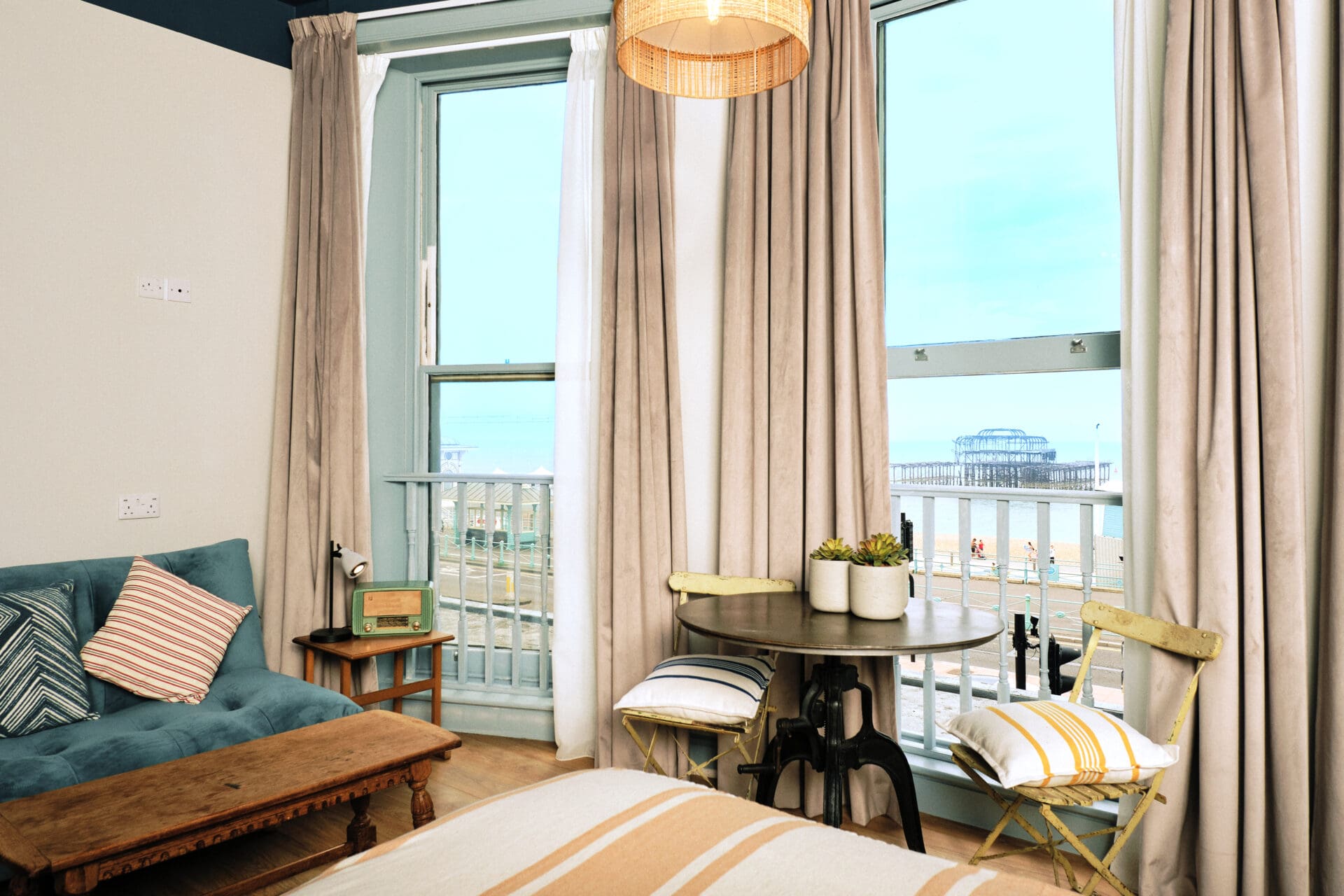 Brighton's backstory
From a hedonistic playground for George IV to a battleground for mods and rockers, Brighton has long set the stage for acts of rebellion, progressive ideals, and alternative cultural moments. Stroll through the cobbled streets of the North Laine, where the street art, thriving plant-based restaurants and independent businesses have blossomed from the city's subversive roots. Running until March 2023, the community-curated Queer at the Pier exhibition at the Brighton Museum celebrates the ordinary people that made local LGBTIQA+ history, while at the other end of the culture spectrum is the domed Royal Pavilion next door, which served as George IV's bachelor pad and later a military hospital for more than 2,300 wounded Indian soldiers during the First World War.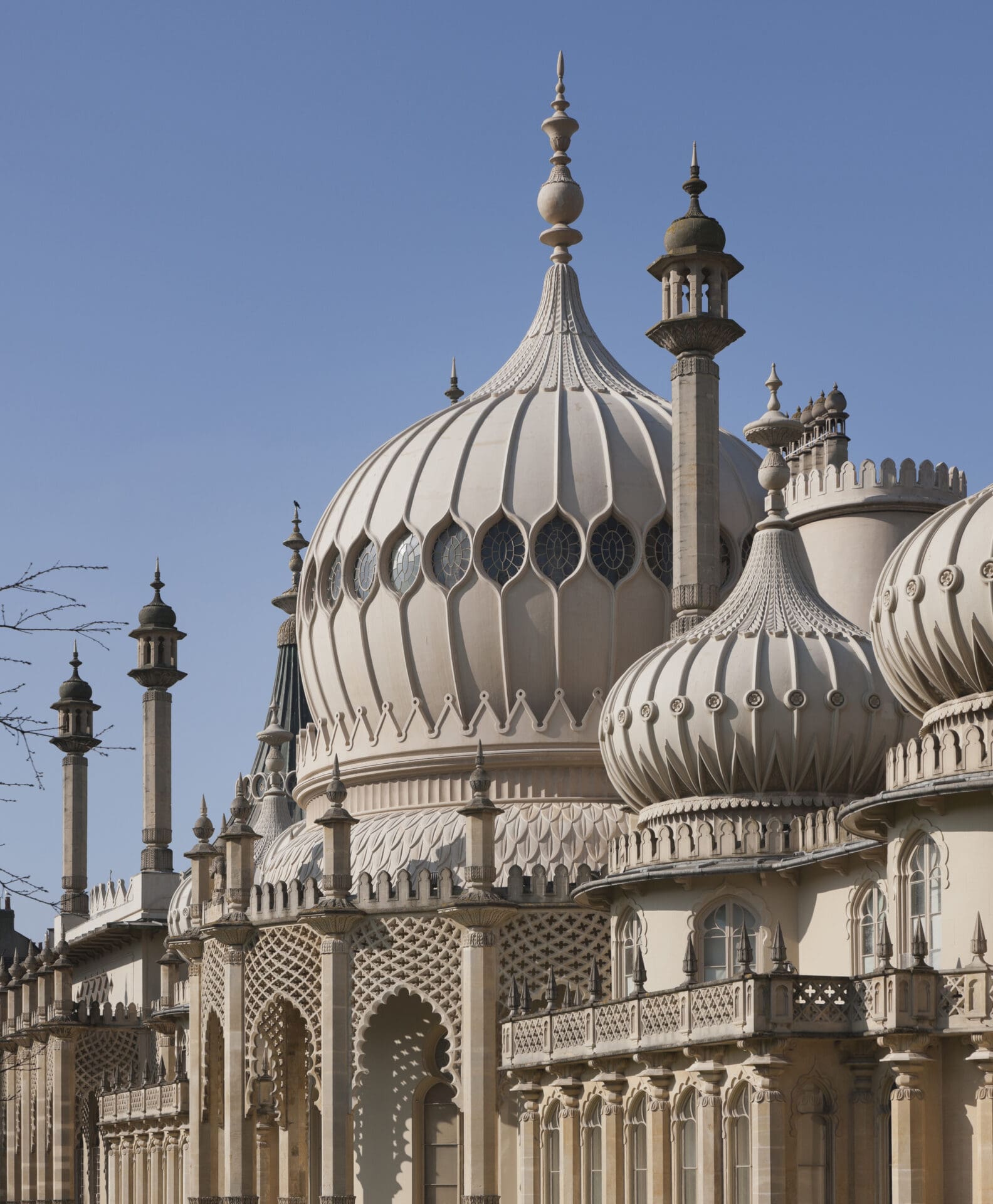 Art and culture
Brighton's galleries are mostly small but perfectly formed, like Paxton + Glew (which specialises in miniature artworks) and ONCA. But artwork also permeates the cityscape – such as the neon rainbows by muralist Lois O'Hara, or the Adventure Time street art by Sinna One that covers the Prince Albert pub, which is also where you'll find Banksy's iconic Kissing Coppers. Visit in May, and Brighton pulses with creative energy from The Great Escape, Brighton Fringe, and the Brighton Festival (in the past, it's seen everything from a synchronised swimming interpretation of Shakespeare's The Tempest in the local pool, to a 500-branch pop-up forest by Olafur Eliasson inside church-turned gallery Fabrica). The pandemic has been tough, but fortunately has spared precious venues including the Grade II-listed Duke of York's Cinema, Komedia,  Phoenix Art Space and The Spire.
Pride
It's finally back after a two-year hiatus. Taking place over the first weekend of August, Brighton and Hove Pride is a riot of (sustainable) glitter, rainbows and parties; and a weekend-long, city-wide celebration of freedom and human rights. Though it's rightly criticised for its commercialism, the festival's community parade also sets the stage for important activism, including the powerful, moving statement from #LWithTheT in 2018. The volunteer-run Trans Pride Brighton takes place annually in July, and is the first and largest Trans Pride event outside of the US.
The best restaurants in Brighton
Brighton's prodigious culinary offering focuses on understated quality over hype, and stand-out dishes to be discovered in unassuming places. The best restaurants in Brighton include O'Shio for excellent Korean and Japanese food, Med for cleverly crafted mezze and cocktails, Goemon on Preston Street for gyoza, The Pond for bao buns,  Fatto A Mano for Naples-style pizza, The Coal Shed for steak, and Shelter Hall along the seafront for just about anything, with a side of sunset sea views. For grab-and-go lunches, head to Idyea for moreish vegan enchiladas, Happy Maki for vegan sushi burritos, and Burger Brothers for the best burger in Brighton (the Jennifer Buffalopez burger at Bok Shop is a close second).
The best bars in Brighton
A great central spot for kicking off a night of carnage is the Wagon & Horses on Jubilee Street, where you can easily hop between the electric atmospheres of  William the Fourth, Mrs Fitzherberts  and the Mash Tun – the latter is infamous for the celebrity death board above its bar. The Basketmakers Arms is a special pub, with its walls adorned with tin boxes that you can open to read messages past punters have scrawled and left to be discovered, and leave some of your own. For cocktails, walk down the skinniest -ever alleyway to reach the hidden Twisted Lemon. For Soho House members and their fortunate companions, the main club area at Brighton Beach House is great for a balmy day. Its décor thoughtfully incorporates Brighton's personality, featuring the same minty green hues as the city's railings, artwork and furnishings by local creators, and an open-air pool facing out to the Palace Pier, tiled with a mosaic banana designed by David Shrigley.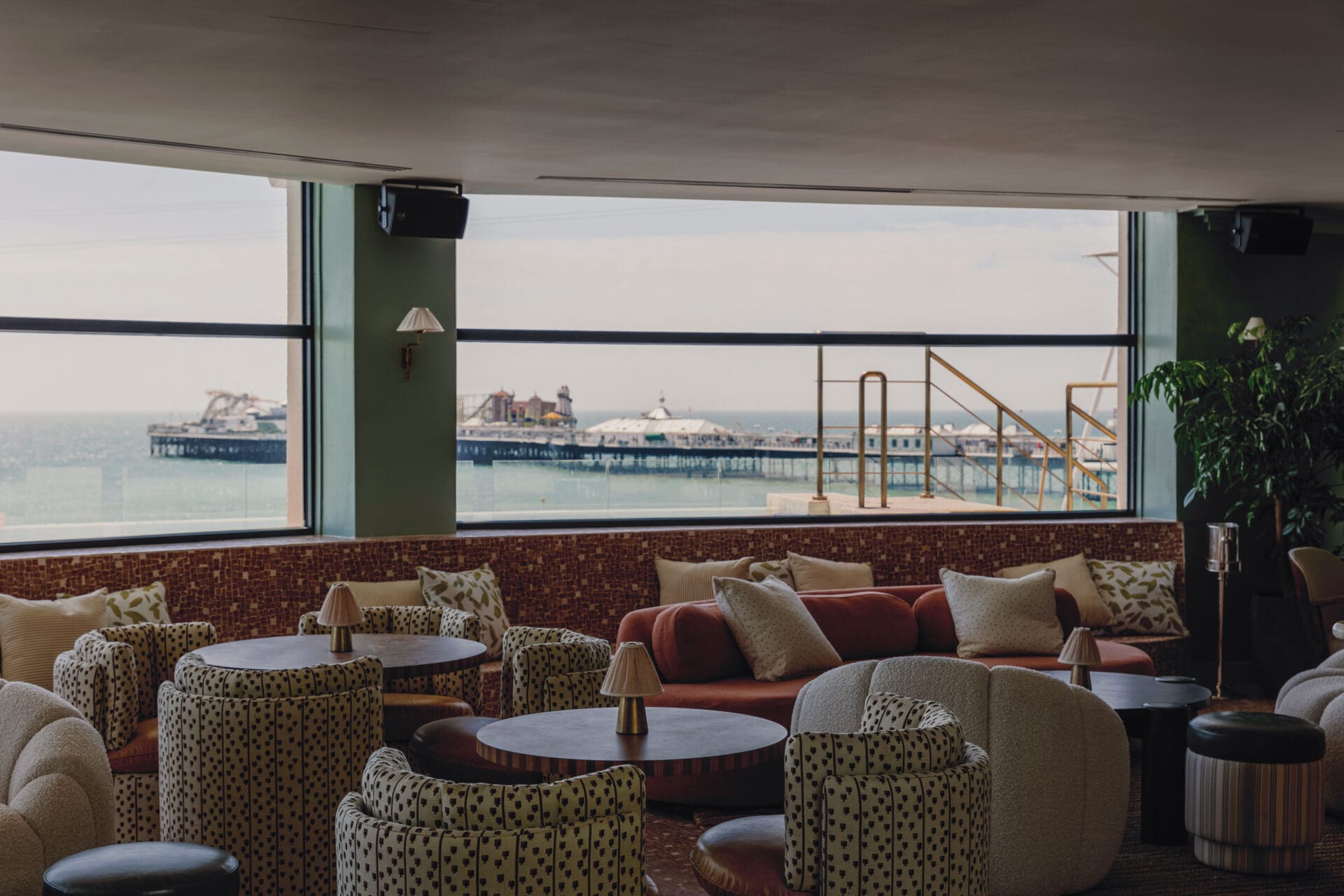 The best shops in Brighton
Brighton is a mecca for vintage and independent wares. Connected by zigzags of colourful bunting, the North Laine is my favourite place to shop in the entire world. It's where you'll find Lust – the family-run sex store chronicled in Channel 4's A Very British Sex Shop – and the bountiful Snooper's Attic, a vintage shop where you enter through a turnstile to find a sprawling treasure trove packed with eccentric, one-off, pre-loved objects begging to be taken home (singing robotic lobster, anyone?). The beauty is shop-hopping and seeing what you stumble upon, but top recommendations are Enter Gallery for aspirational art prints, JuJu and FOLD for covetable independent clothing, and Abode for wabi-sabi homeware. Over in the more upmarket, warren-like South Lanes, you'll find handmade jewellery at Aquila, dreamy vintage outfits at Hope & Harlequin, and wardrobe-defining finds at Our Daily Edit.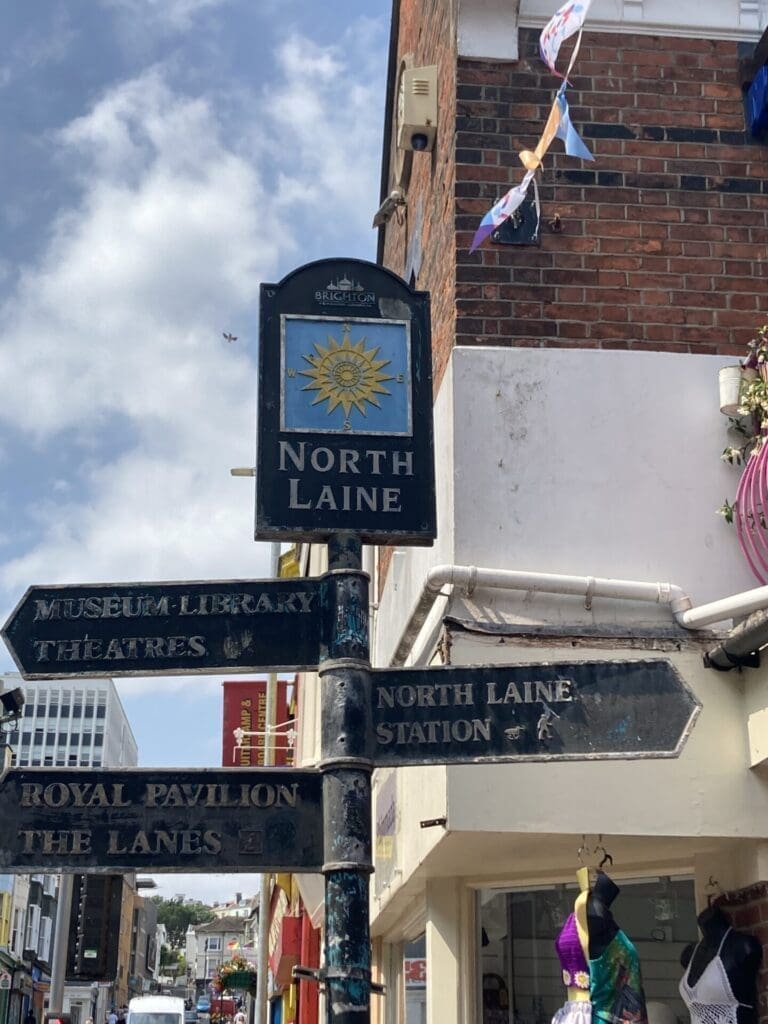 Green space
For a short but sweet visit to the beautiful South Downs, take the 77 bus from the Palace Pier to Devil's Dyke. Wondering where the name comes from? According to folklore, satan himself began digging a trench in the rolling hills to try and flood the local churches, thereby creating the v-shaped valley we have today (scientists put it down to river erosion and tens of thousands of years of movement from thawed snow.) Wander down from the bus stop towards the village of Fulking and pop in the Shepherd & Dog for a top-tier roast and tranquil beer garden (definitely pre-book), or in the opposite direction towards Sadddlescomb for flint-walled Wild Flour Café, which serves handmade cakes and artisan coffee from a caravan trailer.
The beach
Sandy it is not. But in good weather, Brighton's grey pebbled shoreline suddenly morphs into the most desirable spot in the UK, whether it's packed to the max with crowds for a Fatboy Slim set, or the near-naked sun worshippers that make a tabloid splash during every British heatwave. Dating back to 1882, The Fortune of War is the oldest and most characterful pub nestled under the arches by the beach, while the Loading Bar gaming cafe has everything from classic SNES games to Carcassonne. Fans of being on the water can rent paddle boards for 15 GBP per hour, or hop on a catamaran for a tour of Rampion Wind Farm, where 116 turbines spin proudly 20km away from the coast. And if you're opting for a beach picnic, keep an eye out for dive-bombing seagulls – fortunately Deliveroo is set to start trialling a Chipwatch service to cover diners' backs.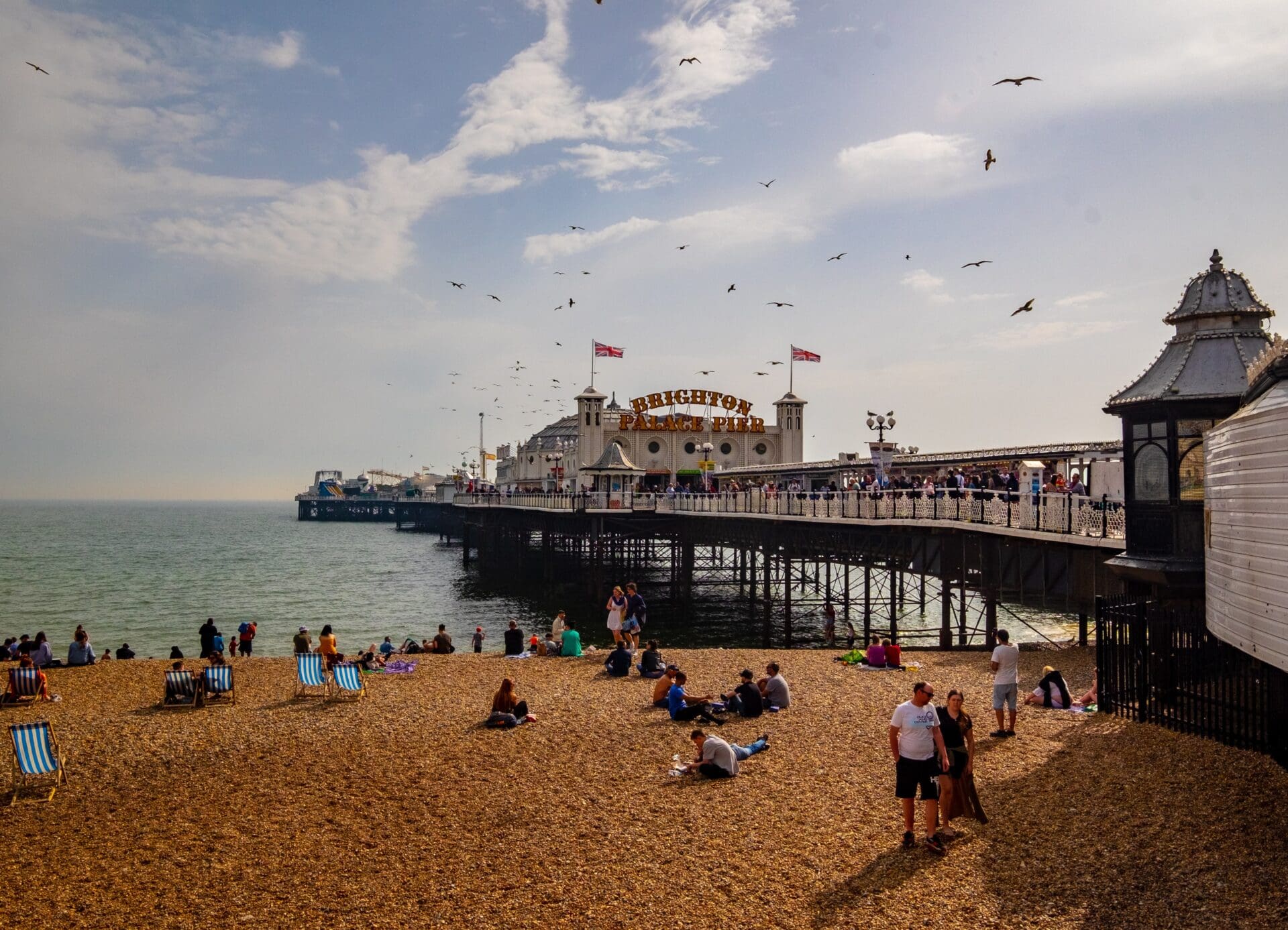 The pier(s)
The skeleton of Brighton's West Pier is hauntingly beautiful. It mysteriously burnt down in 2003 and has sadly never been restored to its Victorian glory. A turn along the loud-and-proud Palace Pier is worth it for the nostalgic British seaside time warp, the aroma of hot doughnuts pierced with notes of vinegary chips, and the hilariously crap Horror Hotel that still makes me jump out of my skin. At sunset, the Palace Pier is the place to watch the mesmerising starling murmuration. The hundreds-strong swarm of fluttering birds gently twisting and turning against a sherbet-hued sky is something to behold.
Trains from London to Brighton take about an hour; southernrailway.com


JOIN US FOR THE JOURNEY
Subscribe to the newsletter
City guides, culture, photography and ideas, with expert analysis on the biggest stories in travel