The Isle of Wight's gold-sand beaches, unspoilt fishing villages, artistic legacy and water sports make for an ideal weekend break from London
The Isle of Wight feels a world apart from the rest of the UK. A largely rural, place-out-of-time bolthole, set across the Solent from England's south coast, it was long written off as a retro seaside retreat. And while "Cornwall a decade ago" remains an accurate appraisal, it now strikes a keen balance between rugged and urbane, with an ascendant cultural scene and genuinely good food among the winsome beaches, megalith-dotted downland, and placid fishing towns.
What's more, it's easily digestible in a weekend; far closer to London than the distant reaches of Devon and Cornwall; and conspicuously less heaving with fairweather townies (which also means restaurant and hotel bookings aren't as hard to come by as in Rock or Salcombe).
West Wight is inarguably the more engaging side and, while it's not large (it takes about an hour to drive across, or three to drive around), public transport is woeful, so to really make the most of it you'll need a car, which can be brought over via ferry from Southampton, Portsmouth or picturesque Lymington (there are also catamaran and hovercraft transfers, and journeys take from 10 minutes to an hour). 
Those things considered, here's our pick of the best the island has to offer for the informed weekender.
The best hotels and other places to stay
The Isle of Wight's provision of boutique hotels is on the up: The George in Yarmouth, The Hambrough in Ventnor and especially North House in West Cowes, which boasts a restaurant by the Isle's Michelin poster boy Robert Thompson, are the most bijou. More interesting is Tapnell Farm, an eco glamping hub (in pods, lodges and geodesic domes) set in a ludicrously pastoral position overlooking the Solent. The ascetic traveller, meanwhile, should pitch at Compton Farm or Grange Farm campsites, both of which are stumbling distance to the sea. 
The best restaurants on the Isle of Wight
Long stalled during the '80s, the Isle's restaurant scene is now on the ascent, chivvied along by some truly excellent homegrown produce (most famously its tomatoes, which are frenziedly gobbled up at hip London restaurants). Yarmouth's The Terrace is an inventive, seasonal modern European joint overlooking the marina, with a wine list that skews gently natural. Itinerant Sloanes strike west to The Hut in Colwell, a thrumming beachside spot specialising in rosé magnums and decent seafood. The alfresco True Food Kitchen at Castlehaven, near Niton, is a serene gem – hawking pan-Asian titbits like Korean fried chicken and poké bowls above the waves.
Artistic legacy
From JMW Turner's first Royal Academy display in oil – an eerie, moonlit fishing scene at The Needles – to land-art pioneer Richard Long perambulating the island for a 1982 'textwork', the Isle has long acted as a muse to artists. There's still plenty of tangible stuff for the enlightened visitor to see, from the fine Pre-Raphaelite stained glass at St Olave's Gatcombe, to multidisciplinary shows at Newport's Quay Arts, and a museum in Ryde dedicated to Donald McGill, king of the 'saucy seaside postcard', whose cartoon works were so priapic that the 1950s Conservative government attempted a crackdown, and on whom George Orwell wrote a seminal essay (pun intended). 
Culture and music festivals
The revived Isle of Wight Festival might be the county's most high-profile event – maniacally giant headliners like David Bowie, Fleetwood Mac and Bruce Springsteen have performed over the years – but it's not exactly cerebral. Lucky then that there's a plethora of smaller and more esoteric events to plan a trip around. Of particular note are the multidisciplinary Ventnor Fringe, a week-long programme of leftfield music, art, and theatre in the island's boho go-to; the compact world music weekender Rhythmtree; and a beloved and well-curated literary festival, as well as lower-key folk, jazz and blues shindigs throughout the year.
The outdoor life
'All this beauty is of God,' reads the Isle's official motto – validated now that half of it's a designated area of natural beauty. Breaking varying degrees of sweat is the best way to see it. Sailing abounds (Cowes Week is a racing mainstay) but there are thrilling, messy surf breaks around Niton and Compton, and languid paddleboarding ops at dreamy Newtown Creek. Road cyclists are served by the 68-mile perimeter circuit, and XC fiends by the snaking downhill trails in Brighstone Forest. There's also brilliant (if low-level) hiking, plus one of the country's prettiest and most arduous cross-country races in the Needles Half Marathon. 
Littoral bliss
Seventy miles of coastline means ample good beaches, of which Compton Bay is the classic: an elongated stretch of fossil-dotted sand, tumbledown cliffs, messy surf breaks and great swimming (rip tides notwithstanding). Locals make for the Compton Farm end, served by a small National Trust car park. Following the cliff road westward brings you to Freshwater Bay, a pebbled crescent offering relaxed swimming around moored fishing boats and a seasonal 'beer bus' for snifters. In the island's east, make for the rolling dunes and wildlife haven of St Helen's Duver; or Priory Bay, a shallow idyll backed by acres of woodland.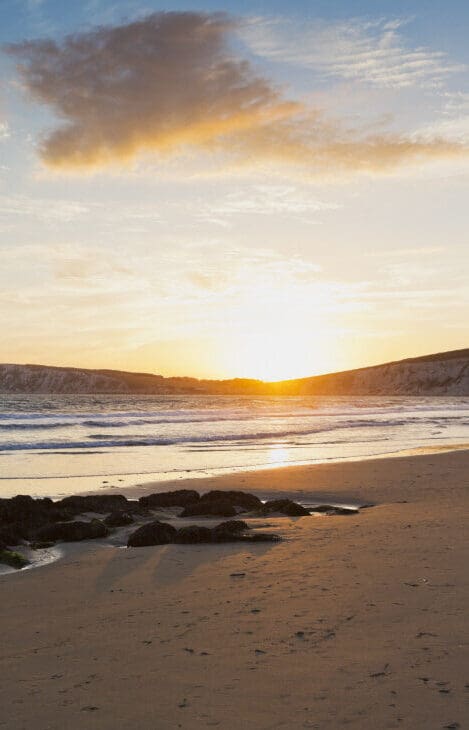 Tranquil boat towns
For a weekend base, swerve the dowdy capital of Newport for the more genteel harbour towns. Each has its own appeal: Yarmouth in the west, and Bembridge and Seaview in the east, are the boaty, rarefied classics; while similarly yachty West Cowes in the north is more bustling and lived-in. Ventnor, to the southeast, is the island's bohemian capital, and itself sits in stumbling distance of rocky Steephill – a halcyon fishing cove, where the Wheeler family knock out crab pasties at a seasonal shack-cafe from Easter until October.  
Lighthouses
With its treacherous undersea shelves and rich smuggling history, the Isle's southern coast is a bona fide shipping graveyard. The lighthouses built to remedy this might now be a tad superfluous, but they're great for eyeballing. The octagonal, three-tier pile at St Catherine's is closed to the public but imposingly pretty (and immortalised in video by the Island's hyped indie chanteuses Wet Leg). Its predecessor, the Pepperpot – a stubby Medieval tower built by a local lord as penance for looting shipwrecked Vatican wine – is perched on downland a mile northwest, and worth the breathless schlep. Out west, the Needles Lighthouse sits inaccessibly at the end of the eponymous chalk stacks, but it's a candy-striped icon nonetheless.
Neolithic sites
The Isle's neolithic heritage and pagan traditions are fundamental to its palpable timeslip vibe. There are myriad ancient burial mounds dotted around – Five Barrows on Brook Down, Gallibury Hump on the rambler's Tennyson Trail, some particularly eerie examples in the depths of Brighstone Woods – but they pale next to the Longstone. Comprising two menhirs – one standing – located between the precipitous rise of Mottistone Down and the sculpted gardens of Mottistone Manor, it was excavated in the 1950s by pioneering archaeologist Jacquetta Hawkes (who lived at nearby Brooke Hill House with the author JB Priestly), and is the Isle's most mystically atmospheric site.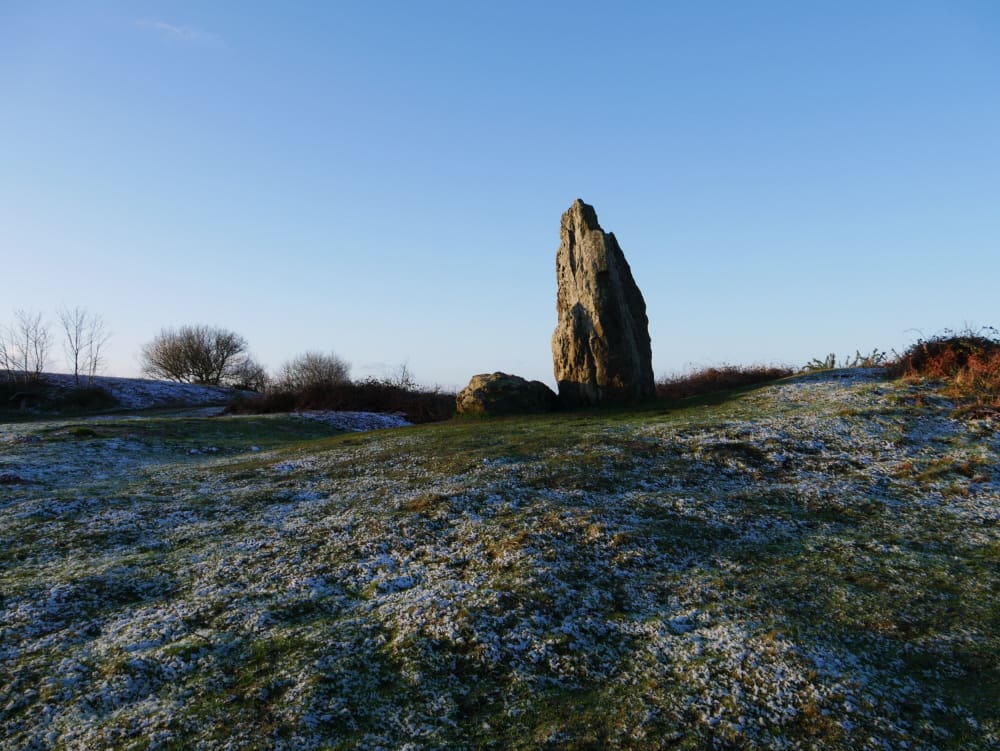 Royal hangouts
Several major royals have decamped to the Isle in various states of duress. Queen Victoria spent much of her life at Osborne, the beatific Italianate summer home in East Cowes where she eventually died after decades of mourning, and which is now the island's key attraction. Carisbrooke Castle – where Charles I was imprisoned and got his butt lodged in a window trying to escape – runs a close second; while geometric Yarmouth Castle was built by Henry VIII in 1547, then one of the country's most advanced coastal defences. English Heritage now owns the lot (lucky them).
Trains from London to Portsmouth take about 1h40; from there it's a 45-minute boat journey. wightlink.co.uk