A comprehensive introduction to bikepacking, including what it is, what kit you need, and the best routes and trips for multi-day off-road cycling adventures in the backcountry
Waking up in a remote bothy in the Scottish Highlands, cooking a simple breakfast over a portable stove in the dim light, and stepping out into the fresh morning air of an empty mountain pass, the only sound the bubbling of a small stream. There's no greater sense of freedom than packing all the things you need onto your bike, climbing into the saddle, and peddling off in whichever direction you please.
And if the recent launch of another multi-day off-road cycling route by Cycling UK is anything to go by – the third such route to be announced in as many years – bikepacking is more popular than ever. Tied with the rise in gravel bikes in the last ten years, more people are venturing off road, with everything one might need strapped to their saddle, frame and handlebars. This trend for multi-day adventures in the backcountry is part of a growing thirst for adventure travel (the UK in particular is the biggest market for adventure travel in Europe) as well as a wider cycle tourism movement supported by investment in cycling infrastructure such as bike lanes and trails.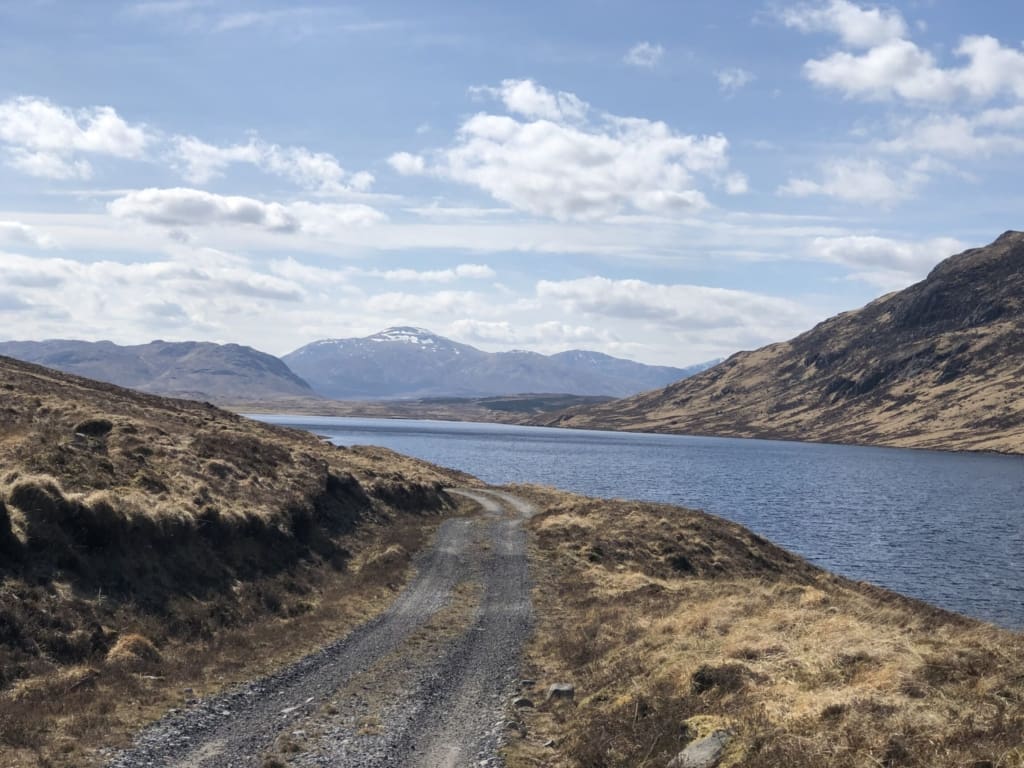 What is bikepacking?
Bikepacking refers to self-supported, multi-day cycling trips, with the cyclist carrying everything they need on their bike. It's similar to cycle touring, where pannier bags are fixed to racks over the wheels, but distinguishes itself with a strong emphasis on off-road adventuring.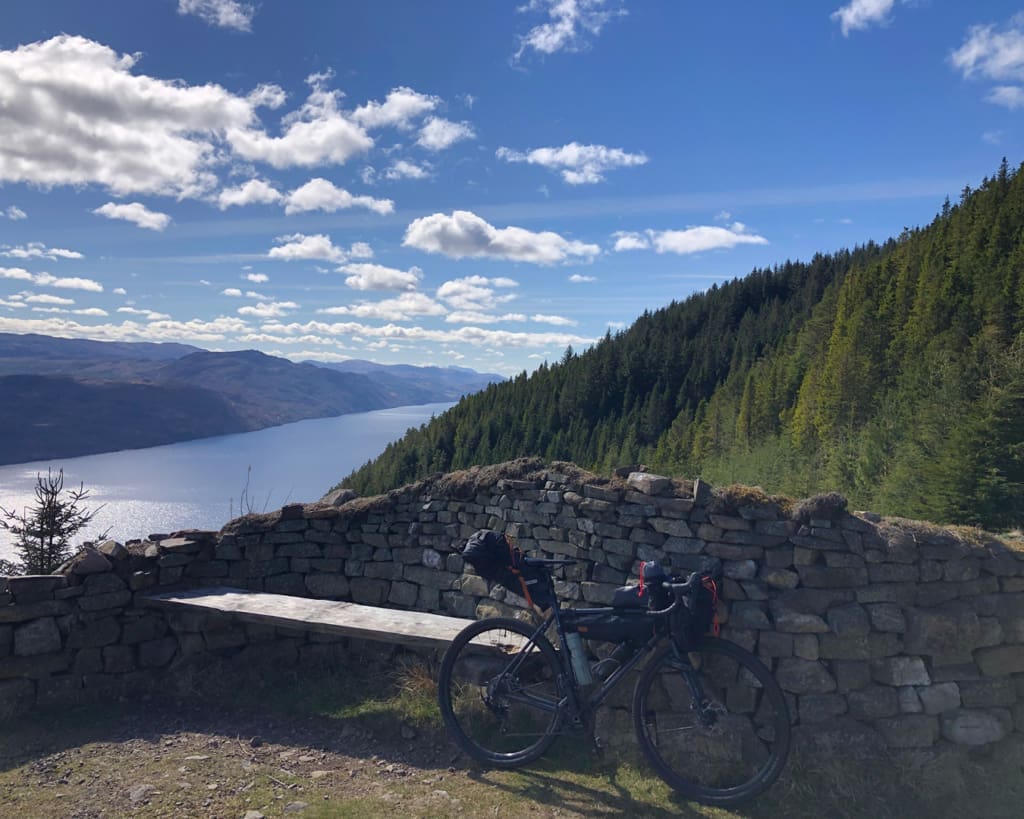 What you need
Choosing a bike
To tackle bumpy gravel and singletrack, a lighter set up is preferred: as opposed to those big bulky panniers, bikepackers opt for a dry bag attached to their handlebars, a saddle bag attached to the seat post, and a bag fitted inside the triangular frame of the bike, plus the option of a couple of additional bags strapped to the fork or top tube. This arrangement removes the need for heavy metal racks, and forces you to pack lighter and be more selective about what you really need.
When cycling predominantly off road, either a gravel bike or a mountain bike is recommended. Which you opt for depends on what kind of surfaces you will be riding on: if you're covering disused railway paths, towpaths and gravel bridleways, then a gravel bike is the smarter choice, whereas if there's a lot of singletrack, rough stony paths or thick mud, a mountain bike will be your best bet.
What to pack
As for what to pack, a full bikepacking setup might include a tent, sleeping bag and sleeping mat, stove, pan, camping gas, a change of clothes and some food, but you can pack lighter if you choose to stay in pubs, hotels and Airbnbs rather than camp along the route. If you are camping, you could leave the tent at home and opt for a bivvy bag – a waterproof outer bag that you put your sleeping bag and mat inside.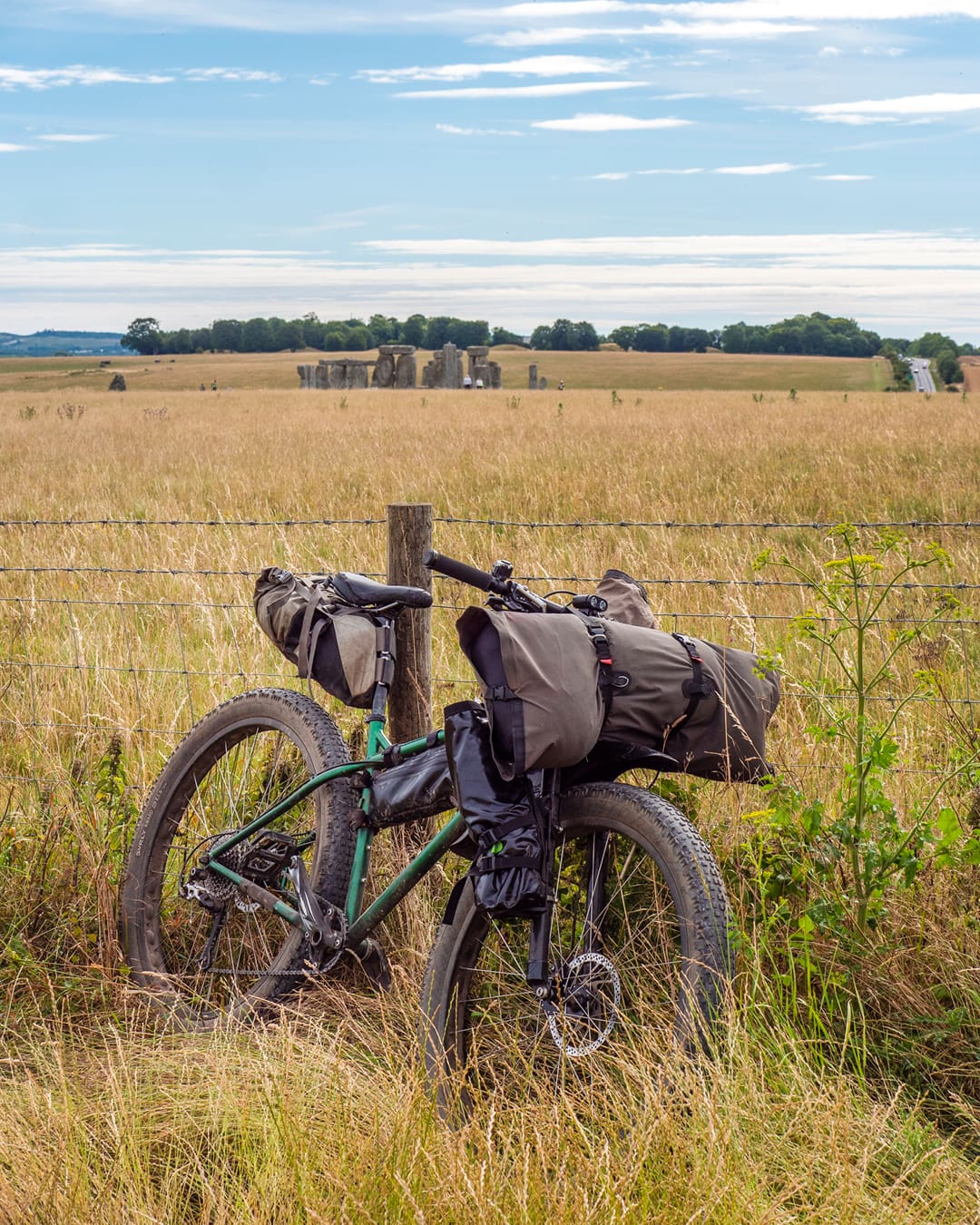 Where to go
How do you head out on a bikepacking trip? The best place to start might be a simple overnight ride, in the spirit of Alastair Humphreys' Microadventures. As Humphreys identifies, most people in the UK live in a city, but everyone is within 30 minutes of accessing some green space. Pack a tent on your bike (you don't need any specialist bags – just strap it to your handlebars), take a train for 30 minutes out of your city, pick out some green space on a map (preferably where contour lines suggest there'll be a hill with a view), cycle there, pitch your tent, wake up the next day and cycle back home.
When planning your journey, you can use a community-based app called Komoot, which allows you to draw out your route across roads, bridleways and cycle paths. There are highlights and photos left by other users so you can see what looks promising, and the app can also suggest entire rides based on what other users have ridden. You can then use it as your navigation – just attach your phone to your handlebars and you're good to go.
For the ultimate bikepacking experience, you can pick one of the best bikepacking routes in the UK, as listed below. These have been created either by national charities like Cycling UK, or by passionate individuals or collectives. The best routes are typically found in Wales and Scotland – these parts of the UK have the most wilderness and longest stretches of remote gravel roads – but there are many that might be closer to home for you, such as the Pennine Bridleway, which slices between many of the biggest cities in the north of England, or King Alfred's Way, a loop that begins in Winchester, a one-hour train ride from London.
Here are the best bikepacking routes in the UK, split by country, with an indication of the length of time it takes to tackle it, and what bike you should pick to ride it.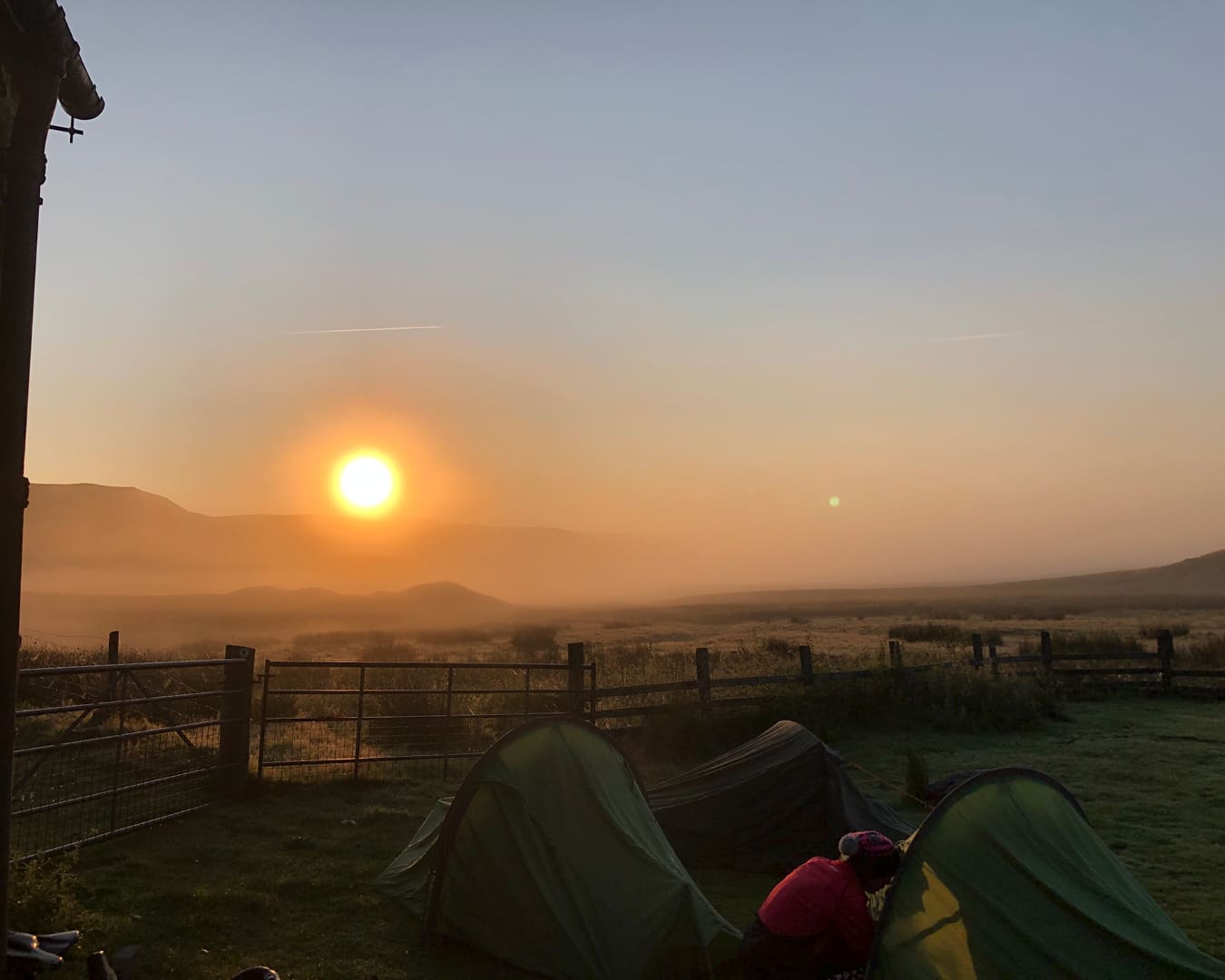 The best bikepacking routes in England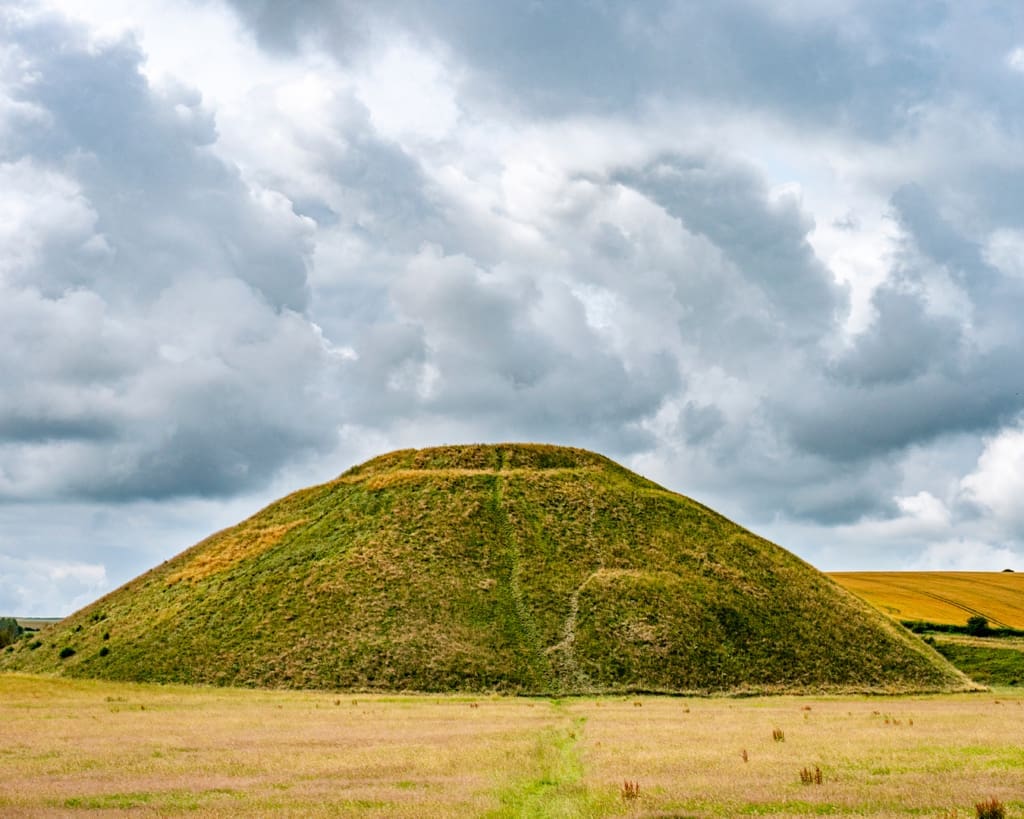 King Alfred's Way
King Alfred's Way is a 217-mile loop that begins in Winchester in the south of England, and takes in the Surrey Hills, South Downs Way, Salisbury Fields, and the Ridgeway – an ancient trade route that flows through the North Wessex Downs and the Chilterns. The route passes by Stonehenge and the stone circle at Avebury, as well as prehistoric barrows and Iron Age forts.
The landscape changes from chalk grasslands to vast empty plains and leafy forests. There are plenty of villages and towns nearby, so it's easy to resupply, or you could leave the cooking equipment at home and pop into pubs to eat along the way.
The route was created by Cycling UK in summer 2020. As a circular route with easy train access, it would make a good first trip for anyone based in the south of England. It could be completed at a comfortable pace, with time for off-bike diversions, in five days, or if you fancy more of a challenge, reduce this to four, three or two. As it's so accessible to many parts of the south of England, it could be completed in separate stages over multiple weekends.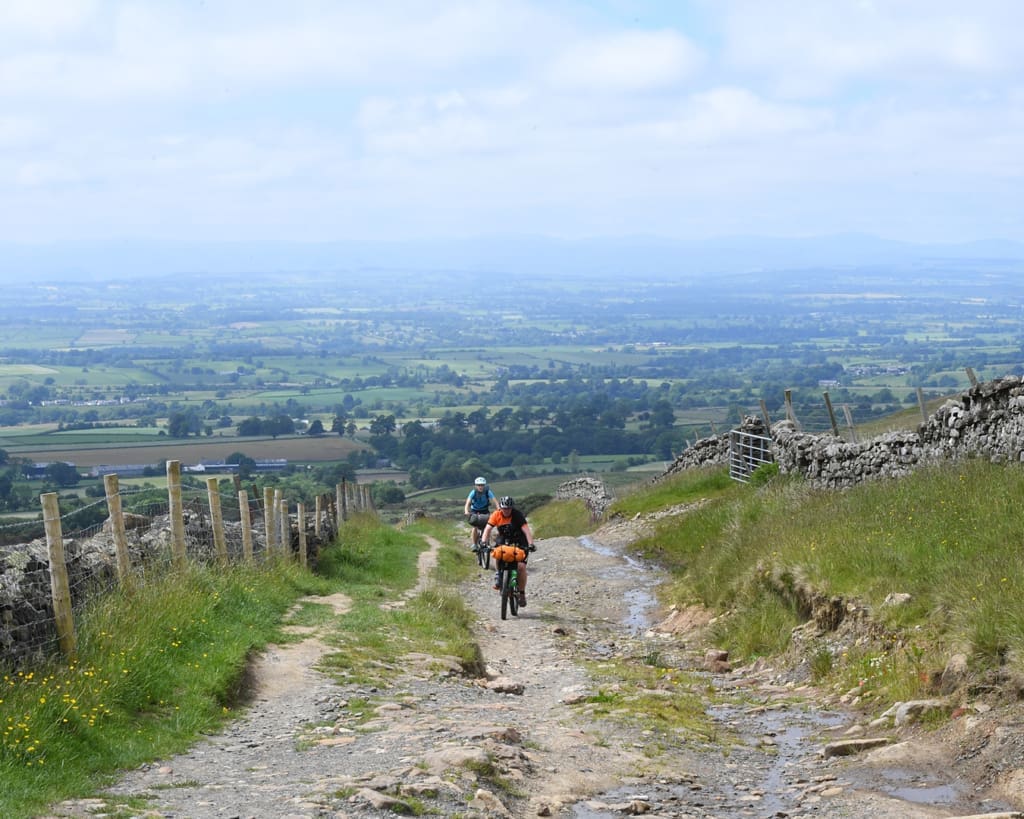 Pennine Bridleway
The 205-mile-long Pennine Bridleway runs through the Pennine mountain range from Derbyshire to Cumbria, passing through the Peak District, South Pennines, and Yorkshire Dales. As a National Trail bridleway, the route is specifically designed for horse riders, off-road cyclists and walkers. It follows a variety of tracks, ancient drovers' roads and centuries-old packhorse trails. The route passes Sheffield, Manchester and Leeds, making it an accessible option for people living in the north of England, and regular train services connect it to the rest of the UK.
Cycle clothing brand Rapha hosts the Rapha Pennine Rally each year, which invites cyclists to take on a 300-mile version of the route from north to south, fully self-supported, in five days. The event begins in Edinburgh and ends in Manchester, and traces the length of the Pennine Bridleway in the middle. If you fancy tackling the bridleway at a challenging pace, with some helpful camaraderie thrown in, consider signing up to this event.
An alternative way to extend the Pennine Bridleway into a longer trip could be taking on the Second City Divide, a 400-mile route drawn up by Outdoor Provisions, which links Glasgow in the west of Scotland to Manchester in the north of England, linking up the Pennine Bridleway with the Lancashire moors and Scottish borders.
For a truly epic extension of the Pennine Bridleway, take on the Great North Trail, Cycling UK's 800-mile route that links the Pennine Bridleway with the length of Scotland, ending at John O'Groats, featuring rugged upland trails, exposed moorland and disused railway paths.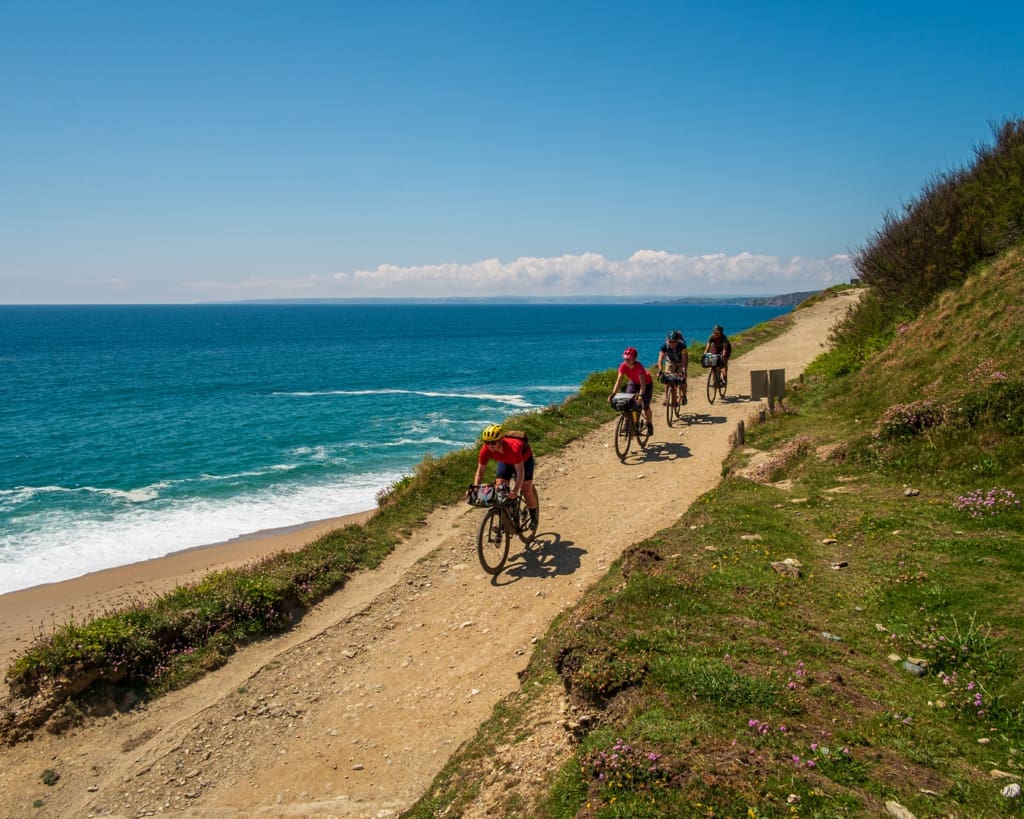 West Kernow Way
Another route curated by Cycling UK, the West Kernow Way takes in the rugged coastal paths of West Cornwall. If you like your rides with salty sea breezes, lapping waves, gulls cawing overhead, and pasties to fuel your legs over the steep sharp climbs, then West Cornwall is the destination for you. More rugged than the more accessible east of the county, the west Cornish coast covers sea cliffs, disused tin mines, sleepy fishing villages and quiet beaches and coves.
The 167-mile route traces a figure of eight around the furthest edges of Cornwall, beginning in Penzance and heading northwest around Sennen, Land's End, St Just and Cape Cornwall, before curving round to Porthleven on the south coast. The route then heads into the Lizard Peninsula (the most southerly tip of mainland Britain), before heading north, round the scenic Helford Estuary, and back down to Penzance.
Penzance has excellent train connections, with a direct service to London Paddington. Great Western Railway allows you to reserve a bike space on the train, which makes travelling there and back all the more practical. The southwest of England is known for its short sharp climbs, and there is plenty of up and down in this route, so consider the total altitude gain rather than total mileage as a good gauge for how many days to tackle the route – we suggest four for a more leisurely time, three for more of a challenge.
The best bikepacking routes in Wales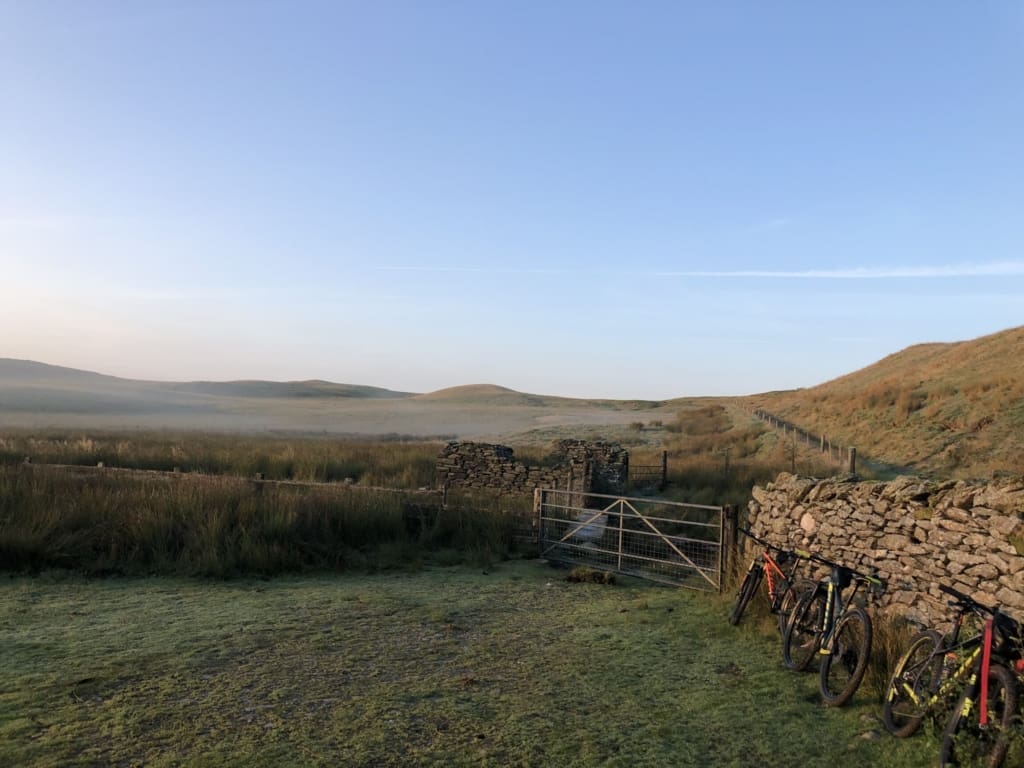 Trans Cambrian Way
This 108-mile adventure can be tackled in two days with a single overnight stop in a bothy, or more leisurely over three days. Mountain bikes are the usual choice for this route, but gravel bikes with 45mm tires or wider would be fine for most of it – you may just have to push over short rough sections.
The Trans Cambrian Way traverses the Cambrian Mountains of Mid Wales, which are the oldest mountains in Europe. This portion of Mid Wales is also often referred to as the Desert of Wales due to its sparsely populated valleys, particularly the Elan Valley, which has more sheep and reservoirs than permanent residents.
The route begins at Knighton on the Welsh border and ends at Dyfi Junction on the Irish Sea – both of which have train stations with good connections to the rest of the UK. A two-day ride of the route allows you to neatly break up the route with a stay in one of the best bothies in the UK: Claerddu Bothy, in the middle of the Elan Valley. It's privately maintained and has running water, a flushing toilet, and firewood for the indoor wood burner (unheard of luxuries for typical bothies). If you choose to tackle the ride in three stages, there is also the Nant Rhys Bothy further along the route.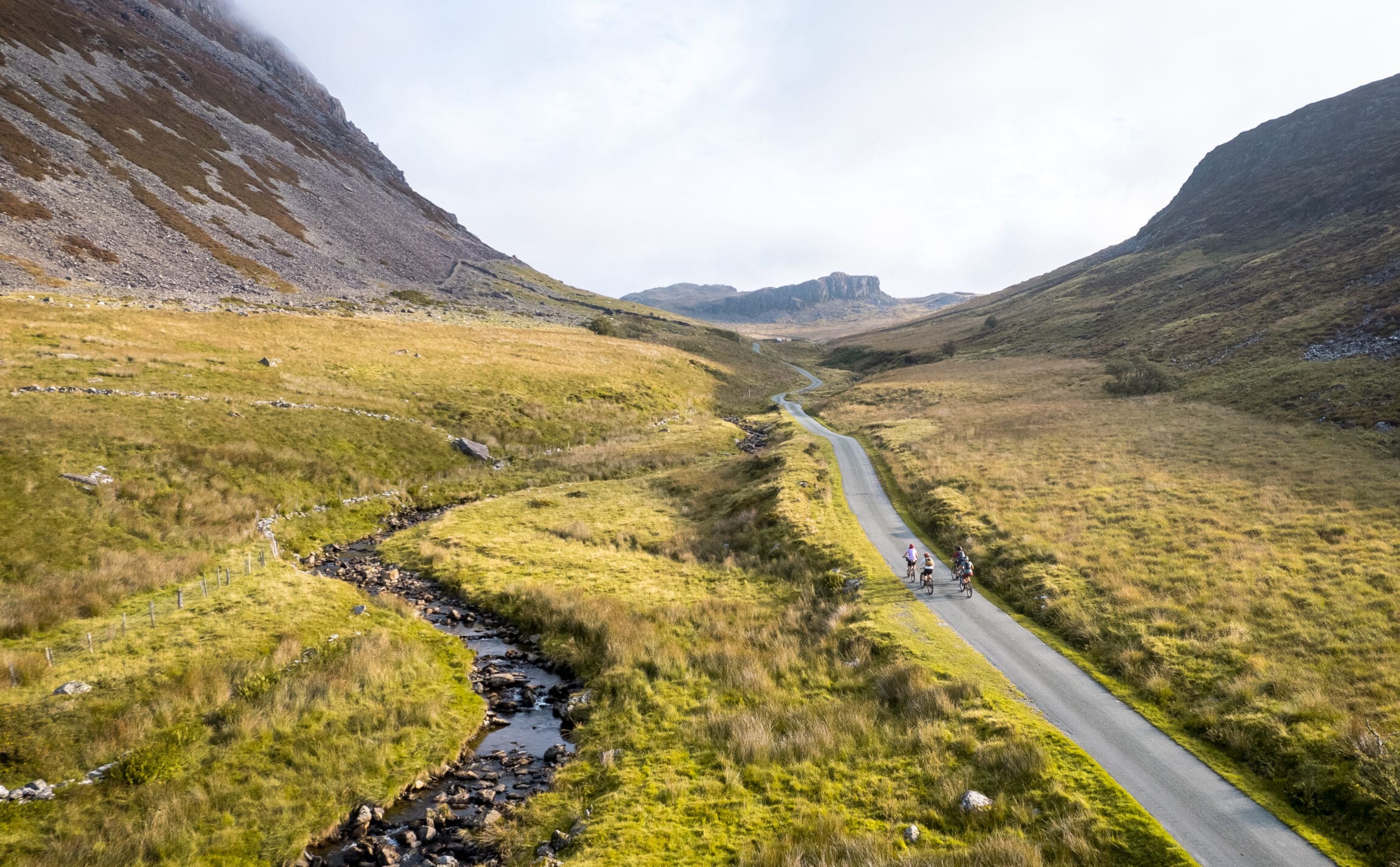 Traws Eryri (Trans Snowdonia)
This route has just been announced on 23 August by Cycling UK. Traws Eryri crosses the entirety of Eryri (Snowdonia) National Park, from the southern limit of the park at Machynlleth, to the north coast of Wales at Cowy. It covers 144 miles of lost lanes, forest trails, mountain passes, and ancient singletrack, passing the mountain peaks of Cadair Idris and Yr Wyddfa (Snowdon), as well as mountain bike trail centres at Coed y Brenin, slate mine remnants at Ffestiniog and Bethesda, and the old Roman road Sarn Helen.
There are over 4000 metres of elevation to climb throughout the route, and as such, it is best tackled in three or four days. Expect steep gradients and loose surfaces: the route has been designed with mountain bikes in mind, although a gravel bike with appropriately low gearing and wide tires would suffice if you don't mind the occasional hike-a-bike.
Machynlleth and Cowys have excellent rail connections to the rest of the UK, making it easy to get to and from the ride. To extend your trip, consider starting with the Trans Cambrian Way, which finishes up neatly at the start of the Traws Eryri, making for an epic Welsh mountain adventure.
The best bikepacking routes in Scotland
Badger Divide
The Badger Divide is a strong contender for the best in the whole list, and certainly has one of the largest cult followings. Starting in Inverness, the 212-mile route heads south through the Central Highlands of Scotland to Glasgow, joining up existing trails such as the Great Glen Way and West Highland Way, and taking in old drovers roads, estate roads, and an 18th century military mountain pass, the General Wade road, which ascends the highest point of the route, the Corrieyairack Pass.
The route is almost entirely on gravel or singletrack and has plenty of climbing involved, so is best tackled in three or four days, although the fastest known time to complete it is currently at 16 hours. Most people opt for a gravel bike with wide tires (40mm or more), or a hardtail mountain bike with similarly fast rolling rubber. The route was created by local cyclist Stu Allan, and was adopted by The Racing Collective to form their annual ScotDuro event.
Highlights of the route include passing through the vast empty wilderness of Corrour Estate and stopping for a meal at its restaurant at the Corrour railway station – the highest and most remote station on the British mainland – as well as a night at the nearby Loch Ossian Youth Hostel, which is entirely off-grid and powered by hydroelectricity.
For mountain passes, remote glens, quiet lochs and open wilderness, you can't beat the Badger Divide. If you choose to tackle it in three days, it's entirely possible to complete it over a bank holiday weekend, with a stay on the Caledonian Sleeper train from London Euston to Inverness, and back via Glasgow.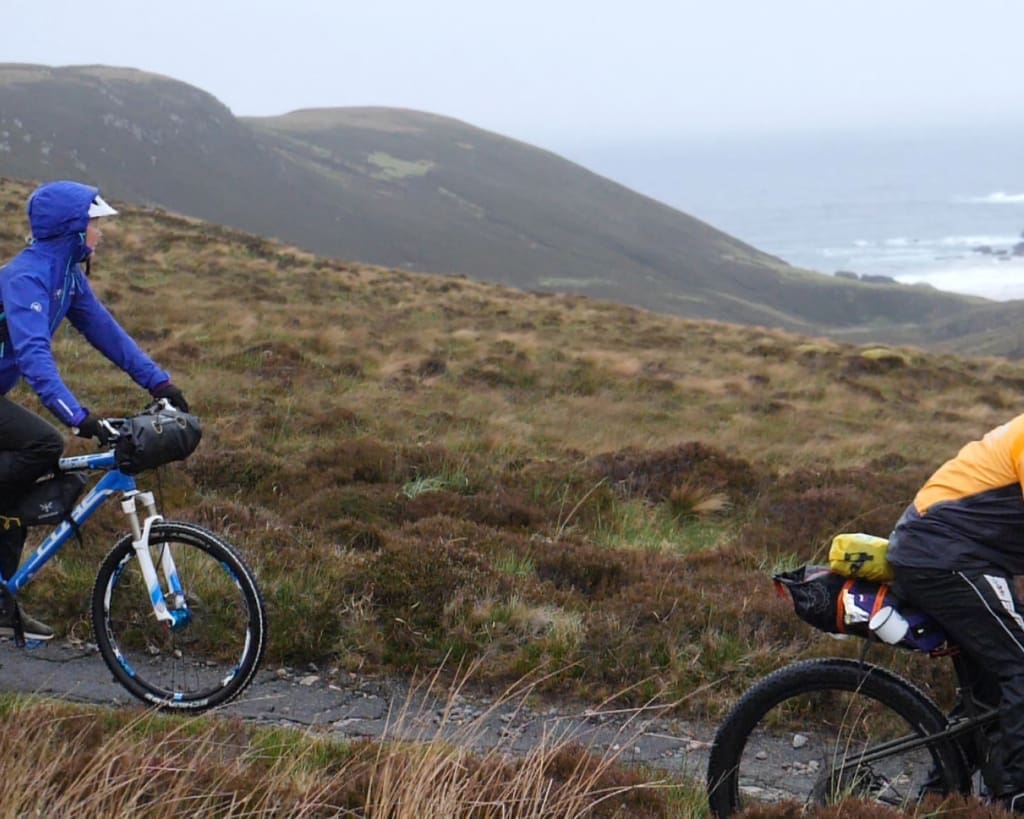 Cape Wrath
Cape Wrath is the most northwesterly point of the British mainland and, being surrounded by marshland and a firing range, is also one of the most remote. This has allowed the headland to remain a fairly untouched wilderness of windswept heather, populated by puffins and sea eagles.
Its connection with cycling began in 1949, when a cycle journalist named Rex 'Ragged Staff' Coley set up The Cape Wrath Fellowship to challenge others to ride to the point. He promised that if they got a photo in front of the lighthouse, secured a signature from the lighthouse keeper, and sent them to him as evidence, he would enter them into the Fellowship.
This challenge is more adventurous than it might first appear: the only way to get there is either to wade through bogs on the Cape Wrath Trail, or catch a small open-top ferry from Keoldale Pier to cross the Kyle of Durness (weather and tides permitting), which brings you to a battered gravel road that has changed little since its construction in 1826. From there, it's an 11-mile ride through open wilderness to the lighthouse – just make sure the MoD aren't firing on the range before setting off.
There is a 24-hour cafe and bunkhouse at the lighthouse, as well as a bothy in Kearvaig Bay, so it's possible to stay overnight and cycle back the way you came to catch the ferry home the next morning. You could leave your adventure at that, or use this out-and-back as a basis for a bigger trip. Cycle tour company Pannier.cc crafted a three-day loop from Lairg, which is accessible via train from Inverness.
Today, if you make it to Cape Wrath's lighthouse by bike, you can send your proof to Cycling UK, who uphold Coley's tradition: current Cape Wrath custodian Sam Jones will enter you in the Cape Wrath Fellowship and send you a handwritten certificate.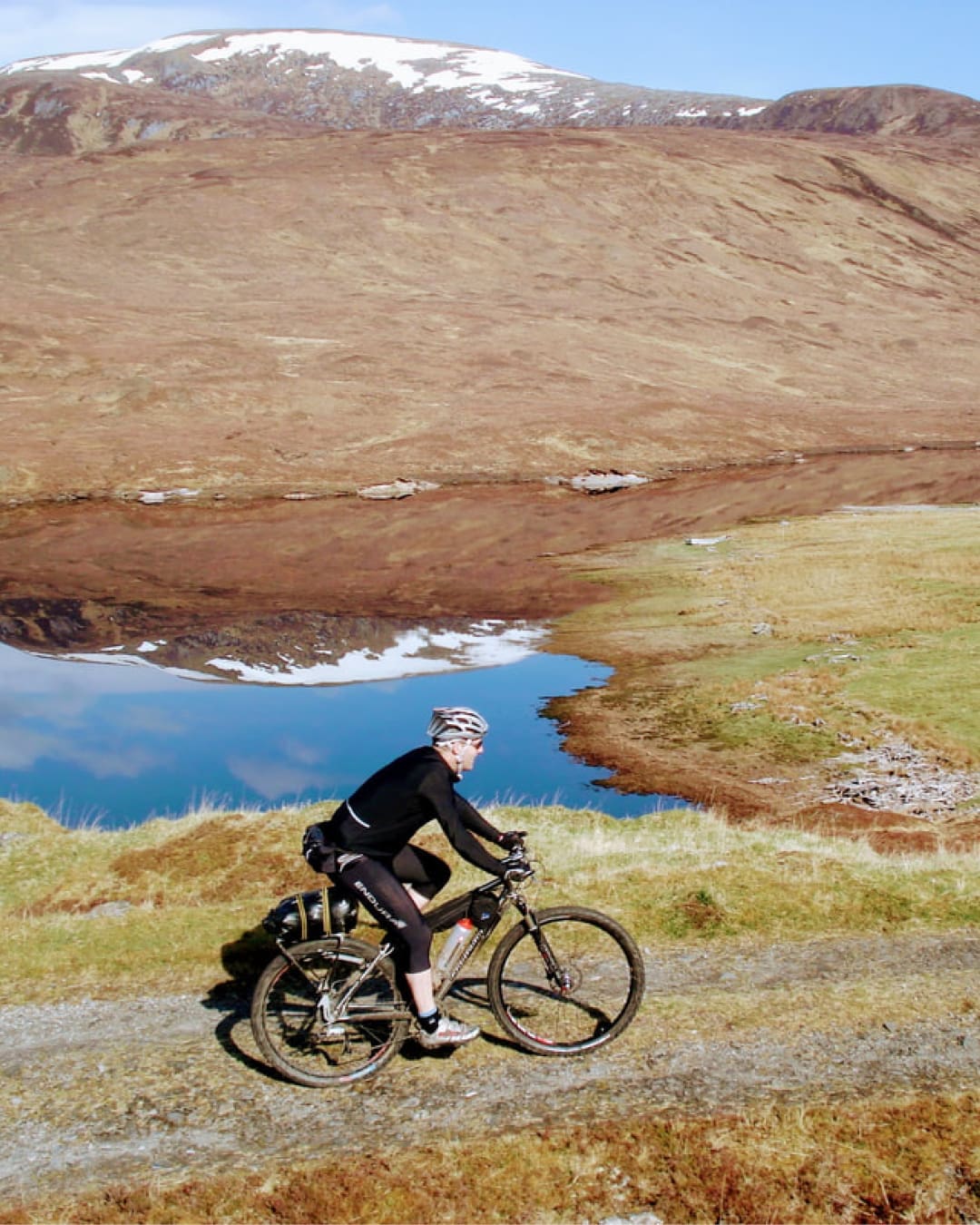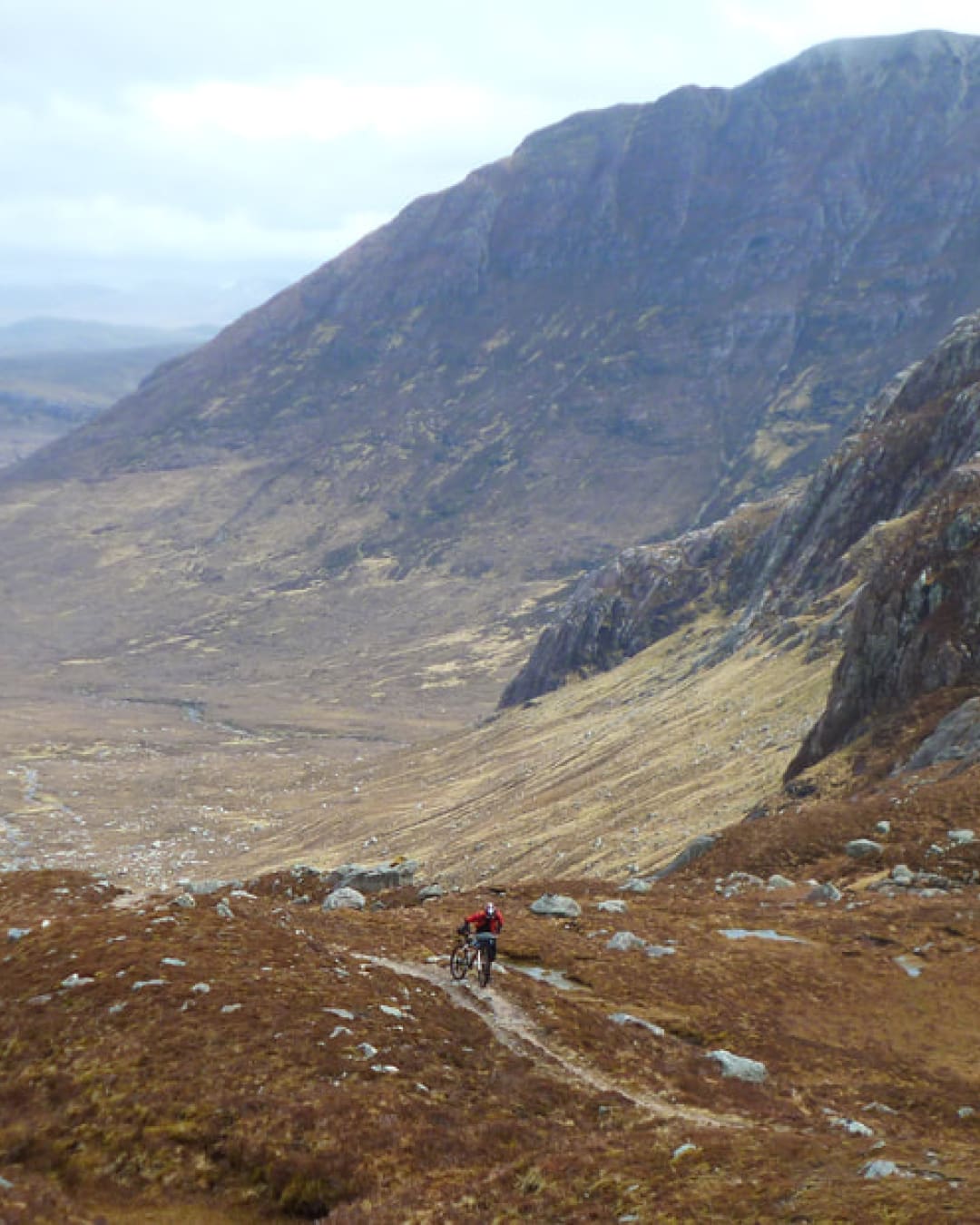 GB Divide
Ask anyone to name an epic cycle trip in the UK and they could probably bring to mind the Land's End to John O'Groats ride – a classic tour itinerary which sees cyclists pedal the length of Britain, from the southwestern point of Cornwall to the northeastern corner of Scotland, across two or three weeks. GB Divide is the bikepacking equivalent of that route: it starts and ends at the same points, but that's where the similarities cease. Rather than taking the most direct route, it swerves into Wales, and passes through as many areas of outstanding natural beauty and national parks as possible, adhering mainly to off-road routes across gravel paths, bumpy bridleways, and singletrack.
The route was developed by The Racing Collective, and it's raced annually as GBDURO – an endurance race of four stages that spans the entire length. If you want to ride it yourself outside of that race, most people would tackle it in three weeks. But the ride is a tough one: even with that amount of time, you're giving yourself an average of 60 miles and 1200 metres of climbing to complete each day which, when ridden mostly on bumpy gravel and singletrack, is no mean feat.
If three weeks seems like an unrealistic amount of time to carve out of your schedule, the GB Divide can be broken up neatly into four sections, each requiring around four days to complete. Take in the southwest of England over one long weekend, cover Wales the next, then the north of England, followed by the length of Scotland, which is the longest stage of the route, and would require more like seven or eight days.
As for which bike to bring, some of the rough singletrack certainly calls out for a hardtail mountain bike, but the amount of long tarmac and flowing gravel stretches that make up the bulk of this route – not to mention the shere distance to cover – make a gravel bike with fast rolling tires the most likely choice.
GB Divide encompasses all of the best off-road riding in the UK, so either as an introduction to what the country has to offer, or as the ultimate challenge to be completed in the confines of Great Britain, this route can't be topped.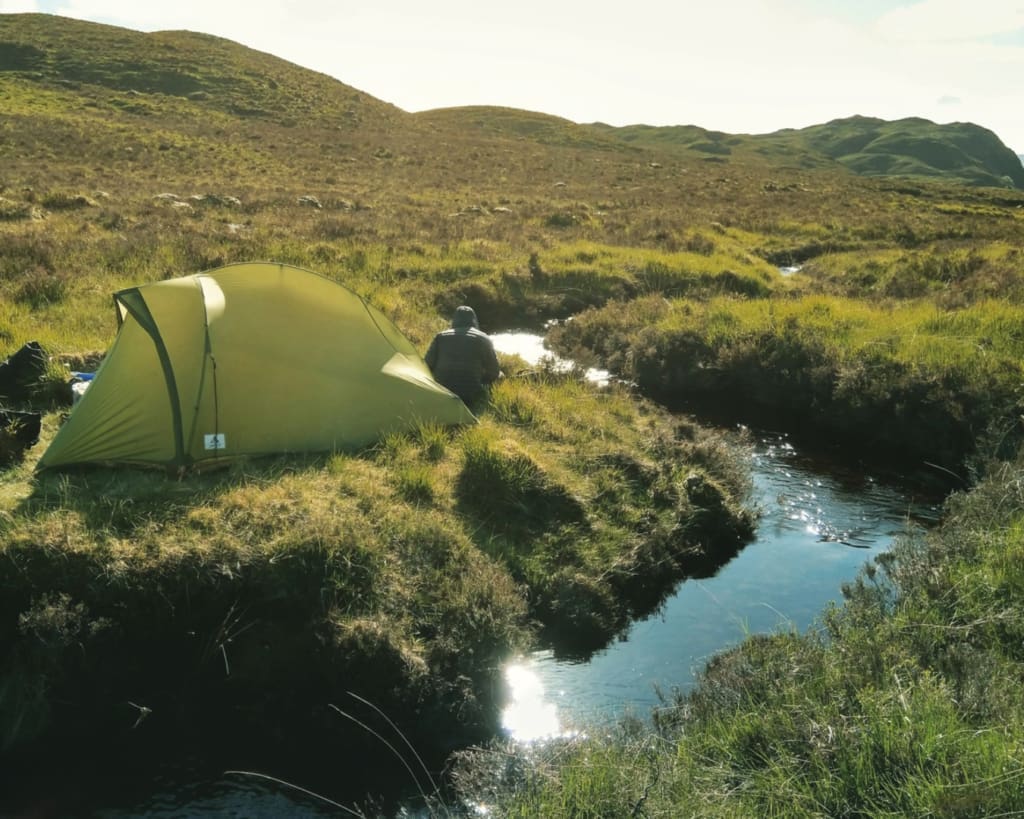 JOIN US FOR THE JOURNEY
Subscribe to the newsletter
City guides, culture, photography and ideas, with expert analysis on the biggest stories in travel