The best outdoor bars and restaurants in New York City
The best restaurants for al fresco food and drink in New York City, from sunset rooftop cocktails to street side aperitivo in a bistro chair
Last updated: September 11, 2023
New York comes to life like no other during the summer, in large part due to the city's rich culinary scene. Outdoor patio, roof, and garden tables become prime real estate, and post-pandemic New York is home to more outdoor dining and drinking than ever before. There are countless options for al fresco hangs, but fear not – we've rounded up the best bars and restaurants with outdoor spaces to relax, which serve the most delicious and compelling food and drink of the moment. From rhubarb margaritas and caviar-topped Mexican sopes on the patio at Williamsburg's elNico, to Dante West Village's world-renowned spritz collection and aperitivo small plates, here is where to kick back in good taste this summer.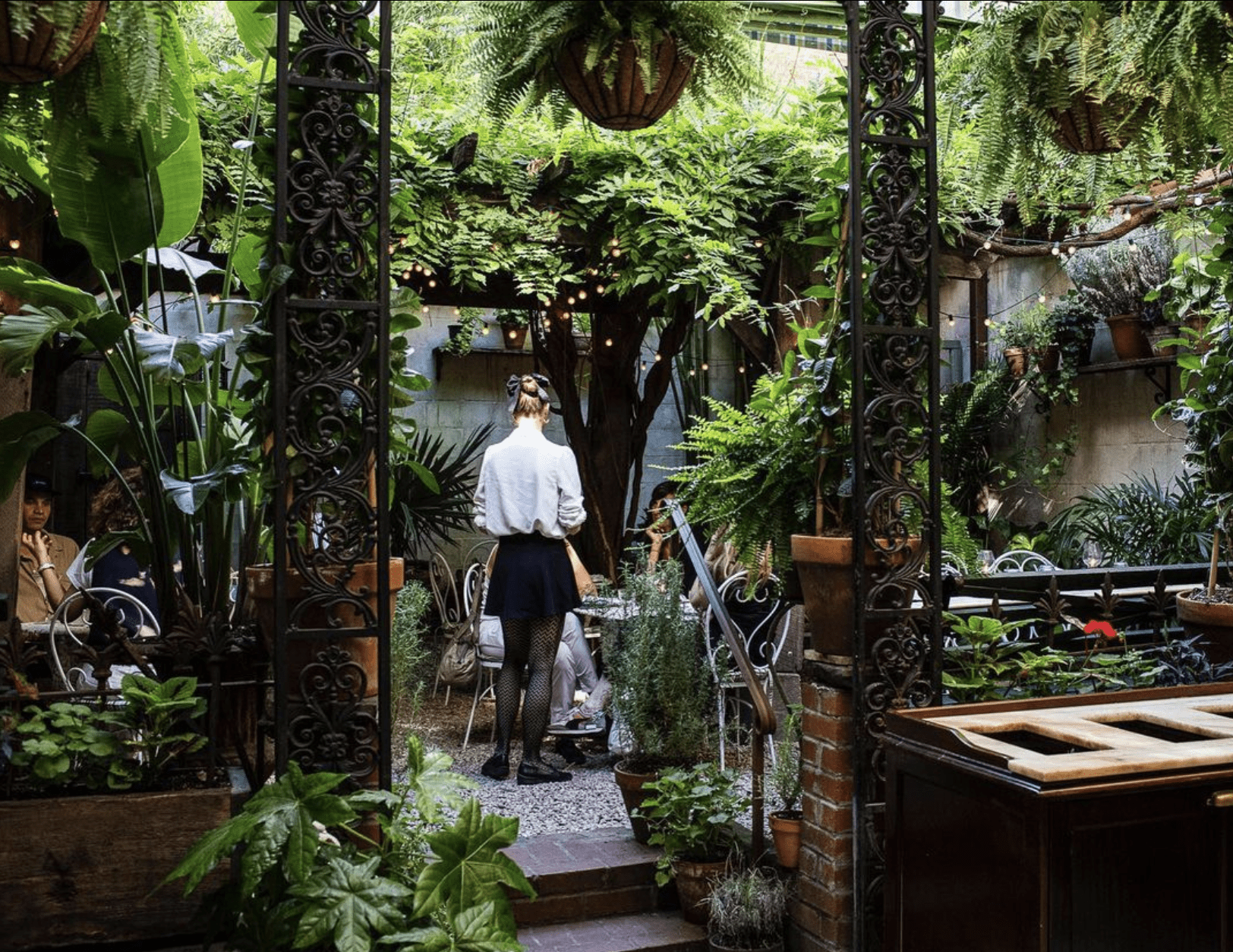 Brooklyn
Maison Premiere
Best For: Southern-inspired tipples and oysters
Address: 298 Bedford Avenue, Brooklyn, NY 11249
This world-recognised absinthe and shellfish bar in Williamsburg, Brooklyn, is considered one of the best bars in New York, all year round. Its lush back garden evokes the New Orleans Garden District of the 1930s. Grab a seat under the string light and vine-laced wooden pergola for 30 unique oyster varieties, towering shellfish platters, signature classic absinthe drops, four takes on the mint julep, and a house take on the piña colada, served in a whole coconut, and flavoured with rum, pineapple, spiced coconut and lime.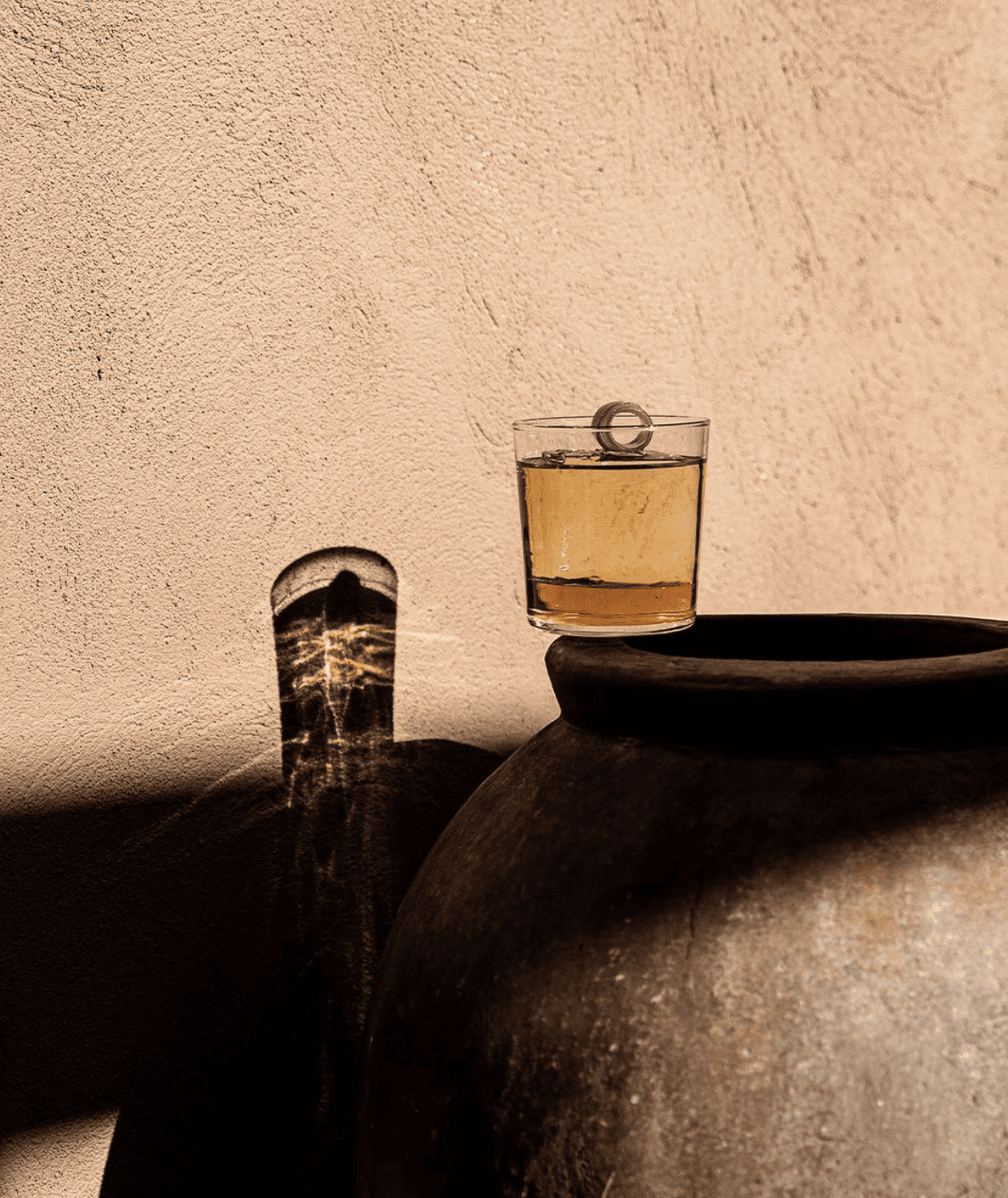 Aldama
Best For: A night out with friends and frozen drinks
Address: 91 S 6th Street, Brooklyn, NY 11249
This small, bohemian Mexican bar and restaurant is a Williamsburg staple. A project from Christopher Reyes (Cosme) and Gerardo Alcaraz (chef at three-Michelin-starred Martín Berasategui in Spain), the duo has earned street cred for their house-milled masa tortillas and addictive agave-focused cocktails including their top-seller: Sangre de Mezcal. This frozen cocktail is made with hibiscus and mezcal, white vermouth, lemon juice, and a pinch of worm salt. Grab a seat in the sunny rear patio and kick back, frozen cocktail in hand.
Roberta's
Best For: Wood-fired pizzas, pasta and natural wine
Address: 261 Moore Streey, Brooklyn, NY 11206
One of New York's most iconic restaurants is Roberta's, the rustic wood-fired pizza spot from chef Carlo Mirarchi that's received nationwide acclaim. The original Bushwick spot, now 15 years old, is still as busy as ever and usually commands a wait. During warm weather, the spacious outdoor patio with its own bar is an ideal spot to enjoy Italian wines with naturally-leavened pies, topped with seasonal ingredients like market greens, mozzarella, lemon, and parmesan.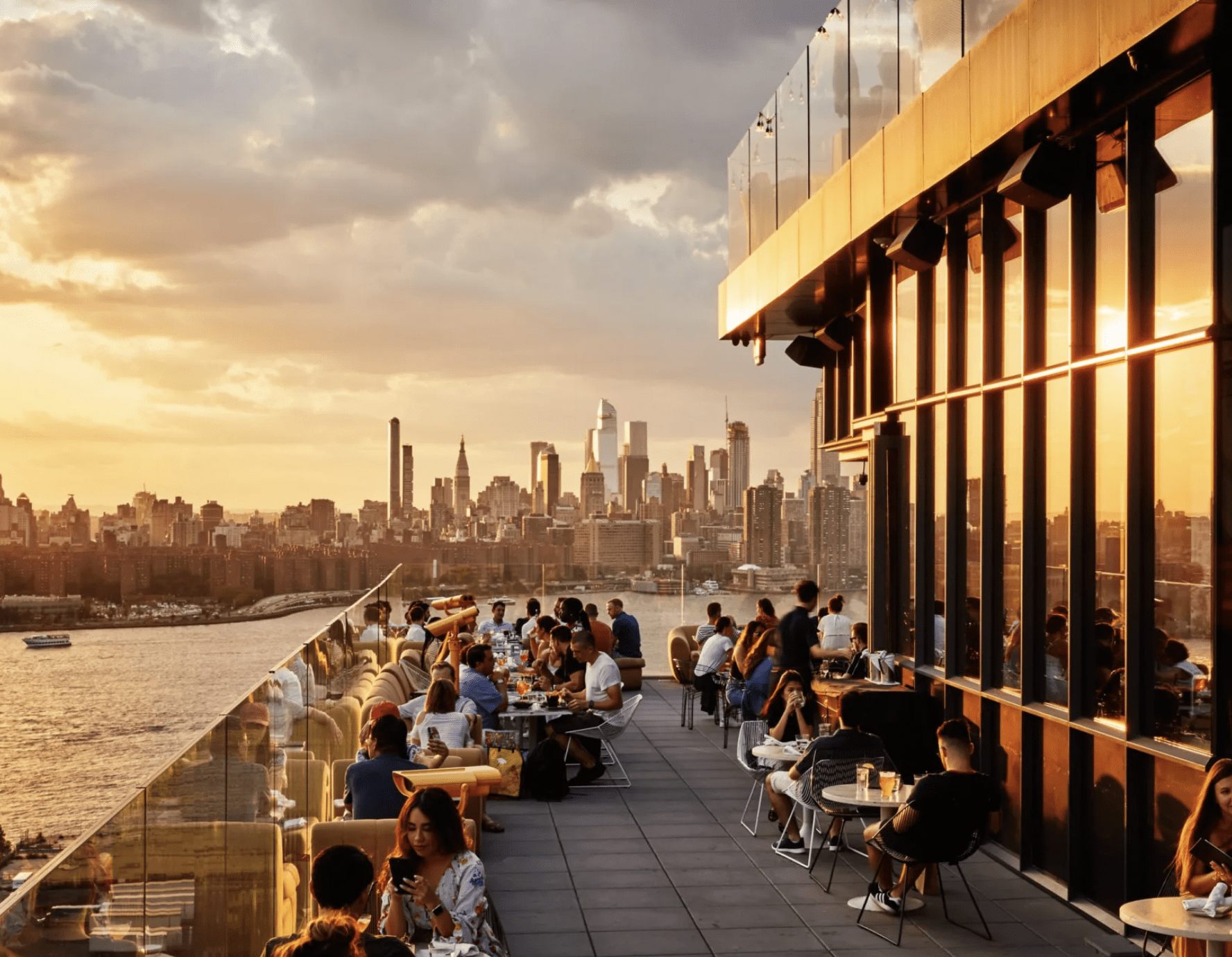 Westlight at The William Vale Hotel
Best For: sunset views
Address: 111 N 12th Street, Brooklyn, NY 11249
Drop by Westlight atop The William Vale Hotel during sunset for one of Brooklyn's most spectacular views of the Manhattan skyline. This indoor/outdoor restaurant with a wrap-around patio and lounge-y furniture is helmed by acclaimed New York chef Andrew Carmellini, who's known for his often Italian touch at places like Leuca on the property's ground floor. But here, 22 floors up, he's gone for a new American small plate vibe via hamachi sashimi-topped crispy rice and spiced chicken empanadas. Try the dishes alongside a mix of classic and house cocktails like the tribute to Japan's Mt. Fuji, mixed with vermouth, Japanese whisky, apple and ginger.
elNico at Penny Williamsburg
Best For: Creative cocktails, Mexican small plates, rooftop views
Address: 288 N 8th Street, Brooklyn, NY 11211
From the team behind lauded hotel and restaurant The NoMad comes a freshly-minted Mexican concept, headed by acclaimed bartender Leo Robitschek and NoMad London chef Fer Serrano. Located on the 11th floor of the new Brooklyn hotel Penny Williamsburg, elNico boasts an agave-based bar programme and masa-laced menu. With its moss green sofa-clad side patio and excellent pink-hued drinks menu, this is set to be the place for summer. Don't miss the pastel pink mole made from beet and tahini, alongside light and bright libations like a lacto-fermented habanero michelada and a seasonal margarita accented with rhubarb.
Laser Wolf
Best For: Israeli skewers cooked over coals
Address: 97 Wythe Avenue, Brooklyn, NY 1124
Philly chef Michael Solomonov expanded his beloved Israeli shipudiya (skewer house) to the roof of Williamsburg's chic Hoxton hotel. The open-air restaurant with overhead heaters offers an excellent East River view, perfect for spending the whole evening outside. The bar spans the length of the space and serves fresh citrusy cocktails, such as the Sour Patch Kidz with tequila, sour cherry, and lime. Drop in for set menus of fire-kissed proteins and vegetables, alongside pita and a vibrantly-flavoured spread of small salads and dips, like kale baba ganoush and cucumber harissa. The restaurant has no hobs, so all food is cooked over a charcoal grill.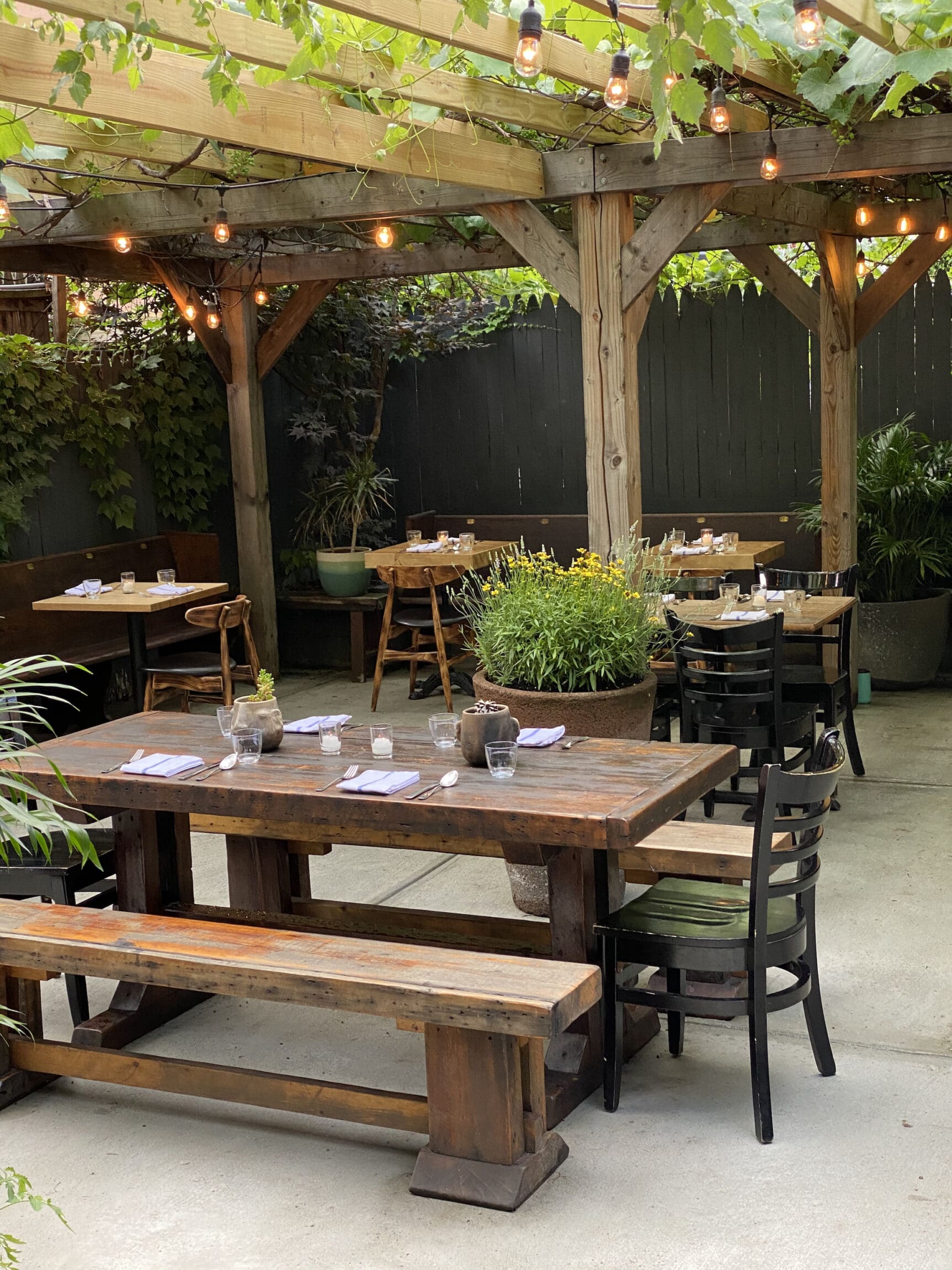 Claro
Best For: Seasonal Mexican food and agave drinks
Address: Claro is 284 3rd Avenue Brooklyn, NY 11215
Embracing the hyper seasonality of Oaxacan cuisine, chef TJ Steele's back patio at Michelin-starred Claro in Gowanus is one of Brooklyn's best-kept secrets. The low-key space is decked out with simple tables and bar seating; it's the ideal hang for hungry agave enthusiasts. Choose from a deep mezcal and tequilas collection, which the team weaves into thoughtful cocktails beyond a margarita like a tequila and mezcal-spiked milk punch flavoured with pineapple, lime and Campari. Like the restaurant's tiles and ceramic dishes, most of the ingredients here are imported from Mexico.
clarobk.com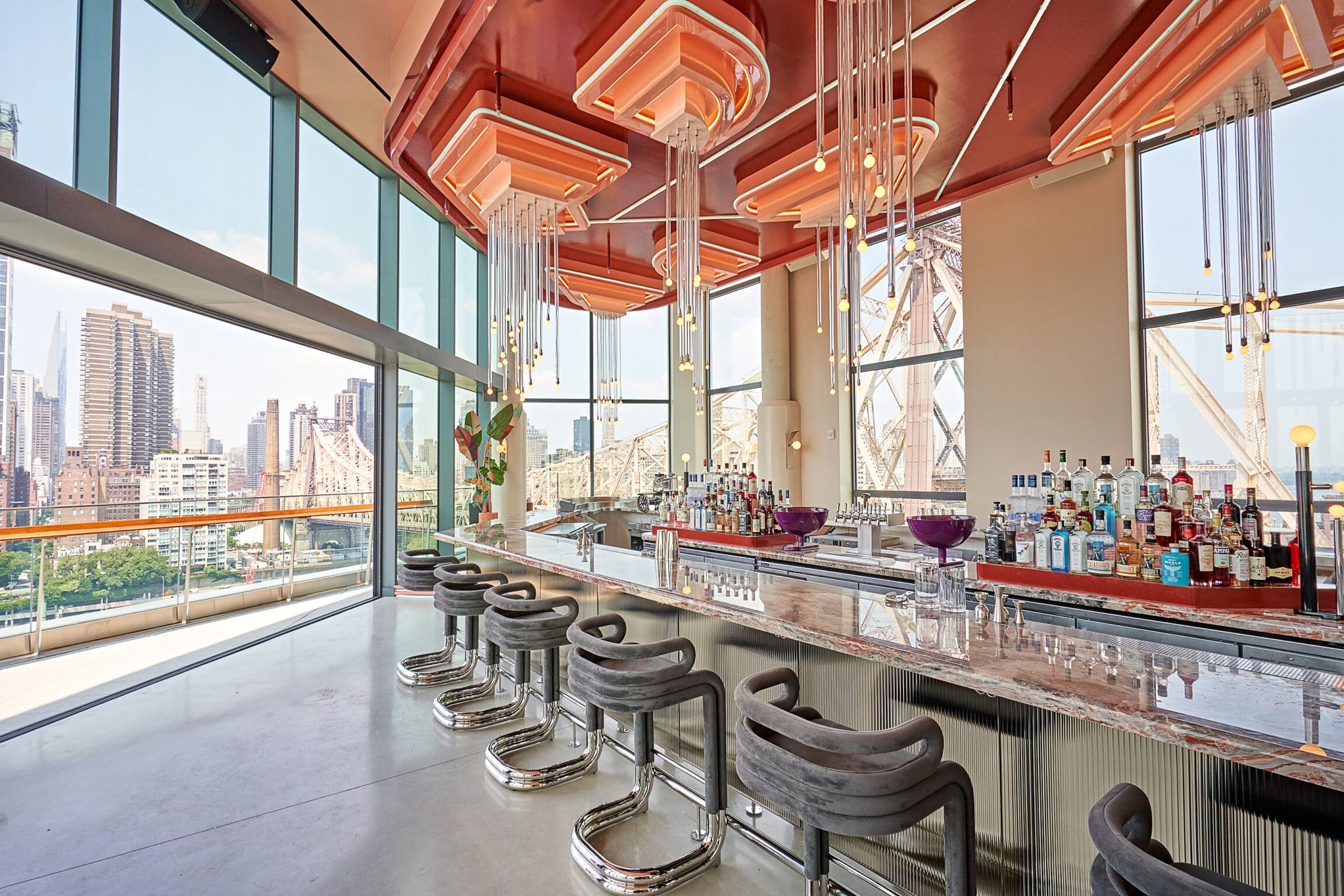 Roosevelt Island
Panorama Room
Best For: Escaping the city, rooftop views, cocktails
Address: 22 N Loop Road, New York, NY 10044
The Graduate New York hotel isn't necessarily the most convenient outdoor venue, but it's perfect for those looking to escape the city. Hop on the F train or take the ferry over to Roosevelt Island for this polished 18th floor rooftop bar and lounge from Los Angeles hospitality team Marc Rose and Med Abrous. Snag an outdoor seat on the wraparound terrace with 360-degree views of Manhattan, Brooklyn, The Bronx, and Queens. Oversized doors connect the patio with the red marble-topped bar surrounded by glass. Drop in for a mix of seafood and snacking plates, including seafood towers and caviar-laced nachos paired with thirst-quenching cocktails. We particularly recommend the BMW M1: a blend of tequila and mezcal with mango, coconut water, and lime. Brunch runs on weekends only.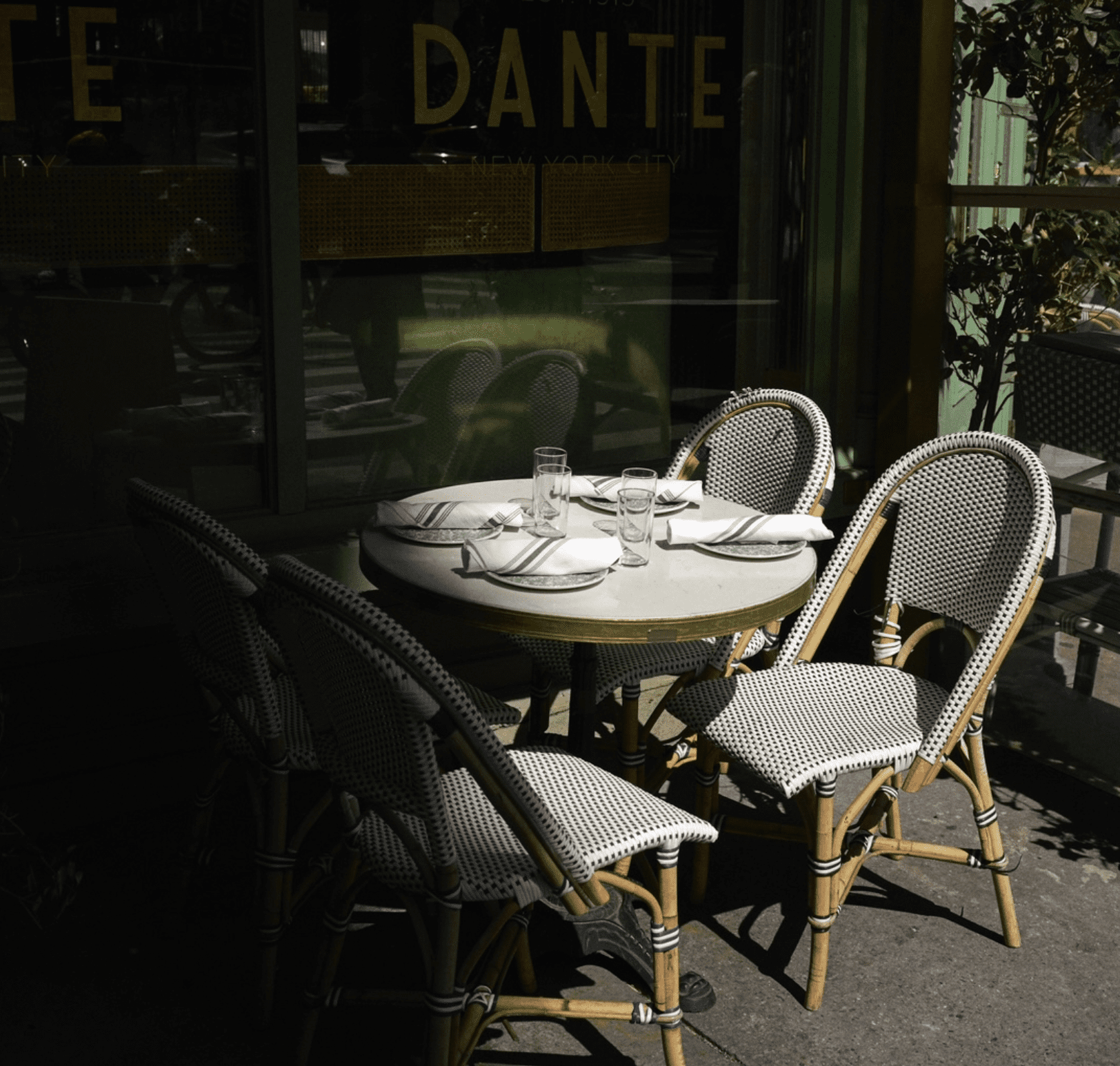 West Village
Dante West Village
Best For: Martini and spritz enthusiasts, brunch
Address: 551 Hudson Street, New York, NY 10014
Dante's outdoor tables are a hot commodity during summer, arranged below two lush, foliage-adorned outdoor dining areas. The globally-recognised bar and restaurant – which was crowned the World's Best Bar in 2019 – pays tribute to Italy's aperitivo culture with specific attention to the spritz and martini, of which myriad variations are on offer, alongside wood-fired, seafood plates. Try the gin-laced Mediterranean Tonic with Manzanilla sherry, olive butter, tonic water and salt, and pair it with the house charcuterie board with 24-month-aged prosciutto to be transported to Italy. Keen on breakfast and brunch? It's offered daily.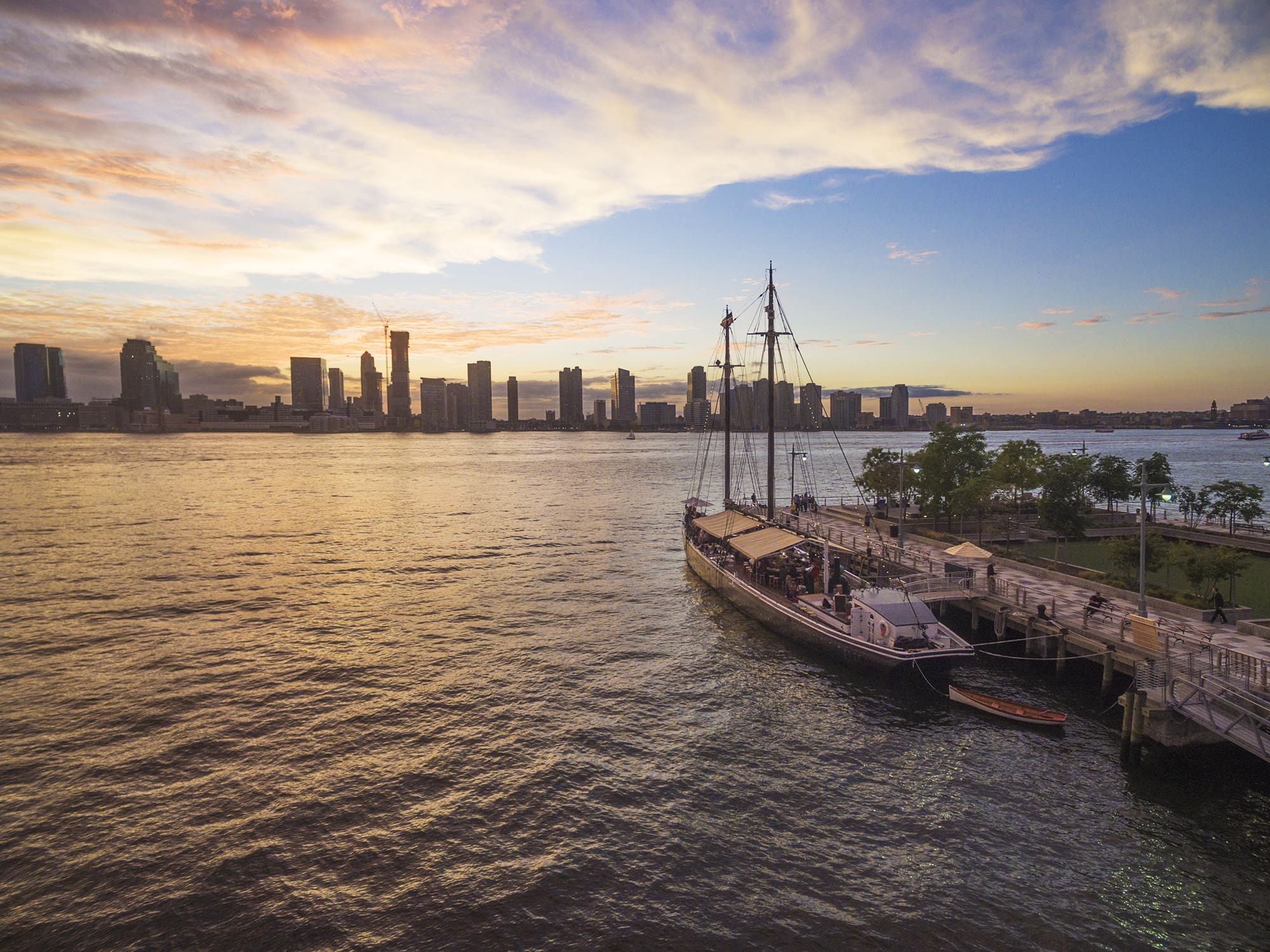 Grand Banks
Best For: Sunset views
Address: Park, Pier 25 Hudson River, New York, NY 10013
One of New York's most idyllic places to catch the sunset with a glass of rosé and plate of freshly-shucked oysters, Grand Banks, parked at Tribeca's Pier 25, is where the French Riviera meets New York City. Every seat here is situated outdoors and offers sweeping views of downtown Manhattan. Drop in for chef Kerry Heffernan's sustainably sourced seafood, including the signature herb-specked Maine lobster roll, plus tropical and light libations like the vodka-spiked watermelon and lime Tropicalia. Pro tip: while sunset is especially busy and undeniably charming, pop in on a weekday afternoon to avoid the crowds. Brunch runs on weekends only.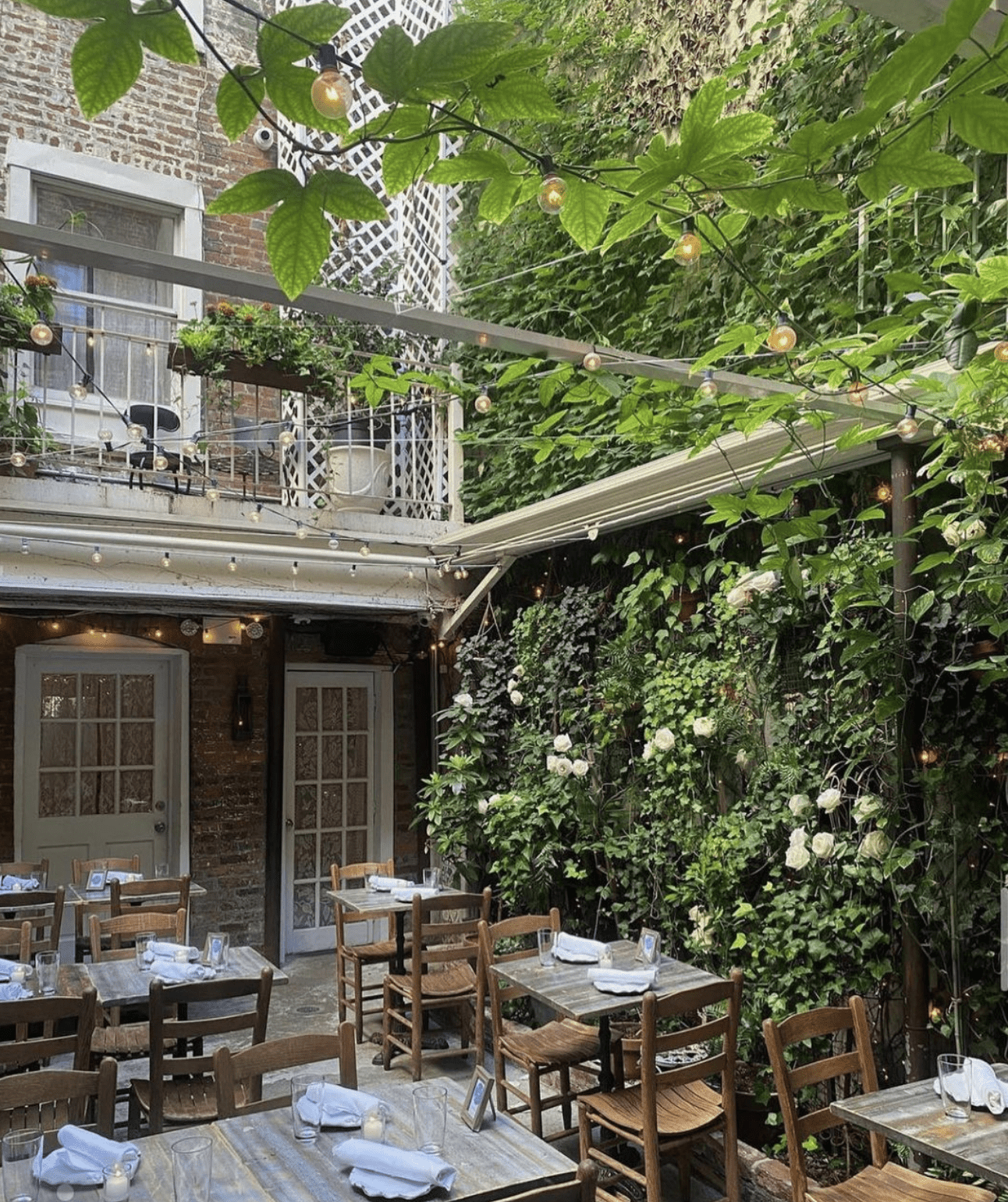 Palma
Best For: Rustic Italian plates
Address: 28 Cornelia Street, New York, NY 10014
This romantic Italian West Village restaurant is the type of place that's especially popular with special occasion celebrations, from weddings to baby showers. And that's because its simple courtyard garden – dotted with wooden furniture and pot plants, and covered with a retractable roof – is totally transportive to summers in Italy. Expect simply executed classic Italian plates like pappardelle alla Bolognese alongside – what else – an Aperol spritz. Which tastes especially good during weekend brunch.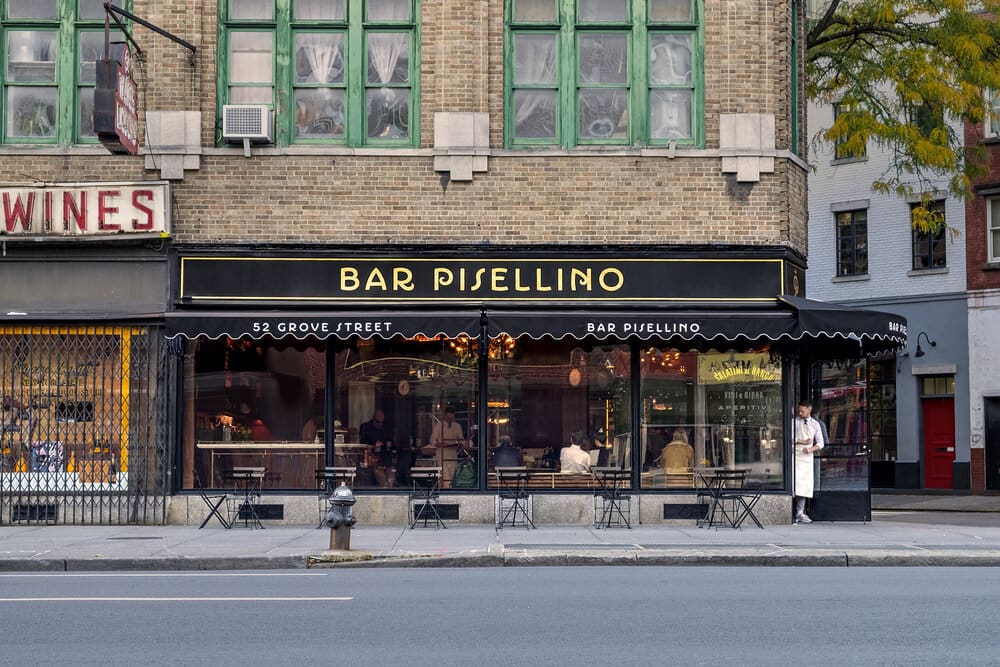 Bar Pisellino
Best For: European cafe vibes and espresso martinis
Address: 52 Grove Street, New York, NY 10014
See and be seen at this lively coffee and aperitivo bar from the team behind beloved, nearby Italian fixtures Via Carota and I Sodi. This tiny all day West Village bar offers European bistro tables along charming Grove Street for sitting back and watching the world go by. Mornings are busy with meetings over espresso and bomboloni alla crema, while evenings focus on amari and vermouth-based libations.