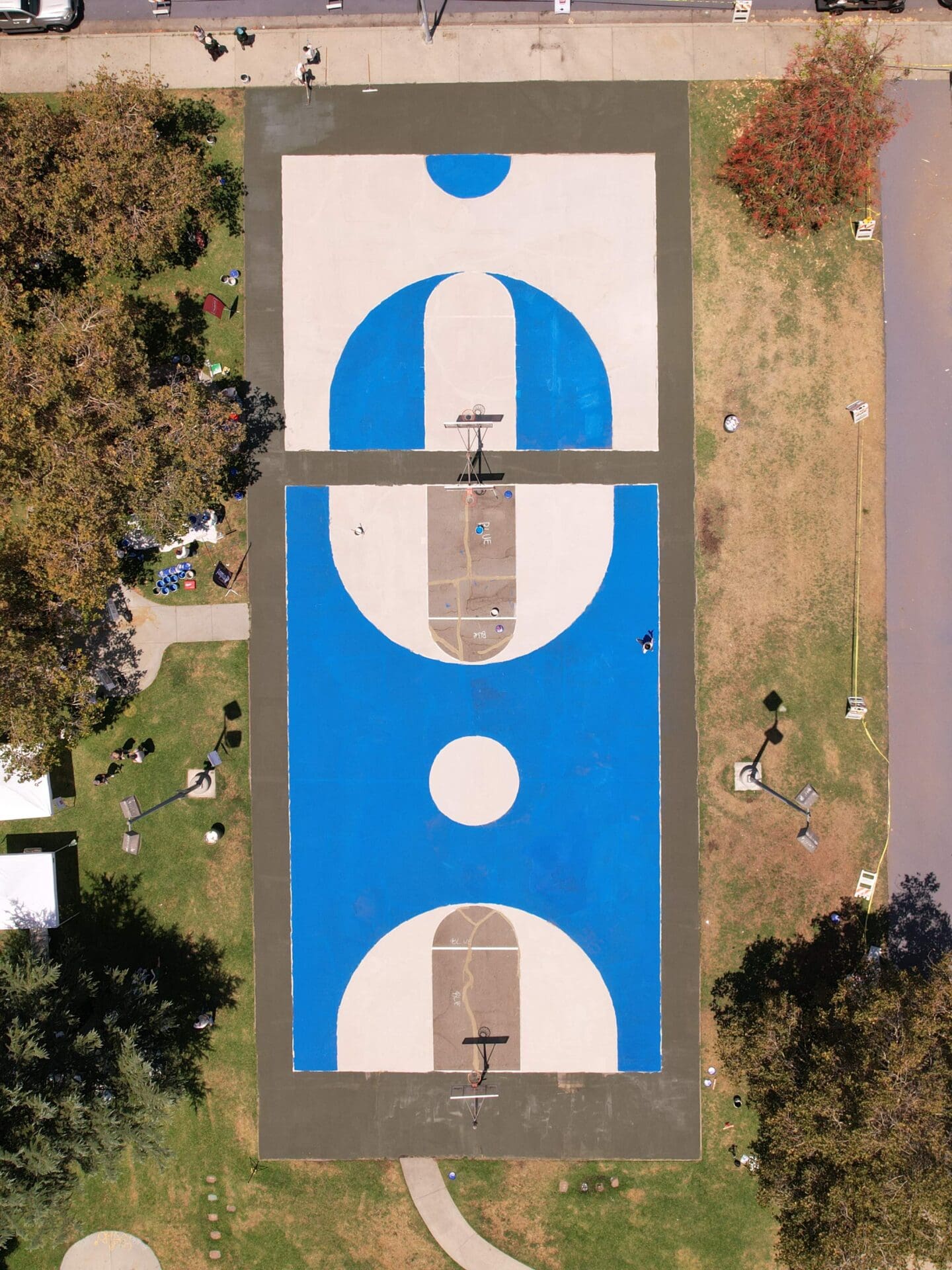 The LA neighbourhood using reflective paint to tackle rising temperatures
Cooling solar-reflective paint has been applied as colourful murals to community areas in Los Angeles, successfully reducing surface temperatures
As global temperatures continue to rise, the need for our cities to adapt to hotter temperatures is becoming increasingly clear. In the US, extreme heat is the largest weather-related cause of death, and disproportionately affects poor communities and people of colour. Cities magnify the effects of hot temperatures, their concrete and tarmac surfaces absorbing and trapping heat throughout the day.
In Los Angeles, the San Fernando valley's Pacoima neighbourhood is famed for being one of the city's warmest, and one in five of its families lives below the poverty line. In a bid to combat skyrocketing temperatures, local waterproofing and roofing company GAF is carrying out a philanthropic research project that has applied nearly one million sq ft of solar-reflective paint to streets, car parks, community parks and a school playground. Coined the GAF Cool Community Project, the first-of-its-kind initiative aims to evaluate and mitigate the impact of intense urban heat.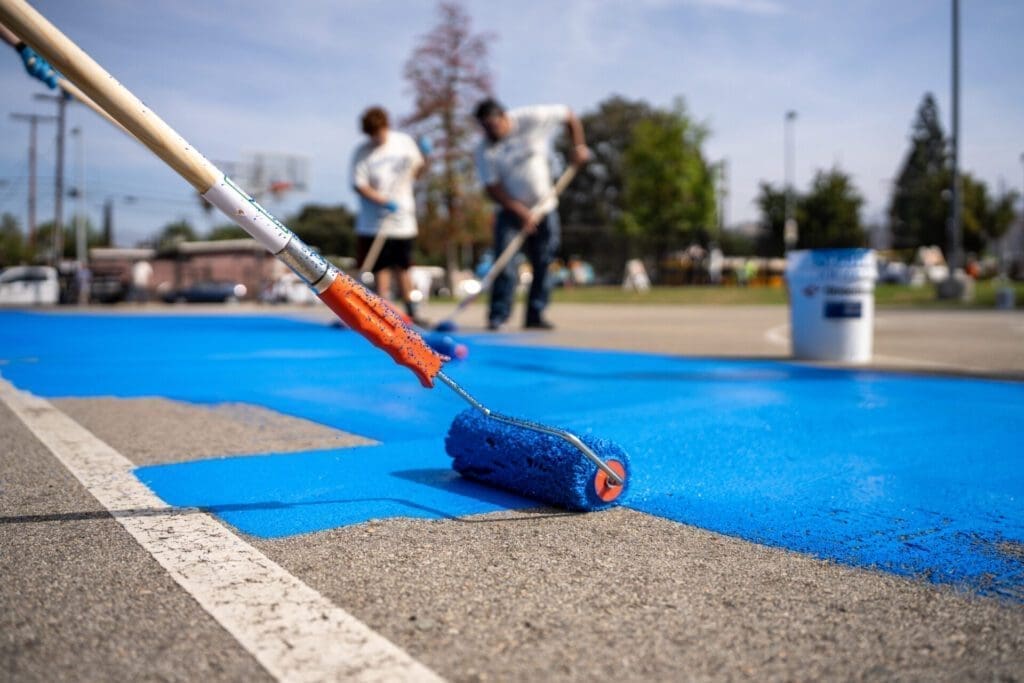 The reflective coating contains additives that reflect infrared light, meaning the painted surfaces absorb less heat, reducing temperatures at street level and making the neighbourhood a more comfortable and safer place to live. Climate Resolve has partnered with the scheme to measure its effectiveness, but early results already show the reflective coating has reduced surface temperatures around 6°C, rising to up to a 17° reduction in temperatures at midday when compared to an uncoated street.
GAF previously worked with the City of Los Angeles' Cool Streets Project and the LA Unified School District to improve playgrounds and streets with cool, reflective pavement coatings.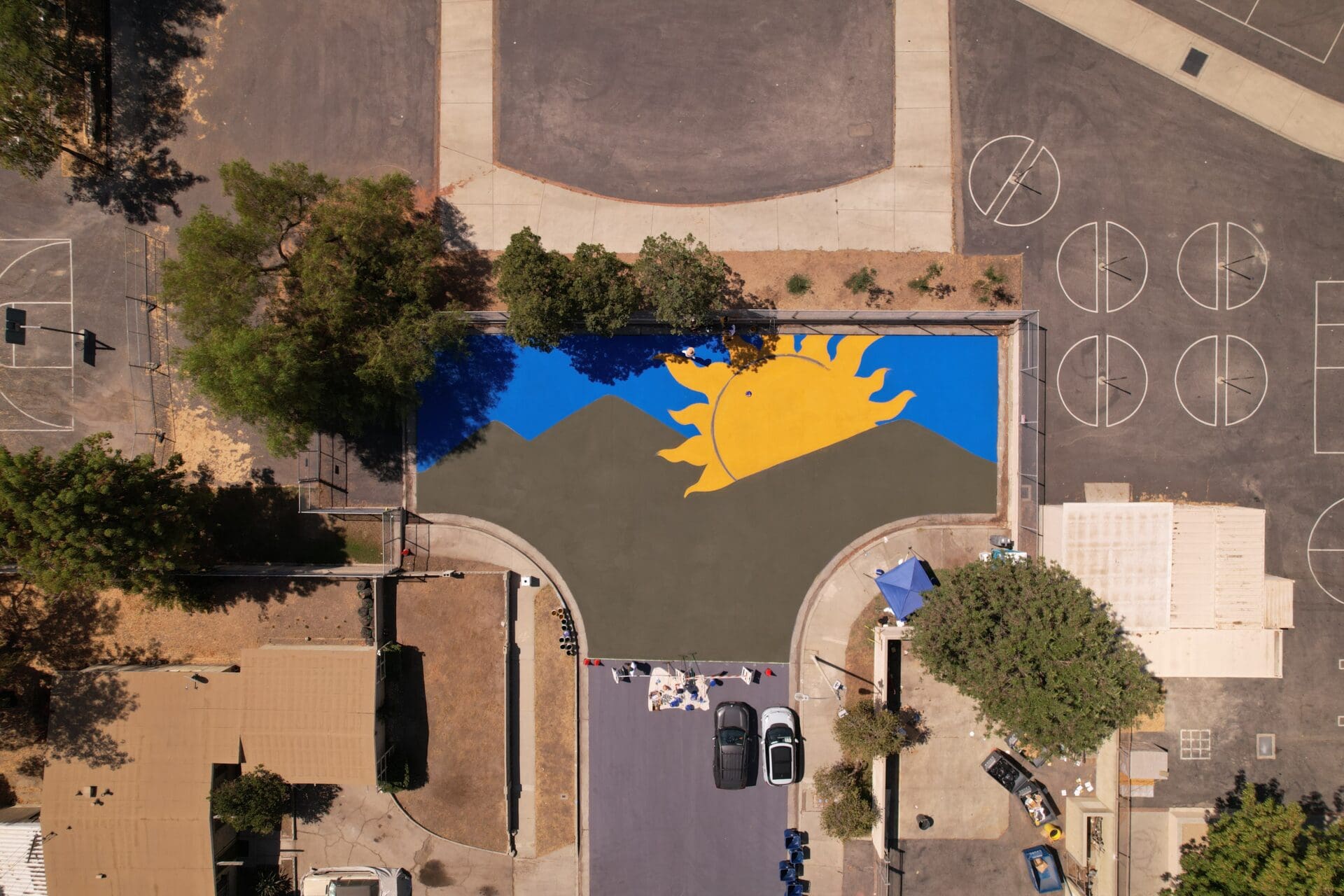 Most of the streets that have been coated have been painted in a subtle grey, but artists have been commissioned to create bright murals on a school playground, car park, and basketball court, working closely with the local community to choose the uplifting colours and designs.
One street boasts a mural that is designed as a series of 'warming stripes' of colour from cool blues to hot reds, representing the annual temperature change in LA County from 1895 to 2021. In doing so, the mural draws attention to the problem we all face, while offering a solution to it at the same time.
Artist Desiree Sanchez worked with a team of local volunteers to create her mural featuring a bright yellow sun, painted on a community park. "We had four days to bring this mural to life and the community showed out," she wrote on Instagram. "We're already feeling the difference compared to being on normal asphalt."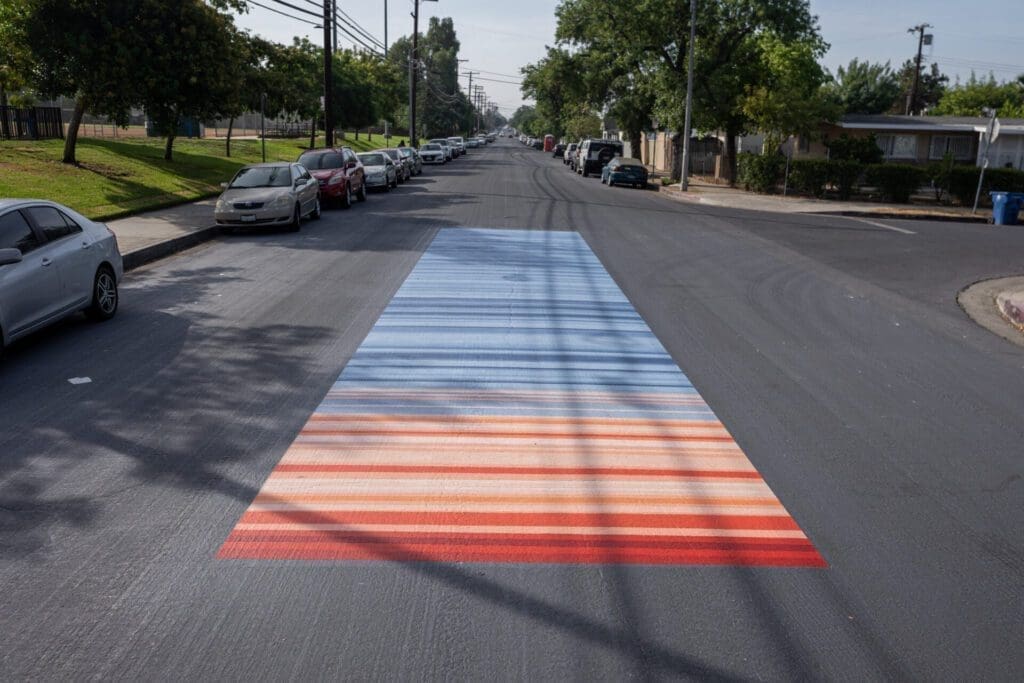 Future stages of the project will depend on the results gathered over the next two years, but one idea may be installing a similar coating treatment to the roofs of buildings, thus improving indoor temperatures. The team hopes that if the weekly data proves positive, they will replicate the technique across other neighbourhoods in Los Angeles. They also hope that their findings in Pacoima will allow other cities around the world to apply these simple procedures to their own streets.
Although painting streets and car parks with solar-reflective paint will not solve soaring temperatures in itself, when combined with other techniques such as increased tree planting, it could offer a simple and cost-effective way of contributing to more comfortable and safer environments for the world's urban population – and that's definitely something we can get on board with.