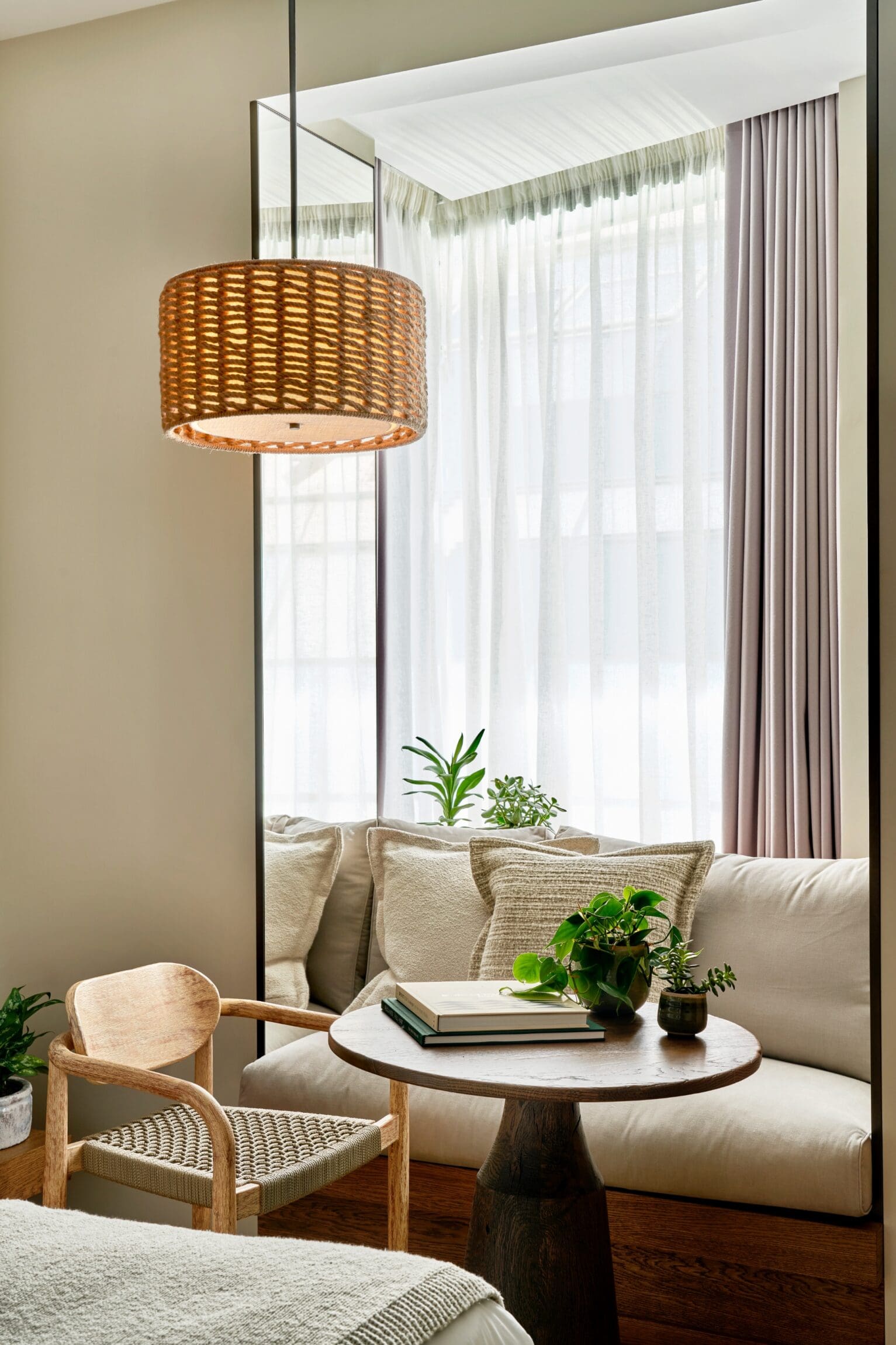 1 Hotel Mayfair debuts in London as the capital's greenest luxury hotel
Is this London's most sustainable luxury hotel? 1 Hotels launches in Europe with a sybaritic nine-storey property in Mayfair
Sustainability is a word that gets bandied about the hotel sphere, particularly of late, often with little merit. One hospitality group that consistently gets it right is 1 Hotels, noted for its eco-conviction, with ten sites across the US, including New York and West Hollywood.
1 Hotels marks its first foray into Europe with an address in Mayfair's Berkeley Street, fronted by one of London's largest living green walls. Formerly a Holiday Inn, the building has been completely refurbished – not reconstructed – to utilise and repurpose 80 per cent of the existing structure to limit environmental impact. Solar panels line the roof, and the property uses 50 per cent less energy to light up its rooms than an average hotel.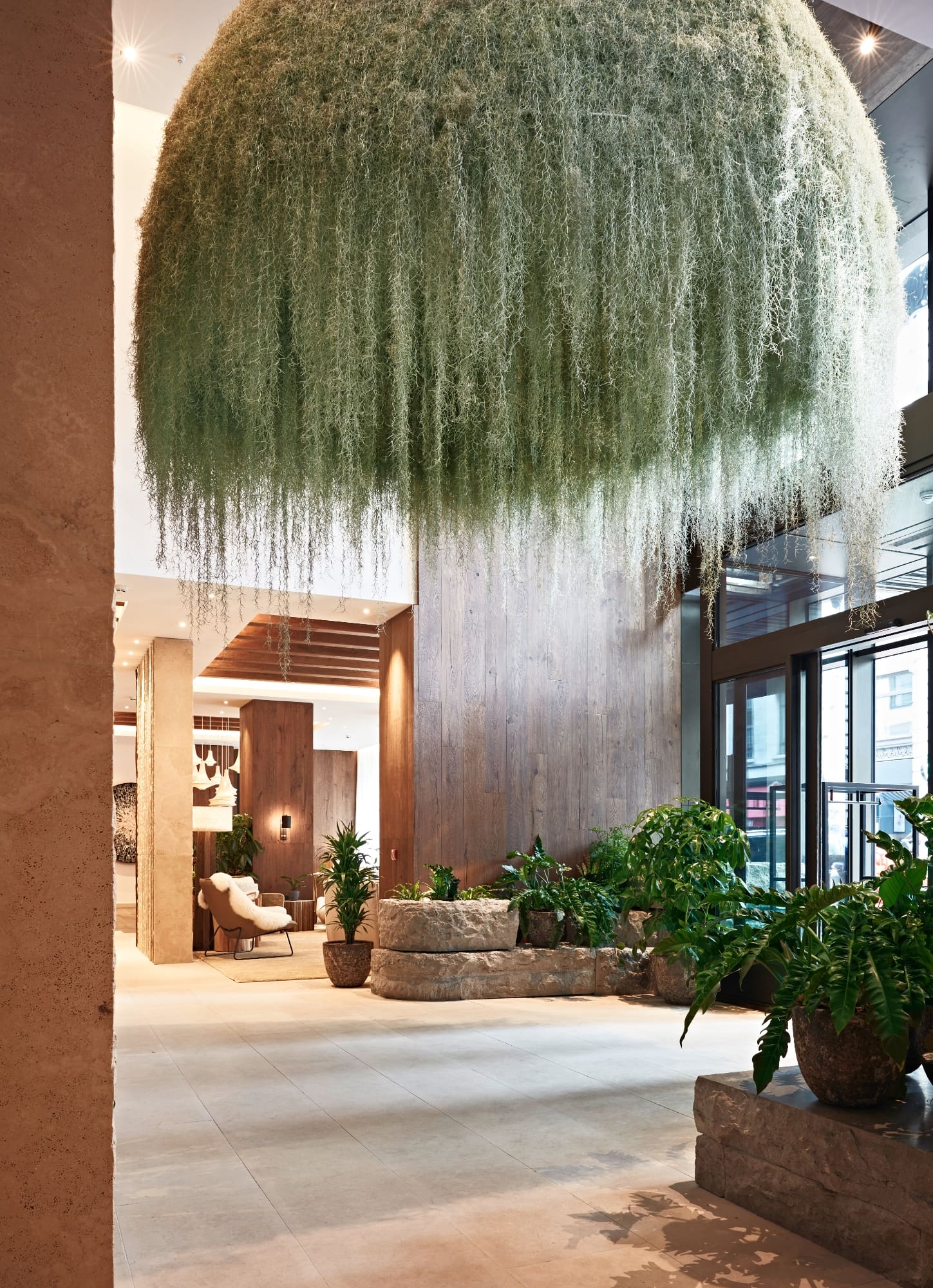 Style and design
A cascading, large-scale installation by French designer Patrick Nadeau looms as you enter through the revolving doors, constructed from more than 50,000 strands of Tillandsia usneoïdes, a Spanish moss that requires no soil. The four-metre structure is draped over a domed frame to mirror a chandelier and create the feeling that you are emerging from a rainforest, as opposed to concrete-clad W1.
In front, a reception desk is hewn from a 200-year-old fallen oak tree, transported from East Sussex. Timber fixtures, sawn from naturally fallen trees on the Windsor Estate, are met by reclaimed metal floor tiles and linen furnishings. Another hulk of polished tree forms a communal table in the cafe and co-working area, known as Neighbours Cafe, which serves ethical fair-trade coffee and fresh baking.
The hotel gorgeously unfolds in a tactile palette of raw wood, rough stone and linen, while staff flit seamlessly from space-to-space in safari-style neutral tones. There are more than 200 plant species and 1,300 individual plants throughout the hotel, including windowless hotel corridors and shaded corners, suggesting an extensive rotation system.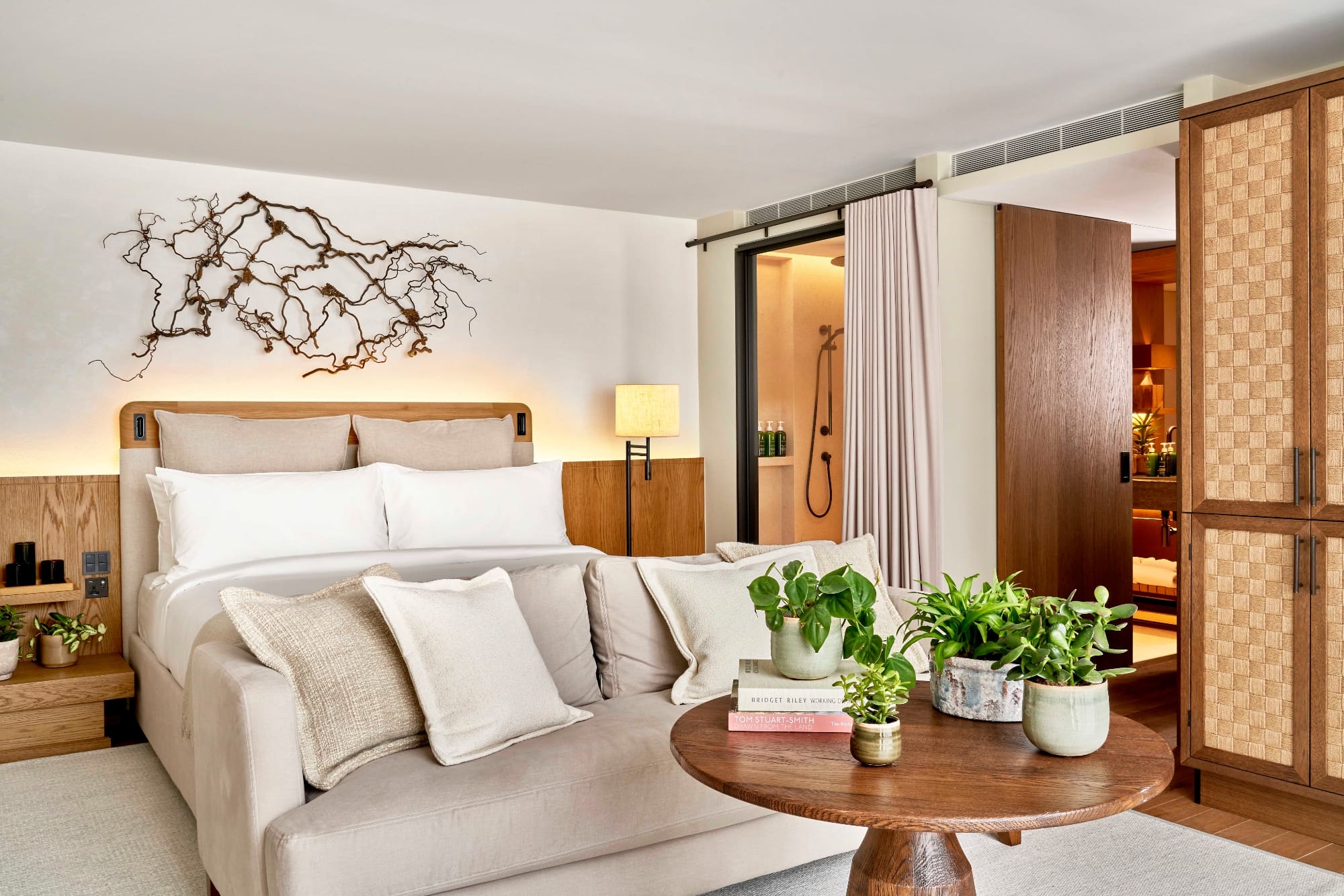 Natural, earthy tones permeate the rooms, which are replete with their own drinking-water tap beneath a living moss wall. Guests slip under sustainably sourced cotton sheets and sensors turn off both lights and air conditioning when spaces are not in use. Bathrooms with Welsh slate vanities are lined with eucalyptus-scented Bamford products and sister brand Daylesford Organics packs out the mini-bar.
The details really set 1 Hotel Mayfair apart: wardrobe hangers are constructed from discarded packages and rubber harvested from responsibly sourced trees, in partnership with the Forestry Stewardship Council; in place of a paper pad, there is a piece of slate and chalk pencil.
The hotel strives to educate its guests: a clothing care bag encourages you to consider organic solvents and gentle detergents, while the bin holds a solemn reminder, divided into 'recycling' and 'landfill'.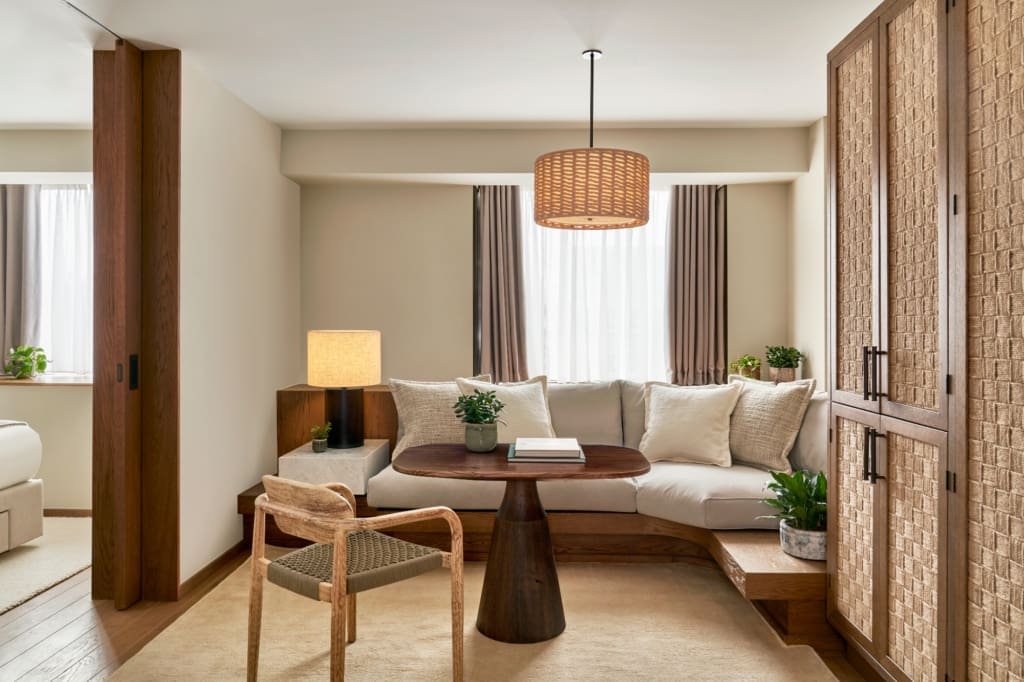 There is a packed calendar of social events for guests, including green-fingered terrarium workshops and a walking tour of the neighbourhood's nicest trees, with a map designed in collaboration with the Tree Council. There is also a morning running club in Green Park and a weekly social hour on Wednesdays where guests can hobnob in the lobby bar over cocktails. Guests can flit about the city on electric Audi e-tron cars, should they choose to venture beyond central London.
The crown jewel is the double-height Green Park Penthouse Suite, which is the largest of its kind in compact Mayfair, with a wraparound terrace. The seventh and eighth floors house a further 44 light-filled suites in soothing latte tones, with skyline views of Mayfair and neighbouring Picadilly.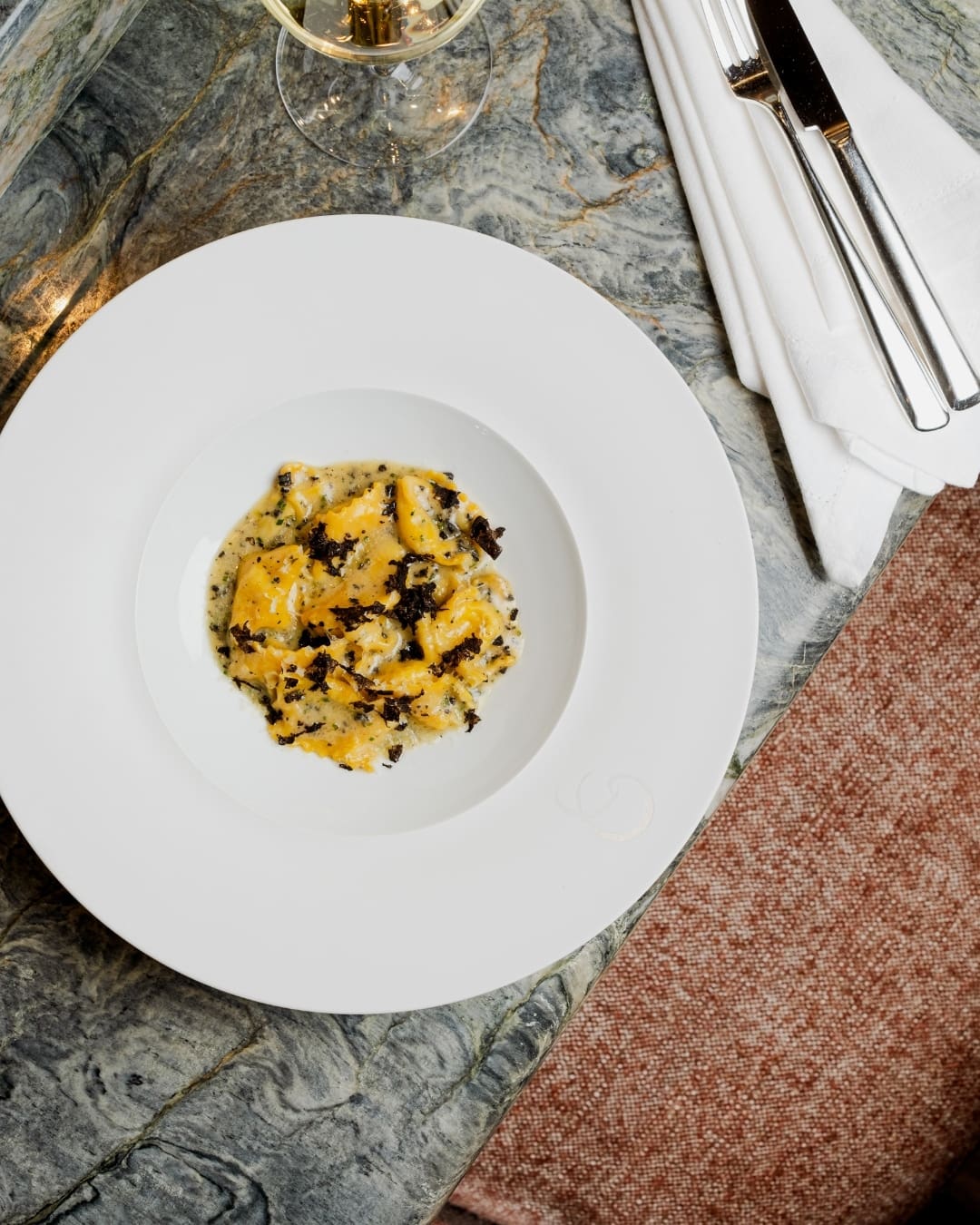 Food and drink
The hotel restaurant, Dovetale, is the work of revered two-Michelin-starred chef Tom Sellers, with a focus on seasonal, locally sourced ingredients and low-waste dishes. There is an onsite butcher for ageing and cutting steaks, while a raw bar brims with British shellfish. English burrata is made fresh each day, and standout dishes also include an Isle of Wight tomato tart and velvety black truffle and potato agnolotti. The kitchen is striving to be 90 per cent zero waste and the handcrafted tableware is a collaborative effort between Sellers and Stefanie Hering of Hering Berlin.
"Now is the time to present world-class produce sourced sustainably and celebrated in the season we find it," said Sellers upon opening. "Together we can push the boundaries of zero waste and conscious creativity."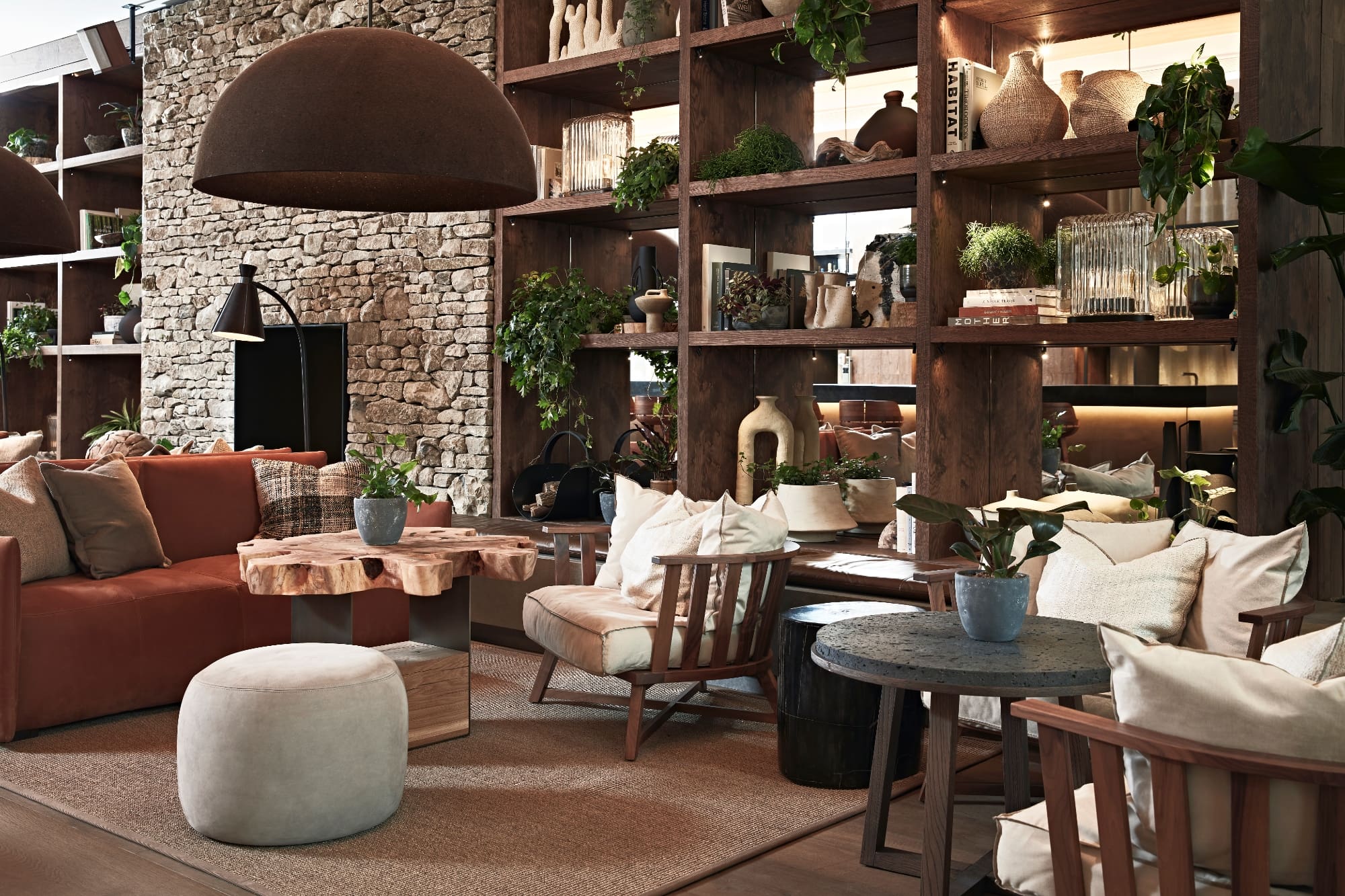 The verdict
Restaurant prices aren't cheap but nothing is at 1 Hotel Mayfair. It debunks any outdated theory that sustainability cannot also be smart, luxurious and efficient. And while there are hazy questions regarding whether a luxury product can ever truly be sustainable, 1 Hotels proves that initiatives such as recycling and regenerative food practices are possible in a large-scale hotel operation. It might not be perfect, but its efforts are refreshing and admirable and call into question why other major hotel groups are not doing more. 1 Hotels is currently expanding with developments underway for hotels in Austin, Paris, Copenhagen, Crete, Riyadh and Melbourne.
Many guests will remain unaware of the building's living walls, solar roof panels and reclaimed materials and choose to book the hotel primarily for its central postcode and beautiful interiors. However, if they leave a little more educated and aware of their own carbon footprint and consumption, then that is no bad thing at all.
Rooms from 500 GBP, 3 Berkeley Street, London W1J 8DL



JOIN US FOR THE JOURNEY
Subscribe to the newsletter
City guides, culture, photography and ideas, with expert analysis on the biggest stories in travel