The best LA brands to help you cultivate California cool
Last updated: October 30, 2023
Bring a bit of California cool to your life with these clothing, jewellery, fragrance and lifestyle brands, imbued with the spirit of Los Angeles. Now all you need are swaying palm trees…
Los Angeles is both huge and diverse, but the prevailing stereotypes – meditation, smoothies and yoga – have an undeniable ring of truth to them. And you know what? Angelinos don't really care. This is a city that has always moved to its own beat, a laidback yet determined attitude that has seen it become the creative hub of the USA's West Coast – but for all that characteristic chill, its citizens are as attuned to the latest trends as the fashion-hungry residents of its rival, NYC.
It's unsurprising that the city streets are packed with beautiful boutiques selling all manner of homegrown brands, ranging from clothing and jewellery to homeware – not to mention a fair few candles. In fact, LA gave birth to some household names: Oliver Peoples sunglasses for one, while cult fragrance company Boy Smells also made its first foray here.
Shopping in Los Angeles presents a smorgasbord of delights – but even if you're not going there yourself, we've curated a list of some of our favourite LA brands, so you can cultivate some California cool of your own, and they all offer global shipping.
Clothing
From top left: logo-embroidered cotton corduroy baseball cap by Camp High, 38 USD, mrporter.com; Big Pocket shirt by Olderbrother, 265 USD, olderbrother.us; Stars & Spirals organic cotton jacquard sweater by The Elder Statesman, 547 USD, farfetch.com; Walk straight-leg cotton corduroy shorts by Birdwell, 90 USD, mrporter.com
Independent fashion labels abound in Los Angeles. Olderbrother, which has its flagship store in LA, is a prime example. Their eco-conscious gender-neutral garms are sustainably made in California with a soft workwear aesthetic. The hemp shirt, pictured above, is as light as linen and gets its golden hue from using bee pollen as a natural dye, sourced from LA neighbour Eli's Bees (more on which later).
Birdwell Britches is another LA classic: it was one of the first businesses to specialise in surfwear, and was set up by Carrie Birdwell Mann in 1961, who invented the two-ply nylon beach britches, which have gone on to become a cult favourite. Today, the brand offers a variety of clothing for men and women, such as these navy cotton corduroy shorts that hit at mid-thigh.
Younger but no less lust-worthy is The Elder Statesman, which specialises in colourful cashmere knits that range from cuddly toys (we've got our eyes on a cactus), to the vibrant stars and spirals jumper, above, that's ideal for breezy evenings on the beach. Pair with a classic cap from Camp High, and you're ready to rumble.
Jewellery and accessories
From top left: Poppi floral millefiori & pearl bracelet by éliou, 154 USD, matchesfashion.com; Dona pearl, glass & gold-plated bracelet by éliou, 135 USD, matchesfashion.com;  14K yellow gold Mini Compass turquoise diamond ring by Retrouvaí, 1,886, farfetch.com, Gregory Peck round frame sunglasses by Oliver Peoples, 335 USD, farfetch.com
When Oliver Peoples launched as an under-the-radar boutique on West Hollywood's Sunset Boulevard in 1987, its aim was to fly in the face of the futuristic shapes and brazen colours of the decade. Today, the brand is still known for its timeless silhouettes, which pay homage to Hollywood icons. These particular sunglasses, above, are named after American actor Gregory Peck, and are inspired by the pair he wore in To Kill A Mockingbird in 1962. If that isn't iconic, we don't know what is.
Fine jewellery brand Retrouvaí handcrafts 'modern heirlooms' in Los Angeles, with a strong focus on ethics – this turquoise and diamond ring comes from the Compass collection, inspired by the nostalgia of a grandfather pocket watch. The label was founded by Kirsty Stone and takes its name from the French word retrouvailles, defined by the joy of reconnecting with the past.
Elsewhere, Éliou's playful smiley faces and naïve shapes evoke Cali beach culture, and, let's face it, are so feel-good you'll get a mood boost just from looking at them.
Homeware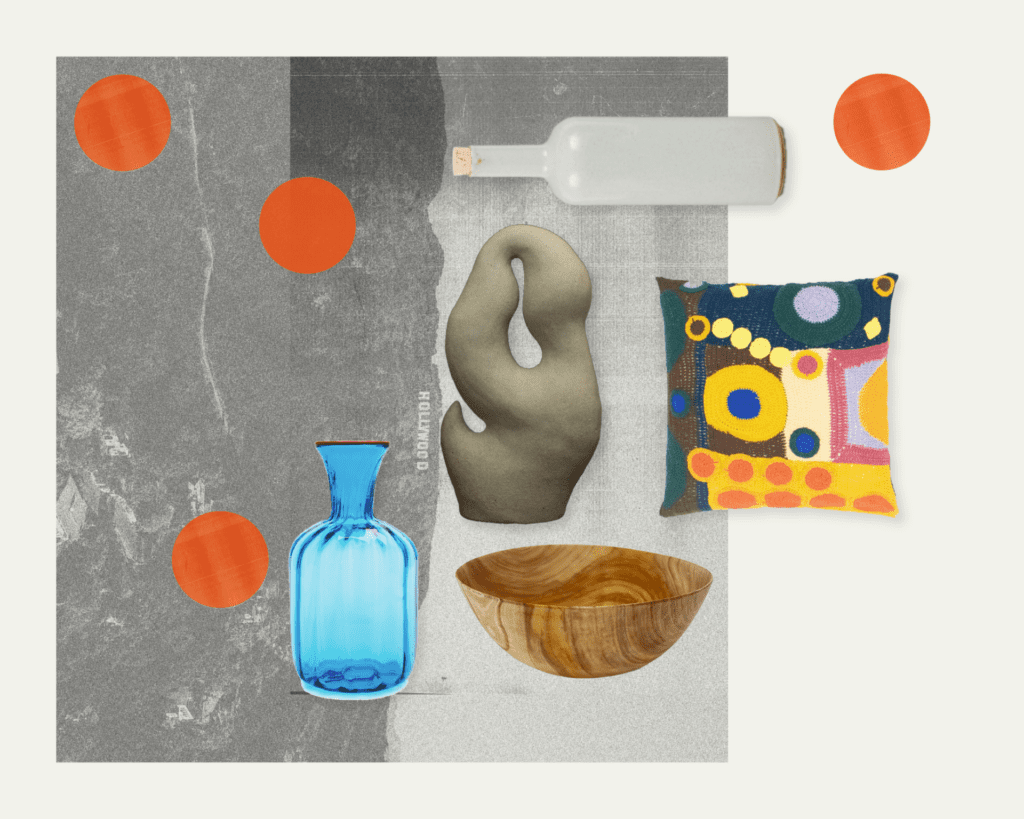 From top left: Gloss Gray bottle by Hasami Porcelain, 55 USD, tortoisegeneralstore.com; Waterform ceramic sculpture by Common Body, 450 USD, common-body.com; Multicolor Crochet Mixer Pillow by The Elder Statesman, 1825 USD, ssense.com; X Salviati Murano carafe by La DoubleJ, 541 USD, matchesfashion.com; Whitewashed Korean Zelkova extra-large bowl, 725 USD, namuhomegoods.com.
Based in Los Angeles, Namu Home Goods is the pandemic baby of Diana Ryu, a former editor and writer who went through a year of personal re-engineering when Covid disrupted her life. Each keep-forever woodwork piece is sourced from makers in Korea, and is designed to be handed down over generations. This perfectly imperfect bowl by artist Kim Min Wook, made from Korean zelkova wood, is more than up to the brief.
La DoubleJ (founded by Los Angeles-born J.J. Martin), brings together the best of Italy with a curated collection of colourful homeware, vintage clothing and jewellery, such as this vibrant Murano glass carafe.
If beautiful bottles are your kind of thing, Hasami Porcelain – made in Hasami, Japan and designed in Venice Beach – specialises in stackable, modular ceramics, including this number made with crushed stone from Amakusa, a region known for making some of the most highly regarded pottery in the world.
Playing with clay is also one of the USPs at Los Angeles-based brand Common Body, which crafts figurative sculptures as well as beeswax candles, sourced in a way that supports bee health as well as family-run bee farms in the LA area.
From candles to cushions: The Elder Statesman creates knitted home furnishings in the brightest colour palette around, and this playful pillow is 100% cashmere and made in Los Angeles.
Fragrance
Boy Smells started in a kitchen, and from those humble beginnings, it's gone on to (very nice smelling) world domination, creating gender-non-binary scents that burn through expectations. All the candles are developed and designed in Los Angeles using natural oils and a proprietary blend of all-natural coconut wax and beeswax.
Amass is another LA-made brand working with nature, harnessing the power of plants to create botanical-forward spirits, and has since expanded into candles and scents. 'The Art of Staying In' celebrates a vibe we can all get on board with: a lazy night on the sofa, but heightened with scents of grapefruit, chamomile, jasmine and lavender.
If you prefer your fragrance on your body, Bodha's Air Vibration Perfume Oil is a breezy blend of green melon, sheer white flowers and fresh sea air, made using vegan and sustainably sourced ingredients and dreamed up in the founders' LA studio.
For something more earthy, Capsule Parfumerie's Cedrus is a blend of three cedarwood varieties around the world, lifted with notes of jasmine and fresh wild orange, available from its LA flagship and online.
Food & Drink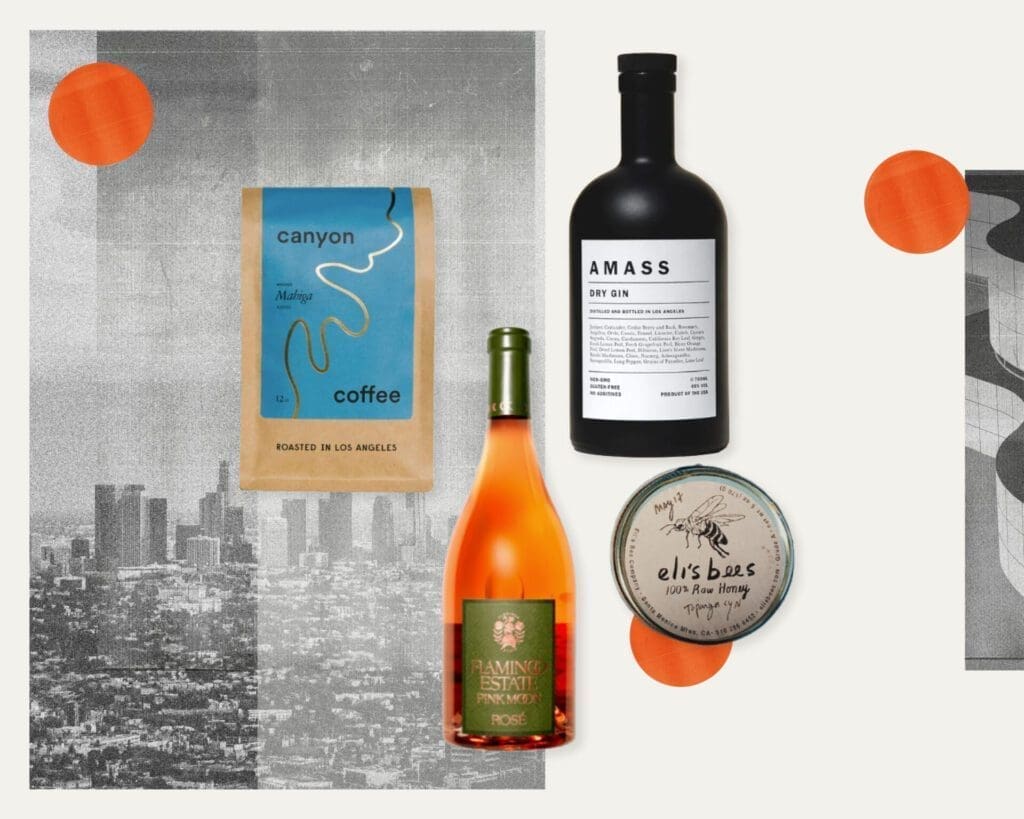 Not only is Los Angeles home to a vibrant selection of restaurants and bars, but it has a community of delicious independent food and drink brands, too. Father-and-son duo Eli's Bees quite literally bottle the taste of Los Angeles with their honeys, harvesting the precious golden nectar from the canyons of the Santa Monica mountains. Their small-batch honeys are testament to a painstaking production process that aims to protect the bees' welfare and the incredible biodiversity of the Southern California landscape.
Another way to savour Los Angeles is through Flamingo Estate's Pink Moon rosé, made with a blend of tempranillo, grenache, syrah and cabernet sauvignon, grown in San Luis Obispo. The estate, up in the LA hills, is owned by the hugely successful Richard Christiansen (also behind art bookstore Owl Bureau and Chandelier Creative agency), who initially bought the house and seven-acre garden to sate his passion for growing and harvesting his own vegetables during the pandemic. Today, it's a cult lifestyle brand selling homemade bath and body products, fresh produce and, yes, absolutely delicious rosé.
A similar love of plants is behind Amass, which makes its dry gin using botanicals that celebrate the terroir and diverse cultural landscape of Los Angeles with citrus and herbaceous notes.
Not grown in Los Angeles, but roasted and ground there, is LA's coolest coffee brand, Canyon Coffee. Mahiga, made using Kenyan beans, is a super juicy, refreshingly sweet blend that makes an absolutely banging iced coffee, and can be found served in many of the city's best coffee shops.
If you purchase something from our website, we may earn an affiliate commission.
Subscribe to the ROADBOOK newsletter for an inspirational dose of travel, photography and design, direct to your inbox


JOIN US FOR THE JOURNEY
Subscribe to the newsletter
City guides, culture, photography and ideas, with expert analysis on the biggest stories in travel