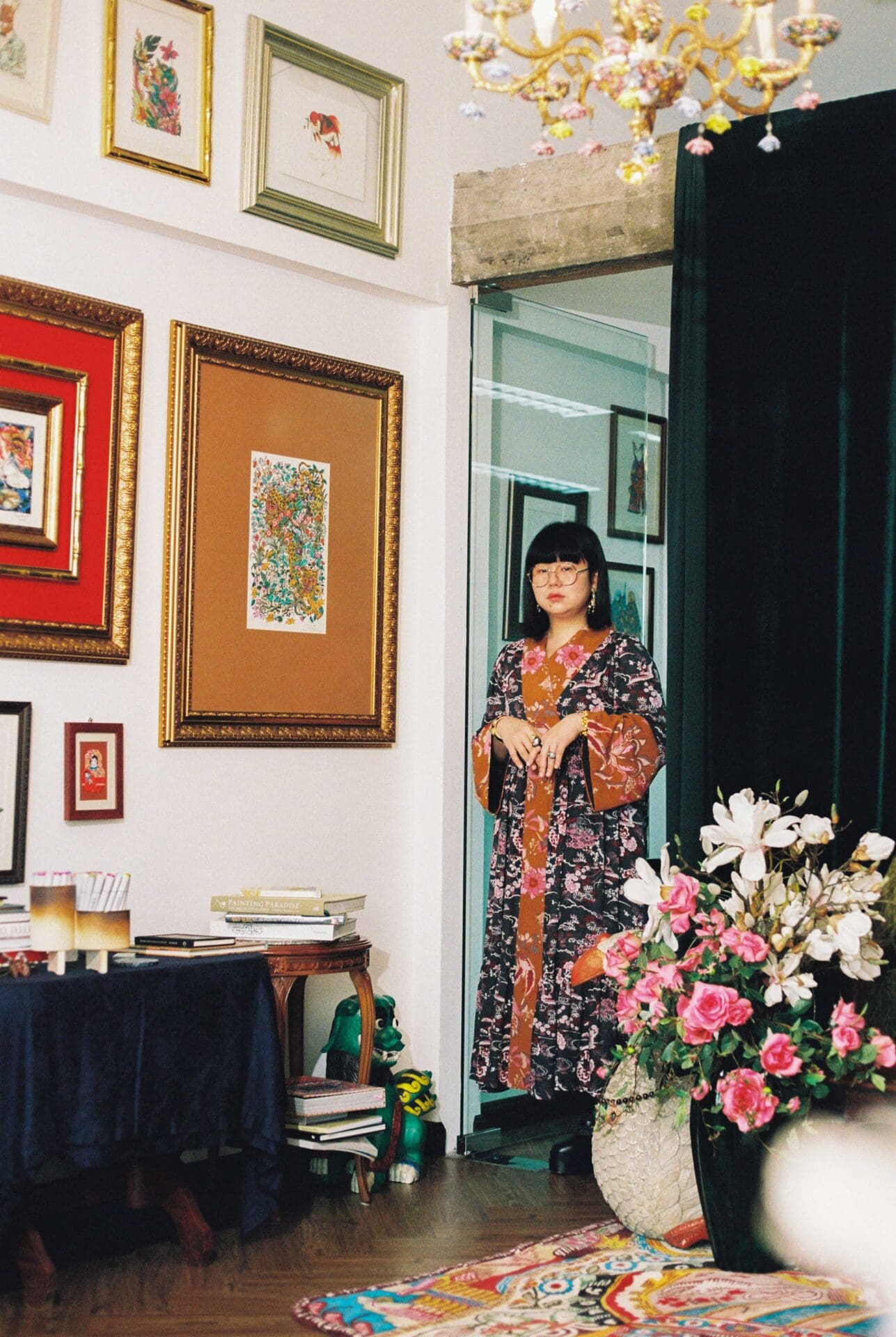 Bangkok artist Phannapast on life in technicolour
Last updated: August 1, 2023
Whether collaborating with Gucci or making NFTs, Thai artist and illustrator Phannapast creates whimsical painted works in joyful technicolour
Phannapast 'Yoon' Taychamaythakool was a fashion designer before she became an artist, which may explain how her outfits fit perfectly with the whimsical, colourful and characterful world she creates in her drawings, paintings and illustrations. Gods of Thai, Chinese and Greek myth appear side-by-side with wild creatures, cherubs, fairies, and plants. There's heady Zodiac symbolism, and a vibrant riot of patterns and colours.
Phannapast's work was picked up by Gucci, who invited her to design the Gucci Art Wall in New York in 2018. Since then, she had a hugely popular solo show at modern art gallery River City Bangkok, called Venus in the Shell, in 2021, and has recently contributed to an NFT exhibition there. She also designs wallpaper and other products from time to time, and her studio and workshop is called Rainbow of Dream Co Ltd. The whimsy is real.
The singular and increasingly popular artist shares the process that lies behind her work, and how travel has informed her life and creativity.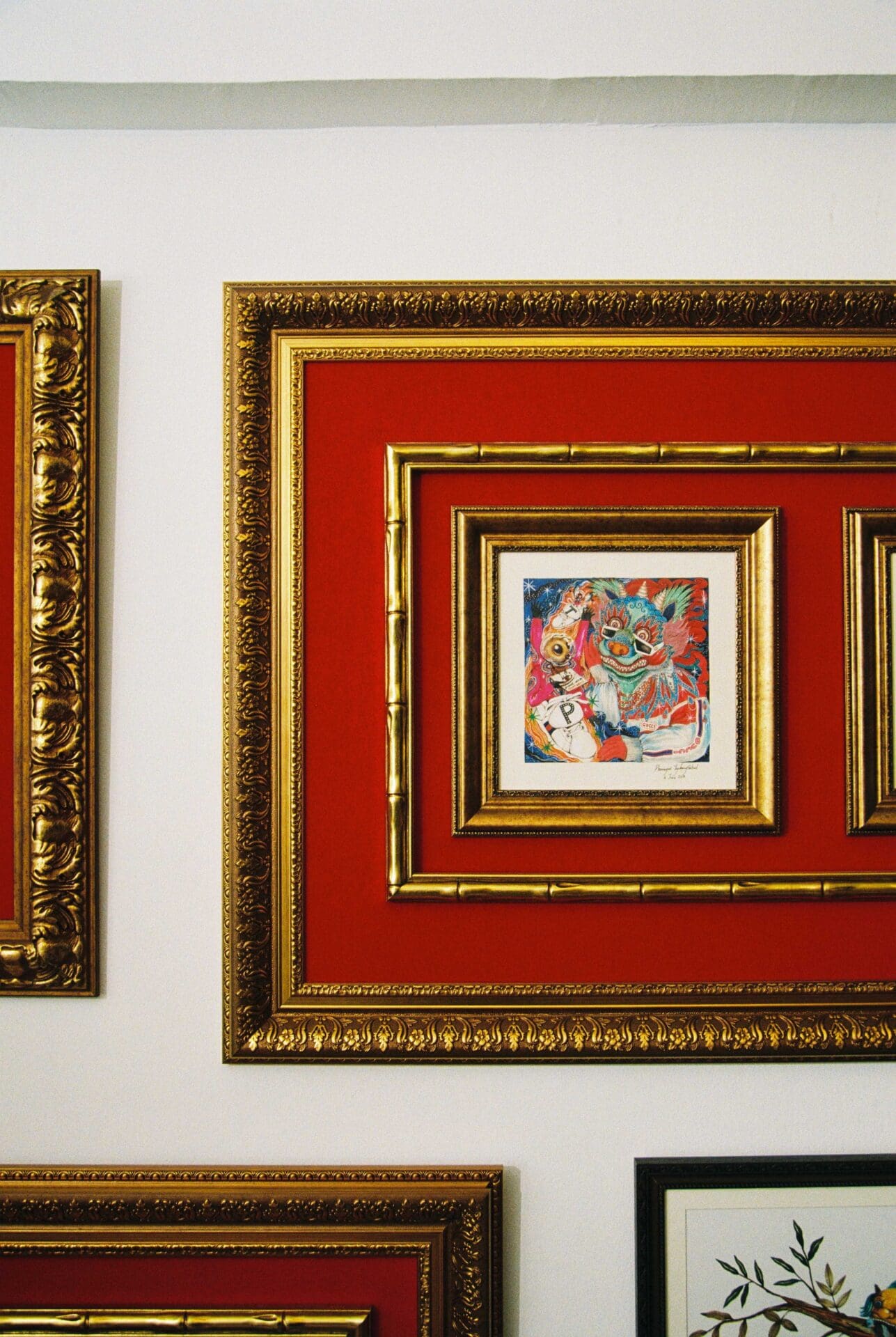 Phannapast's art practice
How do you go about creating your pieces? How does an idea start?
I like to start within myself. I analyse things around me according to the emotions I'm feeling at the time, which I then interpret into pictures. Creating each piece is like going on a journey, drawing from past experiences I've had. The work might come out of different factors, but the principal part is the journey I go on through my past experiences.
How does myth and ideas of the divine inspire your work?
I like to read and listen to folk stories. When I was young, I was attracted to the fantasy aspect of each story. Now I'm older, I see that telling stories is an integral part of how humans live. It occurs in every culture. I find it really interesting when you compare the timeline of a story to the period of history it originates in.
Phannapast's recent projects
Can you tell us about your recent NFT work for the auction at The River City?

It's a picture of the god Caishen. He's the Chinese god of wealth. As a Thai-Chinese, I always have a picture of him on display for good luck during Chinese New Year. I believe that as the times change, culture changes too. So I have drawn this image of the god of wealth in the time of 2022. Instead of traditional indications of wealth, in my drawing, he can send you on a rocket to the moon – referring to the phrase 'to the moon' that's often used in the crypto community to indicate a successful investment.
What was your collaboration with Gucci like?

It was the best experience and I'll never forget it. Working with Gucci opened many new doors. It liberated me, and now I get to do what I always dreamed of but never had the chance to. It gave me the feeling that if I want to do this, I must find a way to make it successful.
How did it come about?

The first time I saw Gucci's F/W 2015 collection by Alessandro Michele on YouTube, I felt enchanted. That happened in the same year that I became a creative director. Alessandro Michele had just become creative director of Gucci too. The brand I worked for had doubts regarding my experience and age, and they wondered if I could lead the brand to success. There was a similar question in the comment sections of that YouTube video about Alessandro Michele, because he had rebranded and created a new image for Gucci. I drew a fashion portrait of animals wearing dresses from Gucci, and posted the work on Instagram. I wanted to support Alessandro Michele and demonstrate to him that there's people out there who really likes his work and direction. The Gucci team then found me and contacted me, and we started working together.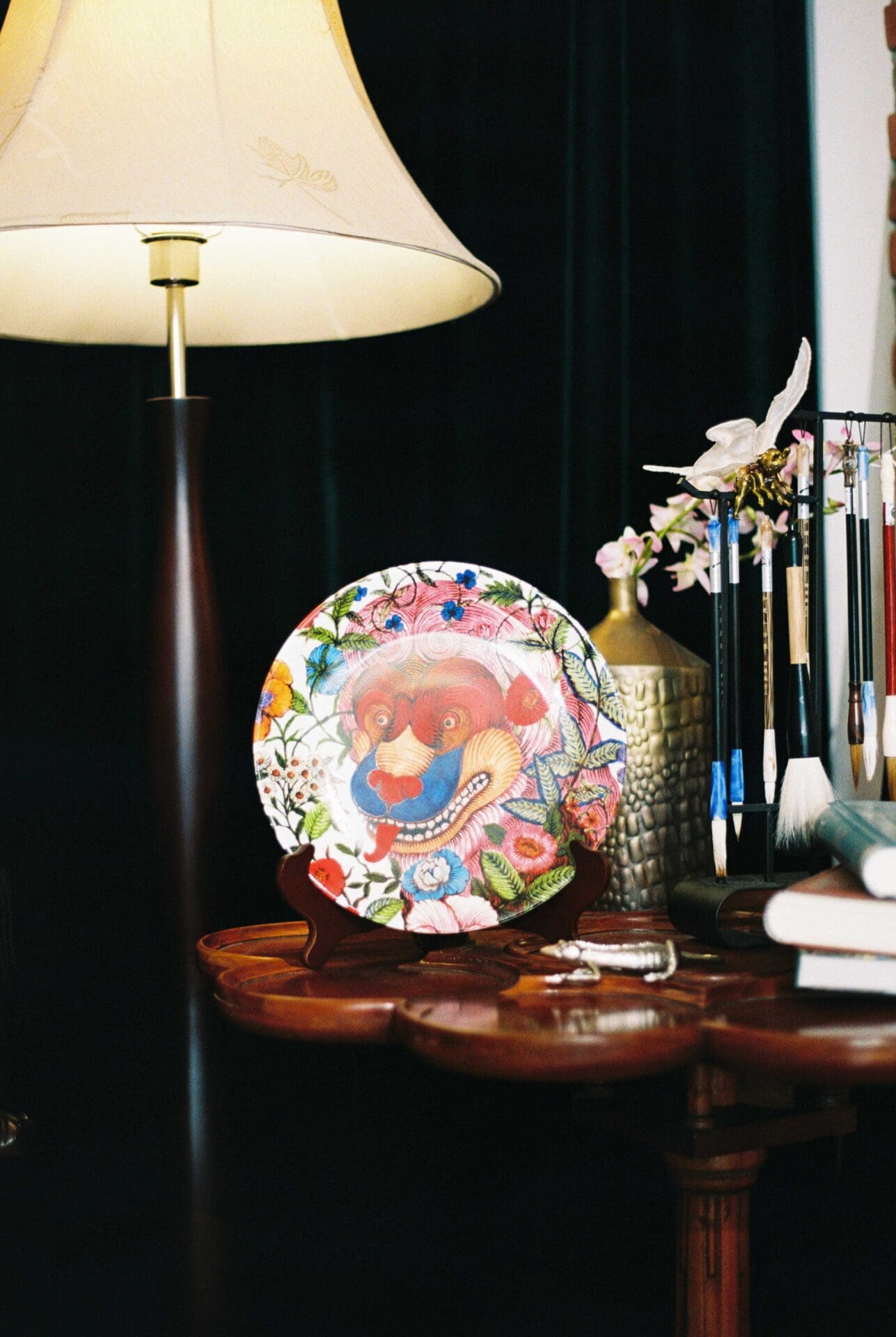 Phannapast's travel experiences
How has travel shaped you?
When I was young, I didn't have opportunities to travel that much, so my world expanded through books, drawing on the authors' experiences and my own imagination. The story that I read most often was probably about adventures in the Amazon, which I haven't visited yet.
Where do you identify with most?
In Bangkok, it would be Yaowarat (China Town) and Pahurat (Little India). These areas have everything that I like: food, fabric, and a lively vibe.
What does a journey mean to you?

To me, a journey is about learning and growing. Every journey has a hidden message. Sometimes we might not be aware of the messages while we're on the journey, but when time passes and we look back on it, we can feel that something inside us has changed.
Which country or location most inspires you?

There are so many places! For relaxation, I think of Udon Thani, a city in northeast Thailand, which I recently visited. The weather was great, the people and the city were very friendly, and it's not difficult to get there from Bangkok. I think it could be a very good place to live. But for inspiration, it would still be Yaowarat and Pahurat.
Where would you most like to go back to, and why?

I want to go back to Paris. I was there around six or seven years ago for fashion week, when I was working as the creative director of Thai womenswear brand Kloset. I didn't have much spare time outside of work there, so I didn't have a chance to visit the Louvre, and it is still very much on my mind. Another place would be the Cherry Blossom Festival in Jinhae, South Korea. I still think about the sight of the railroad track covered in cherry petals that kept falling from the trees. There were people playing music, selling lemonade, and these bakery treats with a little walnut in the middle. Everyone was dancing. Everything looked like a dream.
What's the journey that's impacted you most?

Many years ago, my friends and I decided we would all go on an international trip once a year and a domestic trip every three months. That was when I learned that my world wasn't only about books. We have made both bad and good decisions with food, we've got lost a lot, but we always have fun. I'm not courageous enough to travel alone, so it's so nice to have friends with me. I'm impressed that we have been friends since high school. And since that day, we're still choosing to go on journeys together.
ROADBOOK's ongoing How Did I Get Here series interviews global creatives, exploring how travel has influenced their work. Discover more here. 


JOIN US FOR THE JOURNEY
Subscribe to the newsletter
City guides, culture, photography and ideas, with expert analysis on the biggest stories in travel