Brimming with creativity, independent museums and one-off attractions, the spirited seaside town of Hastings lies just a couple of hours from London by train
There's a whole lot of personality crammed between the cliffs and the vast shingle beach of Hastings. It has individuality in buckets, and the city's artists, designers and makers lend their talents to everything, from illustrating the local museum brochures, to kickstarting meaningful community projects. It's a place where people like to get stuck in and make their ideas happen; the city has its own independent press, a locally grown food network, and an extremely active band of heroic RNLI volunteers.
Easily accessible from London, Hastings offers the quintessential British seaside vibe, while its fun bohemian streak, its close connection to the sea, and its cohort of hardworking history enthusiasts combine to create a unique sense of place. The amount of festivals and events per capita is also pretty staggering – taking place each February, Hastings Fat Tuesday is the largest Mardi Gras celebration in the UK. And the city even has its own pirate festival…
To experience Hastings' packed-out community event calendar, its distinctive heritage, and its incredible art and design culture, book a B&B for the weekend and come ready to explore everything there is to do in the East Sussex coastal town.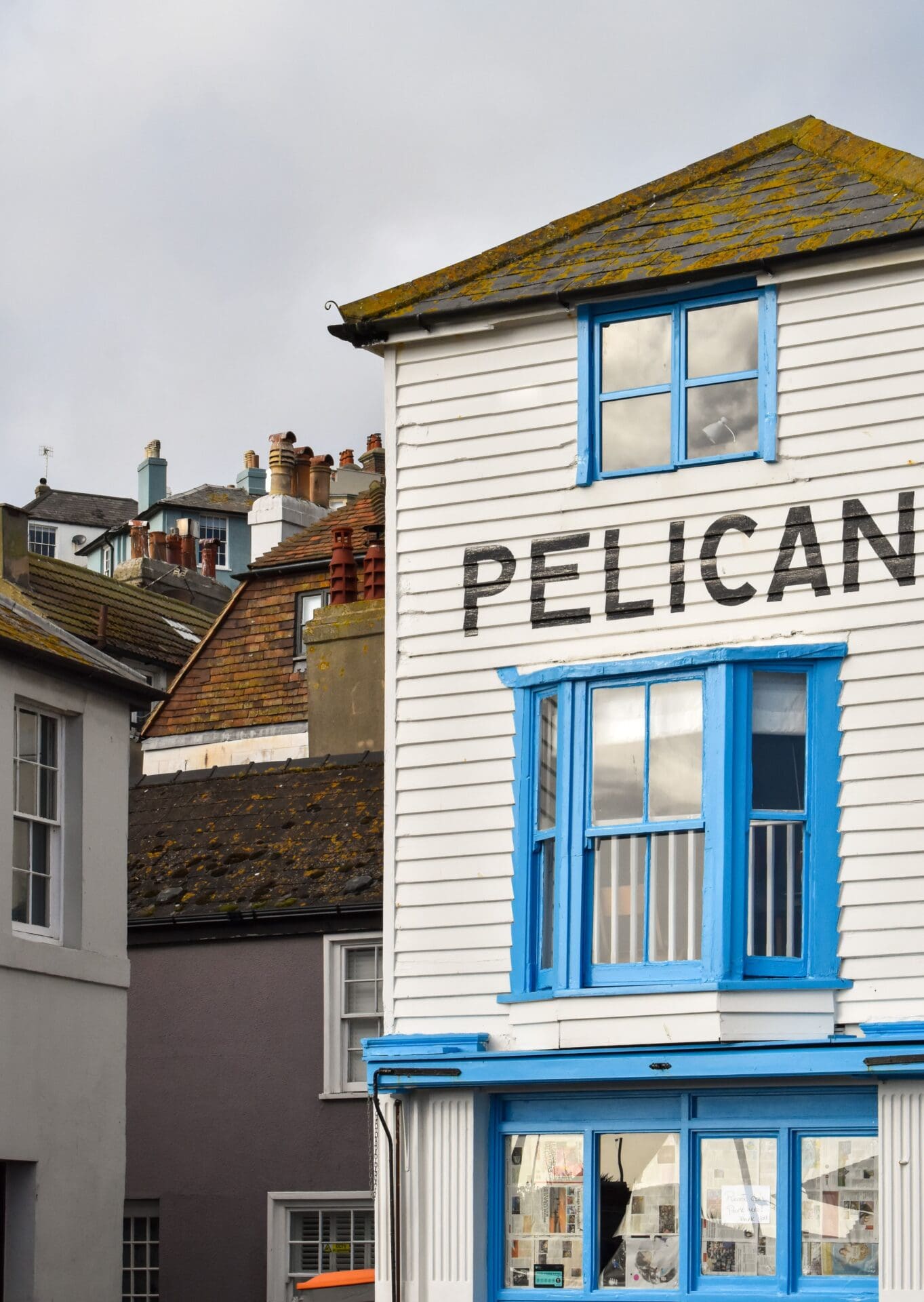 Only in Hastings
Get your bearings by following the Hastings Heritage Trail with your phone. Created by local photographer Maxine Beuret, the sightseeing route draws attention to unique and surprising architectural titbits that put Hastings on the map. For example, the city was the first place in the world to build a large-scale underground car park. And its epic miniature golf course – with three 18-hole themed courses – hosts the annual World Crazy Golf championships. The trail leads eastward along Hastings' seafront, so you can stop and explore anything that piques your curiosity along the way – look out for Source Park, where former Roman Baths have been converted into the world's largest subterranean skate park.
Funicular fun
Hastings has not one, but two funicular railways, trundling up the chalk limestone cliffs from the town centre. Each costs 4 GBP for a return – and it's well worth a ride on both, but for different reasons. Open since 1891, the West Hill Lift is the oldest. Step on board one of its quaint butter-coloured carriages from the heart of Old Town, and you'll ascend through a brick tunnel to Hastings Castle (more on this later). Meanwhile, the newer East Hill Lift is the one for a scenic journey. Alight at the fishing and cultural quarter and glide up to the entrance of Hastings Country Park Nature Reserve, where you'll find 5km of stunning coastal walking trails at your feet.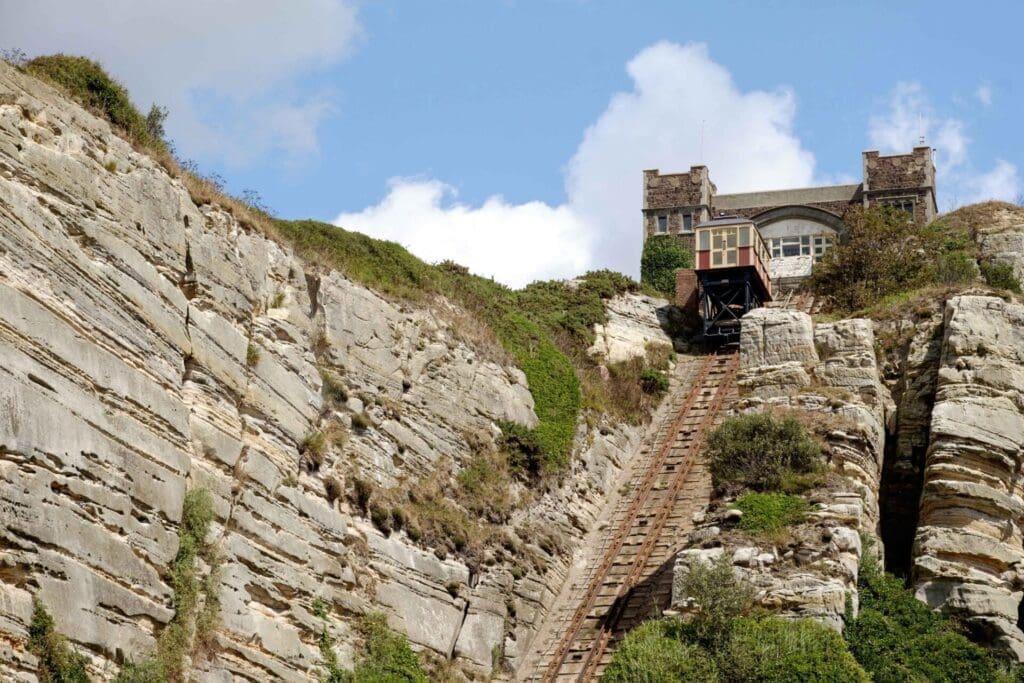 Quirky museums
People take history-making into their own hands in Hastings, which has spawned a vibrant independent museum scene. At the Shipwreck Museum – with its haul of maritime artefacts from the British channel – trustees are often roaming the museum floor, sharing their enthusiasm and bringing exhibits to life. One of them led us over to some Roman sandals he'd discovered in the archive during lockdown, and encouraged us to touch a 4,000-year-old Bronze Age tree that had been nearly perfectly preserved by salt water. Hastings' True Crime Museum is another complete one-off. The morbid collection of memorabilia from infamous true crimes is heightened by the museum's location inside a 3,000 sq ft network of caves. Allow at least an hour to pore over relics from all manner of gangsters, drug lords and serial killers – including the Kray twins' boxing gloves – and listen in on killers' confessions caught on tape, echoing eerily off the caves' walls…
Maritime heritage
Hastings is home to one of the UK's oldest fishing fleets. Framed portraits inside the intimate, moving Fishermen's Museum are paired with personal blurbs about the legendary characters who braved life at sea, day in, day out. Take Leslie Ernest Richardson, aka "Oxo", who, in the 1940s, was known for delivering talks about fish from his cart, where a skate with a cigarette hanging out of its mouth served as his mascot. The museum is set within the wider fishing and cultural quarter, which feels like a living museum in itself. Along Rock-a-Nore Road, you can admire the spindly black Grade II-listed timber huts, where fishermen used to store their nets – built upwards to save on space – and wander along the Stade (Old Saxon for "landing place") to see fishermen still at work today.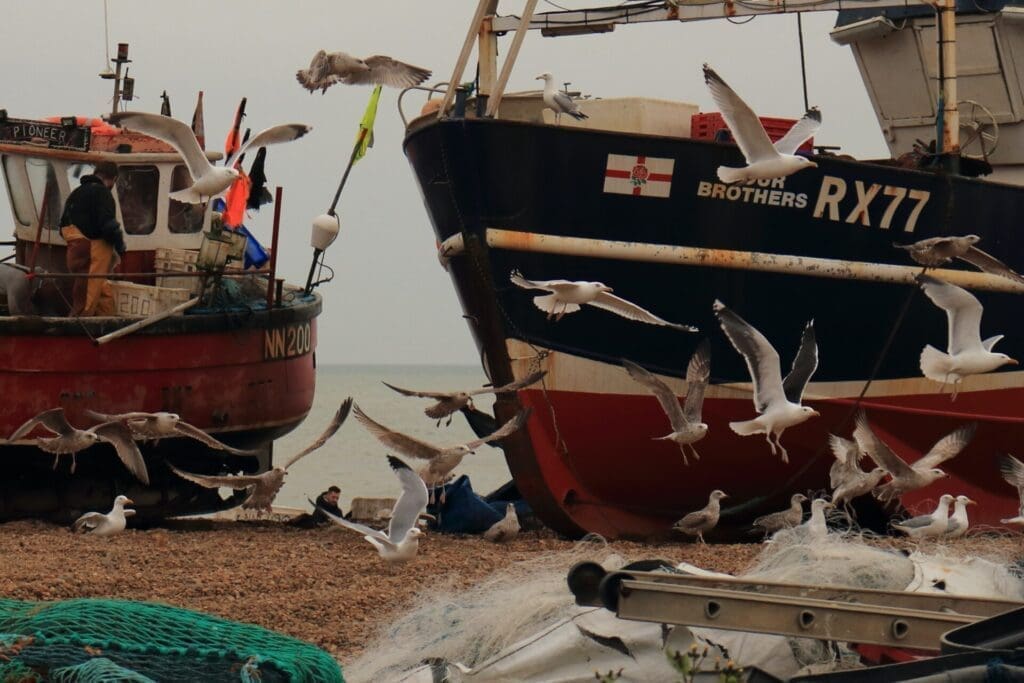 Don't mention the battle…
As you may know, a certain defining moment in British history took place in 1066. But it was actually occurred seven miles north of Hastings – and, if you want to see the place where William the Conqueror made his indelible mark on Britain, you can hop on a train to Battle (less than 20 minutes away). In Hastings proper, there's not a great deal of reminders about the great battle, but traces of Norman life are dotted around: Hastings Castle, a symbol of William's triumph, was one of the first Norman castles to be built in Britain, and today its ruins are a beautiful place for a clifftop ramble.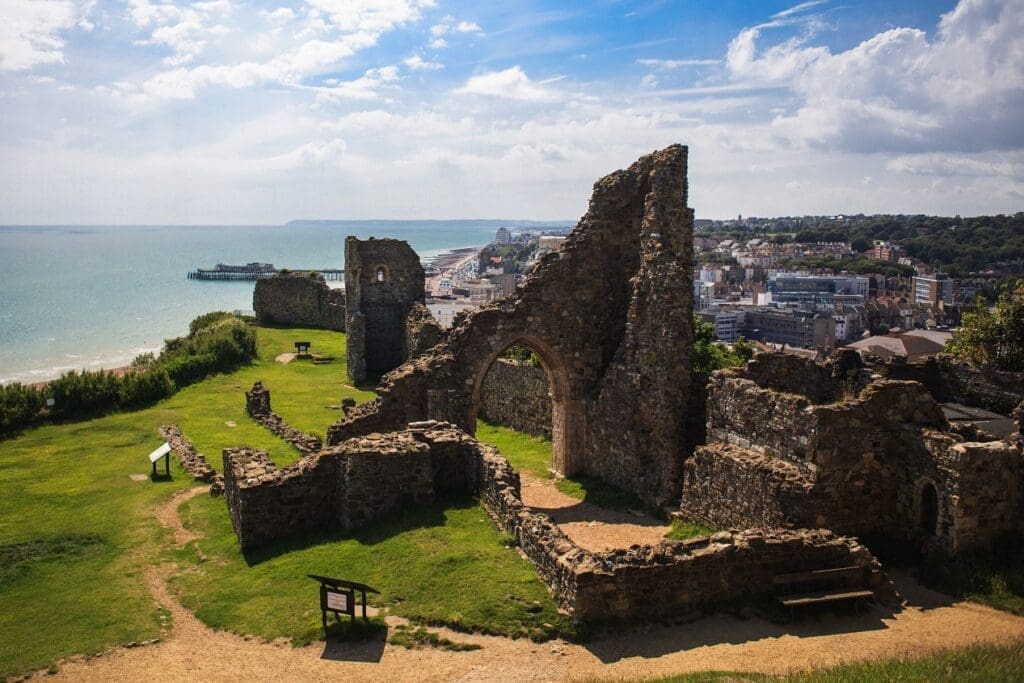 The America Ground
And now for something you probably don't know: Hastings is home to the (self-declared) 24th State of America. In the early 19th century, just past the western boundary of Hastings borough, a community of free-thinkers began living tax- and rent-free in self-built housing. Inspired by the American Revolution, these residents declared their turf to be independent from the rest of Hastings, labelling it a US state instead. Centred around Robertson Street, this part of town is referred to as The America Ground, and today it's a creative quarter buzzing with local businesses. After browsing inside The Hastings Bookshop and Dyke and Dean for homewares, Stooge is a friendly place for an excellent coffee, where you can chill outside on tables and chairs beside Holy Trinity Church and the arched gothic revival facade of Hastings Library.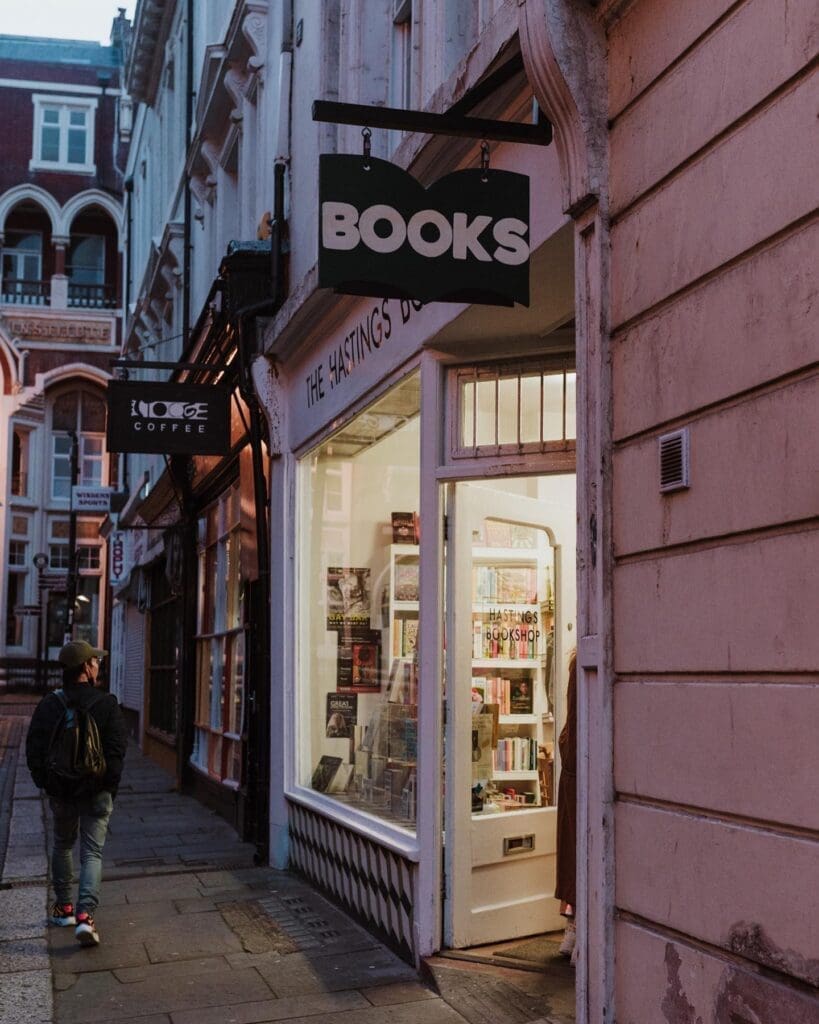 Seaside capers
From the miniature railway chugging up and down the coast, to its boating lake with white swan pedalos, Hastings's old-school seaside attractions feel timeless rather than tacky. Along Rock-a-Nore Road, there are beach shacks, jellied eel bars and chippies selling fish fresh as it comes, and the beloved Rock-a-Nore Kitchen has a takeaway hatch if you don't have time for a sitdown meal. Redeveloped in 2016, the Stirling Prize-winning Hastings Pier was conceived as a versatile space for concerts, markets and whatever else the community may require, as opposed to having fixed attractions – which produces a relaxing vibe as you stroll out towards the horizon. As well as a makeshift beer garden and a stage, it has beach huts that double up as food pop-ups.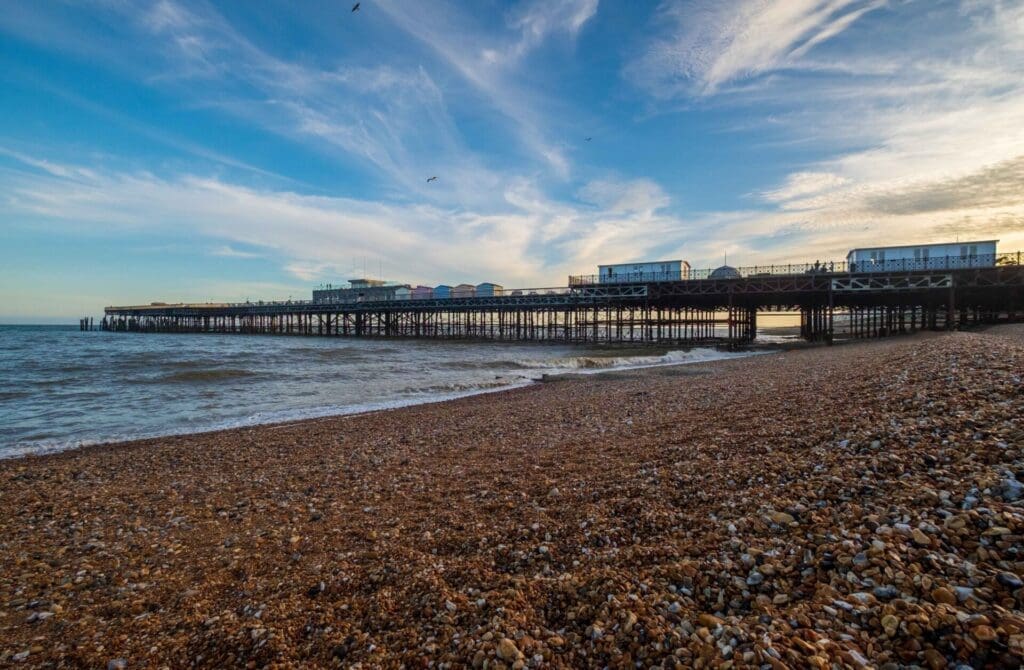 Old Town treasures
The charming Old Town is an epicentre for al fresco socialising, with seating spilling out of the cafes and pubs and bars like Dragon Bar and Ye Olde Pump House. The colourful pedestrianised George Street is adorned with local street art and lined with independent shops within its turn-of-the-century buildings. Standouts are Warp and Weft, where you can watch artisans craft clothing from all-natural fabrics, beautifully packaged single-origin chocolate at Only Coco, and Butlers Emporium for special gifts like soaps, woven blankets and sequinned moccasins. Around the corner on Courthouse Street, budding magpies can have a field day rummaging through the bric-a-brac stores for one-of-a-kind finds.
Art and culture
Hastings is overflowing with avant garde ambition, artist collectives, and city-centre studio spaces –including Project Art Works and Digital Arts Hub. The latter is currently hosting a project called XR22 3D, where Hastings residents are invited to come along to have their 3D portrait made for a "living archive" of the local community. Located within the fishing and cultural quarter, Hastings Contemporary presents 19th and 20th-century art, and has illustrator Quentin Blake as a patron. Over in The America Ground, The Printworks Arts Club prioritises new artists and non-profits when curating its programme of events, talks and literary salons, and also offers studio space. Keep an eye out for art duo Zuszushi Art Laboratory, who will soon be relocating to a local barge to continue their mind-bending work, crafting pieces from reclaimed items.
Community spirit
Hastings folk know how to mobilise and raise funds for their community. If you time your visit to coincide with Hastings Old Town Carnival Week, make sure to rent a bike and join in the Crown Lane bike race, held each year in honour of fisherman Jimmy Read. Hastings' Refugee Buddy Project, led by migrants and refugees who have made Hastings their home, is supported by businesses around the city, and its postcard project is on sale in coffee shops around the city. Meanwhile, The Hastings Project is a local brewery that generates profits for Hastings charities. Pop into The Crown or The Seadog to sample its hoppy IPA before your weekender in Hastings draws to a reluctant close.