Head northwest from New York City to the Catskills for cosy cabins and laidback boutique hotels, farm-to-table restaurants and hiking trails flanked by soaring mountains and waterfalls
Smores. Cider. Trout (smoked, roasted, fried). Hiking, jewel-toned lakes, cascading waterfalls, apple orchards, lungfuls of fresh air and about 2000 black bears. The Catskills is a verdant paradise about 100 miles northwest of New York, dotted with swimming holes and famed for its hiking trails. Part of the larger Appalachian Mountains in southeastern New York State, and encompassing the oldest known forest on earth, the Catskills region has undergone a major renaissance in recent years. Hip indie hotels like The Graham & Co. in Phoenicia and Foxfire Mountain House in Mount Tremper were the first to bring a refined Brooklyn aesthetic to the upstate New York destination in the early 2010s, followed by Scribner's Catskill Lodge. These sit alongside remote woodland cabins, serene lakeside lodges and a booming farm-to-table restaurant scene.
In the 1950s, the bucolic upstate New York region was known as the 'Borscht Belt' thanks to its summertime popularity among New York's Jewish community. Today, the Catskills attracts a diverse demographic, drawn to its undulating landscape and laidback, creative spirit, and is a go-to for New Yorkers seeking a weekend getaway.
Towns in and around the region include the laidback college town New Paltz, Hudson (the region's chic answer to Brooklyn), Bethel (where the famed Woodstock festival took place), Catskill (home to Thomas Cole's House, the first stop on the Hudson Valley Art Tour), the colourful mountain town of Tannersville, and the ski town of Windham. Explore the best lodgings, restaurants and things to do in the Catskills, from hiking trails to rock climbing and sledding.
How to get to the Catskills from New York
A two-hour train connects New York Penn Station to Hudson. Alternatively, Trailways and Greyhound operate bus services from New York, which take around three hours. Many travellers opt to rent a car, which allows the most freedom and flexibility while exploring the region's hamlets and natural wonders.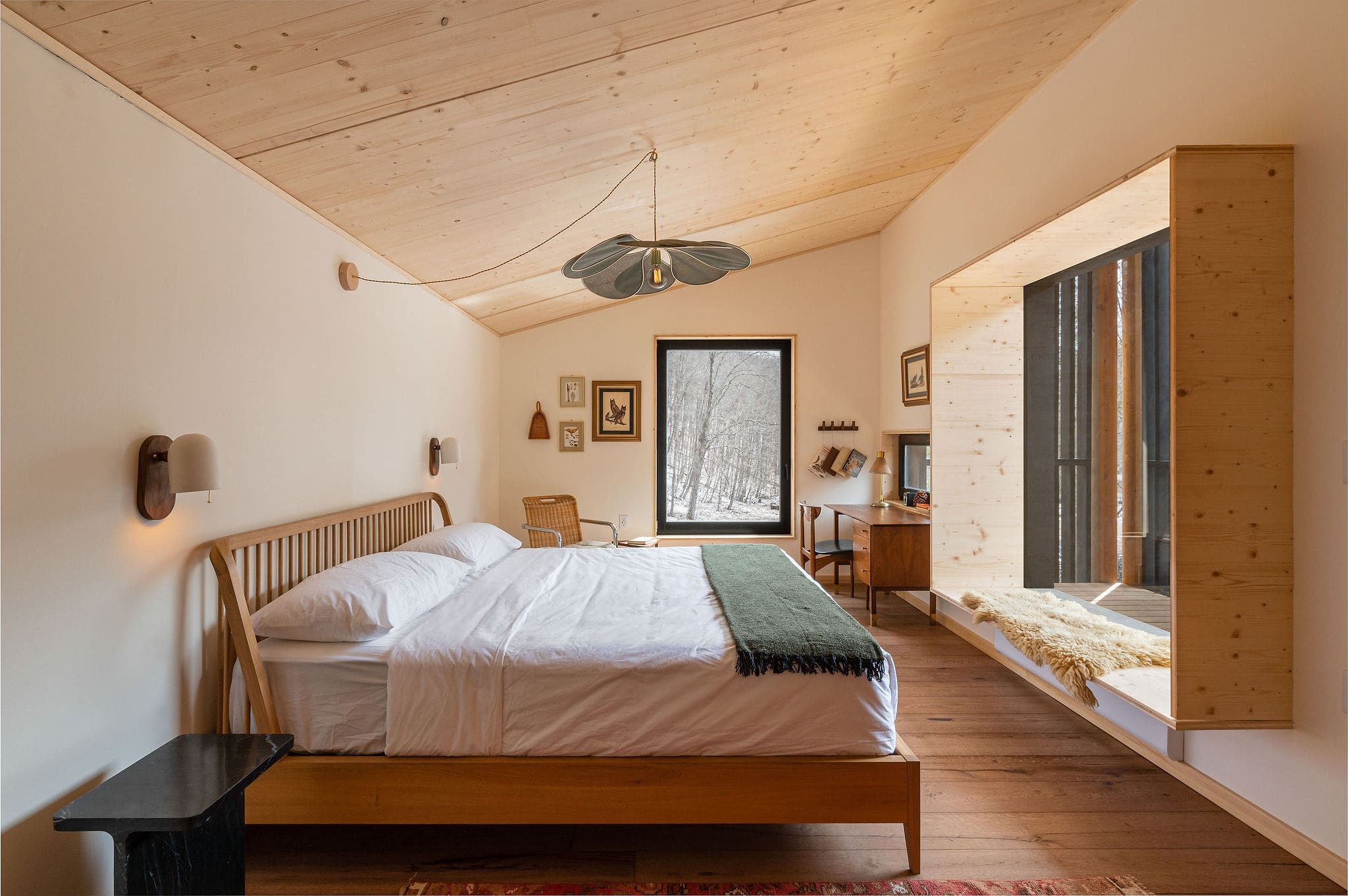 Where to stay in the Catskills
Eastwind Oliverea Valley
Big Indian
Best For: Wooden cabins hidden in the trees
Location: 212 McKenley Hollow Road, Big Indian, NY 12410
Price: Doubles from 279 USD
The mountainside Eastwind in Oliverea Valley opened in January 2023, comprising 27 freestanding wooden cabins and suites, alongside a central guesthouse. The Lushna suites are a cut above the rest, with an A-frame design and verdant views. Amenities include an outdoor pool, sauna, communal fire pit and hammocks, as well as a farm-to-table restaurant called Dandelion, which also serves as a gathering space for candle-making workshops and yoga. In warmer months, visitors to Eastwind Oliverea Valley can take guided walks to forage for spruce, then sit at the bar and taste its infusion in a handcrafted cocktail.
Urban Cowboy Lodge
Big Indian
Best For: Bathing in a serene wilderness setting
Location: 37 Alpine Road, Big Indian, NY 12410
Price: Double room from 275 USD
This mountain lodge balances laidback serenity with maximalist decor. Handcrafted wooden furniture, antler chandeliers and Pendleton fabrics furnish the space, while the Public House restaurant serves seasonal vegetable-centred dishes. Guests can soak in outdoor tubs or experience an Estonian sauna, letting their worries dissipate in the steam. Top it off with a plunge in the pristine swimming hole followed by a hot toddy by a crackling fire, embracing the art of doing nothing at all beneath the stars.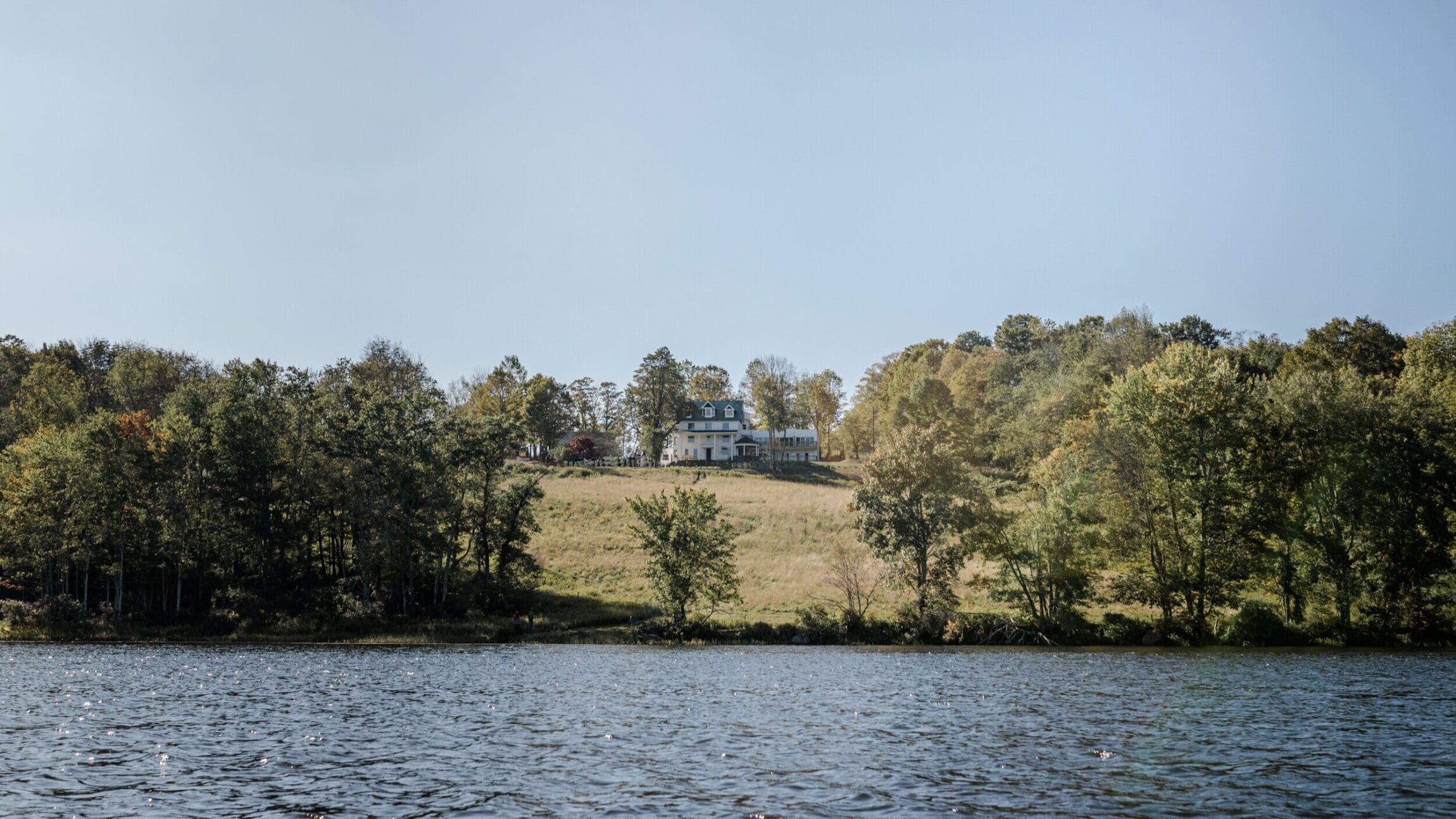 Kenoza Hall
Kenoza Lake
Best For: A lakeside hotel, elegant nostalgia
Location: 5762 NY-52, Kenoza Lake, NY 12750
Price: Doubles from 579 USD
This expansive 55-acre property dates back to the early 1900s. It has 22 guest rooms and 10 bungalows, offering picturesque vistas of Kenoza Lake alongside luxuriously large soaking tubs. The Hemlock spa houses a swathe of treatment rooms and a soothing sauna. Recharge with a guided meditation, or explore local trails for complete nature immersion.
Hotel Lilien
Tannersville
Best For: Chic eclecticism
Location: 6629 NY-23A, Tannersville, NY 12485
Price: Double rooms from 210 USD
Hotel Lilien is minutes from the famed Kaaterskill Falls, the highest waterfall in New York State. The boutique stay blends charming Victorian furnishings, wood burning stoves and original wood panelling with mid-century design touches. Known as Tannersville's unofficial living room, locals and visitors alike gather at the Lilien, which has 18 rooms, a cocktail bar and lounge, and an outdoor swimming pool. In the winter, the hotel offers a 'sled menu' of five different sled types that you can take to the local hills.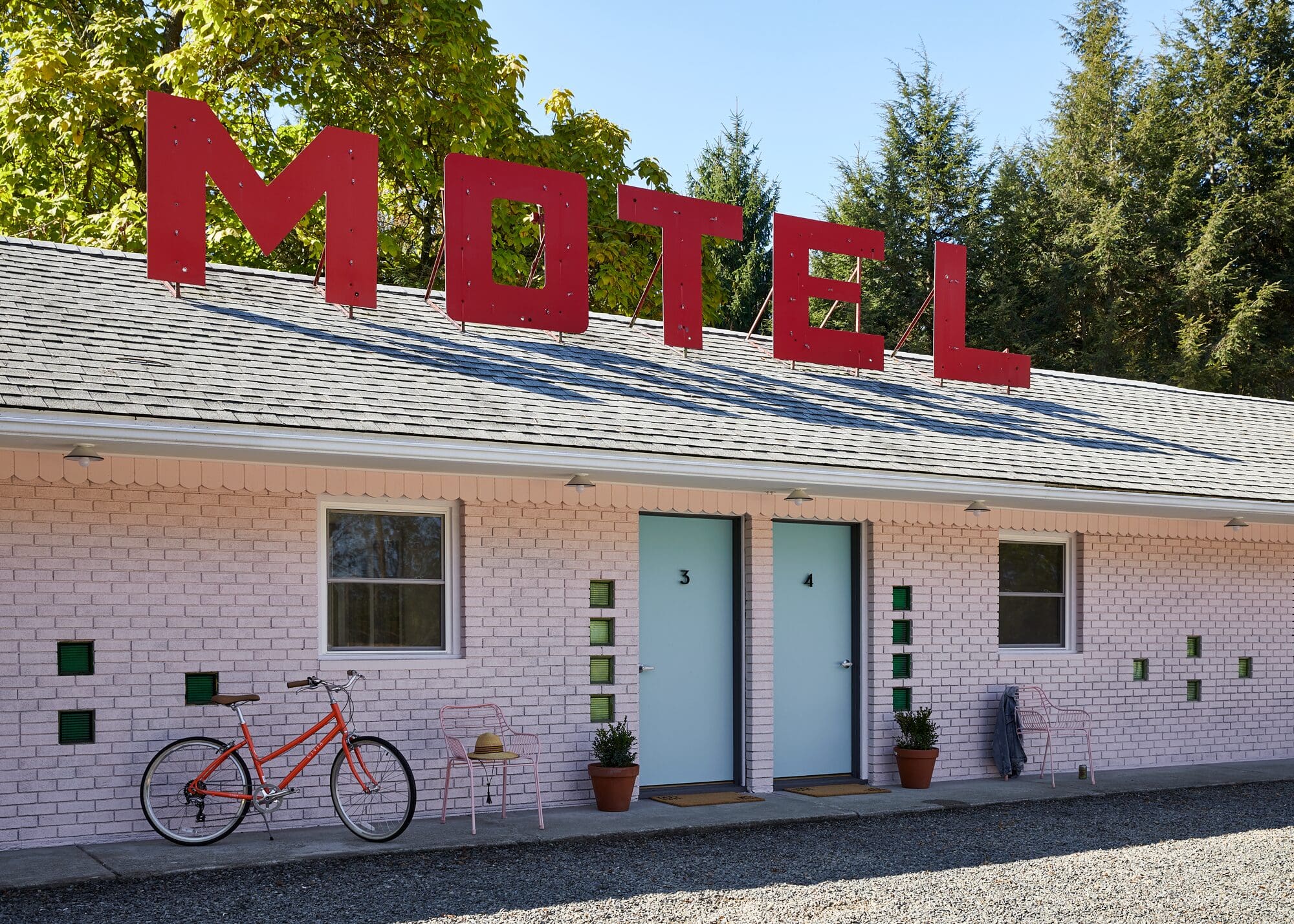 The Starlite Motel
Kerhonkson
Best For: A Wes Anderson-esque aesthetic
Location: 5938 US-209, Kerhonkson, NY 12446
Price: Doubles from 279 USD
This tastefully refurbished 1960s motel and its iconic neon sign evoke America's golden age of motels. Decorated in Caribbean pink and blue hues, the vintage-style lounge and coffee bar overlooks a saltwater swimming pool and grilling area, while its location offers excellent proximity to Minnewaska State Park and Mohonk Preserve. Choose from 16 traditional rooms or bed down in a vintage camper, or rent the whole place out for a party. There are also two houses available to rent, each with four bedrooms.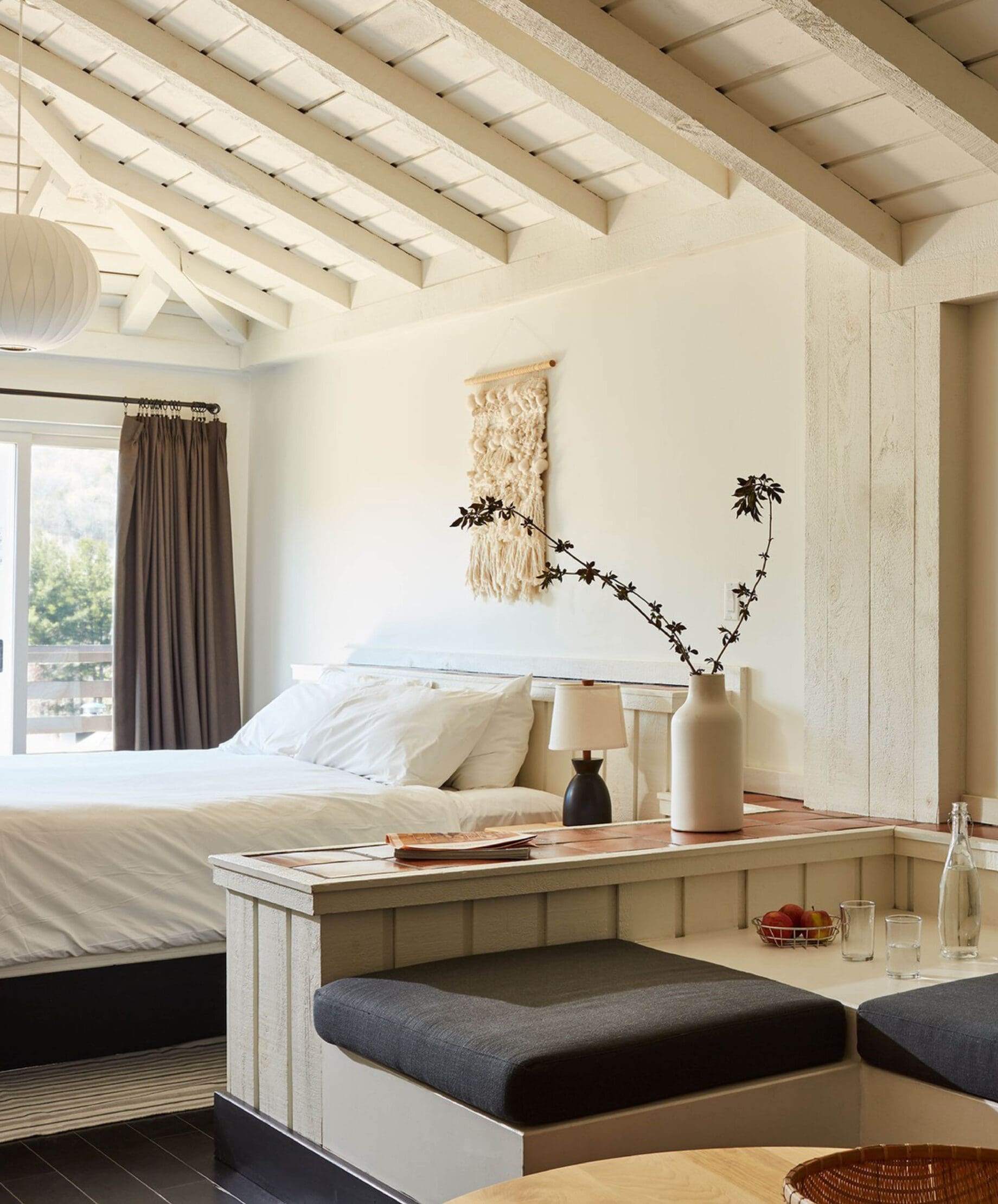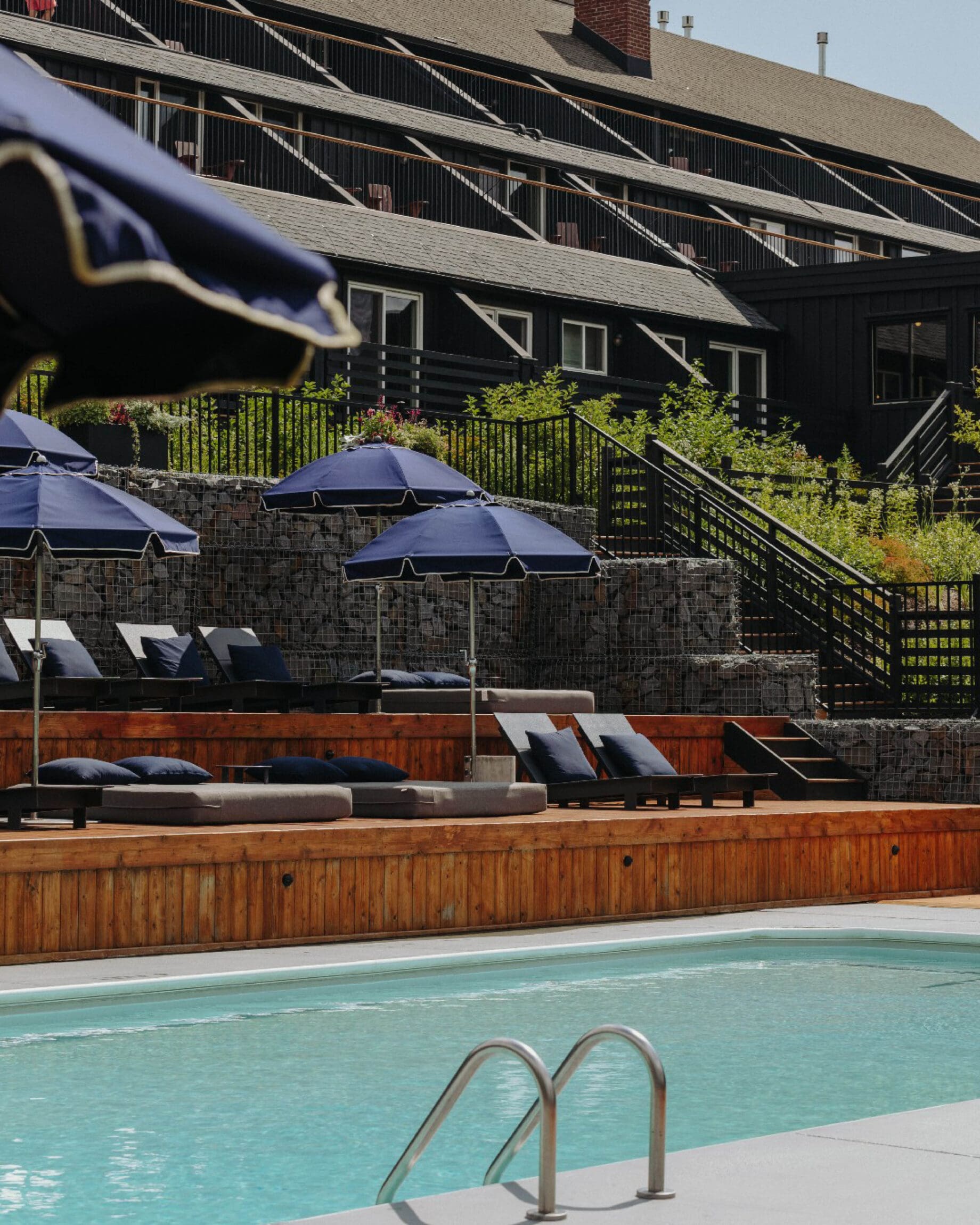 Scribner's Catskill Lodge
Hunter
Best For: a hipster hotel next to Hunter Mountain
Location: 13 Scribner Hollow Road, Hunter, NY 12442
Price: Double rooms from 249 USD (200 USD) in low season
Scribner's Catskill Lodge is a mainstay of upstate New York's boutique hotel scene, perched on a hillside with views of Hunter Mountain and more than 20 acres of private woodland to roam. It is at its busiest during the winter ski season but thrums all year round, with an outdoor swimming pool for warmer days. Interiors are the work of Brooklyn-based Studio Tack in a palette of locally-sourced pine wood, with in-room fireplaces and cosy social spaces. The hotel restaurant, Prospect, has floor-to-ceiling windows for stellar mountain views and serves upmarket comfort food including fish tacos, burritos and loaded burgers.
The best restaurants in the Catskills
The DeBruce at Livingston Manor
Best For: a restaurant with rooms, mountain views, and an inventive tasting menu
Location: 982 Debruce Road, Livingston Manor, NY 12758, United States
Price: Tasting menu 225 USD per person
Perched on a ledge overlooking the Willowemoc Valley and its namesake river, this 2023 James Beard Award semi-finalist offers an elevated and inventive culinary experience. Guests at the DeBruce Hotel at Livingston Manor sit down together for a convivial nine-course tasting menu, with a focus on local vegetables and fish – think stuffed morels with honeycomb tripe and sunchoke purée, sourdough with freshwater eel and ramps, and peas with fresh wasabi and flowers. An à la carte menu is also available Sunday to Friday, and on warmer days, the glass walls open up for an al fresco dining experience.
Phoenicia Diner
Best For: Locally-sourced diner food with a cult following
Location: 5681 NY-28, Phoenicia, NY 12464
Price: Dishes are priced at 15-20 USD 
'Come for the mountains, stay for the food,' is the motto at this Catskills diner, which has been a mainstay of Phoenicia since the early 1980s. Seasonal ingredients are sourced from local farms to craft a menu of traditional diner favourites, often with a modern twist. Tuck into ramp and nettle pesto eggs with homemade ricotta and toast, or an Arnold Bennett Skillet with scrambled eggs, locally smoked trout and crème fraîche. The beer-battered onion rings are a favourite of singer Lorde, who visits when she is in the area. The scenic location boasts verdant views, with the majestic Mount Temper in the distance.
Cabernet Frank's
Best For: live music and Borscht Belt BBQ
Location: 38 Main Street, Parksville, NY 12768
Price: Appetisers from 6 USD, cocktails from 10 USD

This LGBTQ-owned restaurant, bar, live music venue and event space serves comfort food in a casual and inclusive atmosphere. Try the "green eggs and ham", sticky ribs, and meat coated with a signature coffee-chocolate rub. There is live music by local and New York artists, and regular open mic nights.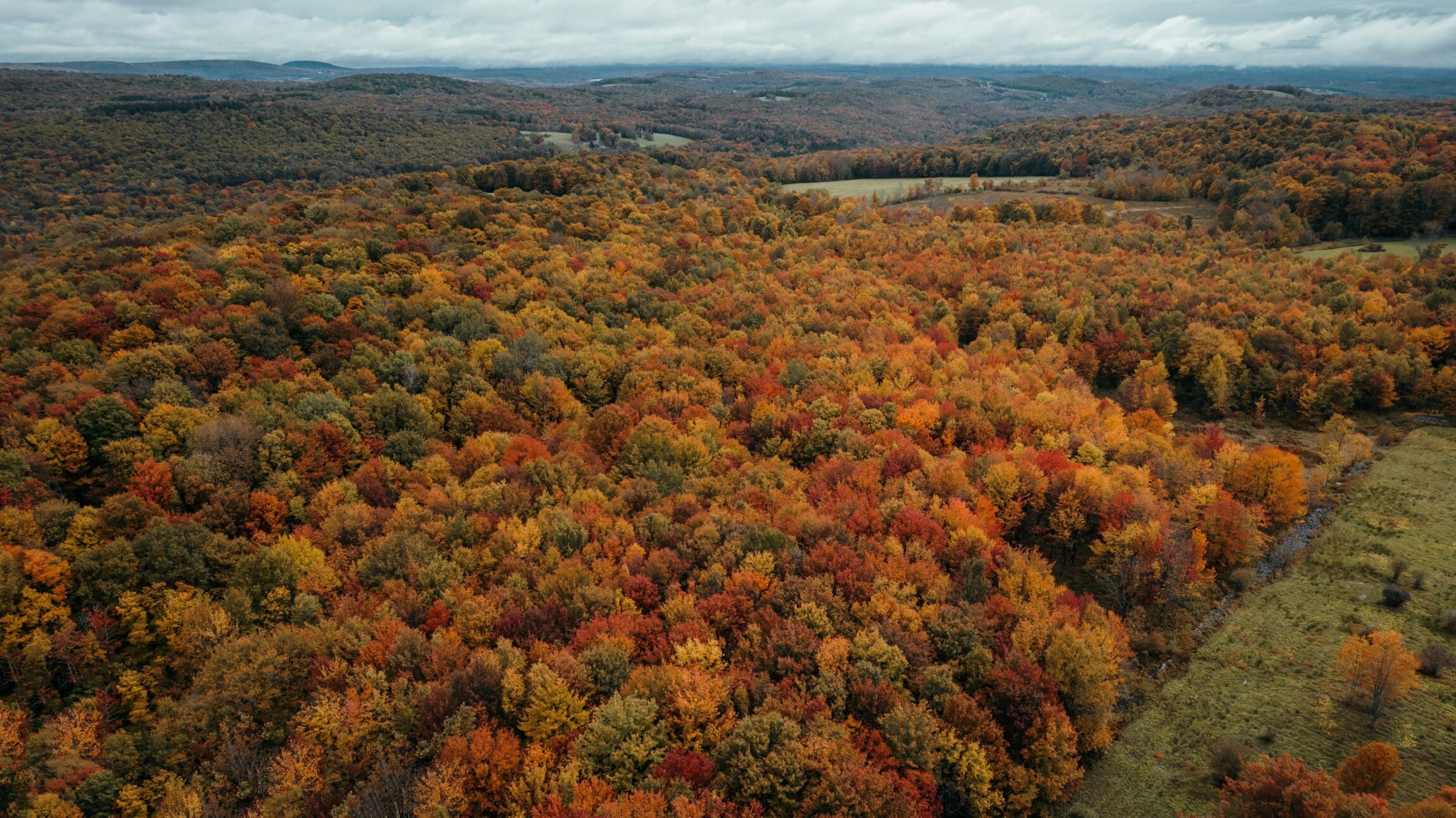 The best things to do in the Catskills
Hiking trails, waterfalls, swimming pools and viewpoints
Outdoor adventures abound in the Catskills. Start by visiting Giant Ledge, a scenic viewpoint in Big Indian. It is one of the most popular hikes in the Hudson Valley, leading to a spectacular panorama across the Catskills' soaring peaks.
From April through November, reservations are now required to visit Sam's Point, the highest vantage point of the Shawangunk Mountains in Minnewaska State Park, in the historic hamlet of Cragsmoor. Sam's Point is home to Lake Maratanza, one of the five Shawangunk sky lakes, as well as ice cave crevices that you can explore.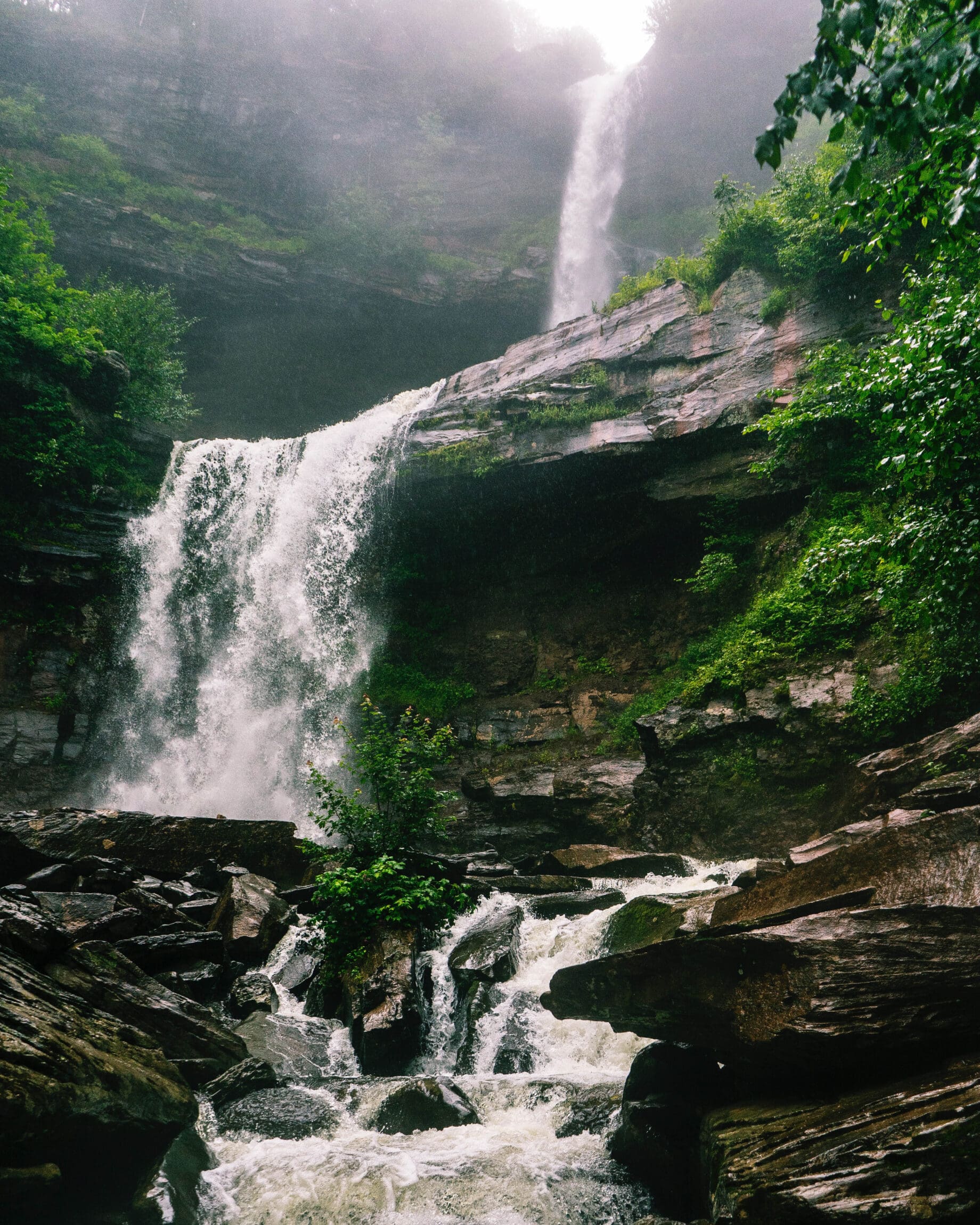 The region is dotted with gorgeous waterfalls. Plattekill Falls in Platte Clove is a must – it inspired many famous Hudson River School painters with its cascading 50 ft falls landing in a rock-rimmed canyon. Kaaterskill Falls, the crown jewel of the Catskills, is the tallest cascading waterfall in New York State, at more than 260 ft.
Upstate New York is noted for its swimming pools. On warm days, take a refreshing plunge at Peekamoose Blue Hole (10 USD), a natural swimming pool in the Sundown Wild Forest in the Catskill Forest Preserve, known for its shimmering emerald-blue waters. The unique formation was created by sand and gravel swirling together in an ancient whirlpool.
Explore the local flora with Laura Chávez Silverman of the Outside Institute. Partake in nature walks and foraging escapades, where you can learn how to cook with wild plants and make natural cosmetics using the herbs gathered along the way.
Cultural Experiences in the Catskills
Explore the history of Hudson River School
Location: The Thomas Cole National Historic Site, 218 Spring Street, Catskill, NY
Price: 18 USD
Explore the birth of American art at The Thomas Cole National Historic Site, the former home of English-American artist and early environmentalist Thomas Cole. He is acknowledged as the founder of the nation's first major art movement, now known as the Hudson River School of landscape painting. Spread across three historic buildings, Thomas Cole's home and studio has been preserved as he left it, with paintbrushes, easels and musical instruments on display. Original artworks sit alongside immersive digital displays and rotating exhibitions. The landmark building is wrapped by captivating views of the Catskill Mountains that inspired his work. The Thomas Cole National Historic Site is open Wednesday through Sunday from May through October.
Antiquing
Upstate New York is noted for its antique shops and markets. Hyde Park Antiques, located in an 18th-century carriage house, holds upwards of 50 home furnishing vendors across more than 9,500 square feet of space in the heart of historic Hyde Park (the birthplace and home of President Franklin D. Roosevelt).
Zabrowski Emporium in Kingston is a cavernous multi-floored warehouse brimming with vintage lighting, farmhouse sinks and clawfoot tubs. Take note on colder days – the store is not heated, so wrap up.
Cider tasting
Apple picking is a Hudson Valley tradition that remains popular to this day; no surprise that it's also the premier hard cider hotspot in the country, with excellent, fermented options at every turn. The fresh cider season is short, running from September through November, but most cideries are open year-round with bottled drinks for sale.
Altamont's Indian Ladder Farms Cidery & Brewery forges craft beers and hard ciders with farm-grown ingredients – a real 'tree-to-glass' operation, inviting guests to gaze out at acres of bucolic farmland while tasting the literal fruits of 100-plus years of family-farm labour.
Tucked off a winding road in Hillsdale, Little Apple Cidery is an organic apple orchard dating back some 40 years. Floraison, their seasonal, naturally carbonated sparkling cider, was awarded first prize at the Great Lakes International Cider and Perry Competition. Order a flight of ciders and tacos on the side while enjoying the wide open spaces, orchards, and live music.
Woodstock
Stop into Woodstock, now a byword for 1960s counterculture that continues to draw crowds, even though the concert that shares its name took place farther south in Bethel. The shops on main street still display tie dye clothing and peace signs left over from the days when Bob Dylan and Van Morrison walked the streets. Check out the Woodstock Museum and Bethel Woods Center for the Arts to learn about the area's groovy legacy. Stroll along Tinker Street, lined with restaurants and bars; Station Bar is filled with local characters, while Cucina's has a wraparound porch for watching the sun set, and a menu filled with elevated Italian dishes.
When to visit the Catskills
Milky Way season is from February to October, when the region's famously unpolluted skies reveal the Milky Way once the sun sets. Alternatively, plan a camping trip around the Perseid meteor shower in August, when shooting stars light up the night sky.
Visit in autumn for vibrant fall foliage, which turns the region into a sylvan show of fiery gold, copper and bronze hues. Colours are at their peak between late September and the second week of October, when local farms also host seasonal activities like pumpkin picking (check out Fishkill Farms, Dykeman Farm, Hull-O Farms and DuBois Farms). On Halloween, the Hudson Valley lights up with more than 7,000 illuminated jack o'lanterns at the Great Jack O'Lantern Blaze.


JOIN US FOR THE JOURNEY
Subscribe to the newsletter
City guides, culture, photography and ideas, with expert analysis on the biggest stories in travel