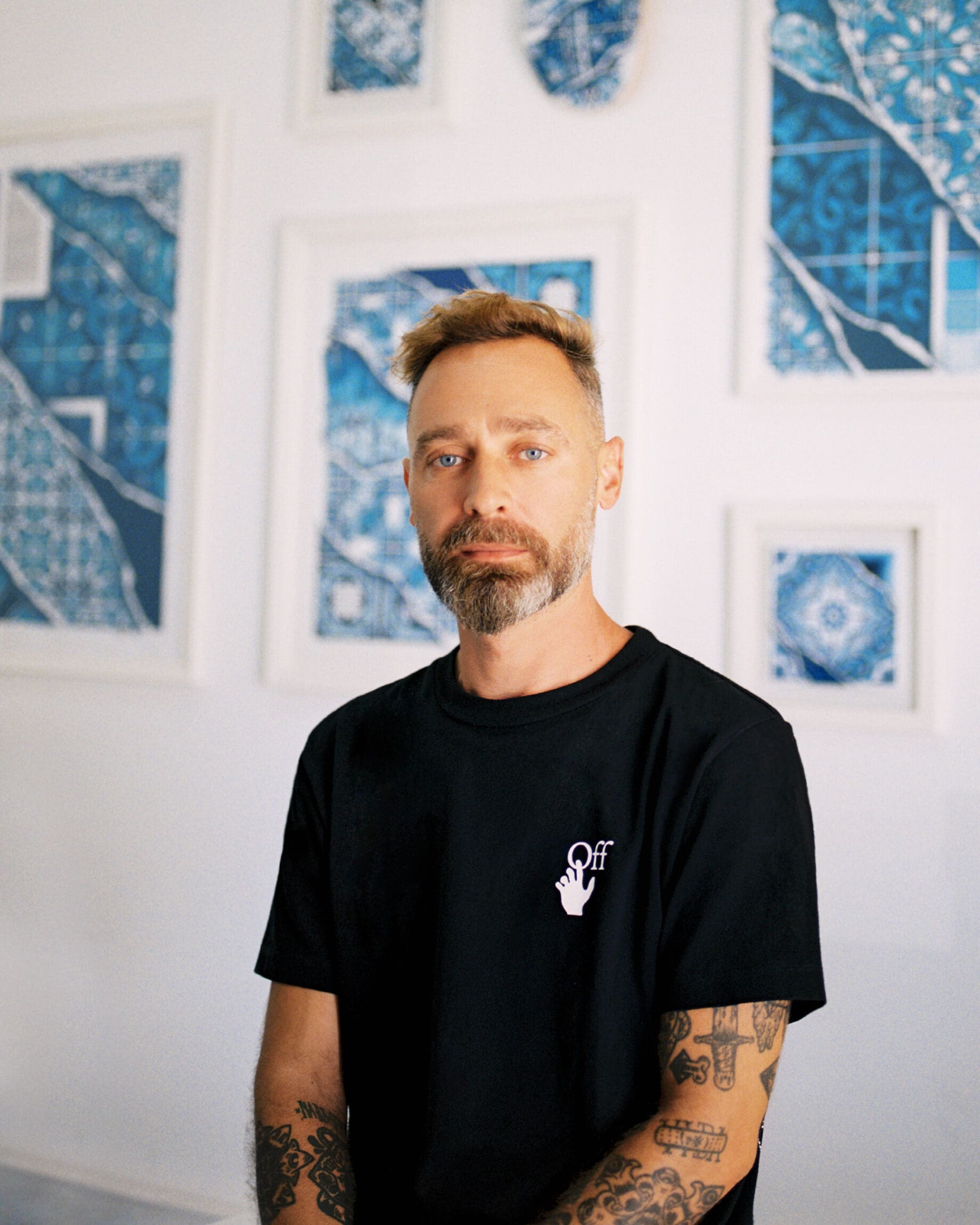 Diogo Machado, aka Add Fuel, on reinterpreting Portuguese azulejo tiles
Portuguese artist Diogo Machado on his azulejo-inspired contemporary screen prints, hand-painted tiles, public murals and installations, and his upcoming exhibition in Miami for Art Basel
Portuguese artist Diogo Machado, known by his moniker Add Fuel, works across ceramics, painting, graphic design, murals and installations. He produces pieces for solo and group shows in galleries across the world, as well as vast public murals from Leeds in the UK to Perth, Australia, and Los Angeles, California to Macau in China.
He first started his practice in 2007 under the name Add Fuel to the Fire, and developed an illustrative universe populated by eccentric fictional monsters inspired by video games, comics, sci-fi and urban visual culture. In 2008, he first began studying the traditional forms of azulejo tiles, taking their patterns and palette as the starting point for much of his work. To this day, his pieces reinterpret this quintessentially Portuguese craft into a contemporary, graphic and singular vision. Each design is sketched by Machado and used to create prints, hand painted ceramic tiles, or cut into stencils to produce painted public murals.
Machado speaks to ROADBOOK from his studio in Cascais on the Atlantic coast of Portugal, to discuss his most recent murals and solo shows, his upcoming exhibition at Art Basel in Miami, and what drives his practice.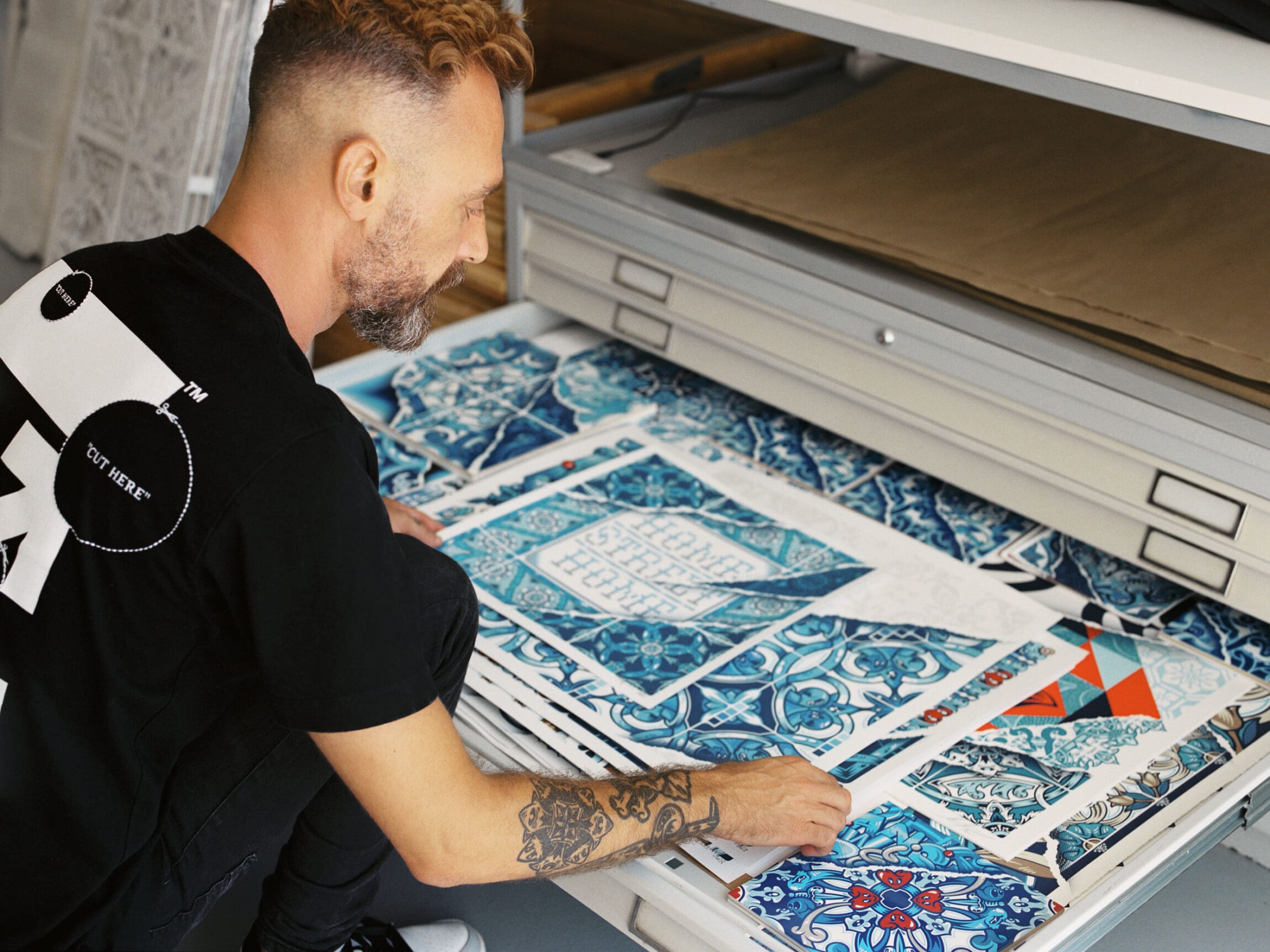 Diogo Machado's mural work
You created a mural earlier this year in Leeds – how did that go?
That project had been in the works since before covid, so my assistant and I were pleased to finally be able to make it happen this year. The good thing about the delay was that the mural now coincides with Leeds' Year of Culture initiative, which was lovely to be able to contribute to that in some way.
The design for the mural was inspired by Burmantofts pottery, a local ceramics producer in Leeds. The mural has to connect with local people – they are going to look at it every day, so I want them to feel ownership of it. I hope it is embraced by the neighbourhood.
Are public murals a regular part of your practice?
Yes, although I don't consider myself a street artist as such. Working in the urban environment evolved naturally out of my interest in Portuguese tilework. There is such a strong presence of blue and white azulejo tiles on the building facades throughout Portugal. I wanted to take this influence and bring it back to the streets.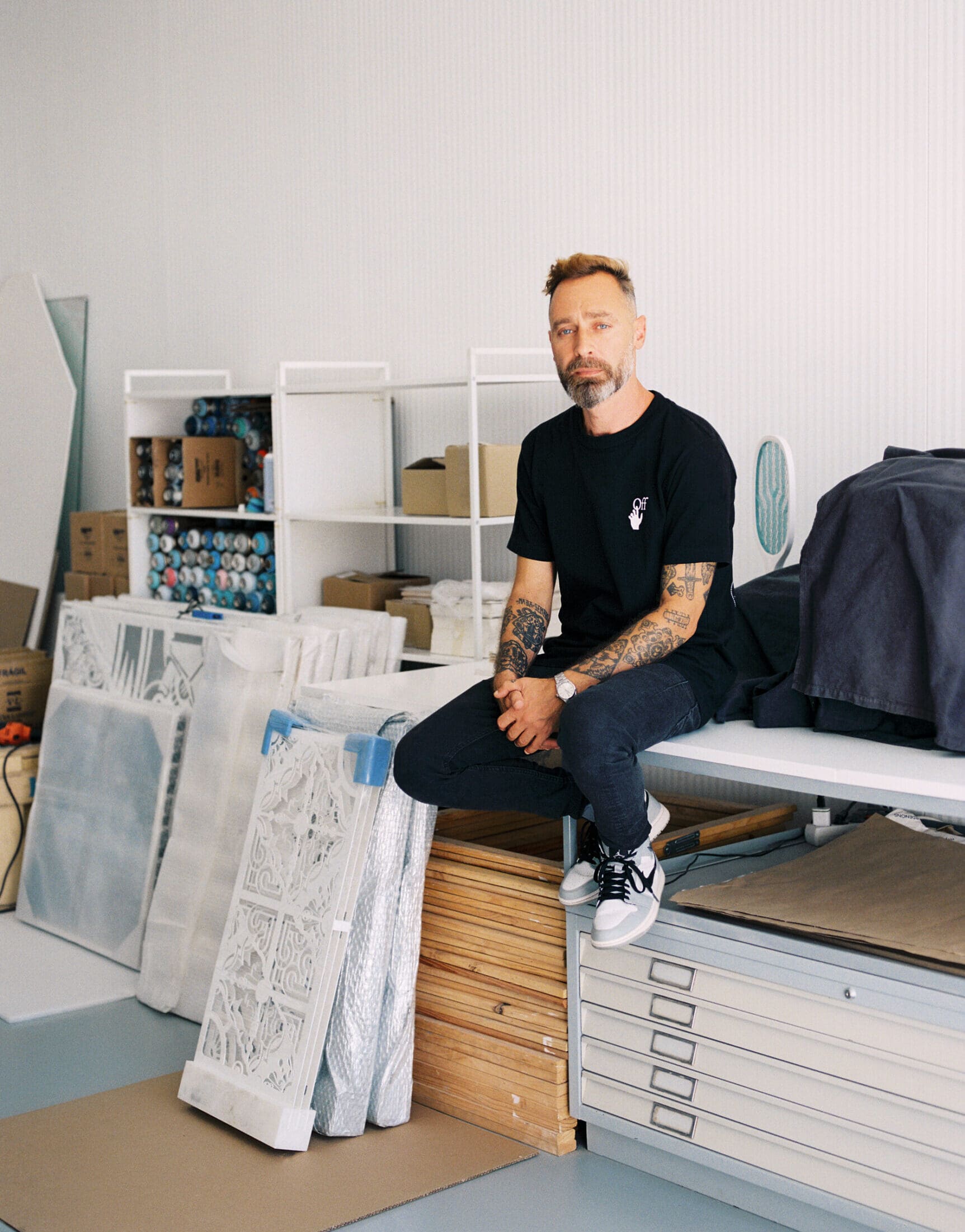 The role of azulejo tiles in Machado's work
How did you first become interested in azulejo tiles?
Before pursuing my art practice, I was working as a graphic designer, creating projects for Red Bull and Nike. In 2007, my home city Cascais invited eight local artists to make interventions around the city, creating work on large canvases that were hung from buildings. I grew up in Cascais and have lived here for most of my life, so I wanted to create something that would speak to my life in this city and to Portugal as a whole. At the time, I had developed a very specific illustrative universe and style of drawing, so I applied that style to a design inspired by azulejo tiles. We printed out the tile pattern on a big canvas to hang on the building, and I loved it.
I immediately wanted to learn how to produce these patterns with ceramic tiles, and began experimenting with hand painting, digital techniques and other methods. However, my clients at the time did not have the budget to create tile murals, so I drew from my graphic design background and realised I could produce similar designs with stencil painting. So creating painted murals was a very intuitive thing that evolved out of my practice. As long as your work is done with love and passion and dedication, things naturally evolve, and people feel that.
How do you typically begin a new piece?
Everything starts with a sketch. That's the basis of it. I used to do everything on paper, and I'd then scan it onto a computer to make digital mock ups. I now sketch directly onto an iPad, which has made my life so much easier.
Once I have a sketch that I'm happy with, I clean up the lines, do colour tests, multiply the pattern to see if it works, and go back and forth until the module feels just right when I expand it into the full pattern. From that point, it can go in many different directions: it can become a stencil, a print, or a tile. If it goes into a tile, it could be applied digitally as a screen print, or hand painted, or made into something more volumetric like a bas relief tile.
Machado's solo and group shows in 2023
You've held quite a few shows already this year – how did they go?
I held a solo show at Galerie Itinerrance in Paris this May, which went really well. And in June, I was involved in a massive group exhibition here in Lisbon, with 18 Portuguese and international artists. It was held in a very large space at Cordoaria Nacional.
It was a big effort for us to make it happen as a studio. We worked on it solidly for three months to create a big showcase of the full spectrum of work we can produce as a studio, from tile work to painting and stencils, as well as something new: an immersive installation using mirrors and LEDs. We used the mirrors to create an infinity effect, reflecting walls that were covered in azulejo patterns, and extending them into infinite space. Conceptually, I envisioned it as a way of presenting myself as an artist through layers: the exterior of the installation is a painted section, which is like the murals I make on the street; next there is a tiled section on the walls, which is like the studio work I do, and then inside the structure is the core, which represents stepping into the artist's mind, with patterns reflected infinitely.
It wasn't our intention, but we effectively created the most Instagrammable thing in that group show. The response was fantastic.
Other than that, we are also working towards a solo show that will be held at Fabian Castanier Gallery in Miami during Art Basel week.
Exciting stuff – what have you got planned for the Miami show?
Like all my shows, there will be a mural involved. I think it is a really interesting way to engage with the public and to promote the show. There will also be a print drop, and a whole spectrum of new pieces. I always want to create a balance between aspects that people are expecting to see from me, as well as elements that are new or surprising.
One of the constant concepts in my work is exploring what lies under the surface. There's often layers, rips and cuts on the surface of my designs. I'm always drawn to the semi-destroyed buildings here in Portugal: you can see the tiles on the facade, as well as what lies behind them. It's like artistic archaeology, uncovering what's behind the facade.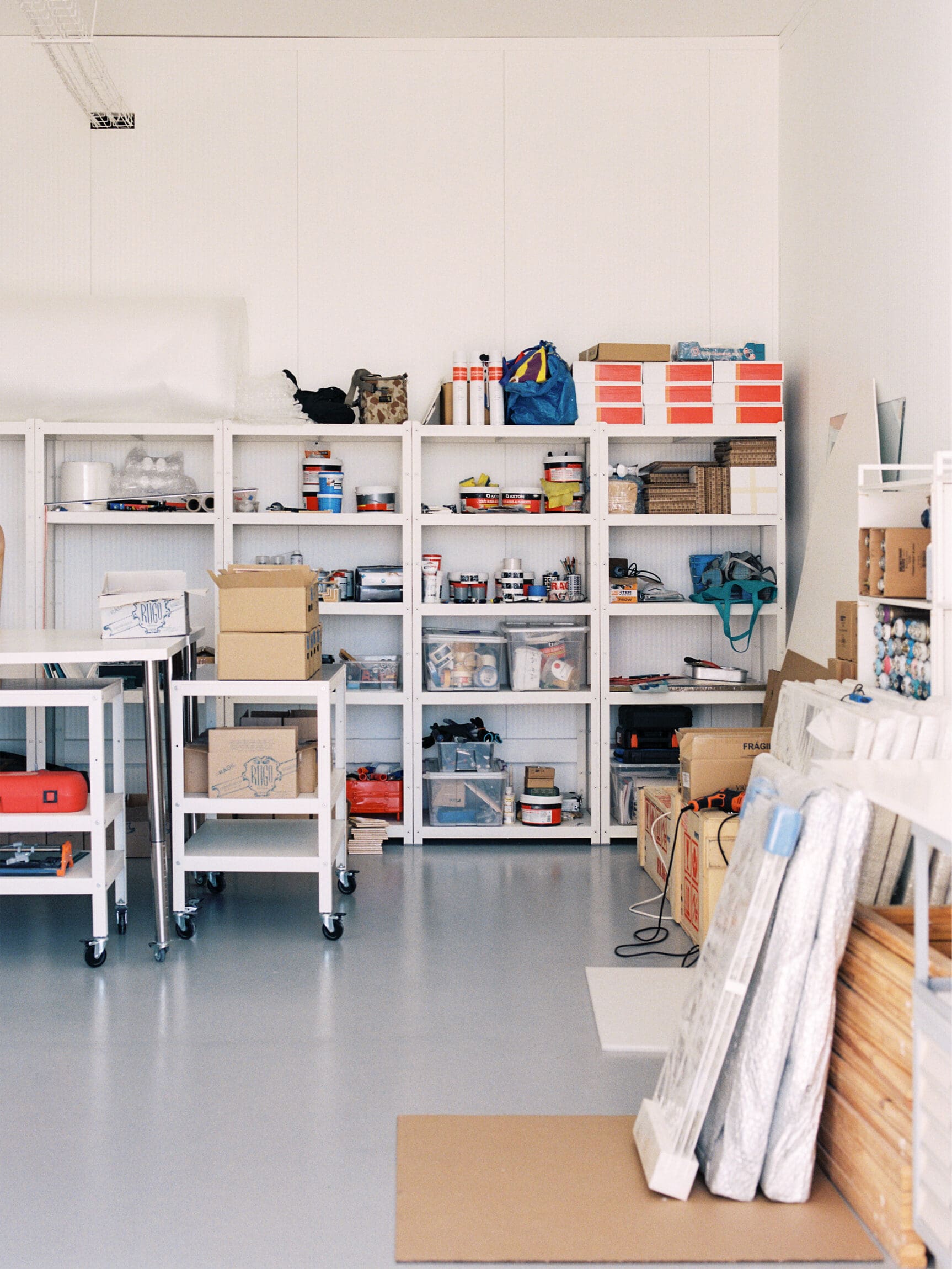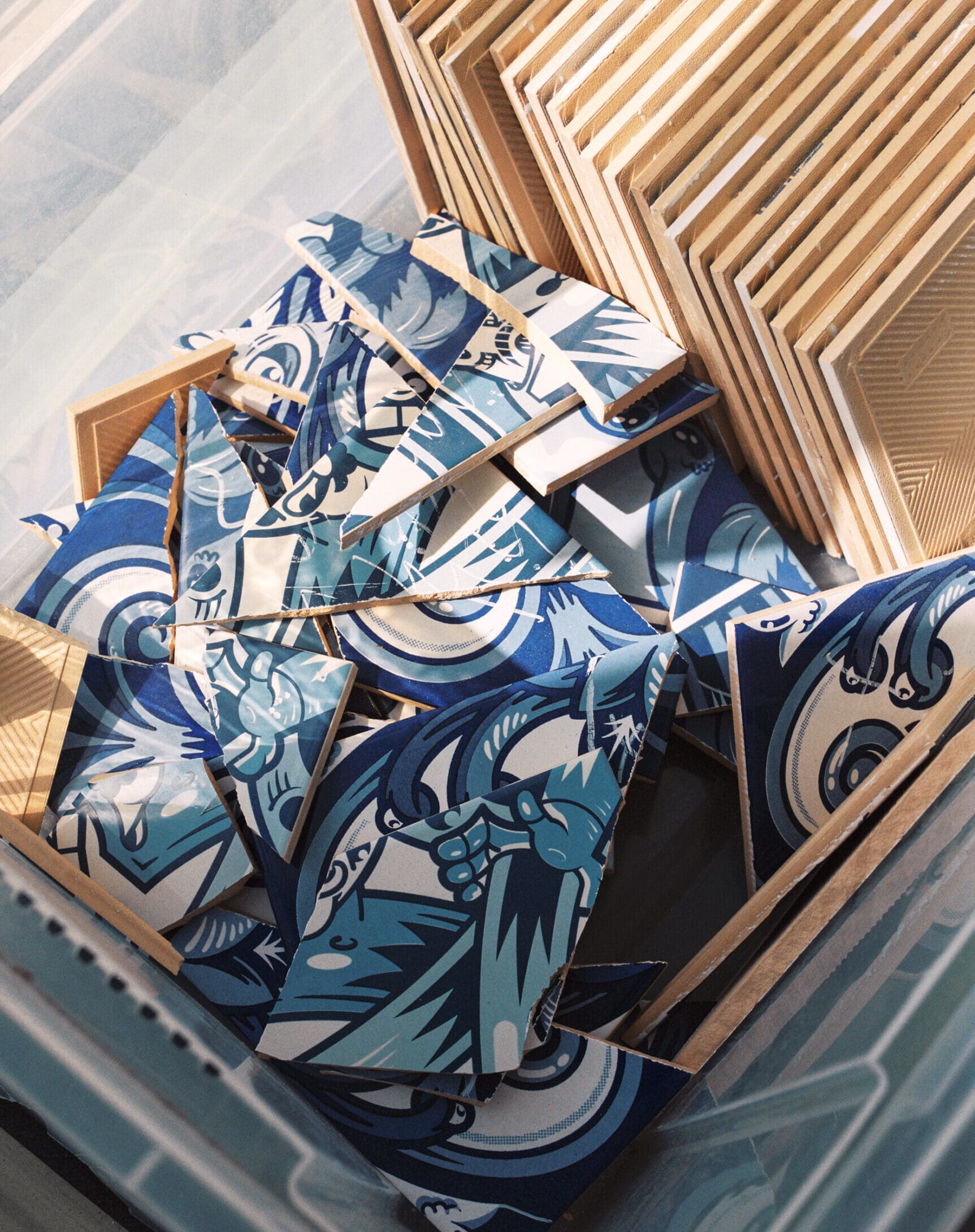 How do people tend to respond to your work?
I've had kids come up to me saying 'hey I like that one cos there's a cool little monster in it!' and I've had old ladies admire the same piece saying 'oh it looks like the tile I had in my home when I was growing up!'. It has an effect from eight to 80, which is lovely.
I've also noticed that Portuguese people living abroad, or international people with Portuguese heritage, often really connect with my work because it reminds them of their heritage, or their grandfather, or their hometown. It's Portuguese, but also an artist's vision. It is very rewarding – I feel a lot of love when I have that kind of feedback. I have the chance to be part of their lives: if they have a print or a tile piece at their home, my work becomes part of their day to day life, and can activate their memory and bring them happiness. It's a lovely thing.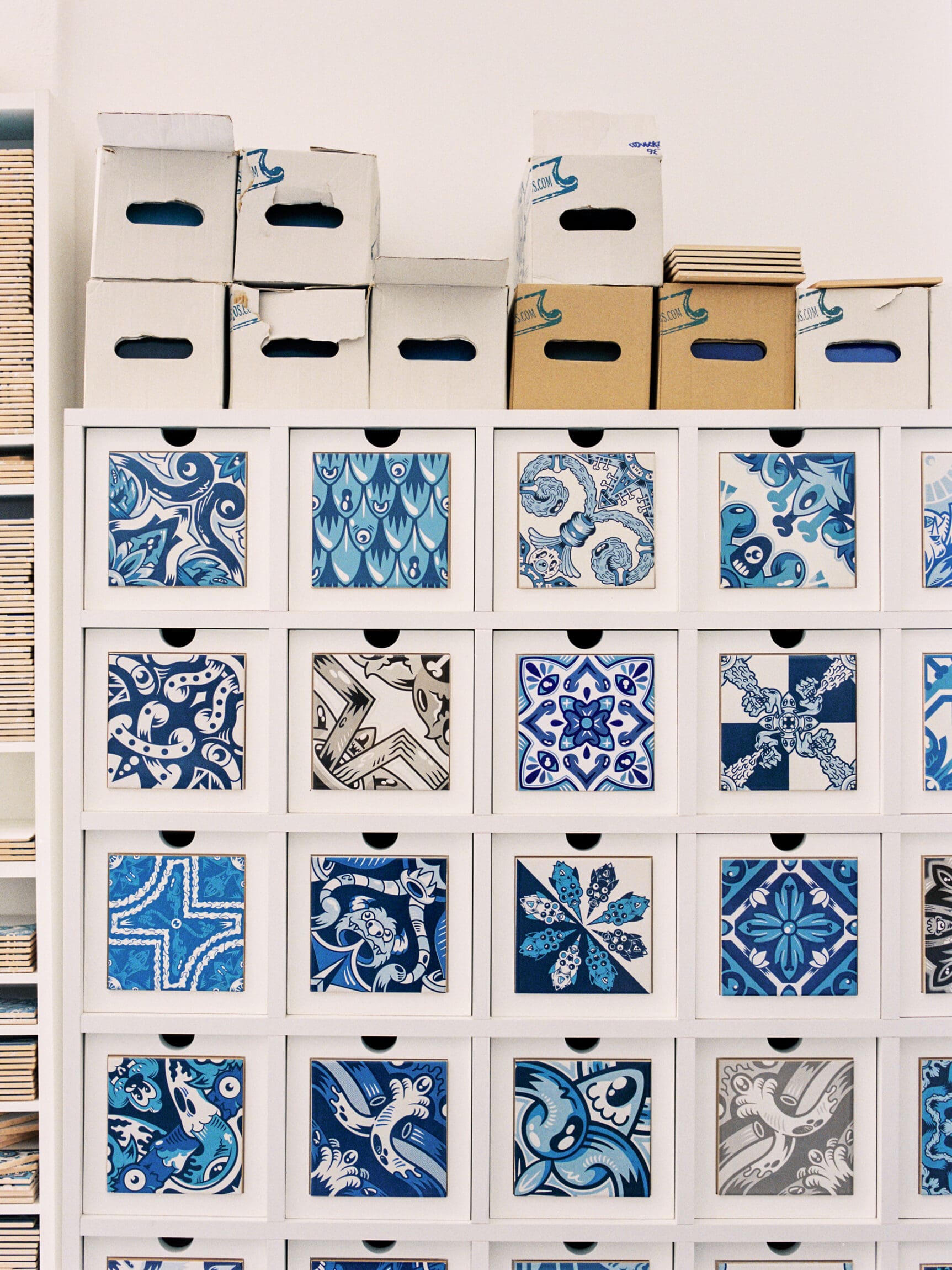 How travel has shaped Machado's life and work
How does travel influence the way you create?
I travel a lot to create my public murals, and each time I do, I carry out research into the location: I talk to local people, find out about the community, and work out how the work might integrate into their daily lives. I always like to find a reference I can include in the design. It doesn't have to be about ceramics – it could be fabric, or an architectural element – something that connects with the history of the city. Recently we installed a tile mural in Philadelphia, and there's a lot of references in that mural to the history of Philadelphia, such as the fact the first radio broadcast in the US was made there, and that it's a very musical and religiously tolerant city.
Sometimes I'll take my lead from the local flora and fauna, or from prominent colours. The first mural I painted in Miami, I used the classic 80s Miami colours of pink, purple and blue.
Has there been a particular journey of yours that has impacted your work and life?
Speaking in personal terms, I lost my parents when I was young, and I grew up with my grandmother and aunt. I feel super blessed – I was an orphan but not an orphan. When I was growing up, I always felt the need to show people that I'm not this poor guy in need of pity. I felt the need to show people that I could be creative, that I could do something. My life has always been a journey to prove to people that I'm a hardworking person, that I get shit done. My work became my life, because I love what I do. If you pursue something out of love, then good things happen.


JOIN US FOR THE JOURNEY
Subscribe to the newsletter
City guides, culture, photography and ideas, with expert analysis on the biggest stories in travel