The best street food in Bangkok
From casual restaurants to multigenerational shophouses and roadside food carts, Bangkok is bustling with fresh, affordable street food. A local writer seeks out the best crispy pork, noodle soup and mango sticky rice in the city
Last updated: October 13, 2023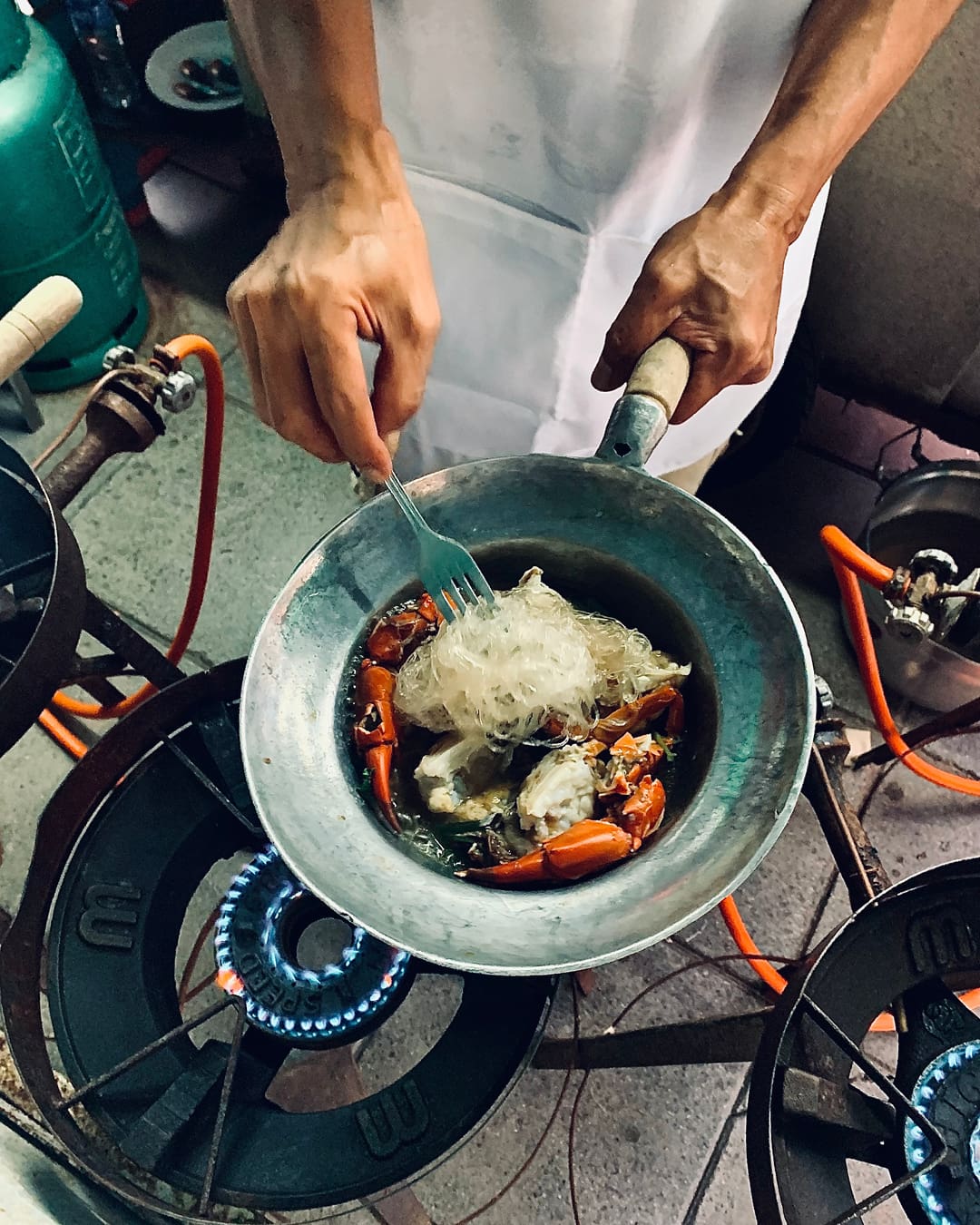 It's fair to say Thais are obsessed with food and this couldn't be clearer than Bangkok, bound together by a shared love of food, especially from the street.
Bangkok has no shortage of excellent places to eat, but the humble street restaurant provides connection, purpose and vitality for whole communities. Shiny food courts in mega malls and home delivery may offer air-conditioned comfort and convenience, but there's nothing like the smells and raw action of streetside cooking, lively night markets and hole-in-the-wall takeaways. These fragrant dining destinations feed the city day and night, from throngs of lunchtime workers to revellers refuelling after a night at one of Bangkok's best cocktail bars.
While there are cultural specialties to be found in particular districts, like the exceptional Thai-Chinese food of Yaowarat, you'll find a great pad kaprao (stir-fried holy basil) on every corner – you just need to know where to look. An empty sidewalk by day may be jam-packed with diners eating at a legendary food cart by night, while an unassuming downtown garage comes alive with some of the smokiest grilled chicken and spiciest papaya salad in town.
This guide provides a platform to discover some of the greatest street food in Bangkok, from eating in multigenerational noodle shops steeped in history to slurping spicy tom yum soup on plastic stools at the side of the road. Each place featured has a unique local story to tell and holds serving high quality food at its core.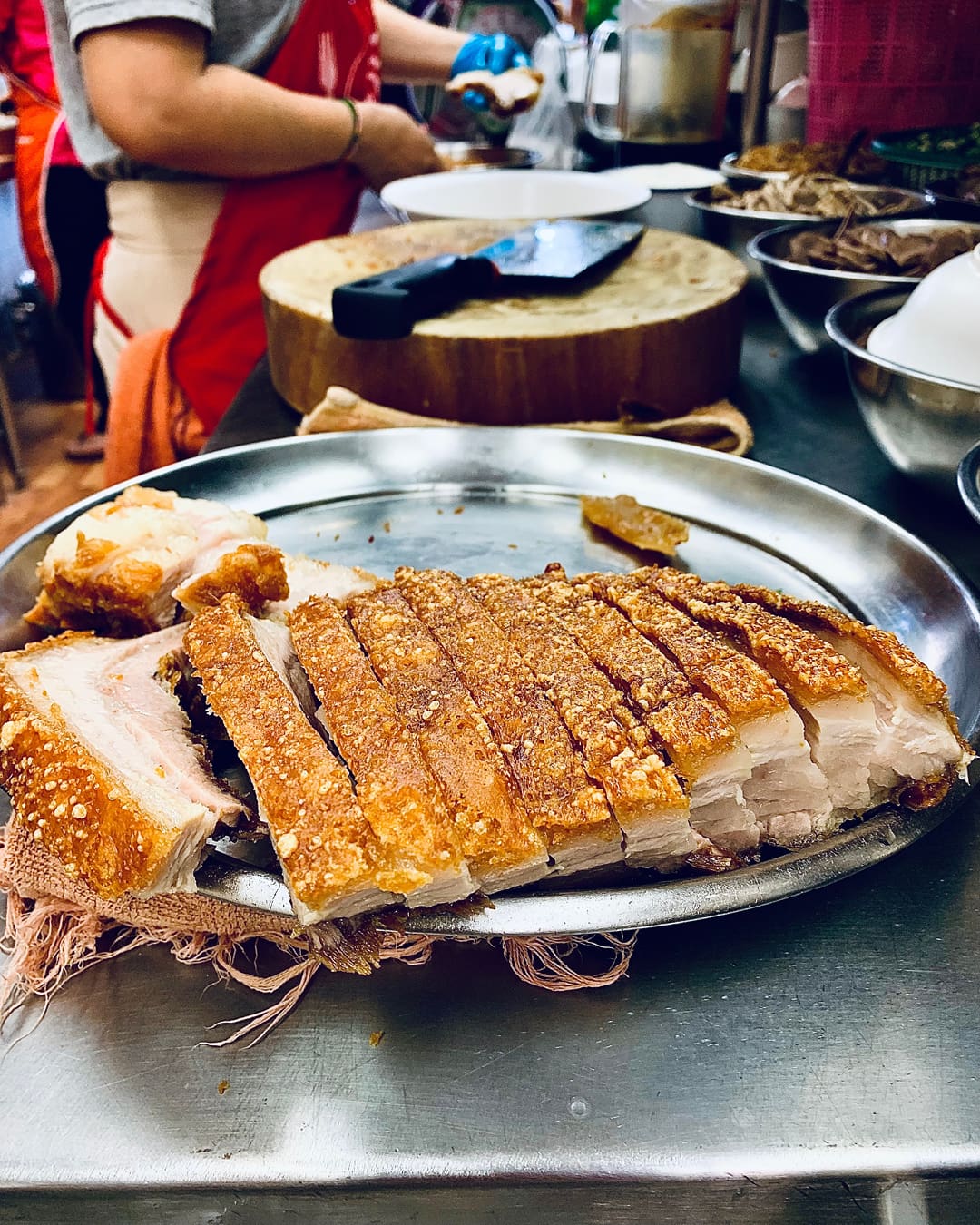 Bang Kho Laem
Guay Jub Mr. Joe (Mr Joe Crispy Pork)
Best for: Crispiest pork belly in town and kuay jub (rolled rice noodle soup with crispy pork)
Address: 313/7 Chan Road, What Phraya Krai, Bang Kho Laem, Bangkok 10120
Price: Kuay jub or a plate of crispy pork from 80 THB / 2.20 USD
A reputation for frying the crispiest pork in town ensures a constant flow of clientele at this third-generation restaurant with Chinese roots. Kuay jub is the specialty, a peppery rolled rice noodle soup with crispy pork and a long list of offal. The signature pork belly (with crunchy crackling) is also served solo with a dark sweet soy sauce (those with sensitive teeth should bite with care). Steamed pork, crab or prawn siu mai are good options for a quick snack before the main event. Explore the surrounding streets to experience the charms of an old riverside neighbourhood before it's gentrified.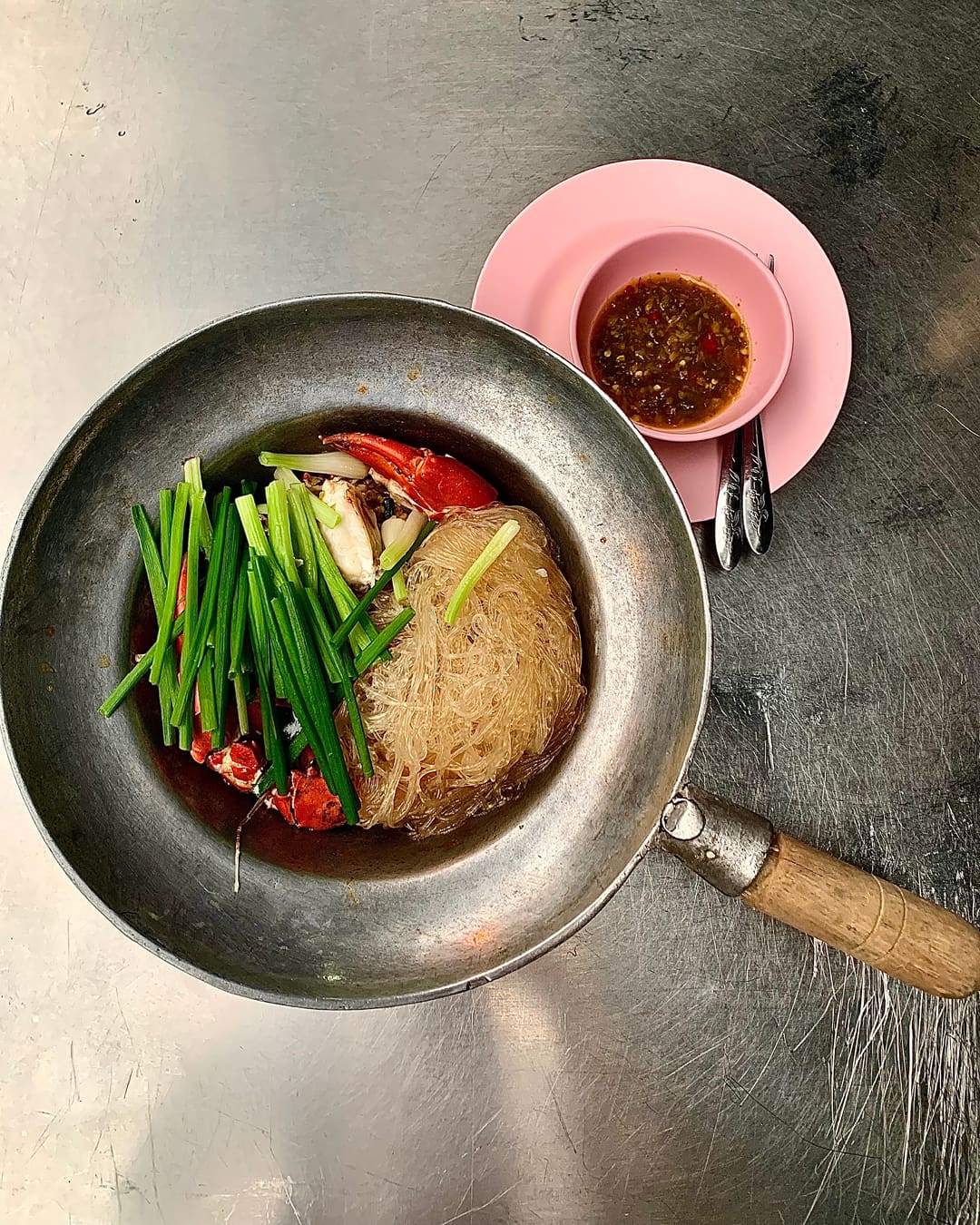 Khlong San
Somsak Pu Ob
Best for: Crab or prawns steamed with glass noodles. Bangkok-style streetside dining.
Address: Charoen Rat Road Soi 1, Khlong Ton Sai, Khlong San, Bangkok 10600
Price: Steamed prawns with glass noodles from 290 THB / 7.90 USD; steamed crab with glass noodles from 310 THB / 8.35 USD. Cash only.
Munch on mud crabs and jumbo prawns steamed with glass noodles on the side of a bustling old road in Bangkok's leather district. The chef at Somsak Pu Ob serves up precision cooking in honour of his father's legacy. Each pan is carefully monitored over hot flames, infused with black peppercorns and garnished with green onion. Crab shells are served cracked for easy extraction of their sweet flesh. Seafood is sourced from nearby Samut Sakhon province, and the noodles from a town in Thailand's west. It's no-frills dining at its finest. There is a second Somsak Pu Ob branch nearby, but this is the original.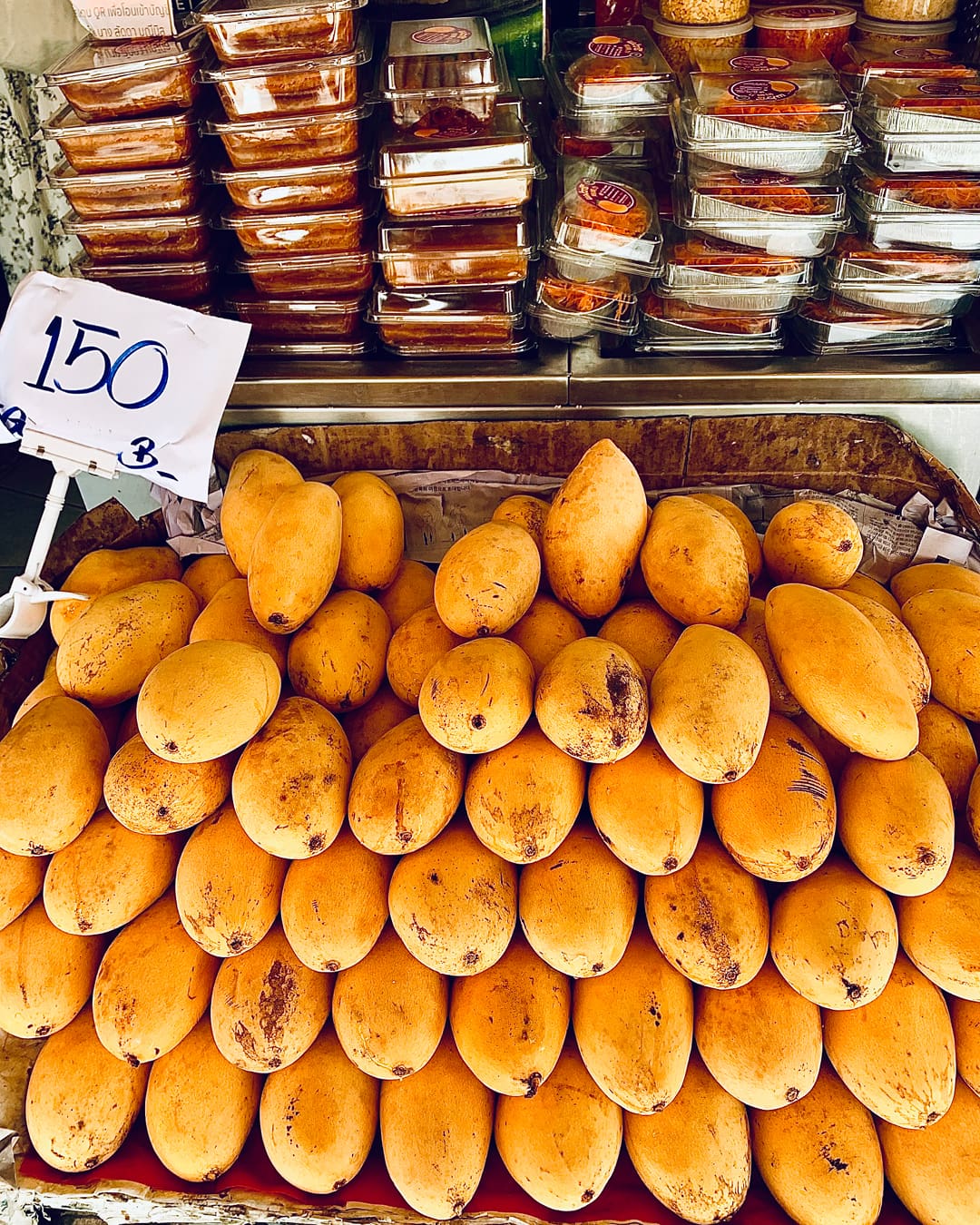 Mid-Sukhumvit
Mae Varee Mango Sticky Rice
Best for: Mango sticky rice, fresh mango or artisanal ice cream. Takeaway only.
Address: 1 Thong Lo Road, Khlong Tan Nuea, Watthana, Bangkok 10110
Price: Mango sticky rice from 150 THB / 4.10 USD; peeled mango from 100 THB / 2.75 USD; mango ice-cream from 85 THB / 2.30 USD
This fruit shop sources local Nam Dok Mai mangoes, preservative-free coconut milk and rice from independent farmers to make a flawless version of Thailand's flagship dessert. It's no secret to locals and travellers alike, who get in line to buy in bulk. Sweet mangoes can be purchased whole or freshly sliced year round, while the sticky rice is naturally flavoured with coconut, butterfly pea or pandan plant. Small tubs of handcrafted mango or coconut ice cream and jelly line the fridge. The tiny store is located next to Thonglor station, which makes for a convenient skytrain run. Alternatively, have dessert delivered to your hotel via an online app, morning to night.
Nhong Rim Klong
Best for: Calling all seafood lovers for crab omelette or wok-fried garlic prawns. Local shophouse experience.
Address: 51 Soi Ekkamai 23, Khlong Tan Nuea, Watthana, Bangkok 10110
Price: Signature crab omelette is 600 THB / 16.50 USD; stir-fries and curries from 200 THB / 5.50 USD
This backstreet shophouse serves scintillating seafood in generous portions without the hype found elsewhere across town. While crab omelette may be the drawcard, scrambled eggs with chunks of softly cooked crab and boiled cabbage is a dish to dream about long afterwards. Huge wok-fried garlic prawns are another knockout alongside local fish, squid, spicy soups, curries and fried rice. The kitchen works at a frantic pace to Thai techno, to keep up with a staggering number of deliveries. The restaurant expanded into a more spacious setting next door in early 2023 and local beer is also served.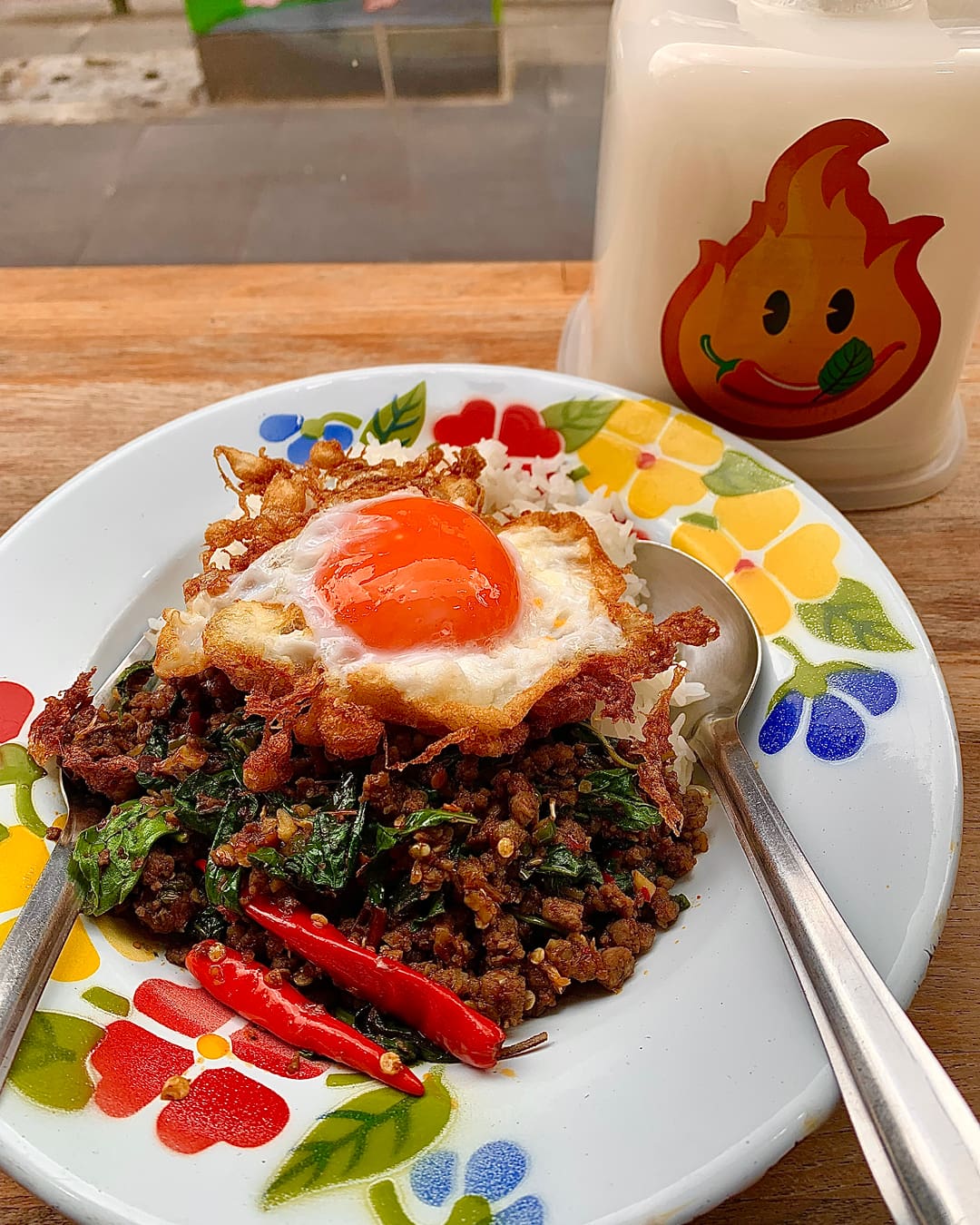 Phed Mark
Best for: Stir-fried holy basil (pad kaprao) at various spice levels
Address: 928 Sukhumvit Road, Phra Khanong, Khlong Toei, Bangkok 10110
Price: Stir-fried holy basil from 119-269 THB / 3.30-7.35 USD (depending on protein chosen)
What happens when two food bloggers, an Iron Chef, and a designer can't agree on who cooks Bangkok's best pad kaprao? They open a restaurant together dedicated to their favourite dish. As the name and fiery logo suggest, spice is paramount ('phed' means spicy in Thai). There are five heat levels ranging from 'non spicy' to 'very spicy' – the latter is one for the brave. Legend has it there is also an off-menu option that's double the heat of 'very spicy'. Choose from beef, pork, sour sausage, wagyu beef, squid or vegetarian, served with one of the prettiest fried duck eggs you'll see. Inside is tight, with one communal table and window seats offering views of Sukhumvit Road, so expect to sit on the street on plastic stools during busy periods.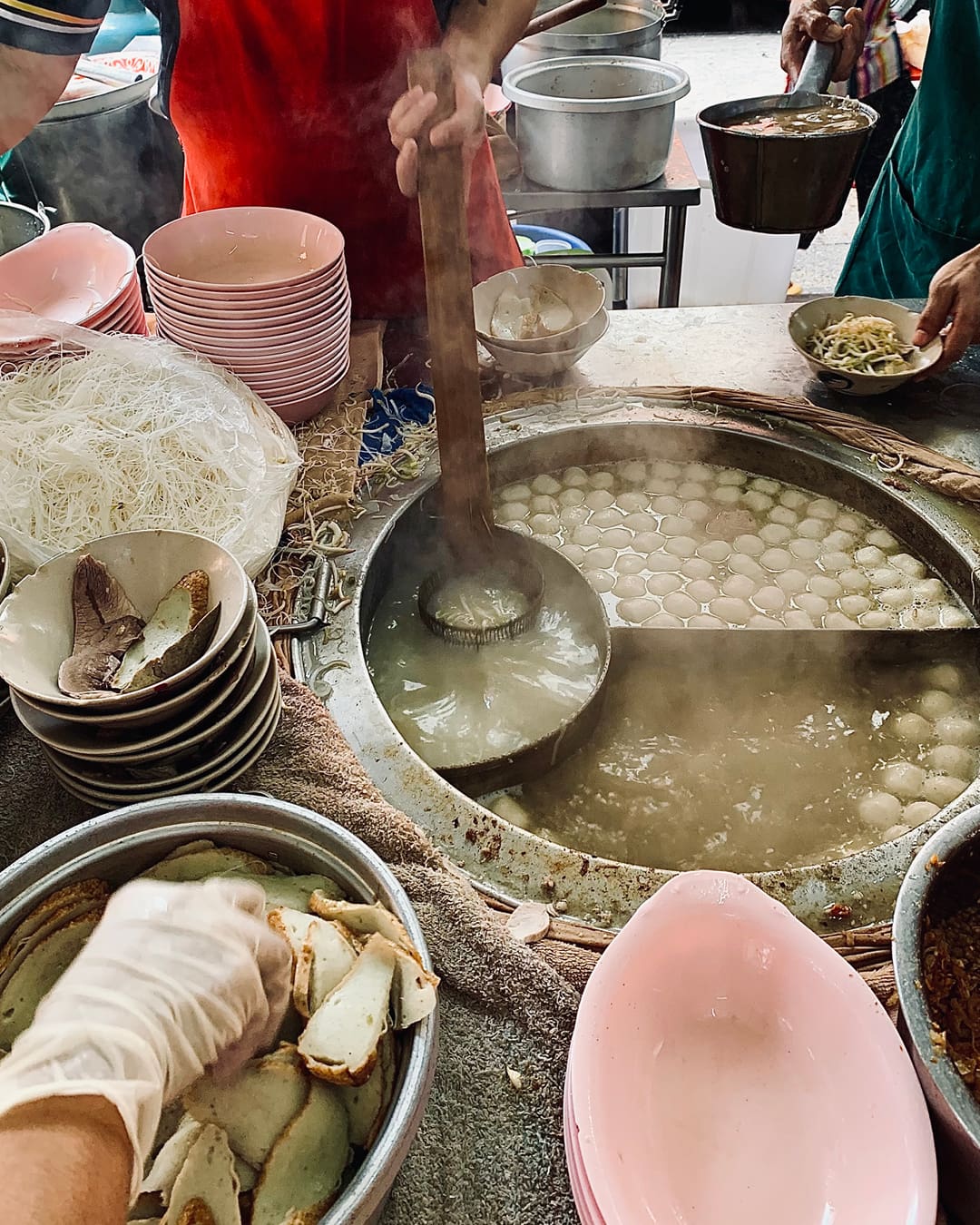 Rung Rueang Pork Noodle
Best for: Thai pork noodles in spicy tom yum or clear soup
Address: 10/3 Soi Sukhumvit 26, Khlong Tan, Khlong Toei, Bangkok 10110
Price: Pork noodles from 50 THB / 1.40 USD
A short walk from Phrom Phong skytrain station, in a neighbourhood where ramen shops mix with jacuzzi rooms and glamorous malls, lies one of Bangkok's most frenetic street food experiences. The compact Rung Rueang Pork Noodle restaurant specialises in its namesake Thai pork noodles, served dry or with clear or spicy tom yum soup topped with fish balls, minced pork and liver. Staff move at speed, furiously prepping bowls, blanching noodles and taking orders – a three step process tailored to your tastes. If you think the morning trade is busy, wait for the lunchtime crush, where locals jostle for tables and a swarm of motorbike drivers eagerly await deliveries outside. Make sure to order an iced longan or plum juice to add a cooling touch to your meal. Note, Rung Reung Pork Noodle restaurant next door serves almost identical food by different family members to the original. Word has it there is a difference in the texture of the noodles.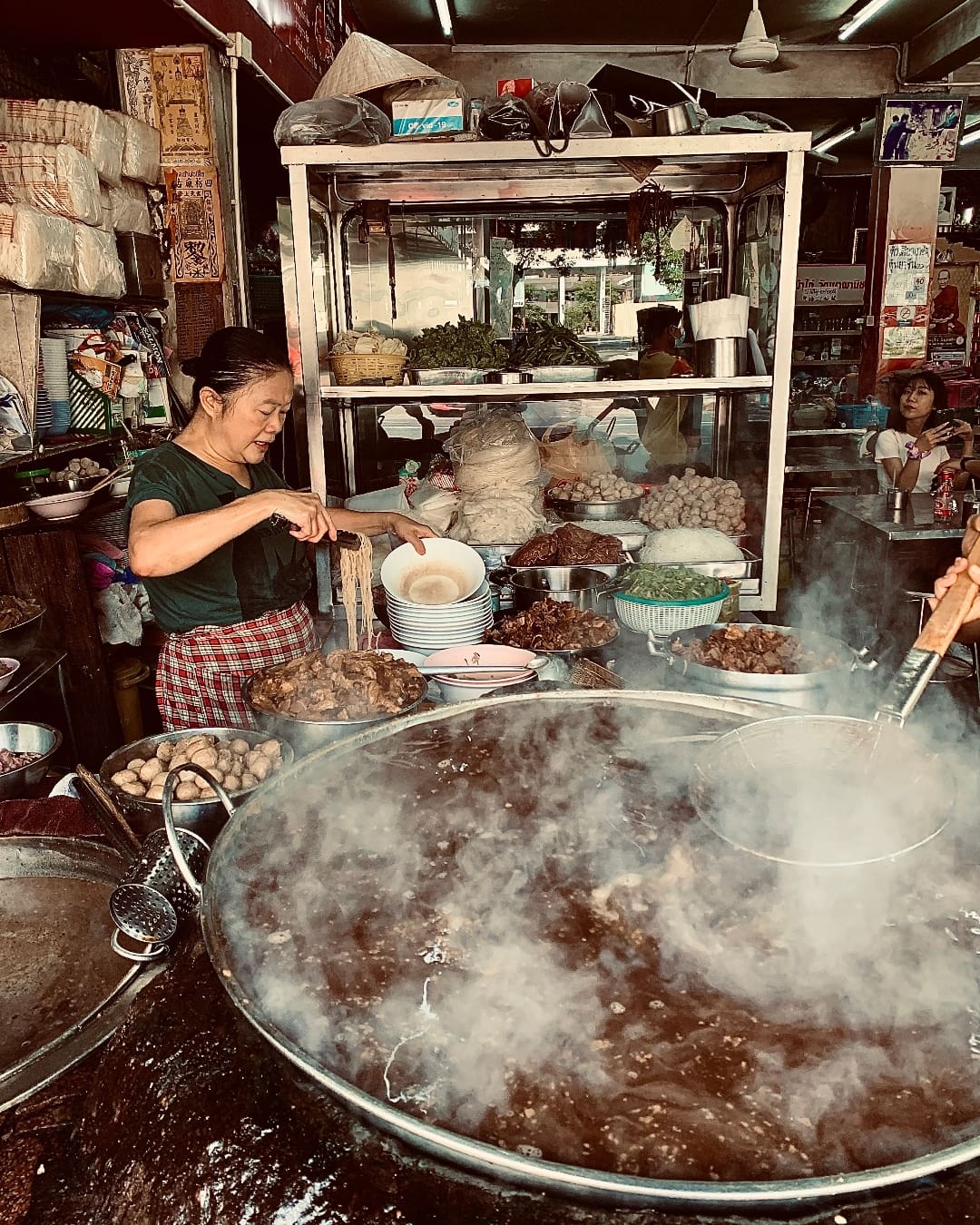 Wattana Panich
Best for: Thai beef noodles and stewed goat – the meat is impressively tender
Address: 336-338 Ekkamai Road, Khlong Tan Nuea, Watthana, Bangkok 10110
Price: Thai beef noodles from 100 THB / 2.75 USD; stewed goat from 200 THB / 5.50 USD
Only in Bangkok do you see foodies taking selfies with a super-sized boiling beef broth made daily from 60-year masterstock. It makes for a spectacular entrance at this legendary family-run restaurant famed for its deeply-flavoured Thai beef noodle soup. Stewed goat is smaller in scale, but a richer and more nourishing mix of shitake, goji berries, offal and tender meat off the bone. Breakfast and lunch are busy; be prepared to share a table with locals or photo-snapping travellers in a character-filled Chinese shopfront with ceiling fans, old posters and raw meat on display.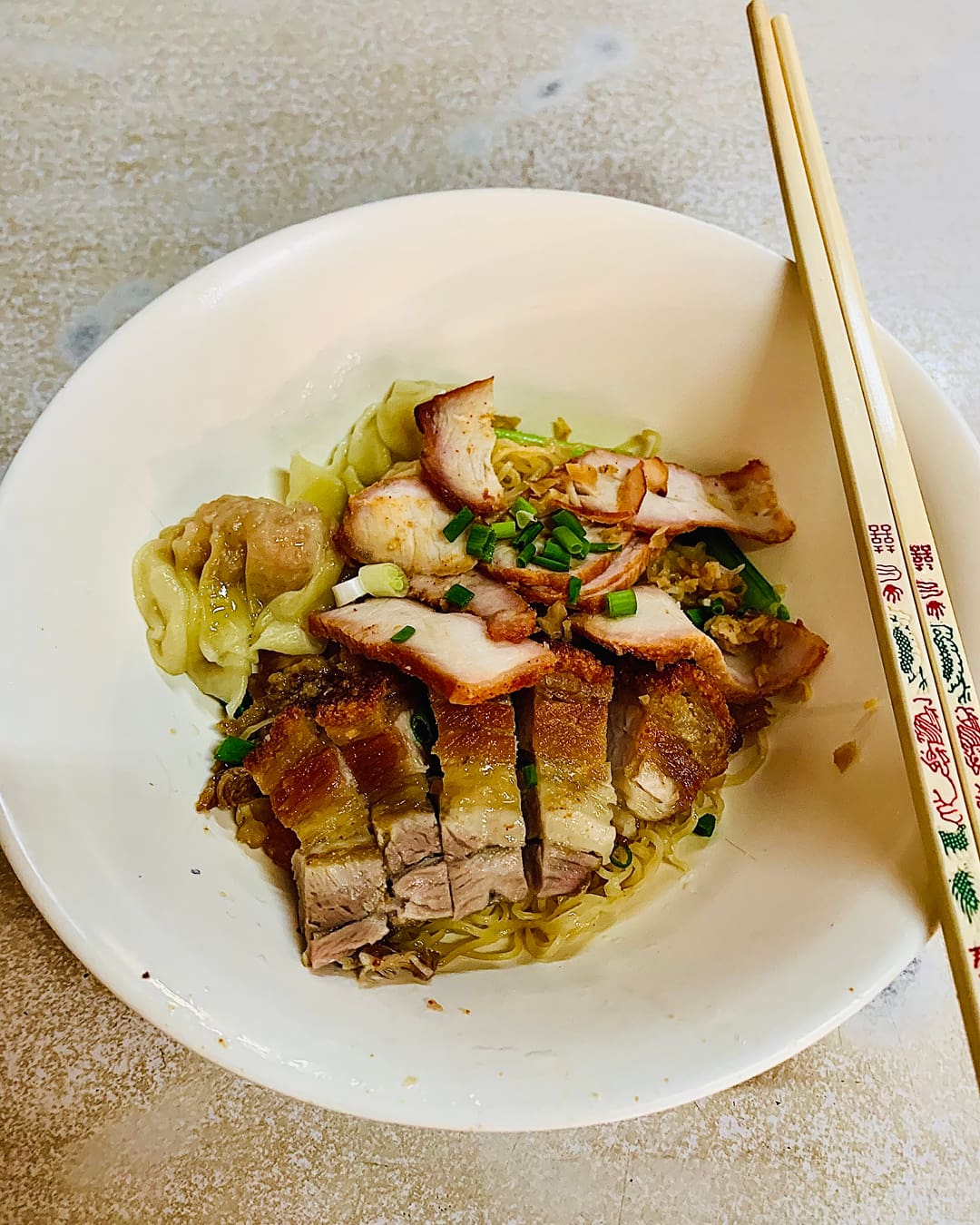 Old Town
Hom Dee Wonton Noodle
Best for: Egg noodles with BBQ pork and prawn wontons, crispy pork or fried rice
Address: 460 Mittraphan Road, Pom Prap, Pom Prap Sattru Phai, Bangkok 10100
Price: Signature egg noodles from 60 THB / 1.65 USD
There's an upbeat energy the moment you enter this traditional ba mee (egg noodle) shop, immediately distinguishing itself from older establishments in the city. The dark, small interior has loads of old town character and spills out onto a back alley, where you can watch food cooked in true Bangkok fashion. The crispy pork is seriously good with a crunch that competes with local rivals. Blanched egg noodles with slices of charcoal-grilled barbecue pork and prawn wontons are rightfully the main attraction, while fried rice flies out the door in takeaway containers. Expect a full house over lunch and an eclectic crowd.
Jek Pui Curry
Best for: Mild, creamy curries with a long history
Address: 25 Mangkon Road, Pom Prap, Pom Prap Sattru Phai, Bangkok, 10100
Price: Curries from 40 THB / 1.10 USD
There are no tables at this legendary food stall, known as the 'musical chairs curry' for its speedy turnover of customers. Instead, pick a stool, order and eat on your lap in a serene backstreet of Chinatown, without overstaying your welcome. Don't expect much chatter amongst mainly solo and elderly diners, who come for a quick feed at economical prices. It's best to arrive by mid-afternoon before the large pots of creamy mild curry are scraped clean. Choose from yellow, green, red or panang with various proteins (the devoted locals often add boiled egg and sausage). The line of customers is for take-away only.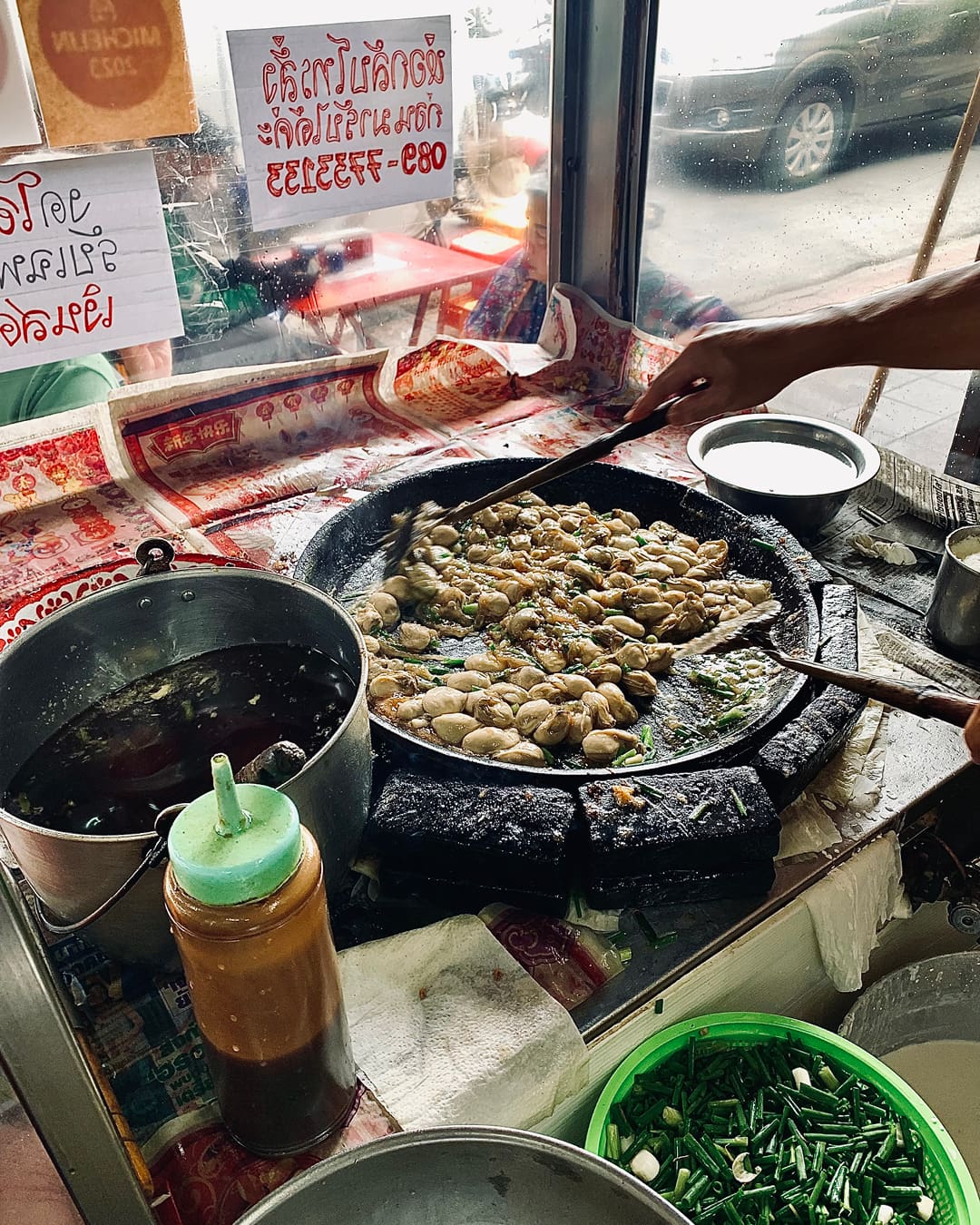 Nai Mong Hoi Tod
Best for: Crisp or soft oyster omelette; Chinatown institution
Address: 539 Phlap Phla Chai Road, Pom Prap, Pom Prap Sattru Phai, Bangkok 10100
Price: Oyster omelette from 100 THB / 2.75 USD
Soft and gooey or crispy and deep fried? That's the key decision when ordering oyster omelette at this Chinatown institution, masterfully wok-fried in large batches to keep up with demand. Whatever your preference, the finished product is loaded with fresh Thai oysters cooked in an egg and rice flour batter. Seating is basic and limited, with a makeshift awning covering street tables that look out at some of Bangkok's oldest shopfronts. Wat Mangkon train station is seconds away and a great springboard for those based outside the Old Town.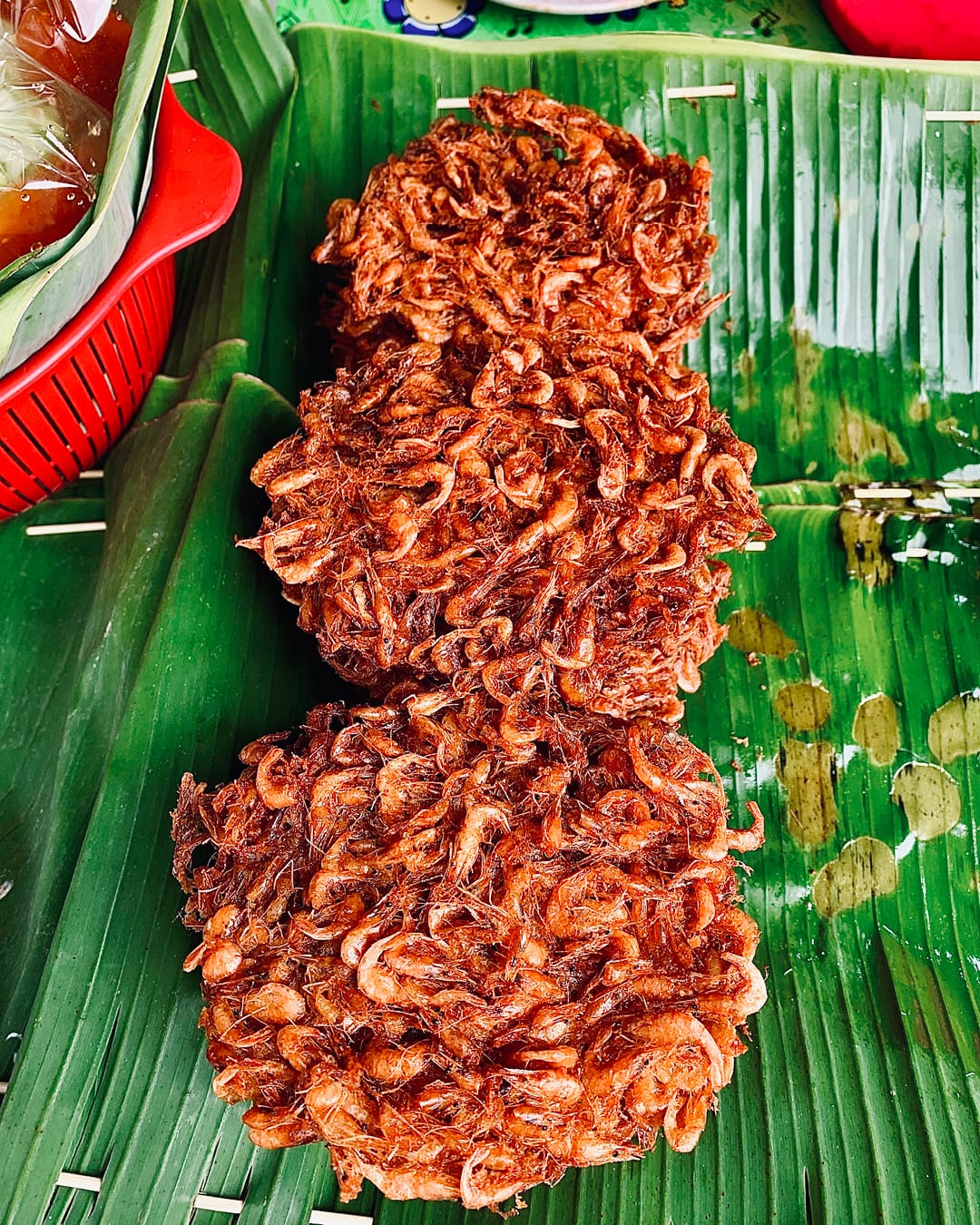 Tom Yum Goong Banglamphu
Best for: Hot and sour prawn soup and spicy seafood stir-fries
Address: Soi Kraisi, Talat Yot, Phra Nakhon, Bangkok 10200
Price: Hot and sour prawn soup from 150 THB / 4.10 USD; most stir-fries 100-200 THB / 2.75-5.50 USD
Tom Yum Goong Banglamphu may appear like any other streetside restaurant near renowned Khao San Road at first glance, but it's home to a hot and sour soup that's in a league of its own. It has been served here for decades, along with fresh and spicy seafood stir-fries and prawns so juicy you'll want to eat them whole. Tom yum goong is the star of the show and made to order on charcoal stoves using a creamy river prawn stock, with young coconut shoots added to provide crunch and interest. Clams and mussels are stir-fried to perfection with chilli and Thai basil. Portions are big, so sharing is advised.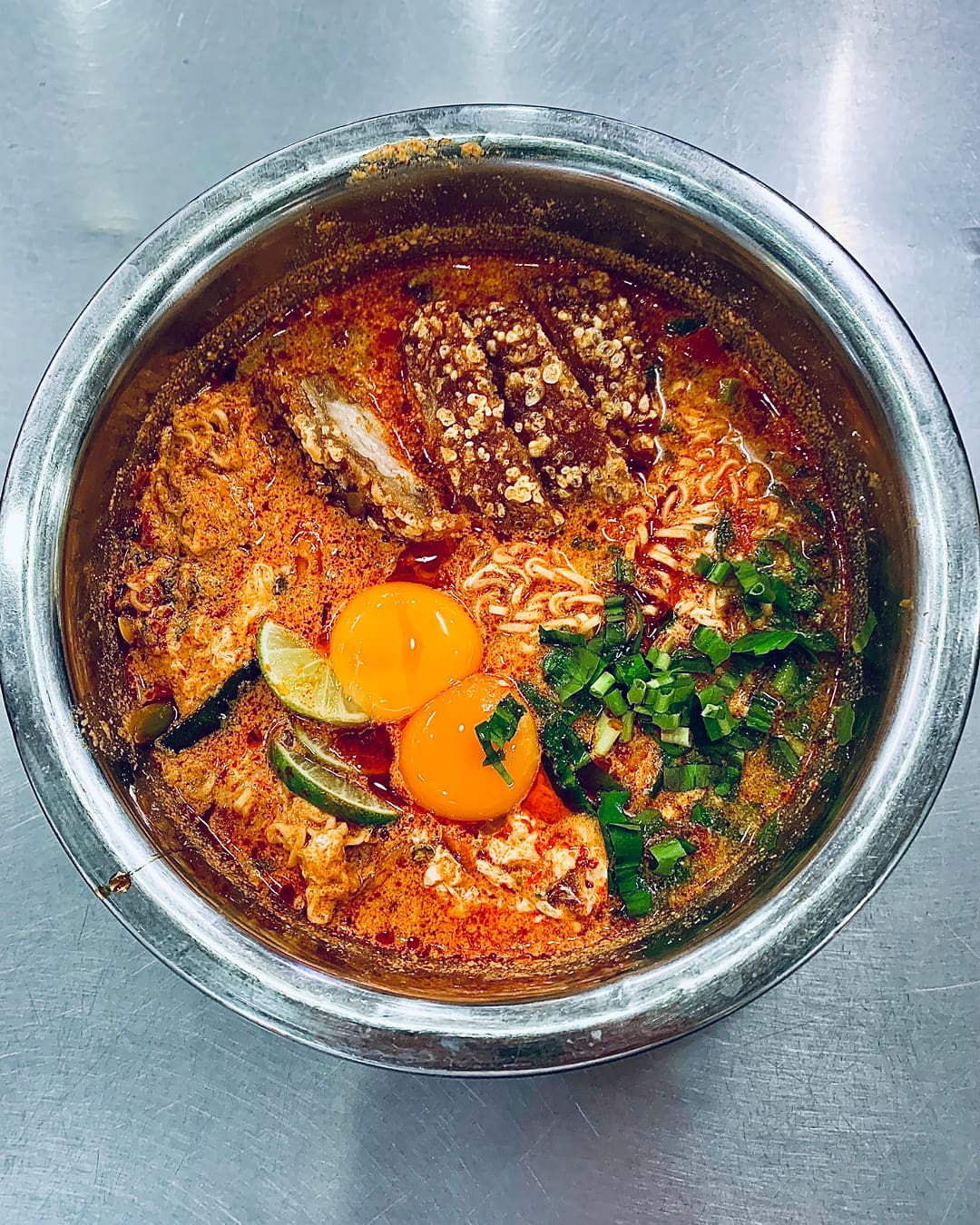 Pathum Wan
Jeh O Chula
Best for: Late-night dining, tom yum soup with MAMA noodles, spicy salmon sashimi
Address: 113 Chaarat Mueang Road, Rong Muang, Pathum Wan, Bangkok 10330
Price: Signature tom yum soup from 150 THB / 4.10 USD; most dishes under 200 THB / 5.50 USD. Cash only.
Warning: arrive at Jeh O Chula by 4pm or join one of the most chaotic dining queues in the city. It's completely justified and down to one dish: the tom yum soup with MAMA noodles. It's huge and swimming with chilli, kaffir lime leaves, galangal, raw egg yolks and a choice of meat and/or seafood. The thickly cut salmon sashimi dressed in fresh lime, chilli, mint and raw garlic is sour, spicy and stunning, while the renowned crispy pork is cooked alongside the nearby canal, capitalising on whatever space is available. Fresh coconuts are well-priced and the drink of choice. Indoor seating is air-conditioned and organised, which is just as well, as the outside tables are a thing of the past to make way for the queuing students and other diners.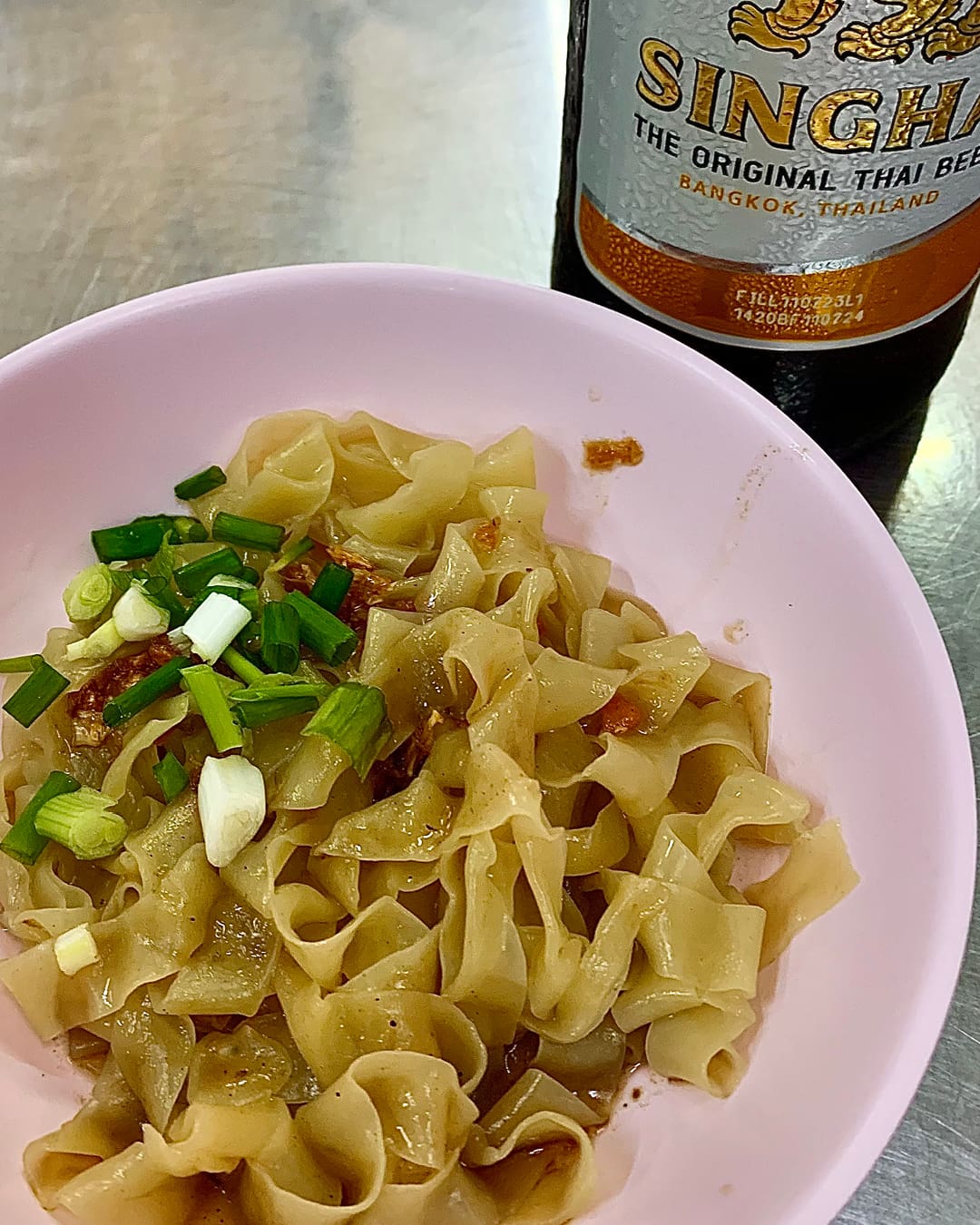 Tung Sui Heng Pochana
Best for: All things duck noodle served dry, in soup or in a claypot. Cold beer
Address: 649 Banthat Thong Road, Wang Mai, Pathum Wan, Bangkok 10330
Price: Duck noodles from 60 THB / 1.65 USD; duck claypots from 200 THB / 5.50 USD. Cash only.
Sizzling duck claypots, attentive service and the coldest beer in town (chilled at freezing point) are a winning combination at this second-generation restaurant of 50 years. Wide egg noodles sourced from an old shop in Chinatown are fettuccine-like and a textural delight. Duck noodles are pure comfort, served dry or in a dark, cleansing broth. Signature claypots take it to another level, bubbling with thick and tender sliced duck, blood jelly and herbs. Wings, legs and offal are a go-to for locals and exemplify the kitchen's commitment to using the whole bird. A constant zing of motorbikes outside showcases the energy of Bangkok.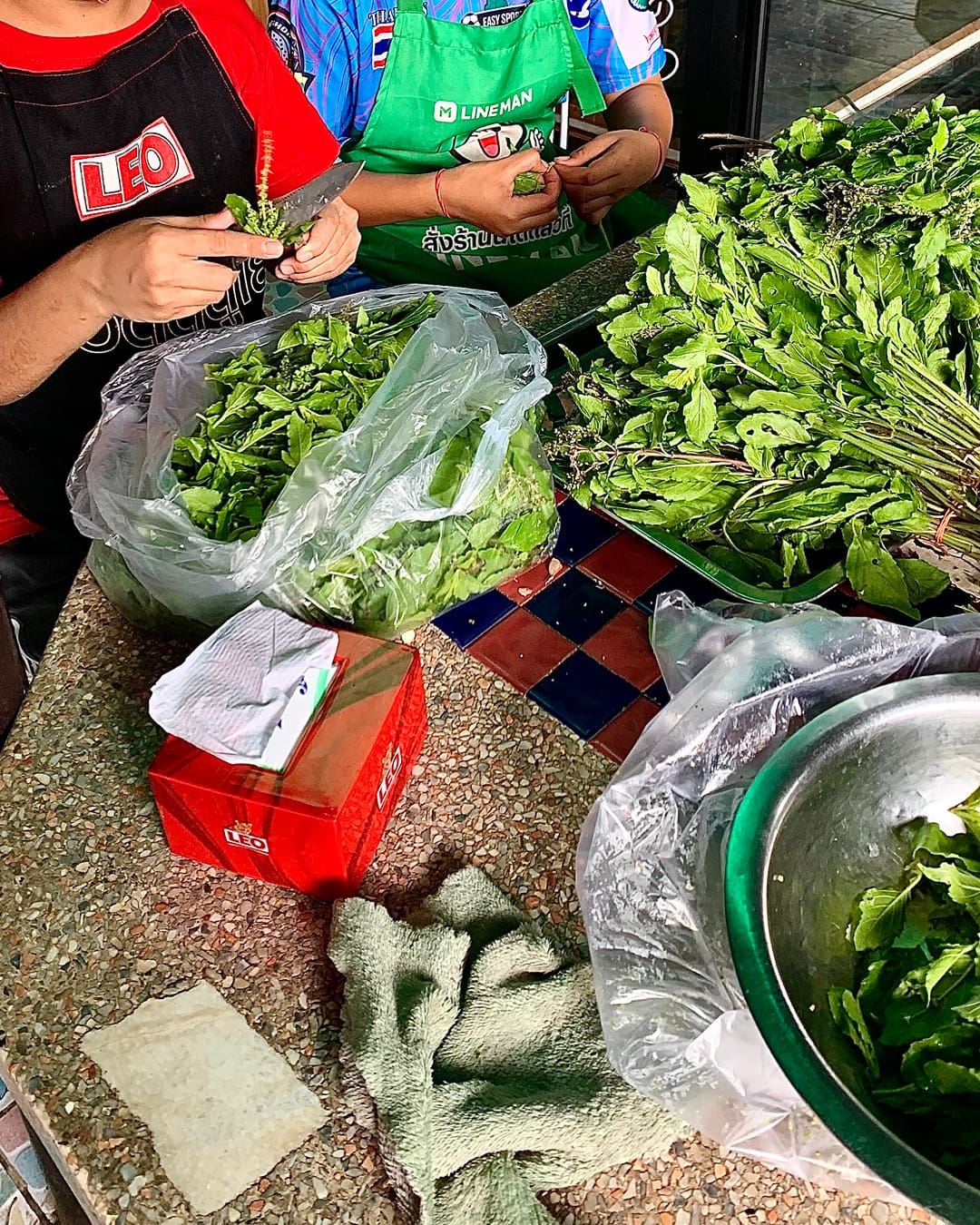 Phaya Thai
Soei
Best for: Spicy, pungent Thai food like prawn ceviche, deep-fried mackerel cheeks or minced frog
Address: 35 Soi Phibun Watthana 6, Phaya Thai, Bangkok 10400
Price: Most dishes under 200 THB / 5.50 USD
Eight woks are quite a sight in the Soei kitchen, where the meticulous chef delivers hit after hit of spicy, herbaceous and intensely flavoured Thai food. Prawn ceviche drenched in lime juice, chilli, raw garlic and wasabi is a jolt to the system and reason to eat here alone. You'll be hard pressed to find deep-fried mackerel cheeks like this elsewhere – they are light, crisp, salty and downright delicious. It's clearly the fish of choice, which is also served in a clear and sour tom yum soup or coconut milk curry. Frog comes minced for those who'd like to tick that box. It's a clean and retro setting filled with sporting photos from the chef's past. In-the-know locals bring a bottle of Johnny Walker and settle in for the afternoon. Catching a taxi to and from the restaurant is your best option to get here.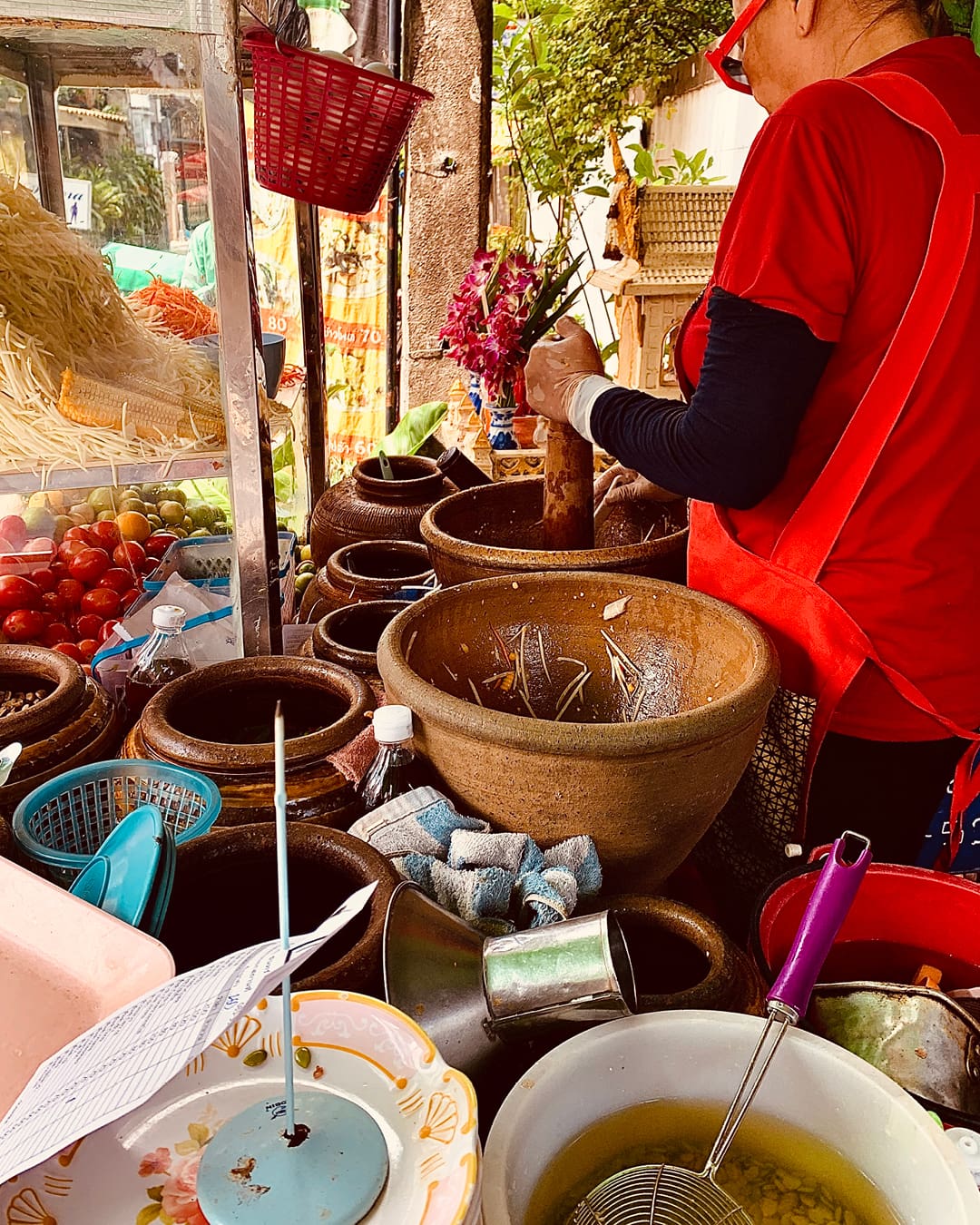 Silom
Som Tam Jay So
Best for: Real-deal Isaan food; green papaya and spicy larb salads, grilled chicken and pork neck
Address: Soi Phiphat 2, Silom, Bang Rak, Bangkok 10500
Price: Most dishes between 50-100 THB / 1.40-2.75 USD
Get set for smoky action in Som Tam Jay So, a backstreet garage in downtown Bangkok, reminiscent of a roadside diner in Thailand's northeast. Keep clear of the fire master as he furiously grills chicken and pork neck over five searing stoves. A former Iron Chef pumps out crunchy green papaya salads for the masses, sporting a pair of statement red vintage glasses. Lunchtime is best avoided, such is the frenzy of office workers descending to feast on genuine Isaan food that's easy on the wallet. A range of spicy larb and fermented fish based salads will excite the funky at heart.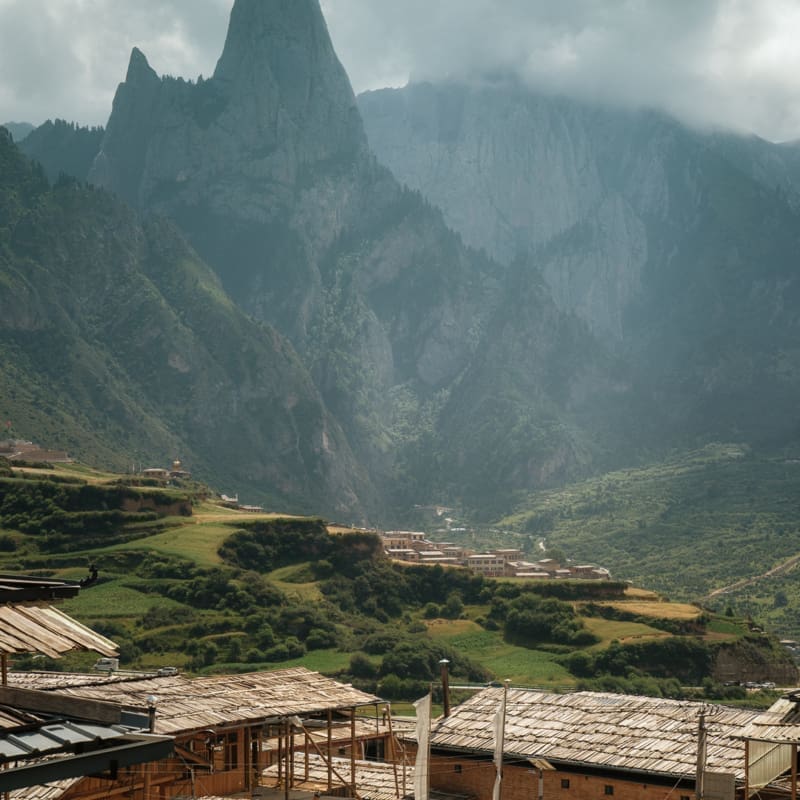 Sign up for superlative city guides across the world